So you have the flattering pants, the well-constructed tops that fit your personality. You have bought the list of must-haves and have brought color and style to your closet. Even with all this transformation, there are ways to totally ruin your new look, practically bringing you back to square one:
The Black Shoe Syndrome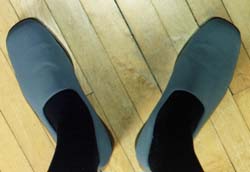 A soft floaty floral sundress. The breeze running through your hair, a warm day on the shore. A delicate pearl bracelet accents your wrist, a simple clutch in your hand, black leather loafers with a chunky heel on your foot. Halt! The wrong shoe can totally destroy your image.
We often get lazy with our footwear.We have favorites that are comfortable, nondescript, seem to go with everything.Time and time again I see a woman's outfit completely destroyed by accessorizing with the wrong shoes.Chunky boots with a feminine dress, sneakers with nice jeans and a sweater, scuffed white sandals with a dress, rubber flip flops with a polished outfit.Take all of your Beyond Hope shoes (you know which ones – the ones that are torn, smelly, scuffed beyond repair, completely dated and disgusting) and toss them.Goodwill won't even want these puppies, why are you still wearing them?Then the Semi Shoes – the jelly shoes, the ratty Keds, the flops from the drug store and those Chinese slippers – if you must keep them, they are not allowed to leave your property.Nothing looks trashier than a pair of cheap and tattered Semi Shoes.Then take all your Great But Shoes and take care of them – pull out the shoe polish kit (or invest in one), get the shoes resoled, reheeled, put in new inserts and then get some shoe trees to help them stay properly shaped, aired out and fresh.
Next, plan outfits down to the footwear. Often we buy a new dress or outfit but do not consider the shoes. Come time to don the new outfit, we are left to scrounge up some foot covering that will pass for appropriate. I do not own a single pair of navy pants in my closet. Why, I look great in navy and it's a hot color this season. The reason is I don't own any shoes that look right with navy, and I wear it so rarely I cannot justify buying a pair of shoes for one pair of pants. To remind yourself, make a list of your shoes and take it with you when you go clothing shopping. If the outfit is for a special occasion (wedding, party, dance), take the shoes you plan on wearing with you to the mall. This will help you shop for what you have and not leave you in a pinch trying to look chic in black loafers. I have a fantastic pair of strappy black heels – they look and feel great. I usually buy dresses that are complimented by black strappy shoes so that I don't get stuck at the last minute.
A few shoes to have in your closet just in case
Black ankle or calf-high boots with a 2" heel (great for suits, jeans and trousers)
Tan or beige colored strappy heels in a neutral fabric like silk or crepe (for dressy pants, most dresses and skirts and linen and summer weight trousers in the warmer months)
A classic black leather pump (for suits, pants and dark dresses)
A pump, t-strap or wedge in tan or a light neutral (for pants, dresses, skirts, non-black dresses)
A pair of delicate heels in a muted metallic – soft gold, pewter or bronze are great (for nights out on the town or a floaty sundress that doesn't seem to match anything. Also great way to take a suit from career-friendly to cocktail party appropriate)
A pair of flats in a cheery color or print (for those days you can't stand to wear heels – cute with capris, skirts, trousers, peeping out from a jean hem)
A thong or slide-style of heeled sandal in a neutral color like brown, beige or cream. A wood heel will help it transform from day to night with ease (for most everything in your wardrobe come the warmer months)
If you have the right footwear, you can get away with a simpler outfit. Your outfit will go from okay to amazing if you ensure your footwear compliments your clothes.
That Darn Coat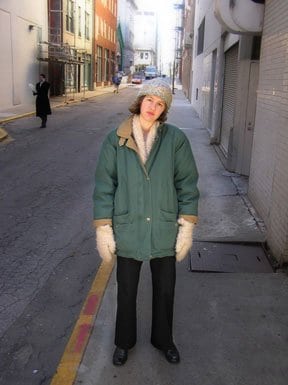 Picture it – a wedding at an historical mansion overlooking the country side. You walk in to a room full of beautifully dressed people. A butler in a crisp tuxedo asks to take your coat and you gracefully shimmy out of your orange parka, making sure not to rumple your silk dupioni gown. What's wrong with this picture? It's the coat. We are so worried about being well dressed, but we ruin the whole look with a warm but trusty friend.
Easy way to fix that – in vest in a ¾ or 7/8 length wool coat. These coats go from thigh to calf length. Single or double breasted, robin's egg blue or safe and secure black, this coat can be worn to work, the grocery or a formal affair without ruining your image.
End of every season, have your coat professional dry cleaned and kept in a closet covered with an old sheet or a garment bag to prevent dust attaching to it. This way your coat is ready to wear come next season. If you buy the right coat, it will be a wardrobe staple for many years.
I See London…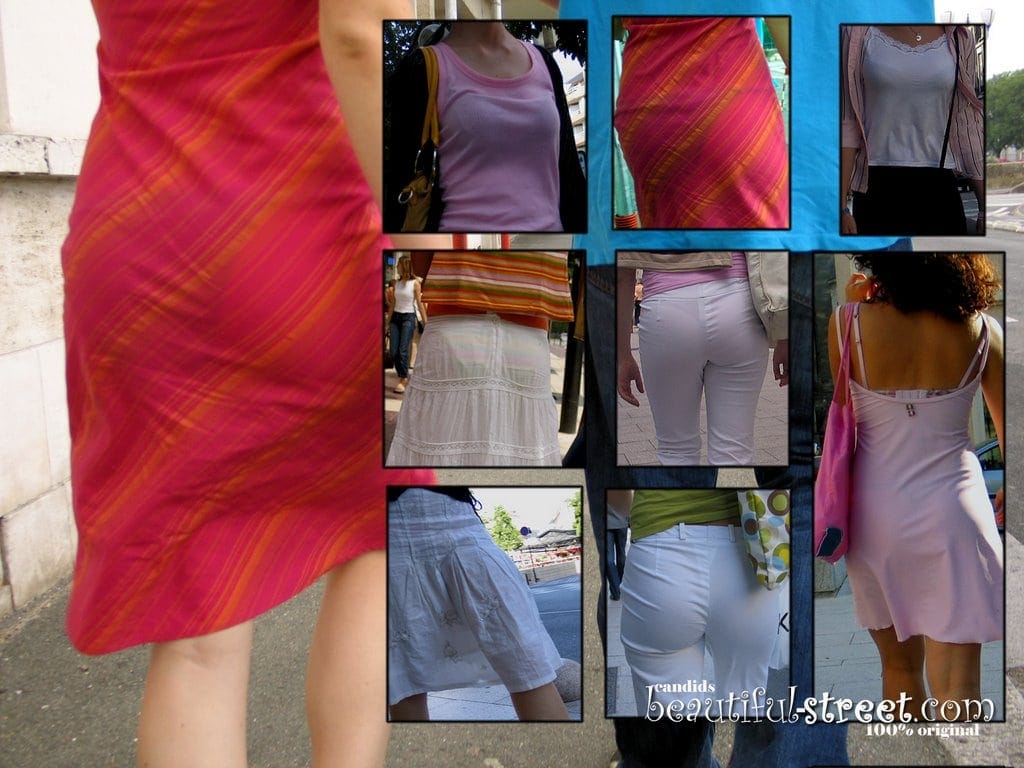 Nothing is tackier than seeing a woman's undergarments. There may be women gallivanting all over this country purposely showing bra straps and g-strings, but that does not mean it is okay. A beautiful dress can look like a garbage bag if the wrong underpinnings are chosen or visible. Nothing makes a rear look less desirable than having VPL (visible panty lines) and even though your bra straps are the same color pink as your halter top, it doesn't make it okay to have them on full display.
Invest in some thongs. Mesh ones in a skin tone to wear under white and light bottoms, cotton ones under jeans and skirts, frilly ones for special occasions. If you are uncomfortable with thongs, many companies have made no-show briefs and boyshorts in great disappearing fabrics like microfiber. As for the little bits peeking out over your jeans, well many companies have created "lowrise" undergarments specifically for this problem. Do invest in several pairs, and while you are at it toss all the ratty, stained and stretched out pairs in your drawer. What would your mother think if you were in a car accident wearing them?
As for bras, first go get a fitting. You may be surprised at what size you truly are. Then invest in some "specialty bras" – a strapless (I have one that has detachable clear straps that is great under sheer tops), a convertible (can go from regular to halter or racerback) and a skin colored bra (your white bra under your white tee shirt is NOT invisible). You would never see a fashionista with a bra strap showing… EVER. Unless you have the body, the budget and the wardrobe of Britney Spears, you should not be attempting to dress like her.
Bag Lady
How do men survive on this planet without purses? We women stuff our bags with wallets, planners, tissues, cosmetics, pens, snacks and reading material. Men sit on a piece of leather and seem to handle things just fine. It seems that the larger our purse, the more we "need" to cram into it. Our purses are overflowing, marred with ink, stretched beyond capacity, misshapen and have a coating of crumbs and goo at the bottom of the lining. Zippers are busted from stretching over junk, straps fraying from the weight. Yet we tote them around with our elegant outfits, always at the ready come a spill or a sneeze.
Let's take a lesson from the hairier, Adam's apple sporting sex.We do not have to have the whole world in our hands, or our purse for that matter.If you need to carry books, computers or snacks for the kids then a separate bag is appropriate.Invest in a messenger bag out of microfiber that cleans easily and holds all your possessions without making you look like a vagabond.As for your daily purse, invest in one that is simple, has a sturdy shape and is large enough for your necessities, but small enough to force you to find other homes for your junk mail and baggie of Cheerios.
To not have to change your back with every outfit, invest in a classic shopper-style bag that looks great slung over a shoulder or being held in your grip by it's handles. It should have a zipper or flap to keep it closed, and a few inside pockets to help organize your stuff. This is a bag that can be your day-to-day carry-all, should look crisp enough for work but hold everything for a day at the mall. For special occasions, invest in a black silk or crepe clutch and another clutch or small bag with an orate pattern, design or embroidery. The black will go with most outfits, the funky/creative one will spice up all-black outfits and be more festive. Also consider one in a light colored glazed leather or pretty embroidered fabric – this will work with your lighter colored pieces.
The Dreaded Scrunchie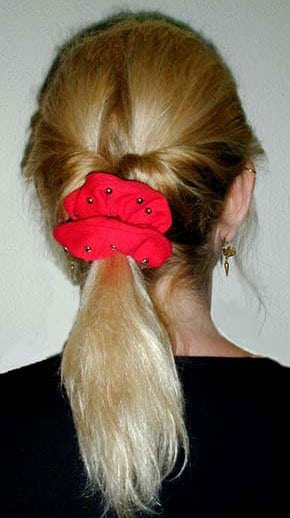 Why have a full head of hair if all you are going to do is throw it up in a clip or elastic?It may seem carefree and easy, but a messy updo only makes you look lazy and fearful of fashion.With a proper haircut, you can keep your hair out of your eyes, stay cool but look polished.Most often women wear their hair up like this because they don't have the time to properly style their hair.Again with a good cut you can get away with less prep time.For summer I asked my stylist to cut my hair to accommodate wave.In a pinch I can wash my hair in the evening, spray it with a curling mist and let it air dry as I sleep.When I wake I have relatively pretty curls and waves that only need three minutes with a curling iron to get them acceptable.
There is no point in having a head of hair if you are going to constantly put it up. Pony tails are for teens and the gym and butterfly clips should be left to separating hair for a good blow-out. Invest in a good cut, and be brave enough to let your hair down!