I have received and purchased a lot of products lately, ones that may not be worthy of a Friday Favorite, may not be specific to over 40 beauty, so I'm going to occasionally share them on weekends.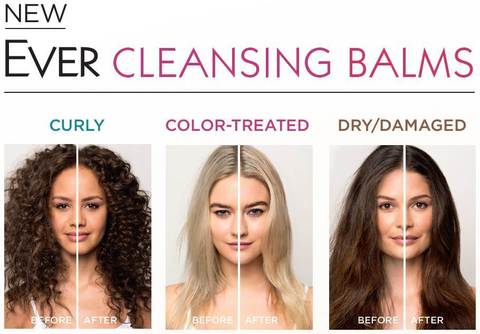 L'Oreal sent me a giant care package earlier this year with a ton of different (and some extremely random) beauty products in it. One was the L'Oreal EverPure Cleansing Balm. Toted as six products in one, this product is your shampoo and conditioner, as well as a treatment, detangler, softener, and shine product. All this and it shouldn't strip my haircolor. For a busy woman, this sounded pretty fantastic.
And it was for the first week or so that I used it. My hair was super soft and shiny and felt really healthy. Then I got a haircut and color and I felt like my hair looked so… frumpy. It was getting frizzy so quickly, it felt greasy at the end of every day, and I just had… well Mom Hair. It was full in the wrong places, flat on top, and I felt like Cindy Walsh.  I couldn't figure it out, I only got a trim. I tried air drying, blowing it out, crunching into curls, trying different products but nothing would shake it. I wondered if it was the weather, my change in diet, or just a bad cut.  I was ready to call up my stylist and ask her to fix it when I decided to see if it was how I was washing my hair.
Sure enough the next morning I switched to my old shampoo and conditioner and I loved my hair again. This stuff made my fine yet plentiful hair thicker, but so soft it wouldn't behave. It felt like little kid hair, which I may have enjoyed if I had long tresses. But with a shorter cut it was awful. But you know who DOES have long hair that could use some detangling? Emerson. So now she washes her hair with this stuff and her hair is GORGEOUS. It's not as hard to brush out in the morning, and she can go longer between hair washings without looking like a neglected child. It also gives her hair more bounce and shine and her bangs don't separate and look wonky as quickly.
This has the herbal scent of L'Oreal's other EverPure products (similar scent concept to Aveda and Pureology). No sulfates, no parabens, no silicones, no dyes which is nice, especially for a drugstore brand. You use about six pumps per cleansing so one $12 bottle is going to last around three months.
So fail for the adult but win for the kid. If you have long, thick, or unruly hair you may dig this. They also have a version for curly hair and one for dry damaged hair (considering how EverPure is, that's gotta be some very damaged and coarse hair to handle it).