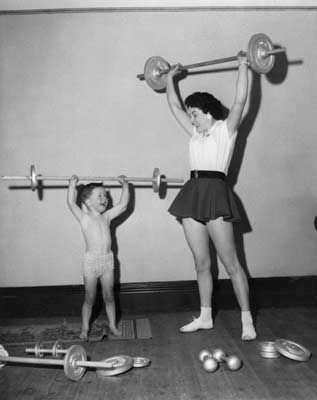 A way to watch Emerson & get active!
I didn't want to go to Weight Watchers last night.
I keep writing about how I am getting back on track, but I'm not. I'm lazy. I drink beer and eat chips and steaks. I don't exercise and take the elevator at work. My back hurts, I get winded, I am a soft sloppy mess. I missed Weight Watchers last week because I was enjoying mussels in cream and cocktails with fashion bloggers and I knew that if I weighed in this week it would be a gain.
The thing is, every other time I have stopped Weight Watchers or any diet is because I have fallen off the wagon, feared what the scale would say and so I just don't get on the scale and numb myself with some carbs or wine.
I went last night. I removed 0.2 pounds. Granted, I was wearing my lightweight cotton dress (and yes I removed the jewelry and belt and shoes before getting on the scale), but it was a removal, not a gain.
And then the meeting was about "Exer-cuses" – excuses to not exercise. That is me all over the place.
I don't exercise because I don't have time.
I don't exercise because every time I get on the floor the dogs are all over me.
I don't exercise because I hardly ever get lunch breaks (and when I do I use them to blog).
I don't walk in the mornings because I'd have to get up at the crack of dawn to have time for it and a shower.
I don't exercise in the evening because it's the only time I can see my husband.
I don't exercise on weekends because I need to catch up on cleaning the house, laundry, and seeing my daughter.
I don't exercise in the morning because it may wake Emerson.
I don't join a gym because I just can't spend any less time away from my family – I'm spread thin as it is.
I can't go to the gym at lunch because I don't have the time… and then I would be all sweaty or wet from a shower.
Yeah, I have a lot of exer-cuses but none of them are valid. As my Weight Watchers leader said last night, "You can make time for anything; you already make time for the things you want to do, now you need to make time for the things you have to do."
So I have a couple less hours of Emerson time in a week; but I'd rather give that up for an extra decade on this planet with her. To miss her eating dinner one night so I can see her walk down the aisle at her wedding; to miss a trip to the playground so I can attend her college graduation; to miss one bedtime a week so I can be there at the birth of her first child. Sounds like a worthy trade.
A big exer-cuse I have is that I don't have the gear to be active. I have one old pair of sneakers and no other decent shoes to walk around town. My wardrobe is geared towards work and social events; I don't own lots of things that can handle stretch and sweat. If I had some more shoes that could let me walk a mile at lunch (or walk home from Weight Watchers, or to and from the grocery store) I would be more likely to hoof it. If I had knits and cotton pieces that flexed and dried fast, I wouldn't need to take a half hour on a Sunday just to be ready enough to go on a hike with my daughter and husband.
I make huge exer-cuses about my mornings. I say I don't have time, but I wake up at 5:30 to leave for work between 7-8am. The gym opens at 6; I could easily throw on a tank and some yoga pants, drive down there, spend 30 minutes on a machine and be back in time to take a shower and get ready for work. I could also be out the door by 5:50 for a 30-minute walk around town to save even more time. My sister gave me a walking video which I did maybe twice; it's a free thing I can do in my living room to switch up the routine and still be on time for work.
So many exer-cuses.
In this week's Weight Watcher Weekly it says, "Losing weight helps you look good in clothes. Exercise helps you look good naked." As the weather gets warmer and I am exposing more skin I really agree with this. Wednesday evening we had a friend over; the three of us were on the deck and I was in cutoff denim shorts. I looked down at my pale, large, soft, dimpled thighs. These thighs that don't see the light of day on an ordinary workday, but will be exposed on blazing hot summer weekends. They were begging for some exercise, they looked so neglected. My arms are a similar situation – soft, saggy, neglected.
So I have fallen off the food wagon a bit… but I think what I really need to do to take care of myself and get back on track is to exercise. My goal this coming week is a baby step – at least twice this week I will do a minimum of 30 minutes of cardio. Walking, elliptical, exercise video, something. If I can do two times and stick to it, I can then up it to three or more. But I'll try twice a week for now and get into that groove.
What are your exer-cuses, and what do you think you can do to battle them this week?
Follow Me | Twitter | Facebook