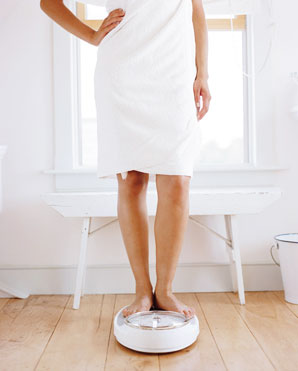 I am have been experiencing the weight loss see-saw:
February 10 – Gained 2.6 pounds
February 17 – Removed 5.2 pounds
February 24 – Gained 2.4 pounds
March 3 – Removed 3.4 pounds
Sound familiar to anyone else? I can remember having this happen to me during a previous Weight Watchers experience. I am slowly but steadily removing weight each week, I see the results on the scale when I change my diet, my exercise, my lifestyle. Then after around 15-20 pounds I get on the see-saw. It's frustrating, it's confusing, it makes it so easy to fall off the wagon. Who cares, I'm going to gain this week anyway. I haven't changed anything, why the amazing highs and depressing lows?
1. I am not exercising. Diet can only do so much, moving my body more will speed up my metabolism, tone the excess weight I currently have, improve my outlook, regulate my appetite. This Saturday my sister gave me the greatest gift – she came to watch Emerson in the morning so I could go to my husband's yoga class. It felt so good to have an hour and a half dedicated to just me – I closed my eyes and focused on the poses, the stretching, my breathing. After, I felt an inch taller and ten pounds lighter.
As a mom, and a full-time working mom at that, I find I never have time for just me. I can wake up really early when Emerson and my husband are asleep, but I'm still dealing with three dogs breathing down my neck, trying to get pet while I am in Downward Dog. I feel guilty for trying to exercise, and end up spending that "me" time doing laundry, working on the blog, paying bills, reading the previous day's mail.
I have gone to the gym only once since being back on Weight Watchers. It felt great – my neighborhood gym isn't packed early in the morning, and it's a comfortable atmosphere. I don't need to join, I can pay $4.50 for each visit. It makes sense to bag my lunch and pay for the gym. However when I go, I get really stressed out in the morning trying to stay on time. The gym doesn't open until 6, I don't get back to the house until close to 7 and I have to leave the house by 7:30 to be on time. I make excuses and don't go.
I could walk in the mornings, but I make excuses that it's too cold, too wet, too dark. Even if I bundle up in my coat and take a leisurely stroll around the block, it's better than sitting on my butt surfing the 'Net and watching reruns of Golden Girls.
2. I am breaking diet, regularly. I add full-fat cheese to my Eggbeaters breakfast burrito. I grab a handful of pistachios from my husband's snack bowl. I take a second serving of dinner and wash it down with a beer or glass of wine.
I go off plan one day, get back on track the next day, break plan the day after. I don't track, then track religiously. I guesstimate on portion sizes and "forget" that I ate a snack-size Hershey bar or put creamer in my coffee.
3. I have been getting lazy. I let me husband buy the groceries and don't give a him a list of what I need and then blame him for me not having any WW-friendly food. I don't pack a lunch and eat far too many 6" turkey sandwiches at Subway and decide I "deserve" to switch it up and get myself a higher-point sandwich (or maybe something like Chipotle or a cheeseburger). I don't make time for breakfast and grab something unsatisfying at the gift shop in my building's lobby just to stop the stomach from growling. I don't make time for a proper dinner. I don't have healthy snacks to munch on late afternoon so I don't race home and eat the entire contents of the refrigerator.
If I am not consistent with my lifestyle change, how can I expect my weightloss results to be consistent?
That being said, even though I keep taking a step back, I still take two steps forward. I am 0.2 pounds from removing 10% of my body weight and that feels amazing. I have already achieved my pre-pregnancy weight, and know that the body is excited about removing more bulk from its frame.
I am so glad I decided to share this journey with all of you. You hold me accountable, and remind me that I CAN'T give up. Your comments – feedback, support, questions motivate me and I can't thank you enough!
Follow Me | Twitter | Facebook