"You will gain weight. Go ahead and get mad now."
– Donna, my Weight Watchers leader
Last week I didn't write a Weight Watchers update because I gained. I gained 2.4 pounds. Now I could blame it on being busy at work, no time to post, but really it was because I was embarrassed. I am putting myself out there for the public, admitting I am on Weight Watchers. You all are seeing my success or failure. And I failed. I was embarrassed to admit it.
But my leader is right, you WILL gain weight. We all gain weight, it's just what we do AFTER we have gained weight that matters. So many people blame the program they are on – it just doesn't work, it stopped working. They blame their life, their spouse, their job, their hormones.
I blame me. I know why I gained. I ate French toast and bacon and drank a lot of wine. I ate sticky hot and sweet drumsticks with the skin still on, baked potatoes with real butter, and didn't do a single bit of exercise. Of COURSE I gained, and I have no one and nothing to blame except myself.
Instead of feeling defeated, I felt it was my body reminding me that I need to always think about which is better – another piece of bacon, or a smaller size of dress? Syrup on that French toast, or living five more years? A second glass of wine, or watching Emerson walk down the aisle some day?
This week I decided to get back on track. Track what I ate, try to walk and move more, make smart choices.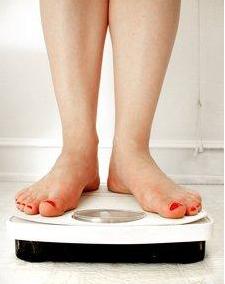 This week I removed 5.3 pounds. Got off what I gained, and THEN SOME! Woo-hoo!
I still ate amazing food, I still didn't hit the gym. However, I Went back to the basics. I drank water – LOTS of water. I stuffed my desk with oranges and bananas and apples for mid-day snacks. I ate on smaller plates, and filled the plate first with vegetables. I made sure there were great veggies and fruit in the home to enjoy. I stayed away from my trigger food – pasta. And it worked.
Last night my mom picked me up from the Metro so we could go to Weight Watchers together. She said she saw me walking towards her car but she didn't recognize me because I had a different silhouette. She said she had to get used to me being this thin. Last night I also went into Ann Taylor and tried on a size 12 suiting jacket – fully lined, no stretch. It FIT. And it fit so well and looked so good I BOUGHT it and am wearing it today. Do you know how long it has been since I have worn a size 12 suiting jacket? I didn't even wear a 12 when I interviewed for my current job in 2007! I seriously think it has been five years since I have worn a size 12 jacket.
You will gain weight. It's a given. You're human. Birthdays, vacations, Superbowl parties, nights where you just need some ice cream or wine or mac and cheese. It happens. The thing is, you can't give up on yourself. Start fresh the next day. Wake up, get over your mistake, start new. It's worth it, and you're worth it!