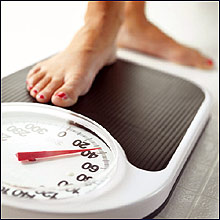 Last night I got to Weight Watchers late and barely heard the meeting. However I did remove 1.4 pounds! Woo-hoo!
But what did I do once I got home? Grabbed leftover potato chips and French onion dip from Emerson's birthday and scarfed down a ton of it while downing two icy cold Miller Lite tallboys. Self-sabotage.
Does anyone else do this? You're riding high – you're losing weight, you're seeing the difference. Your clothes are loose, people are commenting on how great you look, you feel amazing. And then you do something really stupid. Maybe it's ordering pizza and eat the whole pie. Maybe you down an entire carton of Ben & Jerry's. Or maybe you're like me and those chips that have been in the pantry for a whole week suddenly call out to you and you grab them by the fistful, dunk them deep in the dip and swallow so fast you hardly taste it.
The difference this time is after a few minutes, I stopped. I realized what I was doing, and I was angry with myself. It didn't even taste that good, I wasn't even that hungry. Before, I would justify it. Oh well, already broke the seal, might as well continue. Oh well, I'll balance it out with a healthy day tomorrow. Oh well, proven time and time again I can't keep weight off…
This time I got myself to stop it, I knew it was better to stop now. If I continued, I would bring back the craving for such foods. I would finish that bag, and feel like crap. My stomach would hurt, it would be so full and I would just drown out that feeling with a third beer, or a sweet something to cancel the fatty/savory or just give up and go to sleep. I knew I didn't want to go down that road again.
Today I have been "good" and I plan to stay that way from now on. The old me would throw the chips in the trash and cover with more trash. The new me closed the bag, put it back in the pantry and KNEW I wouldn't binge again. Looking at that bag will be a reminder of how closely I came to falling off this wagon.