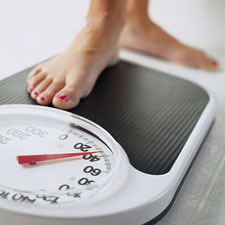 They say the scale doesn't lie. Well, that's true but this week is a reason why I don't have a scale in my home.
As the woman at the scale said, "Looks as though you're becoming an expert in plateauing!" Swell. Third week, the same weight.
However, I don't feel and I don't look the same. My Seven jeans which were a bit loose are now clown-like on me. Last week I wore a pair of Talbots trousers that I found too tight a year ago, and now I can take them off without unbuttoning them. The Ann Taylor LOFT jeans that I bought a month ago are now baggy and the waist folds over, it's so loose. Even my trusty Old Navy matte jersey wrap dress which I have had for years seems to big and I had to move the safety pin that holds the neckline in place because it was gaping. Casual acquaintances and coworkers I don't see as often are asking me if I have lost weight.
My appetite has changed. I can't eat as much in a sitting, and I have less desire for "filthy" food. This weekend we went to brunch and I ordered my regular – two eggs, potatoes, toast and meat. I ordered bacon and gave it to my husband. I ate one piece of rye toast, both my eggs and half my potatoes and gave the rest to Emerson. I drank a full glass of water and a cup and a half of coffee with Splenda and some cream… and I was completely satisfied. I wasn't stuffed, but even better… I wasn't craving anything more. Today I went to the Post Office to drop off some eBay sales and smelled fries from some local place. It was 2:30 – I had breakfast at 7am and since then all I had consumed was a clementine. I decided I deserved fries, and bought just them, nothing else for lunch. I ate them, and ¾ of the way through I started feeling sick. Too much fat, too much potato, not enough vegetables. I threw the rest of the fries away.
I thought, "Who AM I?" I am the girl who when living in the sorority house in college was dared to eat nine pot pies in one sitting and did it. And went out drinking that same night. I am the woman who can eat more than my husband. I have always been the woman who eats faster than anyone else, I shovel it down without a thought and never have a feeling of being stuffed, of overeating. I love the FEEL of chewing, of eating. I have always ignored any feelings of being full to feel the pleasure of consumption. I can't do that any more.
The best part, I have removed enough weight that I FEEL lighter. I want to move! When music is on, I want to dance. I bop around while prepping dinner, I dance with Emerson while watching Yo Gabba Gabba, this morning I didn't groan, but looked forward to doing my sun salutations and crunches.
So maybe I have hit a plateau on the scale, but I really don't feel as though I have in life as a whole.
So PointsPlus – what are you all thinking of this new plan? I obviously haven't seen great changes with it, but I like it. I like being able to keep clementines and apples in my desk drawer for when I have a craving for something sweet. I like that I can eat out at places like Au Bon Pain or even Chipotle, be smart with my choices and still have enough points left over for a healthy and satisfying dinner. I like that a 6" turkey sub from Subway (no cheese, no mayo) has LESS points than a Lean Cuisine. I feel as though I have more options, more variety, the ability to get creative with recipes and not fill dinners with weird tasteless fake and fat free versions of things.
Yesterday I was a masochist and went to Target.
In the rain.
Two weeks before Christmas.
I know.
Anyway, since I was stupid enough to go there, I decided to make the most of it and shopped the entire store. Did you know Target has organic fresh spinach and wild-caught sea scallops? Yeppers, they do. So I bought a bag of each. Last night I seared the scallops in some olive oil with garlic, thyme, and sage. After cooking them in the pan, I added a quarter cup of white wine and used it to scrape up all the brown stuff and make a sauce. Poured it on the scallops. Then I added a bit more wine and some water to the pan and then the spinach and steamed it until the leaves were wilted. While doing this, I prepared some quinoa that was seasoned with a pat of butter that softened garlic, sage, and thyme. Put the spinach on the quinoa, and the scallops on top with a drizzle of that sauce that was created. It was utterly delicious, satisfying, and the entire meal was only 12 points. When you have 29 points in a day, that isn't bad at all!
I know what I need to do to get over this plateau is add exercise to my routine. I just need to figure out where to fit it. Even if I only work out one day a week more than I do, it's better than nothing. I think I have been good with my food intake – I am really learning to listen to my body, I am craving new things (hello spinach and quinoa!), I am watching the size of my portions. However this can only go so far and I now need to start moving this body on a more regular basis.
So how do you fit exercise into your busy schedule, especially now that it is so cold and gets dark so early? And how are you doing with PointsPlus?