I shared the contents of my purse a few months ago and since have realized the post took at a very minimalist point of my life. 2012 has been extremely busy, many days where I would be away from the home for 12 hours or more, traveling to three different locations without being able to stop home. Because of that, my purse contents have grown.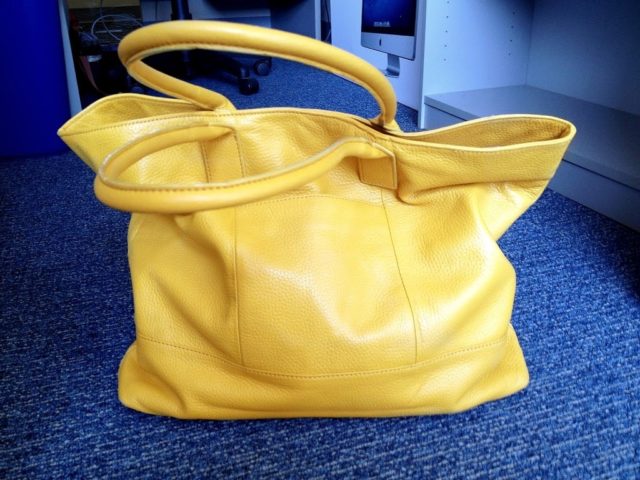 Today I am carrying my yellow leather tote from Nordstrom (last seen here). I love this bag because it's more polished looking than a reusable tote, but can carry just as much. Along with all these contents, I also had a frozen meal and a return to Ann Taylor tucked in here, and could still fit the bag comfortably over my shoulder. I highly recommend Nordstrom brand bags – they are well made, stylish without being trendy, free of logos, and very reasonably priced (I got this one on clearance).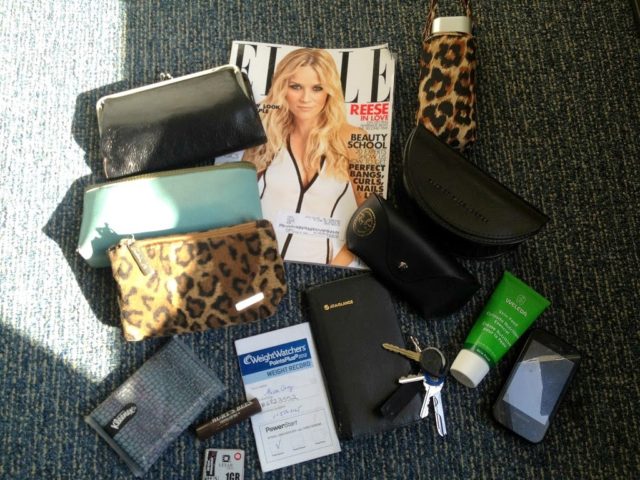 The contents of my bag:
Reading material – the latest issue of ELLE
My wallet – HOBO "Diane"
Leopard-print umbrella (birthday present from my mom)
Aqua makeup bag – holds travel-sized mascara, liquid and pencil liners in black, Urban Decay De-Slick powder, Fresh Sugar lip balm, SolarOil, Colgate Wisp, and a variety of different lipsticks that I have worn in the past week and haven't gotten around to transferring back to my dressing table
Leopard faux fur makeup bag – holds hand sanitizer, rewetting drops for my contacts, Smith's Rosebud Salve, a nail file, Tide-to-Go pen, Sephora comb, BodyGlide, pack of gum, lighter, pen, safety pins, hair elastic and a couple barrettes
Memory card for outfit photos
Weight Watchers weight record (keep the rest of my materials at home, my card is tucked inside)
Old-school engagement calendar (with small address book inside)
Keys (car, home, office, sister's house, a multitool shaped like a key)
Weleda Skin Food (multipurpose fabulous product for dry skin anywhere on the body)
My Droid (took picture with my work iPhone – yes I carry two phones!)
I used to carry crayons for Emerson, but they got really grody over time. Lately she has been so creative, she can make a toy out of the most random things; I can give her a napkin and a pen and she has a blast. However, you can usually find a small toy or action figure deep in the bottom of most of my purses. My Metro SmarTrip card is in my jacket pocket, or else it would be in that front pocket with my keys!
So what's in your purse? I'd love to see – if you decide to do a blog post or Twitter pic sharing the contents of your bag, come back here and leave a link in the comments!
Follow Me | Twitter | Facebook