This article may contain affiliate links; if you click on a shopping link and make a purchase I may receive a commission. As an Amazon Associate, I earn from qualifying purchases. 
Last night after work I went on a shopping marathon – unfortunately my trips were to Home Depot instead of Sephora and Nordstrom. Le sigh. But unlike the pony-hair roundtoe heels with the green grosgrain bows of my dreams, these purchases were investments for my best item in my wardrobe – my skin.
As I mentioned yesterday, my allergies are in full-effect. I have always been a sneezy headachy mess in deep winter and in early fall. Birthday and back to school I wouldn't be in top form. From age 4 until high school I took allergy shots, but then allergy medication became advanced enough that a prescription to Claritin or Zyrtec took care of me without weekly visits to the doctor. I learned to wash my hands a lot when visiting homes with pets, up Vitamin C intakes at the bad times of the year, keep away from smoky places and use my A/C during high ragweed seasons. Doing this, I was sturdy, well-functioning and often forgetting that I even had allergies.
Then this winter came, and for the first time in my life, my skin is participating in the Allergy Game. Feet so dry and itchy that toenails as well as skin is cracking. Hands that feel as though they belong to an amphibian, and red welts and terrible itching from chin to thigh. Add to this a cough, post-nasal drip, wheezing and very hot and itchy eyes, I am looking like a real glamour-puss.
Last night at Home Depot I bought face masks, All Free Clear, Febreeze Allergen Reducer and the plastic made to shrink-wrap over windows in the winter to keep in heat. I went to the Depot to get stuff necessary to redo my bathroom (I decoupaged it 6 years ago with old playbills but it's getting a bit worn and icky looking, so removing them and replacing with a fabu color and some framed photos done by my hubby), and in hopes of finding flaps or draft covers for my exterior doors to keep out the cold. No such luck on the door draft covers.
My next stop was Target where I bought four allergen-barrier pillow covers for the bed, Eucerin Calming Cream (it's on sale!), a humidifier (wow, 2/$29.99! Anyone in the DC/Metro area in need of a humidifier? My house is too small for two), and Aveeno Skin Relief Body Wash.
Came home, shrink-wrapped plastic over the windows in the dining room and living room that are on the side of the house where the curtains are usually drawn, put a load in the washer with the All Free Clear, and filled up the humidifier. This version of humidifier by Holmes can be cleaned in your dishwasher, which is a lovely feature. Not especially quiet, but it's small, easy to use and I just pretended it was purposeful white noise to help me sleep.
I then took a short, lukewarm shower where I washed my hair, trying to avoid the shampoo and conditioner from dripping on my neck and body. I washed my body with the Aveeno Skin Relief Body Wash which had their trademark almondy-oatmeal smell that I like ( I use Aveeno's shave cream). NO shaving for fear of irritation. Patted the skin dry then liberally applied Eucerin Calming Cream to every possible part of my body except my face. Wrapped up in a Allergist-Approved detergent-washed robe, slathered on the Calming Cream on my tootsies, and put on a pair of cotton socks. My Neutrogena eye cream and Olay night cream and I felt soft and not as itchy as before. I put on my new pillow covers after giving the bed pillows a tumble in the dryer – boy I hate them. They sound like paper though they are machine washable. They make me feel as though I am at a hospital or something. New bedding with the new detergent. After all this, I was READY FOR BED!
This morning I woke up with the scratchy thick throat, but it wasn't as bad as previous nights. I somehow did not tear the socks off in the middle of the night, nor did I have dreams (and realities) of scratching my skin. I still have the welts, but I do not have more. I still itch, but no worse than before. And the parts of my skin that are welt-free? Well they feel very soft and do not smell medicinal or sicky-poo.
Review: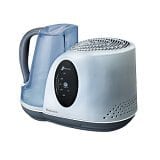 If you have winter dry skin, I highly recommend investing in a humidifier. For $30 I am able to breathe better and my skin feels hydrated. A humidifier is also good for your furniture and home to keep everything properly hydrated. Unfortunately I cannot find my specific humidifier style online, but Target.com and Amazon.com have many styles online for great prices. Mine is a Holmes Cool Mist Humidifier for Small Rooms, style number HM1200TK, one box holds two humidifiers.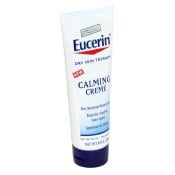 Eucerin Calming Cream – I may not covet it as much as my Body Shop Coconut Body Butter, but it did help me sleep, reduced the itching, has almost no smell and made my skin feel luxuriously soft. It feels like an expensive moisturizer and hydrates like one as well (the big container is on sale at Target for $6.74, usually around $9.50). I am glad I bought the big tube because I can see myself slathering this on post-accidental sunburn, on mosquito bites, and any times my skin is very dry and angry with me. Me likey very much.

Aveeno Skin Relief Body Wash – This product comes in Fragrance Free and a version with a small amount of their trademark fragrance. I chose the one with fragrance because I feared the Fragrance Free would smell medicinal. The product is thick and luxurious – it lathers up beautifully and glides over the skin like a moisturizer than a cleanser. It didn't burn on the welts that had gotten raw and left my skin very faintly fragranced and quite soft. I will be using this until the bottle is empty, whether my skin is angry or not.

All Free Clear – As a woman raised on Tide detergent and Bounce dryer sheets, it's hard to change. I did a year ago to high-efficiency brands that come in smaller bottles and require less. The All only seemed to come in the big honking jug, which saddened me. However, it worked well, it didn't smell medicinal like many fragrance-free products, and I slept soundly in fragrance-free sheets, socks and am now typing in a fragrance-free bathrobe. So it did it's job.

Oprah Magazine – So I treated myself to a magazine. I was feeling awful, so I took myself to dinner, had myself a glass of red wine with a very lovely meal. And I read the Oprah magazine and loved it. I only buy magazines a few times a year (through Gold Points I get many popular beauty and fashion magazines for free) and when I do, it's usually Oprah. Her articles are jammed pack with inspiring and useful information. Every inch of the page is covered with facts, poems, ideas. I never want to throw them away because like a good book, you can flip open an old issue to a random page and become inspired. Though I ate my meal slowly, I could only get through maybe a quarter of the magazine. I didn't read it at home because I have a book I am completing; instead I will take it to work and savor a bit with my lunch. Such a good rag to pick up when you are feeling sad and blue!