This article may contain affiliate links; if you click on a shopping link and make a purchase I may receive a commission. As an Amazon Associate, I earn from qualifying purchases. 
This article is a repost from my other blog, My Wardrobe Today. Since it has received lots of questions, comments and emails from readers, I decided to do a PSA and post it here as well.
Some answers to questions – yes, I was offered a discount through Zappos to provide this review, but was asked to be blatantly honest with my experience in return. Completely honest, this is how pleased I was with the experience. I did not get free overnight shipping because I was part of this promotion, I received an upgrade email (I and friends have received similar ones from previous shoe purchases). The item came in the famous Zappos box, was in the traditional sealed clear plastic shipping bag (same with other online retailers) and the return policy is exactly the same as it is with Zappos shoes. Interested? Keep reading! 🙂
I think I am with most women in ADORING Zappos. I can find styles and brands I can't find anywhere else, free super-fast shipping, free returns and the reviews are so incredibly helpful in making purchase decisions! Many a time I had wished there was a Zappos for clothing – could search by size, color, style and come up with hundreds of options.
Zappos, have you been reading my mind? For now if you visit their site, you will see they do in fact carry clothing! Same great shipping and return policy, and a constantly growing selection of small brands and covetable labels. Zappos contacted me and asked me to try out their clothing department.
As with the Zappos shoe department, one can search clothing by gender, size, color, style and price. Once you have entered these search features, you can then organize your selections by popularity, how new the item is to the site, brand name, and price. You can also use the search function at the top to find a specific brand or style name. Though the clothing department is still new, many customers have already provided reviews which make it far more helpful than department store Web sites offering the same brands. Finally, Zappos' Live Help is available for their clothing as well as their shoe department.
I love all this, because I often go to Zappos to find a specific item I saw on a celebrity or on the pages of a magazine. I usually have brand and style name, but little else. The Zappos site makes it easy to quickly find items like this.
The first time I visited their clothing department, I took a quick look but left because they didn't have maternity. A week later, three pages of maternity fashions (and as of today a fourth page!). Really shows how quickly this branch of Zappos is growing! Checking out this list, you can see how extensive Zappos' clothing department is.
Searching the maternity department, I was impressed by the brands available – high-end department store and boutique lines like Olian, Japanese Weekend, Chiarakruza, Liz Lange, Chip and Pepper, and Theality. They offered not only separates, but all levels of dress, as well as some maternity and nursing lingerie and sleepwear.
I did find that the size selection was a bit limited, but attribute that to the department being so new. I liked that I could break down my search by style (was really looking for either a long-sleeved dress or a sweater for the upcoming colder months).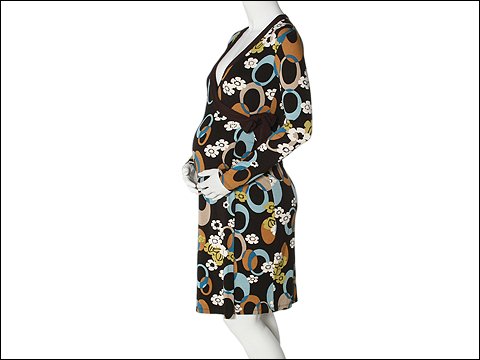 When looking at specific styles, I ADORE the multiple-view photographs. You don't just see the garment on a perfect mannequin or model (and possibly pinned and clipped in back to flatter), you see close-ups of the fabric, the front, the back, the side, the closures, and more. This really assisted me in finding a style that I knew would work with my figure and lifestyle.
I ordered the Olian Nicole Side Tie Dress on Monday afternoon and received it before dinner on Tuesday. How awesome is that? As always Zappos packed my order carefully and send just the right amount of emails to let me know the status of my package. Searching online, I found the price to be competitive with department stores and boutiques.
All in all, I have been very impressed with the Zappos clothing department and keep coming back to see what new brands and styles they have to offer!
P.S. You guys KNOW I love Ebates… well if you visit the Zappos site through Ebates, you can can get 5% cash back on your entire order. Haven't signed up for Ebates yet? What's stopping you? It's free, it's easy and it's money in the bank from online shopping!