Reader Liz emailed me about shoes. I concentrate so much on clothing, but what are the shoe staples that one needs in her wardrobe? And no Liz, I will not cop out and say all shoes are staples!

Like many, I am drawn to shoes. They are mini works of art, and no matter how many pounds you may have gained recently, shoes usually still fit and look fabulous. Shoes can take a simple outfit and make it fun, classic, elegant or chic. In a wardrobe full of staples, shoes are an accessory that can make your clothing current and full of personality.
Though shoes can be fun and creative and colorful, there are a few staples every woman needs in her wardrobe so she can get through the day to day events. Shoes she can go to when she doesn't have the time, the money or the energy to be creative, fun and colorful. Shoes that no matter the mood, she looks pulled together, stylish and appropriate.
A Pair of City Boots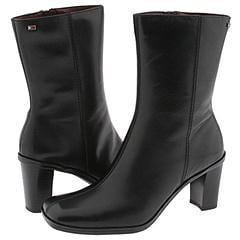 These are boots that come up to the ankle bone. Cross your legs, you do not see sock or leg. They can pull on or have a zipper. I have had a pair of black city boots in my wardrobe since the early 90's. The heel and toe style may have changed with the times, but the concept is the same – these boots are perfect for almost every pant and jean in your closet.
Last year at the Nordstrom Half-Yearly sale I found a pair of black faux leather (but look quite real!) city boots from Enzo Angolini at a wonderful price. They have a chic heel, elongated toe (great for us petite gals) and I wear them with jeans, with trousers, even with suits for business meetings. When I go on business trips, the only shoes I take are my city boots. I wear them on the plane with jeans, wear them out for drinks with clients with black pants and a blouse, and wear them to the client meeting with a conservative suit. You can't get more basic than that!
Now, how do you know a pair will be that versatile, that classic? To keep the style versatile, forego on textures (glazes, croco-embossing, distressed look, suede, lots of buckles and studs) and keep them pretty minimal. You want leather, or a leather look – this fabric is the most versatile. This is a shoe where I recommend finding a very realistic faux leather – they stretch around your ankle with comfort and they are rain and snow-resistant (and easy to clean).
As for style, as I mentioned above, though round toes may be in one season, a pointed toe the next, an elongated toe is usually elegant looking and it makes a petite woman look taller and looks great peeking out of longer pants and jeans. An elongated toe is forgiving to your tootsies, giving them plenty of room to move about. They look more stylish than a standard snub toe, and can jazz up a basic pair of black pants and a sweater.
Now for heels. I believe get the highest heel you can stand. A heel makes your legs look longer, your body look taller. Heels force you to have better posture, and to walk gracefully. Heels are not comfortable for everyone, so make sure what you buy is comfortable. A delicate kitten heel is low but elegant. With your heel, you do not want chunky. Chunky is not versatile, it is reserved for jeans and weekends. A slimmer heel is elegant and a bit dressier. Can still look great with jeans, but also can be appropriate with dressier trousers. Wedges are popular this season and far more comfortable than regular heels, but I do not see them as staples. They do not look classic enough to transcend seasons. Feel free to buy wedge heels for other shoes, but for this city boot staple, stick with a classic slim heel.
Shoes shown are available from Zappos.

Black Pumps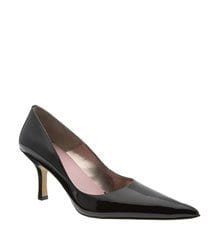 I know, all this black. The reason I suggest black is because there are a multitude of browns and navys out there, and only one black. If you followed my clothing advice, you already own black pants and possibly a black suit or a black skirt. It makes sense to have the majority of your shoes black. A black pump can go with any color in your wardrobe, and always looks classic, simple, understated and elegant.
A black pump can be worn with cocktail dresses, work dresses, skirts of silk or of denim. They can be worn with black pants and a camisole for a night on the town, or with your power suit for an interview. Be it a wedding, funeral, business meeting or cocktail party, your black pumps can be appropriate footwear for the event.
Here is where I recommend real leather. Real leather can be polished and maintained. They mold to your feet for a perfect fit. Unlike boots that are mostly covered by pants, a pump is on display most of the time. You want to have quality fabric. People say you can tell a man's worth by his watch and shoes – the same applies for women. Nothing will ruin your look faster than a cheap pair of shoes. Like the city boots, keep these shoes free of adornment. It's fine to have croco, snakeskin, patent, suede and studded black pumps in your wardrobe, but you need a simple pair of black leather ones for all occasions.
Like the city boots, I recommend the highest heel you can comfortably wear, and a slim lady-like heel. This will give you the most mileage in your wardrobe. A chunky heel may be fine for work, but won't go with your crepe sheath to a wedding or your silk dress to your company holiday party. A graceful pair of black pumps can be worn to most any event.
As for the vamp, you do not want to see toe cleavage, but you don't want it to look dowdy. Have a curved vamp that covers the toes completely, but shows a lot of the top of the foot. This will elongate the leg and look dressier. It is okay to have a peek of skin show between your pant leg and your pumps, but pumps look best with longer trousers.
As for the toe, there isn't a standard style that is best. I have a pair with an elongated pointy toe that look great with most everything, but I also have a round toe pair with a slim high heel that I find adorable with dresses. A pointed toe is more classic and will dress up your clothes, but if you find your style is more fitting with a simple curved toe or a retro curved toe, I say go for it. As long as you have an elegant heel and a good leather, it will look nice.
Shoes shown are available from Nordstrom.

A Fun Shoe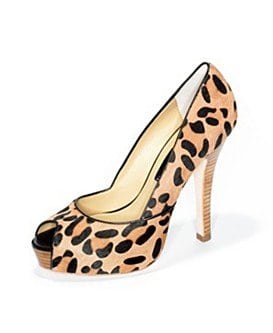 If your wardrobe was made completely of staples, it would be a boring wardrobe indeed. What type of person are you? Artsy? Romantic? Modern? Let it show in your shoes.
These shoes should follow the rules of the pumps – have them work with dresses, skirts and pants. This will give the most versatility and the most bang for your buck. They can be pumps, or wedges, peep-toes, Mary Janes, something that can go from season to season and something that has panache. This year I invested in leopard print peep-toe heels. I can wear them with a black sweater and black pants and suddenly look sassy. They are an unexpected neutral with a color – I have worn them with a teal blue dress, with a dark denim pencil skirt and burgundy top. I have worn them even with dark creased jeans and a black blouse with a gold necklace. Two years ago I bought a pair of hot pink leather pointy-toed pumps with studs on them. Totally crazy purchase, but those shoes still get a regular rotation in the wardrobe. I will spice up a classic black sheath dress and pearls with the pink heels. I have cuffed my jeans to a cropped length, worn a white tank, black blazer and these pink heels. Black suit with the pink heels and a sheer bright pink lipgloss to pull it together. A black sweater piped in the same pink with jeans and the pumps. It's amazing how your basic wardrobe can really handle a wild pair of shoes. My sister has a pair of caramel-colored patent leather pointy pumps. She got them at Payless for a song and wears them often. Dark blue dolman sweater, jeans and the shiny shoes. Brown twinset, camel wool skirt and the same shoes. A simple black dress, yellow pearls and the caramel heels. You will see that a spunky pair of shoes will be more versatile than your black pumps!
Shoes shown are available from Macy's.

A Comfy Shoe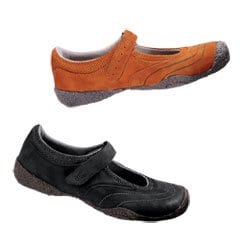 No, I do not mean a pair of sneakers, or slipper, or Birks or Crocs. This is a shoe that looks presentable, but doesn't kill your soles. These shoes are for tours of Italy, weekends in the Napa valley, a marathon day at the mall, even a daytime garden wedding. Shoes that can tackle pounding the pavement, tromping through fields, but looking appropriate with a sundress, a pair of sateen capris or hiking pants.
What kind of miracle shoe can this be? There are great shoes out these days that blend the comfort of a sneaker with the style of a dress shoe. BORN carries amazingly comfortable and fashionably appropriate shoes. I found a great pair of black shoes that look like Mary Jane flats but feel like clouds at Title Nine. My mom has a pair of black leather wedge sandals that look tres cute but are super comfy and from Easy Spirit.
Most of my clothing is black or looks good with black, so I invested in black comfy shoes. I find black works for all seasons. Brown can work too, but do know that brown and warm tones do not look as dressy and may not be quite as versatile. Try to find solid shoes – veer from piping, contrast stitching or colorful soles. These will only highlight the fact that these are comfort shoes, not fashion shoes.
Nothing screams tourist more than a pair of sneakers, and nothing can ruin your vacation more than blisters and screaming toes. You may not think your lifestyle warrants these shoes, but once you buy them, you will see you will love them for every jaunt to the outlet mall, every one of your kid's field trips, every time you decide to go to an outdoor festival. Capris look classic with black flats, and dowdy with sneakers. A sundress looks trashy with flops, but festive with sandals. This is an investment for your health and your sense of style.
Shoes shown are available at Title Nine.

Where are the Rest???
Where are the strappy black heels you may be wondering? How about the black flats? Sneakers? Tall boots? A summer shoe like a slide? I am not mentioning those or any other shoes because they are not staples. They do not transcend seasons and trends.
Three years ago I couldn't live without my black silk strappy heels. I wore them to every wedding, cocktail party and company bash. I wore them out with the girls with jeans and a silky top. Two years ago, I switched to gold strappy heels. And this year? I don't even wear strappy, I find peep toes to be more flattering and chic. Dress shoes get trendy. The heel changes, the straps change, the fabrics change. If you think you have a classic pair of strappy dress heels I'll bet $5 that they are not.
As for summer shoes. For years I lived in black slides from Steve Madden. Everyone I knew had either the same exact shoe or a slight variation. Black leather band over the shoe, slightly stacked platform sole. Worn with capris, skirts, dresses, jeans and pants. They were perfect, and quite comfortable. And for the past few years, they have been horribly out of style. This past summer it was chunky platform wood wedge heels with leather straps encrusted with stones. Next summer, who knows? Point is nothing seems to stay in style outside of a leather variation of a traditional flip flop, and that is not always apropos for all outfits and occasions (and hey, may be passé in 2008!).
Black flats. People have emailed me and commented here about how I never mention flats. Flats are comfortable. Flats are chic. Who can dare think that Audrey Hepburn wasn't chic, and she always sported little black flats. Well Audrey Hepburn had the figure for flats, and skinny black pants with turtlenecks, and all kinds of other fashion choices that the majority of society cannot pull off. Like me. I am 5'3" and not a waif. I look ridiculous in flats. It's as though someone cut off the last few inches of my leg. A flat shoe looks worse on a curvy or many petite person than being barefoot. It cuts the line of the leg, it makes you look short, dumpy, unfinished. Just as I don't think a black pencil skirt is a staple, or a turtleneck, I don't think flats are. These are items that can look amazing on some, and dreadful on others.
As for tall boots… well I love them. I adore them. I drool over them, but I do not own a pair. I am short, with large calves and tall boots make me look wider and shorter than I already am. I do not believe in being a slave to fashion. If a look is not flattering, no matter how often you see it in shop windows and magazine pages, do not buy into it. Tall boots look weird on very slim legs, on very long legs, short legs, and very thick legs. Not only that, they are hard to figure out what how to wear. I see women try to stuff their bootcut jeans into tall boots to emulate Kate Moss. By noon, they have puffs of denim at their knees and look as though they dressed in the dark. I see women wear heavy leather boots with delicate chiffon skirts, with too short skirts (hello Red Light district), bunched under jeans, and the greatest horror of all? Trying to get a few more months of wear out of your summer capris by pairing them with tall boots (honey, they're not gauchos).
My Personal Staples:
I do have a lot of shoes, but that is because I treat them well, store them properly and stock up a collection. I only buy one or two pairs a season, and I try to choose wisely. Before I buy a pair of footwear, I stop to think if they can go with at least three different outfits. If I cannot envision that, they go back on the rack. The shoes I currently wear a lot:
Winter/All Year:
Black leather pointy toed pumps (work and play, skirts and pants)
Black leather round toed high heel pumps (work and play, skirts and pants)
Black silk peeptoe heels (dressy skirts, dresses and pants)
Black faux leather city boots (everything, absolutely everything that is a full-length pant or jean)
Brown leather peeptoe pumps with a stacked wood heel (pants, suits in warmer months, dresses and casual skirts)
Black athletic-inspired Mary Janes (travel, work, long days on my feet)
Leopard print peeptoe heels (work and play pants, dresses, jeans)
Teal suede wedge-heel pumps with a knotted design in front (jeans, casual pants, dresses)
Summer:
Summer Sandals – wood low wedge heel, thong style completely beaded with tiny bugle beads in bronze, brown, dark red and a bit of turquoise (with jeans, dresses, capris, skirts, most everything)
Summer Sandals – tan leather thong style with a low kitten heel (with EVERYTHING, they are my primary work shoes and party shoes)