This article may contain affiliate links; if you click on a shopping link and make a purchase I may receive a commission. As an Amazon Associate, I earn from qualifying purchases.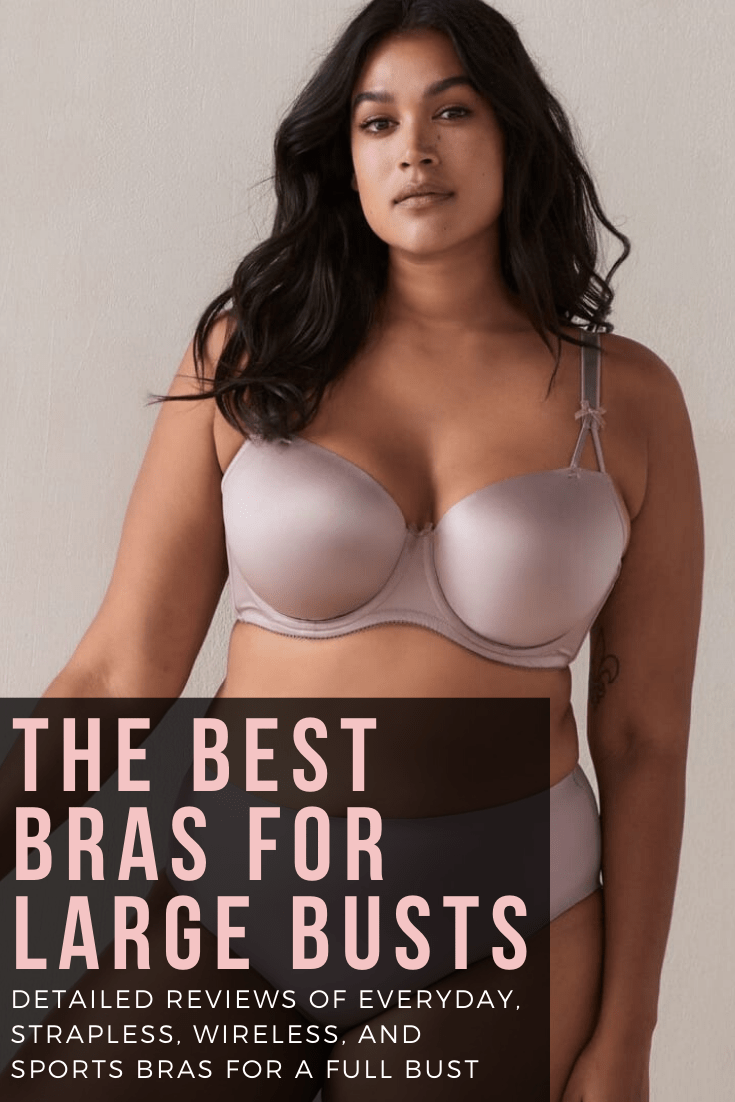 I recently shared a list of the best wireless bras and at the end of it, I mentioned that while I own wireless bras, I still am most comfortable in an underwire bra. I wear in general, a 36F.  Sometimes a 38, sometimes a G or a DDD, it depends on the brand and the style of bra.  I was a B cup when I graduated high school, by the time I started college I was a D cup.  I have gained weight, lost weight, worked out, not exercised, had a baby, nursed it for over two years, and I am 45 years old so all of that has affected not only my size but how firm my breasts are.  I like having a larger bust, I love the look of my silhouette and I like having my breasts very lifted, brought center, and separated.  As a shorter woman (I am 5'3″) I desire good lift to separate my bust from my waist.  Whether it's a social event, the gym, or even hanging out at home, I like the look of my bust lifted, separated, and shaped.  It makes me happy.  I think all of that is important to share before I share my favorite bras for my full bust as what I love may not be right for you.
What I Find to be the Best Bras for Large Busts
Having a beautiful intimates drawer used to be important to me and I don't knock anyone who still loves it.  It is a beautiful form of self-care and self-love.  There is something powerful about beautiful lingerie, especially when no one but you knows it's under your ordinary street clothes.  Especially as a woman with soft curves and a large bust, I have always treasured the ability to get a beautiful yet functional matched set, especially when it wasn't in a shade of beige, ivory, or black.  However, in the past couple of years, especially when I started weight training and riding the Peloton, I have cared less about my intimates drawer for fashion and more for function.
For me, I like having a drawer of situational intimates.  I like to open it and find the right kind of bra for that halter-neck jumpsuit, the right underwear to virtually disappear under high-waisted white linen trousers, the right product to prevent chub rub without causing static cling.  I find power in having that drawer for whatever situation and style may come my way. I've worked hard to find good items for my body, and am constantly refining it with each item that wears out.  Because underpinnings wear out, even if you wash them on gentle and line dry and store them properly.  They need to be replaced to remain effective, and it's better to keep this in mind than end up one day with an escaping underwire, broken strap, or undies that won't stay up under your shift dress.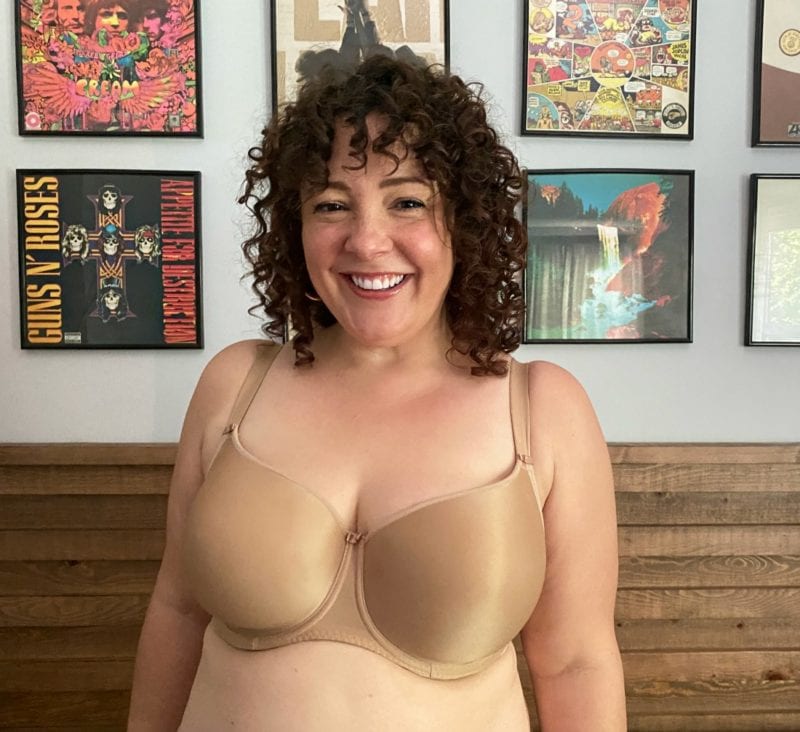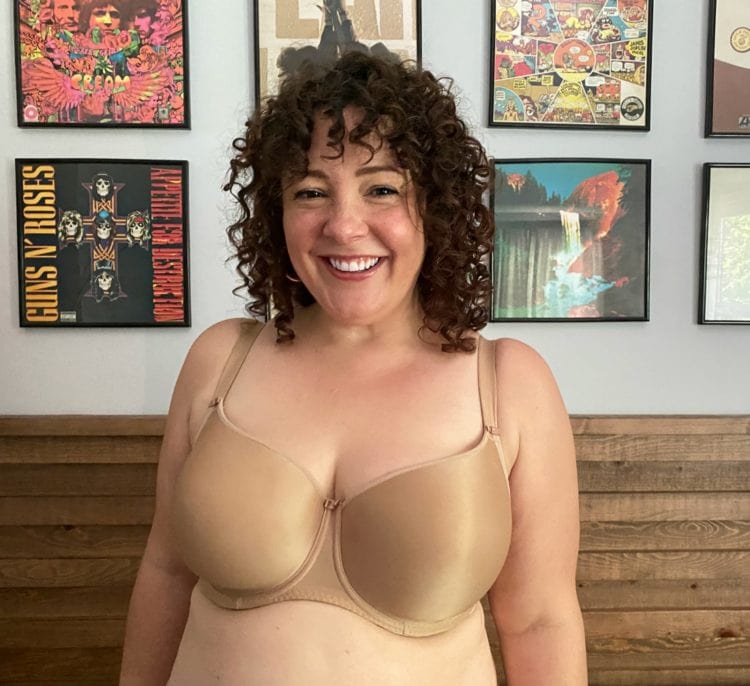 My Favorite Underwire Everyday Bras
I seem to be in the minority, but I am far more comfortable in an underwire bra than a wireless one.  I like a molded cup bra that offers more support, thereby reducing the strain on the straps and my shoulders.  I also like a strap slim enough that I can wear tanks and wide-strap tops and not have them show and a cup that is low enough that it doesn't peek out of necklines.  I want my bra to be smooth so I can wear the same bra with a fitted tee that I do with a bulky sweater.  These two bras achieve all of this while being so comfortable I have worn them continuously while being at home the past few months:
Fantasie Underwire Smoothing T-Shirt Bra: This has been my favorite bra for a decade.  The size may change, but the style does not.  I like how simple it is, I like how the cups are molded but don't add a lot to my size, I like how the straps are not too thick and not decorative, and how it plunges enough in front that I can unbutton another button on my shirt and show the cleavage off without showing the bra off.  I replace these every 6-8 months; I know it's time to replace them when they stop being comfortable.  They're not cheap bras, but they're so good I have had women ask me on the Metro, in restaurant bathrooms, and social events what bra I'm wearing.  Unfortunately, it only comes in two colors – beige and black.
Soma Cooling Full Coverage Bra: When Soma came out with their Cooling collection, I was paid to do a campaign featuring one of the bras. I asked to showcase the balconette, knowing a lot of full-coverage bras go too high on me and make my breasts look weird and peek out of lower necklines.  The balconette silhouette didn't fit me quite right.  Soma was kind enough to send me the full-coverage to try after the campaign and I became obsessed.  This bra is softer than the Fantasie, the straps are prettier, the only issue with it is the cups do add volume to my bust and can make some fitted tops and dresses I own too snug.  Oh, and it's shiny and can look shiny through sheerer tops. But this is my favorite bra for hanging out at home, hanging out in the summer, and most anything else as long as it doesn't require me to wear a very fitted top!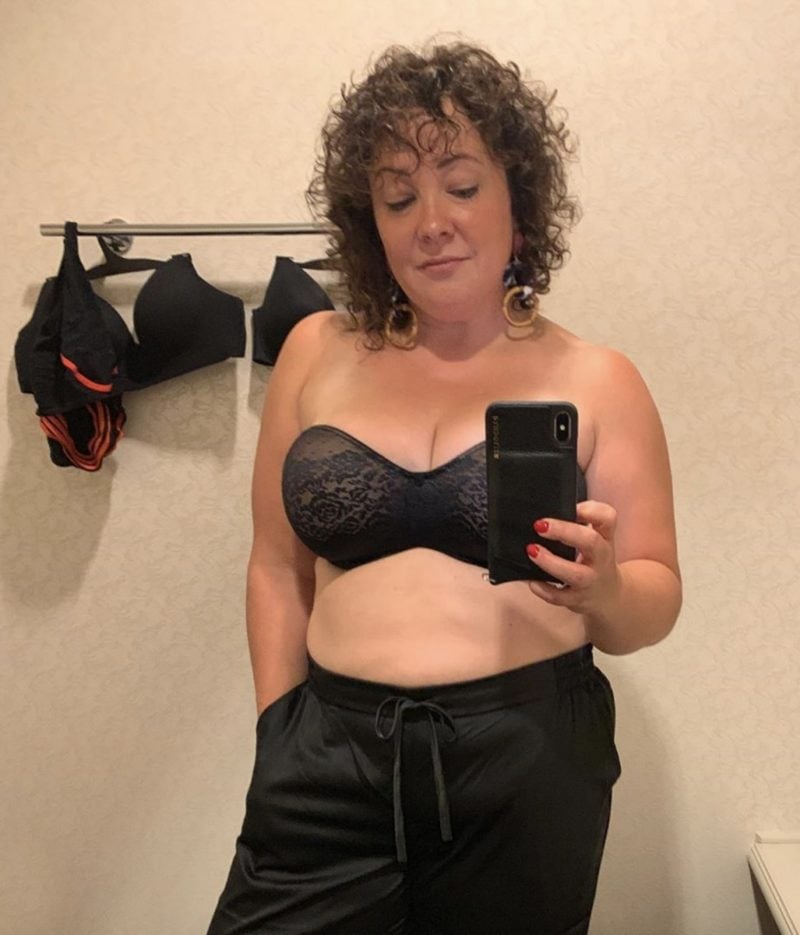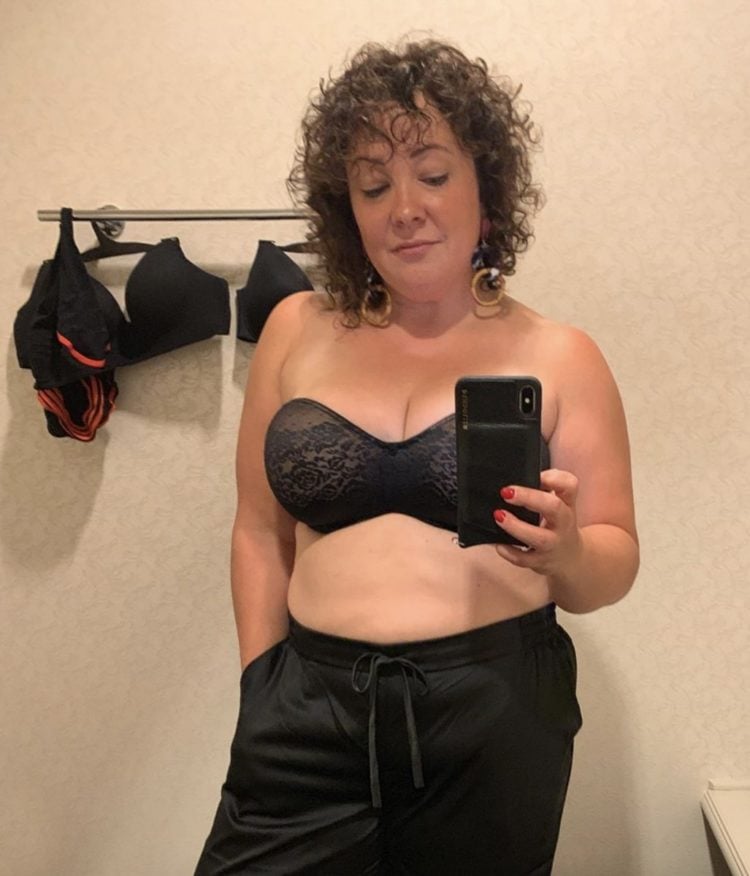 My Favorite Strapless Bra
One of the most valuable items in my intimates drawer is a strapless bra.  I love the look of off the shoulder and strapless outfits, but the bra situation is tough at my size and age.  They mash down and create a weird silhouette, they slide down during the day, they create spillage under the arms, they accomplish hardly anything, and boy are they painful. If you get a good one, you buy more than one and treat it with care.  For the past couple of years, I have been 90% happy with a strapless bra from Soma, which is now discontinued.  I am on my second set (I have one skin colored and one black).  It would be uncomfortable after a couple of hours, but otherwise gave great support and shape.  It was essentially the Soma Stunning Support Balconette (a bra that I like and is like my 3rd favorite underwire) made into a strapless bra.  I bought my current strapless bras only a couple of months ago when they were on super clearance at Soma; I think I got both for less than $25 total.  So I have a while before they need to be replaced.  Right now, the top contender for replacement strapless bra is the Stunning Starlet since I've had so much luck with Soma for my strapless bras.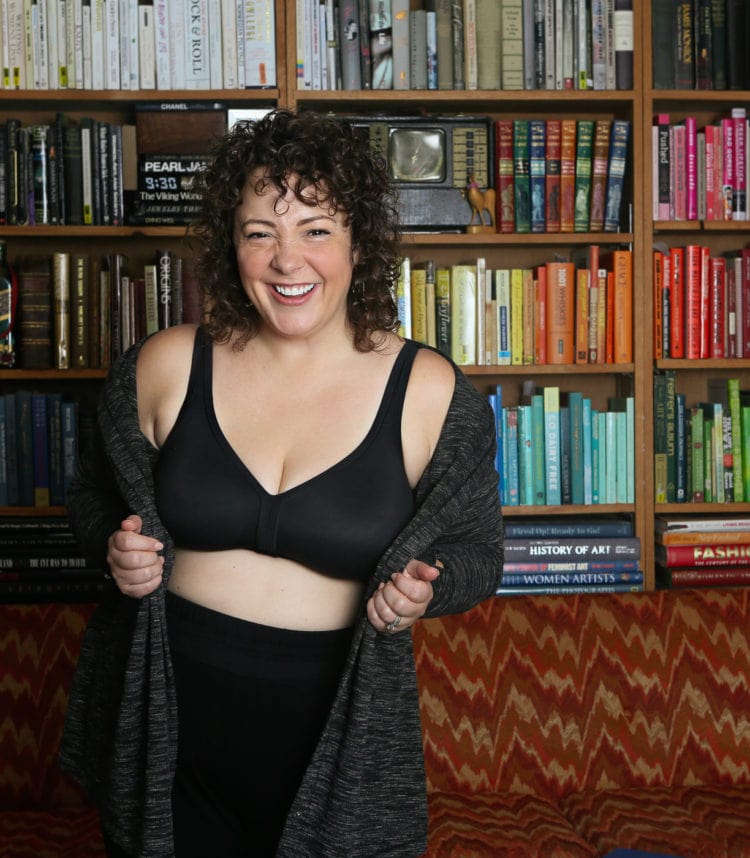 My Favorite Wireless Bra
With my job, I have had the opportunity to try several different brands and styles of wireless bras made especially for large busts.  And most of them have been a bust.  If they can lift my bust more than a centimeter, they lump my breasts into one weird mound, and sometimes also offer the perk of having one breast slip out the neckline if I choose to lie down on the couch or bend down to pick something up off the floor.  That being said, I really like this wireless bra from Soma.  I know, Soma again, but the brand really fits my bust shape well and I think they're well made, pretty, and a reasonable price especially for the quality.  I did a full review in this post where I rated it the best wireless bra for large busts.  I have this bra in Black, and Adobe Rose which is a beigey-mauve color that is close enough to my skintone to not stand out under white tees.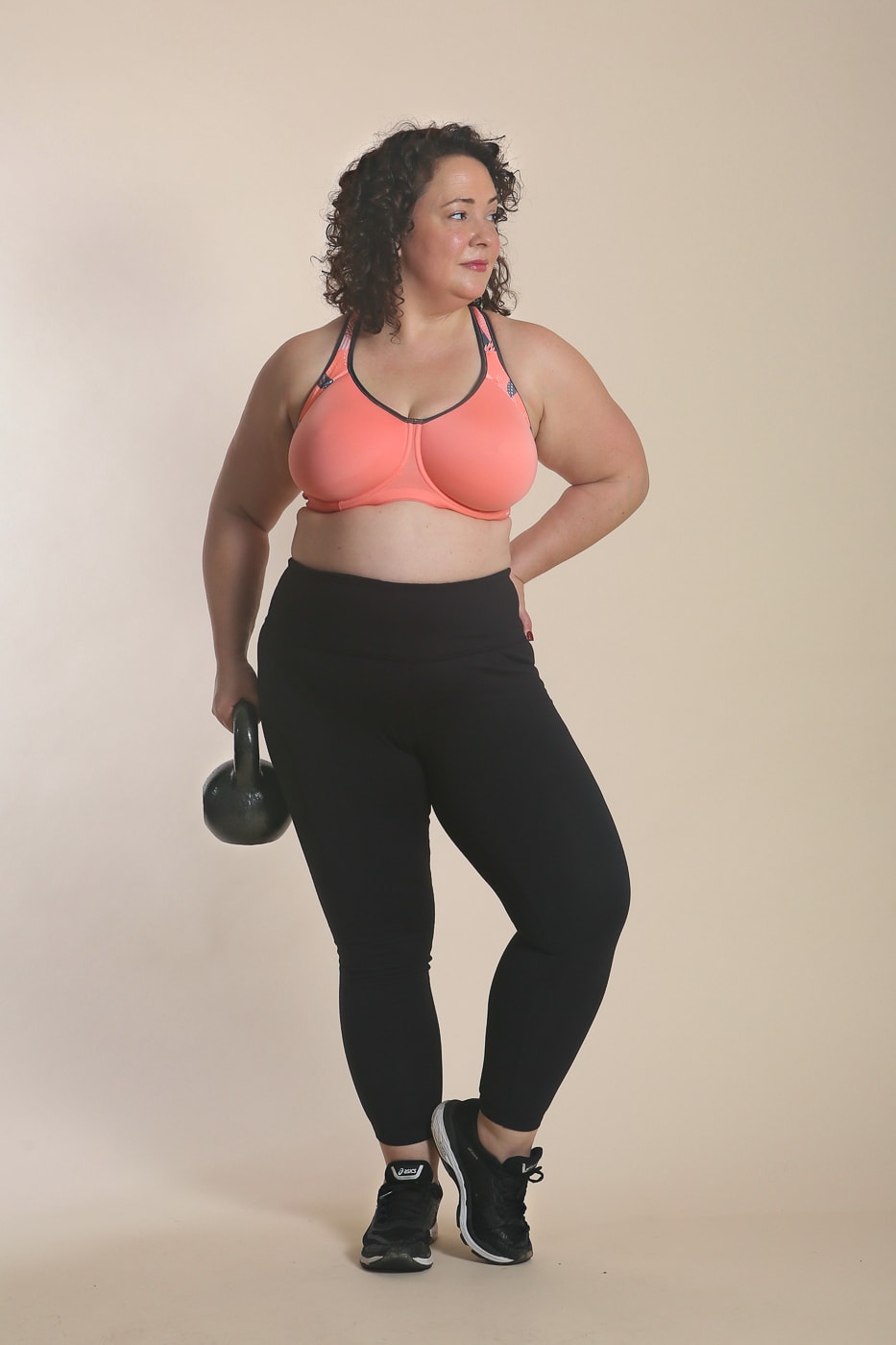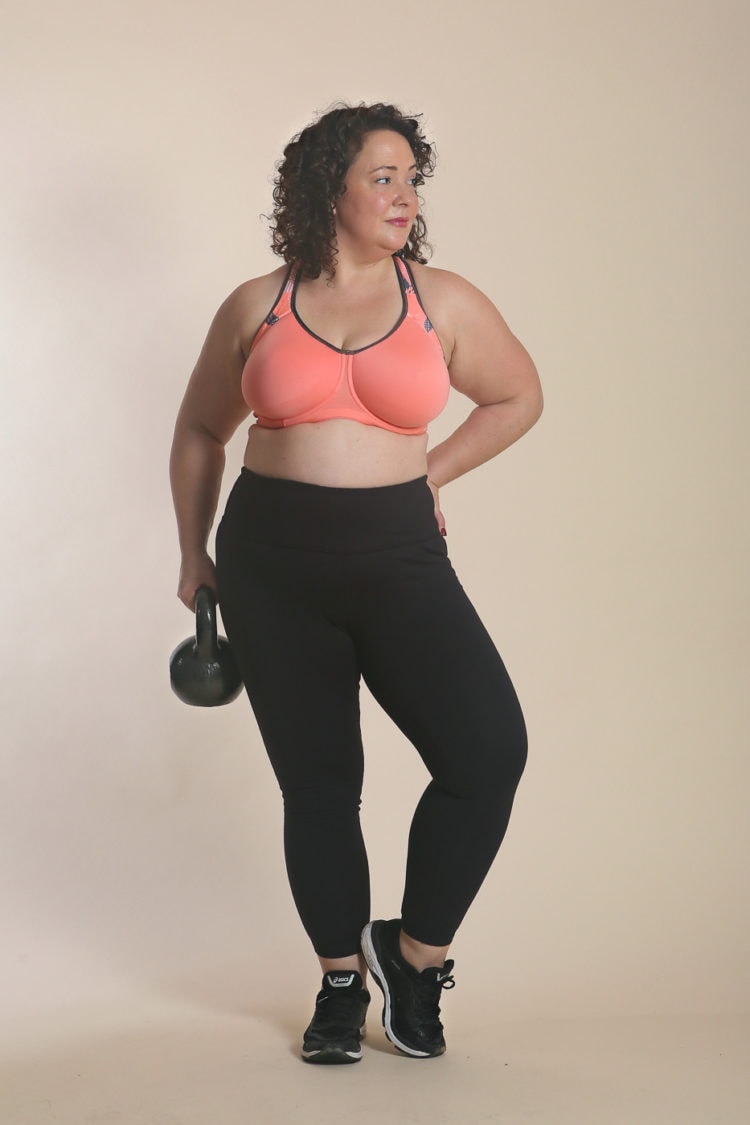 My Favorite Sports Bras
If there isn't a lot of variety in my everyday bras, there is with my sports bras!  I always had one sports bra in my drawer but once I started going to a gym regularly in 2018, I had to up my sports bra game. I've used the past two years to find the right sports bra for my frame.  Like any other bra, I like a sports bra that lifts and separates and gives me a great shape.  I don't want a bra that requires me to be a yogini to get in and out of it; I find for me a sports bra with a more "traditional" design with underwire and back hooks works best.  I prefer a sports bra that looks like a sports bra.  I want thicker straps, a wider back, fun colors and prints so I can wear it by itself like my smaller-busted sisters and not look like I am half-dressed.  My activities requiring a sports bra are weight lifting, strength and stretching on-demand classes, yoga, and riding the Peloton bike. Since I do not run, dance, or jump I don't require maximum compression.  The bras below are the best sports bras I've found for me:
Freya Sonic: This bra is so comfy and gives such great shape, I often wear it as an everyday bra when at home.  Unlike many sports bras, this one is underwire and has cups and design like a standard bra. For those who get chafing and irritation from standard bras in the summer, a sports bra like this one is a good alternative as it's made from moisture-wicking fabric. With the contrast stitching and either mesh fabric or printed fabric accents, this looks like a sports bra even though the design is more "traditional."  This one isn't high with compression; it's fine for a spin class but I wouldn't wear it for a run or a cardio class.
Freya Epic: This bra is surprisingly hard to find; when I bought it a few months ago it was sold everywhere from Nordstrom to all the big bra online boutiques.  Right now I find the best size and color selection at Bravissimo.  Bravissimo may be based in the UK but they offer free shipping for orders over $100 and free returns to those of us in the States.  This is not underwire, it has molded cups but still offers the same amount of lift and almost as nice of shaping as the Sonic.  It also reduces jiggle more.  I find it best when clipping the straps together in back to make a X- or racerback to increase support/compression but also fit.
My Favorite Underwear
While we're here, I figured I'd share my favorite intimates for below the bust.  As I mentioned above, I am not looking for fashion as much as function.  I want underwear that will keep me from feeling swampy during the summer, will disappear under thin and light-colored clothing, that won't roll down but won't show over the waistband, that don't give me wedgies, don't segment me, and I essentially forget they are on.
Shop the Post: