This article may contain affiliate links; if you click on a shopping link and make a purchase I may receive a commission. As an Amazon Associate, I earn from qualifying purchases.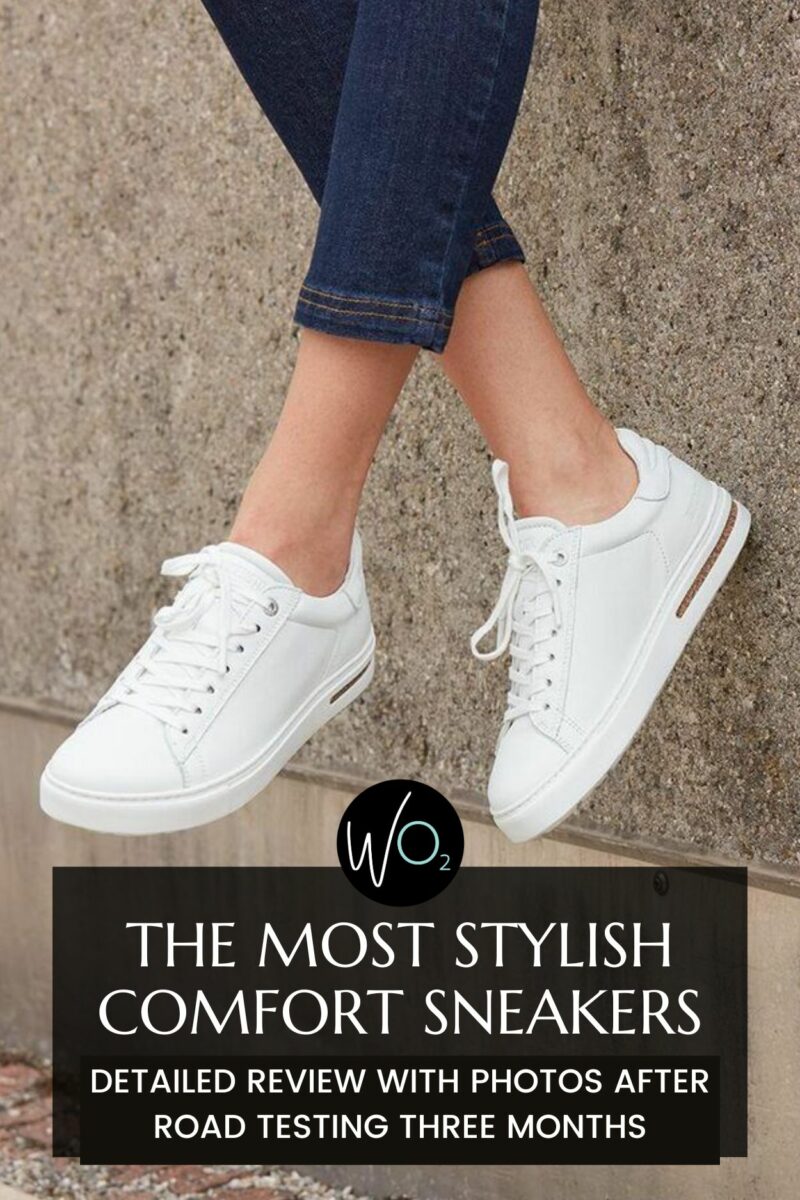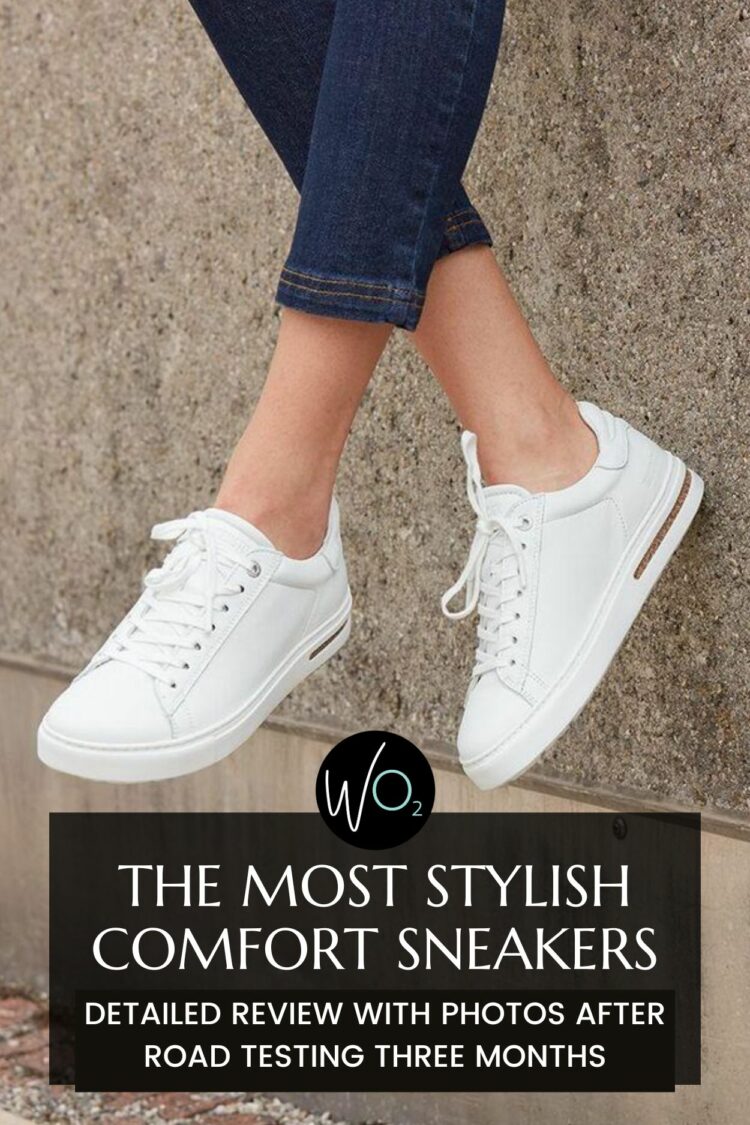 I have meant to write this Birkenstock Bend sneaker review for a while. I have been a fan of Birkenstock sandals for decades for comfort, support, and how happy they make my feet. However, it took me until this year to try a pair of closed-shoe Birkenstock shoes. I now wonder why I waited so long; spoiler alert this review is a RAVE!
I am republishing this Birkenstock Bend sneaker review because, since my original publish date, I have worn these on travel, walking several miles. I also saw they are available for sale at different retailers and Birkenstock has also changed their sizing concept for their sneakers. I have updated with the latest information.
Birkenstock Bend Sneaker Review
Why I Desire Comfort Sneakers
As a child, I walked on my toes. This caused the balls of my feet to be extra padded, making my feet wider than normal. As a young adult, I found my years of toe-walking a benefit as I could rock a pair of high heels for hours without discomfort. But after having my child, I began experiencing many foot issues that had me reaching for low-heeled or flat shoes for relief.
While still on maternity leave, I went to a podiatrist for extreme pain in the top of my feet. Thinking I had broken something, I was surprised to find that the pain was from plantar fasciitis and relief could be found from wearing shoes with arch support. Shuffling around the house half-awake dealing with an infant, Birkenstocks made the most sense and I bought my first pair since my grunge/boho days in the '90s. Almost immediately I experienced relief.
In 2020, spending so much time at home, I again wore Birkenstocks around the house in place of slippers or stockinged feet. My feet were happy, so happy that when I tried to put them back into heels and pointed-toe shoes they protested. While I can still wear a low heel, I now seek out comfort brands and wider styles that look stylish but also keep my feet comfortable.
What Made Me Buy the Birkenstock Bend Sneaker
I felt the Birkenstock Bend sneakers looked dorky. Photos of them online made them appear very bulbous at the toe, and the visible strip of cork was distracting. I was used to such issues with comfort sneakers; they always have some extra unnecessary detail to ruin any style. But then one day at a coffee shop, I saw a woman in a pair of these sneakers and she changed my mind.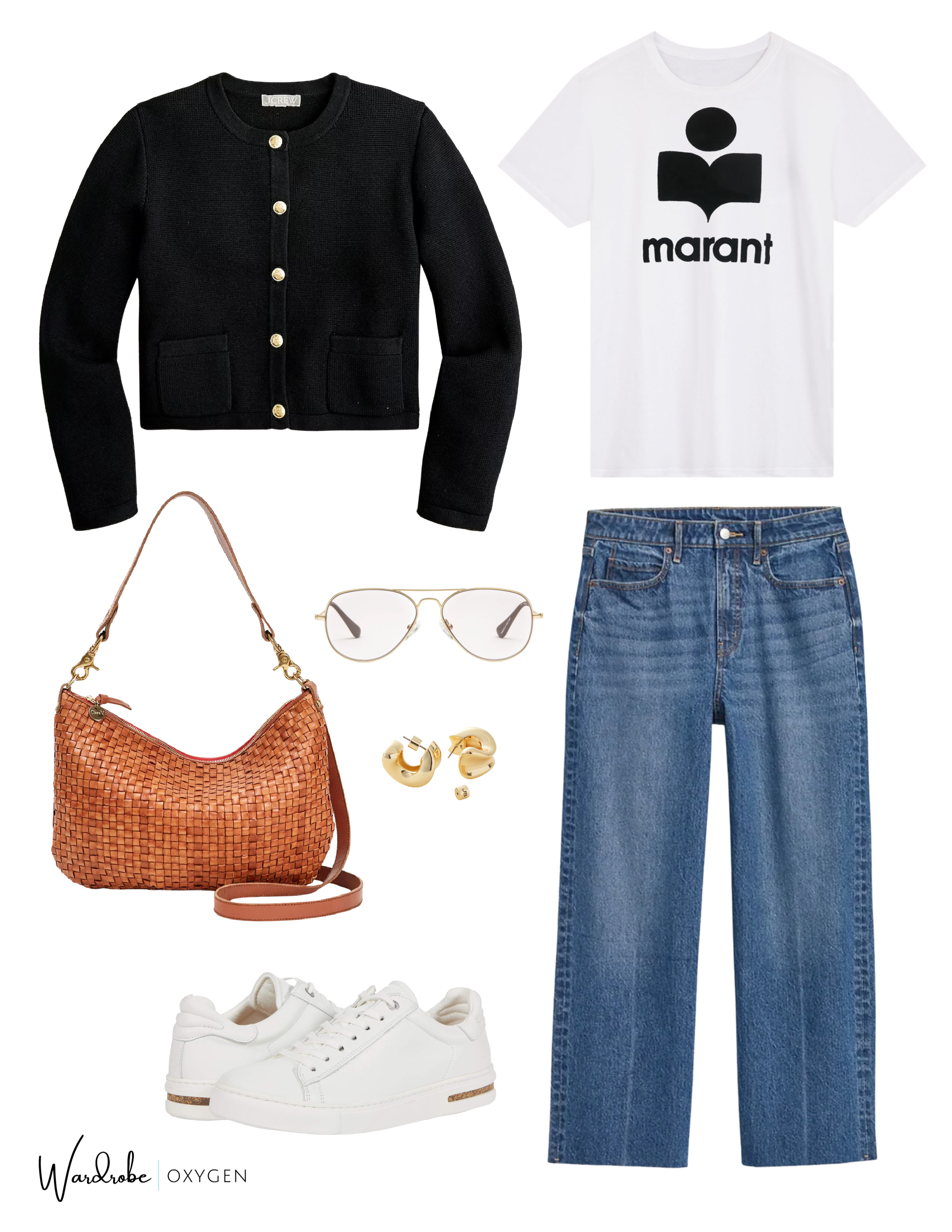 Shop this look: cardigan (sizes XXS-3X) | t-shirt (sizes XS-XL) | jeans (sizes 23-35 w/ 3 inseam lengths) | bag | earrings | reading glasses | sneakers
The woman was standing in line, wearing the Birkenstock sneakers with no-show socks, cropped wide-leg jeans, a black Chanel-inspired cardigan with gold buttons, and a tucked-in white Isabel Marant graphic t-shirt. She had a brown woven leather bag over one shoulder, small but sculptural gold hoops in her ears, and aviator-style glasses. She looked to be around my age, Gen X. She looked effortlessly cool as she placed her coffee order.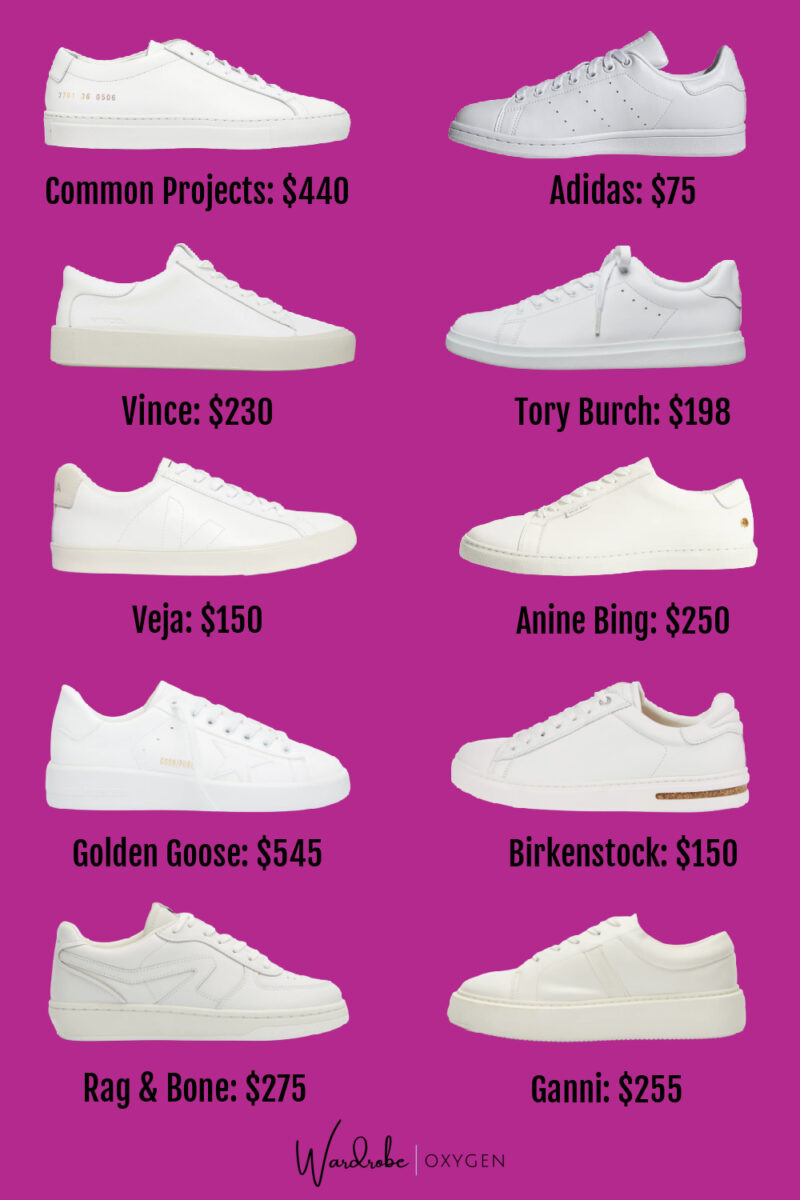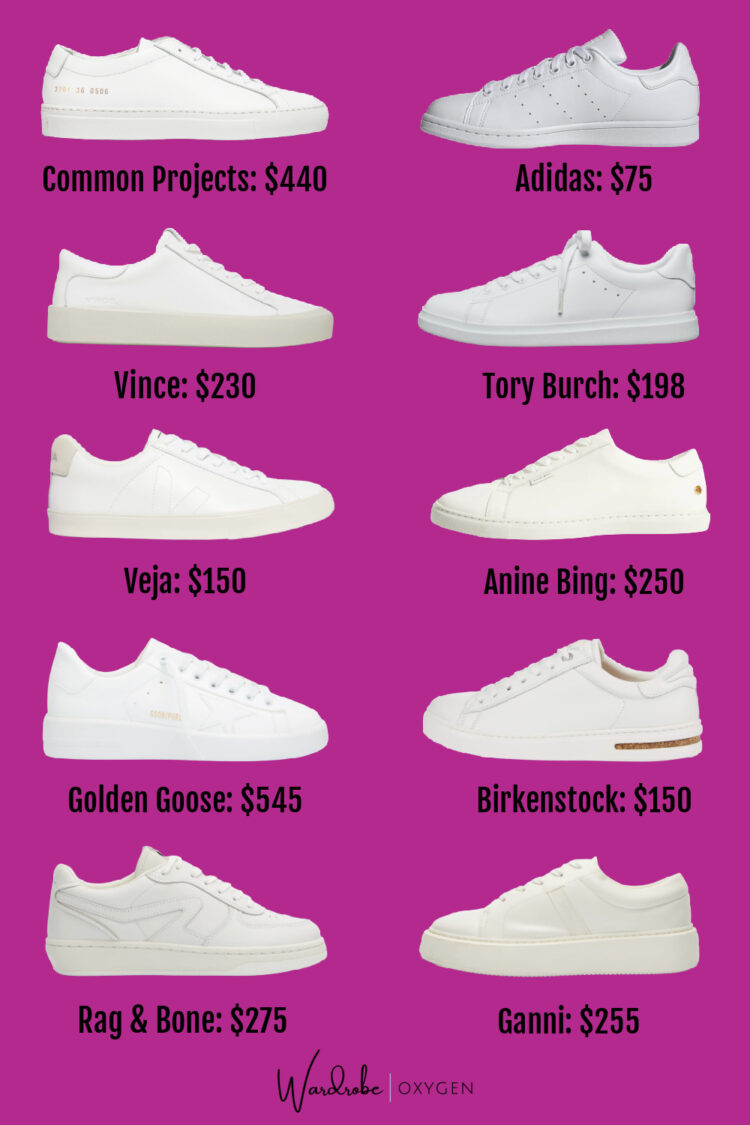 Shop the Collage: Common Projects | Adidas | Vince | Tory Burch | Veja | Anine Bing | Golden Goose | Birkenstock | Rag & Bone | Ganni
I recognized the sneakers by the cork footbed, otherwise, I would have thought the sneakers were by a brand like Vince or Tory Burch. They didn't look bulbous or dorky, they looked expensive and refined. Knowing they were comfort sneakers made the whole look even cooler. That evening I went to my computer and ordered a pair of them in white leather. The influencer was influenced!
Where to Buy the Birkenstock Bend Sneaker
The Birkenstock Bend sneaker is sold at a range of retailers, including the Birkenstock website. I found them to be the same price at Birkenstock, Nordstrom, Zappos, Bloomingdale's, and Dillard's. DSW had them for one penny less than these retailers. They are all authorized sellers of Birkenstock; please know that Amazon is not an authorized Birkenstock retailer (link to Footwear News) and the Birks you buy on there very well may be counterfeit.
I usually purchase my shoes through Zappos or Nordstrom because both offer free shipping at any dollar amount and easy free returns with an extensive return window. I bought my Birkenstock sneakers from Zappos, knowing they would arrive quickly and I would have time to try them on and style them at home before deciding whether I would keep them. However, I find Nordstrom replenishes sizes more quickly.
How Are The Birkenstock Bend Sneakers Sized?
The Birkenstock Bend sneaker is a unisex shoe. Some retailers like Zappos have the men's and women's sizing at the same link; other retailers like Nordstrom have different links for men's versus women's. In general, a man's shoe size is 1.5 smaller than a woman's. If you are a size 8 in women's shoes, you would wear a 6.5 in men's shoes.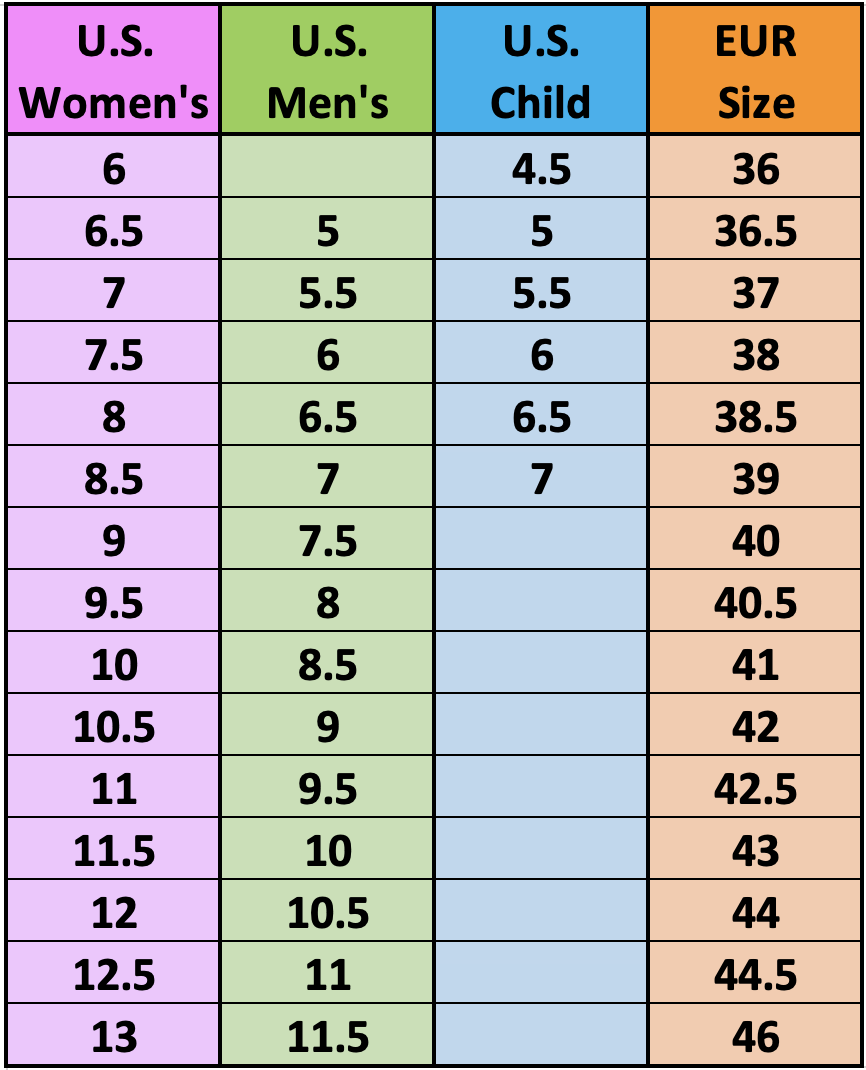 I am a woman's size 8; I usually buy 8 Medium sneakers and boots and 8 wide sandals and dress shoes. I purchased size EU 39 (US Men's 6-6.5, Women's 8-8.5) in these sneakers. I ordered my shoes from Nordstrom, and the only width option they had was "B.". Read below for more information on how the Birkenstock fits in regard to width.
Does the Birkenstock Bend Sneaker Fit Wide Feet?
As someone with wide feet, I was concerned that a closed shoe wouldn't be as roomy as a Birkenstock sandal. I need not worry, I found this shoe comfortable right out of the box. In fact, it is so roomy that those with narrow feet may wish to choose a different leather sneaker with arch support (check out the Vionic "Winny" or the ECCO Soft 7).
Reader Kristin was looking for the regular/wide version and reached out to Birkenstock. She notified me that Birkenstock is no longer offering the two different widths and that the Bend will only be available in one width, which is the Narrow/Medium version. I have seen these shoes sold online at different stores as narrow, narrow/medium, and medium.
Some shops like Zappos offer two options: Narrow and Medium, but Medium in limited sizes and colors. The Birkenstock website has Regular/Wide and Medium/Narrow but you will see that the Regular/Wide is in limited sizes and fits the intel that Kristin provided regarding Birkenstock widths.
I went to two different shoe stores this summer to try the Birkenstock Bend, neither store offered sizes and these shoes fit exactly like the pair in my closet. To ensure what I had was not a medium/wide or wide version I ordered a second pair from Zappos in the only size available in white: Narrow. Dear readers, this shoe was NOT narrow. It fits exactly like the pair I already owned.
I know this is terribly confusing, which is why I updated this post. I believe we are in the middle of Birkenstock changing their sizing terminology and some sites have caught up and others have not. I have a feeling in a few months I will have to yet again redo this review with the latest sizing terminology. But in summary, Birkenstock Bend sneakers only come in one width these days and it is plenty roomy for wide feet.
What Does The Birkenstock Bend Sneaker Look Like?
The white Birkenstock Bend sneaker has a smooth leather upper, with a microfiber interior lining. The sneaker has a removable, anatomically shaped cork-latex footbed that supports the arches of the feet and cradles the heel. The sneaker has a midsole made of PU and cork; you can see this in that strip of visible cork. The cork helps with shock absorption. With a rubber outsole, the bottom of these sneakers has the same iconic pattern as the Birkenstock sandals.
The shoe is free of hardware, embellishment, or visible logos. Beyond the cork stripe in the sole, the top holes for the laces have silver grommets, there is tonal stitching to separate the padded area around the ankle, and "BIRKENSTOCK" is embossed on the top of the tongue and the side of the heel.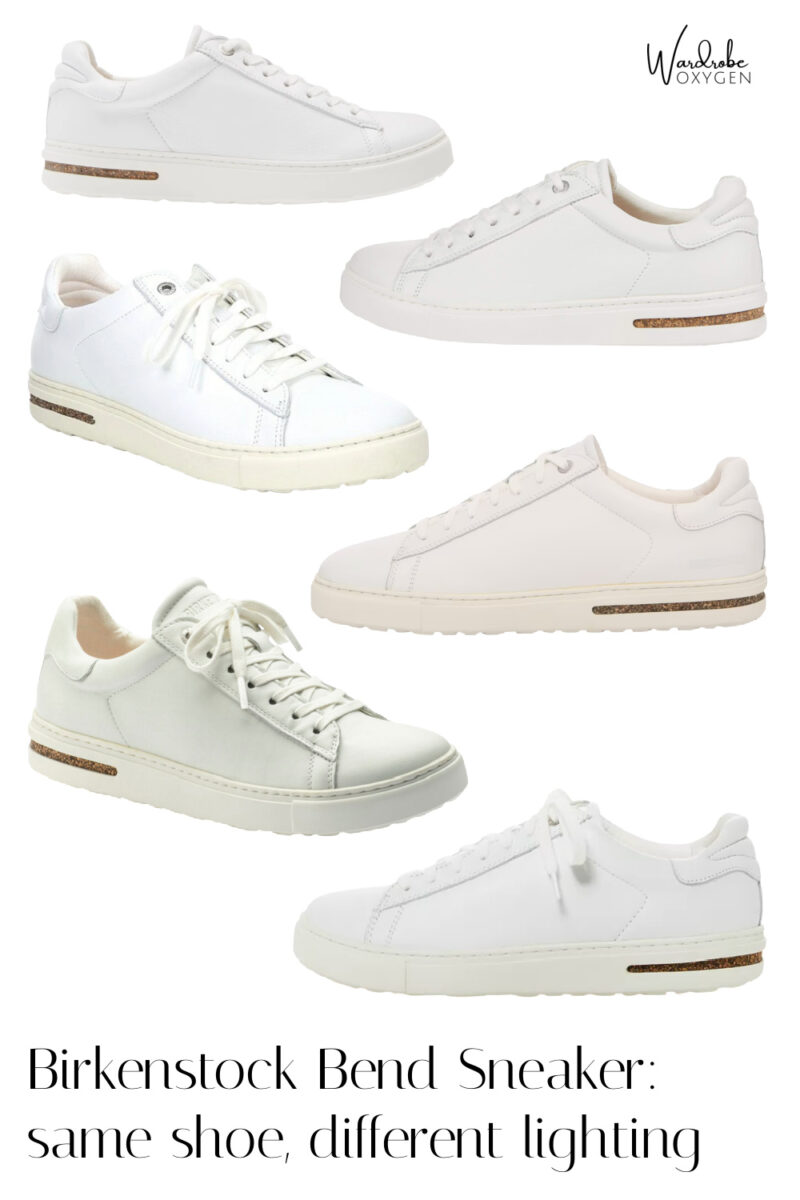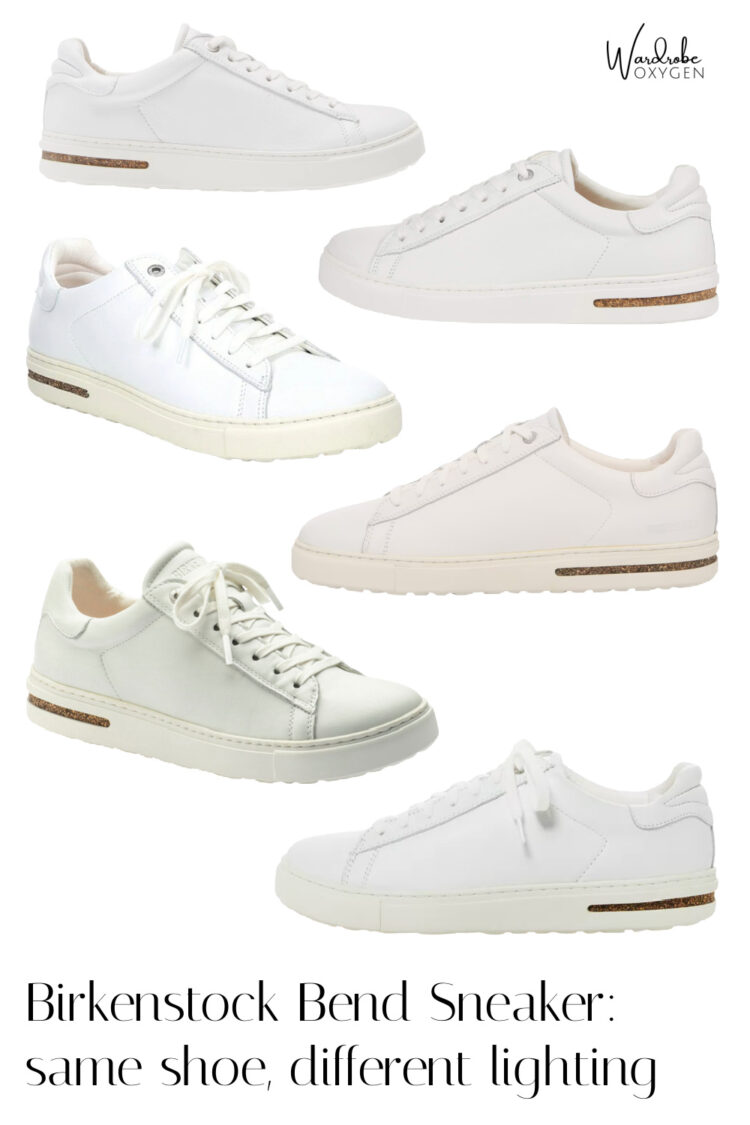 If you are looking to buy these leather Birkenstock sneakers in white, you may be confused by the different ways they appear on different sites. Depending on the retailer's photography, these shoes may look blindingly white, white with beige soles, beige with beige soles, beige with tan soles, off-white with beige soles, or off-white with matching soles.
They are all the same shoe, and as an owner, I can tell you they are winter white (not bright white but not cream or ivory) with matching soles and laces. I find this off-white color to look more luxe while being just as versatile. However, do know with wear and sun exposure, the soles may yellow slightly. In my opinion, this does not affect the style of the shoe.
My Birkenstock Bend Sneaker Review: Three Months Later
I am not one to buy an item and immediately write a review. I need to LIVE with a product, give it weeks or months to see how it truly performs. And after three months of wearing these sneakers walking miles on gravel, concrete, asphalt, and cobblestone, and standing on hard surfaces for long periods, I believe I can provide an honest and valuable Birkenstock Bend sneaker review.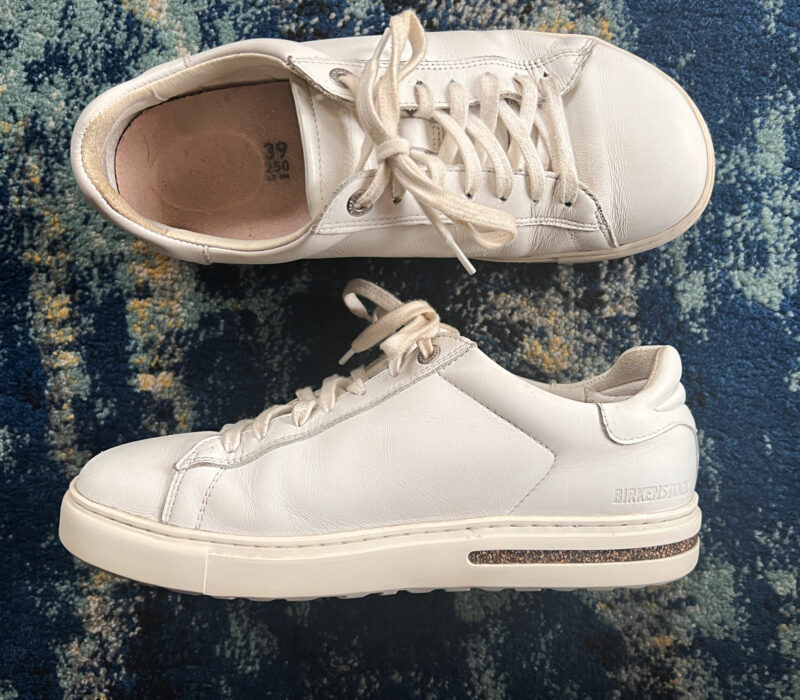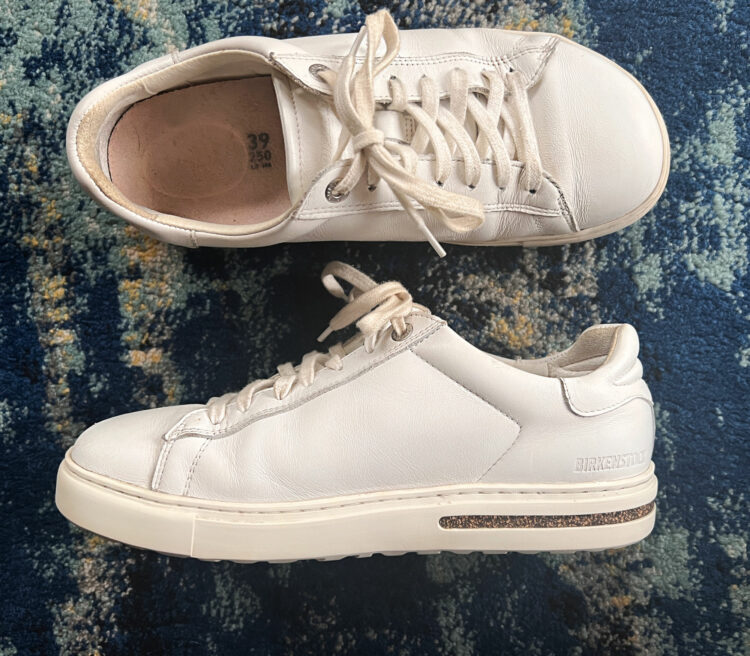 I'm including pictures of my well-worn and well-loved Birkenstock Bend sneakers. I haven't polished them and besides cleaning off the soles after a muddy or dirty day, I haven't cleaned them. However, doing this sneaker review has inspired me to take a Magic Eraser to the soles, condition the leather, and wash the laces to keep them looking and performing great for a long time.
The Birkenstock Bend is a high-quality shoe. Well crafted, has quality materials, and has a classic design. This is the kind of shoe that if you care for it, you can still be rocking the same lovely shoe for many years. I am all about quality over quantity, and when you find quality AND comfort, it's worth putting in some effort to keep such items in good condition.
In my list of the 6 best white sneakers for grown women, I share tips on how to keep white shoes looking great; those tips would work great for Birkenstock Bends. And since these shoes are smooth and flexible leather, an occasional treatment with leather conditioner will keep the leather soft and protect it from the elements.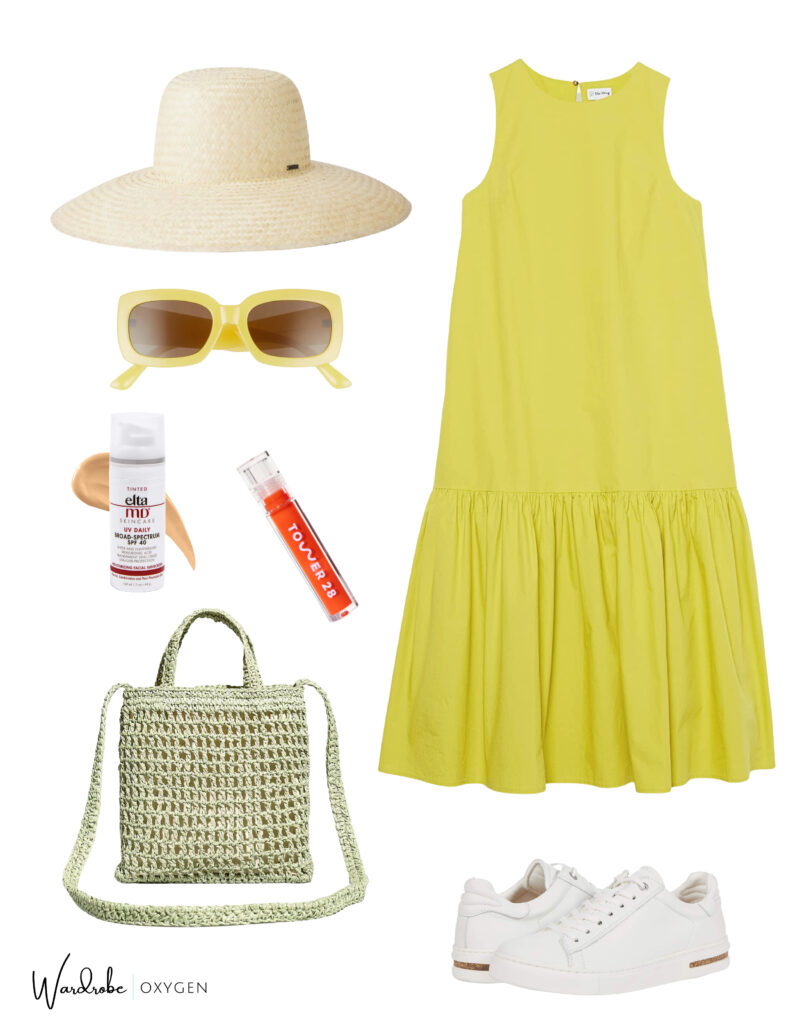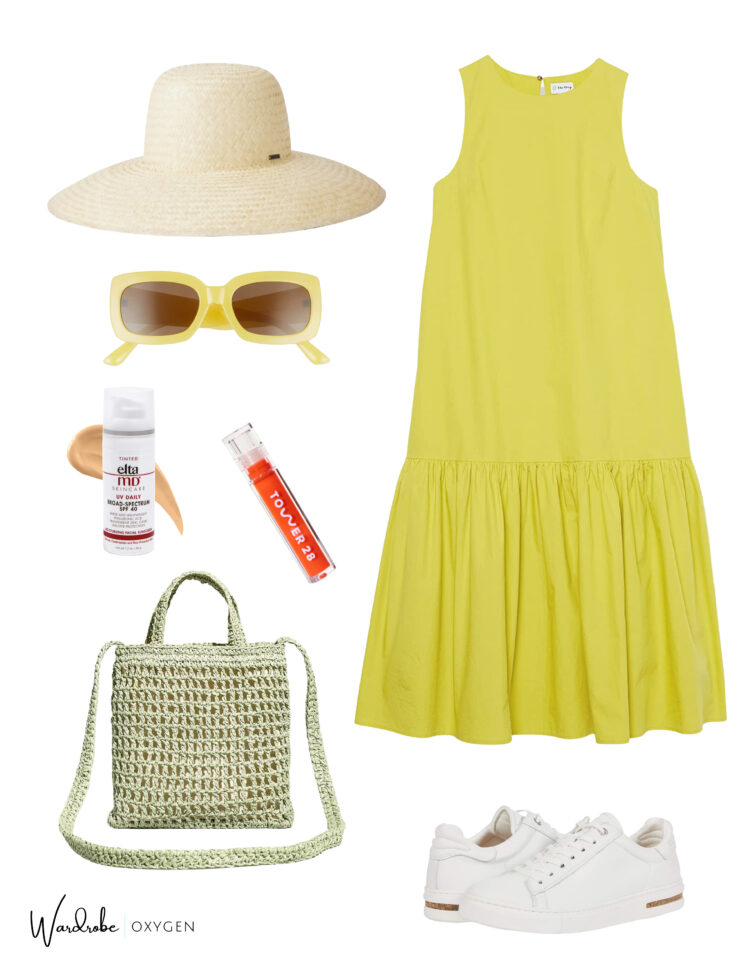 Shop this look: hat | sunglasses | tinted SPF | lip gloss | crossbody bag | dress (sizes XXS-5XL) | sneakers
I highly recommend the Birkenstock Bend sneaker for travel and sightseeing. Like the brand's iconic sandals, the Bend sneaker provides arch support and cradles the foot to prevent pronation. The shoe is flexible where you want it and sturdy where it should be to be comfortable yet keep your foot in its best position.
The cork midsole really does seem to prevent shock absorption, as I find these shoes a great choice when you are spending a lot of time on your feet. In fact, I find these sneakers more comfortable than my Birkenstock Arizona sandals for days when I will be standing for lengths of time.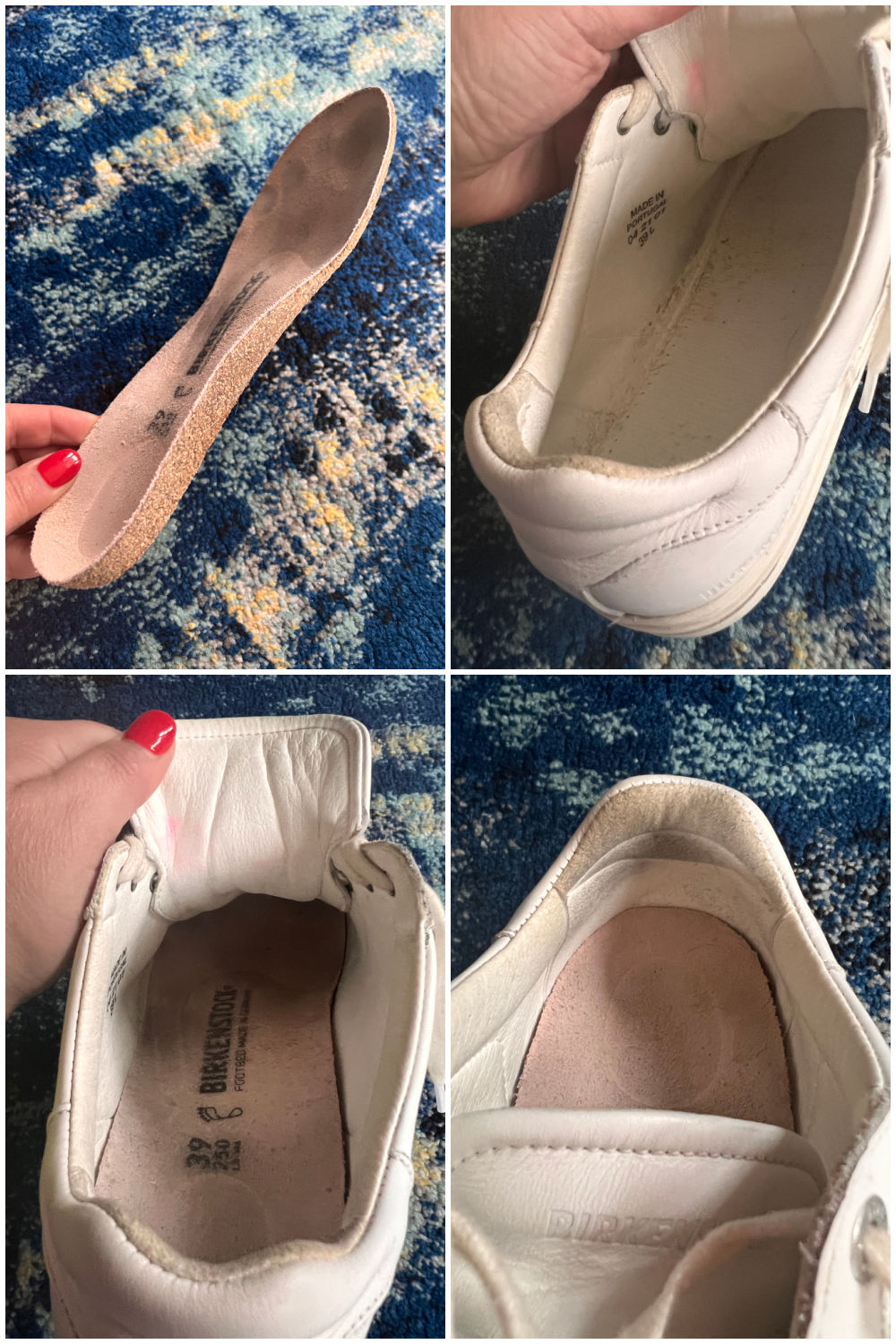 Is the Birkenstock Bend Insole Removable?
The insole of the Birkenstock Bend sneaker is removable, so if you require custom orthotics, you will have room to accommodate them. While this is a low-top shoe that isn't too chunky, there is still room in the toes, so your heel will have proper placement without slippage.
I tried removing the Birkenstock insoles and adding a pair of Walk Hero insoles and the shoe was still comfortable and secure. This also means that if you properly care for your sneaker, if your insoles wear out before the outsole, you can replace them and keep having years of stylish wear.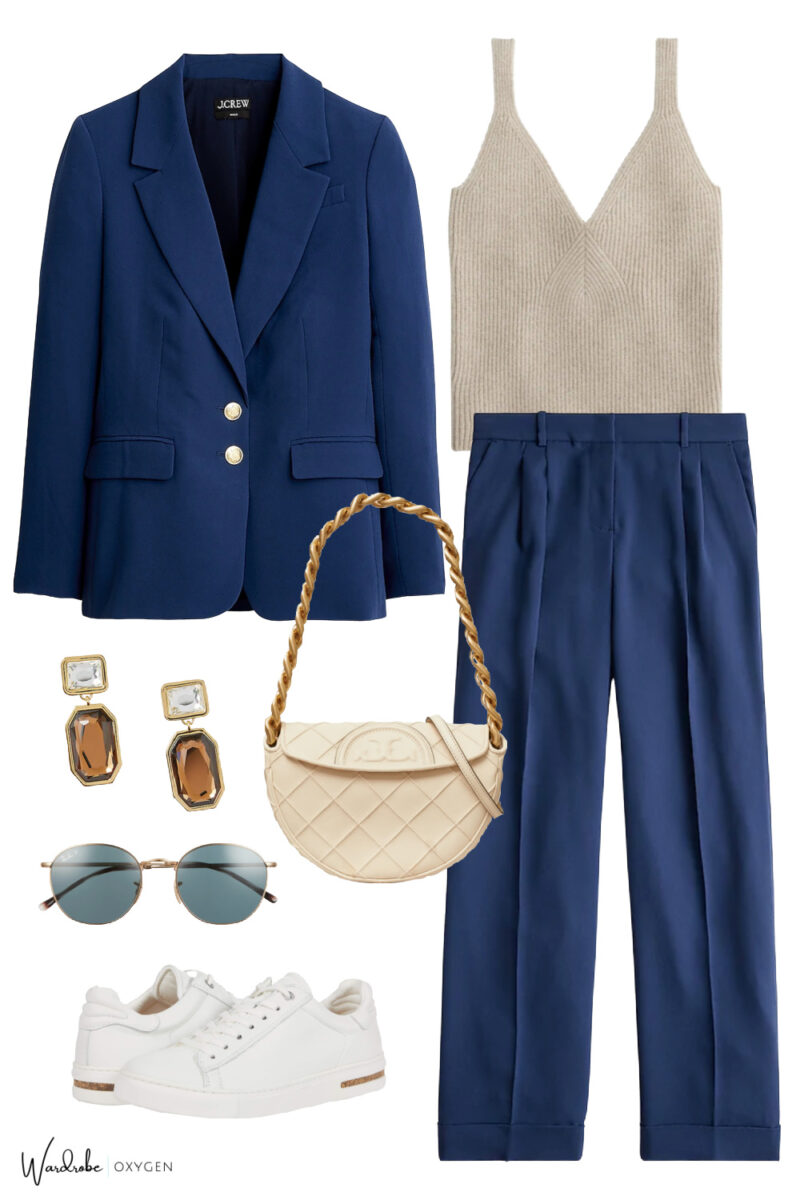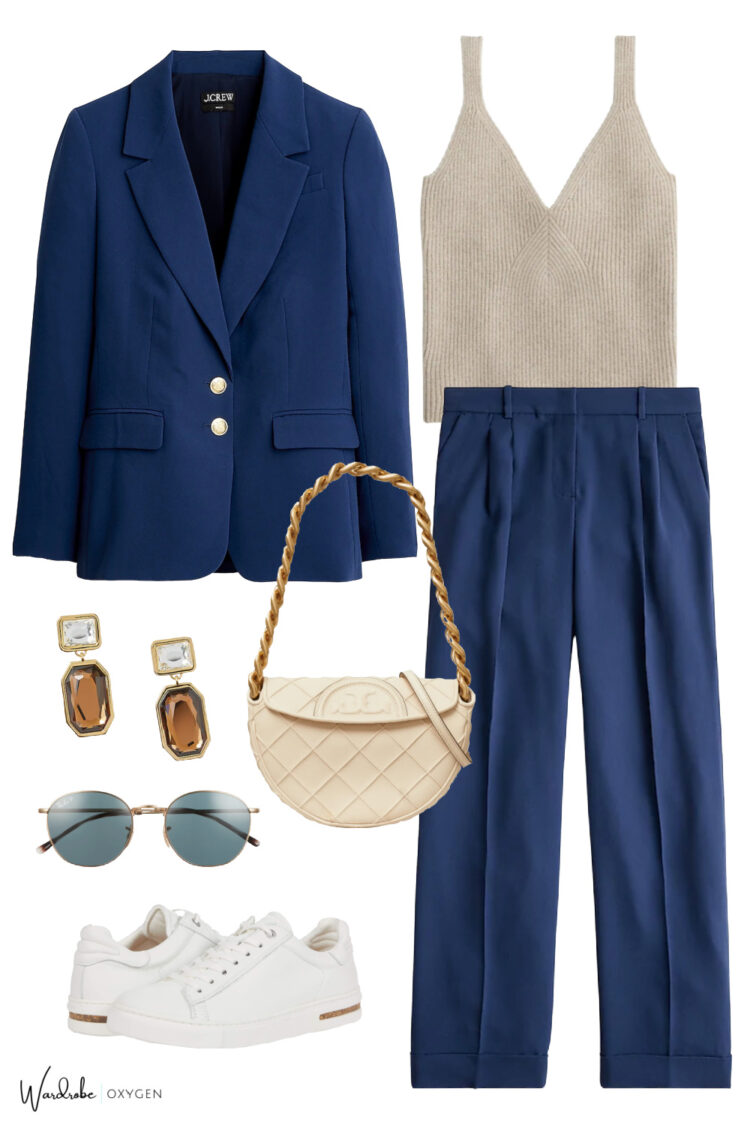 Shop this look: blazer | pants | sweater tank | bag | sunglasses | earrings | sneakers
While not super sleek and low profile, the Birkenstock Bend is no more chunky or bulbous than leather sneakers from popular designers like Cole Haan, Tory Burch, Vince, or Rag & Bone. The smooth leather finish and minimal decoration make the Birkenstock Bend look expensive and elevated. These are sneakers you can wear with leggings or jeans, but also with nice trousers and skirts for office environments that accept more casual footwear.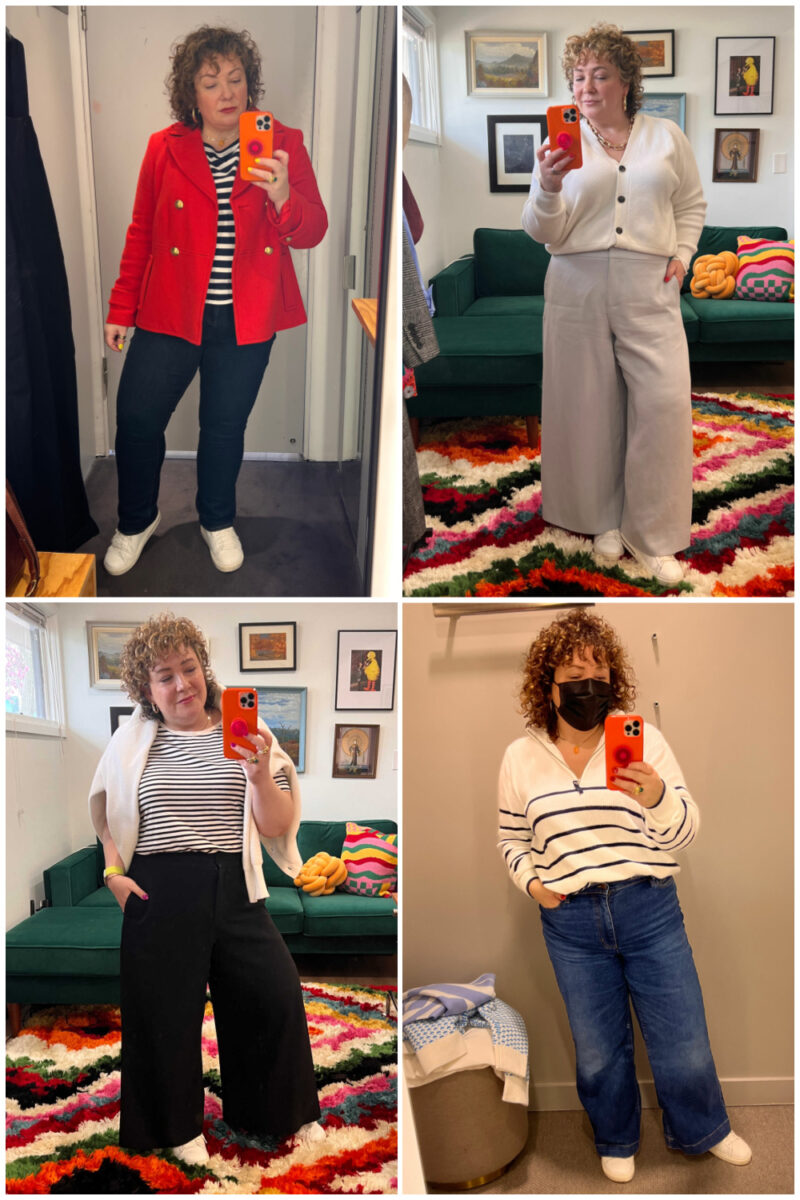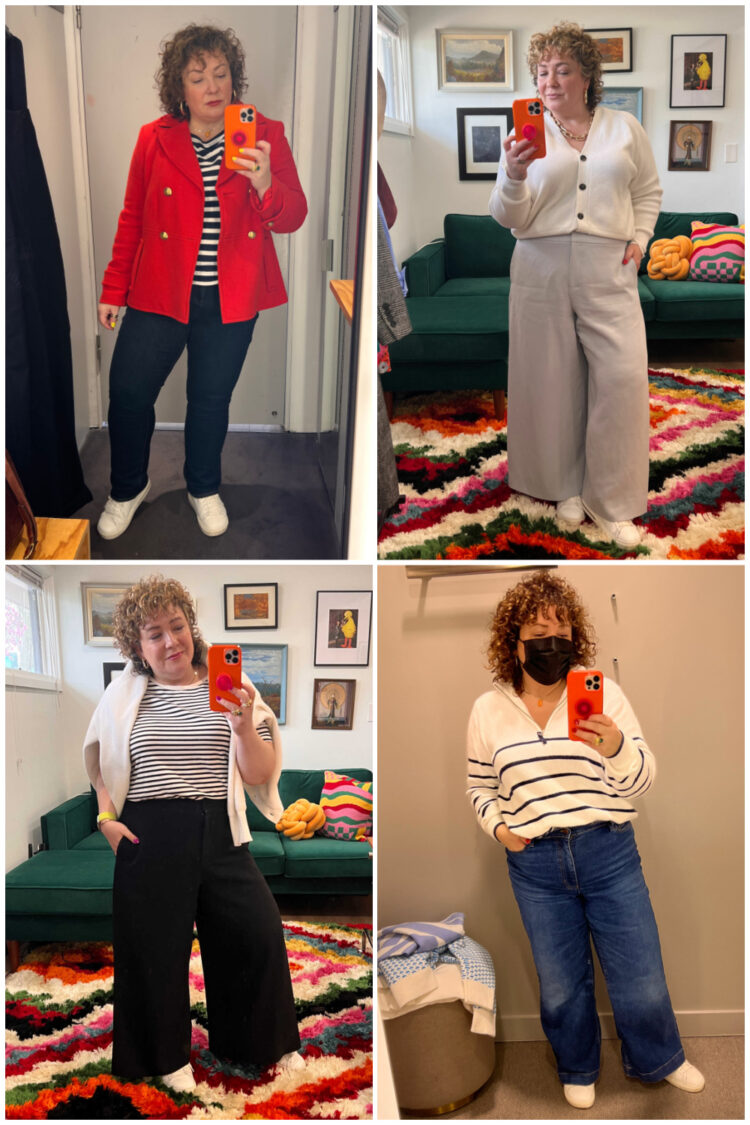 I have worn my Birkenstock Bend sneakers with cropped wide-leg trousers and jeans, full-length wide-leg trousers and jeans, straight-leg jeans, midi-length dresses and skirts, casual jumpsuits and overalls, Bermuda shorts, and t-shirt style dresses that hit around knee-length.
Issues with the Birkenstock Bend Sneaker
No shoe is perfect, though this one is pretty close to it. I do find some issues with the Birkenstock Bend and wanted to share in case you have experienced similar or these factors matter a lot to you: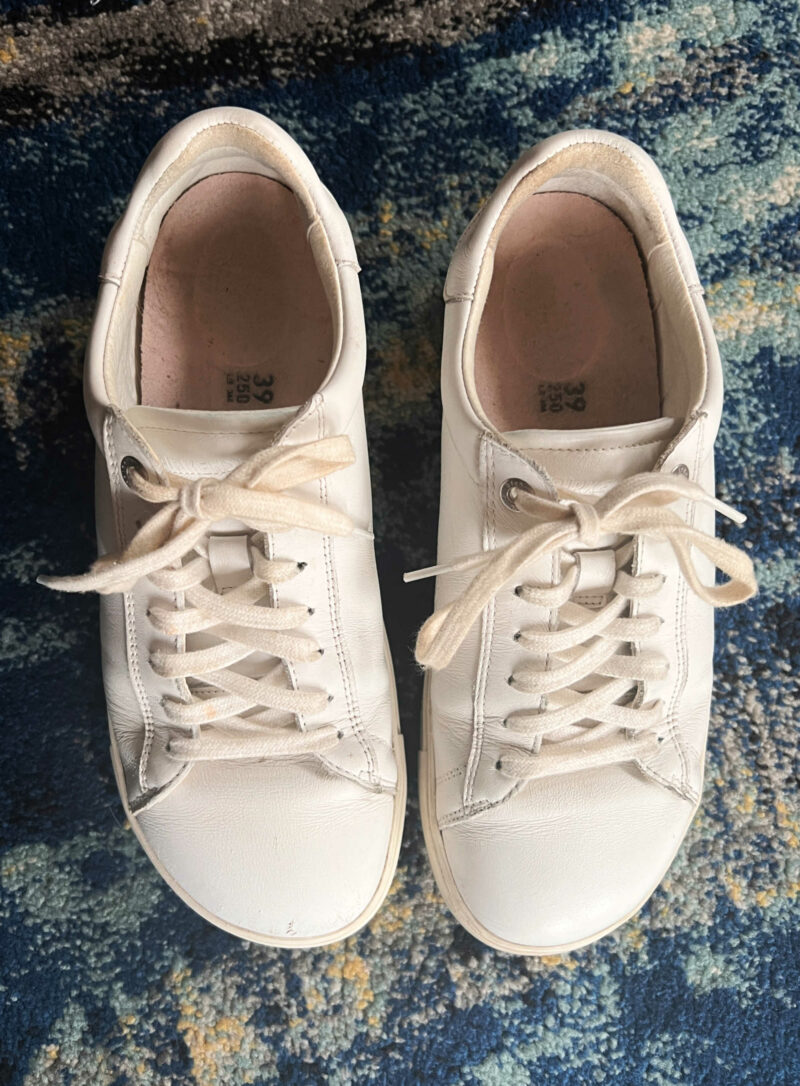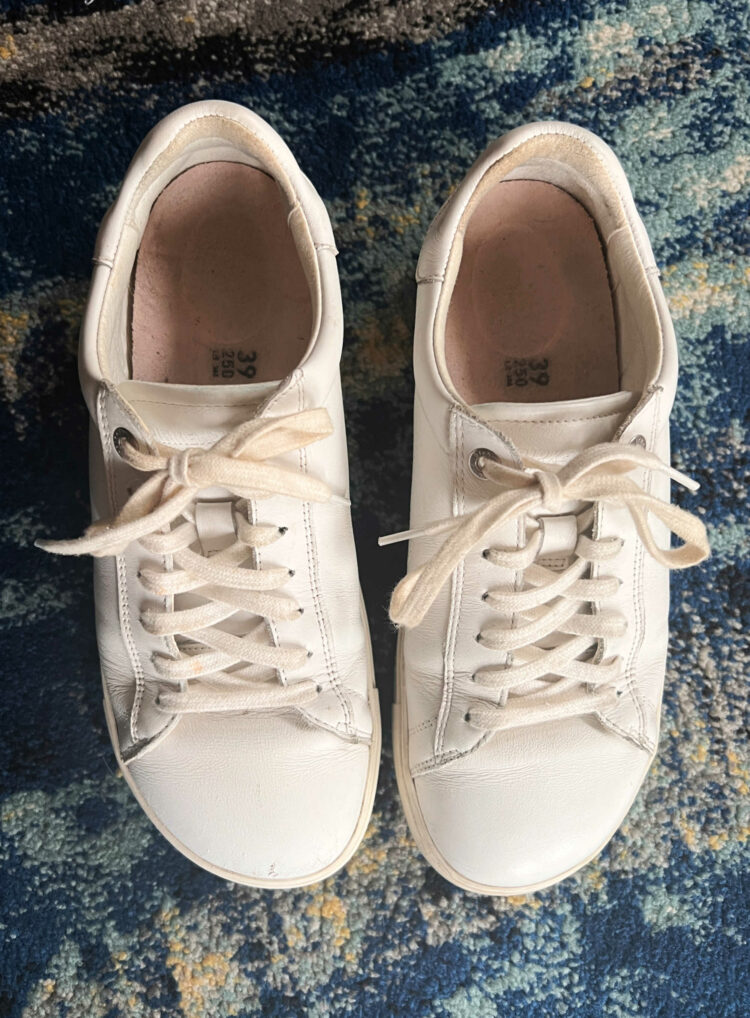 Smooth Leather Shows Scuffs and Creases
If you're like me and love the look and durability of sneakers, but don't mind a bit of character in your shoes, the Birkenstock Bend could be a great option for you. The soft leather means they're incredibly comfortable right out of the box, and the natural creases add a touch of uniqueness. Plus, the scuffs on the toe boxes remind me that my shoes have been on adventures with me – and isn't that what life is all about? However, if you're a stickler for keeping your shoes looking brand new, these may not be the shoes for you.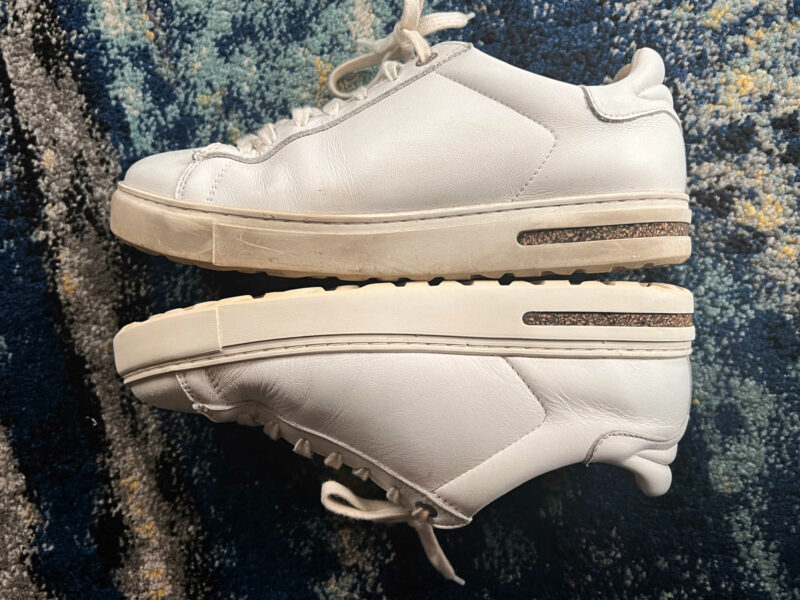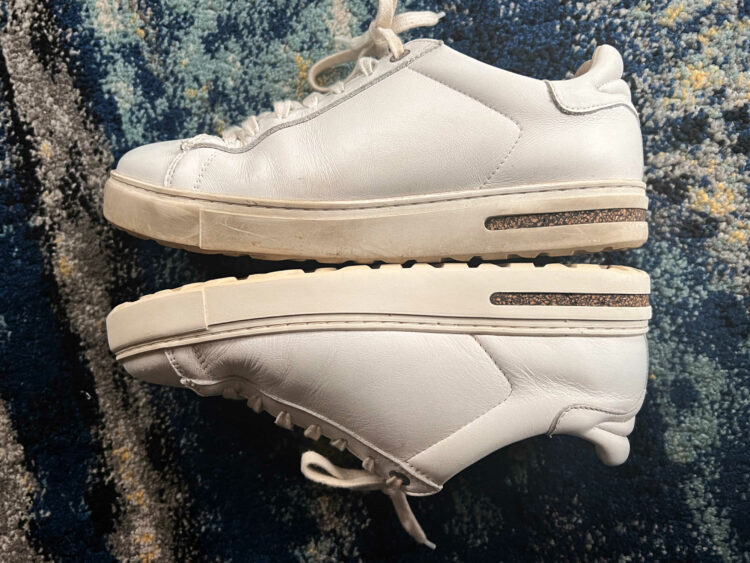 The Soles Yellow with Wear
This photo shows my Birkenstock Bend sneakers, the top shoe was never cleaned, the bottom with the soles cleaned with Magic Eraser. While Magic Eraser does clean and brightens the soles, you can see they have yellowed a bit more than the weather with exposure and wear. I've read you can use a mix of baking soda and hydrogen peroxide to whiten soles; I haven't tried that because I personally don't find the contrast to be a problem.
It's Hard to Wear Other Shoes
If you're a regular Birkenstocks wearer, especially the sandals, you know this issue. Your feet spread and get all relaxed and happy in Birkenstocks and it is a struggle to wear any other kind of shoe. I find that with the Birkenstock Bend sneakers, I don't even want to wear my cushy athletic sneakers because the comfort and support don't compare.
This past week I worked on a community service project where I was on my feet on concrete for long periods, and I didn't want to wear any kind of shoes that would get damaged by paint or dirt. I wore a pair of Danner boots I've owned for many years and find extremely comfortable… that is until I spent the past three months primarily in my Birkenstock Bend sneakers. These Birkenstock sneakers made me realize you don't have to come home with hot and sore feet at the end of the day.
I have been a fan of HOKA sneakers for years; I wore them for a 12-day road trip a couple of summers ago. But now, my HOKA sneakers pale in comparison to the Birkenstock Bends. I've found Birkenstock sandals to be a poor choice for a lot of walking but these Birkenstock sneakers provide the best of both worlds while having a more polished exterior!
I Want to Hear from You!
I had the Birkenstock Bend sneakers on my mind for a long while because you, the members of the Wardrobe Oxygen community have recommended them. I regret not listening to you sooner! Do share in the comments your thoughts on this sneaker, as well as any other shoes you recommend for great support with great style!
ORIGINALLY PUBLISHED: 04/11/2023
UPDATED: 08/06/2023