This article may contain affiliate links; if you click on a shopping link and make a purchase I may receive a commission. As an Amazon Associate, I earn from qualifying purchases.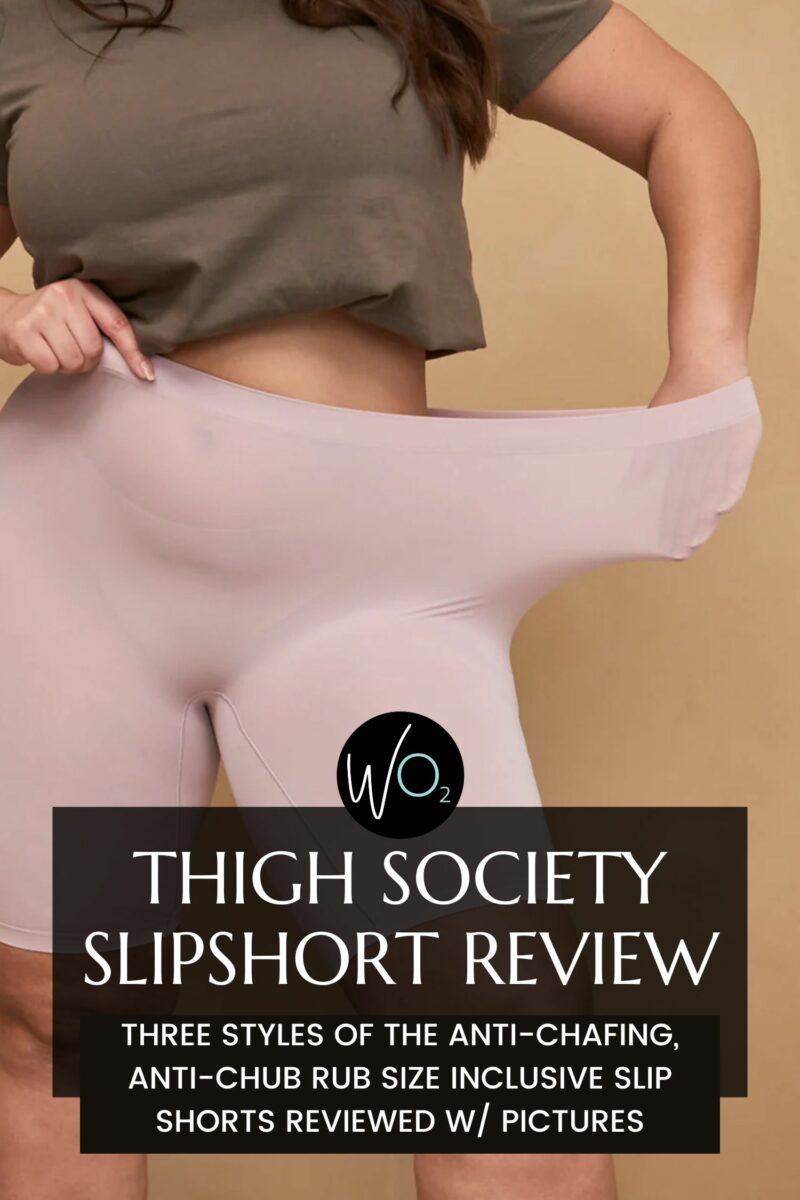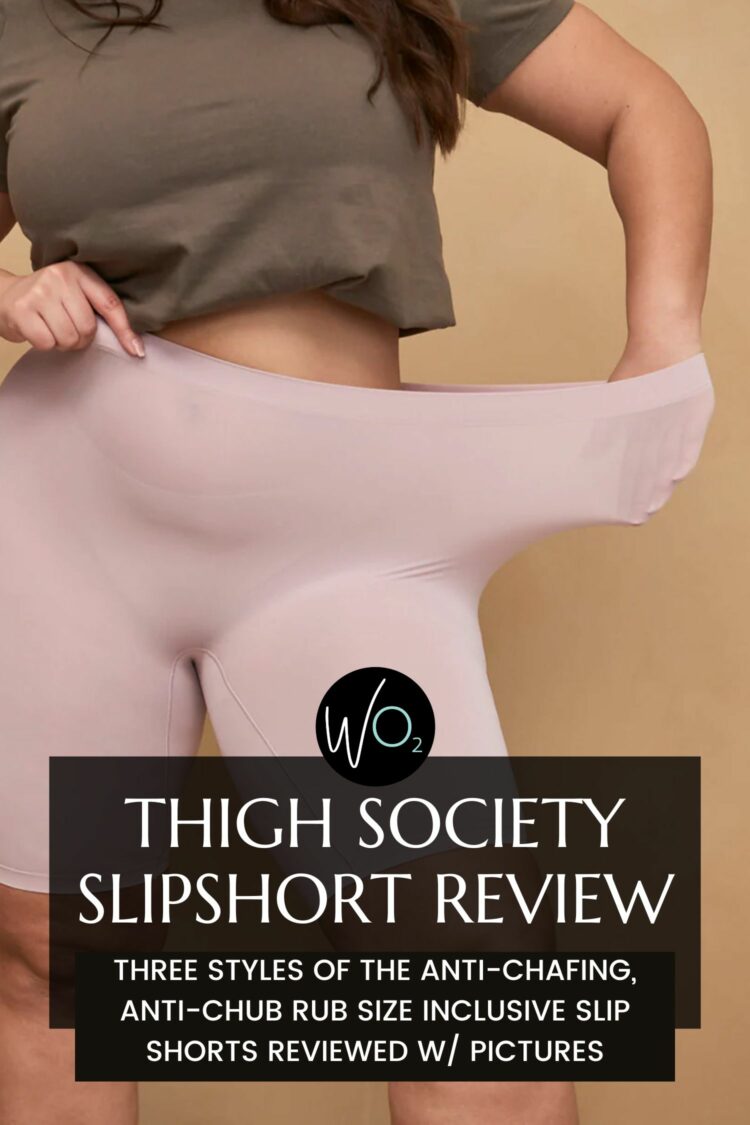 Whether I've been a size 6 or a size 16, I have dealt with thigh chafing, AKA chub rub. My thighs rub together when I walk and add heat and sweat and it can be a painful nightmare. I have researched the best products to fight chub rub and my absolute favorite product for preventing thigh chafing is Thigh Society slip shorts. I just had to do a proper Thigh Society review before we get to sundress season!
And stay tuned, at the end of this Thigh Society review I have a promo code that will save you 15% on your entire order!
The Best Slipshorts for Thigh Chafing: Thigh Society Review
What is Thigh Society?
In 2008, Marnie Rabinovitch Consky wondered why men had boxer briefs, but any woman's version of similar undergarments always had some sort of shapewear component. She dealt with thigh chafing all her life and wanted relief without having to be compressed and feel bad about her body. Consky dreams up chafewear: non-shapewear long-leg underwear for women.
A year later, at age 40, without any experience, Consky launched Thigh Society, completely self-funded. Since then, Thigh Society has expanded its size range from XS-6X, offering four different fabrications and a range of lengths to help you find the anti-chafing slip shorts of your dreams, while still being owned and led by Consky. Thigh Society's mission is to de-stigmatize thigh chafe and help women feel comfortable in their skin.
Why Are Thigh Society Slip Shorts the Best?
In 2014, I reviewed Jockey Skimmies and was thrilled, but found the fabric a bit heavy, the length not quite right for my 5'3″ self, and the size range extremely limited. I was looking for a more size-inclusive option, and possibly something that did a better job of preventing swamp butt during a hot and humid August in Washington D.C.
I learned about Thigh Society and ordered myself a pair of what is now called The Original. I was impressed by fabric (smoother and softer than my Skimmies), how they had less of a waist or leg line under my dresses, how they didn't roll up, and worked with, not against my curves. I still own my original pair of Thigh Society, while all my Skimmies and slipshorts from other brands have stretched out, fallen apart, or started looking worse for wear.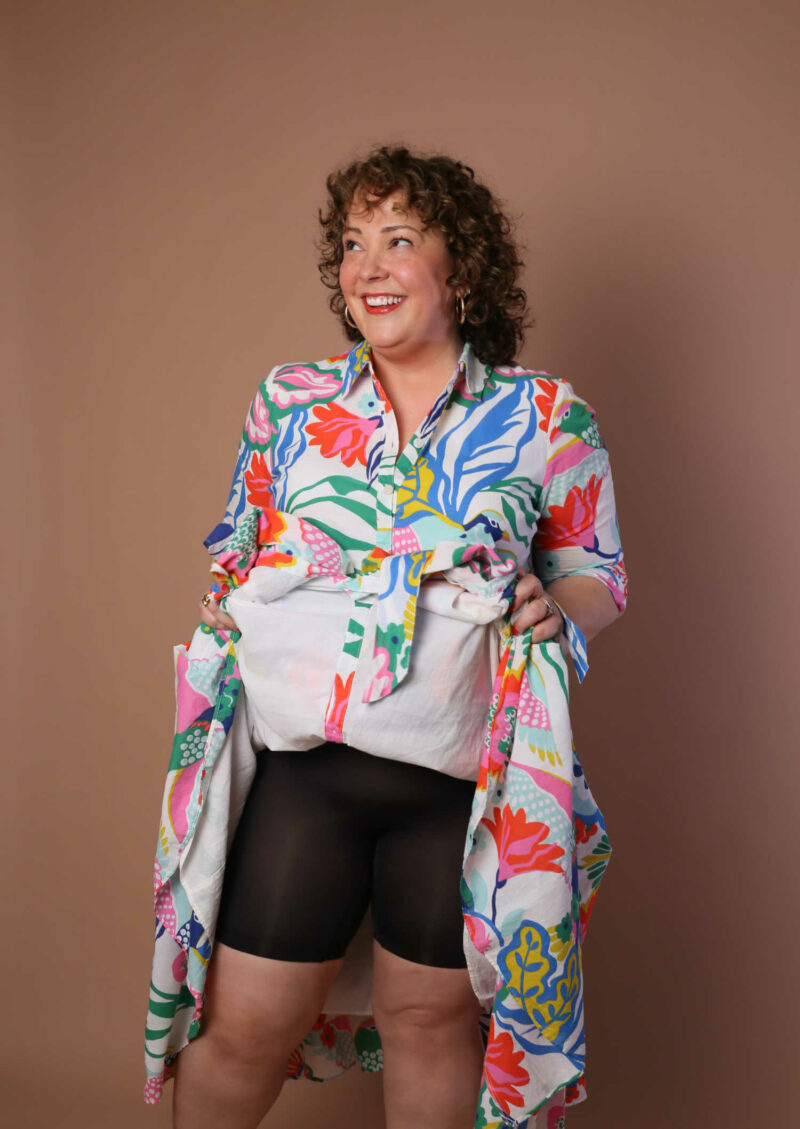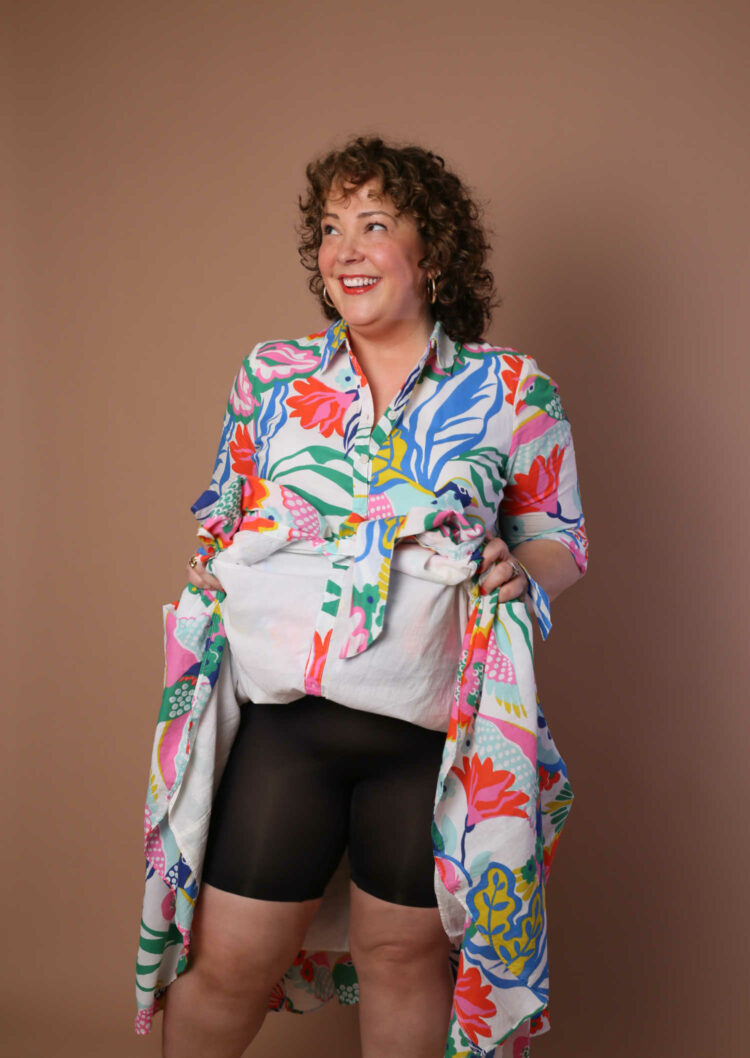 Since then, I have tried all the fabrications and a range of lengths to find the perfect slipshorts for my body and needs. The 5″ Cooling is my absolute favorite; even on the hottest, muggiest day I hardly notice I'm wearing them, they don't roll up or stretch out, they don't get soggy, and they reliably prevent any thigh chafing. And again, I have a pair that are going on their fourth summer of wear and look as new as the pair I got last summer.
But we are all different people, with different bodies and different needs. Thigh Society has four different fabrics, a range of colors and lengths to try to accommodate as many of us as possible. Below I share three styles of Thigh Society slip shorts, what makes them different, to help you find the perfect anti-chafing slipshorts for the coming summer.
Thigh Society Review
For this Thigh Society review, I share three of the most popular slip shorts from the brand: The Staple, The Cotton, and The Cooling. On my 5'3″ frame, I have had the most success with a 5″ short, but I have one in a 7″ short so you can see the difference as I know we're not all the same height or built the same.
For all of these slip shorts, I am wearing size M/L. I usually wear a size 14 in apparel, and I am 5'3″ tall. To find your size, you can use the Thigh Society size guide. And if you aren't sure which style of Thigh Society slip short is right for you, Thigh Society has this quiz to assist.
Thigh Society, The Staple, 7″ Length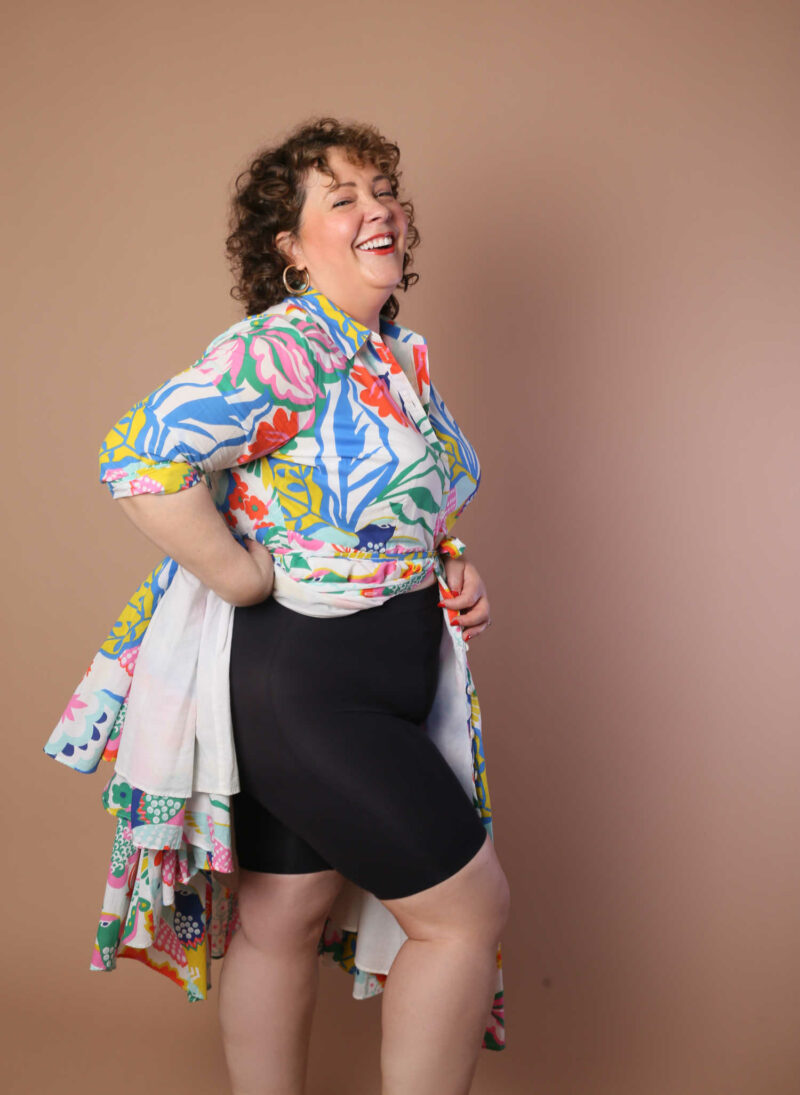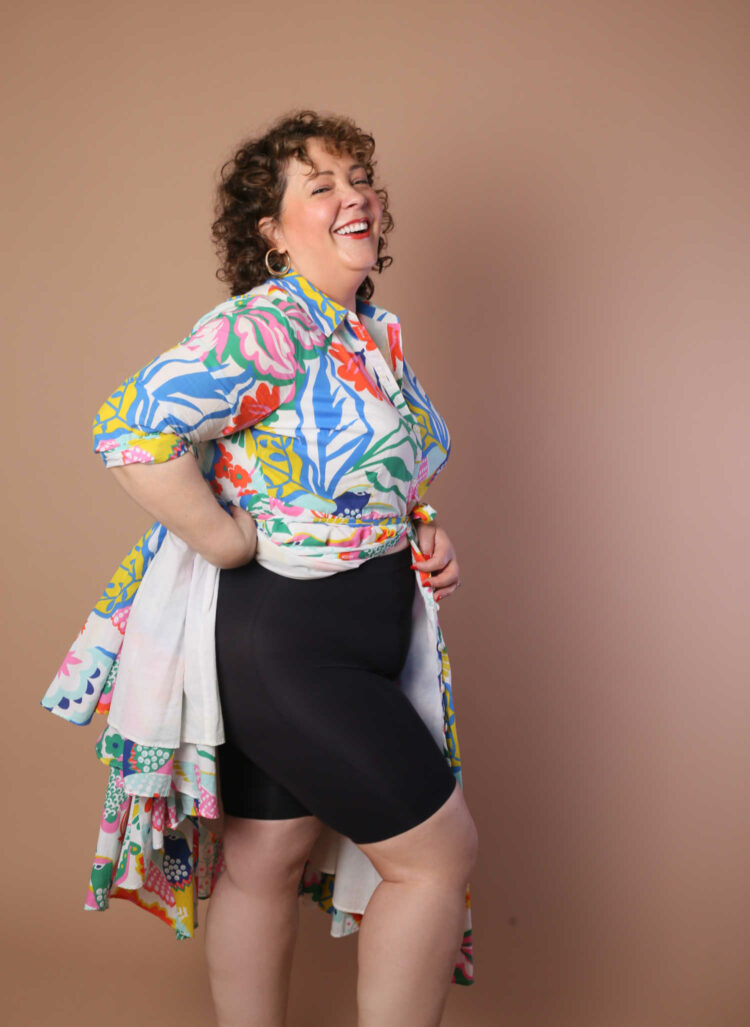 The Staple slip short from Thigh Society is called a staple because it is so universal. Lightweight and cool, but not completely sheer, The Staple will provide chafe protection and modesty while also keeping you feeling cool on the hottest days. Made from 87% nylon, 12% spandex, and 1% cotton, these can go in the washer and the dryer and come out looking new. Available in three colors and three lengths, they are tag-free, have minimal seams, and a knit-in cotton crotch.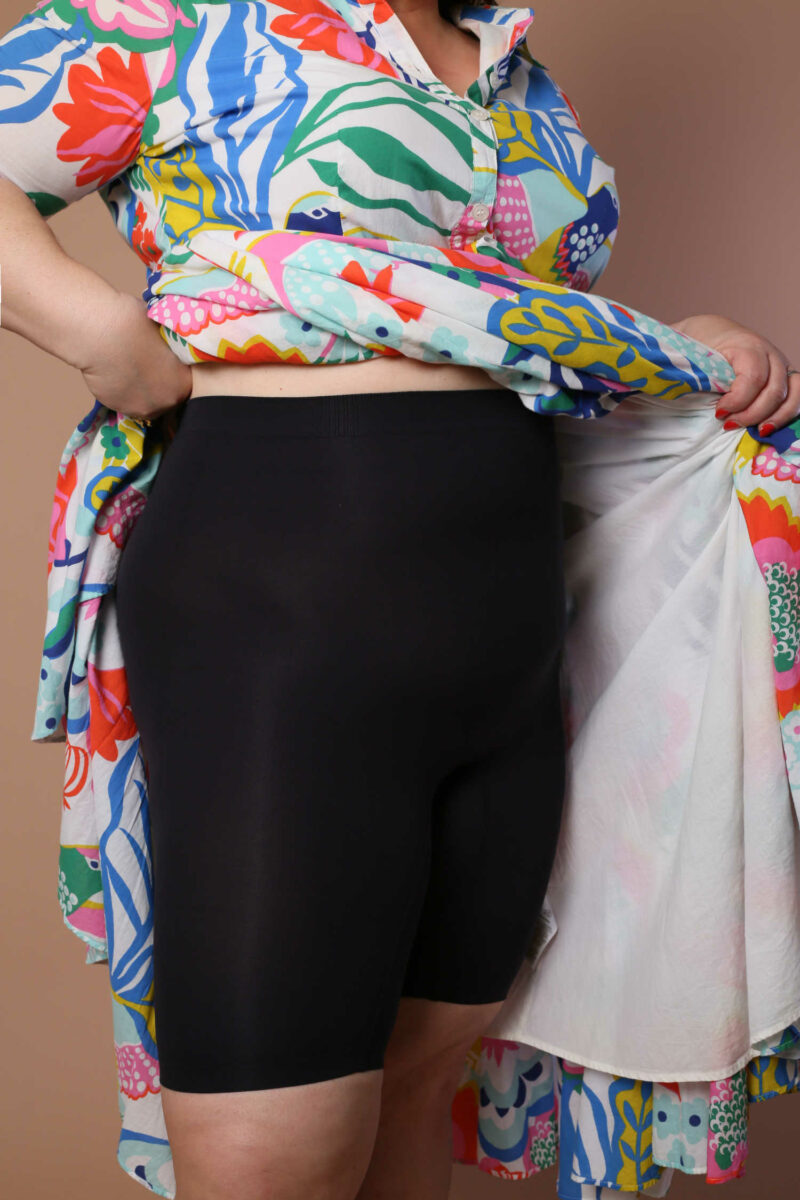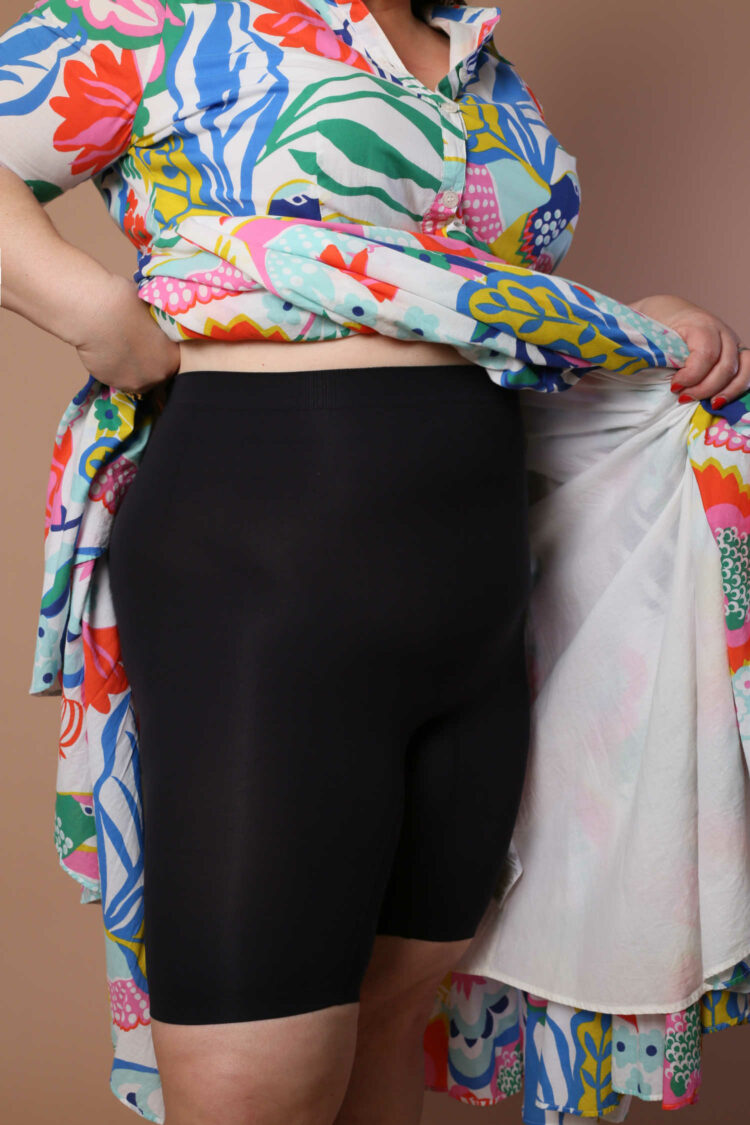 The 7″ length is great for those who desire coverage to the knees, who are taller, and to wear with midi- and maxi- length skirts and dresses.
Thigh Society The Cotton, 5″ Length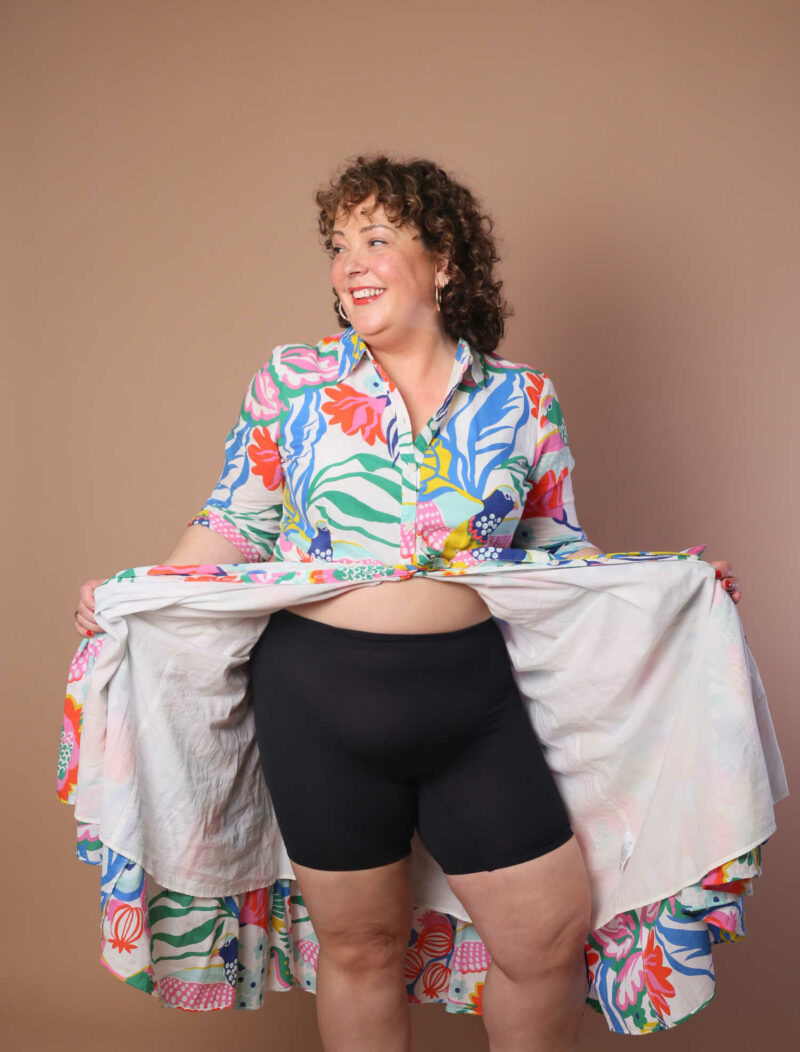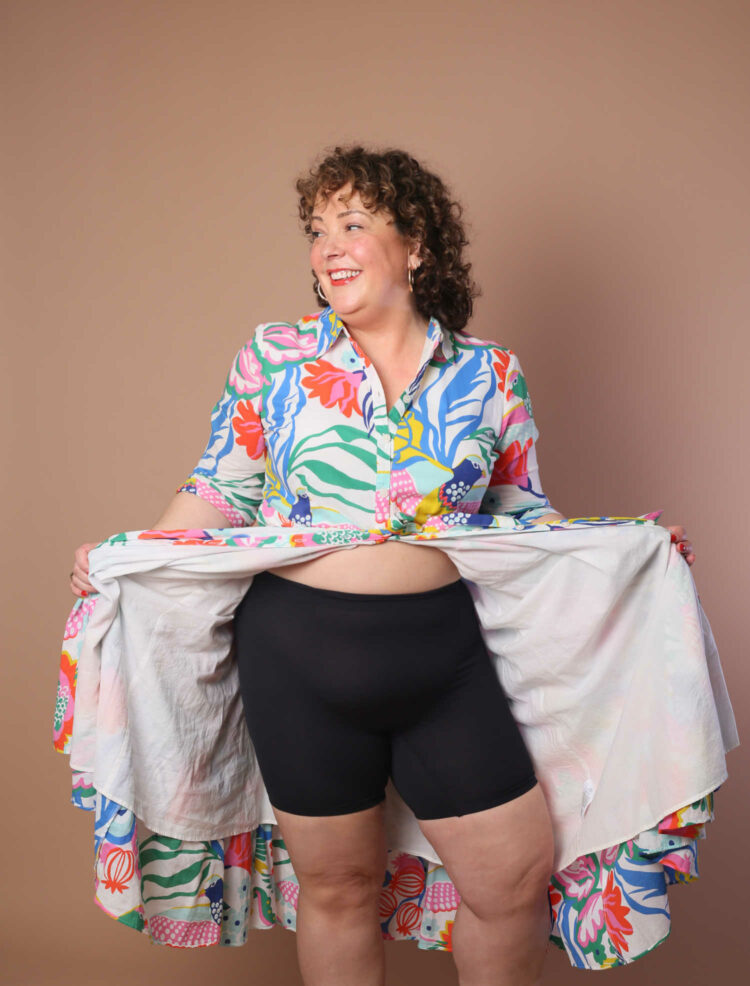 The Cotton slip short from Thigh Society is perfect for those who do not like the feel of synthetic materials. Made from 35% Pima cotton, 34% modal, 23% nylon, and 8% elastane, The Cotton slip short is made with antibacterial fabric that destroys smells and is slightly sheer, but offers enough modesty that you can sit on a picnic blanket or chase after your toddler with comfort.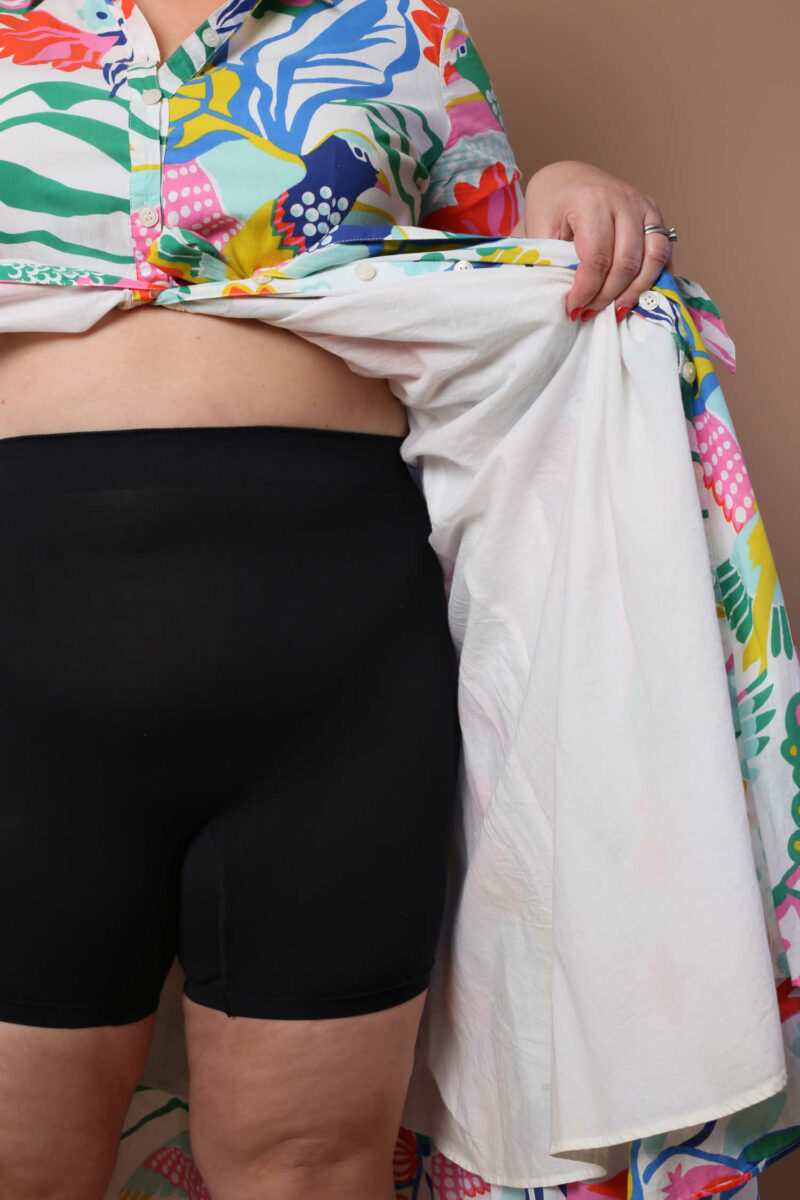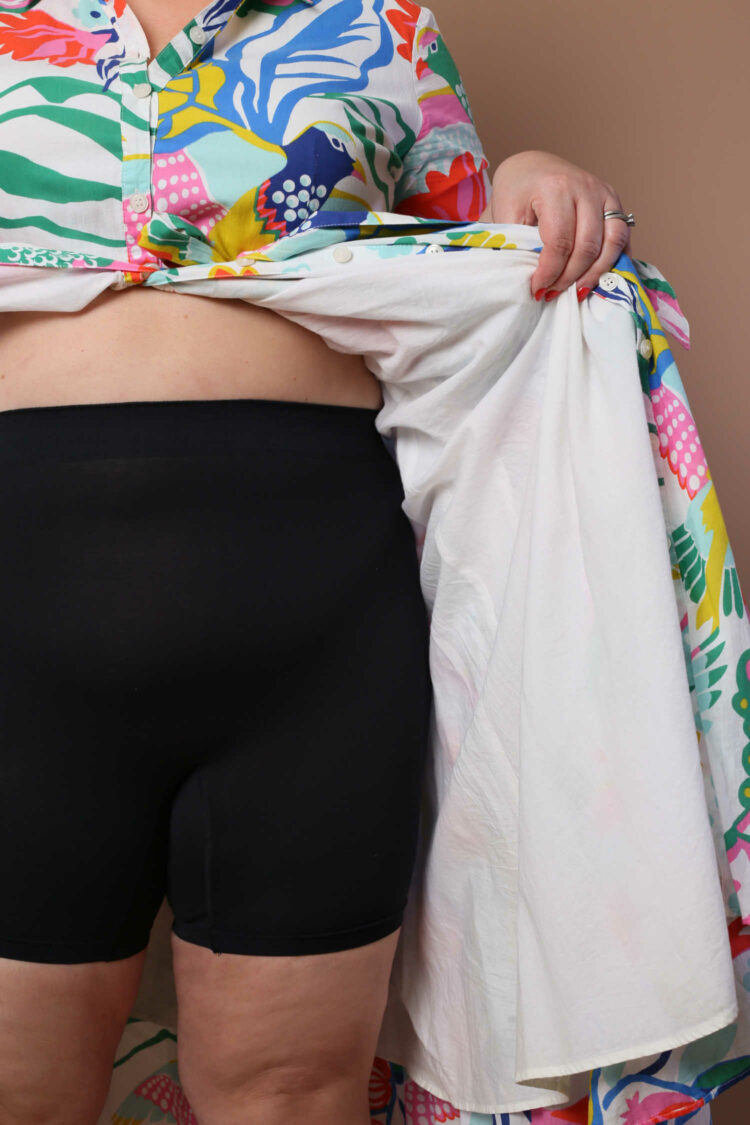 Understandably due to the different fabric, I find the Cotton slip short to run smaller than the other styles from Thigh Society and don't find them as stretchy. However, they didn't stretch out or bag with wear and kept their shape as nicely as the Cooling and Staple shorts.
Thigh Society The Cooling, 5″ Length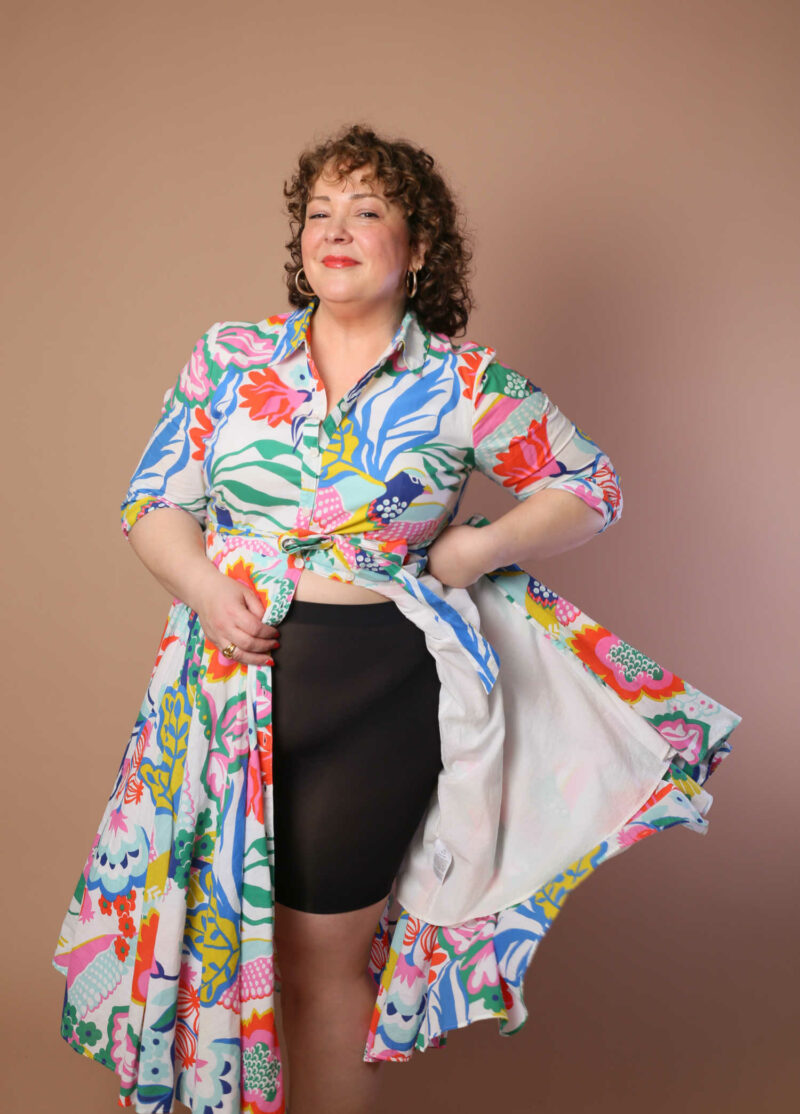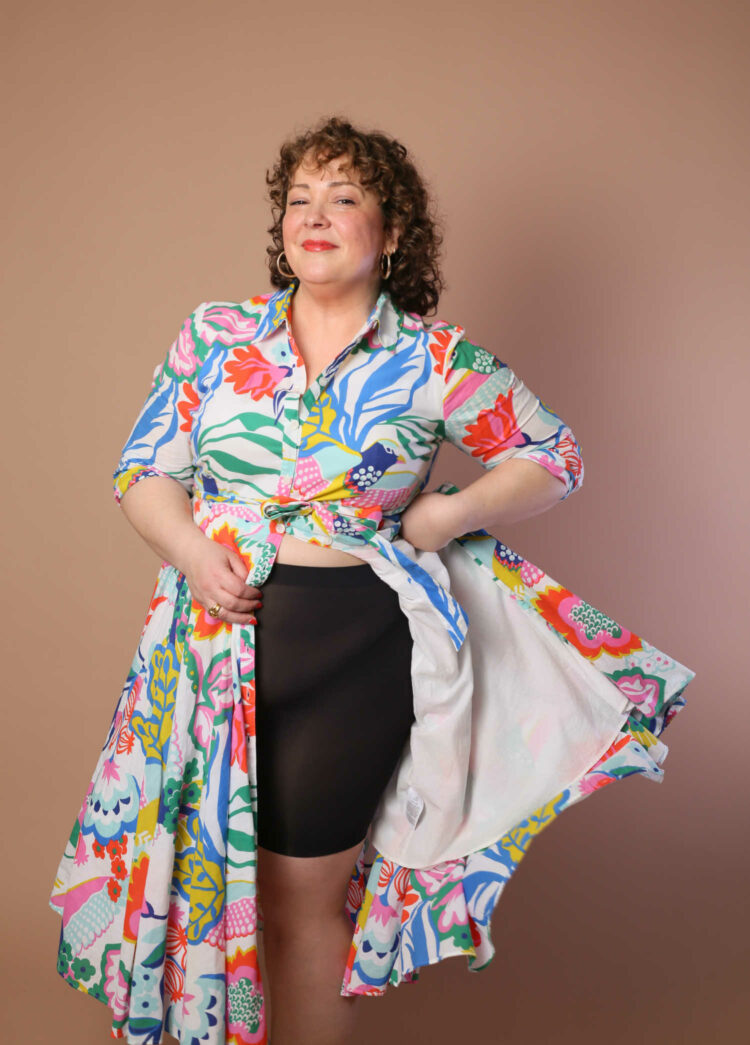 The Cooling slip short from Thigh Society is my personal favorite. Once on the body, they feel like nothing yet stay put all day. Made from 78% Sensil® Breeze nylon, 20% spandex, and 2% cotton, The Cooling is transparent but offers enough coverage that if your skirt gets caught in a strong breeze, you won't feel completely naked. The Cooling Can also go in the washer and dryer, are available in four lengths, and six colors. These are moisture-wicking; no swamp butt, and all day comfort.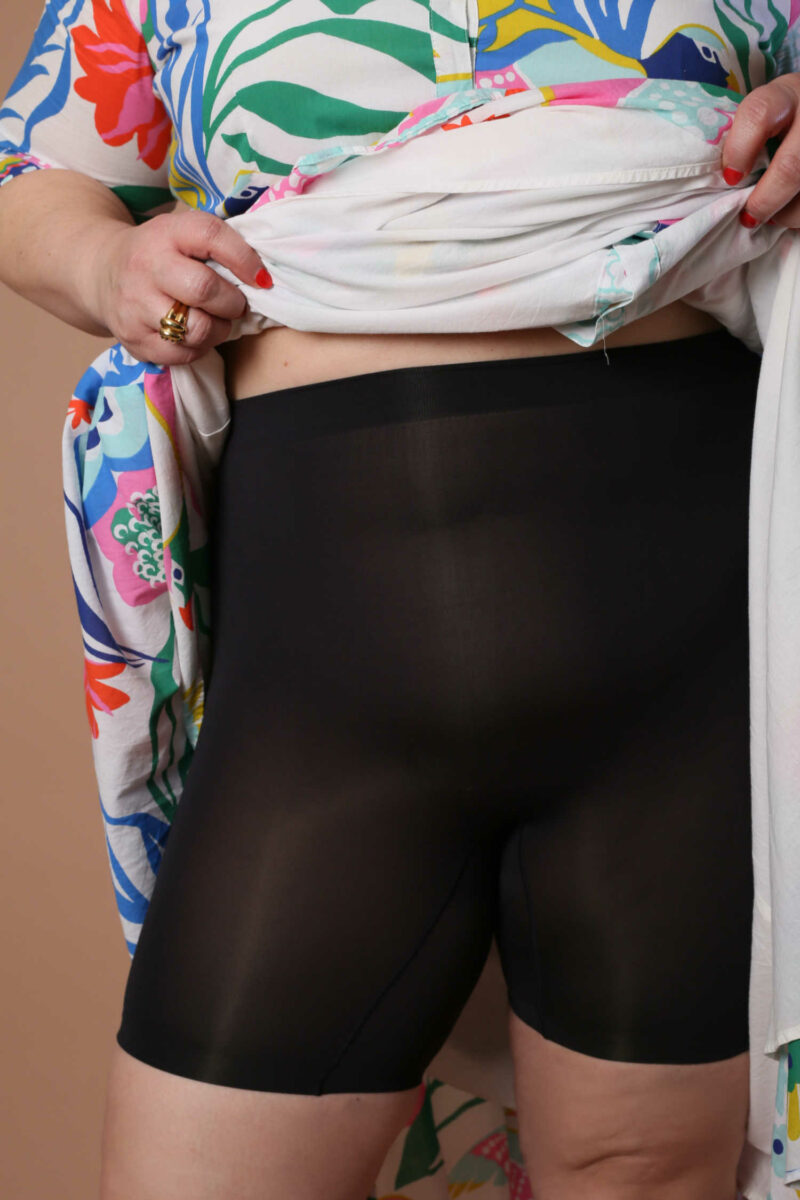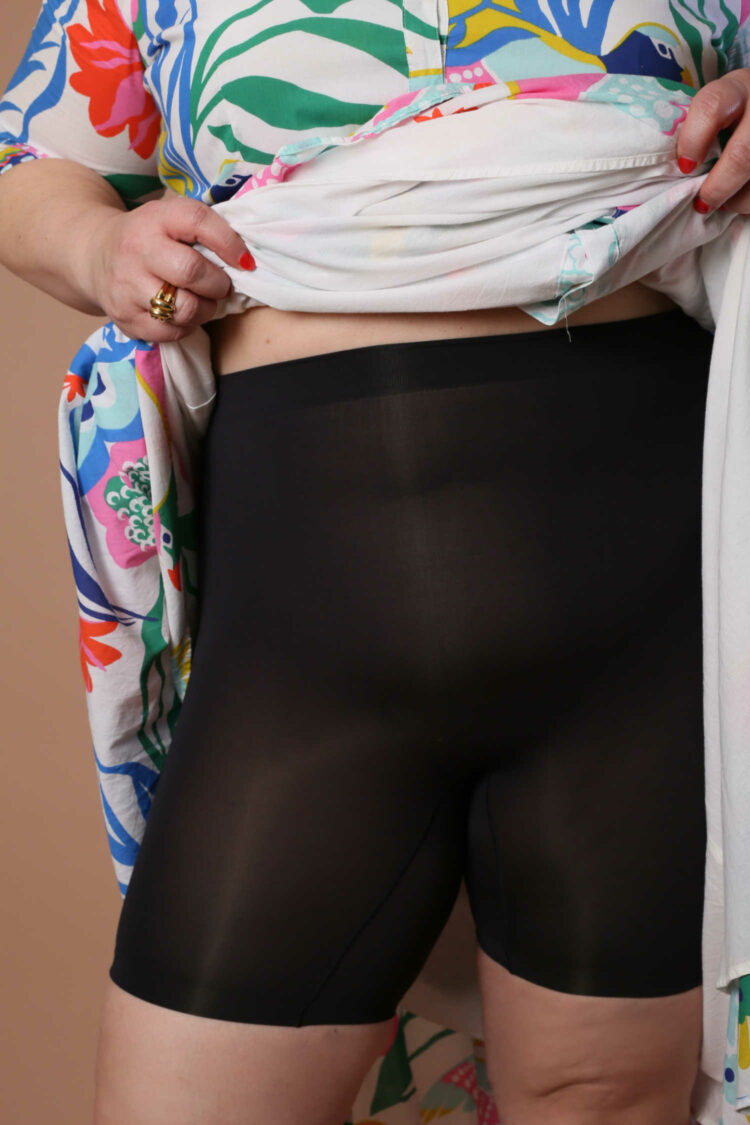 I own the Cooling slip short in black, brown, beige, and baby blue. My brown pair is the oldest, but you can have them next to the black pair I got this year and the ones I got last year and you can't tell the difference. I usually hang mine to dry along with other intimates, but they have all been in the dryer a few times too.
Thigh Society & Slip Shorts FAQ
Do you wear underwear with slip shorts?
This is a personal preference. For most days, I wear Thigh Society as my underwear. However, when it's an especially long day, possibly with a lot of walking, I may add a pair of underwear underneath so I have better protection from chafing in places beyond the thighs.
Can you wear Thigh Society slip shorts as bike shorts?
All three styles of slip shorts featured in this Thigh Society review have a hint to a lot of transparency. However, The Original Thigh Society short which isn't featured is so opaque you can wear them as loungewear, activewear, and in situations where they will be seen.
Can slip shorts be worn with pants?
Yes, and I love them with wide-leg styles. They can offer coverage for sheer fabrics like linen and you don't have to worry about VPL (visible panty line). They also help pants and jeans move with you when you bend, sit, and walk so they won't hitch up or stretch out.
Can slip shorts be worn with panty liners?
We wear liners for a range of reasons; the cotton gusset will hold the adhesive of a panty liner in place, but for the closest fit, I'd add the liner to a pair of underwear under the slip shorts.
Can slip shorts be sleepwear?
Yes! When I am on travel, I regularly sleep in a pair of Thigh Society Cooling shorts with a tank or t-shirt. Especially when there isn't A/C, it's nice to have something that isn't hot but keeps my thighs from sticking together when I sleep.
Can slip shorts be activewear?
I think The Original is a really versatile slip short that is opaque enough to rival traditional bike shorts. While there isn't any compression and the fabric doesn't look like activewear (it's matte), these are shorts that can have multiple roles in your closet.
What are Thigh Society's Shipping and Return Policies?
Free shipping on orders of $50+ to the U.S. and Canada; free shipping on international orders over $75. Canadian orders are shipped Canada Post Expedited Parcel with delivery tracking. U.S. orders are sent USPS First Class Package with delivery tracking. Orders are usually sent out within two business days of receipt. Due to the nature of Thigh Society products, all sales are final.
Does Thigh Society have sales or promo codes?
I'm so glad you asked! Thigh Society is offering members of the Wardrobe Oxygen community 15% off their orders!
Thigh Society Promo Code
Use promo code WO215 at Thigh Society and get 15% off your entire order! Thank you to Thigh Society for providing the Wardrobe Oxygen community with this generous promo code. Enjoy folks, and head into spring and summer with confidence and comfort!