This article may contain affiliate links; if you click on a shopping link and make a purchase I may receive a commission. As an Amazon Associate, I earn from qualifying purchases.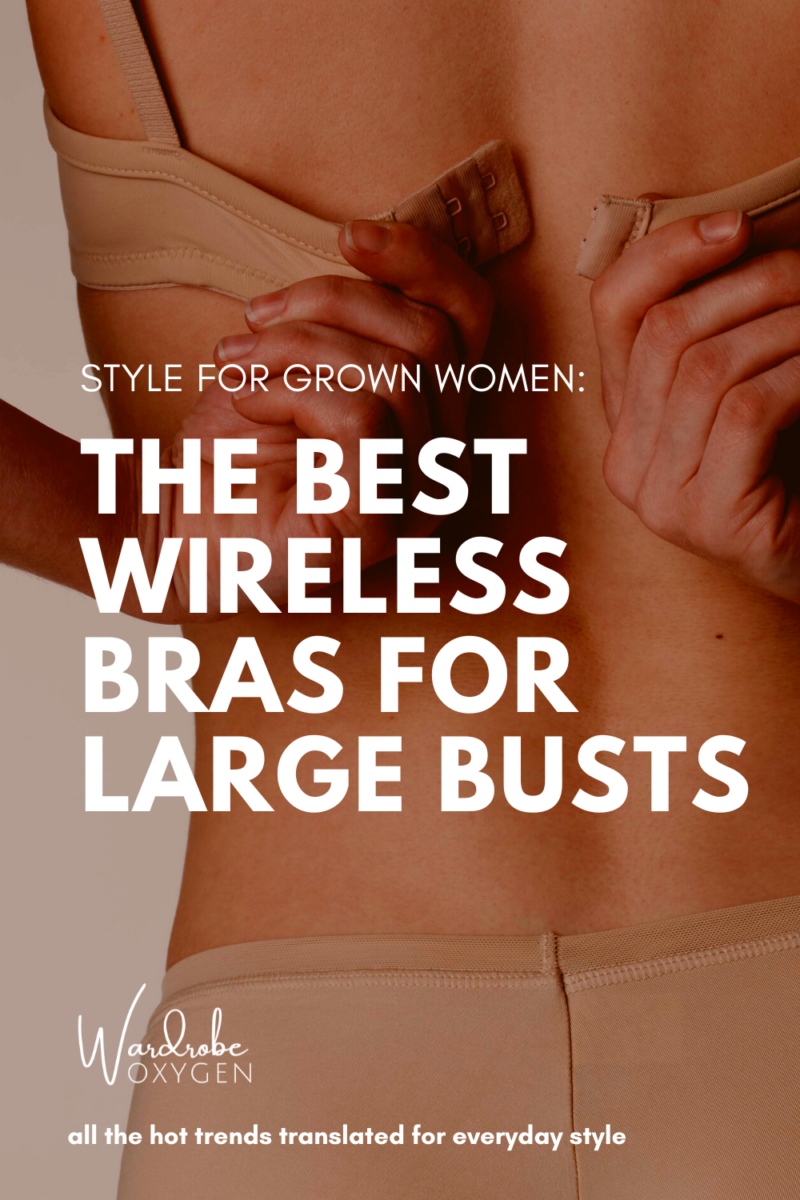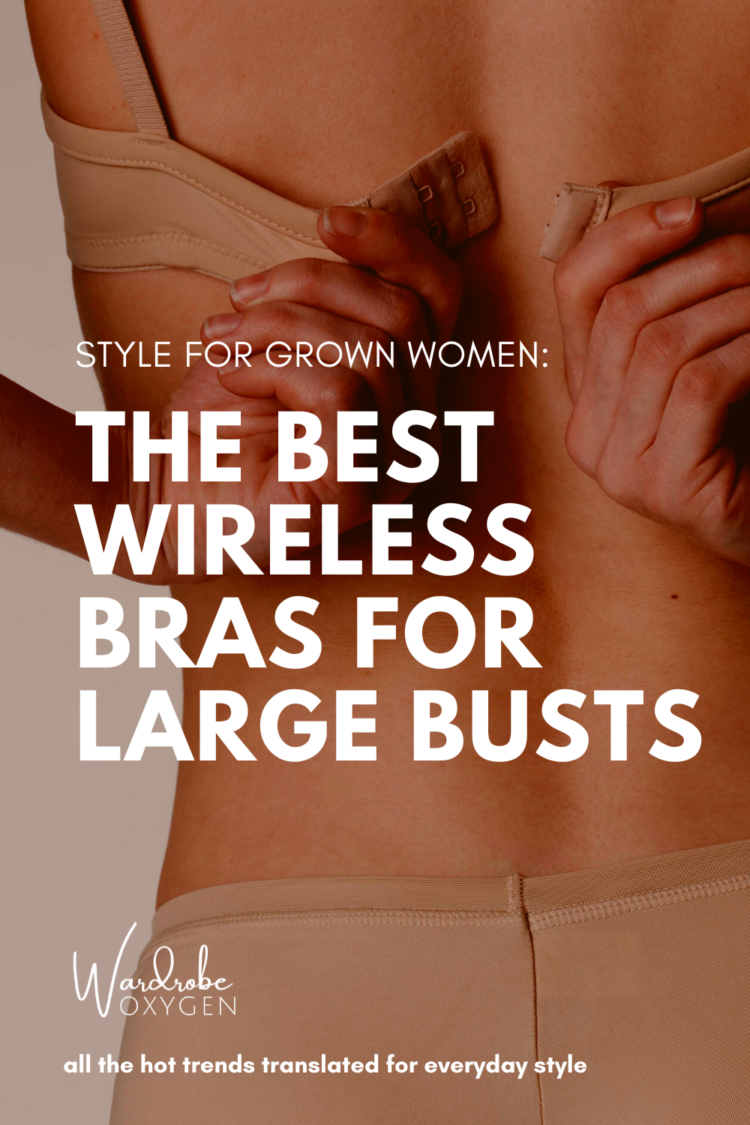 I often write about bras because as a large-busted woman over 40, I find the process of shopping for bras progressively more complicated the older I get. When I was younger, most any brand that came in my size got the job done. But as I have experienced weight fluctuation, nursing a child, fitness and movement changes, and good 'ol gravity, I know more than just the cup and band size are needed for good shape, support, and comfort. Below I share what I find to be the best wireless bras for large busts.
While I don't wear a wireless bra everyday, I find the benefit of a wireless bra for comfort and ease. And since 2020, I find comfort and ease to be higher on my priority list than ever before. That being said, there's no point in wearing a bra, no matter your size, if it doesn't provide support and a decent shape.
I've tried so many wireless bras for large busts and most have been a bust! But these six wireless bras below either I own and love or have been highly rated by members of the Wardrobe Oxygen community who have a large bust.
The 6 Best Wireless Bras for Large Busts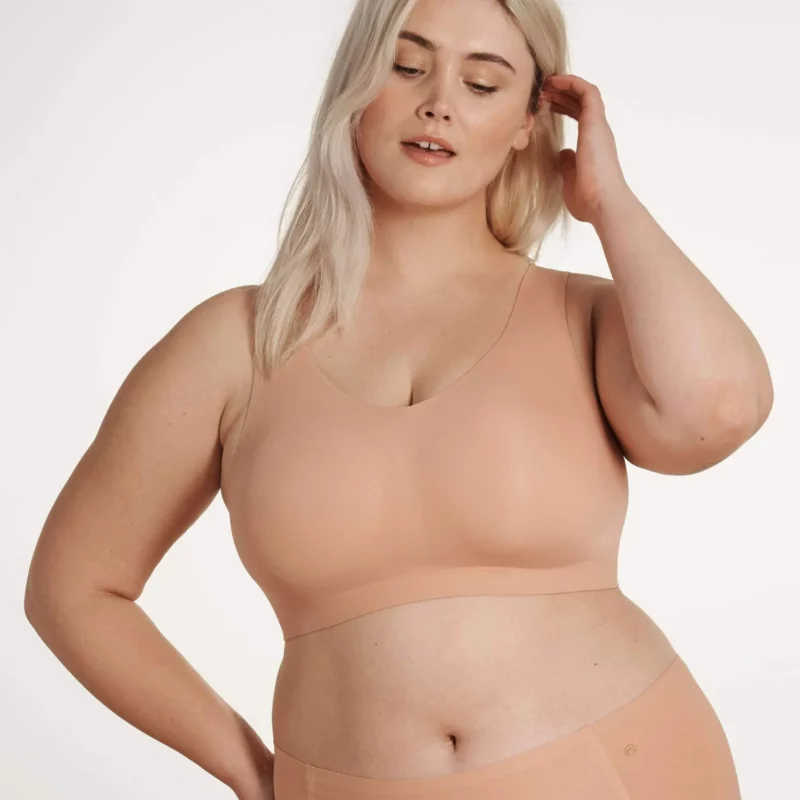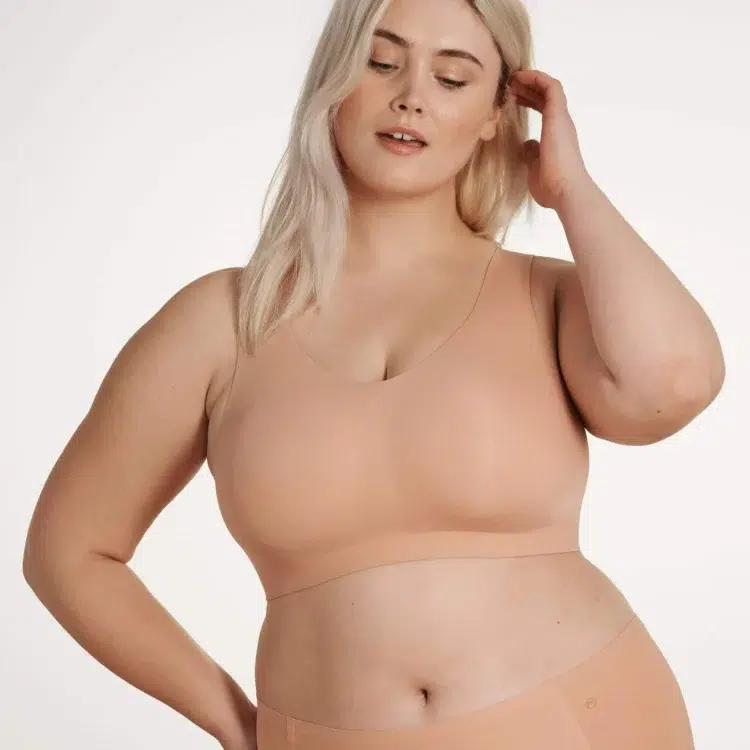 Evelyn & Bobbie "Defy" Bra
I did a thorough Evelyn & Bobbie bra review and since writing it, I have added two more Defy bras to my intimates wardrobe. This bra is the first of its kind to truly give my lift and shape. It's super comfortable, it's so long line that it rolls up on the bottom, and there aren't any weird lines under clothes.
The Evelyn & Bobbie Defy bra looks like a sports bra or cropped tank and some may find it to be too much coverage to hide under tanks and dresses. However, I like this style because I can wear it like a cropped tank around the house with a cardigan and joggers, out in the yard with shorts and maybe an open button-front shirt that I can easily take off or tie around my waist and not feel naked. I find it hides perfectly under Chico's Microfiber Tanks which are a personal favorite.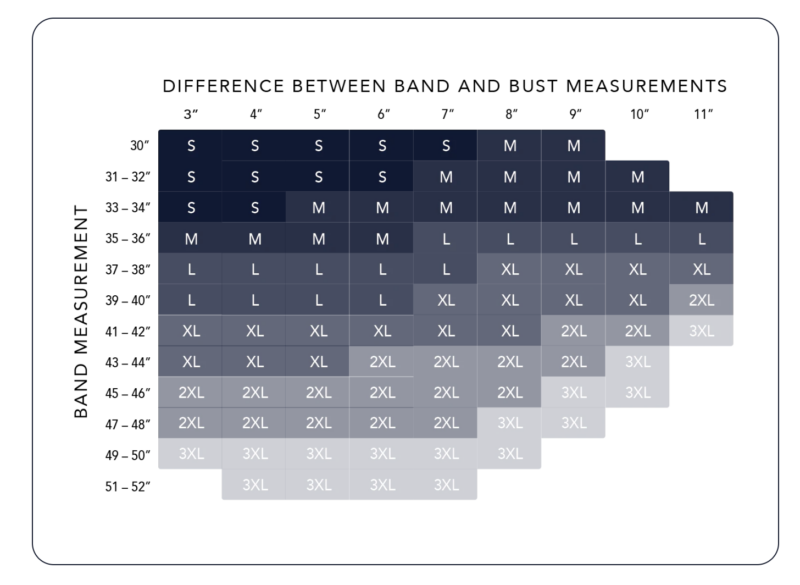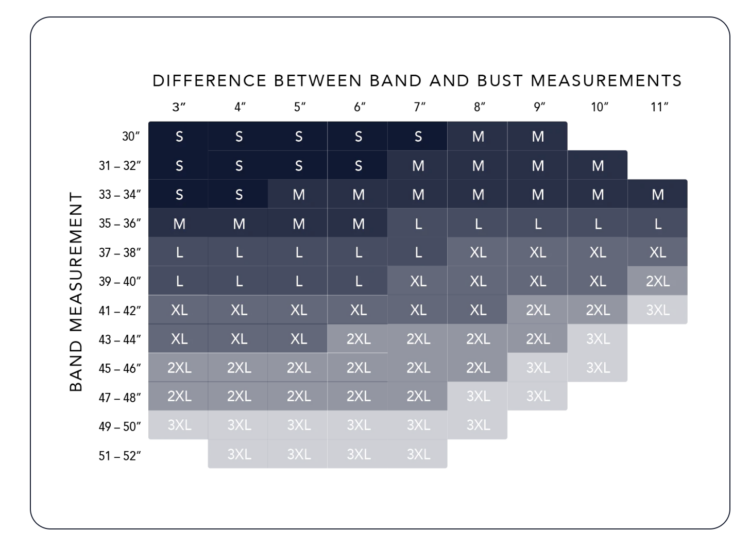 The Evelyn & Bobbie Defy Bra comes in a range of colors that changes each season, though the brand always has black and a few different skintone colors. Their size chart is helpful in determining your size; it accommodates band sizes 30-52 and cup sizes C-K.
Sizing tip: My first Defy bra I got in XL (I am a 36 F or XL or size 14). I thought Large may provide a bit more lift and bought one in that size. While it does offer a hint more lift, it also has more compression which makes it harder to get on and off and causes it to roll a bit at the hem/band.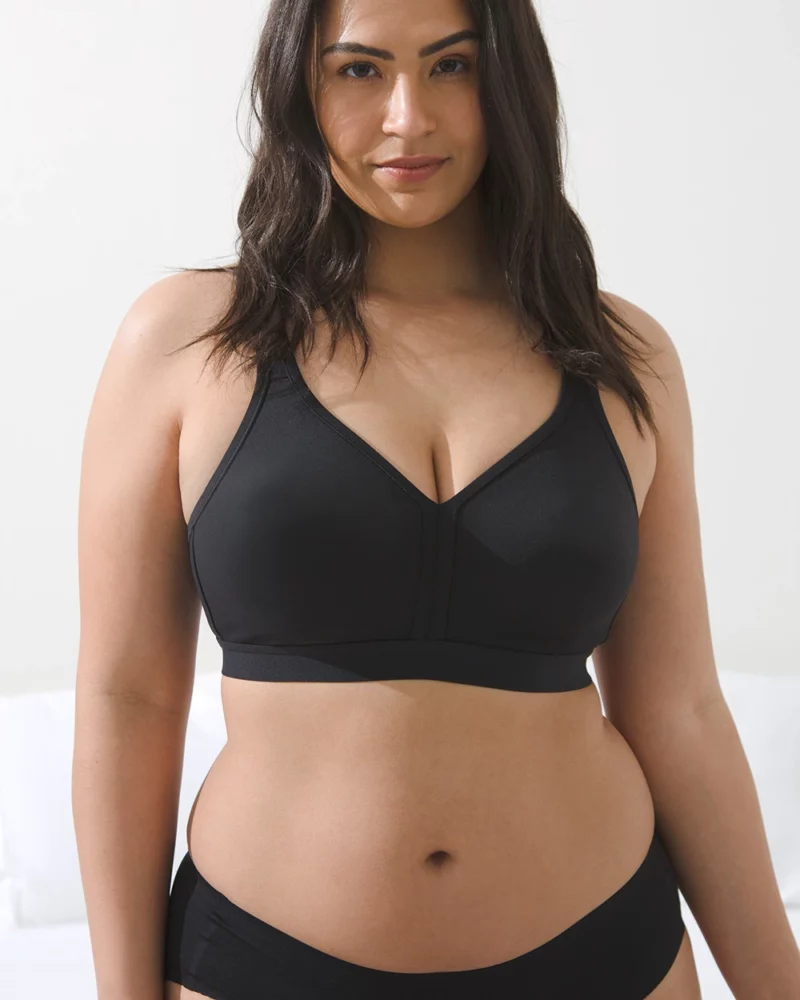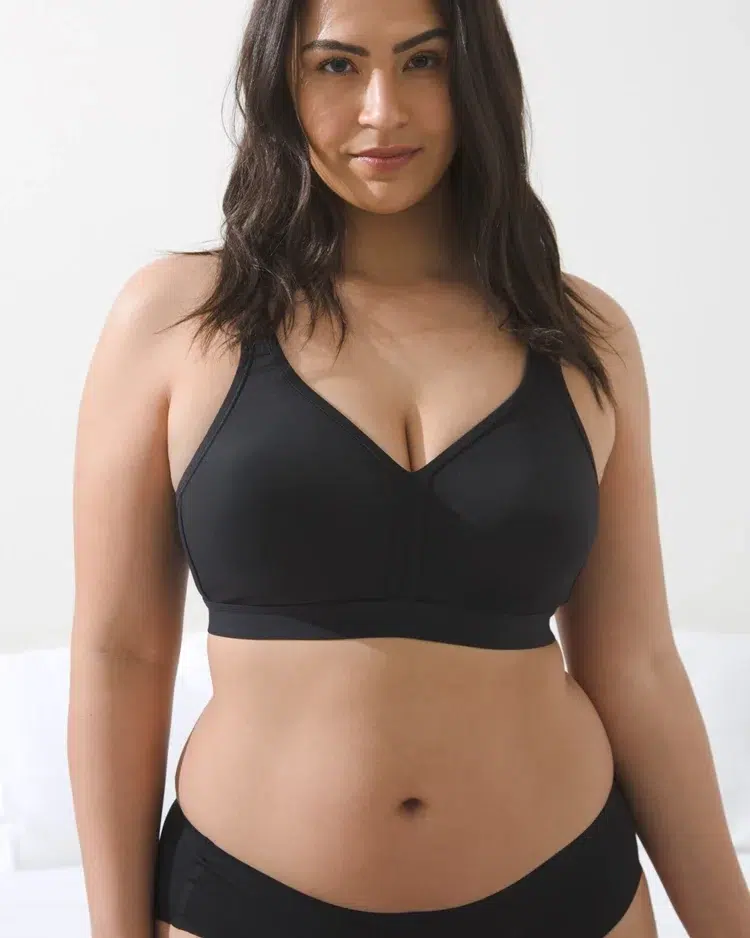 Soma Embraceable Full Coverage Wireless Unlined Bra
I also have a detailed review of this wireless bra for large busts from Soma. This is my favorite sleep/lounge bra as it is really comfortable, lightweight, easy to put on, and breathable. While it doesn't provide a ton of lift and shaping, this bra is enough to wear under sweaters and shift dresses.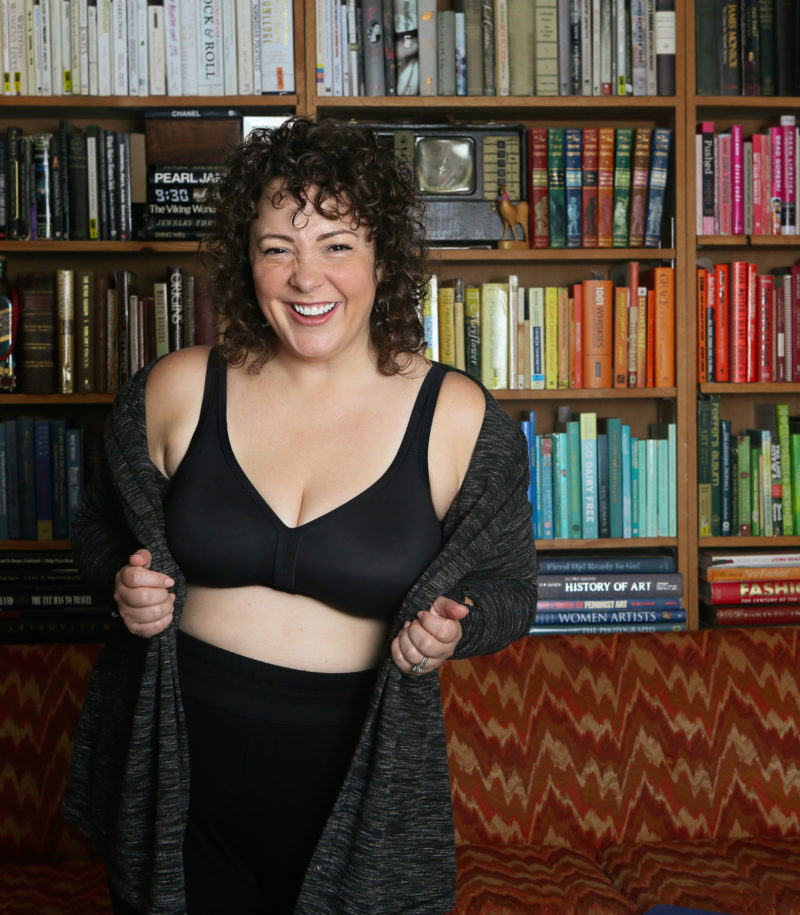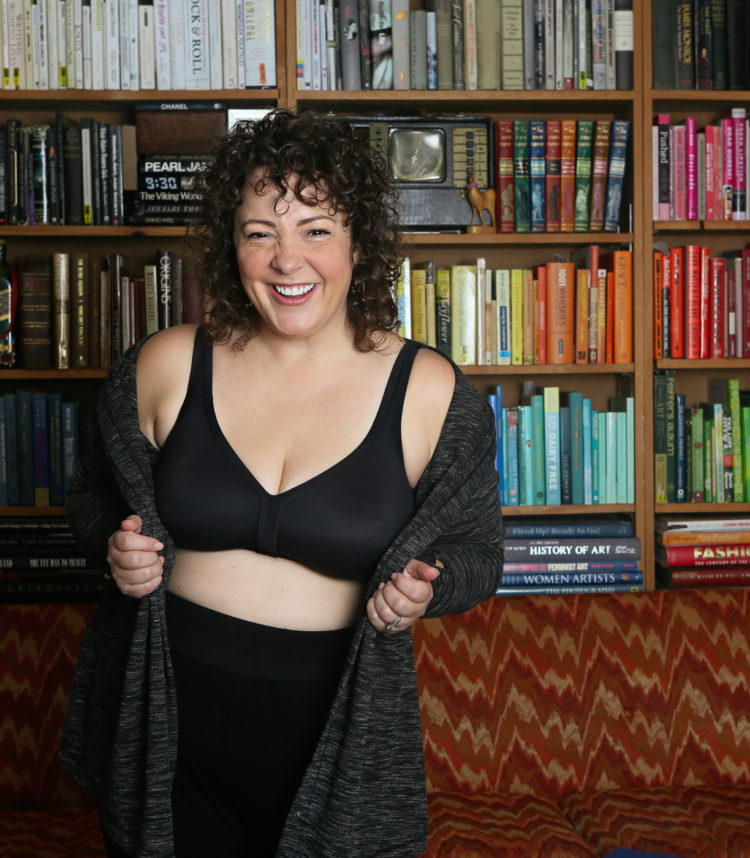 I have found these Soma wireless bras to hold up well, and I like the straps are thin enough that I can wear it with most of my sundresses. They're not terribly attractive, but they are a favorite for casual getaways and lounging at home.
The Soma Embraceable Full Coverage Wireless Unlined Bra is available in band sizes 34-44 and cup sizes C-H. It comes in black and three skintone colors.
Sizing tip: Soma fits differently from other bra brands, you may wish to try this bra in-store to ensure a proper fit. However, since this bra isn't molded or shaped, I say if in doubt go up a size in the cup and stick to your usual band size. For example, I wear a 36 G in this bra and I wear a 36 F or DDD in other brands.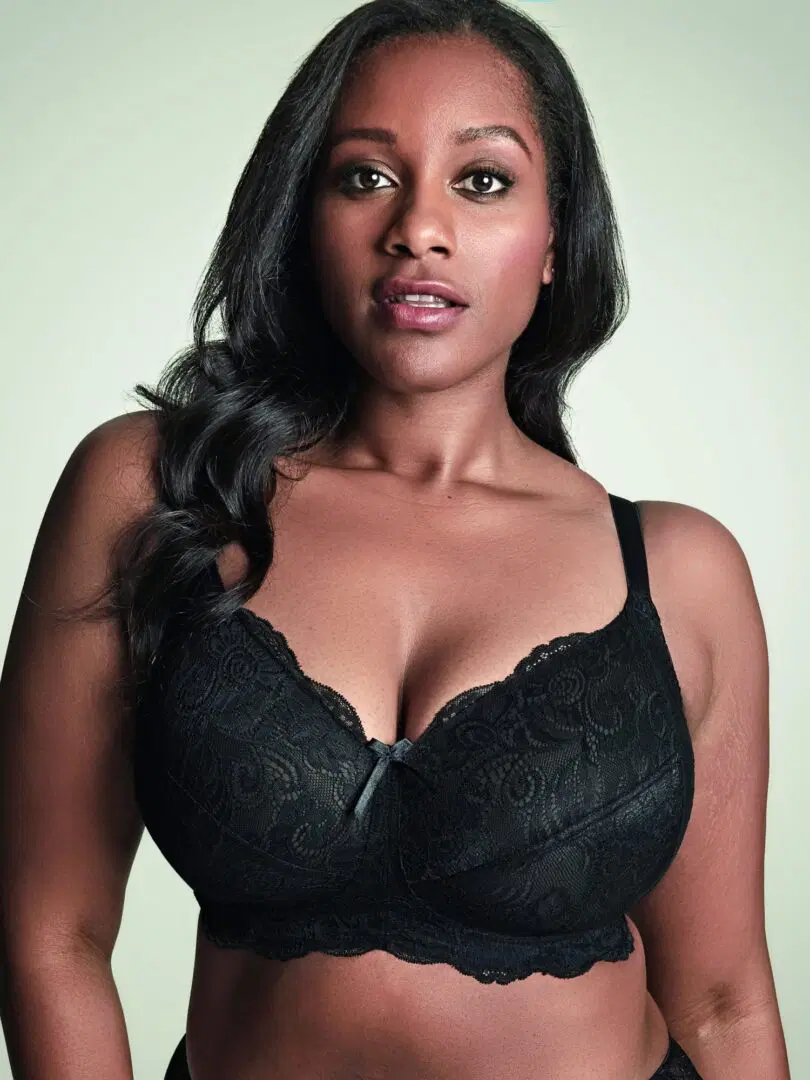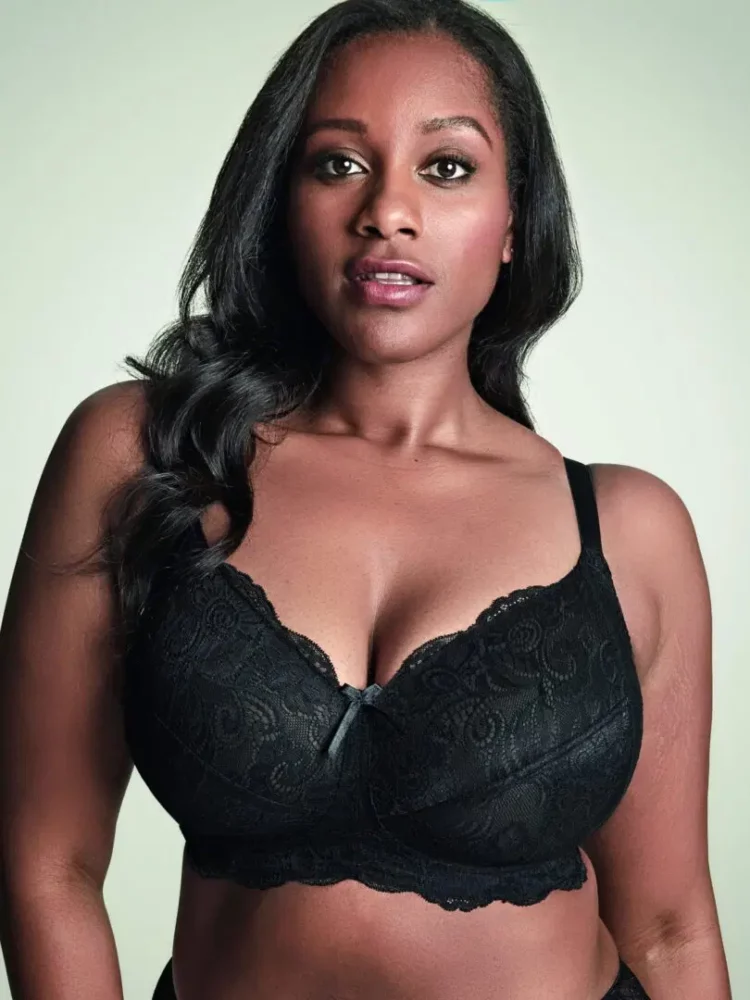 Panache "Andorra" Wire-Free Bra
It's hard to find wireless bras for large busts, even harder to find one that is the least bit pretty. But this wireless bra from Panache is beautiful, comfortable, and performs quite well too!
Those who have a large bust and narrow shoulders will find a good fit with the Panache Andorra bra. It is also a good choice for those who may be petite and deal with bras being too high under the arms or too long below the cups. However, some may find the shape this bra gives is a bit retro (it's a bit conical/bullet bra-esque). However, all of our breasts are shaped differently and I know many in the Wardrobe Oxygen community think this bra is fantastic.
The Andorra Wire-Free Bra from Panache is available in band sizes 28-40 and cup sizes DD-J. It is available in black and blush and often offers limited edition colors.
Sizing tip: Panache is a UK brand, and UK bras are sized differently than the US. While the band is usually the same, the cup size may be different. I like shopping from Bare Necessities as they have a UK to US converter on each UK product sales page as well as a great return policy.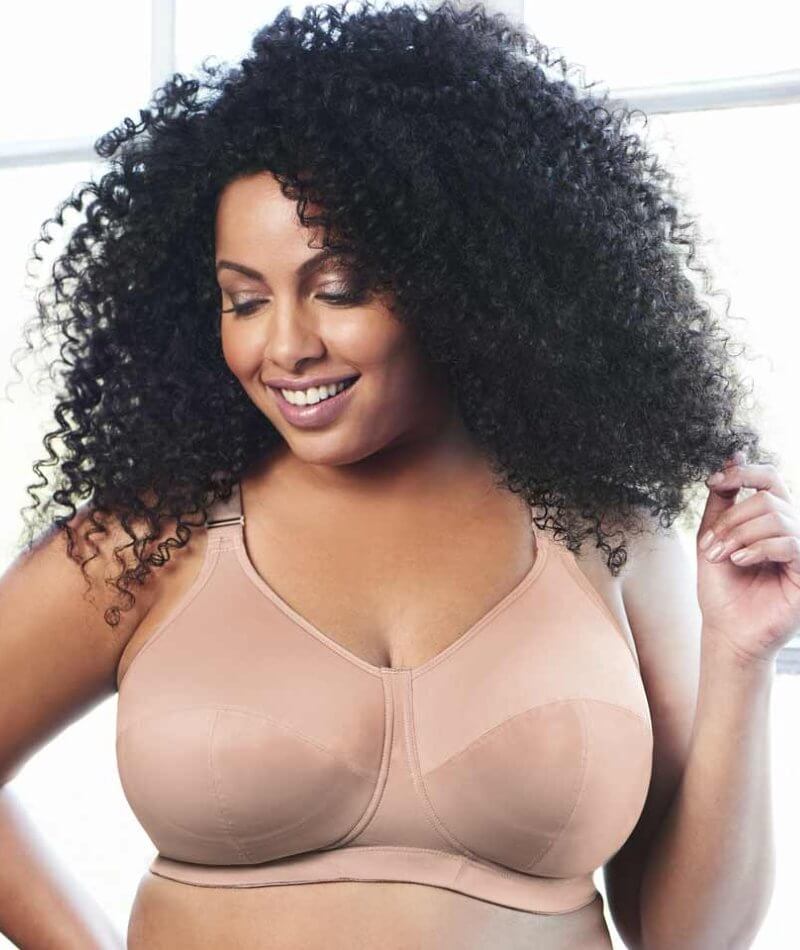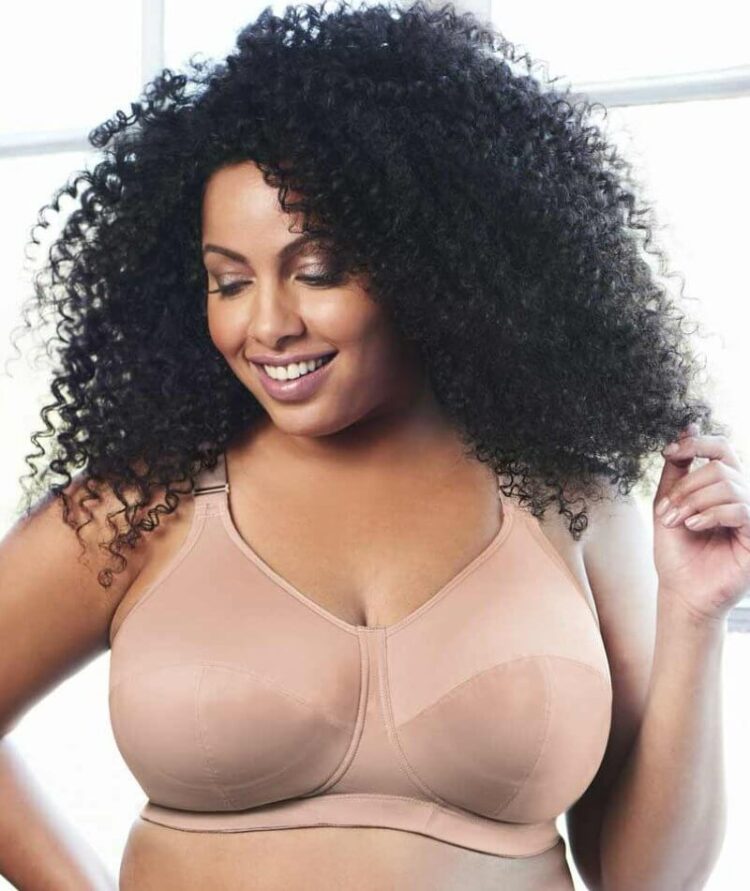 Goddess "Celeste" Wireless Bra
If you have a large bust and are looking for a wireless bra that will give you the support, the shape, and the control of an underwire to wear with most everything, the Celeste from Goddess bras may be the right choice for you.
This is not a lounge bra; with padded straps and a four-hook closure in back, this bra is structured and more rigid than the previously recommended wireless bras for large busts. That being said, once it's on you'll have a great shape, great security, and great comfort.
The Celeste bra is available in beige and black, but often Goddess offers this bra in limited edition prints and colors (for example, here's a link to it in grey leopard). This bra is available in bands 34-50 and cups H-O.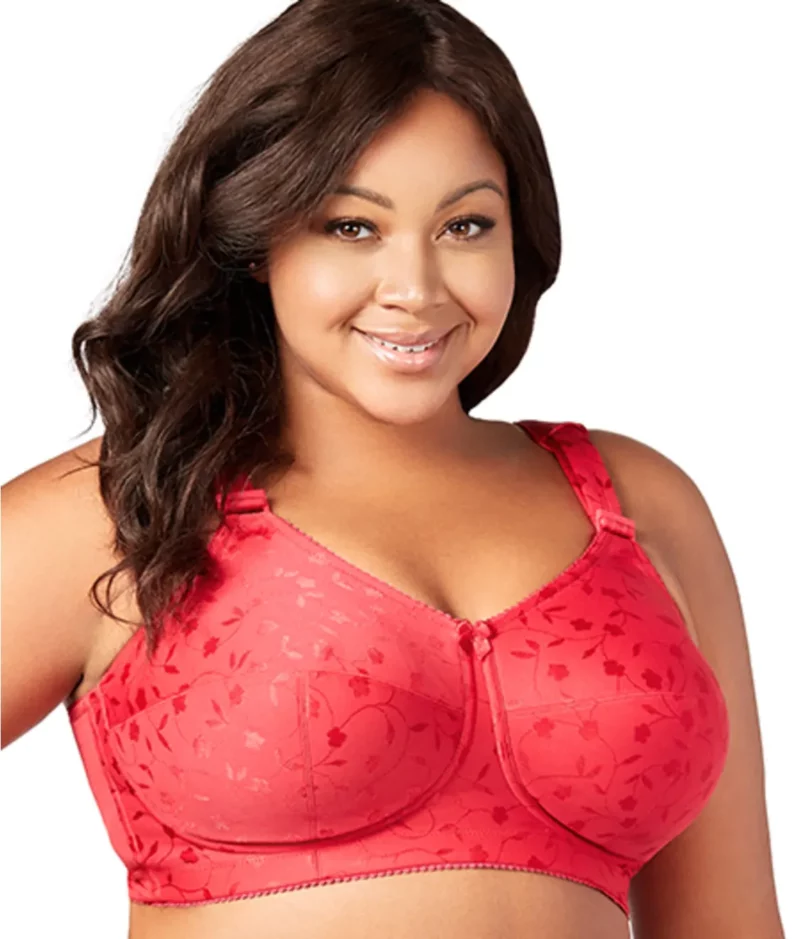 Elila "Sidney" Jacquard Wire-Free Bra
If you're looking for a wireless bra with shaping and support that comes in some color other than black and beige, the Sidney Jacquard Wire-Free Bra from Elila is for you. While available in beige, black, and white this comfortable bra is also available in a bevy of beautiful colors.
If you have worn this bra from Elila in the past, you may find it now fits differently. The straps have been modified to have a padded slide to protect shoulders and a couple of members of the Wardrobe Oxygen community have shared they've cut off the pads finding them bulky under clothing. Others appreciate the added comfort.
The Sidney bra from Elila is available in bands 34-52 and cups F-O. As mentioned, this bra comes in a bunch of beautiful colors; currently offering it in purple, blue, lavender, and red as well as two skin tones, black, and white.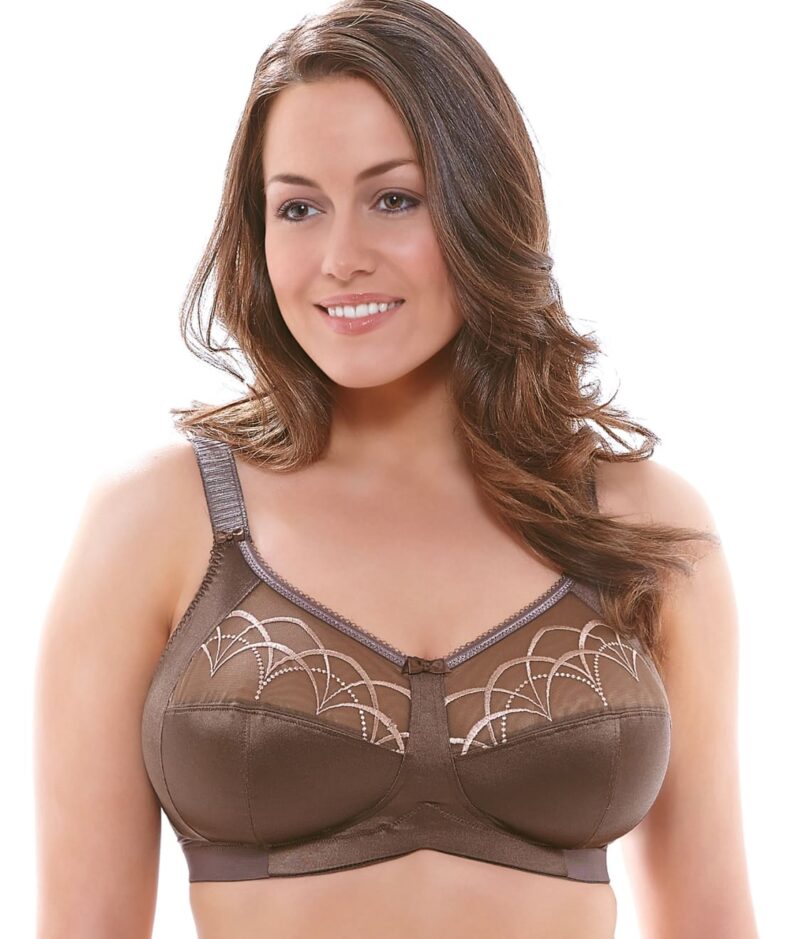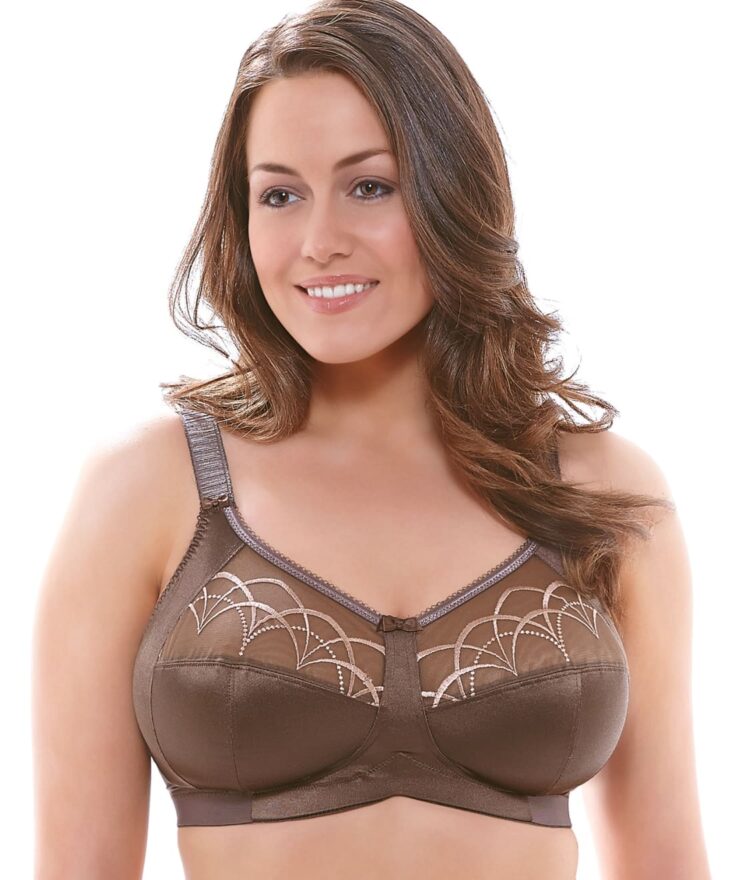 Elomi "Cate" Wire-Free Bra
The "Cate" bra from Elomi is a popular choice for large busts looking for a wireless option. Designed to offer side support and therefore a more streamlined silhouette, the Cate is comfortable, supportive, and works well under street clothing.
I have owned the "Cate" before and found it comfortable and supportive all day long. However, I didn't find this one fit my shape of breasts and felt it was designed for higher volume of breasts. I seem to be in the minority as many in the Wardrobe Oxygen community (and folks I know IRL) think this bra is fantastic. Even though it wasn't the right shape, I found this bra comfortable and supportive.
The Cate bra from Elomi is available in bands 36-48 and cup sizes B-G. It is usually available in black and ivory and then a few skintone or "hide under white shirts" sort of colors.
I hope this post helps you, and if you have a wireless bra for large busts that you have that is not on this list, please share in the comments below. Your rave may save a fellow member of the community!