This article may contain affiliate links; if you click on a shopping link and make a purchase I may receive a commission. As an Amazon Associate, I earn from qualifying purchases.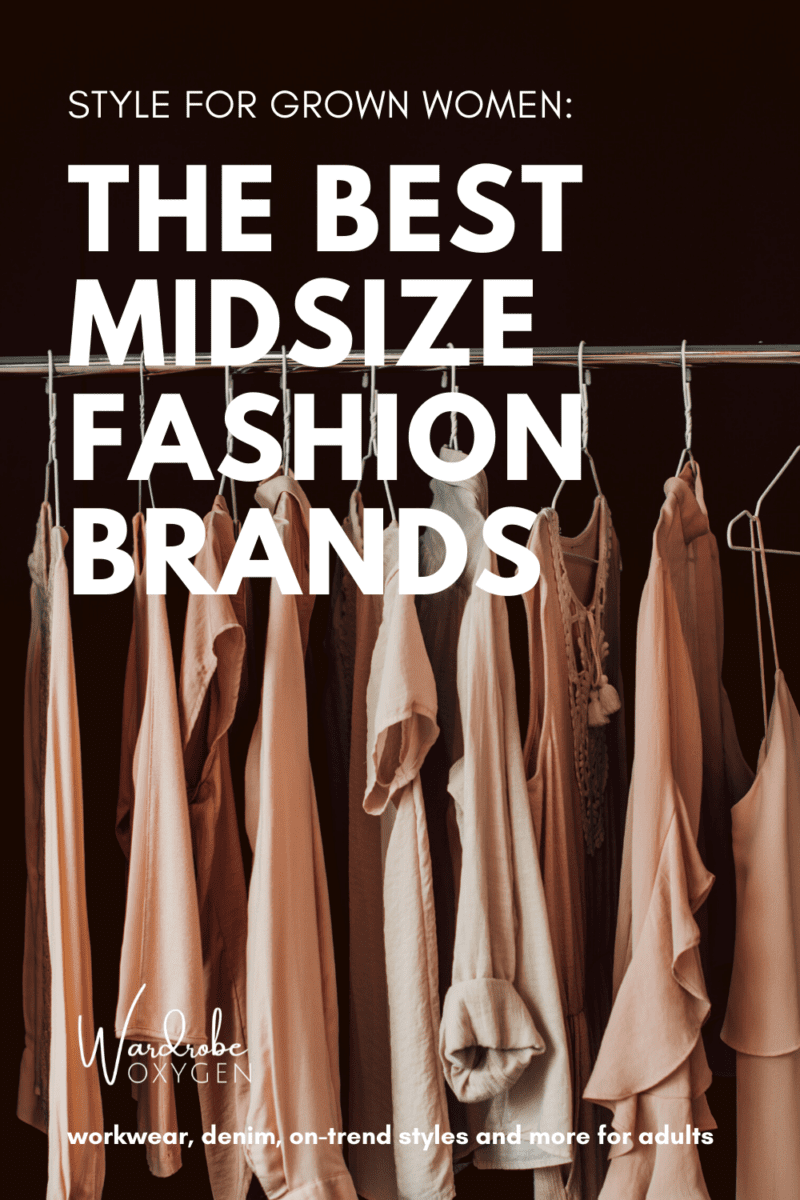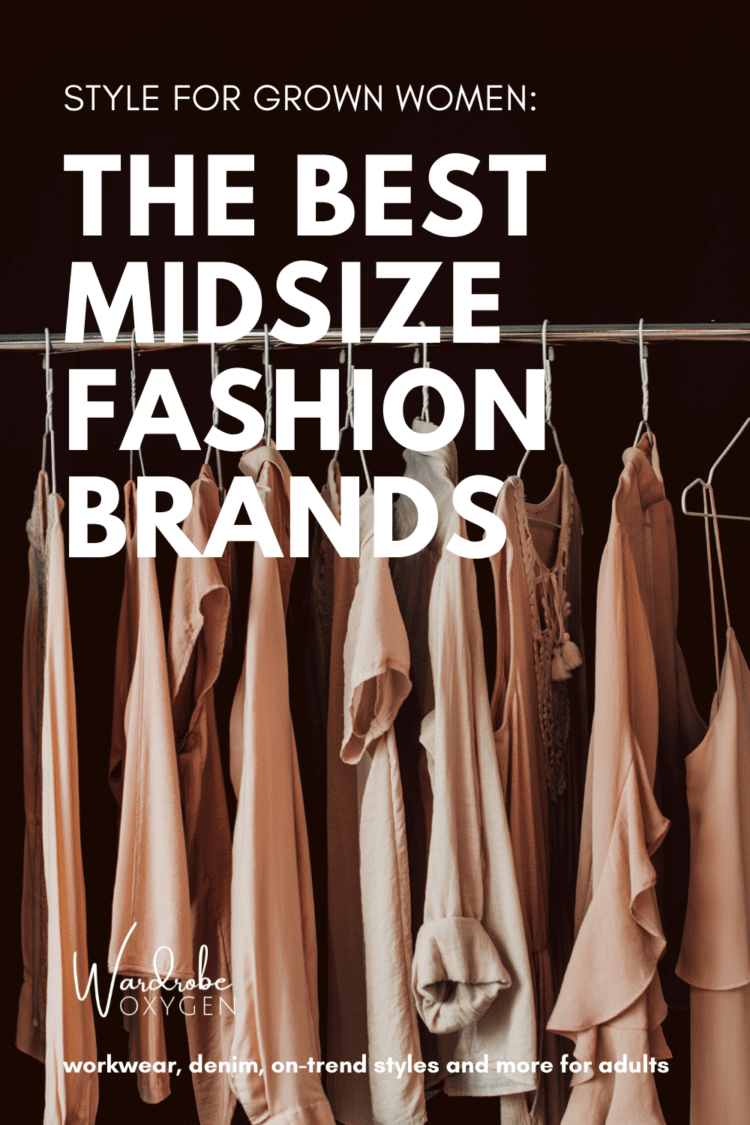 There are plenty of fashion retailers that offer up to a size 10. A few that claim to offer a size or two more, but their size chart's measurements show they run small and their largest is still no larger than a 10. And then there are retailers that offer specifically plus sized fashion, though honestly not enough of them. But where to shop when you are midsize, AKA wearing sizes 12-16? It's surprising how few retailers offer this midsized size range.
For most of my adult life ,I have been midsized. I have worn a 10, I have worn a 16W, but the majority of the time I have fluctuated between sizes 12-16. I am also 5'3″ tall, so depending on what size and shape I've been at the time, I have worn petite and regular options in sizes 12-16. I know that a 14W is not like a 14 nor is it like a 16. I know that a 12 at some retailers fits more like an 8 and at other retailers fits more like a 14.
On top of this, a lot of retailers that offer midsize fashion cater to a more "junior" crowd. I am so happy that such retailers exist, but where to shop when you are midsize and no longer in your 20s? Where do you find looks for work, for social situations, and for weekends that fit both your frame and your lifestyle?
Below I will share where to shop when you are midsize and a grown-ass woman. I offer retailers that have clothing in sizes 12-16 that truly fits our midsized range and our grown person lifestyle. What's great is most of these brands offer sizes smaller and larger than this midsized range. I also share tips on how to get the best fit from your midsize fashion.
What's the Difference Between Midsized and Plus Sized Fashion?
There is a lot of controversy about those who specify that they are midsized. It can feel as though these individuals who wear sizes 12-16 are trying to separate themselves from the plus size community. And I get that, there is a lot of fatphobia and fat bias in fashion and I am against adding to that.
However, as someone who has been a 14 and a 14W, I know that midsize and plus size apparel are sized differently. Plus size fashion is designed with a plus size fit model and mannequin, midsized fashion is usually designed with a straight-sized mannequin and fit model, usually around a size 8, and then graded up to fit midsizes. This means you will find plus size fashion often has more allowance for curves, and is also often designed for a taller body.
Those who are plus size and midsized and under 5'5″ have experienced having sleeves practically dragging on the ground, bust darts and waist seams in the wrong places, and hems ending at awkward lengths. However, I know as someone who has worn both, they are as different of fits as regular and petite. And like petite and tall options, it's great when a brand offers both midsize and plus size options as they are separate entities.
Tips to Measure Yourself to Know Your Size
It's impossible to know what size you wear with a brand if you don't know your measurements. Grab your kid, your partner, or a best friend and a tape measure. Yes, you can get crafty with string and a yardstick, but a flexible tape measure is so much easier and you'll use it so often it will be worth the money. And honestly, a measuring tape is less $5, and hardly ever needs to be replaced. Get one like this that has centimeters on one side and inches on the other so you are prepared when shopping non-US brands.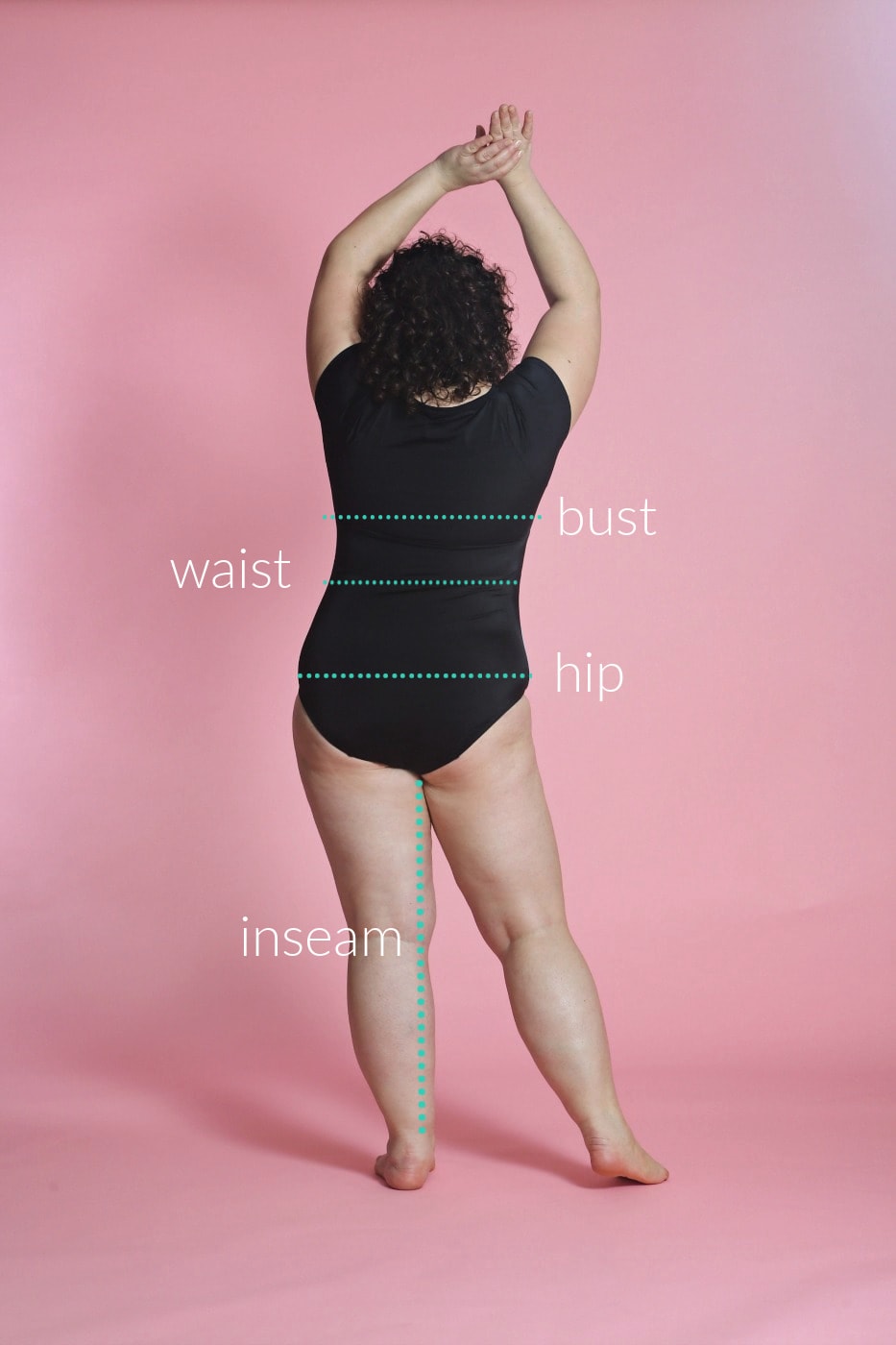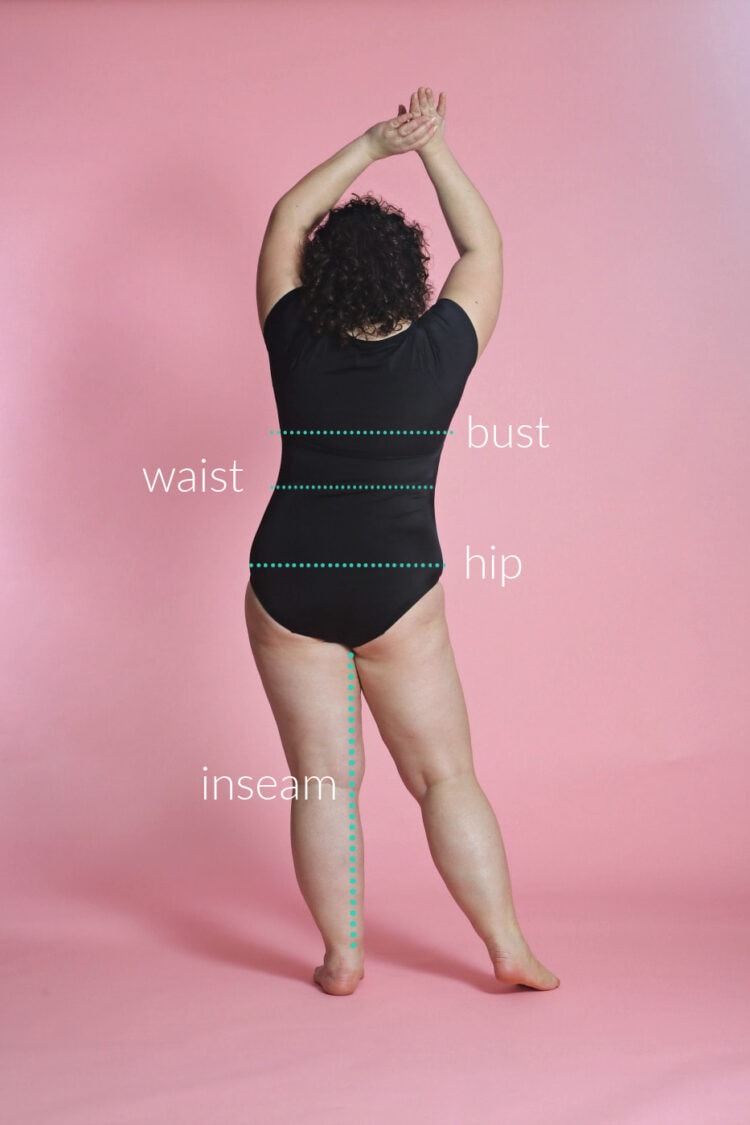 I said grab a second person because it is virtually impossible to get accurate measurements by yourself. Measure yourself wearing nothing except your regular underpinnings. Do not pull the tape measure tight; you want it comfortable but not loose. If unsure, it's better to measure larger than smaller for the best fit. You're going to want to get measurements for at least your bust, waist, hips, and inseam:
Bust: While wearing your regular everyday bra or underpinnings (if applicable), measure around the widest point. Make sure the tape measure is horizontal and even around your body.
Waist: This isn't where your favorite jeans reside, but where your natural waist is. To find your natural waist, bend to the side and place a finger where your body bends. Do not suck in and measure at that point, again making sure the tape measure is even and horizontal around your body.
Hips: Standing upright with your legs together, measure at the fullest part of your hips and rear, again making sure the tape measure is flat and horizontal around the body.
Inseam: This is the measurement where it really requires a friend. You want to measure from your crotch down the inside of your leg to where you wish your pants to end. If you try it yourself, you will have to bend to reach your ankles, which will alter your measurement.
For tailored items, you may also wish to measure the width of your shoulders, thighs, upper arms, and neck. But for most size charts, the four measurements above are the ones that will help you find the right size in that specific retailer.
It's Time to Get Honest About Women's Apparel Sizing
The size of your clothing has absolutely no bearing on your worth. I'm not saying that to be cute and politically correct. I am saying it because it's true. There is no standard sizing for women's clothing. One size 14 can be half the size of another brand's 14 (or even another 14 in the same brand!). There is no consistency within brands, from year to year, even within the same style of garment in the same color on the same rack in the same store.
It doesn't matter what size you were in high school, college, or on your wedding day. You are not the same person you were then, and that is a good thing. You are wiser, more experienced, you've lived life and there's no way you can gain all that without having changes to your mind, your heart, and the vessel that carries them. The best way to honor that brain, that heart, and the vessel that carries them is to dress that vessel now in clothes that fit, are comfortable, and make you feel more confident as you go out into the world and live more life and gain more experience and wisdom.
Don't shop for what you will be after you do that diet/couch to 5K/cleanse/get that Peloton. Shop for you right now. And if your body changes, your clothes can too. I'll get into that later in this article.
The Best Midsize Fashion Brands (Sizes 12-16)
It seems that size 10 is the cutoff point for many trendy brands, sustainable retailers, and designer labels. Or, if they carry one or two sizes higher, their measurements show that those sizes actually fit more like a 10 or smaller.
However, I have a list of great retailers, some you may know, and some that may be new to you, that offer midsize fashion that is great for us grown women and cater to a range of needs and personal style aesthetics.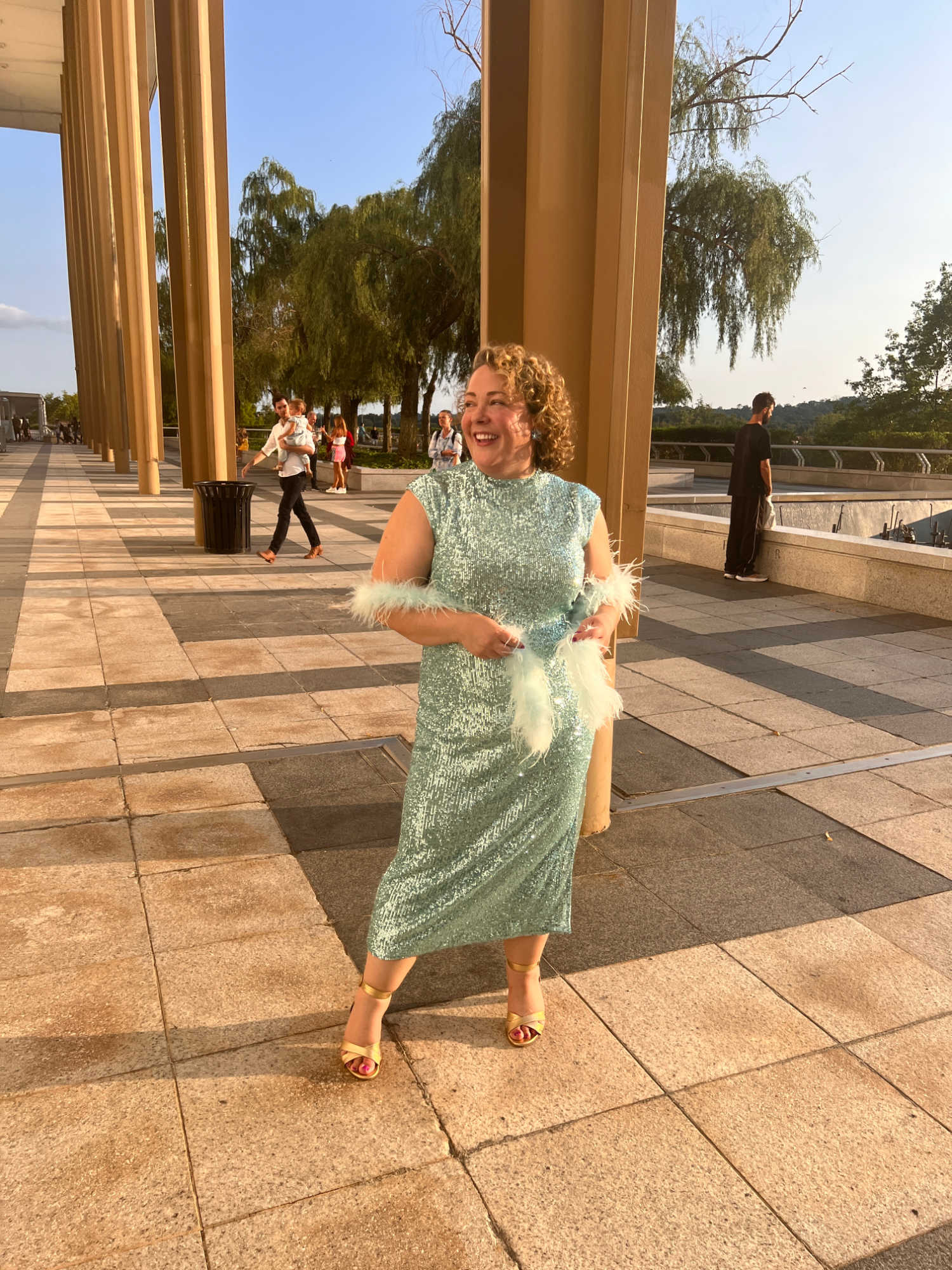 Where to shop when you are midsize and you're looking for a cocktail dress or formalwear:
This department store that has quite a footprint in the south also has a great online selection of cocktail dresses that are stylish, not boring, but designed to work with a grown-ass woman's body and needs. Offering sizes 0-18, Dillard's also has a good selection of petite cocktail dresses in this size range and a decent selection of plus size cocktail dresses.
eShakti has a range of fashion, from sundresses to denim, but I think this unique retailer really shines when it comes to cocktail dresses and formalwear. With standard sizing up to 5X and the ability to have custom pieces made to your unique measurements, eShakti lets you customize necklines, sleeves, hem length and more for incredibly reasonable pricing and simple returns.
Georgia Hardinge came onto my radar when the designer was on Season 3 of Making the Cut. I fell in love with her styles made to work with a range of bodies and her gorgeous cocktail and formal dresses. Georgia Hardinge offers UK sizes 6-22 which is equal to US 2-18.
Kay Unger crafts formal and cocktail dresses and jumpsuits that are modern, low on frills, and elegant. Prints and solids, Kay Unger is known for silhouette (you may have seen the brand's jumpsuits with overskirts sold at department stores like Nordstrom) and most cuts work with a standard bra. Kay Unger offers sizes 0-18
Creating some of the most beautiful formalwear, Mac Duggal offers everything from cocktail dresses to evening gowns in sizes 0-30. Mac Duggal is a great destination for mother of the marrying dresses and wedding gowns for the grown-ass woman. You can also find Mac Duggal at department stores like Nordstrom and Neiman Marcus.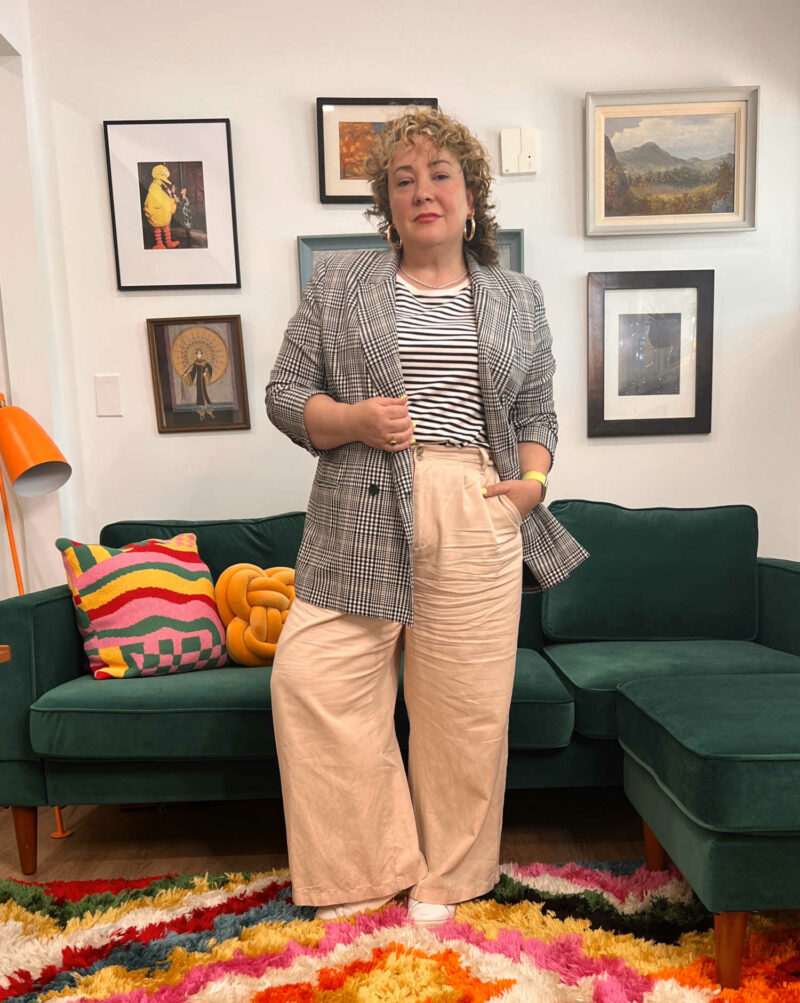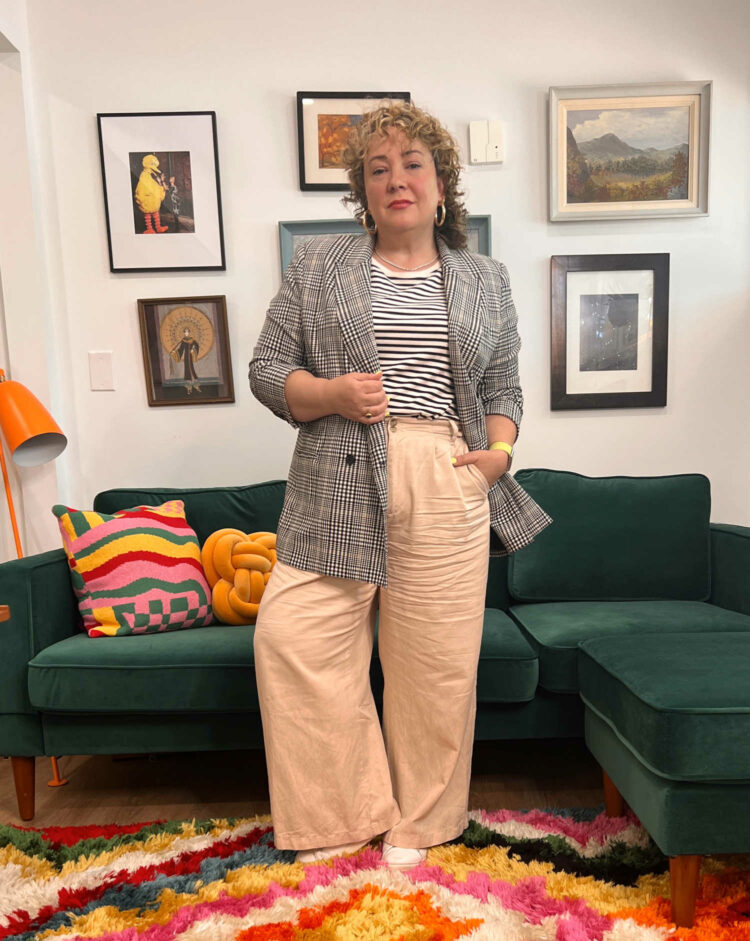 Where to shop when you are midsize and you're looking for workwear:
While 11 Honoré closed their independent online boutique, the fashion line is now available at Dia. Offering elegant separates, dresses, suiting, and loungewear, 11 Honoré excels in work-friendly looks that are stylish but not too trendy starting at size 10.
Ann Taylor has gone through a lot of changes in the past decade, but they continue to be a workwear destination for classic suiting and office-friendly separates. Ann Taylor has their collection available in sizes 00-18 with petite and tall options.
If you're tired of the basic suiting available at most retailers, but still want to look polished and professional at the workplace, Argent is for you. Great color modern silhouettes of suiting separates and knitwear in sizes 0-20.
Brass is a US-based woman-owned company that provides office-friendly separates like pants, sweaters, blouses, and relaxed jackets in sizes XXS-3X.
Halogen is an in-house brand at Nordstrom that offers reasonably-priced workwear, loungewear, weekend wear, outerwear, and much more. Halogen carries their "straight" sizes up to XXL/18 and usually carries the same exact items on a separate page in plus sizes.
Hobbs London offers elegant, well-crafted suiting, dresses, and separates with a feminine yet classic aesthetic in sizes 2-16.
Some of the best suits I own are from J. Crew. They have great tropical-weight wool, tweeds, ponte knits, and beautiful work-friendly separates in sizes 000-24 with petite and tall options.
With the best selection at Macy's, this offshoot of Ralph Lauren offers work-friendly suiting and separates as well as great dresses and knitwear up to size 20.
M.M.LaFleur is a favorite with those in upper management and C-level positions for its comfort and ease while exuding a level of polish and professionalism. This is a great destination for non-suiting workwear as well as weekend attire in sizes 0-18.
NIC + ZOE has been a favorite for years for great work pieces, interesting sweaters, and well-fitting wardrobe staples. Their collection is available up to size 18/XXL but also most styles come in petite and plus sizes. NIC + ZOE is also available at Nordstrom and Bloomingdale's.
Talbots is a favorite of mine for suiting. They don't carry a lot, but what they do is high-quality fabric, classic styling that will last more than one season, and I appreciate they have sizes 0-24 with petite and curvy options for their suiting separates.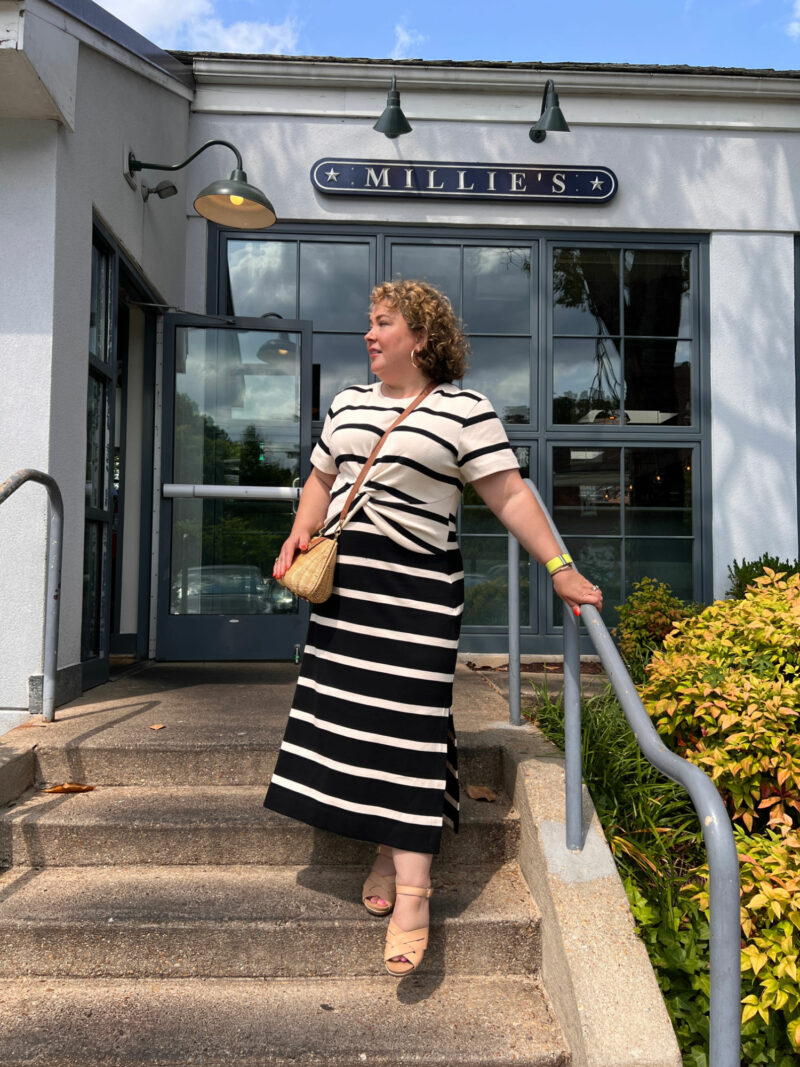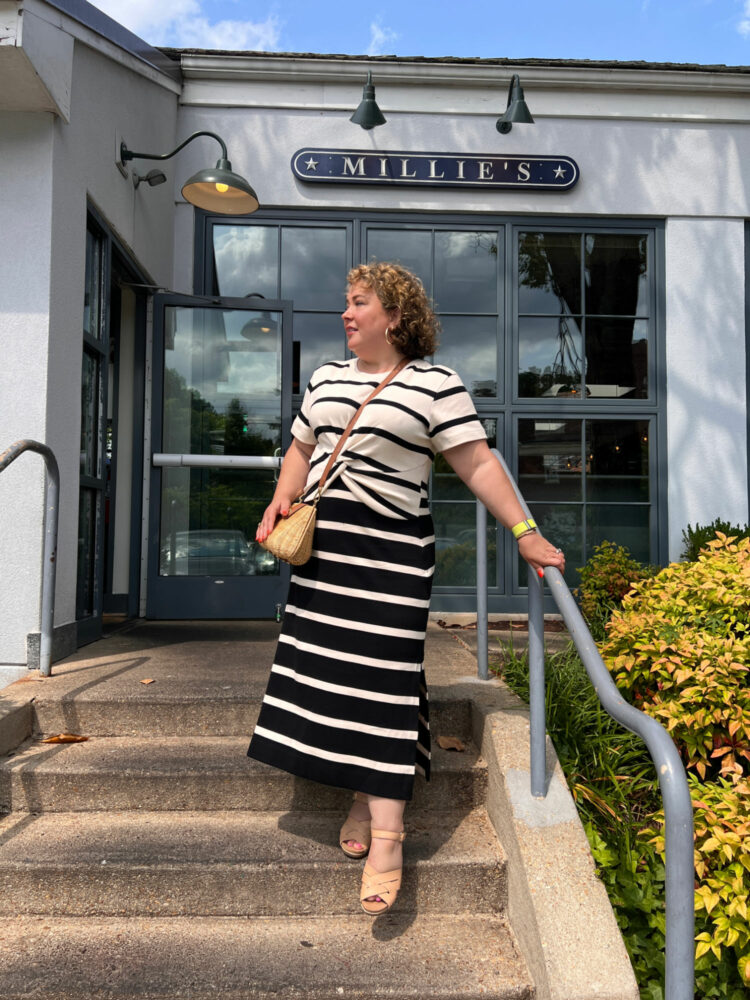 Where to shop when you are midsize and you want on-trend style not geared towards teenagers:
A line by designer Cynthia Vincent, BACAAL offers sophisticated on-trend fashion in sizes 10/12-26/28. Expect luxe fabrics, rich colors, and silhouettes that can take you from weekend to a cocktail party.
In the past couple of years, Banana Republic has reinvented itself and has an effortless, elegant vibe that takes silhouettes, details, and color themes from the runway and translates them for work, weekend, and beyond. Banana Republic offers sizes 0-20 with petite and tall options.
Kate Spade has a feminine aesthetic that regularly incorporates concepts recently seen on the runways. From dresses to separates to fantastic bags and accessories, Kate Spade offers their entire collection up to size XXL/16.
Mara Hoffman creates that effortless "oh this thing?" style that is so on trend right now, but in silhouettes and fabrics that look fabulous on all generations. Mara Hoffman offers its entire collection in XXS-XL with select styles up to 3X.
Sézane has become a favorite of mine for knitwear, and for finding feminine fashion that is on trend but not too trendy to be chic in your closet for years to come. Sézane is a sustainable fashion brand available in sizes 0-16 and XS-3X.
If you want creative and fun and quirky but still feeling right for your grown-ass self, you must check out Tamara Malas. Offering colorful and joyful fashion in sizes 6-32, this is an ethical slow fashion brand popular with fashionistas.
Universal Standard is by far, the most size inclusive brand. Every single style they offer is available in sizes 00-40. I am a fan of this brand and it's classic with an edge aesthetic; click here to see all the looks I've worn from Universal Standard.
Veronica Beard has a modern yet extremely wearable aesthetic popular with many stylish celebrities of our age. Veronica Beard offers their iconic blazers as well as denim, dresses, and separates up to size 16.
WRAY is a New York-based, inclusive, fine art inspired clothing line full of cool prints and silhouettes. While some pieces may skew young, there are plenty of styles perfect for grown-ass women. WRAY has a great size range, offering 0-24 and XXS-6XL.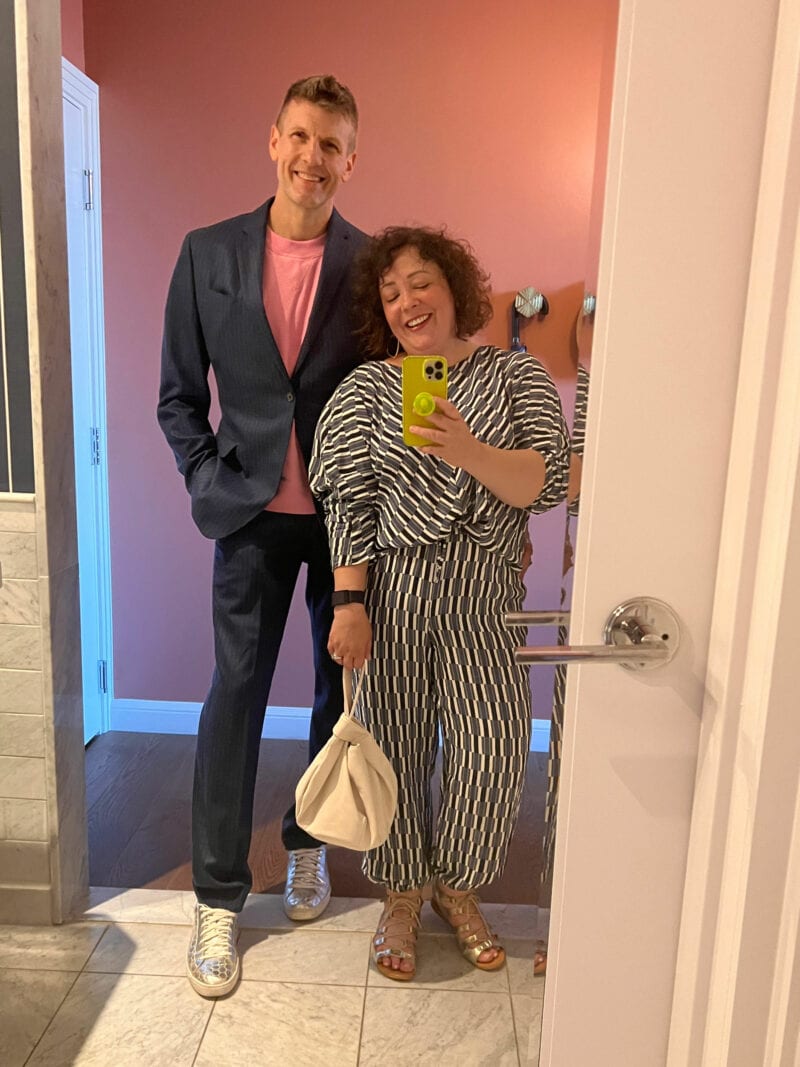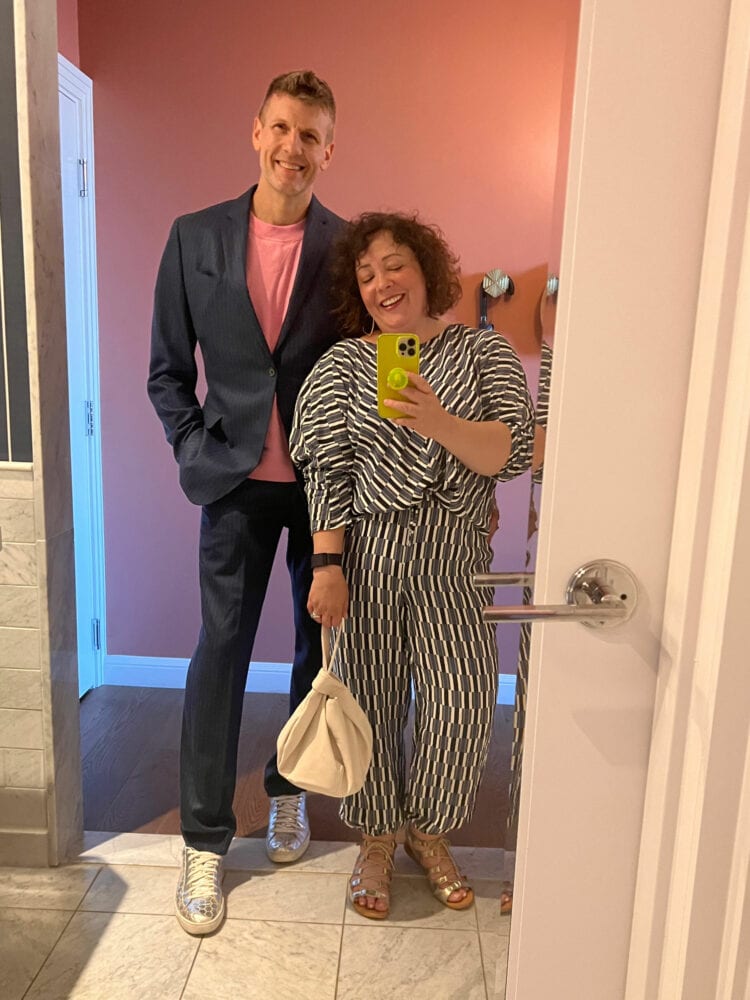 Where to shop when you are midsize and you like a classic aesthetic, but don't believe classic means boring:
Eileen Fisher has been a fashion staple for those who like a versatile and high-quality wardrobe. Known for natural fibers and modern silhouettes, Eileen Fisher is a sustainable fashion brand that comes in sizes 0-18 and 16W-24W.
Everlane carries clean, simple silhouettes that are a mix of classic and a bit of on-trend edge. An ethical fashion brand, Everlane carries sizes 000-20/22.
With a focus on luxe fabrics and breezy styling, Garnet Hill offers their in-house fashions as well as select pieces from established brands in sizes 0-18.
Halsbrook offers tasteful dresses and separates with a preppy aesthetic in sizes 2-16.
I'll be honest I hadn't heard of Seasalt until they contacted me offering to send me some product, no strings attached to announce they now ship to the US. I am impressed by the quality, the classic yet not boring style, their sustainable and ethical practices, and the great size range (US 2-28 with petite and tall options).
The O.G. for modern classic style, Talbots continues to be one of my favorite places for chinos, Breton striped tops, blazers, sweaters, and wardrobe staples that are chic yet classic enough to transcend trends. Much of my wardrobe is from this retailer that offers a great size range (0-24), petite options, and is one of the few retailers that offer plus-size petites. Click here to see all the looks I've worn from Talbots.
For elevated classic style with an artistic twist, Tanya Taylor is a favorite destination for dresses that are stylish but not too trendy, elegant occasionwear, and statement-making tops that aren't too over the top. Tanya Taylor carries sizes 00-22.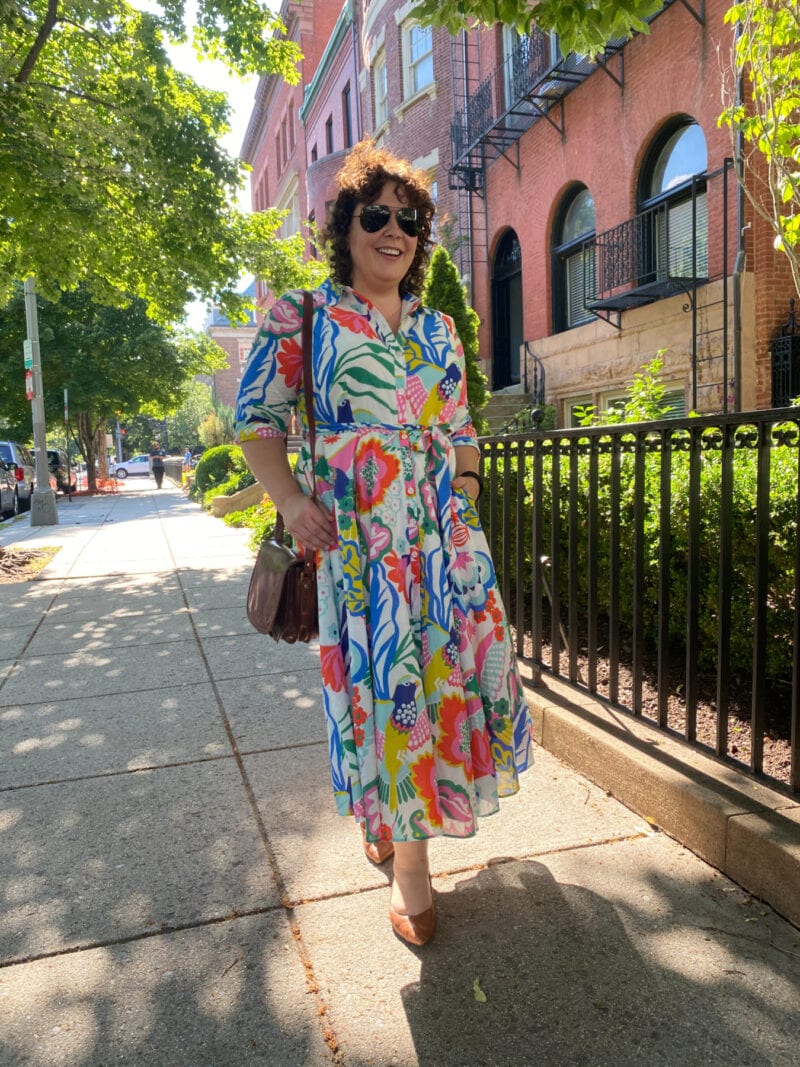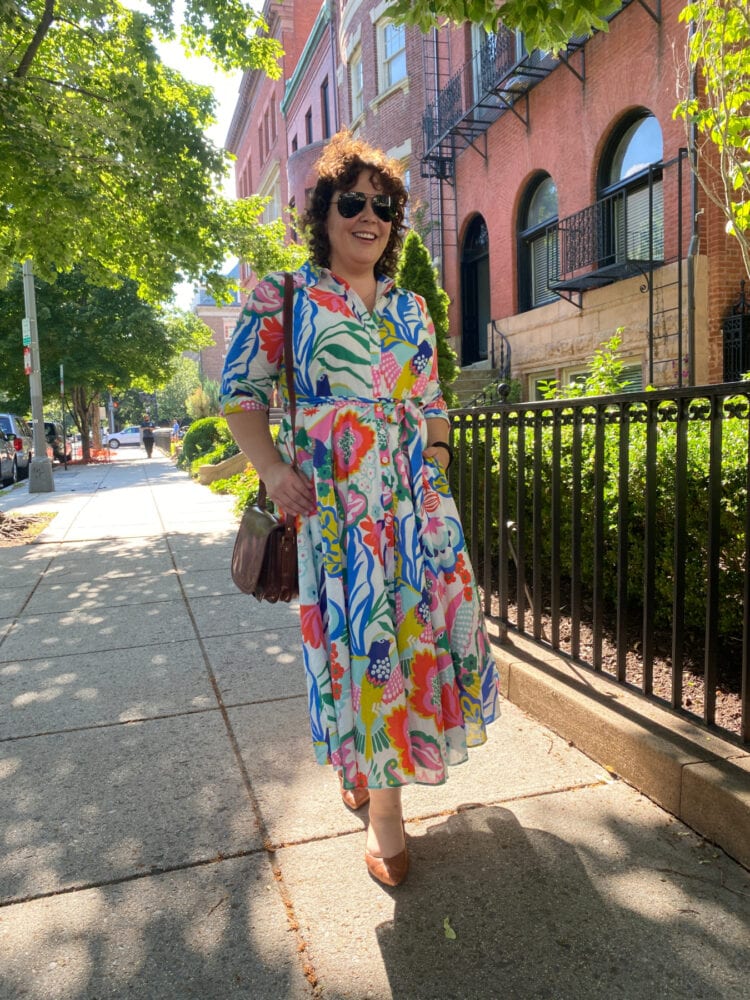 Where to shop when you are midsize and you love color and print:
Anthropologie offers fabulous prints, great colors, and unique pieces to update wardrobe basics in sizes 00-16 with several options in petite. Anthropologie also offers several options in plus sizes 16-26.
While Boden's petite selection ends at 12, their regular sizing is available up to 20 and includes fun and colorful options of dresses, suiting separates, knits, swimwear, occasion pieces, and fabulous accessories. Boden is a favorite of mine for those quirky yet sophisticated pieces that elevate my entire wardrobe.
FARM Rio is a sustainable fashion brand that offers some of the coolest prints and silhouettes for dresses, sweaters, and separates. Available up to XL, FARM Rio in my opinion runs large and is a great choice when shopping for vacations.
When Kate Spade sold her business, she then began Frances Valentine, a whimsical yet elevated line of apparel for women available up to size 3X.
For those who love color and a boho vibe, this fashion brand offers both with elegance and quality fabrics in sizes 4-16.
With a colorful yet classic style reminiscent of Boden, Joules is a favorite of mine for sweaters and the cutest raincoats in sizes 2-22.
Karina focuses just on dresses, and creating dresses to fit your body and lifestyle. They offer a range of styles and prints in sizes XXS-4X.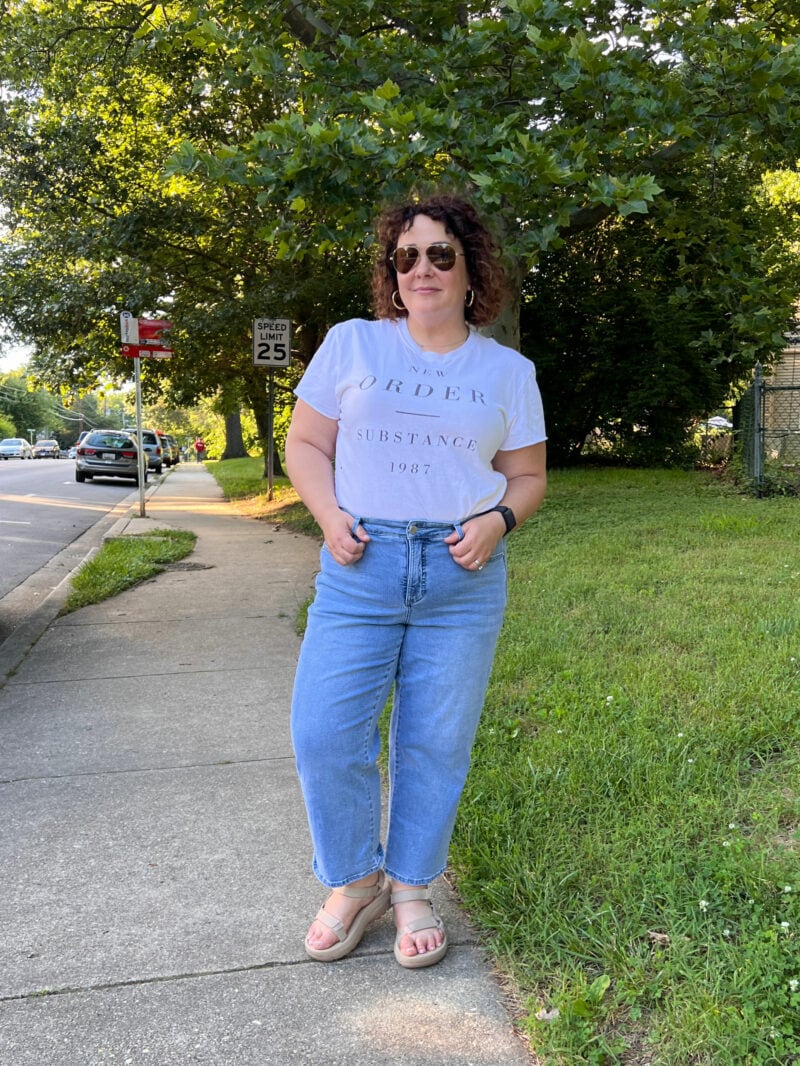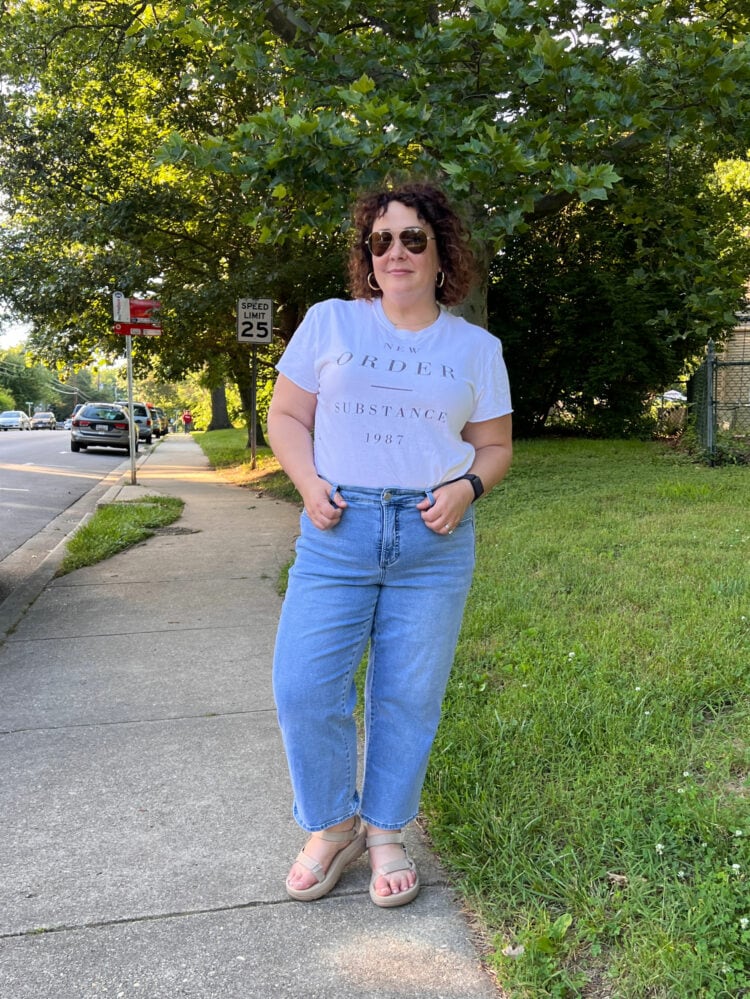 Where to shop when you are midsize you're looking for jeans:
I find Chico's denim to be really great for quality, fit, and style. Their Girlfriend silhouette is not too tight, not too loose, and great for curves. They offer denim with genius technology such as white jeans that resist stains and strategic seaming to lift and smooth the figure. Chico's carries sizes 0/2 through 20/22 with petite, tall, short, and long options.
Great stretch, great weight, and technology that lifts and smooths without sacrificing comfort. Democracy is a reasonably-priced denim brand that offers sizes 0-18 with petite and tall options.
Especially if you have curves, Good American is a great destination for on-trend denim that fits well. Offering sizes 00-24, Good American carries a size 15 which is great for those who find a 14 a bit snug but a 16 too large. Good American also carries long lengths.
Often found at department stores like Nordstrom, but having the best selection on their website, Kut from the Kloth makes well-designed stretchy jeans that incorporate current trends and washes in sizes 00-26W.
Offering all the on-trend silhouettes but cut in misses fit, not juniors, Madewell is a popular denim destination and offers denim sizes 23-52 with petite, tall, and curvy options.
PAIGE has been known for years for its denim, but the brand also sells great dresses and separates. PAIGE offers up to size 34 for jeans and 16/XXL for their other apparel.
Talbots is a sleeper hit for high-quality denim in on-trend silhouettes and washes in sizes 0-24 with petite and tall options as well as curvy cuts. Talbots' Modern Ankle Jean is a personal favorite.
Universal Standard has an extensive selection of high-quality denim in sizes 00-40, and several styles come in a variety of lengths.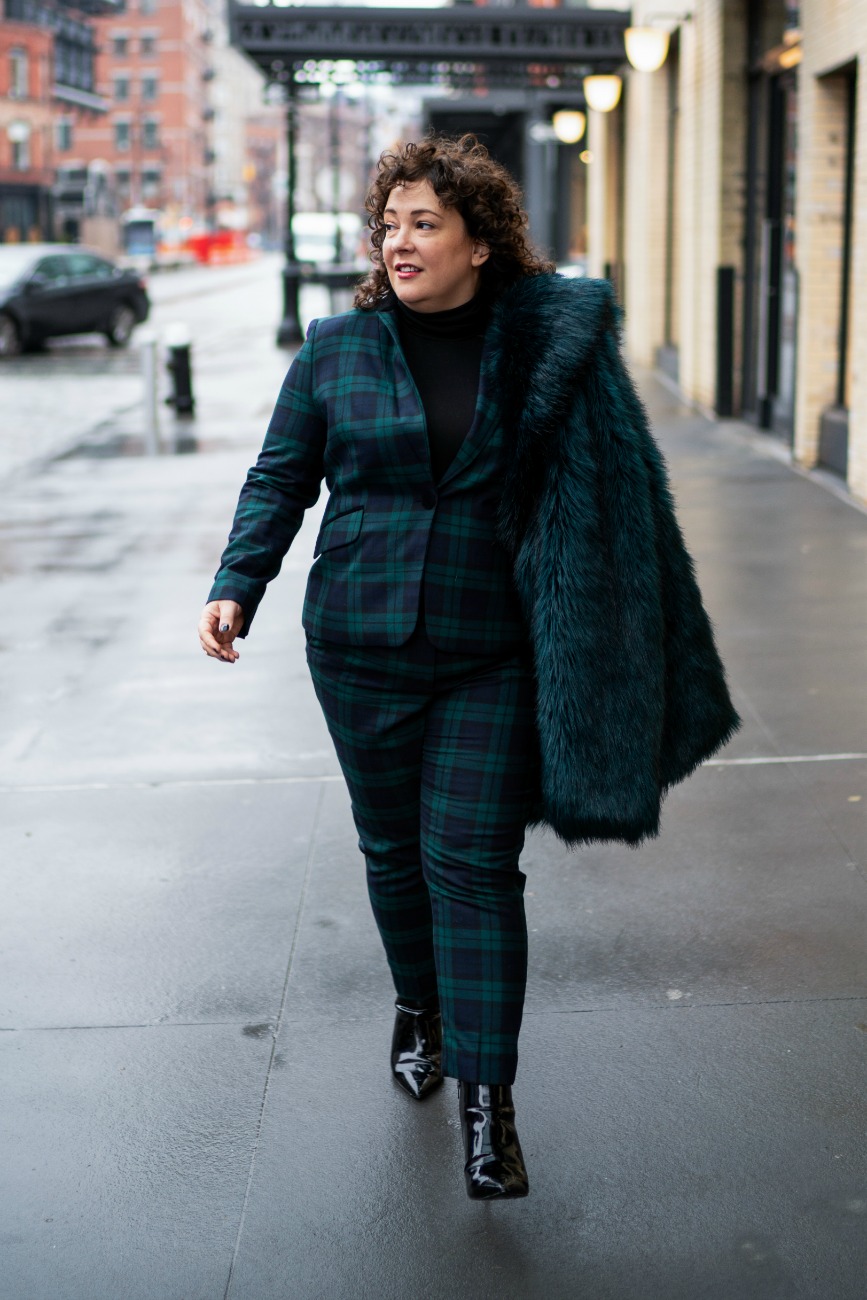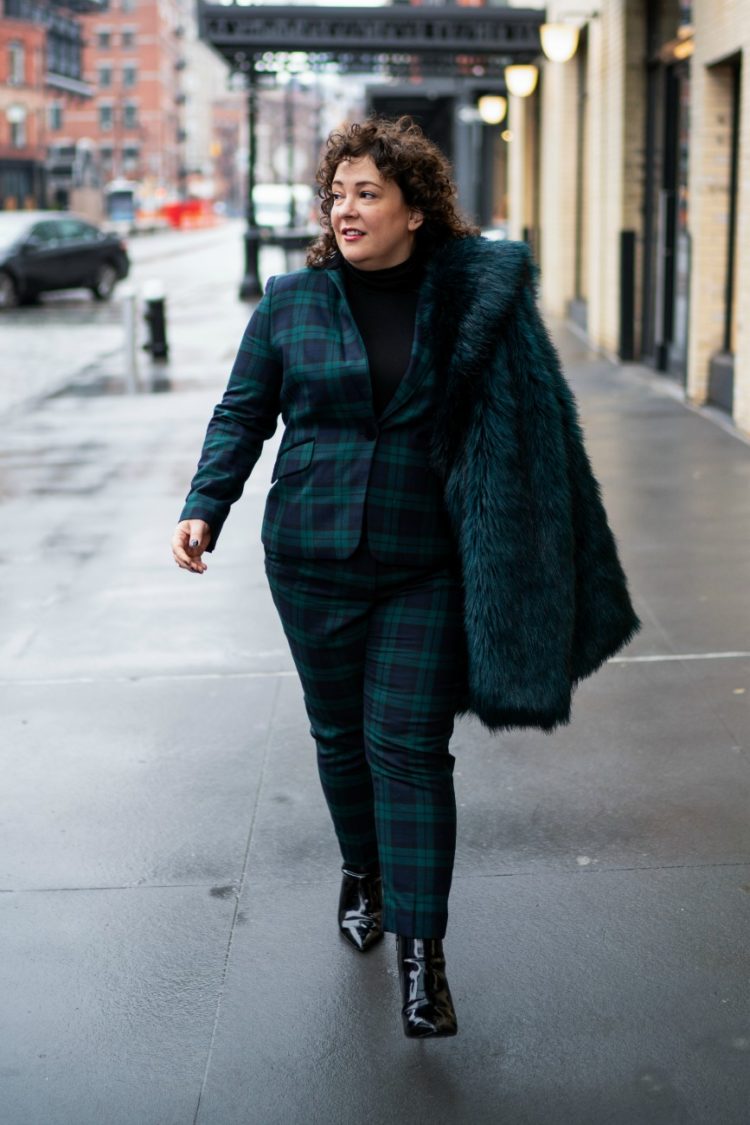 Where to shop when you are midsize and need petite or tall options:
Ann Taylor has really elevated their style in recent years. Office wear, but also denim, cocktail attire, coats, and much more in sizes 00-18 petite and 00-18 tall.
Anthropologie has an entire Petites section offering sizes XXS-3X in petite, depending on the brand. Anthropologie carries in-house brands in petite, but they also have popular brands like PAIGE, Nicole Miller, and Good American in petites, often having more petite offerings than these retailers' websites!
Betabrand carries sizes XS-3X with petite and short petite options in dresses, jumpsuits, and their cult-worthy pants that look polished but feel super comfy and stretchy.
J.Jill is a fantastic place for pants and separates in petite and tall and the retailer offers sizes 2-28 with almost all of their styles in sizes 2-18 available in regular, petite, and tall.
While known best for outerwear and swimwear, Lands' End carries jeans, leggings, tees, and much more in petite and tall sizes 00-18.
If you love the boho vibe with a bit of polish, Soft Surroundings offers petites in sizes 2/4-18.
Spanx is much more than control panties. The brand has expanded into apparel and has done a great job of creating jeans, pants, and more that fit well and become closet staples. Spanx carries their clothing in sizes XS-3X petite and XS-3X tall.
I know, Talbots again but they really do tick so many boxes for midsize and cusp sized folk. One of the few retailers that provides not only petites up to size 16, Talbots also has plus petite in sizes 12-22WP with a whole different size chart and fit.
Let's Get Real… No One Fits Off the Rack (or Out of the Shipping Bag)
The number one way to look stylish and sophisticated is have your clothing fit. And the number one way to have your clothing fit is to have it tailored to your unique body shape.
Clothing is cut based on a fit model, and especially if you are midsized, that fit model likely doesn't wear the same clothing size as you. Fit models are often a size 6/8 and then clothing is graded up or down for other sizes. Even if you are by chance the same size as a brand's fit model, that doesn't mean the two of you have the same shape or placement of curves.
There is nothing wrong with your body. Nothing.
Again, it doesn't matter what size you were in the past, what your fitness routine or choice of what you eat is now or then or in the future. What matters now, and you deserve to wear clothing that works with, not against your frame.
And from experience, I can tell you that when your clothing fits your body well, you will like how you look in it so much more. You will find you have better posture, the parts of you that you wish you could hide won't be as much on focus and the parts of you that you love will be accentuated so well. Well-tailored clothes will improve the relationship you have with your body.
But to have well-fitting clothes goes beyond being honest with yourself and measuring yourself. It means finding a tailor (or seamstress, or a local sewist who offers alterations). This can feel daunting and difficult, but there's a good chance such an individual is residing in your community or a neighboring city or town.
Dry cleaners can often do minor alterations like shortening of sleeves or hems. Bridal shops are great resources for finding local individuals who do alterations, as are those who are in the pageant circut. Check Yelp and ask for recommendations on NextDoor and your local Facebook page. Your local theater likely has someone who helps them with costumes; ask if that person offers tailoring as a side job. Your neighborhood fabric store or craft shop may also know of someone in the area who performs alterations.
When you find someone, start small.
Take a pair of trousers or a dress to be hemmed to a better length for your body. Bring the shoes you plan to wear with the garment and wear the underpinnings you'd wear underneath. If you find the work done well, try another piece.
The more you meet with your tailor, the better that person will understand your body and style needs. And the more you will come to trust when that person says an item cannot be tailored, or should be tailored in a different manner than you envisioned in your mind. Also, a tailor is there to help adjust your wardrobe to your body as it changes. Pieces can be reshaped, taken in, shortened, and occasionally let out or customized to still look great but fit better. This partnership with your tailor can be even more valuable than my list above of midsize fashion brands in achieving the best style for your unique self.
You deserve to feel good in what you wear, no matter your size, age, or shape. While it may not be as easy to find great fashion as a midsized grown woman, I hope this list of retailers and these tips will help you find the wardrobe that works with your body, personal style aesthetic, lifestyle, and grown-ass women desires!