My stomach has always been my soft spot – even when I was younger, slimmer, and more athletic my lower belly protruded and was mushy. I remember working for Express, wearing their Metro collection – a knit hoodie, v-neck tee, and matching maxi skirt (hey, it was the late '90s!) and a customer pulled me aside and told me about a control garment sale taking place down the hall at Lord & Taylor. I was mortified, and resolved to do anything possible to get a six-pack. Even when doing crunches through the commercial breaks of Friends and Beverly Hills 90210 I had a soft tummy. Eventually I got over it and accepted it as a part of my body – a soft, mushy, protruding part of my body that I flattered with wrap dresses, wide waistbands on trousers, and untucked knits.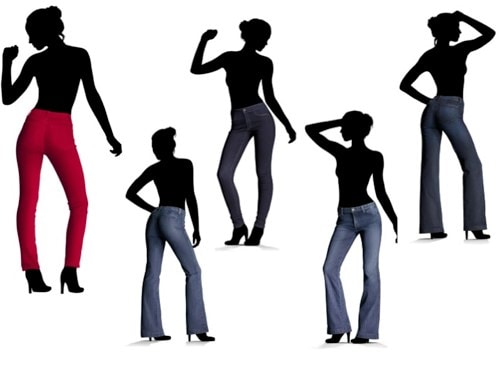 After having a baby, my lower tummy became even more pronounced. Even when I was able to fit into my pre-pregnancy pants, they looked terrible with my saggy belly. I resigned to the fact that I would live the remainder of my life in dresses… until I tried a pair of Not Your Daughter Jeans.
I hate control garments – they make me look like a stuffed sausage, aren't comfortable, and often cause gas pains. I'd rather be curvy than uncomfortable. So when I heard that Not Your Daughter's Jeans had a control aspect to them, they totally turned me off. But a reader raved about them, so I decided to try them. No pain, no constriction, yet the jeans held in my "mama pooch" and made me look more streamlined. The brand states that they will make you look a size smaller – I don't know if it does that, but each time I wore them in the year after my pregnancy, people told me I looked great and asked if I lost weight.
Emerson is three years old and I still rely on Not Your Daughter's Jeans for my denim. I have a couple other brands in my wardrobe, but I only wear them with tops that cover my lower belly. With NYDJ, I can wear shorter tops and fitted knits without feeling self-conscious.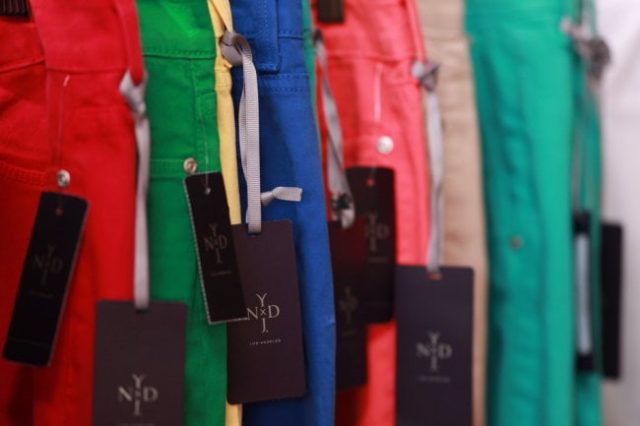 Other than the hidden and yoga pant-comfortable control aspect of NYDJ denim, I like that the jeans don't LOOK like control denim. No logos or visible labels, every cut seems to have an option with non-embellished pockets (I don't like decorated denim), on-trend washes and silhouettes, and the denim is cut for women with curves. Straight jeans in other brands look like stovepipes on me and skinnies don't fit over my calves – with NYDJ straight looks straight and skinny is skinny without cutting circulation off to my feet. I can get classic fits like a dark wash of Barbara or Marilyn, or get trendy with a skinny like Sheri or hot pink cropped Alishas.
Many of you readers have told me that you find NYDJ to be too expensive – and yes, they aren't cheap. However, they are quality jeans. If I wash on the gentle cycle and line dry, my NYDJ jeans will remain in great shape with the same saturated color for years. I recently sold a pair of two-year old NYDJ on eBay for $35 and they were worn and washed several dozen times, yet were in great enough condition to garner positive feedback from the buyer. NYDJ is also available at great prices at Nordstrom Rack, Amazon, and NYDJ outlet stores (for you local yokels, there's one at Arundel Mills Mall). But really, I often talk about quality, not quantity and I feel NYDJ fits the bill – you can get away with one pair of their $125 jeans to cover weekends and nights out with friends equally well, and not find them to be dated in a year's time.
And nope, NYDJ didn't ask me to write this post. I am writing this because I noticed on laundry day how many pairs I own, and how often I happily wear them. I believe a woman should love and accept her current body, she shouldn't go through pain or humiliation to achieve society's ideal for a woman's figure. However, if you can find something that makes you feel more confident and flatters this lovely body you own, I say go for it!
Update: Many of you had questions so I figured I'd answer them here for all to read:
These jeans are a high rise; that helps keep the tummy completely smooth and there's no muffin top. However they don't taper like "Mom Jeans" giving you a weird shape, and the pockets are still at the appropriate place on the bum. The novelty styles seem to have a lower rise than the traditional jeans
I haven't had any problem with the color fading or running with the novelty jeans. I planned to wash the red on its own, but my husband threw them in with the rest of the denim and they turned out great. The pink still looks bright after several washes.
The jeans run a hair large, especially if you want them to suck in the tummy. If you are deciding between two sizes, go a size down. I have NYDJs in 12 and 10, but the 10s suck in the tummy better but aren't indecent/too tight/uncomfortable.
NYDJ has the control in the tummy area, not in the hips or rear. However, they are made for a woman's curves so those of you who find jeans are not flattering to your hips or bum may like them because of the lightweight stretchy denim, shape, and style. I cannot personally vouch for this as I am as apple as apple can be.
I am 5'3″ and I have NYDJs in regular and petite lengths. Each style seems to have a different inseam. The straight legs I like in regular because they look best with heels, however I have a pair of petite straight legs I wear with flat shoes. The bootcuts run longer and I find the petite is too short for my heels, so I have the regulars shortened by my dry cleaner. Check the descriptions, even their crops come in different inseams in regular lengths. I recommend trying them on in a store to really understand the unique fit of NYDJs – they aren't like regular jeans for weight, shape, or length and the style that I like best may not be the best bet for your specific figure.
Follow Me | Twitter | Facebook