This article may contain affiliate links; if you click on a shopping link and make a purchase I may receive a commission. As an Amazon Associate, I earn from qualifying purchases.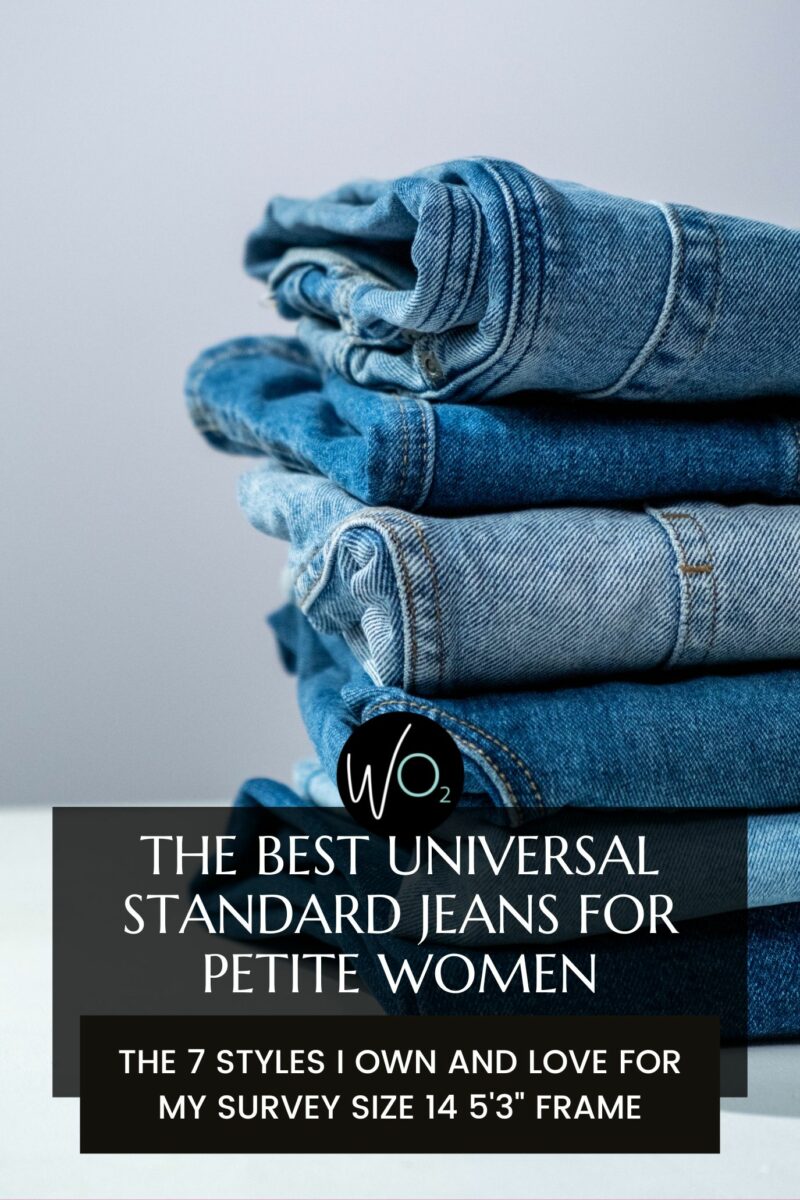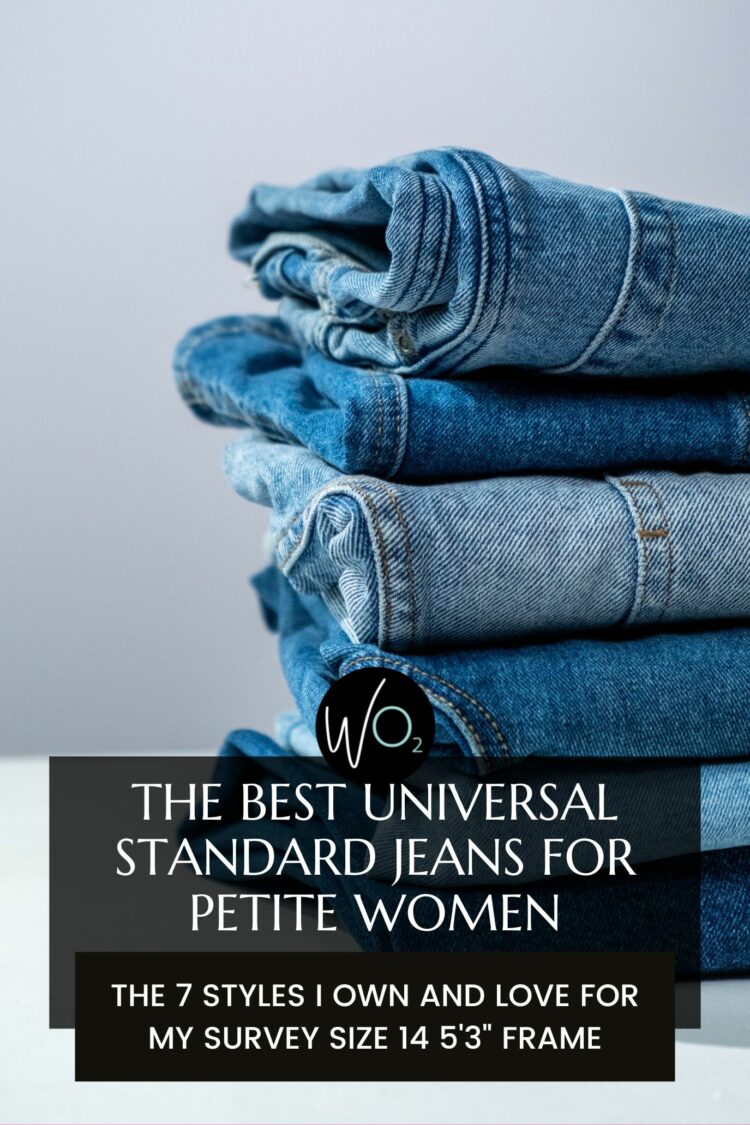 Through March 26, 2023, Universal Standard is dropping prices on their best-selling denim styles. Staple pieces like denim overalls, jackets, and jeans will be heavily discounted, but you can also buy more and save more:  Buy 2, save an extra 20% off / Buy 3, save an extra 25% off. While Universal Standard has a few petite offerings, most of their denim is not petite. If you're shorter like me, I wanted to share what I find to be the best Universal Standard jeans for petites and shorter folk.
The Best Universal Standard Jeans for Petites
Universal Standard Promo Code
Through the 26th, Universal Standard is offering Wardrobe Oxygen customers an ADDITIONAL 10% off their order with promo code INFS-AG10. This code is on top of the stacking sale, the sale prices of denim, and can be used on your entire order, not just for jeans.
I am a Universal Standard clothing fan and have been since 2017 when I got my first Geneva dress. I became even more a fan when Universal Standard offered the Geneva dress in a petite fit. Looking in my closet, you will see many Universal Standard labels, especially for jeans. I really like the quality of Universal Standard's denim, the on-trend but not too trendy styles and washes, and the smart details that make their jeans comfortable, chic, and styles I reach for day after day.
I appreciate Universal Standard's broad size range. Offering every single style they make in sizes 00-40, Universal Standard is in my opinion, the best destination for size-inclusive jeans. On top of this awesome size range, Universal Standard offers several of their denim styles in more than one inseam length and their bestseller is also available in a petite fit.
I have collaborated with Universal Standard for years; I even went up to their NYC showroom to be interviewed for their Petites launch video. Sadly, Universal Standard hasn't extended their petites offerings the way many of us hoped, but I have still found many styles that work for my shorter stature.
For reference, I am 5'3″ tall and usually wear a size 14 or 32 in jeans at retailers Talbots, Kut from the Kloth, Gap, Madewell, and Old Navy. Because I have soft curves in my belly, bum, and legs I sometimes find "short" options to work better with my frame. Most times, I benefit from a "petite" cut because it hits in all the right places.
What to Look for In Petite Jeans
What Rise Jean is Best for Petite and Short Waisted People?
When shorter and searching for jeans, one needs more than a shorter length. Especially with the popularity of high-rise jeans, those of us who are petite or short waisted need a rise height that won't overpower our frame. Rise is defined as the distance between the seam in the crotch where all the denim pieces connect to the top of the waistband.
Depending on the style of jeans, the rise can be anything from 5″ for a low-rise jean to 14″ for a high-rise or "ribcage" jean. In general, for petite and short waisted women, 7″ to 12″ will provide mid- to high-rise jeans that aren't too low or too tall.
However, rise is affected by curves; if you have a round stomach and/or rear, you may find you benefit from a higher rise. As a person who has curves in her belly and rear, the rises that work for me may not necessarily work for you.
What Length Jean is Best for Petites?
In general, petite jeans come in 27″ or 28″ inseam for full-length and 25″ for an ankle version. However, every body is different and just because you are a certain height does not mean you have a certain length leg. As someone who is 5'3″ and prefers a petite cut jean, I own jeans up to 30″ inseam without having to tailor, and even share a 31″ inseam pair below which fits great. It depends on the cut and the shoes you plan to wear.
As with rise, the best inseam for you depends not just on your height but your shape. Curves in your torso, hips, and thighs can take up some of the length and you may find you desire a longer inseam. Inseam is also dependent on shoes; the jeans that are the perfect length with your block heel boots will be dragging on the ground with sandals. Many a fashionable person buys doubles of their favorite jeans, having one pair a length for heels, another pair hemmed to wear with flat shoes.
For skinny and straight jeans, it's easy to have them hemmed to a shorter length. However, with other styles, especially flared and bootcut jeans, hemming more than an inch can destroy the silhouette of the jean. This is when inseam length matters most.
While Universal Standard only carries their "Seine" high-rise skinny jeans in a true petite fit with a 25″ inseam and a shorter rise, Universal Standard carries many other styles of jeans with rises and inseams that work with those of us who are under 5'4″ tall.
The 7 Best Universal Standard Jeans for Petites
I have been able to find most every style of jean to work for my short and short-waisted frame. While I would love to find a wide leg jean from Universal Standard that doesn't seem made for a person twice my height, I am happy to find skinny, slim, straight, flare, boyfriend, and even a cool drawstring option that fits so great I look forward to wearing them.
The 7 Jeans Reviewed:
All of the jeans I recommend I myself own. I haven't done any other alterations to adjust the fit. Some photos are recent, some are a couple of years older, and as with most bodies, my shape has changed but I usually stay the same clothing size.
However, I need to reiterate that rise and inseam can be longer for those of us who are petite but have curves in their lower torso, rear, hips, and upper legs. What works for me at 5'3″ and a size 14 with soft curves may not fit the same for an individual who wears a smaller size jean or has smaller curves or curves in a different place.
Universal Standard Seine Skinny Jeans
As I mentioned above, the Seine style of jeans from Universal Standard is the only jean they carry in a truly petite fit. I have owned the Seine petite, Seine 27″ high-rise, and the Seine 27″ midrise and the 27″ high rise is my personal favorite. If I were shorter, I'd like the Seine petite as it fit as though they were custom made for me from waist to knee, but were a cropped pedal-pusher length on my 5'3″ frame.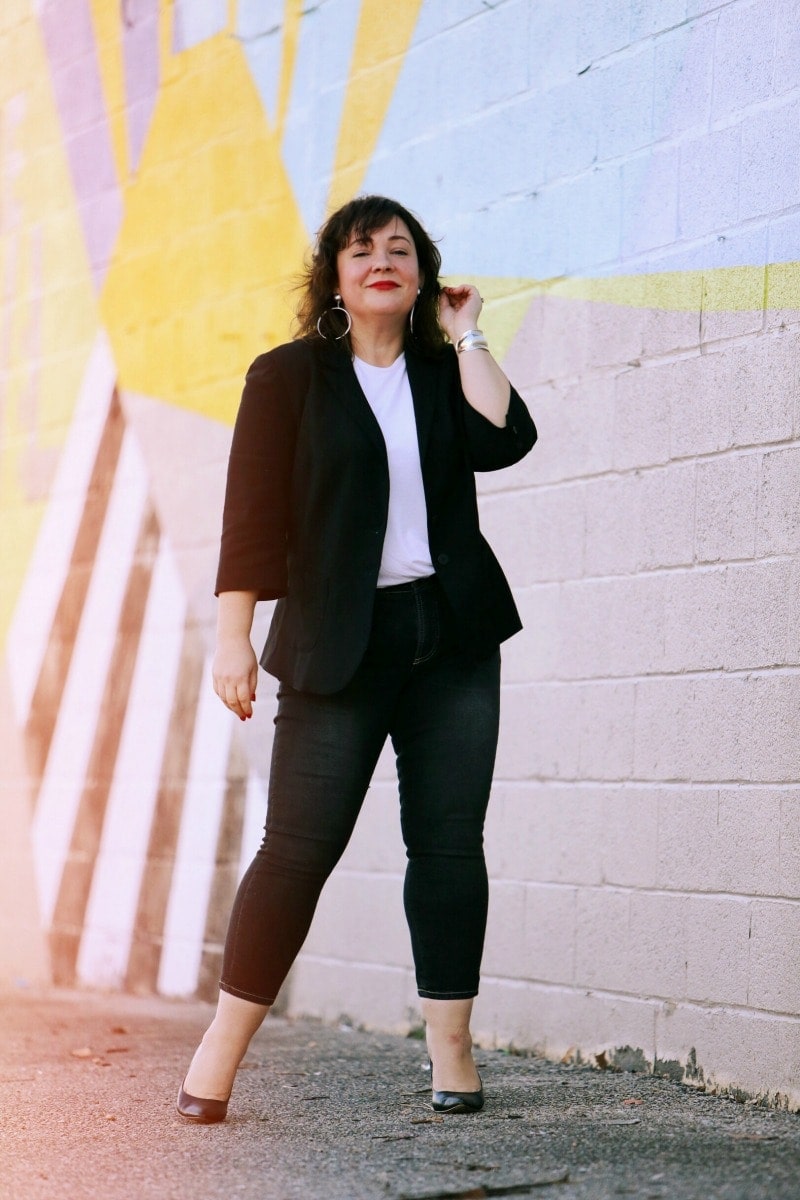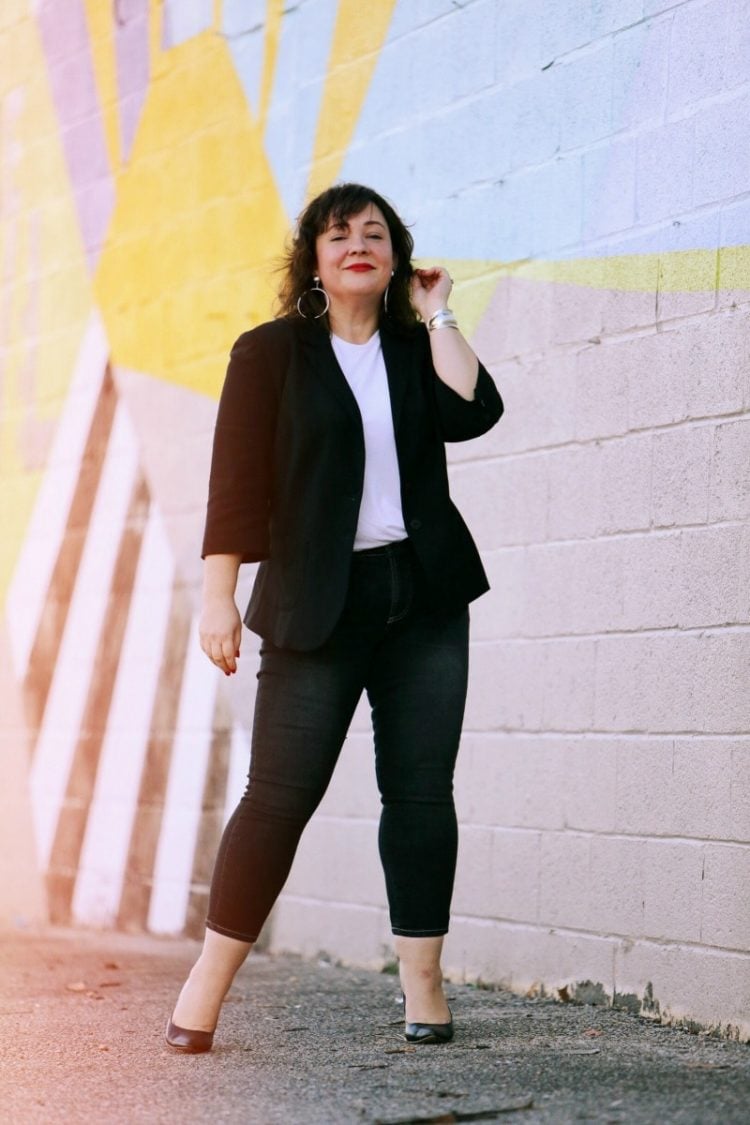 While skinny jeans are not the default denim style in 2023, they are still a classic that work with so much. And Universal Standard's Seine skinny jeans are a great choice as they aren't too thin or thick, keep their shape all day, come in great washes, and have incredibly deep functional pockets.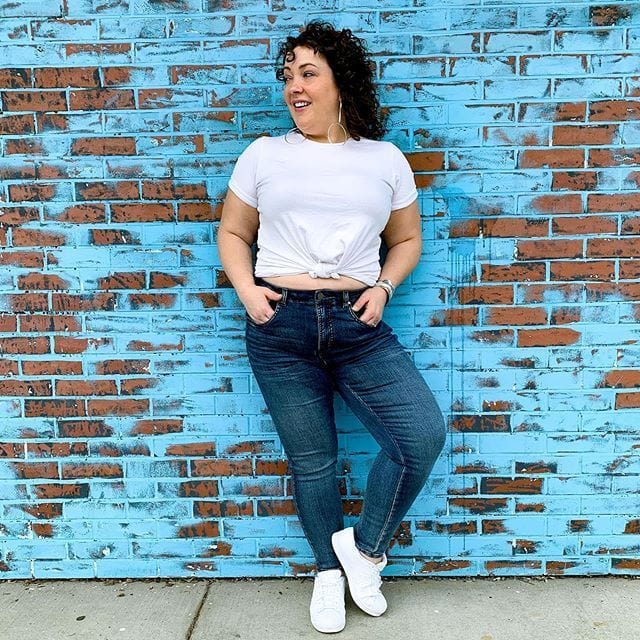 The Seine high-rise non-petite is an 11″ rise on me, which I find to be very comfortable. The petite rise length isn't online but based on how they fit (I no longer own my petite Seines) they're maybe an inch lower in rise. However, the Seine mid-rise is a 10″ rise and on me, a body that is curvy at the belly and rear, the mid-rise hits exactly at the spot where the waistband folds over and I look like I have a muffin top. If you don't have the same belly/rear curves as me the midrise 27″ may be a good choice if you're petite or short-waisted and want longer than a 25″ inseam.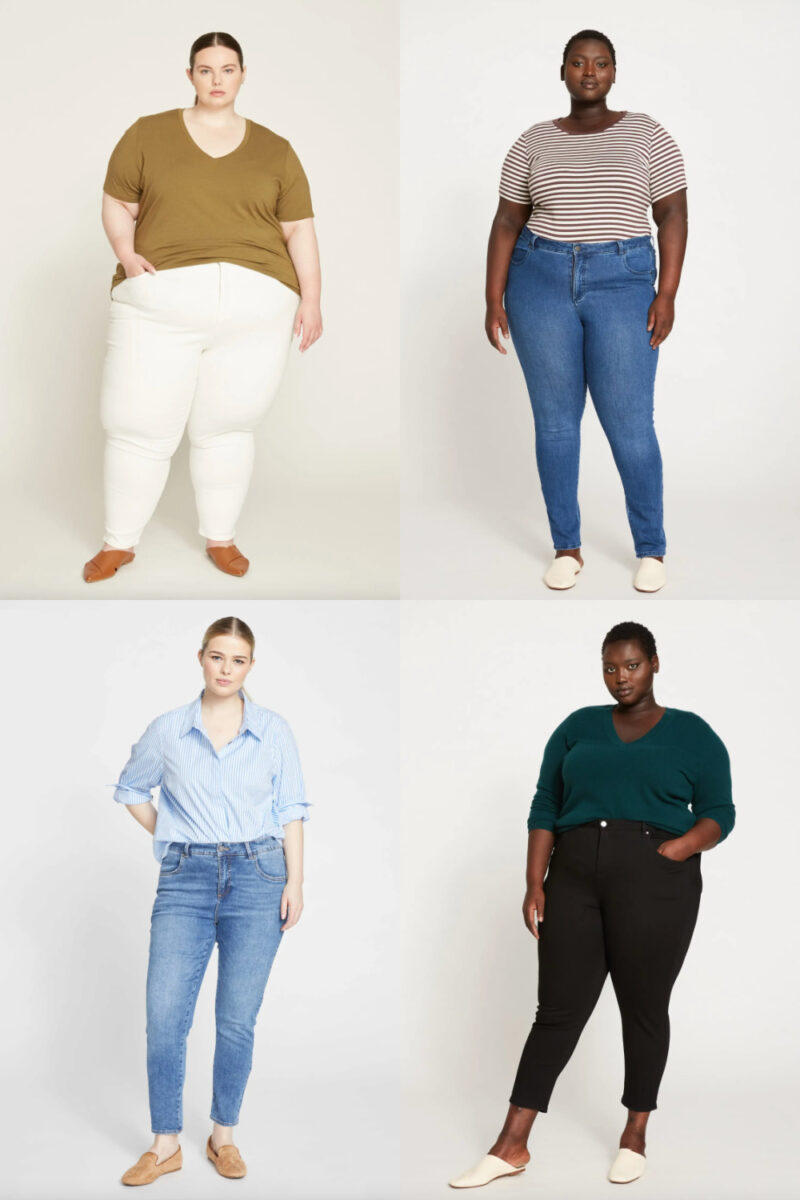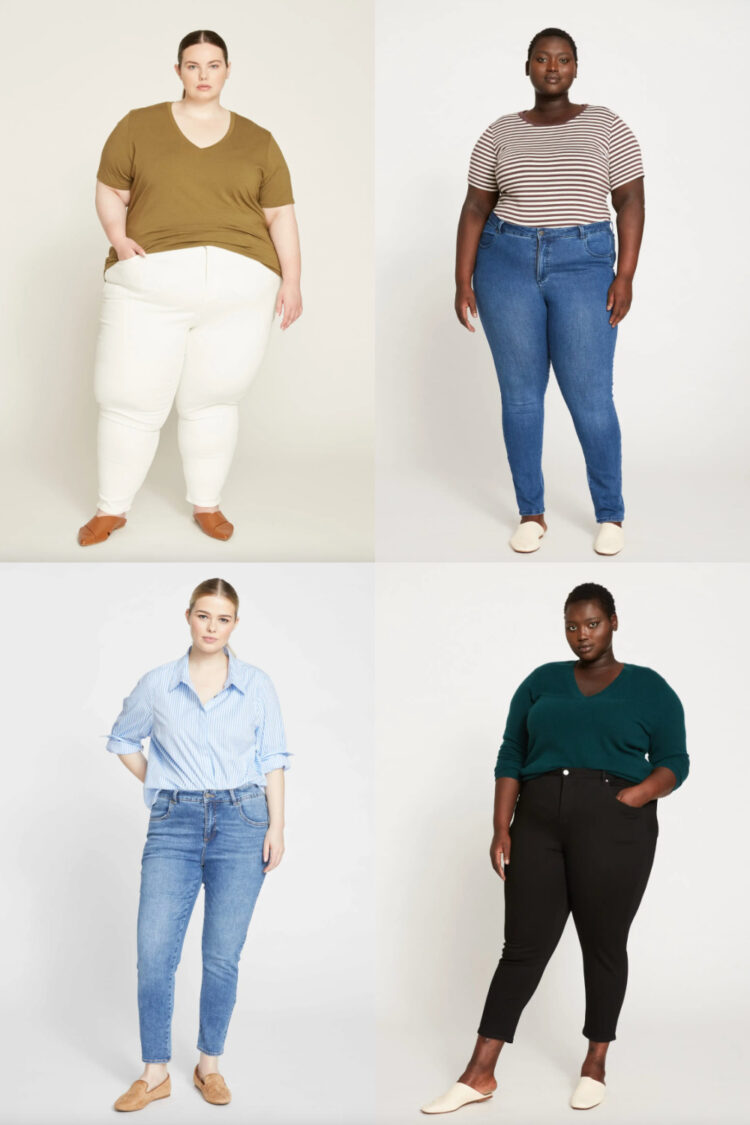 The Seine Jean is stretchy, I recommend going down at least one size. I have Seines in 12 and even in 10. As with any other jeans, the lighter the wash the stretchier and roomier the denim. My Dark Indigo Seines are a 12, but my lighter washes are a 10. Check out the size chart and the reviews, but go down at least one size for best results. All the rises, lengths, and petite offerings are at one link.
Universal Standard Bae Boyfriend Crop Jeans
One person's crop jeans is another's full length and that is why I recommend the Bae jeans from Universal Standard for us shorties. With a 26″ inseam and a 12″ rise for my size, these jeans are straight from the thigh for a relaxed fit that looks cool with taller ankle booties slipping under the hem or casual sandals for a beachy vibe.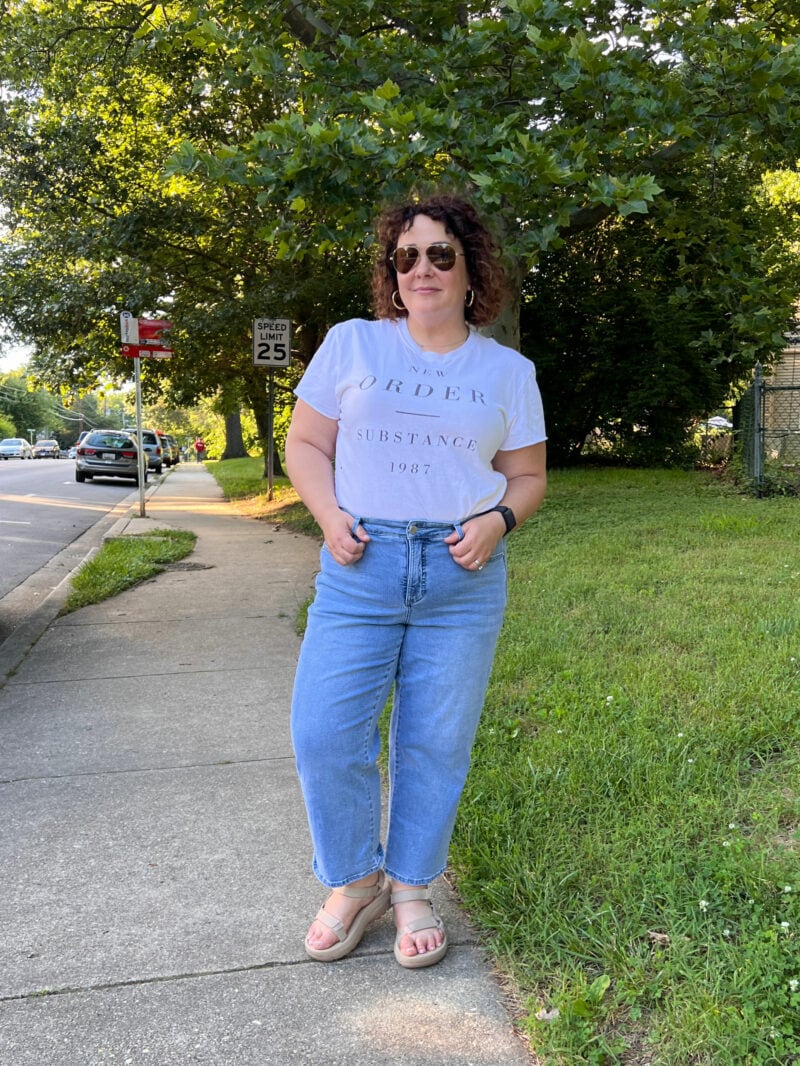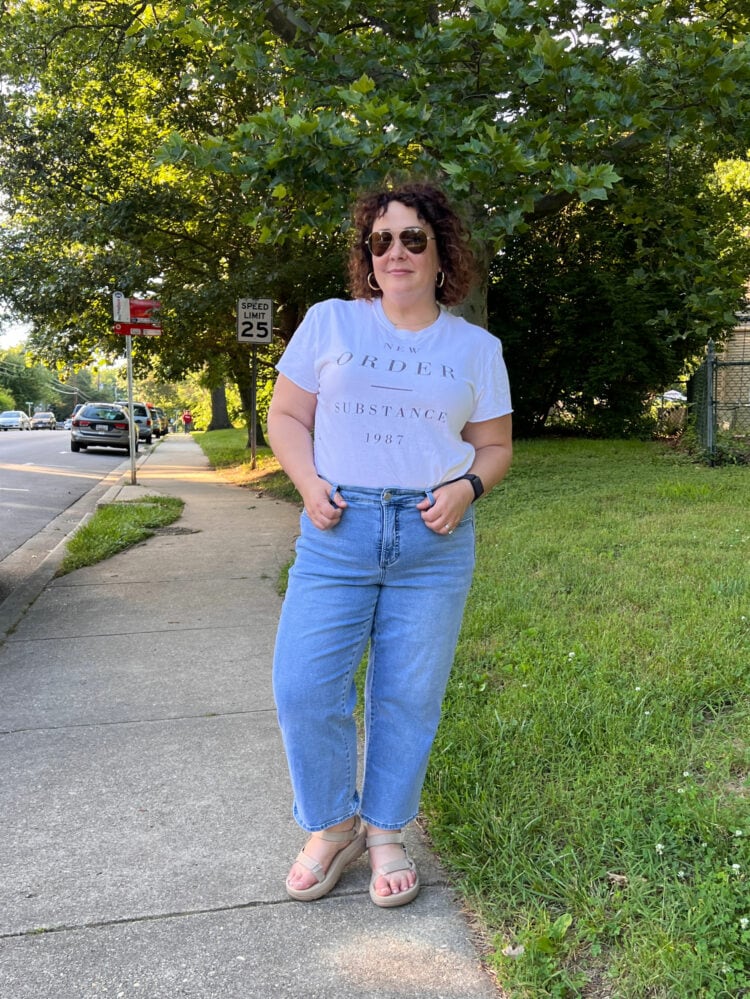 I find the Bae jeans to run big; I have the light blue in 12 and sometimes think I would like them better in a size 10. However, faded/light washes always run bigger and I'd likely find the other washes (there are 4 in total) to be a good fit in 12. I have yet to try the lightweight version of the Bae jeans but they sound fantastic for summer.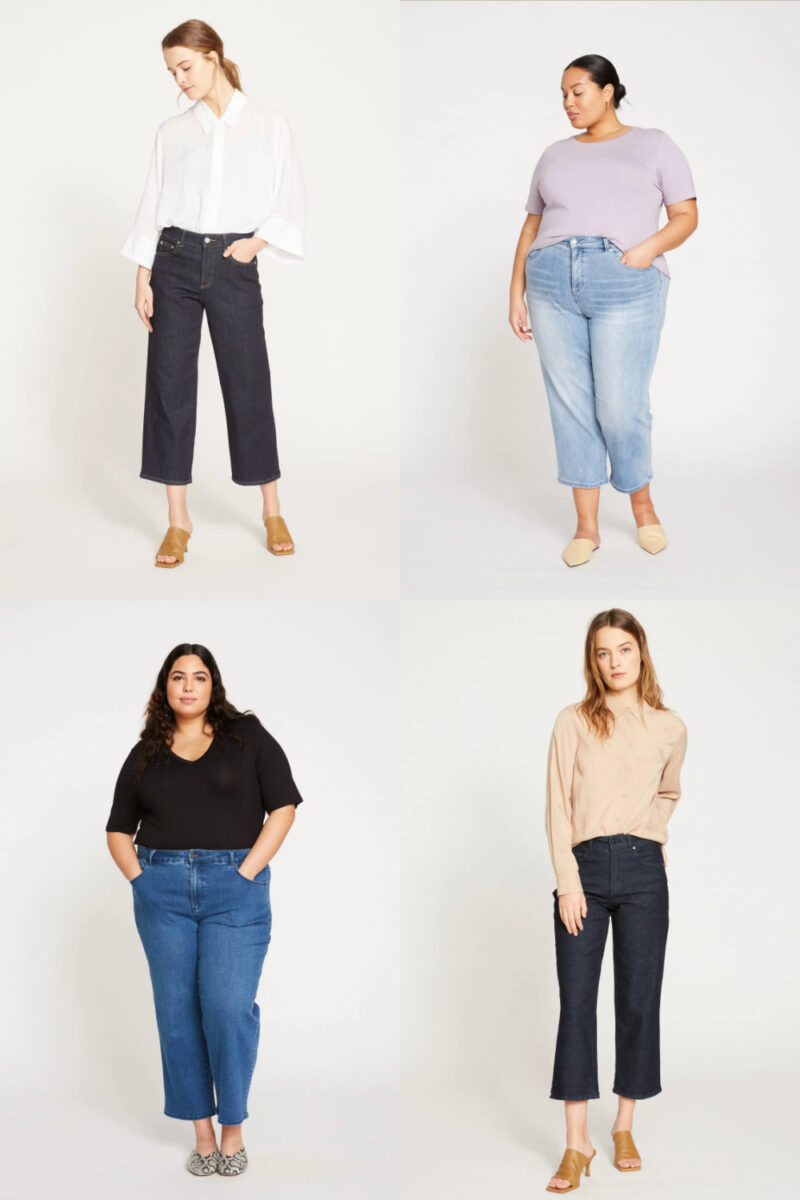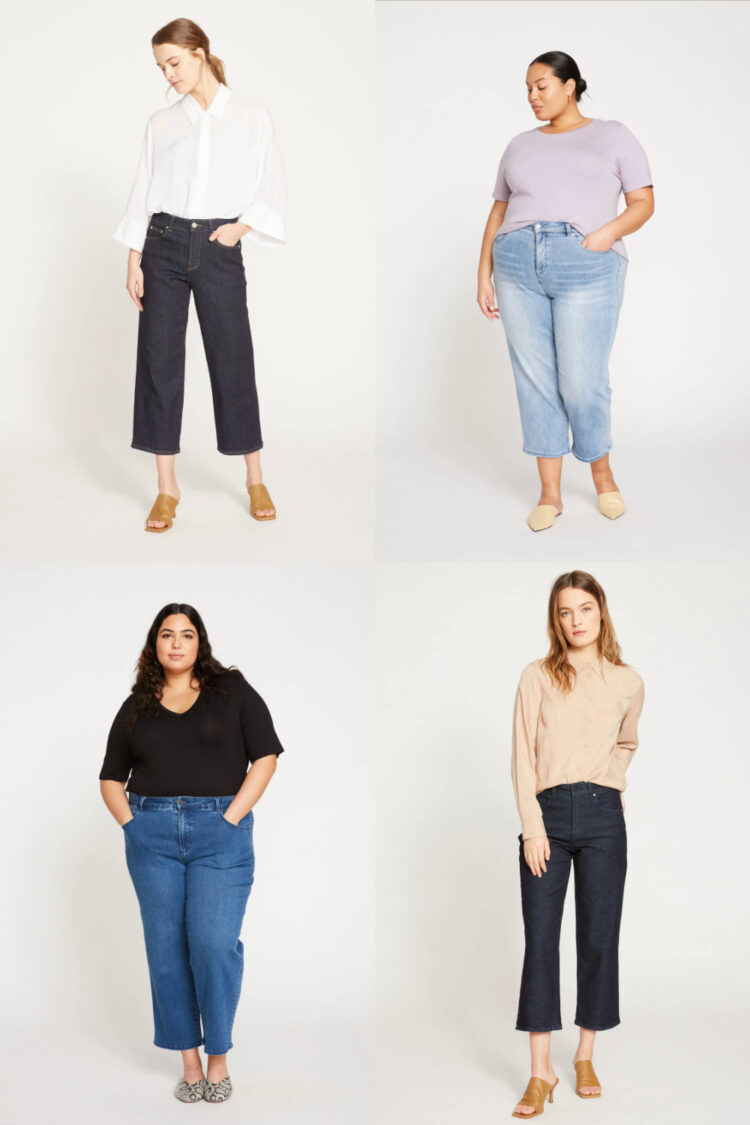 The 26″ inseam may be awkward on some. I find I only like wearing these jeans with sandals so I have some space between pant and shoe. An inch shorter or longer may be a better choice. I'm toying with having them hemmed and see if I wear them more often. However, many shorter folks in the Wardrobe Oxygen community share they adore these jeans and find them the perfect full-length jean for those 5'2″ and shorter.
Universal Standard Farrah Flare Jeans
If you're desiring the flared jean trend but every pair you find is so long that if you get them hemmed the flare will be gone… get the Universal Standard Farrah Jeans. With a 31″ inseam I assumed they would be too long for my petite body, but I found them to be the perfect length with Doc Martens, Chelsea boots with a lug sole, and chunky sneakers with a thicker or platform sole. I think you can hem off 1.5″ and still achieve the flare effect.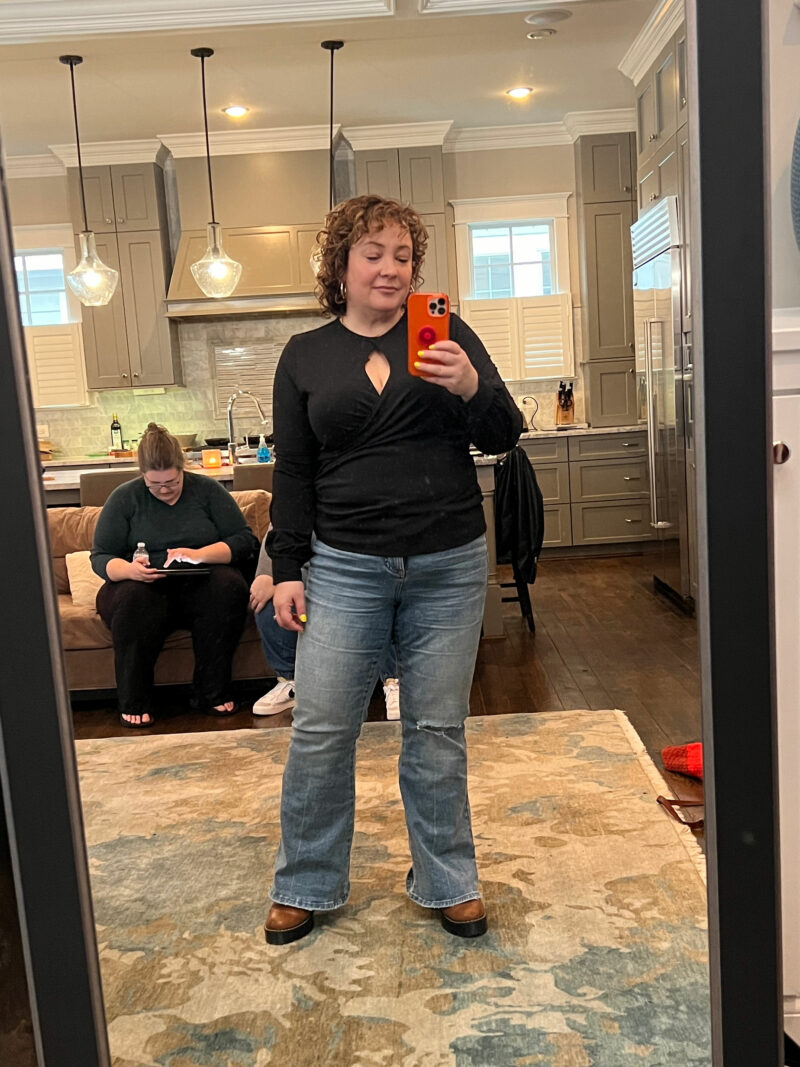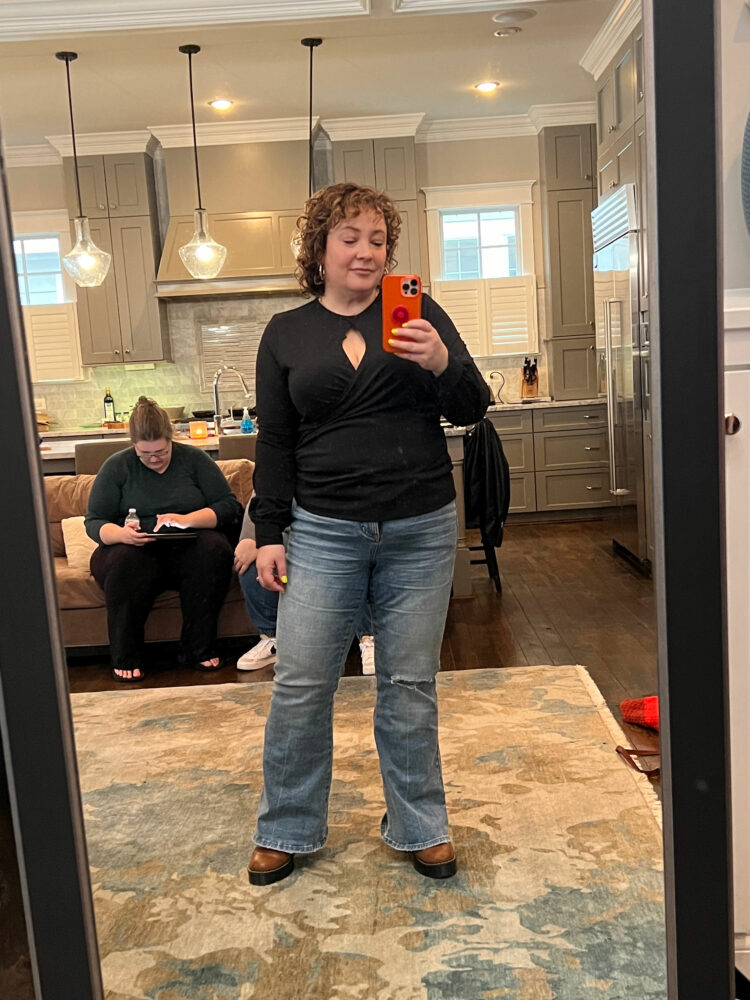 Available in three washes, I chose "Distressed Vintage Blue" wanting a faded/vintage look. While these are stretchy jeans, they don't look like stretch denim and keep their shape not just through the day but wear after wear.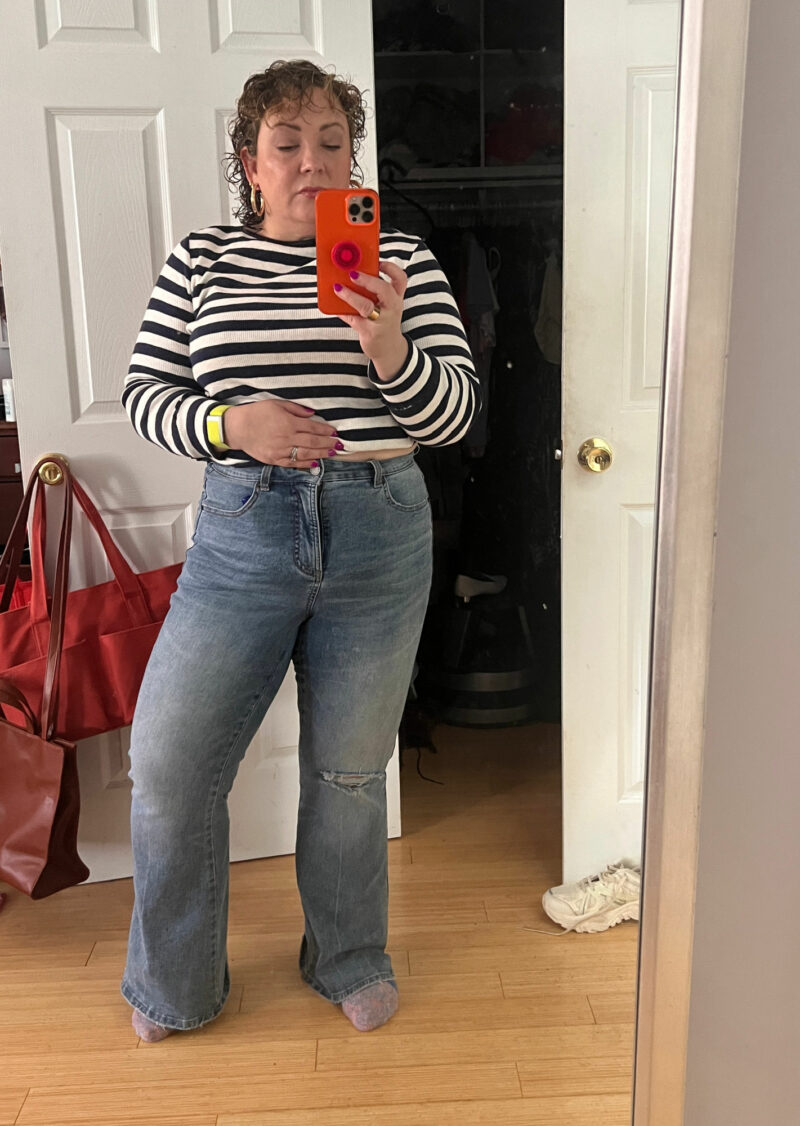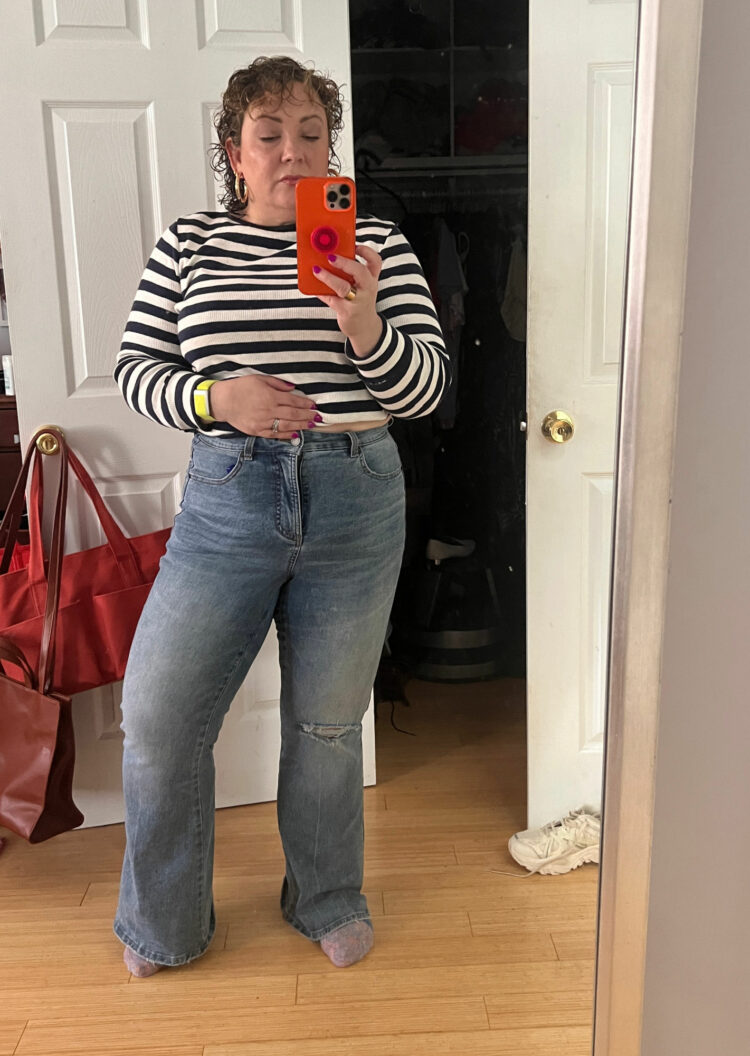 Faded washes in general run larger than darker washes and knowing how Universal Standard jeans fit me, I sized down to a 12. I like the 12, but think I could have also done 14 for a more relaxed effect. If I bought the darker washes I'd stick with a size 14.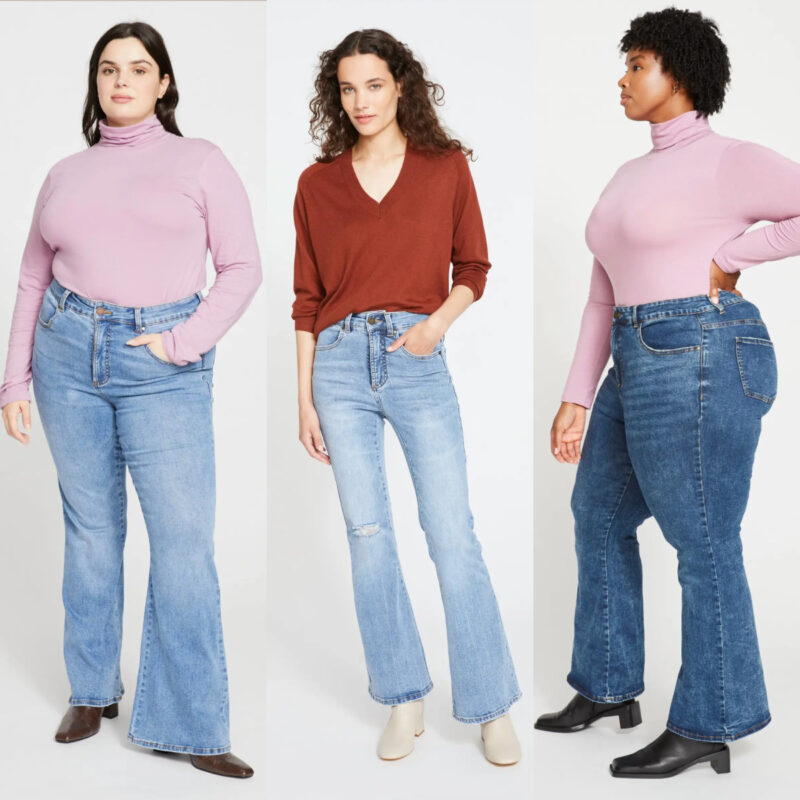 With an 11.5″ inseam on a size 12, these are a high rise jean on me, but not so ridiculously high they look goofy with a tucked in top or fold over when I sit. These jeans are worn quite often, making chunky sweaters or boyfriend-fit shirt look cool and purposeful. On a recent warm day I wore them with a Breton striped top and my new red Birkenstock sandals and loved the effect!
Universal Standard Etta Straight Leg Jeans
If you're looking for a relaxed-fit straight leg jean that looks good but is comfortable enough to lounge on the couch, get the Universal Standard Etta Jean. It's funny, a few years ago I tried this jean and didn't love it, but denim trends have changed since then and now the Etta feels quite modern!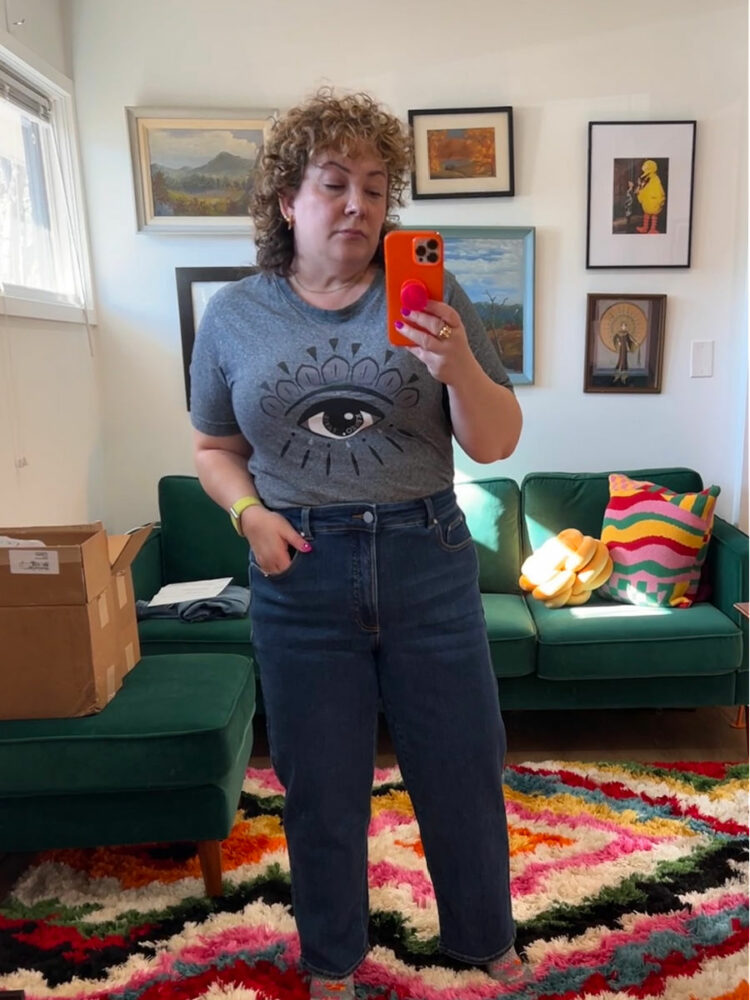 The Etta Jean in my opinion runs large. I am wearing a size 14 and they are quite roomy. If I wanted a trimmer effect, I could size down to 12. However, for relaxed weekend jeans, I think the 14 is quite nice. The 12.5″ rise with these jeans is high, but not too high for style or comfort.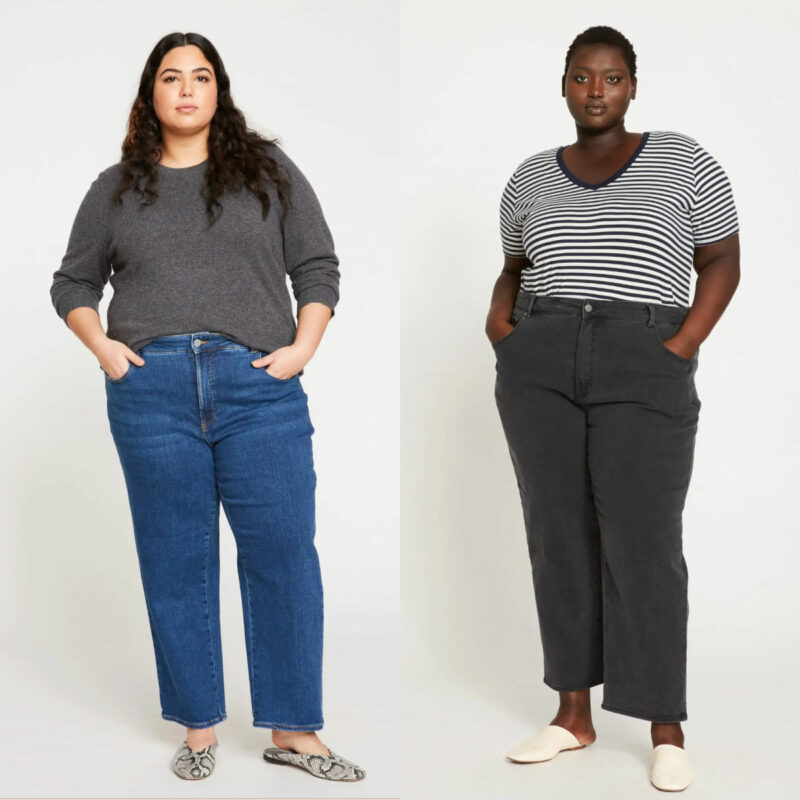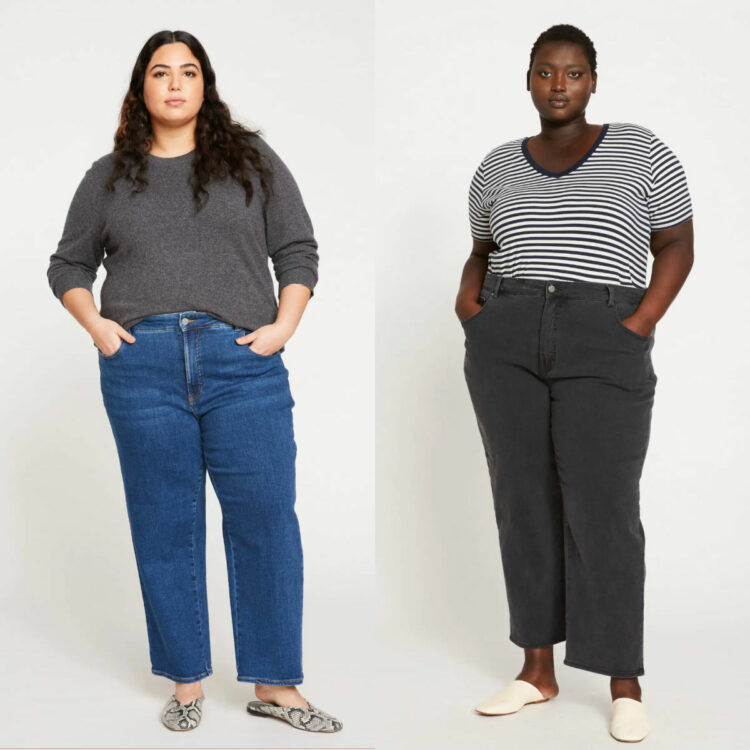 Available in Aged Indigo and Washed Black, I went with the blue option and they are a dark wash, but still have some white peeking out and look like premium denim. That being said, these are soft jeans, a good weight but extremely pliable and stretchy, yet they hold their shape all day.
Universal Standard ComfortDenim Drawstring Jean Trouser
If you wish you could wear your sweats out but jeans would make more sense, you may love the Universal Standard ComfortDenim Drawstring Jean Trouser. Made from soft stretchy denim with a very cool wash, these jeans have a drawstring waistband and deep pockets for fashion as well as function. I didn't think based on the measurements (13″ rise and 29″ inseam) these would work but I was pleasantly surprised.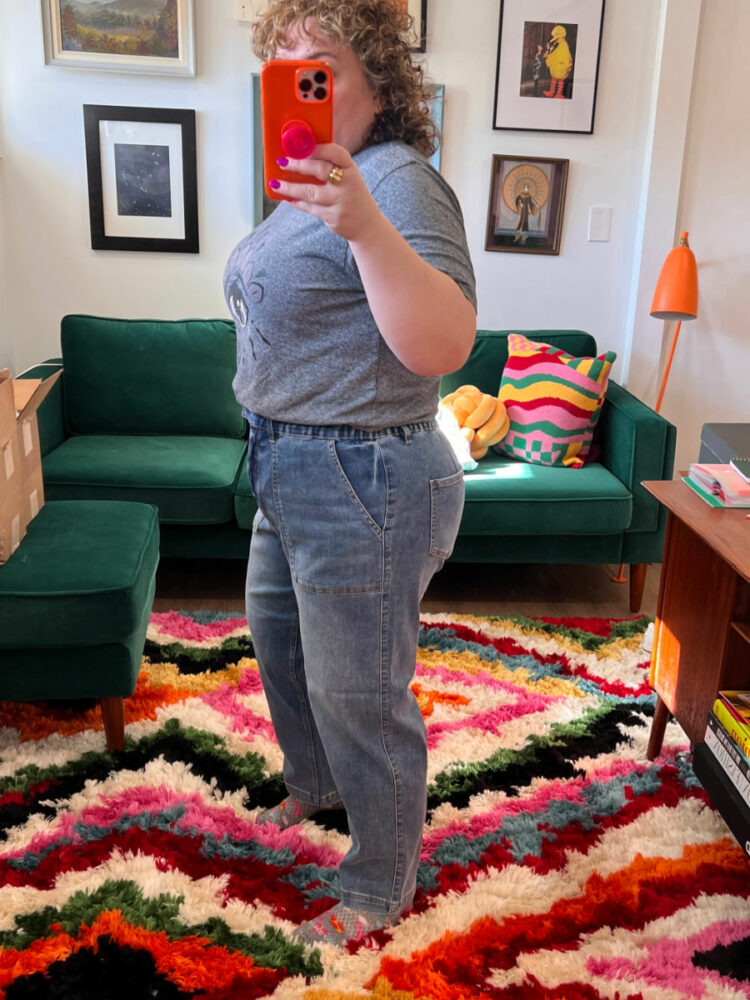 Hearing these jeans can run big, I went with size XS. And these jeans do run far roomier from waist to knee than the ComfortDenim Stovepipe Jeans. The XS, IMO is the best fit for my short size 14 body and a larger size may look a bit sloppy. Even with an XS, I find these jeans super comfortable and a relaxed fit. And I can't believe it, but I think if these had a shorter rise they wouldn't look as good or be as comfortable on my curvy body!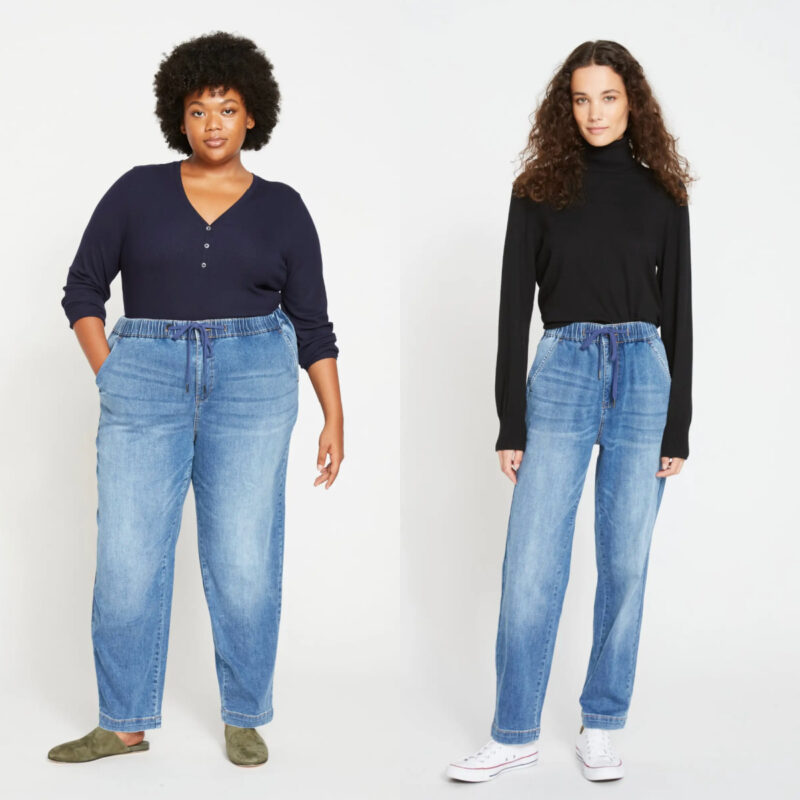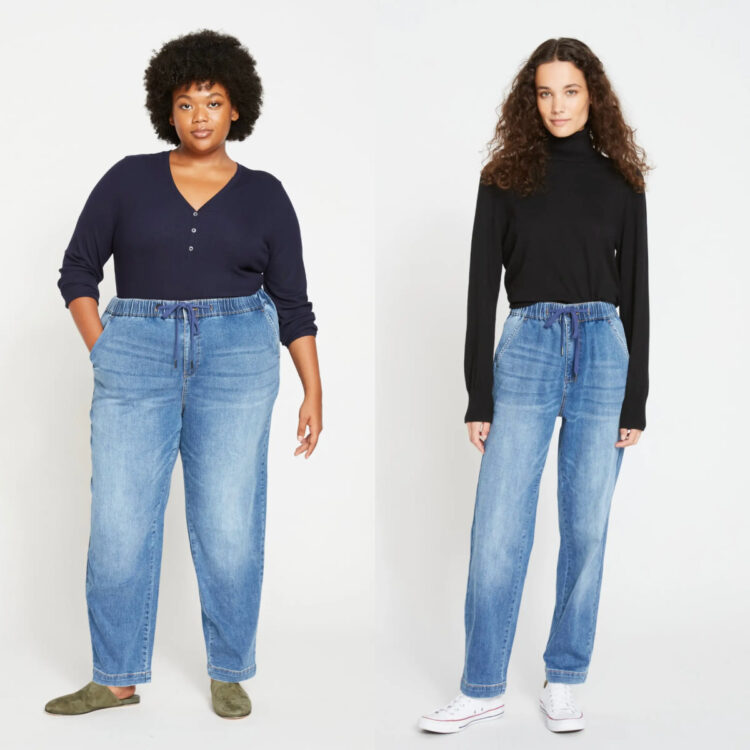 I think these jean trousers look cool with a half-tucked top, and look great with a more fitted tee or tank and a blazer or boyfriend cardigan on top. The leg is faintly tapered; the inseam is 29″ at this size and I think it looks great with sneakers, loafers, and casual shoes. I can totally see me wearing these with a white tank and Birkenstocks this summer!
Universal Standard Joni Slim Leg Jeans
If you're looking to switch from skinny jeans but aren't ready for a straight or wide leg, I highly recommend the Universal Standard Joni jeans. Available in Midnight Blue (a classic indigo) and Soft Black, these jeans skim every curve and will work with your current wardrobe while feeling a bit more 2023.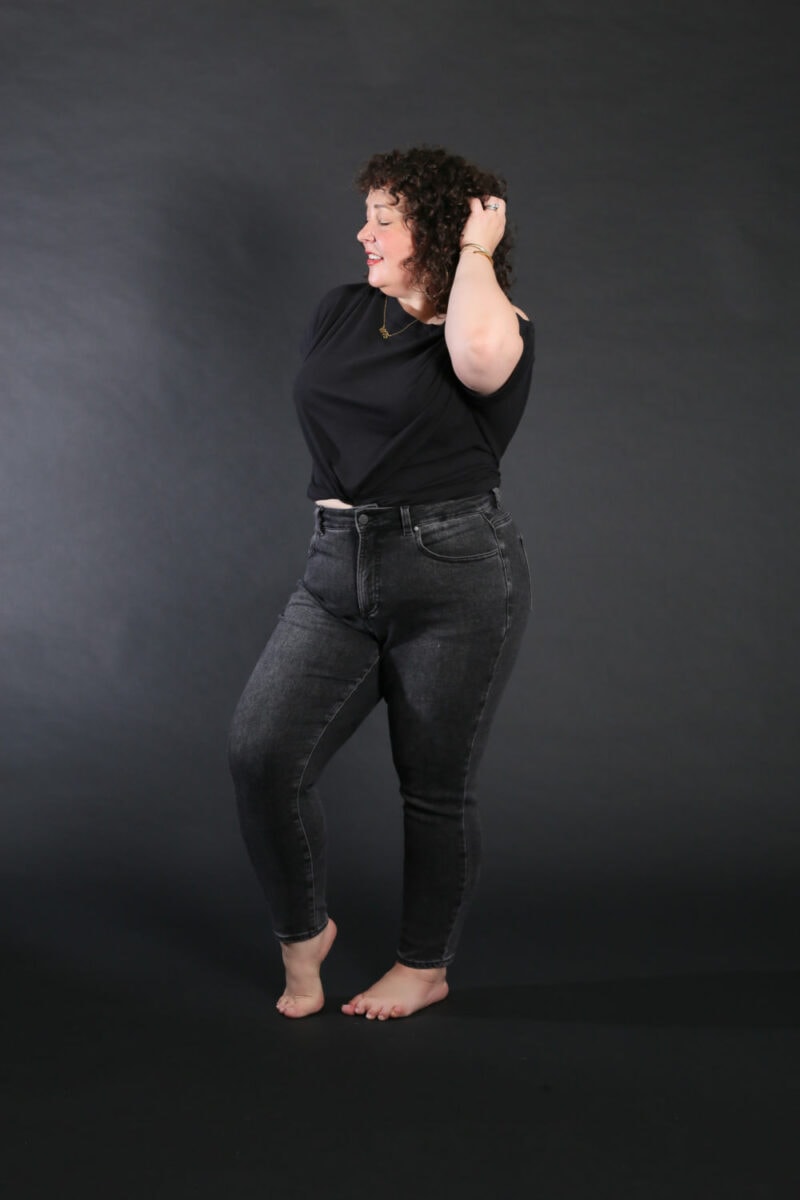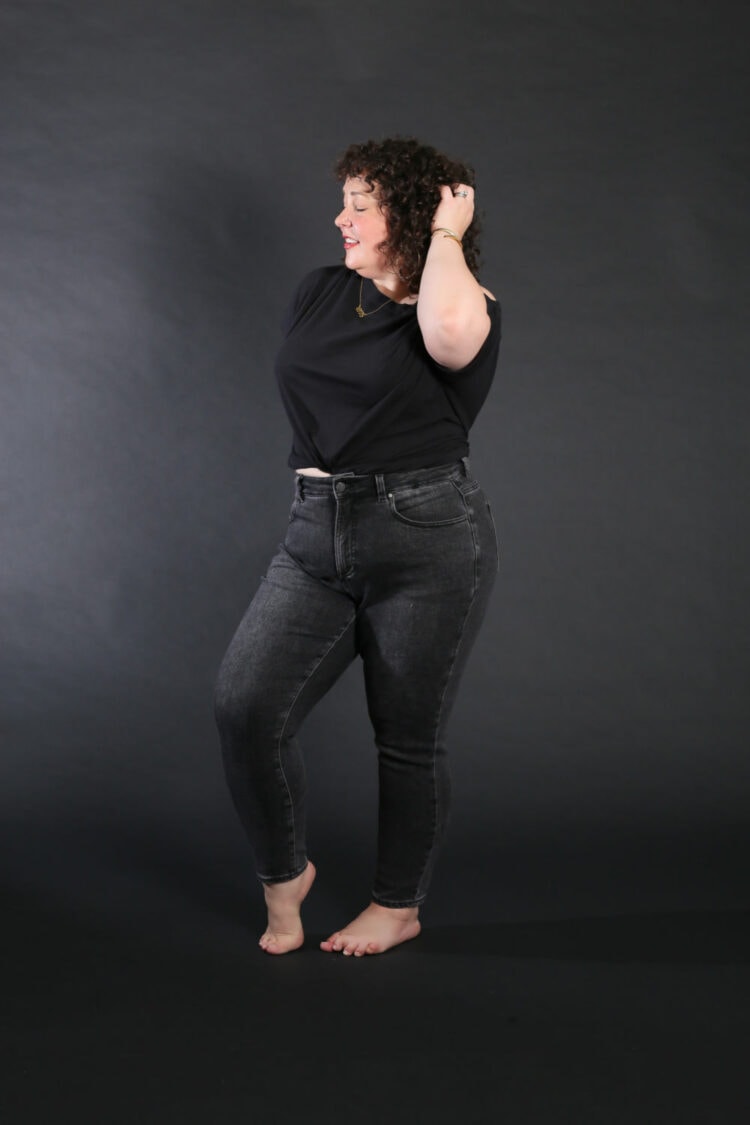 I have had these jeans for years and they continue to fit and look great. A soft stretchy denim with enough "oomph" to have me feel contained, I love the Washed Black for an alternative to blue and find myself often wearing them with a black top to concerts or nights out with friends.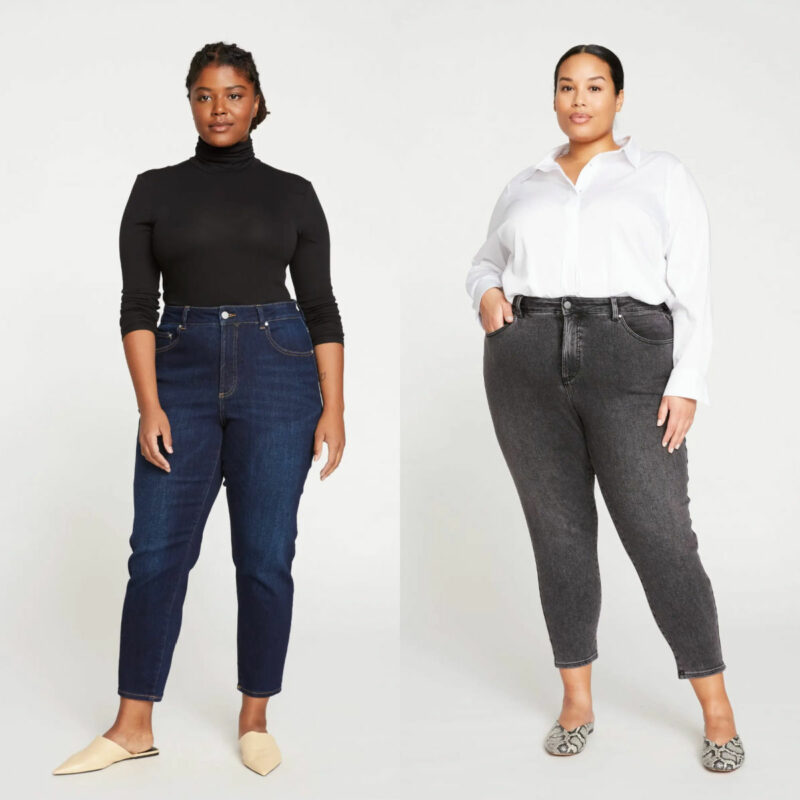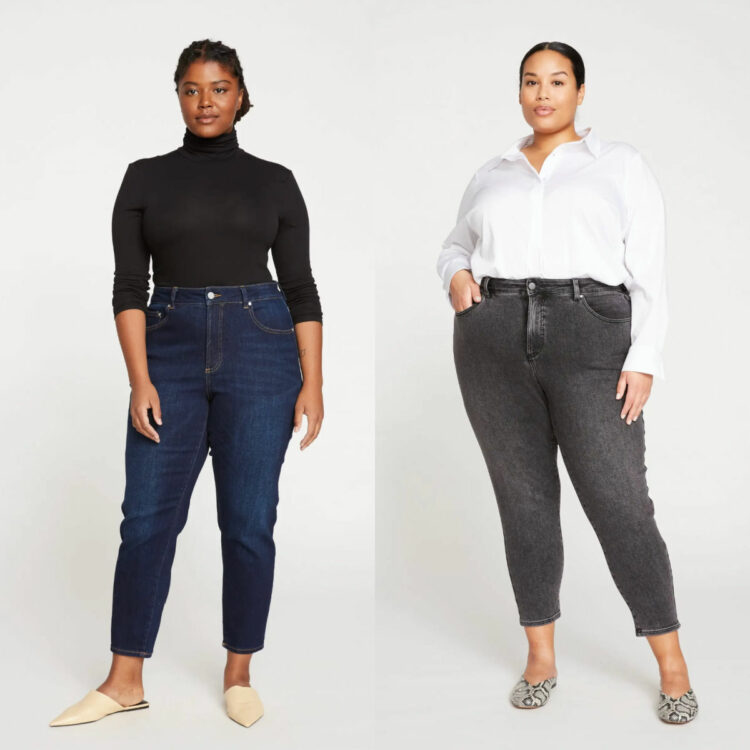 With a 27″ inseam, the Joni jeans are a length that works with flats, boots, and heels equally well. This is a style that can be shortened without ruining the effect. A 12″ rise in my size, I find them high rise but comfortable and stylish and regularly wear these with tucked-in tops because the Joni hits in all the right places making my curves look their best.
Universal Standard Donna Straight Leg Jeans
If you are looking for a relaxed fit jean but find the barrel and slouchy styles to be too extreme or trendy, you may love the Donna Jean from Universal Standard. While called a straight leg jean, this is a looser fit without looking sloppy or like you flashed back to the '90s.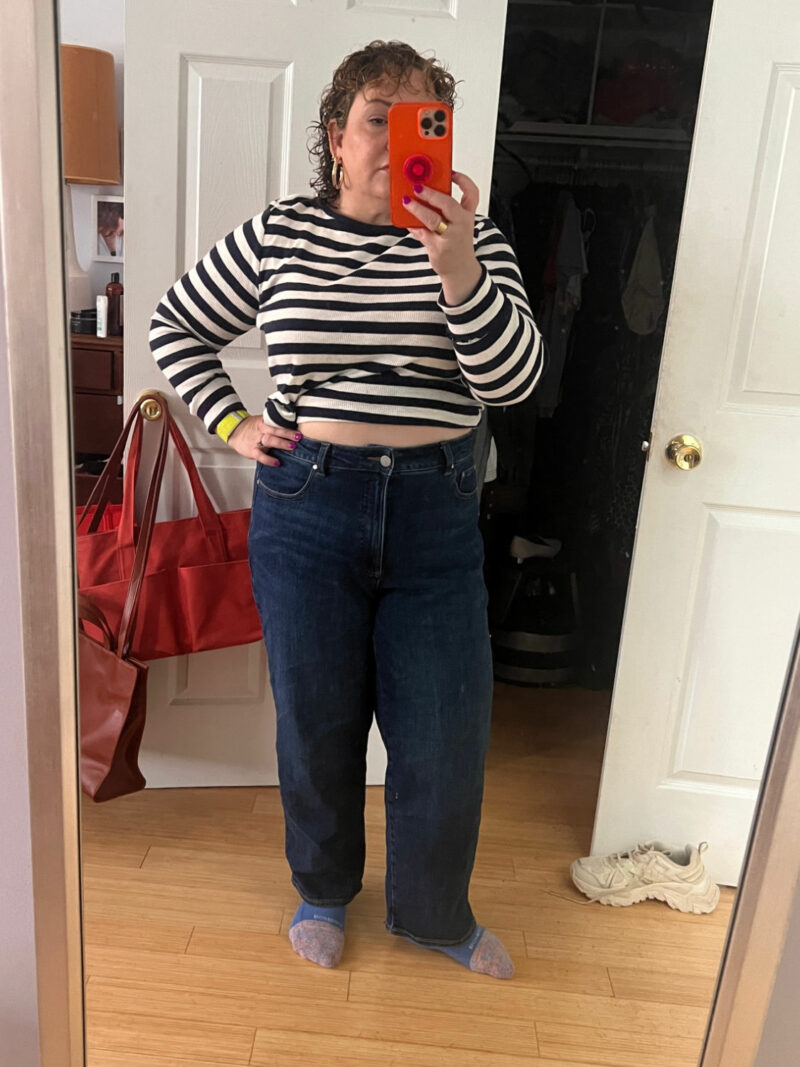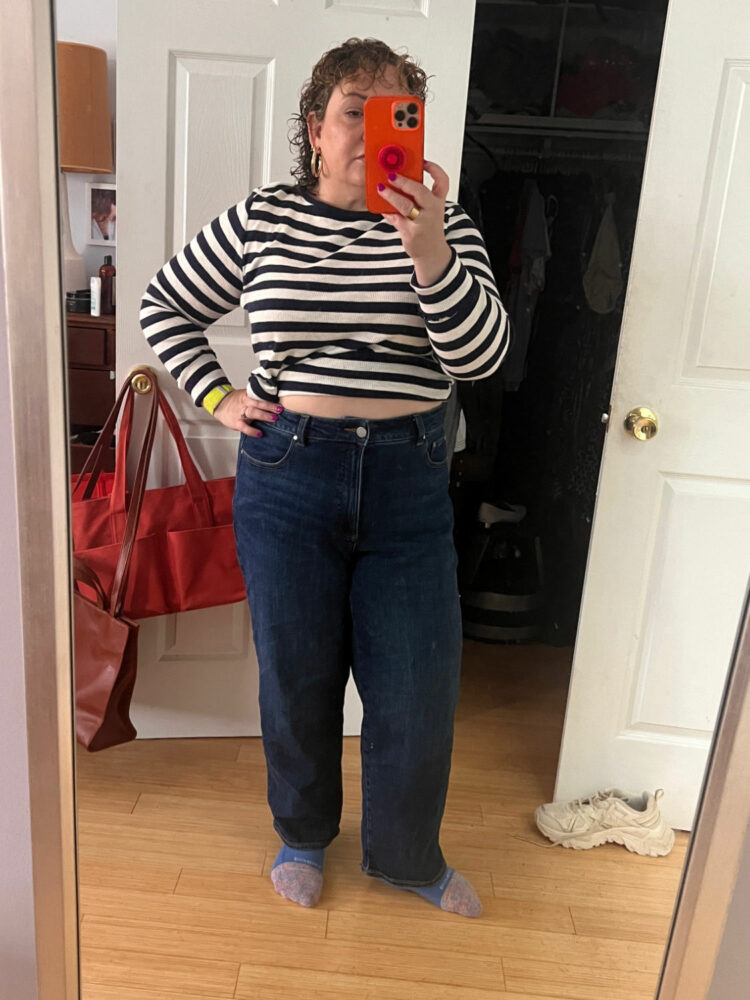 I find the Donna jean to run large; The 14 is so roomy I can take them off without unbuttoning. That plus the 12″ rise means I highly recommend you go down at least one size. That being said, the Donna is still relaxed and comfortable one size smaller. These are a "curve" fit designed for those who benefit from jeans that accommodate more than a 10″ waist-to-hip difference but those who don't need such allowance will still find these jeans give the '90s vibe without looking costume.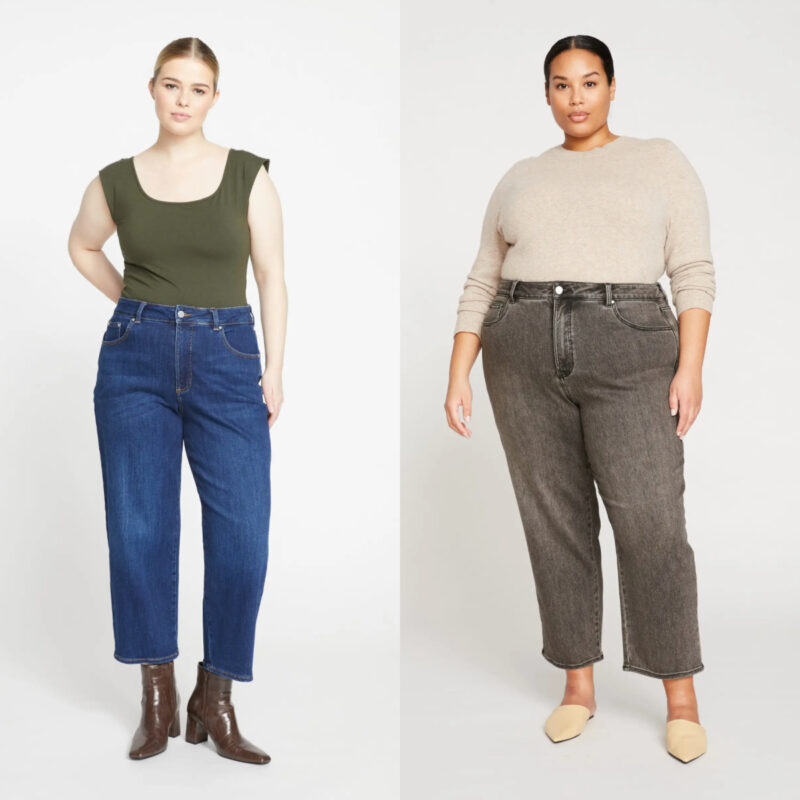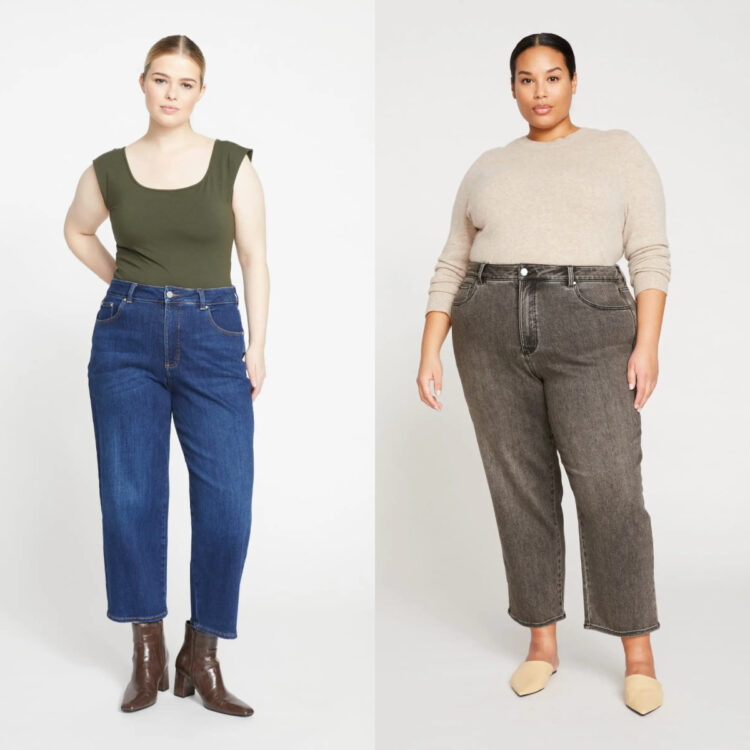 The Donna has a 27″ inseam and I find these to be a great weekend jean to style with my favorite sneakers, flat boots, and even Birkenstocks in the warmer months. Available in Stonewash Indigo (a pretty classic blue denim) and Stonewash Black, these are jeans that will look cool for seasons to come.
What is Universal Standard's Return Policy?
If you're new to Universal Standard denim, you may be hesitant to order not being sure about the return policy. Universal Standard will ship anywhere domestically across the United States and to most international locations. For international orders, Universal Standard uses Flow/GlobalE, which offers shipping via DHL Express. Orders that are shipped outside the United States may be subject to customs, duties, VAT, and/or other clearance fees.
You will have 30 days to process your return from the shipping date. All eligible returns will be considered for unworn, unwashed items, and all hangtags must be attached with the original packaging. Returns completed at a Happy Returns bar location will incur a $4.50 processing fee and for mail-in returns (US provides a FedEx return label), you'll see a $7.50 processing fee. The processing fee will be auto-deducted from your returned amount. International customers are responsible for the costs to return purchases.
If you order the Seine jeans, they are part of Universal Standard's Fit Liberty program. Any piece in the Fit Liberty collection is automatically eligible for a one-year size exchange should you go up or down in size within a year. I myself have used Fit Liberty and loved how I was able to trade in my worn Seine jeans, no questions asked, for my new size.
What About [Insert Universal Standard Denim Style Here]?
I have tried almost every style of Universal Standard jeans and at my size, my shape, and my height, these 7 styles are the only ones I can comfortably recommend for us petite folk. But I'd love to hear from you. I know many of us have shared our thoughts on the lack of petite (and tall) offerings at Universal Standard; the comment section here is not a useful place to rant about the lack of petites.
Instead, let's turn it into a resource for those who need petite jeans and styles for shorter bodies. What US styles work for you? Where do you find petite jeans that fit and are great quality? Let's turn our rants into a resource and help those fellow shorties who may be reading this article!