This article may contain affiliate links; if you click on a shopping link and make a purchase I may receive a commission. As an Amazon Associate, I earn from qualifying purchases. 
At the beginning of every season, I receive a lot of emails, DMs, and comments asking how to wear certain fashion trends. These questions come from those who are like me, shaped like an average woman in the United States but these trends seem to only be modeled on those who are taller, slimmer, flatter, firmer, or younger. And I do believe most trends can be translated to look great on any body, and that any body can wear whatever they want. But I also believe that life is hard, time on this planet is short, and we should not be agonizing about how to make some fashion trend work for us grown women when fashion is so fluid.
My mom shared when she was in high school, every girl had a charcoal blazer, every girl had a circle skirt, and as someone in a short curvy body and without a lot of money, she couldn't achieve these looks. I think we can all remember at some point in our grown woman lives when a trend was a must; we all had to have the Jordache jeans, the Guess jeans, the CK jeans, the Citizen of Humanity jeans… but this isn't the world we're living in now. There is no must-have anything to look stylish in 2023.
Let's Talk Fashion Trends for Grown Women
You do not have to embrace a single trend, wear a single label, choose a single color that is currently popular. You can totally march to the beat of your own drum, or just buy what looks appealing, and you can be chic. In fact, in 2023, being a slave to trends is the fast lane to looking out of touch.
But when you're surrounded by influencers and morning news segments and magazine spreads and style "experts" telling you that this fall, the must-have garment or silhouette or color is the X and your body or lifestyle isn't designed for the X, it can make you feel as though your body is a problem and there must be SOME WAY to make the trend work for you. There's some hack you haven't thought of, some rule of proportion or a retailer or a certain fabric or shoe or Spanx that can make it work so you won't be left behind.
And yes, all of these things could make that trend work for you. Proportion and fabric type are two big factors that determine if something works on a certain frame. Styling (tucking, belting, shoe choice, etc.) is also important in making a trend work. But the thing is these factors aren't black and white. Anyone who gives you black and white "solutions" to your "body problem" is lying. And if you don't want to go through the work to try and play and research and play some more to make a trend work… don't do the trend.
I am giving you permission to continue living your life without wearing that trend. I am telling you, moving forward without wearing that trend is one of the most stylish and badass things a grown woman can do.
Fashion Trend #1: Flared Jeans
Recently in the Wardrobe Oxygen Community, a member asked about flared jeans. They are petite, a size 16, and find a 27″ inseam too long. They mentioned they usually do well with crops and ankle lengths for jeans and wanted advice on how to do flared jeans this season.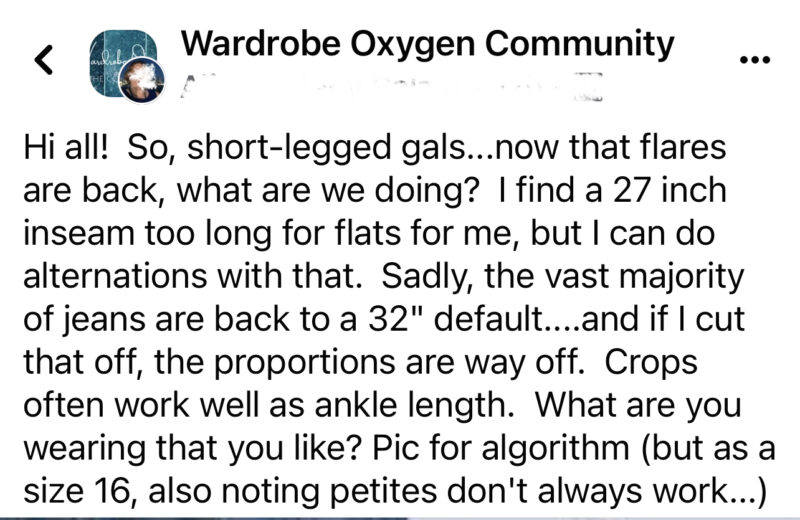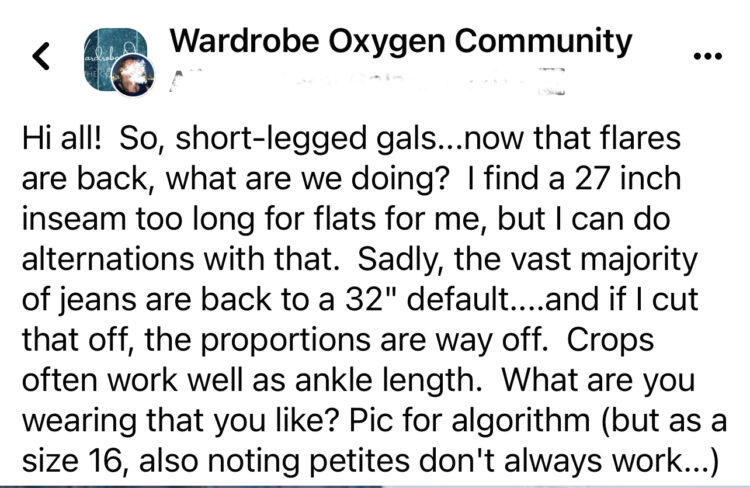 As always, the Community rose to the occasion, sharing the flared jeans they found that worked for their petite frames. They offered alternatives: bootcuts, kick flares, and such. But my advice? Just don't do the trend.
Nobody needs flared jeans. Flared jeans are a trend that goes in and out of fashion like the ocean tide. And when flared jeans are out of style, they are OUT. And when they come back, they're always a bit different. A different rise, a different wash, a different type of pockets. So you can't really pack up your flares, bring them back out in three years, and still look as fierce as you did the last go-round.
The Community offered some great suggestions: Wit + Wisdom, Kut from the Kloth, NYDJ, DENIZEN from Levi's, Gap, Chico's, and Talbots all offer petites above a size 10 in jeans and have styles of bootcut or flare denim. I even shared that I have the Universal Standard Farrah jeans and on my 5'3″ body they're a perfect length with a lug sole boot or platform sneaker. But let's be honest, that's a lot of buying and returning and that is not good for the wallet, the environment, the wardrobe, or the soul.
Let's not even get into what shoes to wear with flared jeans. Because that extra fabric at the ankle, especially when you are short but not slim, can be difficult. Flared jeans create an optical illusion, and we see a need for balance. Now you're scrolling online for block heels, lug soles, and shoes you don't already own and likely don't need for anything except this one pair of jeans.
Grown women, we may still give a sh*t, but we have fewer and fewer f*cks to give and flared jeans do not deserve them. As other fabulous members of the Wardrobe Oxygen Community shared, a trouser or wide-leg jean can still give an on-trend vibe and you can hem them without losing the effect. And for some reason, while most flared jeans are longer inseams, wide leg and trouser jeans are more likely to be found in petite sizes over a 10. Even better, trouser and wide leg jeans can be worn with pretty much any shoe (except a ballet flat, though I've even seen True Fashionistas do that and look chic).
Fashion Trend #2: Sneakers with Midi Skirts
In the past decade, a go-to look has been a midi-length skirt or dress with a pair of low-profile sneakers. This effortless look is so chic, we see women in slip skirts with Sambas, micro-pleats with Golden Goose (Geese?), calf-grazing shifts with Chucks, and it's so darn appealing. But as someone with wide calves, strong shins, and solid ankles, my lowest profile sneakers can still look like old-school nurses shoes with my ankles pouring out over the laces.


For YEARS I have bought so many different types of skirts. Fuller skirts, bias-cut, shorter, longer. And so many pairs of sneakers. I have felt there MUST be a magical combination that will work on my body. Occasionally it works; for example, I did this sweater skirt with Adidas sneakers. But in general, I have given up. I have no f*cks left to give to this trend, no matter how chic and practical and comfortable it may be. It isn't comfortable for me.
Knowing it's not for me is hella chic. It opens up a world of alternatives. Midi skirts with sandals, midi skirts with tall boots so there is no cutoff. Shorter skirts with sneakers. Fun pants with sneakers. Taking all that money for a pair of sneakers and a bias-cut skirt and putting them towards fancy colorful Birkenstocks. Because style isn't what you wear, but how you wear it. And comfort and joy are the most stylish things you can possess.
Fashion Trend #3: Slip Skirts and Chunky Sweaters
Along the same line, I have received questions about how to achieve the chunky sweater and slip skirt trend with a belly. We've seen a range of people rock this combination (often with sneakers). But few of them have a soft belly, a visible apron, or even much protrusion. Now I am all about embracing your body in the here and now and if you feel comfortable, rock that visible belly line. But as someone with such a stomach, I know on Monday you may have that confidence but on Tuesday it's not there. That you feel good doing it for brunch with friends but not for heading into the office.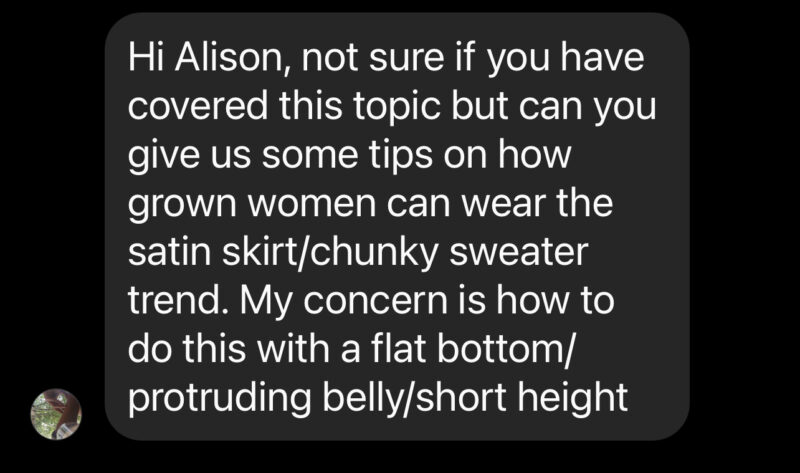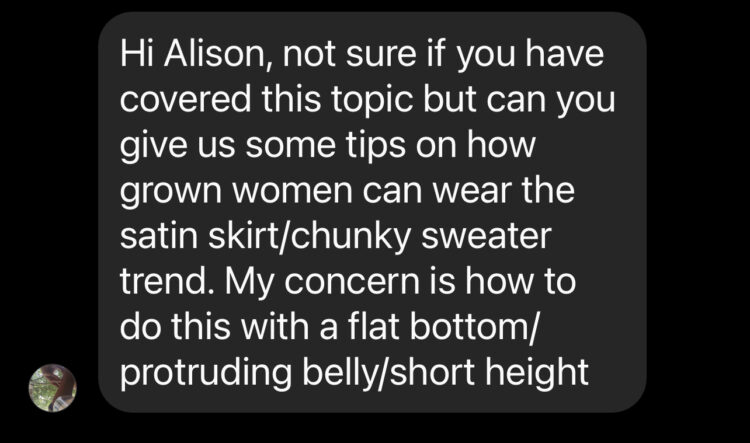 Knowing yourself, having fun, and breaking style rules but also ensuring your comfort and security is chic. You do not need to embrace a trend to be cool, and you do not need to hop on the #BoPo trend and wear a bodycon dress to the grocery store. You're not required to hide under a tent dress 24/7 if you have a belly, but if you don't like having a swath of bias-cut satin across your midsection that's also okay.
However, if you do want to do this trend and you feel like you almost have it, but styling is the problem, I highly recommend a Beltaway. It's an elastic belt with a plastic snap buckle that lies super flat. It's adjustable, and if you place it on your midsection and tuck the hem of your sweater up under the belt, you can achieve the look of a tucked-in top without tucking (here's a quick video of what I mean). And you can control where the tuck is. This means, your skirt's waistband can be at your belly button and your sweater can be "tucked" an inch or so lower, hiding some of your belly.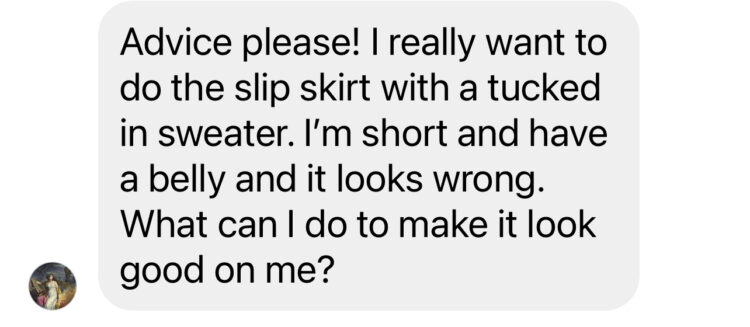 Or you can pass on this trend. You can wear that chunky sweater with wide-leg pants, that skirt with an untucked sweater and boots, or never purchase either piece ever and still look fantastic and stylish and modern and cool.
Remember that just because another person has a belly or is in a bigger body or has hips or is petite or is tall, that doesn't mean they have the same shape as you. It may work on them, but it may not work on you. But this also means you likely can rock some cute things that other person cannot. We can focus on what we can't have, or we can celebrate what we possess. And choosing clothes that make us feel confident is a form of celebration.
Fashion Trend #4: Pleated Pants
Pleated pants are back. Boooooo. But also yay because pleated pants have come a long way. M.M.LaFleur made these pants with the pleat below the pocket so there's volume, but not in the stomach. I recently tried a pair of pants from Darling that have a single pleat and that pleat is tacked at the hem, creating a barrel effect, but keeping it from looking too full. Pleats are smaller, pleats are placed in creative places, leg silhouettes are altered to accommodate the pleat to move the volume from the top of the pant… not all pleated pants are created equal.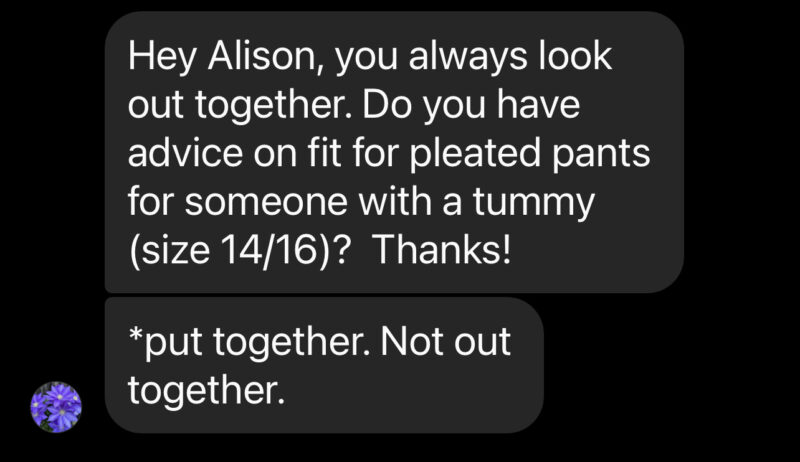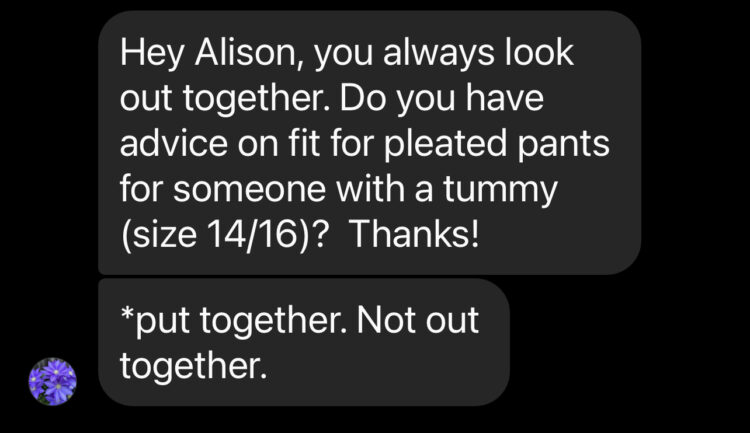 But there is no recipe for pleated pants and bellies. Because there is no recipe for pleated pants. Let's take for example the Madewell Harlow pant. I have it in chino, and I love these pants. On me, the waistband is wide enough and the pleats just so that they don't emphasize my belly, they give my body space to be comfortable and the lightweight chino fabric drapes nicely so my stomach is not the focus.
However, the Madewell Harlow jeans are atrocious on me and make my stomach the spotlight. A lightweight soft denim, but still a heavier fabric, these jeans on me also look like something I wore in the '80s with velcro sneakers and ribbon barrettes. And the reason I bought them is because so many folks with curves said they were great. I believe they're great… on them. Just not on me. And that is okay. Not everything will work on everybody.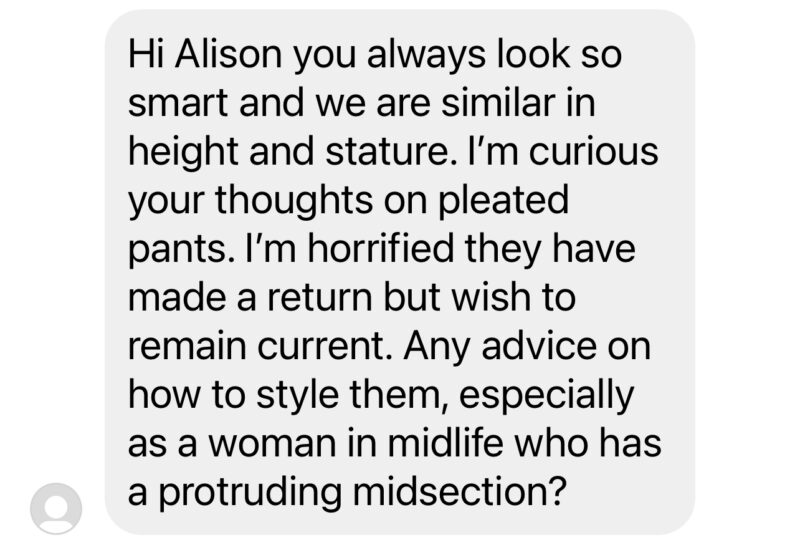 So, like flared jeans, you can search and search for pleated pants that don't emphasize your stomach and don't look like something from the 1980's, or you can just not buy pleated pants. Because there are a lot of wide-leg, barrel, relaxed, tapered, and interesting pants with volume for sale in 2023 that don't have a single pleat.
Saying No to Fashion Trends is Not a Bad Thing!
Please understand, choosing not to wear a trend is a GOOD thing! We are not in the time where you HAVE to have the right shoe, the right jeans, the right length of skirt. You can wear anything. And it will ALWAYS be more stylish to wear something that isn't trendy but fits well and makes you feel great, than to embrace a trend that makes you feel as though your body is some sort of problem. You're not a problem, and for the first time in forever (I know I'm not the only one who sang that phrase… little Frozen reference), the trend is to be YOU.
No dress, no shoe, and no fashion trend will change your life or who you are. Especially with influencers, style "experts" on every platform, and every website and periodical discussing the must-wear trends of the season, you can get caught up in the excitement and feel you HAVE to participate. You don't. And if you do want to, but it's so difficult to do so it's taking the comfort and joy out of the situation… move on. Because there are so many colors and silhouettes and trends out there right now, there's a better one out there for you that will make you look and feel great.
Take up the space you deserve… on your terms. Dress the body you have now… in a way that makes it comfortable and give you joy. Wear the trends… but don't let them wear you (or wear you out).