Search Results for: label/creating personal style
I was still sick as a dog, so I worked from home. No need to see a picture of me in yoga pants and my husband's sweatshirt.

I'd Love to Hear From You!
Have a fashion question? Want to know more about something you saw on Wardrobe Oxygen? Drop me a line! Please note, I do not accept guest post submissions at this time.
[bestwebsoft_contact_form]
My father in law passed away yesterday. I will be taking a break from the blogs while I care for my family. I thank you for your understanding and will miss you guys.

See you soon,
Alison
If you haven't stopped by Coutorture, I highly recommend you do. it's a great place to learn about fashion, style, beauty and to investigate a ton of blogs on these very subjects. Well the lovely ladies (and gentleman) of this site did a little interview on Moi yesterday and I have linked it here if you care to read it. Thanks!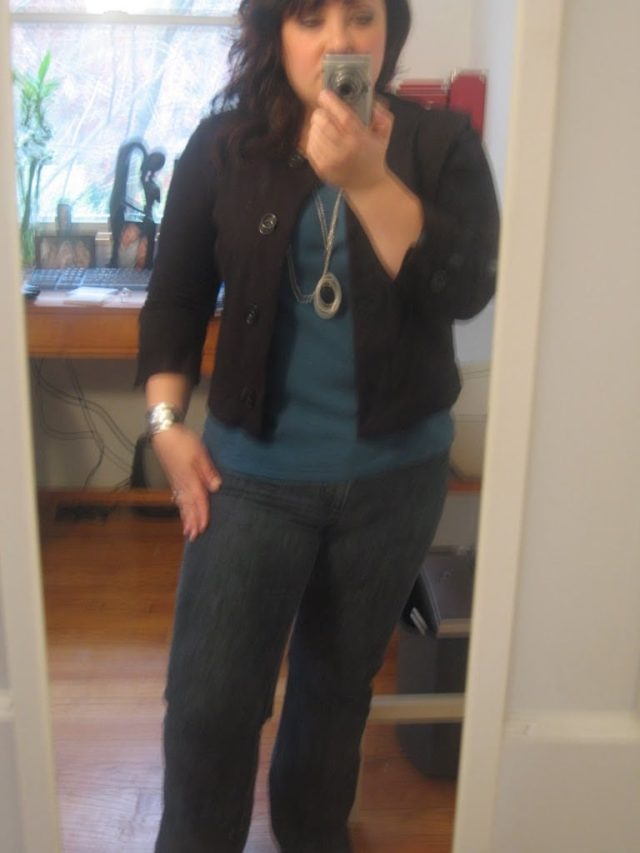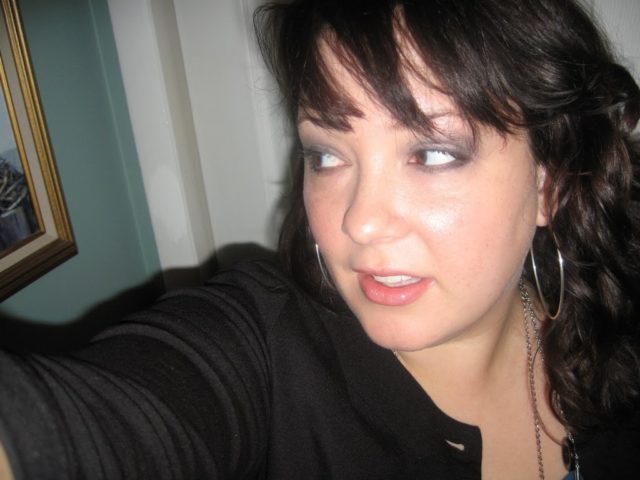 Teal scoop tee from Gap ('07), black ponte jacket from Banana Republic Outlet ('07), denim trousers from Gap ('06), black city boots from Impo ('06), silver necklaces from B.P. ('07) and the Renaissance Festival ('05), silver cuff and hoops.
Hair is second day, brushed out, a few pieces curled with the curling iron, then a bit of Jonathan Silky Dirt applied by twirling through sections.
Makeup is L'Oreal True match foundation in C3 as concealer, philosophy the Supernatural in Beige, Nars blush in Orgasm, Revlon Super Lustrous lip gloss in Glossy Rose, Body Shop eye color in Slate on lid, Soft Black in crease and along lash lines. Lashes curled, two coats of DiorShow.
Black merino cowl neck from Banana Republic. Black trousers from Ann Taylor with a seam down the front of the legs. Black pumps from B.P./Nordstrom. Jet and anthracite dangly earrings.
Hair had Pantene volumizing spray throughout and I took a bit of my C.O. Bigelow Clementine body lotion and applied it from the ears down. I then blew my hair on a low setting twisting pieces. Lotion – be it a heavy facial or a lightweight body is good for giving wavy hair a piecey beachy look. I then took Sebastian Mud to some pieces for more definition.
Makeup is i.d. Bare Escentuals foundation and concealer, Nars Orgasm blush. On the eyes, I put Clinique Snow in the inner corners, The Body Shop's gray on the lids and along the lash line. Then I curled the lashes and applied several coats of MAC X mascara. On the lips was The Body Shop's Lippy Balm in cranberry with some Lancome Juicy Tubes in Daiquiri over it.
The day has only a slight chill, so to add color to my outfit I wore a bright aquamarine pashmina slung over my shoulders. So pashminas are passe… I adore them, have several. I wear them as a shawl, an outfit accent, a winter scarf. I keep one at my office for those days where the a/c is on too strong. Whether they are considered "in" or "out," pashminas are always a wardrobe staple for me. Like a black pencil skirt, brown croco pumps, a crisp white shirt… I think they are always classic.