This article may contain affiliate links; if you click on a shopping link and make a purchase I may receive a commission. As an Amazon Associate, I earn from qualifying purchases.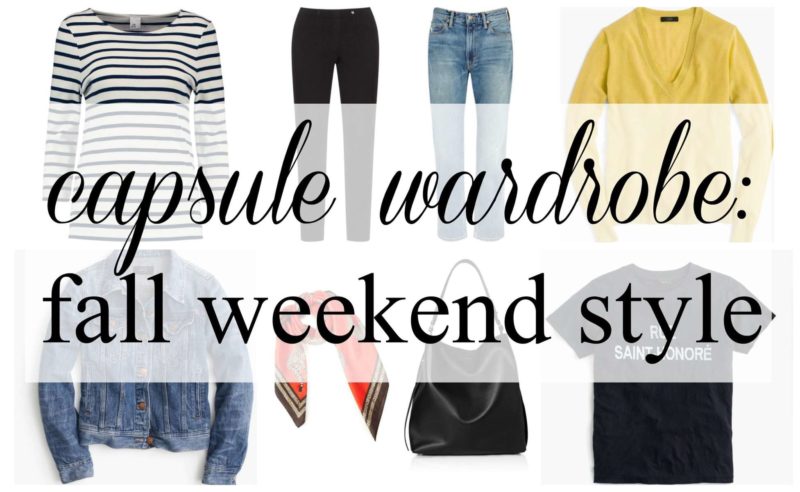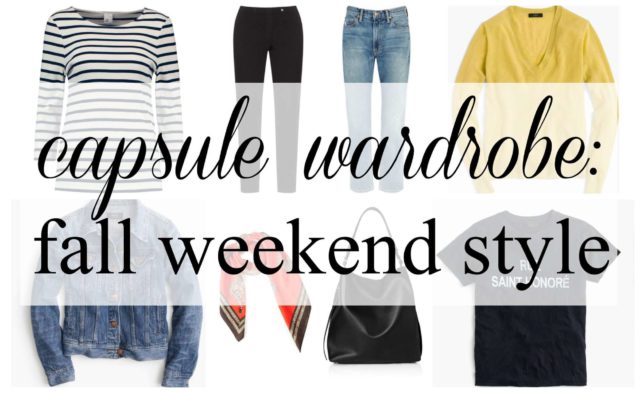 Many have written me asking for a casual weekend look for fall. More polish than jeans and a tee shirt, more refined than leggings and a tunic. This capsule wardrobe is for you – weekend style refined.
This capsule wardrobe is all about layering, so it can work now in late summer when it's a bit breezy, and continue until there's frost in the morning. However, most of these pieces can work into winter. Switch out the ankle pants for full length, add a pair of velvet jeans, change out the loafers for a pair of lace-up boots, throw in a cashmere or merino turtleneck.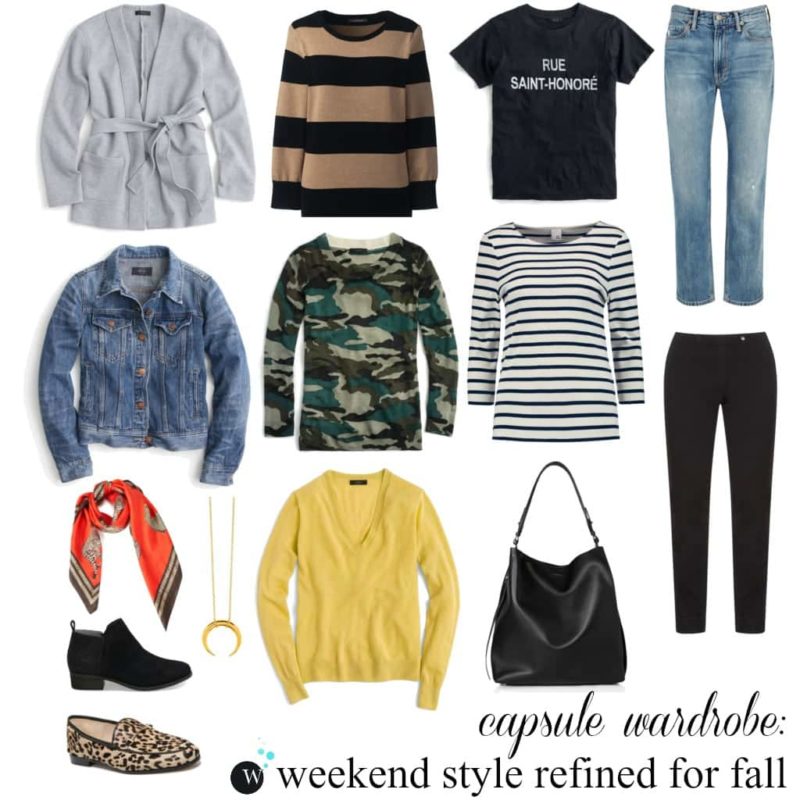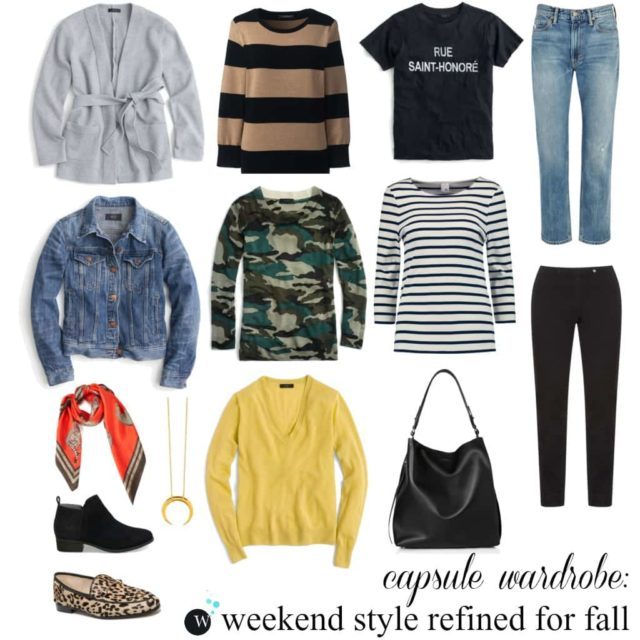 Shop the Capsule:
wrap sweatshirt | denim jacket | scarf | booties | loafers | necklace | striped sweater | camo sweater | v-neck sweater | silkscreened tee | striped tee | bag | jeans | pants
If this combination of prints and colors isn't your thing… no worries! Switch out the mustard for hot pink, plum, or even a neutral. This is a piece that is really versatile, however if you go with a neutral like tan, grey, or black it's even more important to have the prints within the capsule.
Below is a gallery I made of 20 different outfits created from this capsule wardrobe. While there's only 20, I think this combination could easily create several more looks, especially when factoring in clothes already residing in your wardrobe or adding some of my suggestions in the paragraphs below. Click on any thumbnail graphic in the gallery to see the full-size images and descriptions. Hover over the images to find arrows to advance and go back within the gallery. If there's an ad in the way, x it out to read captions. Click the X at the top right of an enlarged image to close the gallery and return to this blog post.
Click to View Sample Outfits in the Capsule Wardrobe:
Camo is something people love or hate; if you don't like it switch out with another novelty sweater – stripes, animal print, floral, an intarsia print. The tee can be replaced with one with a political or statement or even your favorite band tee. I always add stripes to a capsule because they're flattering, polished looking and easy to find at any pricepoint. However, they can be switched out. The point is to have something other than a solid to add interest to what is essentially a capsule wardrobe of basics.
The pants can easily be switched out. A pair of grey stretch skinny jeans, some velvet jeans in burgundy or plum, stretch chinos in a neutral, darker denim with a straight or baby bootcut silhouette, slouchy distressed boyfriend jeans.
The shoes were chosen to work with ankle pants as well as jeans. They too can easily be switched out. The loafers can instead be a pair of oxfords or even a pair of trendy sneakers. The ankle booties can be a different color, and if your pants are all longer, can be higher on the ankle.
The point of the accessories is to add polish to your outfits without adding a lot of effort. I own the scarf and find it's the perfect length for wearing cowboy style, doubling around the throat, or even wearing in place of a belt. It can also be tied to the strap of a bag for a pop of color. The necklace is long so it works with all the necklines; it's not too elaborate so it doesn't compete with prints or look too dressy for Target. The bag is also a piece I own and love; it's been through a beating (many flights shoved under a seat, thrown in the trunk of a car, overstuffed, etc.) and still looks amazing and garners compliments. It can hold a lot but still look really chic and expensive and not cut your shoulder in half.
Most everything is easy care – washable fabrics, items that don't wrinkle so they can keep up with you and your busy life (easily switch out the cashmere for merino or cotton). This capsule wardrobe would also work for a more relaxed workplace, going back to school, and for looks to leave the house if you're a work from home employee. I hope it can give you some ideas on how to have more style with fewer pieces in your wardrobe this season!