This article may contain affiliate links; if you click on a shopping link and make a purchase I may receive a commission. As an Amazon Associate, I earn from qualifying purchases.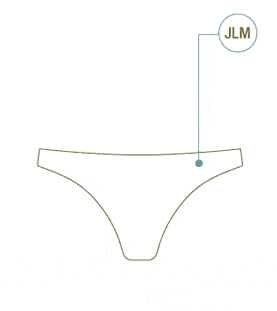 You can monogram your bikini bottom at J. Crew. Did you know that? I find this utterly adorable and do love the simple, we—made suits this company provides. Too cute! I want a bright green one with my monogram in orange. J. Crew has been doing monograms for a long time, but not until the most recent catalog did I realize your hip can carry your initials!
That purple is popping up all over, and not the corny reddish hued Crayola shades of past. This purple is deep, royal and tinged with indigo. I will be wearing a ton of this; speaking of J. Crew they have gorgeous shades of purple in their merino and cashmere sweaters and a darling puff-sleeved tissue-weight tee shirt (unfortunately not available until the end of the summer).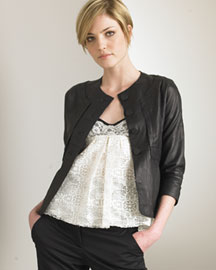 The cropped jacket has been modified to actually be flattering. Gone are the shrunken toppers that hardly cover your breasts, the new ones will show just a hint of your camisole underneath, are a feminine shape without being overly fitted, and come in a wonderful variety of fabrics so they hang nicely on most every shape of body.
Hair has gone back to being carefree. Gone are the sharp wisps, the precise bangs, the iron-straight locks. Hair is again allowed to have movement, texture and a human element. Thank goodness the extreme highlights/lowlights/chunk colors are passé as well… haircolor is like cosmetics – it should either make a bold dramatic statement, or enhance natural beauty. Neither can create what nature has not provided, bad streaks in your hair are like bad streaks of blush on your cheeks – dated, aging and tacky.
Sequins are hot in a subtle way and I couldn't be happier. I think the only reason I stayed in dance classes for so long as a child was for the costumes at the annual recital. Sequins were fun and glittery and made me feel like a diva, even in first grade. This fall sequins may not be rainbow strips, or electric blue a la Feist's video, but in pewter, chocolate and brass they add glamour and glitz to unexpected items. I personally am coveting this dress by Nanette Lepore.
That one can find designer jeans at Last Call Neiman Marcus, the outlet store for this department store. Unfortunately they didn't have any in my size, but I have heard from other women that they often do and they are at least 30% cheaper than in the regular stores. I shall return!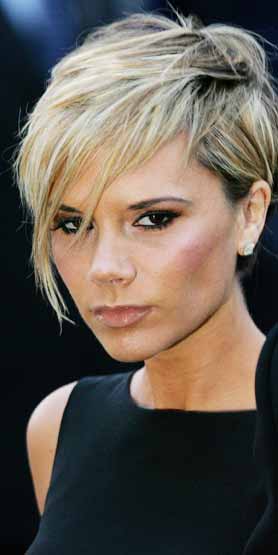 That Victoria Beckham special that was on Monday (and another showing is tonight and you can see the episode on NBC.com). I don't care what the critics say, the show made me stop thinking of Posh as a stupid robot and saw her as normal, goofy, funny, and working that job she has. And yes, I believe being a celebrity is a profession. Far too many It Girls don't get this; you never saw the stars of the silver screen a few decades ago ever shoving their face full of fries, entering a truck stop rest room barefoot, or flashing the paparazzi when clumsily entering and exiting a car. Victoria may always be pouting, always have perfect hair, perfect tan and the most ridiculous shoes, but she has created and maintained a certain image, and really who can blame her for trying to maintain that out of respect for herself and her husband's career? If you want to waste an hour giggling (and gawking at the hideousness of the plastic surgery gaudy queens of Beverly Hills) check this show out. You won't gain IQ points, but you may have a good time.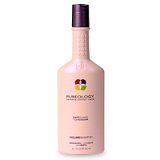 Pureology hair care products. Though my stylist kept telling me to buy this stuff, I kept putting it off because it was so expensive. Suave sent me a box of products to try out that I had yet to finish, I get 25% off everything at The Body Shop and well, $25 for a small bottle of shampoo seemed like highway robbery. I decided to go back to dark brown hair, and with the sun and surf and pools I wanted all the help I could get to maintain it so I succumbed. Boy I LOVE this stuff. My hair feels like it did before I ever dyed it, it's manageable, it shines like it has never shone before, and the strong herbal scent is an awesome pick-me-up in the morning shower. I figure, the shampoo and conditioner is worth the price if it extends the times between visits to the colorist, right? Oh, and the shampoo is shimmery purple. How fun is that?
Now you can show your status and mood on MySpace. I think the status is fun, for I always hated the "Jane is in your extended network." I have been on that addictive site long enough to remember when the "extended network" meant something and the site would show how you are connected to the page you are looking at. But now with kazillions of people on MySpace, it was pointless. So now to make funnies or announce what I am working on is entertaining and it's fun to see what my friends are up to. Okay, so I am 32 and still on MySpace but I don't care… it's utterly entertaining and it has helped me reunite with old friends and become friends with many of you readers.
Girlfriend get togethers are awesome. Last night four of us met at a mall that is a halfway point for all of us. All I have seen in the past month, but they hadn't necessarily seen one another that recently. Over some guacamole and margaritas (and plenty of Mug Root Beer for Kelly) we caught up, giggled, talked about our lives, our homes, our men, our recent shopping adventures. We hope to do this on a monthly basis; life gets so hectic you often lose track of good friends. I think if we scheduled it monthly like an appointment we will make time for one another and be happier people for it. Everyone needs time for friends!
I love Gmail. I mean, I have five email accounts right now for various reasons, but Gmail is by far my favorite. I can do Google Talk with my friends, I can find EVERYTHING with the search feature, I can organize to my heart's delight and never have to delete a single message. My two year relationship with Gmail has gotten more and more passionate as time has gone on for I find more and more feature to fall in love with.
The admin in my department brings snacks every day and puts them outside of her cube for us all to enjoy. Cheese and crackers, brownies, cheese curls… it is dangerous to walk to the color printer because you can't help but be drawn to the snack display. Well today it's cut up veggies with a pesto dip. Instead of chips and French onion dip, I am munching on yellow peppers and zucchini. I can nosh and not feel so utterly guilty!