This article may contain affiliate links; if you click on a shopping link and make a purchase I may receive a commission. As an Amazon Associate, I earn from qualifying purchases. 
A couple of months ago, a tree came through our closet. Since then, I have had my wardrobe in cardboard boxes around my bedroom, on a rolling rack in hour home office, and I have had a hard time finding anything. The roof was repaired, the skylight replaced with drywall, and I have been able to slowly get everything back in there. As a reminder, this is my last closet post… and here's the current state of the closet: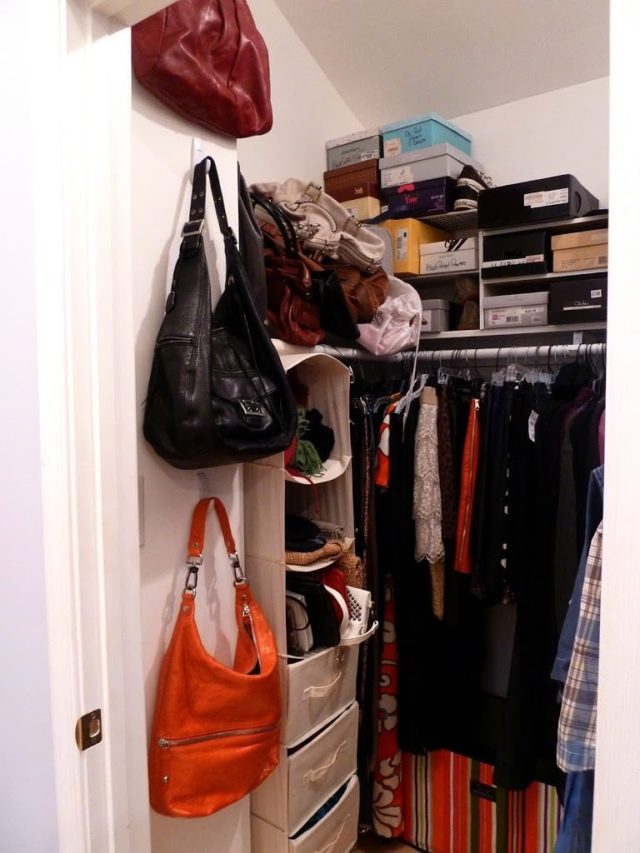 I got some of those removeable hooks to hang the most regularly used bags right next to the closet door.  You can see I have a new box on the floor for my clothes that need to be repaired/dry cleaned/ironed.  The box is collapsable yet really sturdy – the Junque Trunk from Scout by Bungalow.  They have a huge variety of prints and sizes for any situation or location.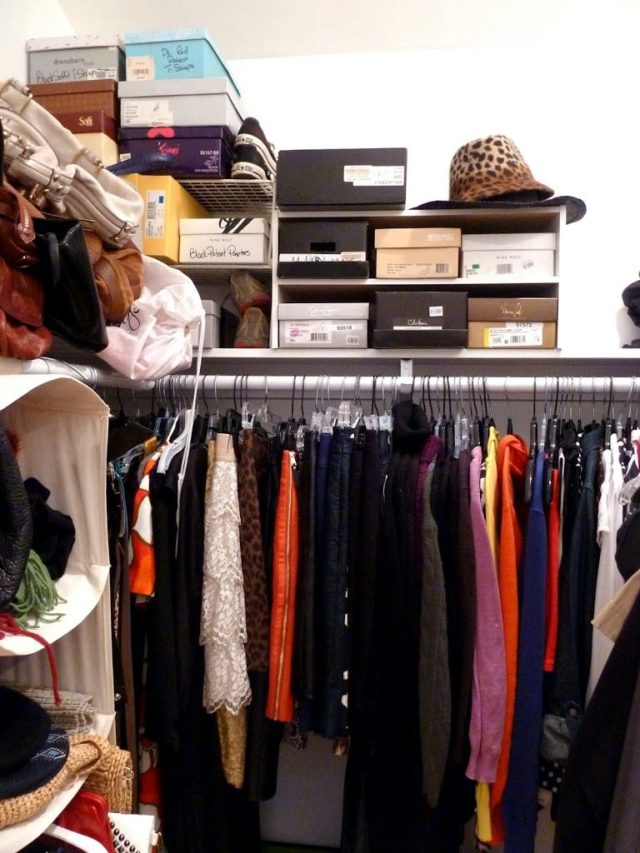 While everything is not nicely organized, at least everything is back into one place.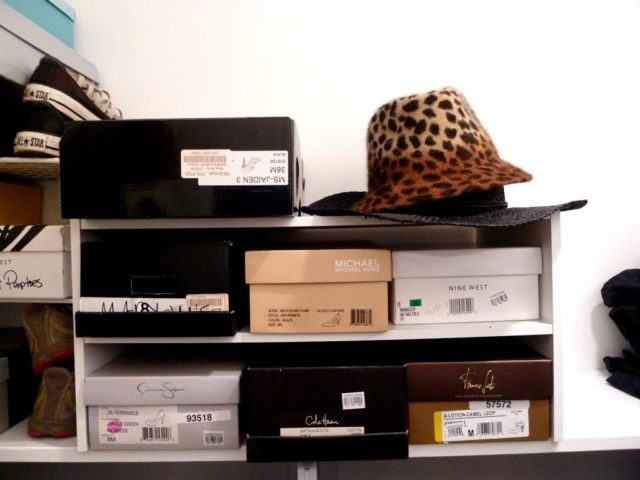 The shoes I wear most often are in this storage shelving, the out of season and special occasion shoes are to the left.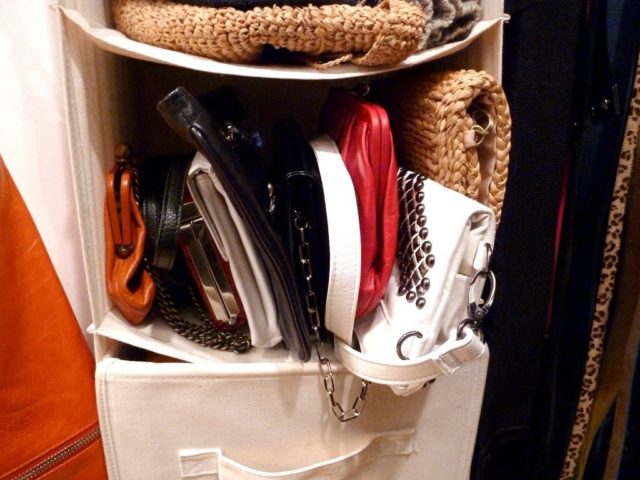 I used to keep all my clutches in one of the drawers of this closet organizer, but having them out of sight made them out of mind.  I now have a few out on this shelf and find I use them more often.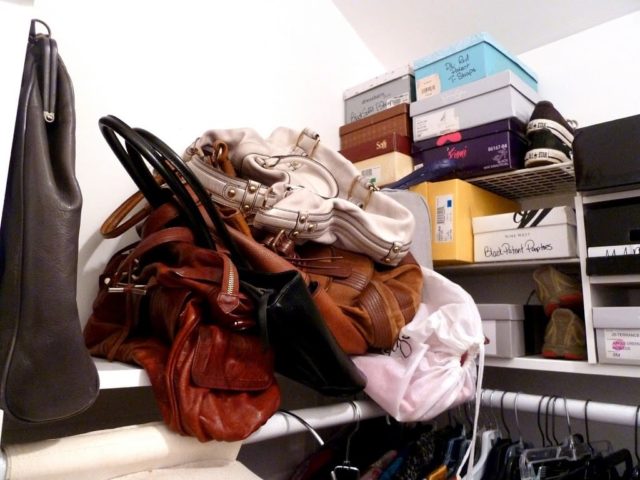 I obviously still need to organize my larger bags – a few of these are still stained and damaged from the hurricane but I have yet to find a place I trust to do the repairs (and find a place that makes the repair cost worth it).  The cognac Junior Drake has white stuff on the other side – it seems baked into the finish and I can't get it off without taking off the color.  The black J. Crew bag has the same white stuff all over it, and the white Banana Republic bag has gray streaks and a place where the finish scraped off.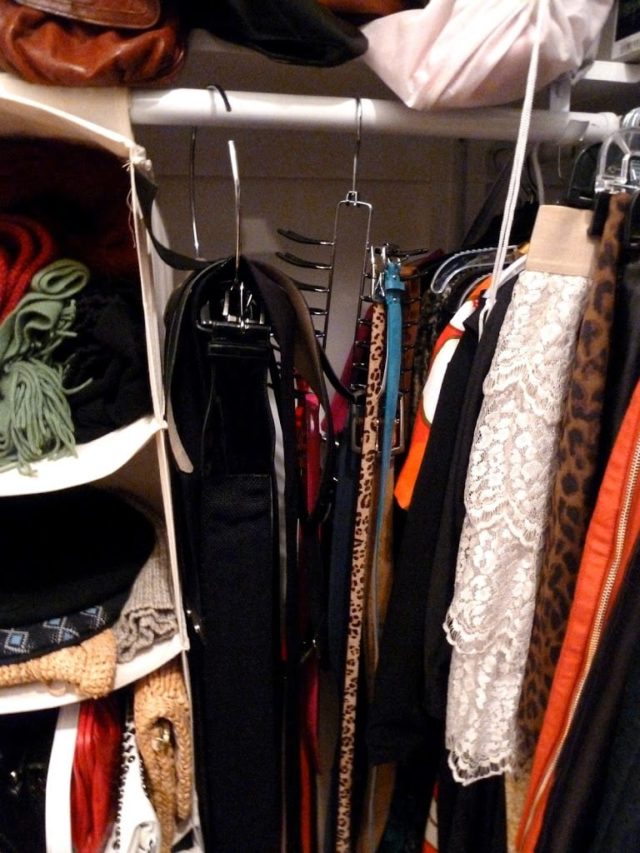 I also need to get a better storage system for my belts.  The large ring holds a lot of belts, but it sucks to have to yank off 10 belts to get to the one you want.  The classic belt/tie holder to the right I thought would work for smaller belts, but it can't handle belt buckles.  I need to take a trip to The Container Store and find some better storage systems!
Obviously there is much more that needs to be done – proper organization and protection of my collection, I need some more slimline hangers, and need to get the damaged bags repaired.  But it is so wonderful to have everything back in one place, easy to find and easy to access!
Note: The Junque Trunk from Scout by Bungalow was sent to me as a gift from that company, I was able to choose the style and print of box and how I wanted to use it in my life.
Follow Me | Twitter | Facebook