This article may contain affiliate links; if you click on a shopping link and make a purchase I may receive a commission. As an Amazon Associate, I earn from qualifying purchases. 
Love your blog and always turn to it when looking for advice. I'm a young 48, 14/16, busty, and fun woman who is STRIKING OUT looking for a cocktail/wedding guest dress for this fall. I'm attending a wedding in early November. Saturday evening, cocktail attire. I want to wear something fun, fancy, and flattering. Tired, so tired, of lace sheath dresses. Went shopping and all I found were – you guess it – lace sheath dresses or matronly chiffon dresses with poncho-like sheer overlays.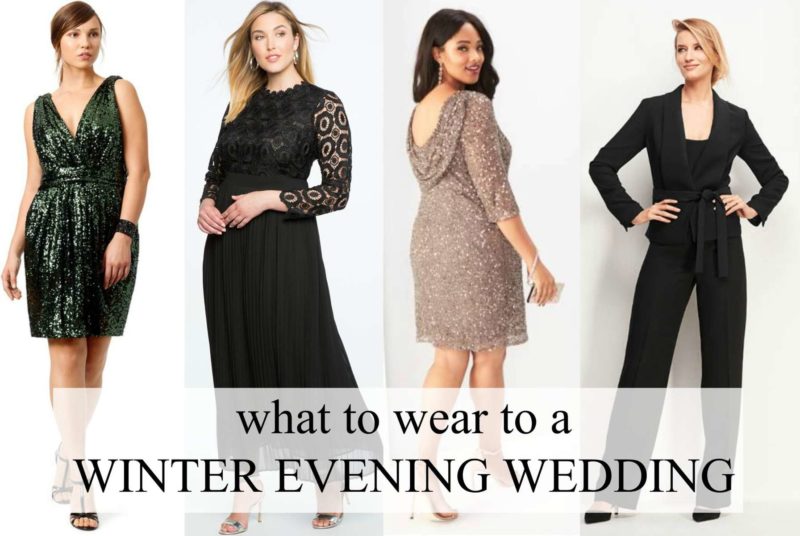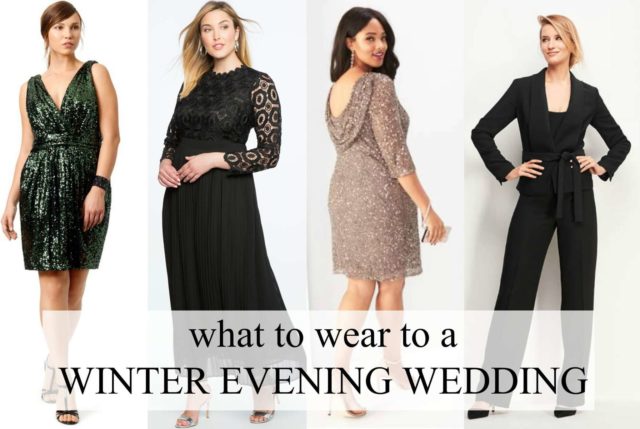 I don't understand why retailers, especially department stores, think women of a certain age or size want to dress like grandmothers. Even the grandmothers I know don't want to dress like that! Luckily, many online retailers have bigger selections and a better outlook on the women of America and I found some fun, fancy, and flattering winter evening cocktail dresses that would be great for an evening wedding and even for dressy events coming up for the holidays.
ELOQUII
ELOQUII starts at size 14; I'm a 14/16 and find their 14s work for me about half the time. The other half, they would if I were a few inches taller. While their marketing may make you think their clothing is just for under-30 fashionistas, they have an amazing selection of suiting, polished separates, and yes, cocktail dresses. My picks: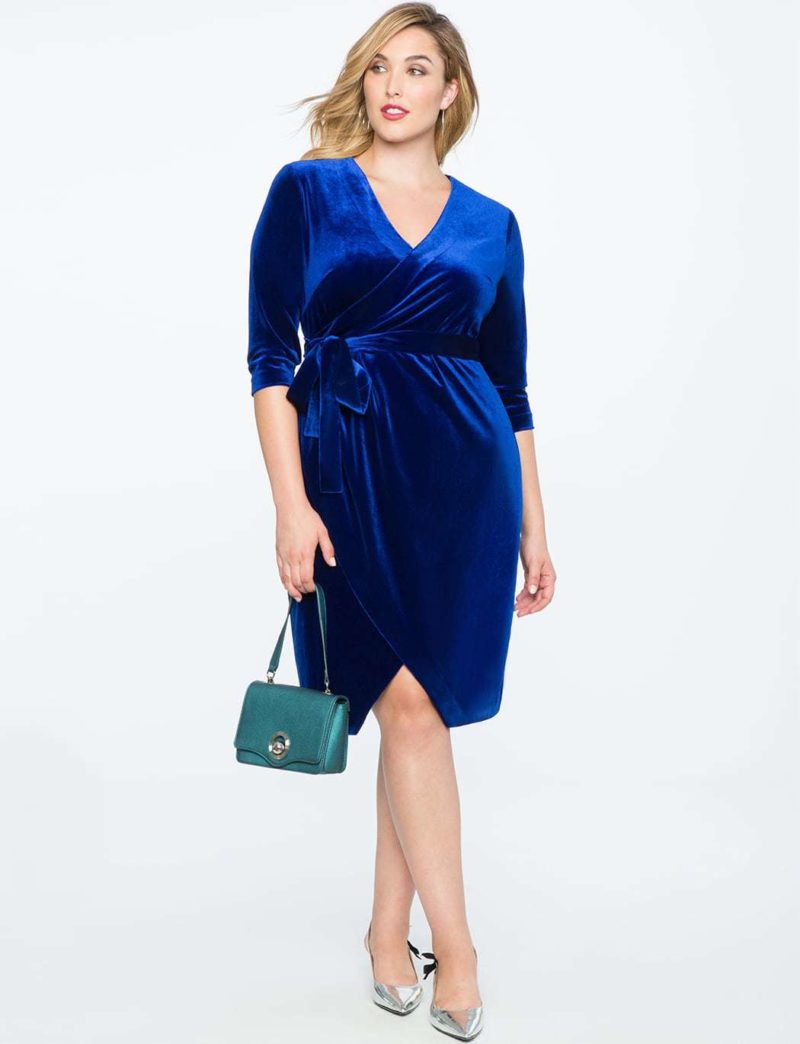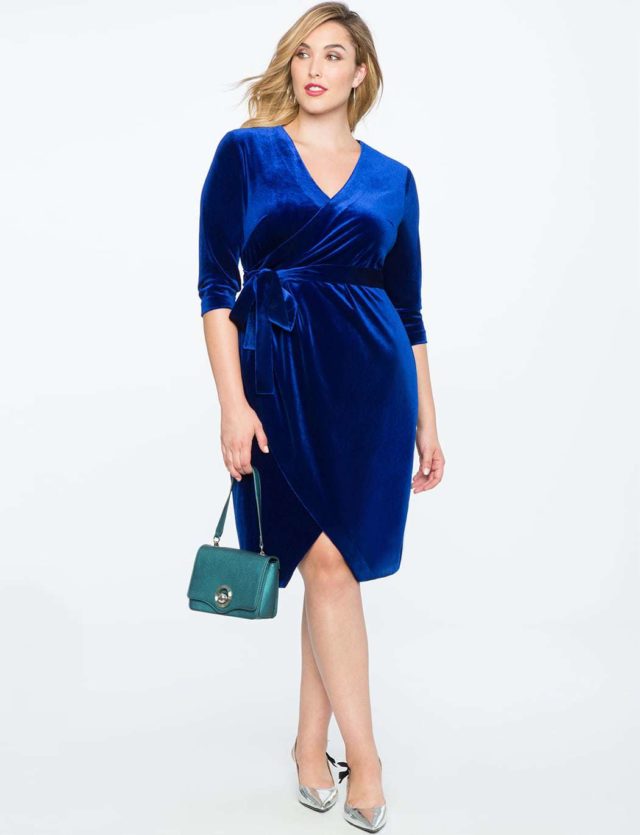 I just ordered this velvet wrap dress and will be sure to review it once it arrives. Velvet is very on trend this fall, but it's a fabric that if you wear next year or the year after it won't look dated. The wrap style is extremely flattering and you can cinch and adjust for a custom fit. All three colors are fantastic, but I'm partial to the blue. Style with a strappy heel or a sparkly flat and a pair of sparkly earrings.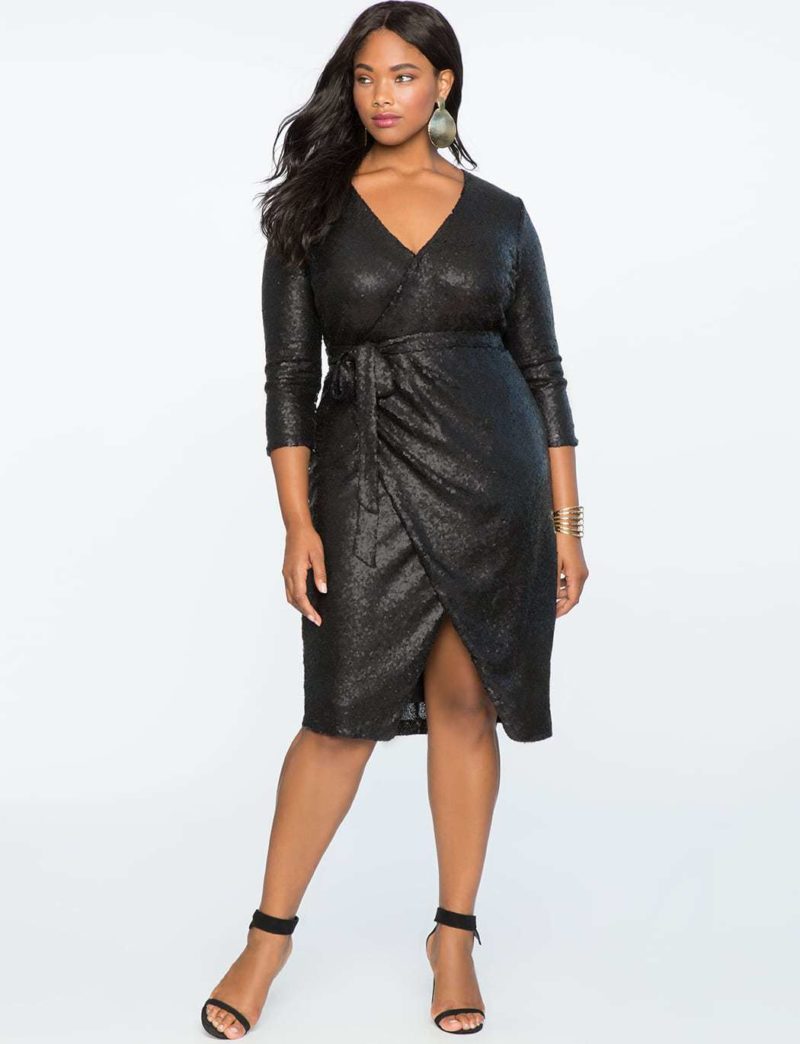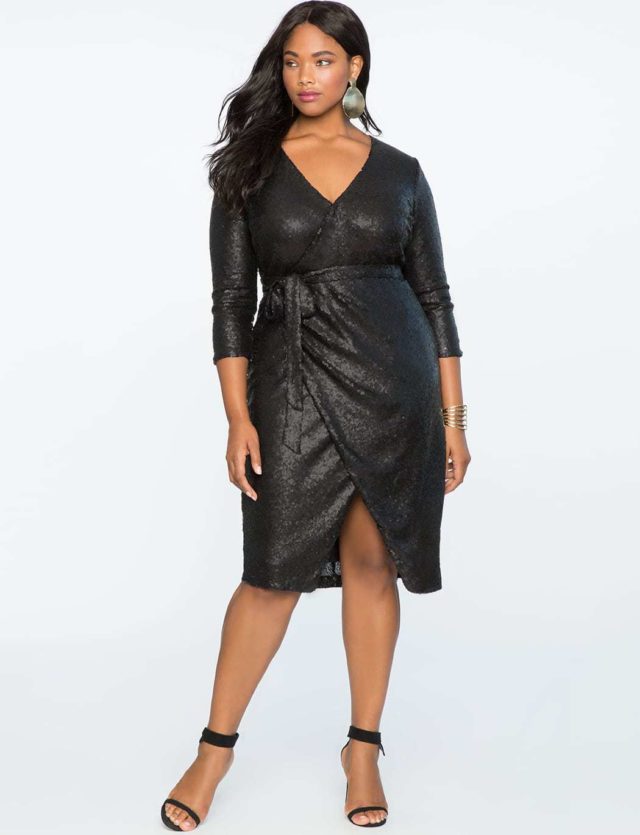 Are sequins more your scene? This black sequined wrap dress is one I've been admiring for a long time. Wear to the wedding, to a holiday party, to New Year's Eve, to an event in the spring or an event in fall. You'll be surprised how often you find a use for such a dress, and it is surely fun, fancy, and flattering!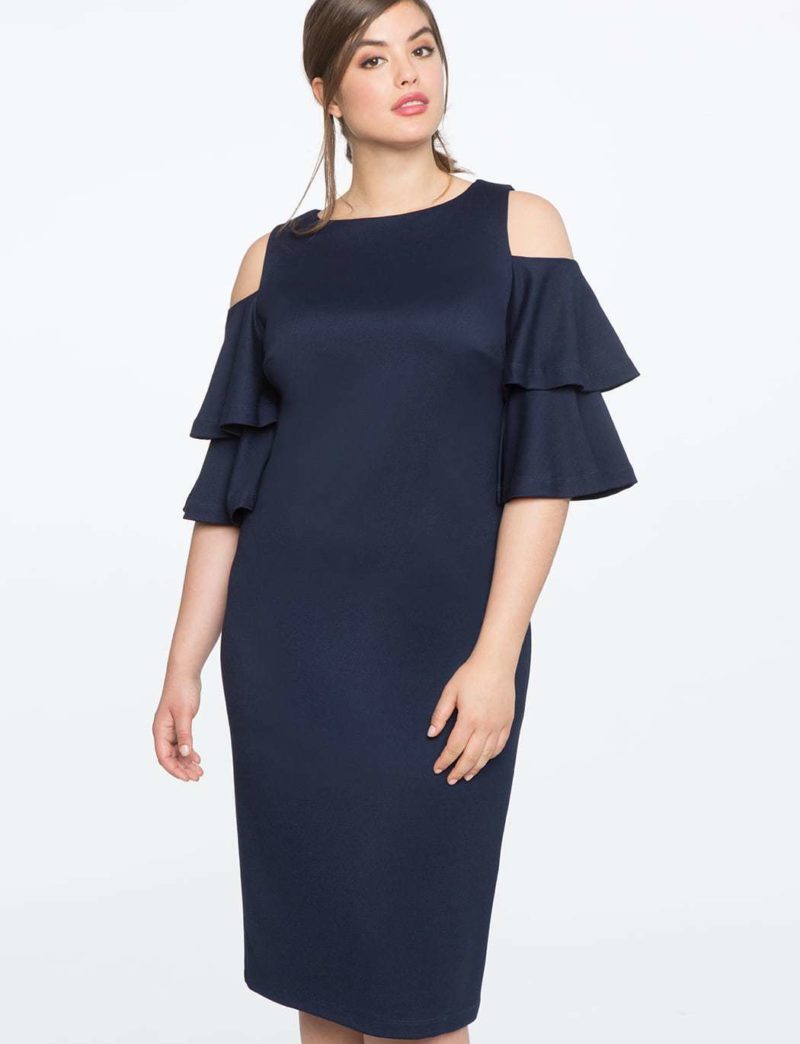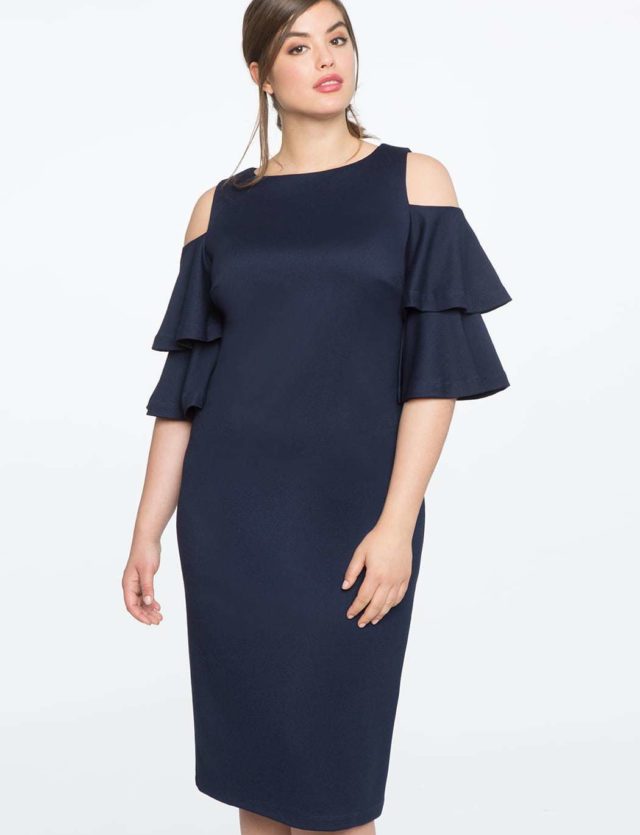 The cold shoulder trend isn't going anywhere, and I think it's a great way to look sassy and festive without showing a ton of skin or needing to invest in a special bra. This cold shoulder dress from ELOQUII comes in four colors and gets great reviews. Adding formal shoes and a sparkly necklace or pair of earrings will make it perfect for a dressy evening affair.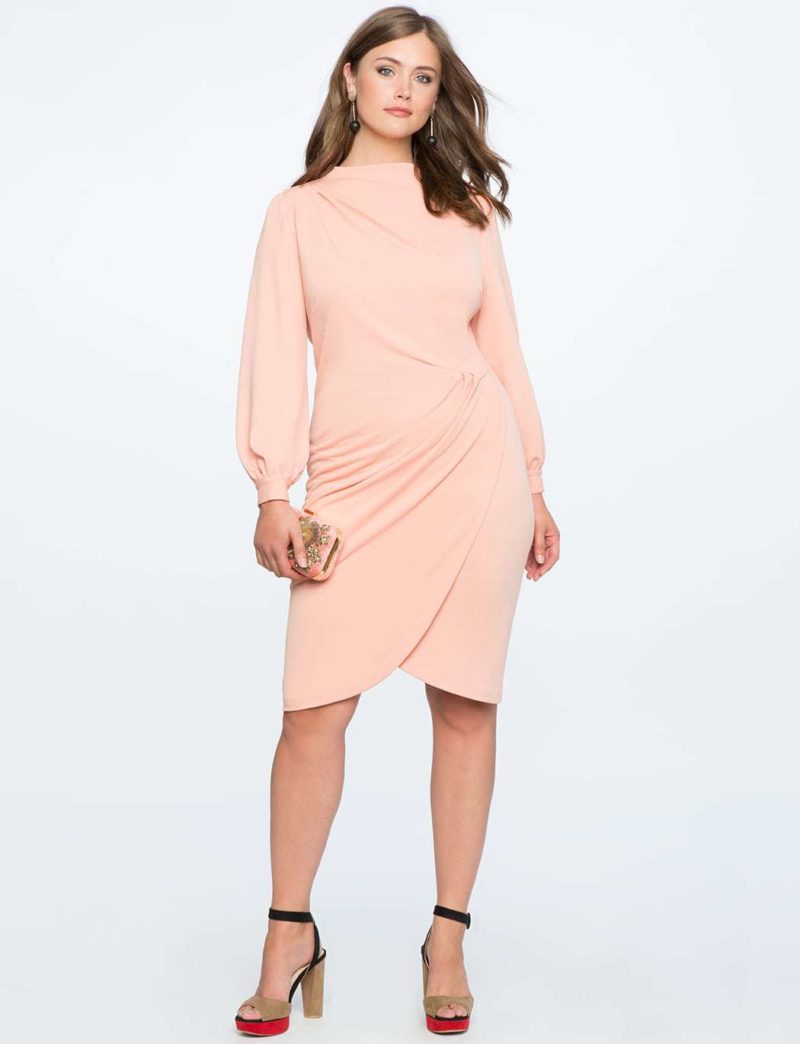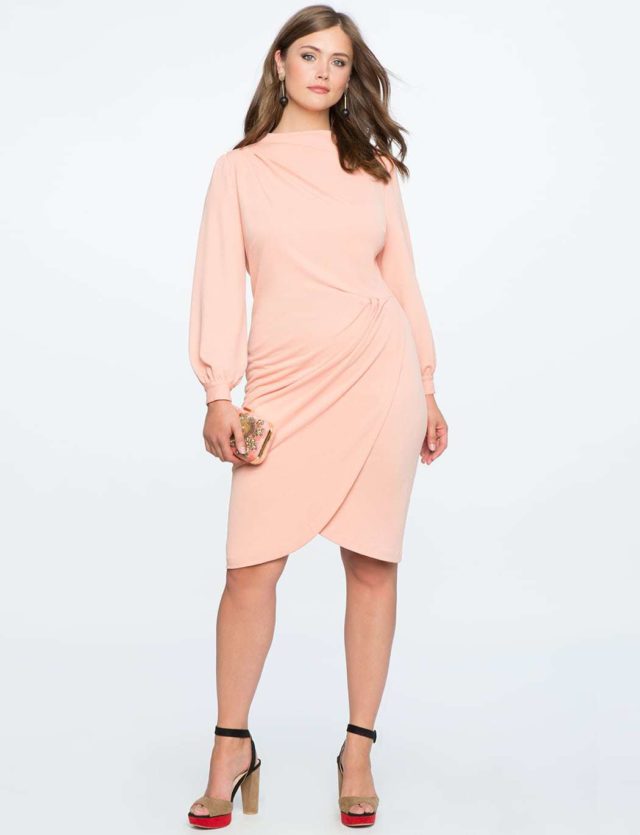 Why is it so hard to find cocktail dresses that aren't revealing? This is why I adore this drape front mock neck dress. It's elegant and dressy yet it has long sleeves and a modest neckline. All that and it gets rave reviews. It comes in four colors; I'm partial to the blush pink which yes, is a wearable color even in winter. Style with a soft metallic shoe and earrings that incorporate pearls and sparkle to look fancy, on trend, yet elegant.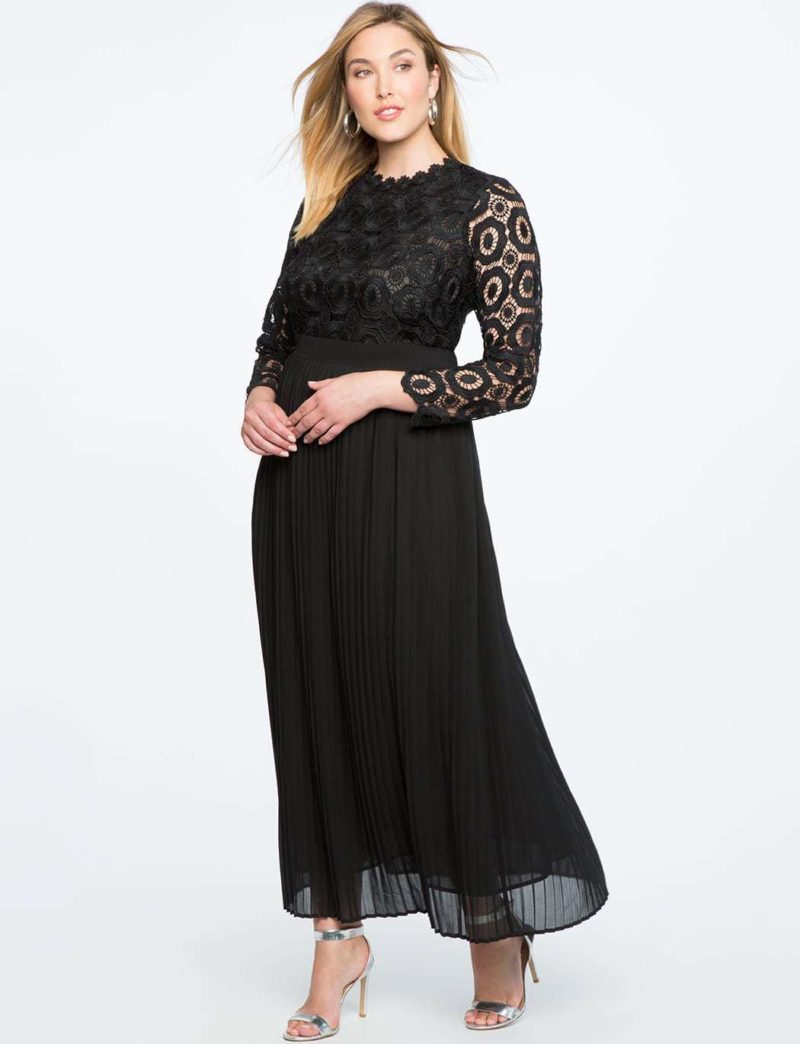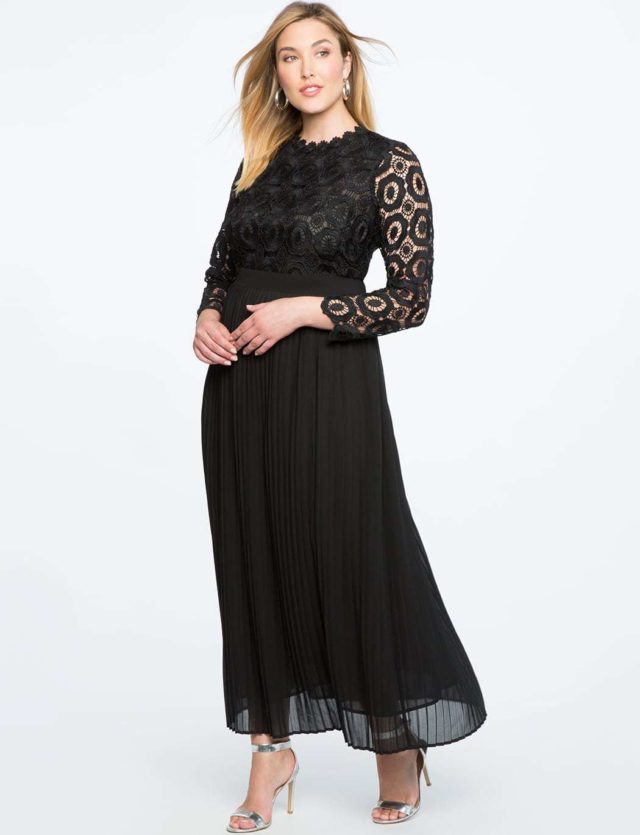 My friend Dani wore this dress to the Dîner en Blanc and it was positively stunning in person. For an event like yours, the dress in black would be quite chic, and a great choice if you're looking for a way to stay warm (add some knee-length control or regular bike shorts underneath for additional warmth!). This is the kind of dress where your accessories can be minimal and the texture can take center stage.
Nordstrom
Nordstrom is one of the few department stores that does plus size right. They realize that women come in a variety of shapes, ages, and personal styles and don't buy just for one aesthetic. They also sell brands that offer the same exact dress in straight and plus sizes; I often order in both to try at home and see which one fits and flatters best. Granted, a good percentage of their cocktail fashion is lace overlay, but I found a few that break that tradition and look fancy, fun, and flattering: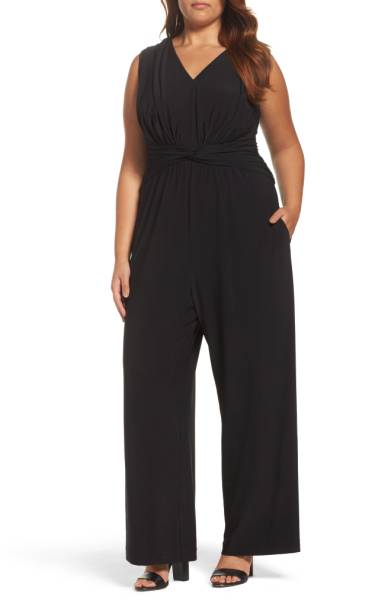 Who says cocktail attire has to be a dress? I've worn jumpsuits before to evening weddings and cocktail affairs and love the comfort, ease, and standing out while still fitting in. This jumpsuit from Eliza J is flattering and oh so chic. Add some sparkly earrings and a clutch and you're reading for an after-hours affair. Worried how to get in and out of a jumpsuit? I have one of these gadgets from Zipper Genie and they are GENIUS! I now wear jumpsuits to all sorts of events without issue!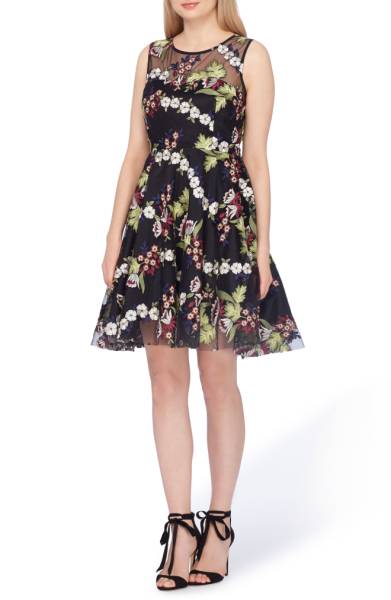 While lace overlay may say mother of the bride, embroidered overlay is fresh and modern. This fit and flare dress from Tahari has a gorgeous floral embroidery that can work all four seasons of the year. With delicate heels and sparkly accessories, it's a perfect evening dress.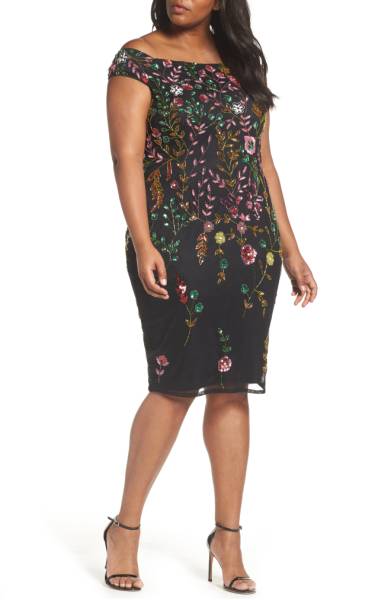 Another embroidered overlay dress, but this time an off the shoulder sheath from Adrianna Papell. The embroidery has sparkle in it, making it perfect for an evening affair.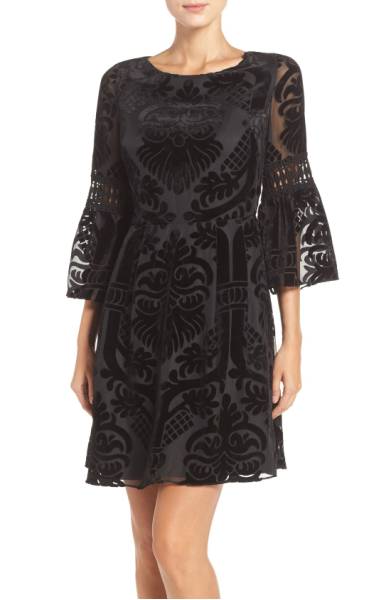 I've always been a fan of velvet burnout, it looks so luxe. This dress also from Eliza J is a flattering cut, has fun sleeves, and the velvet burnout makes it stand out in a crowd. This is the kind of dress you can dress down with black tights and ankle booties or glam up with sparkly earrings, a clutch, and delicate heels.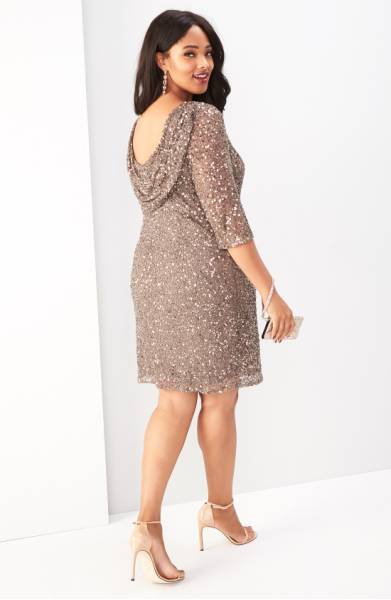 This dress is like a reverse mullet – business in the front with a conservative neckline, and party in the back with a lower cowl (but still high enough for a standard bra!). The beading is fun and fancy without being frumpy and the color will work three seasons of the year. Style with nude or soft metallic shoes and a pair of pearl earrings and you're ready for an evening wedding.
Talbots
Talbots ROCKS occasion style, and it's a great time to buy dressy clothes from them to wear any time of year. With regular, petite, plus, and petite plus, Talbots offers the size variety to find a look that fits and flatters. Their entire occasion selection isn't yet available so I recommend checking every couple of weeks as they add to their online collection. My picks so far: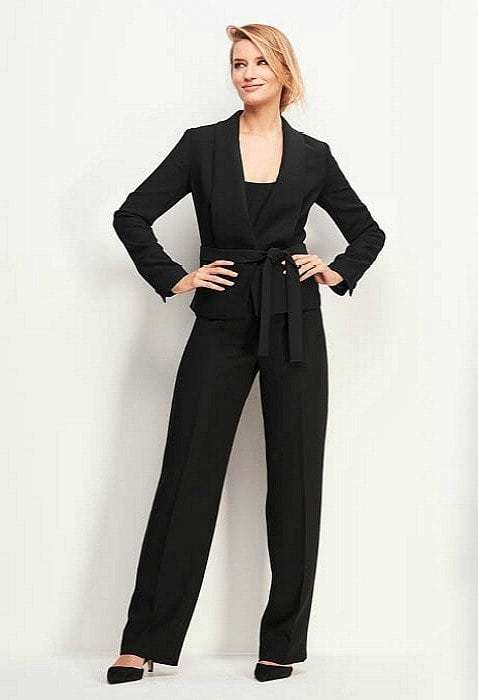 This picture is deceiving because this exact jacket isn't at Talbots… yet. It's part of their RSVP collection and will be hitting stores and online soon. However, the pants are already available and this jacket is also a wonderful evening choice. A Le Smoking or evening pantsuit can be quite chic for a cocktail affair. What makes it look fresh and not matronly is fit (if unsure size up, and no matter what find a tailor for perfect length of sleeve, leg, etc.), and styling. A delicate heel or a pointed toe flat in a sparkly fabric, a camisole with a lower neckline that has a nice drape, a dangly earring, a box-style clutch purse.
Separates are also quite chic for a cocktail affair. I adore a really formal skirt styled with a crisp white button-front shirt or silk or cashmere tee. This sequin skirt from Talbots is classic and elegant. Style with a tuxedo-inspired jacket, a crisp white blouse and very sparkly very statement making necklace, a silk or satin blouse with ruffled or flared sleeves.
Rent the Runway
Did you know Rent the Runway carries plus sized dresses? It's a fantastic way to glam it up for less, especially if you don't have a lot of future cocktail parties on the calendar. Rent the Runway also rents accessories, so it's a great way to also find the right baubles to take your look up a notch. Rent the Runway's selection is constantly updating and right now their selection is still focused on late summer/early fall, so check them out even if my picks below aren't right for you. You can use code RTRDC22F051 for $100 off new subscribers' 60-Day Trial of Unlimited-$50 off each month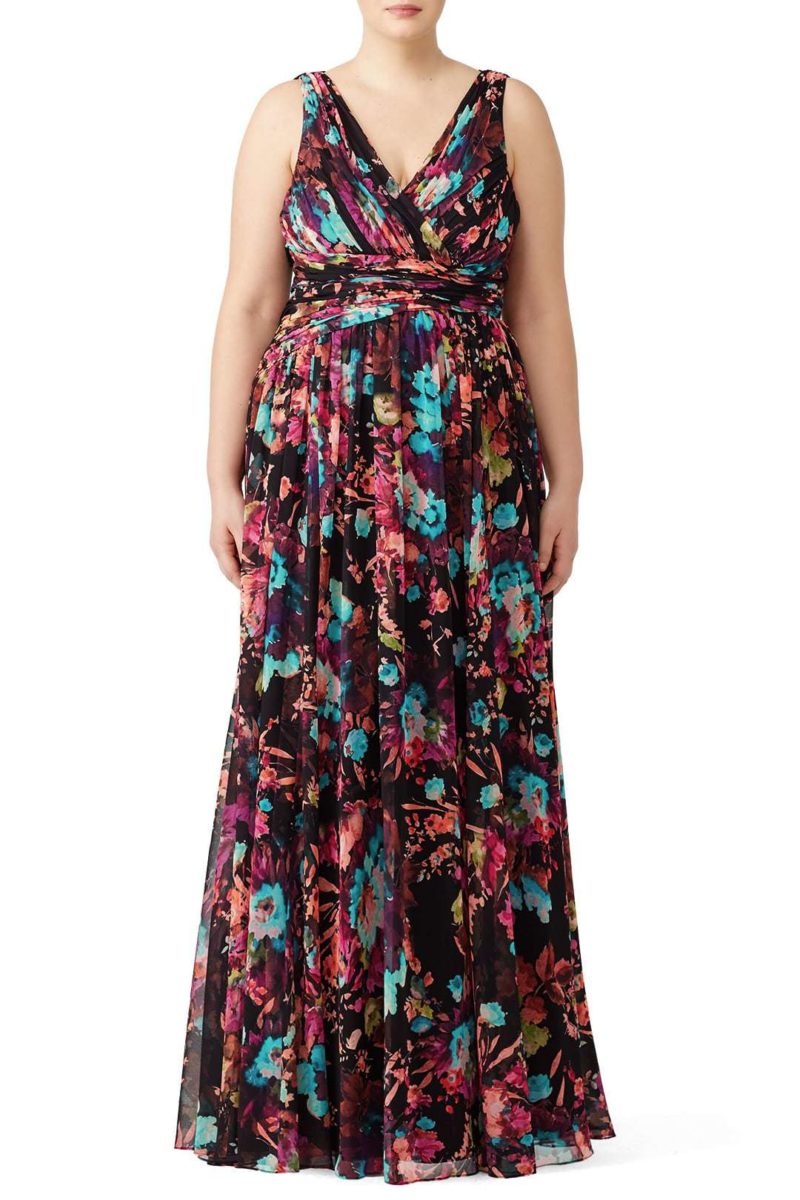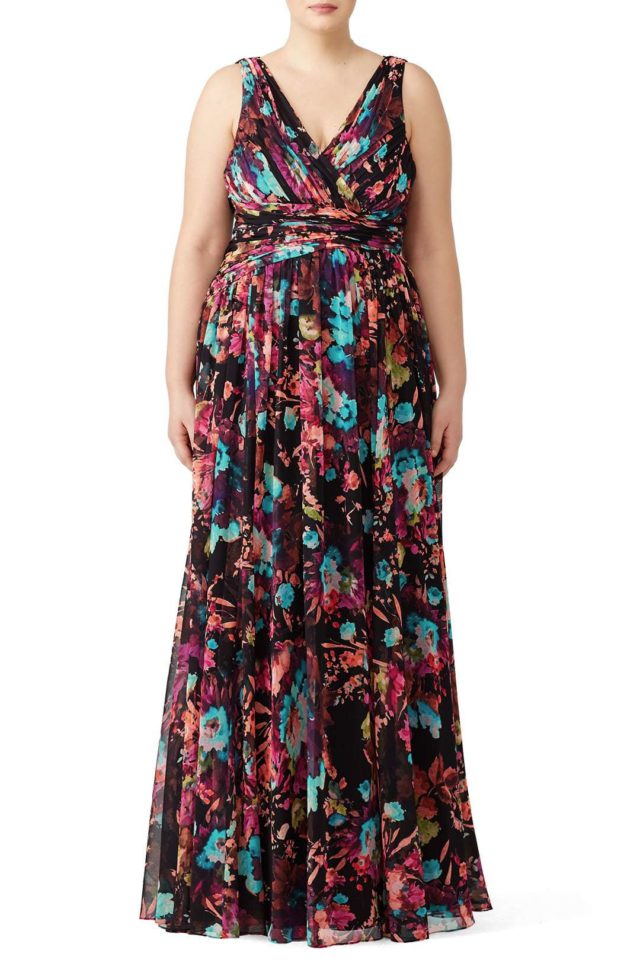 A cocktail dress doesn't have to be knee length and a solid color. This dark floral gown from Badgley Mischka is positively stunning and completely cocktail party worthy. It doesn't hurt that it gets rave reviews from customers who found it comfortable, flattering, and fun to wear. Some sparkly earrings and/or bracelet will confirm it's an evening look and a dress like this works great with shoes of all heights!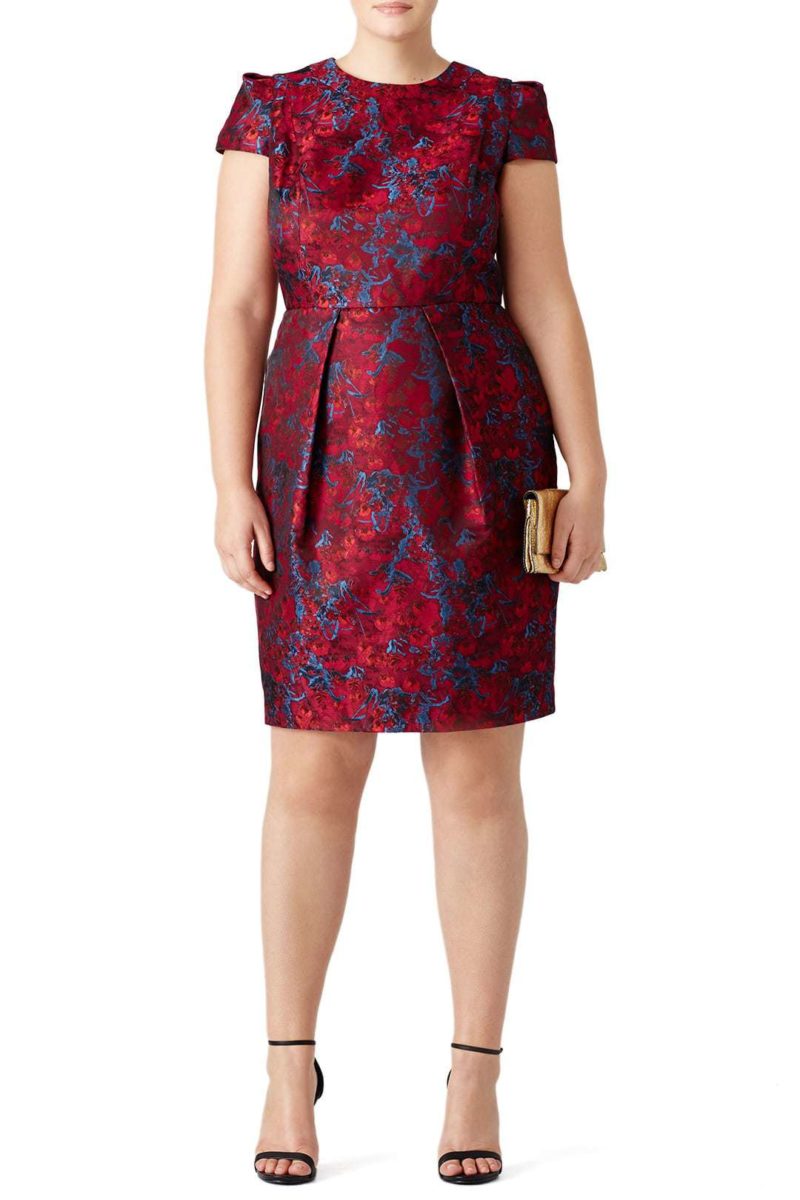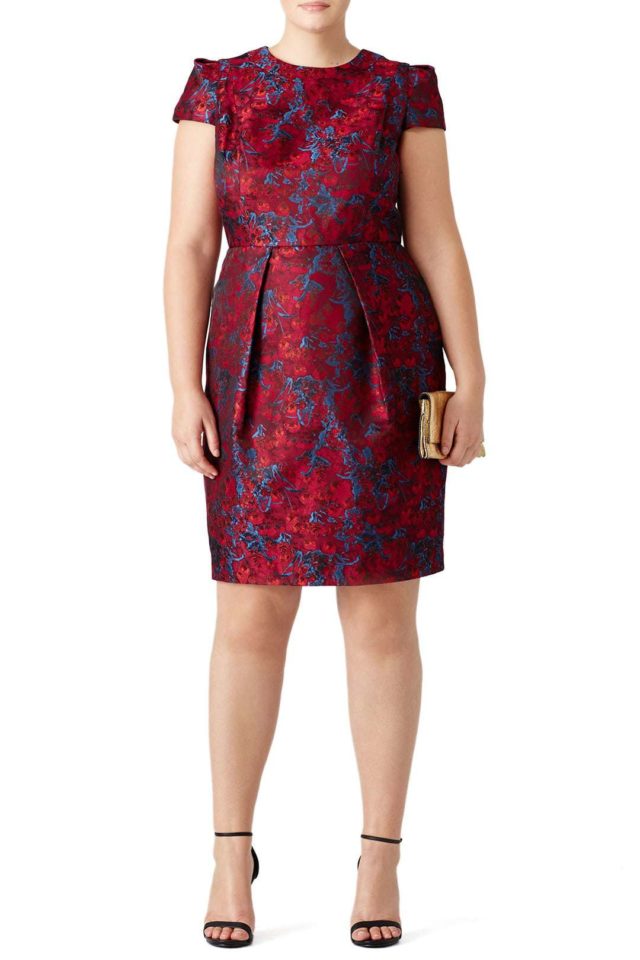 Some may not feel comfortable wearing red to a wedding, but this red and blue blended dress from Carmen Marc Valvo is utterly stunning and I think can work for an affair for a couple that is less traditional or of a culture that doesn't find red to be wrong. Be sure to read the customer reviews, many suggest to size up.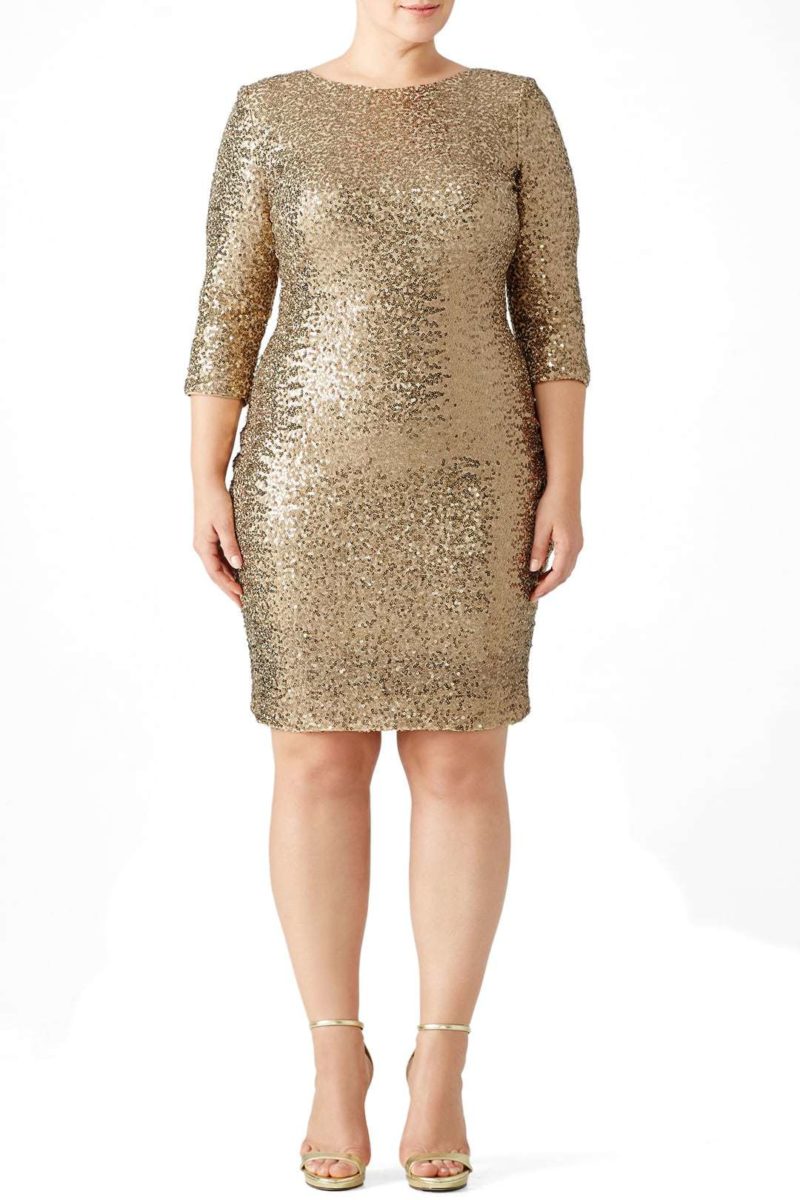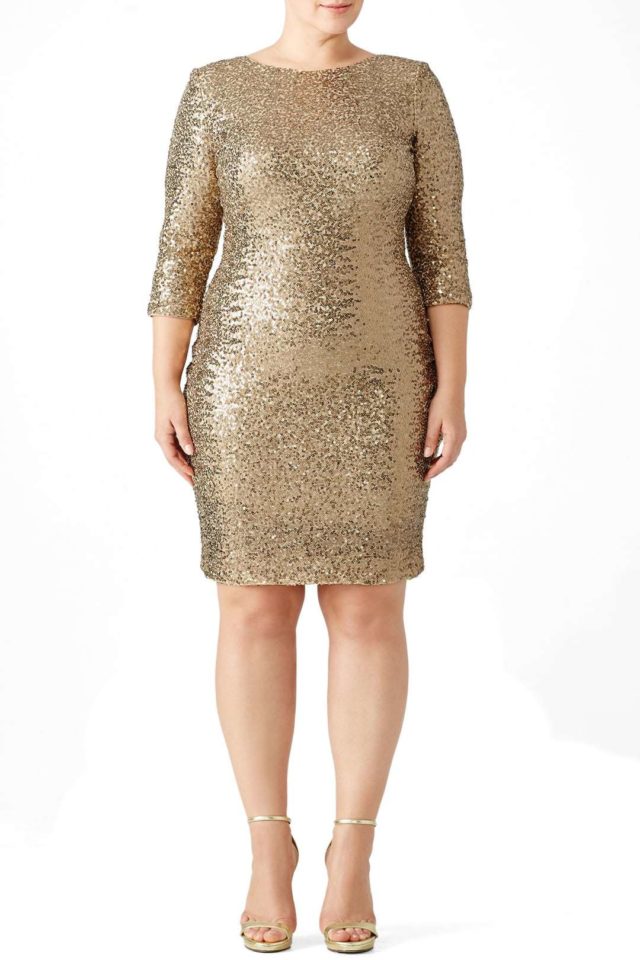 You know the "reverse mullet" dress I linked to above? This one is very similar, but gold sequins, and from Badgley Mischka. So if you like the concept but think this may be a one time wear, this is a great way to wear the fashion for less!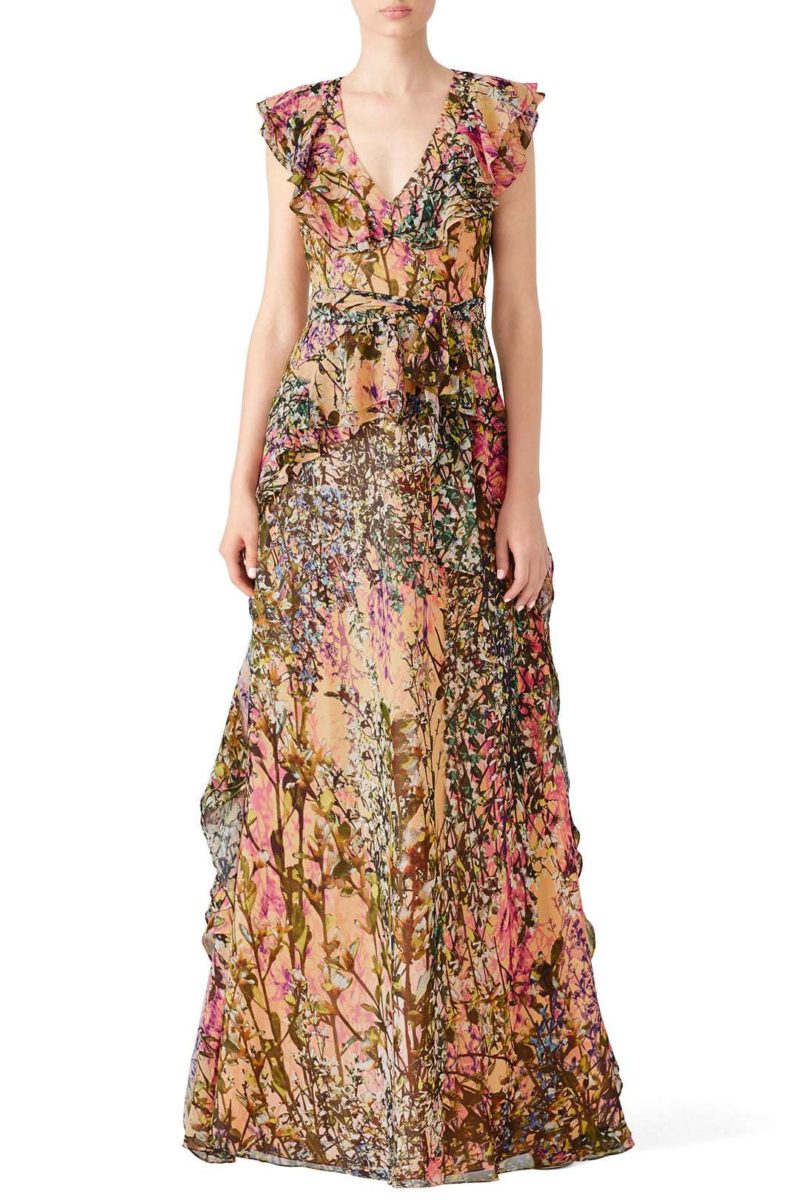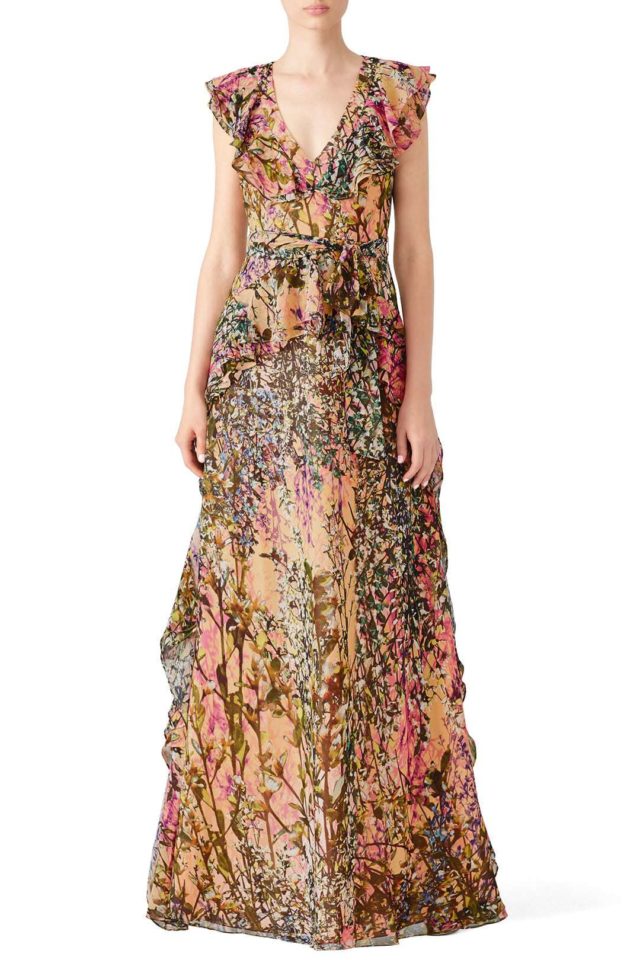 Another stunning full-length dress. This is a print that can skew summer or winter depending on how you style it. I'd recommend black accessories – jet bead jewelry, silk or satin shoes, beaded or dressy fabric clutch to winterize it. Some customers switched it up with a black sash at the waist – that's an easy modification with some ribbon from your nearby craft or fabric store.
Do you have any suggestions for this reader on where to shop for winter evening wedding or cocktail party attire? Share them in the comments!