This article may contain affiliate links; if you click on a shopping link and make a purchase I may receive a commission. As an Amazon Associate, I earn from qualifying purchases. 
This is a sponsored post written by me on behalf of Foot Petals. All opinions are 100% mine.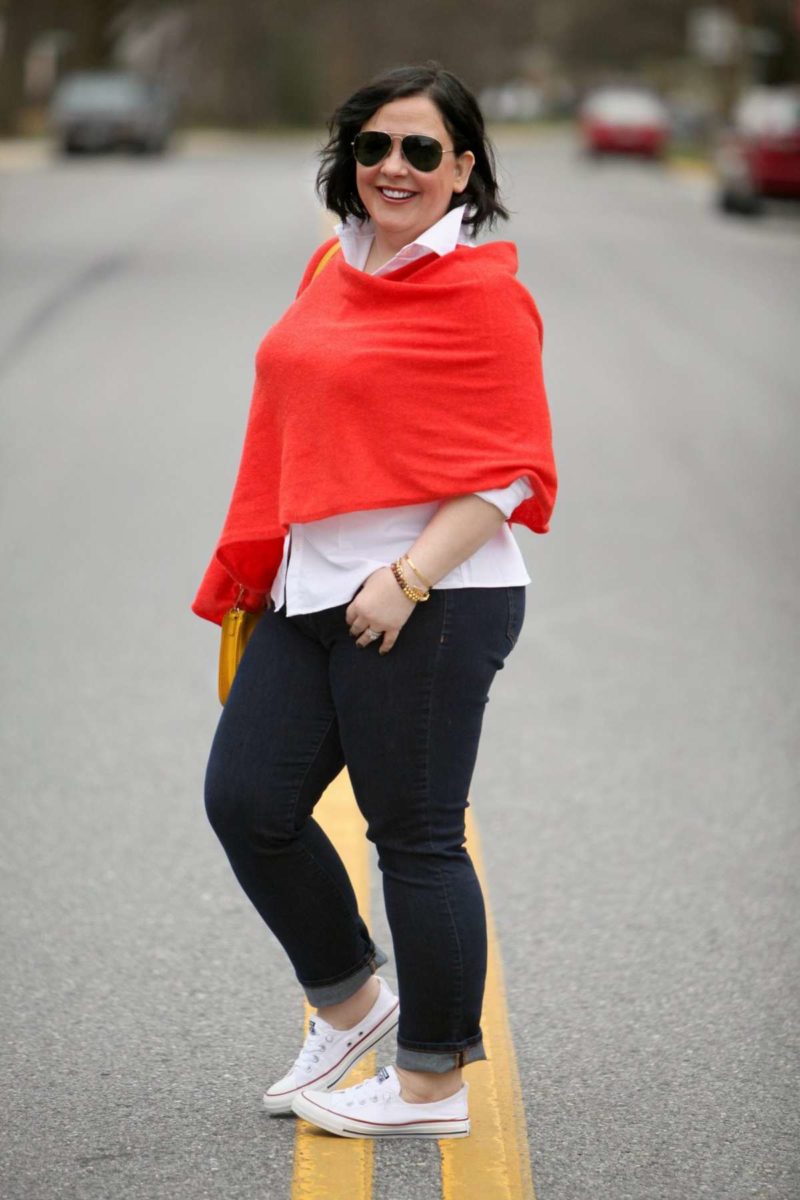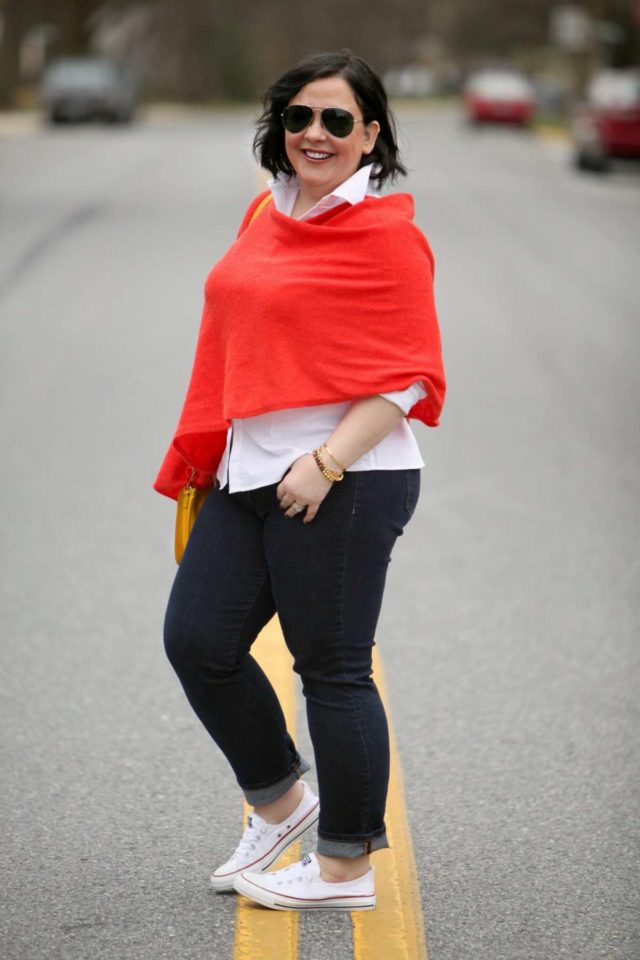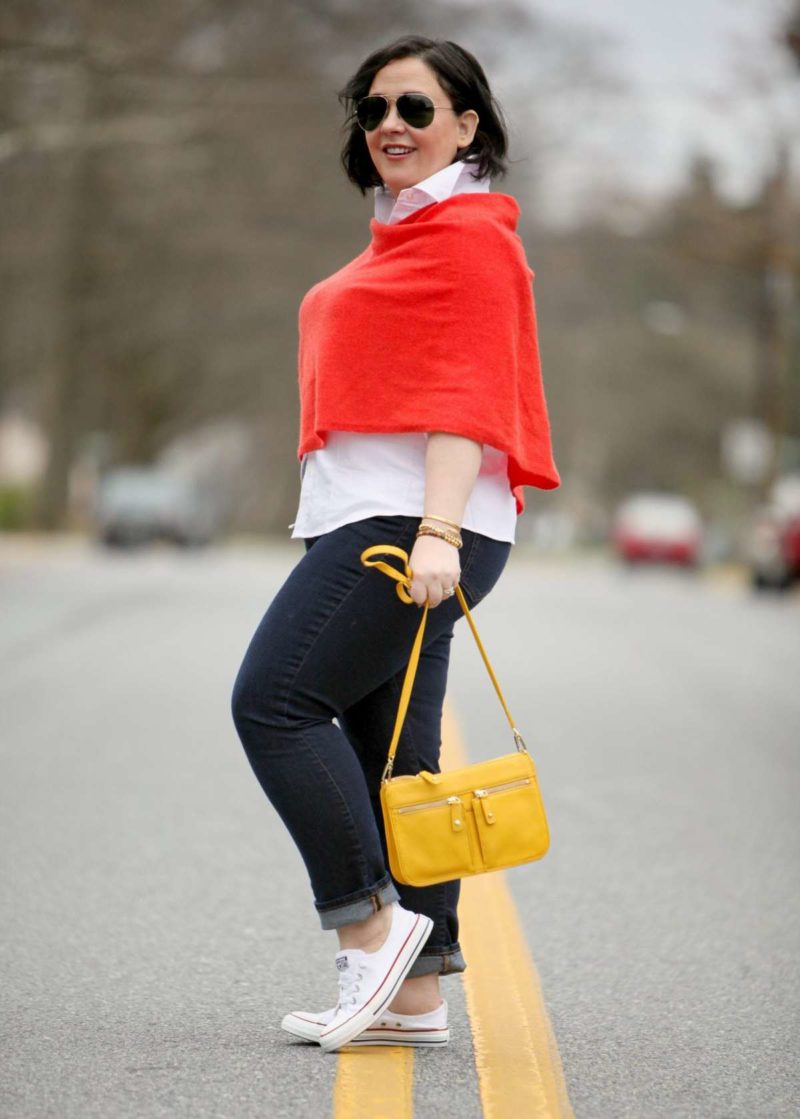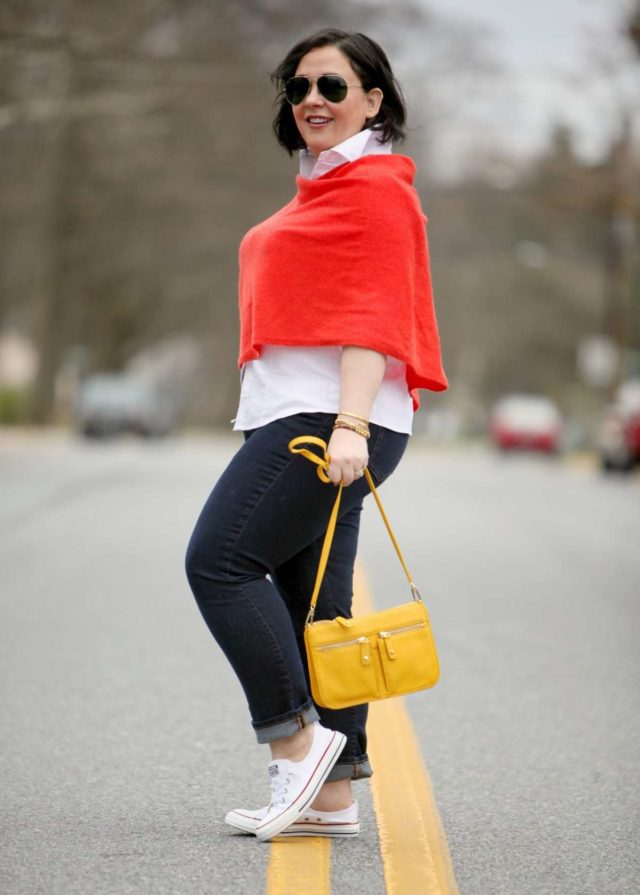 wrap | shirt | jeans | bag | shoes | sunglasses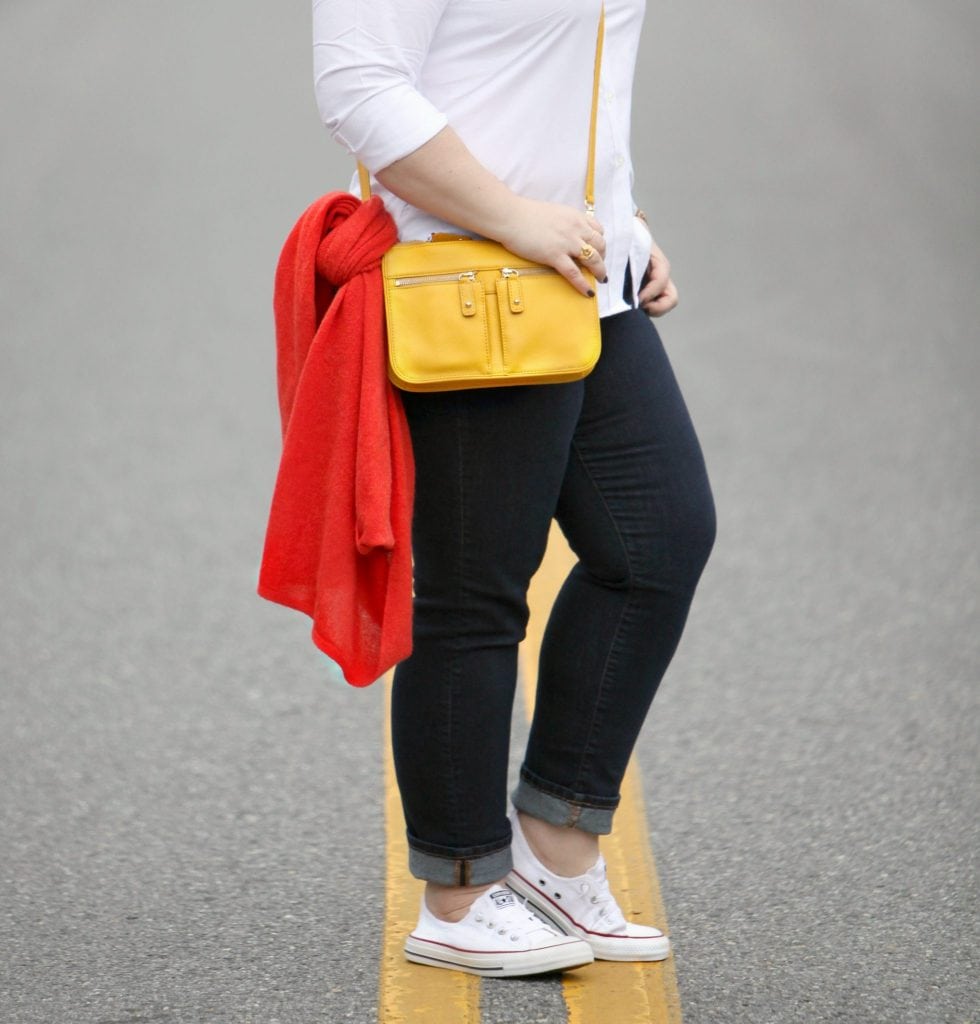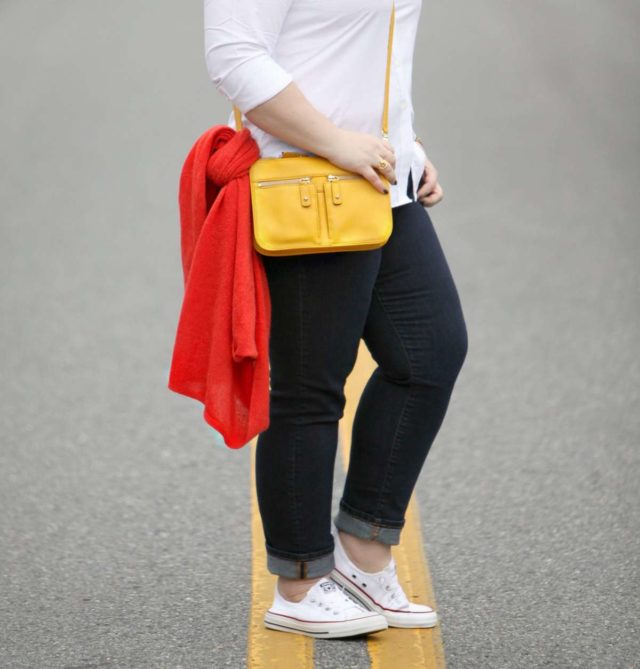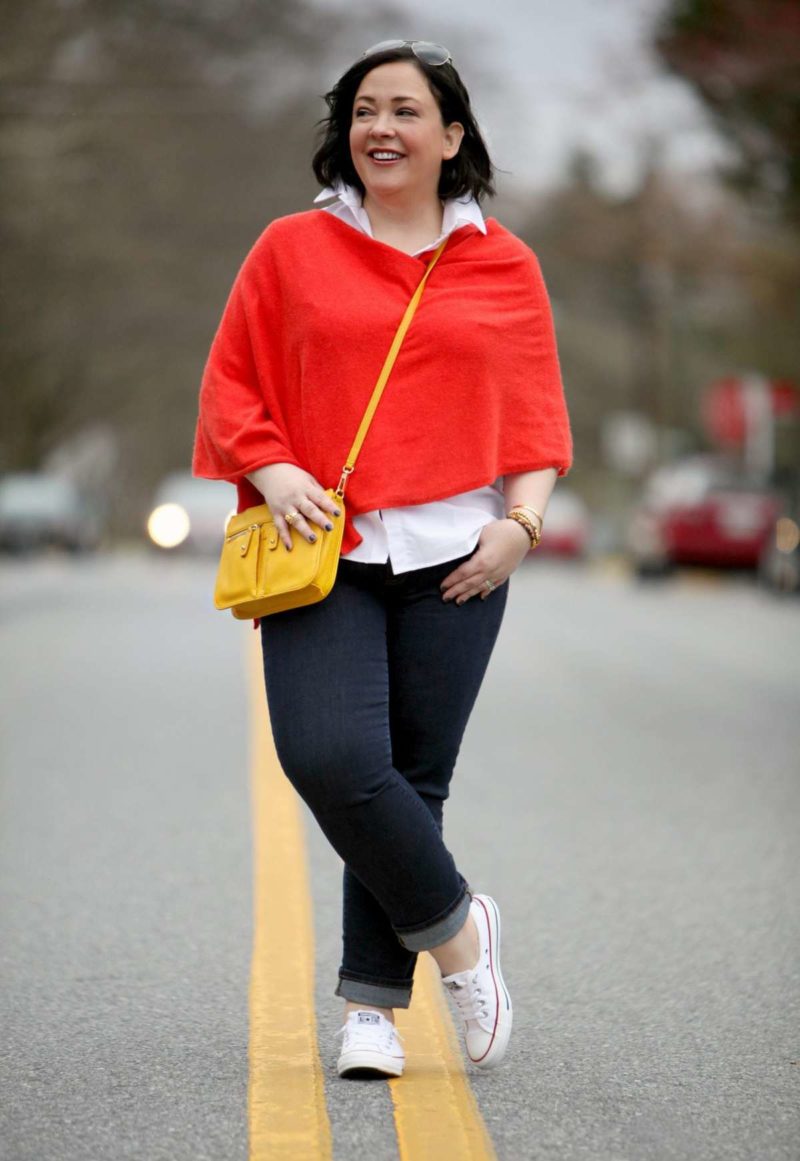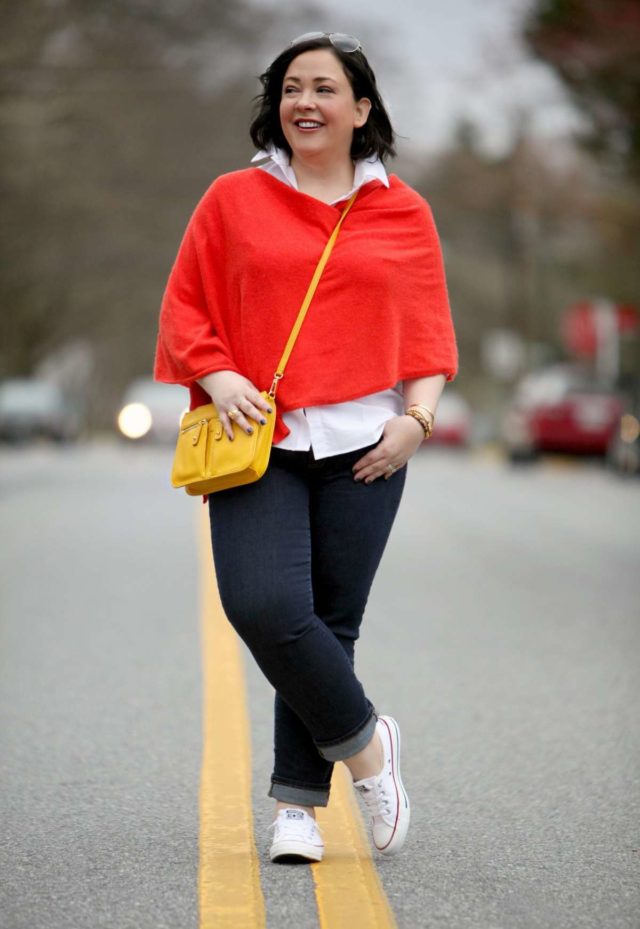 Cashmere wrap: c/o Purple Poppy (OS) | Shirt: Lands' End (L) | Jeans: Gap (32S) | Shoes: Converse | Bag: c/o Talbots (similar) | Sunglasses: Ray-Ban | Bracelets: Rebecca Minkoff (similar), Gorjana, gift (similar), c/o Joseph Nogucci
For a day playing tourist with the family, I look for pieces that have stretch, resist wrinkles, are polished enough for lunch at a sit-down restaurant, but are comfortable. This cashmere wrap from Purple Poppy is the perfect topper because it's warm without being bulky; when the sun comes out I can tie it around my purse strap without any issue. A cross-body is a must to have hands free to take pictures, hold a coffee, or Emerson's hand. I got this one from Talbots last season; I liked their version for this year too, and many other brands also carry bags of this size that have detachable straps. A white shirt is a great piece to have; this one from Lands' End is their oxford so it's opaque and doesn't look sloppy if it gets a few wrinkles. These jeans from Gap are my absolute favorite – a dark wash, a straight versatile fit. This look is a great example of the direction my wardrobe is going – simple pieces with lots of versatility, stylish without being trendy, yet fitting with my personality. These are pieces I grab for on a regular basis, I'd be sure to pack if I was going on vacation, and would be likely to wear if I was going sight-seeing in DC this spring.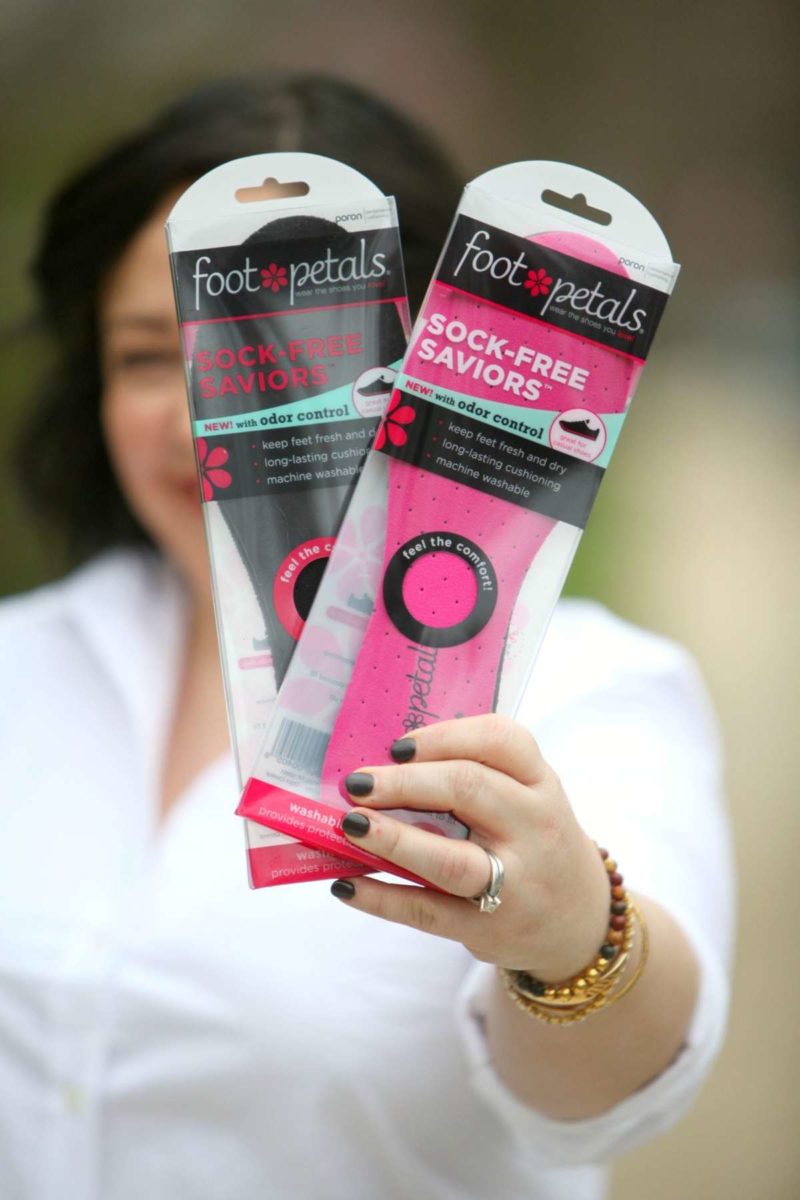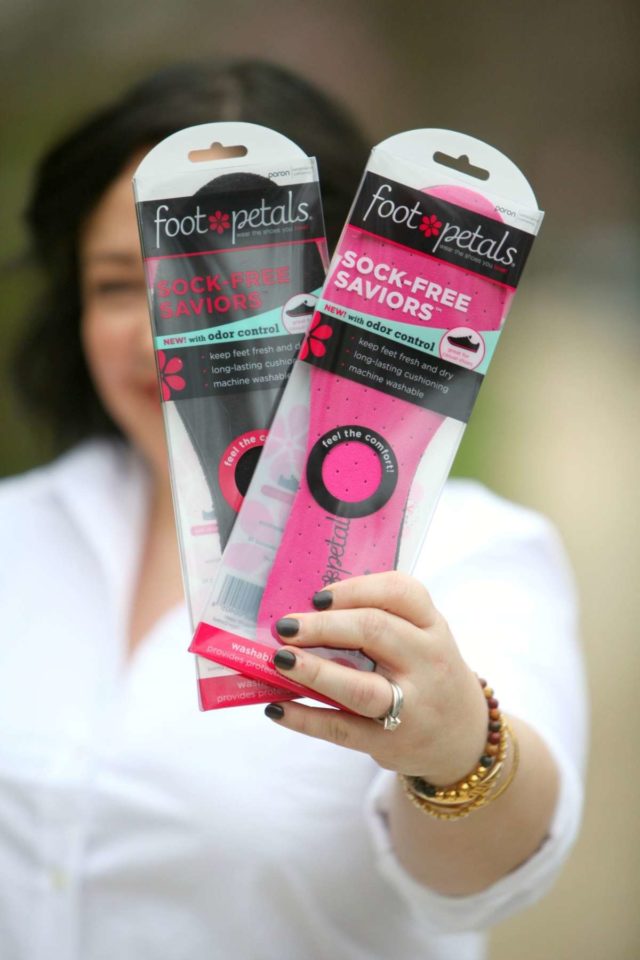 But most important part of an outfit is comfortable shoes! I love these sneakers from Converse, but they're too low-profile for most socks. While they're comfortable without socks, a day on my feet can leave my tootsies sweaty and it cam ruin the shoes. In fact, this is my second pair as last summer's Shorelines are too grody to put my feet into this spring. Foot Petals Sock-free Saviors to the rescue! Foot Petals sent me a few of their Sock-free Saviors to try out in my shoes that I like wearing without socks. These shoe cushions prevent odor with their long-lasting antimicrobial protection that won't wash away and keep your feet cool with and dry by being ventilated.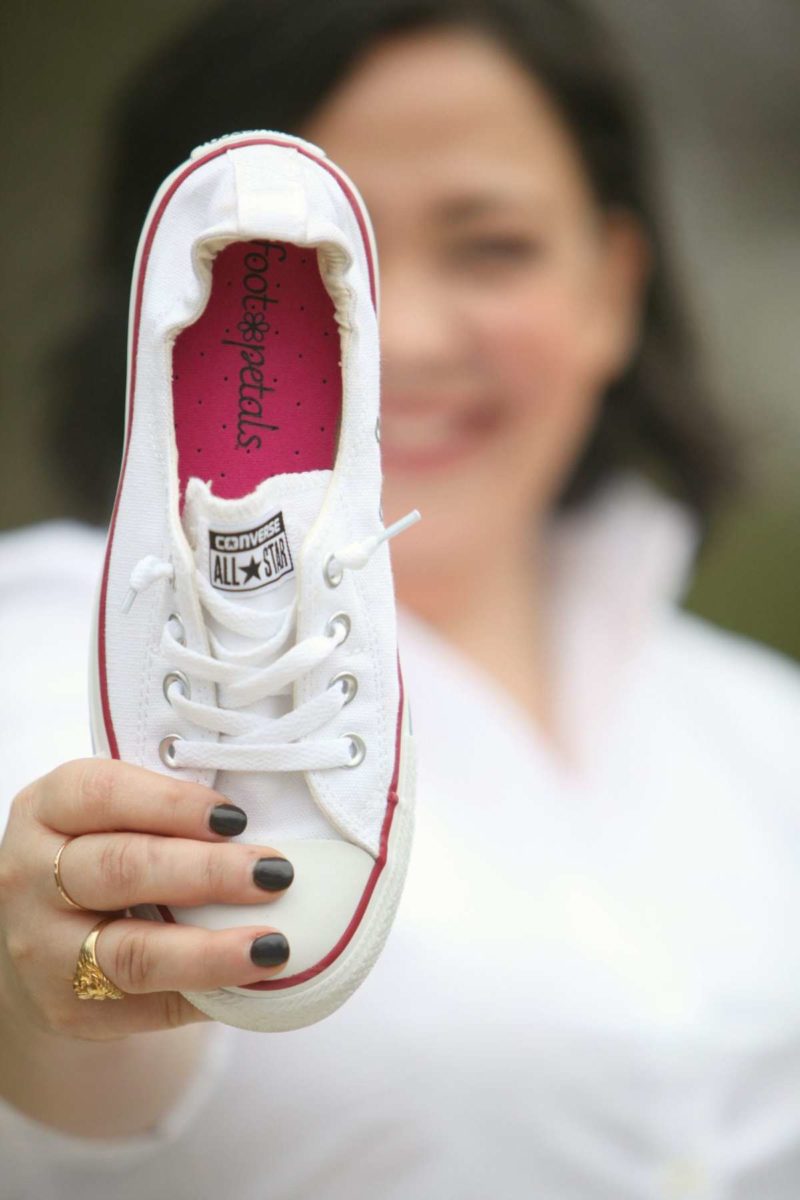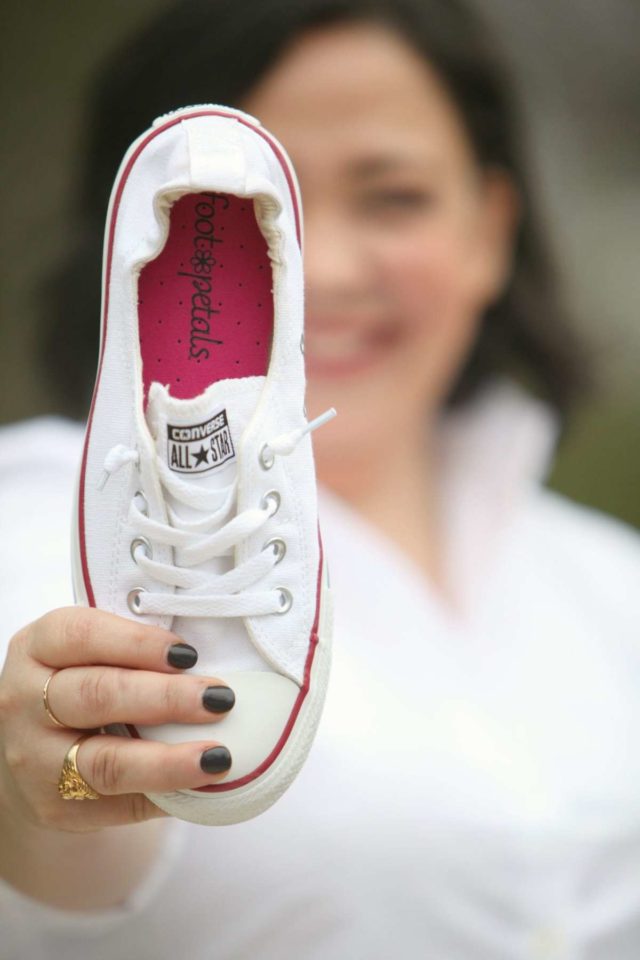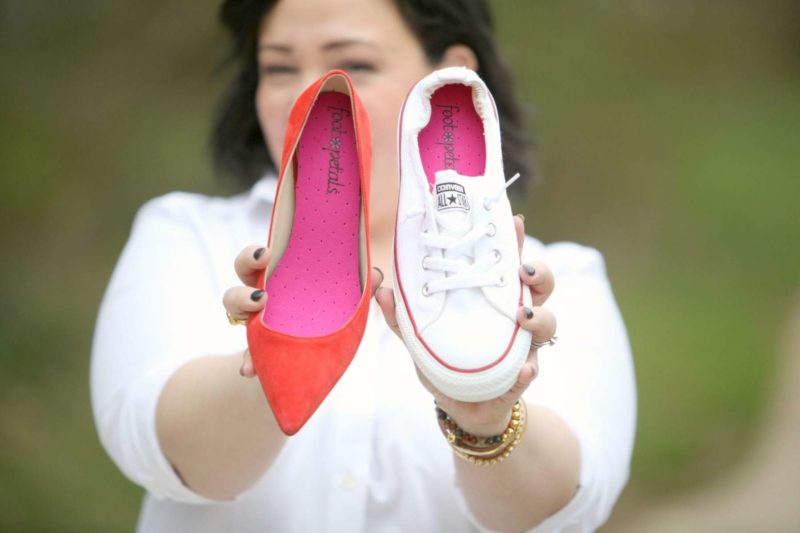 There's one pair of insoles in each package; each insole on the back has a guide to help you trim to the perfect fit. As a size 8 I found I was the Small foot. For the first insole, I trimmed exactly along the lines for the small foot and found the heel was too narrow for my sneakers. However, with some trimming of the rest of the insole I was able to slip it in a pair of new suede pumps. For the second set, I trimmed the top of the insole per the guide and then trimmed off the back straight at the short guide and then contoured to fit inside the shoe. The insoles are pretty thin so I didn't find my shoes too tight with the insole.
April 1st is National Walk to Work Day, but any day is an important day for your feet to be comfortable. Foot Petals' Sock-free Saviors are a great way to do that with PORON® shock-absorbing cushioning and how they prevent the dreaded summer swamp foot. April 1st is during Emerson's Spring Break and I'll likely be walking around DC instead of to work, but I'll now be doing with comfort! Learn more by checking out Foot Petals Facebook.