This article may contain affiliate links; if you click on a shopping link and make a purchase I may receive a commission. As an Amazon Associate, I earn from qualifying purchases. 
It's the time of year for buying swimsuits. Last year I decided to make do with what I had – my Lands' End paisley bikini and a turquoise halter one-piece that was gifted to me eons ago that is showing its wear.
Bad move, Allie.
While the bikini wasn't bad, my body has changed over the years and it's just not as cute as it was. And while I'm all about a fun and colorful bathing suit, I just don't think my personal style is pink paisley. I'm all about rocking a fatkini and wearing what you like no matter your shape or size, but as a 41 year old woman who had a baby, nursed that baby for over two years, and doesn't consider the gym her home away from home I don't feel comfortable without a bit of support and suckage. Before stock is depleted and I end up buying out of desperation instead of getting what I want, I started ordering from a few places that have brands that cater to large busts and soft curves.  I'm sharing photos of me in these suits, be kind and forgive me for a messy closet!
I first headed to Nordstrom because I had a $20 Nordstrom Note that was burning a hole in my wallet and I know I can take my time trying and return shipping is free.  It's nice to have time to try it, then try it again a week later when you're in a better mood or you're less bloated or you now have a cute coverup to match it with.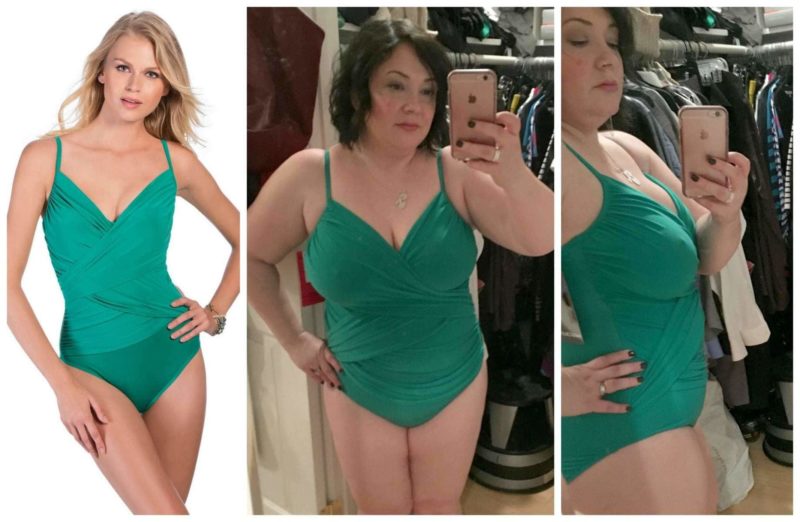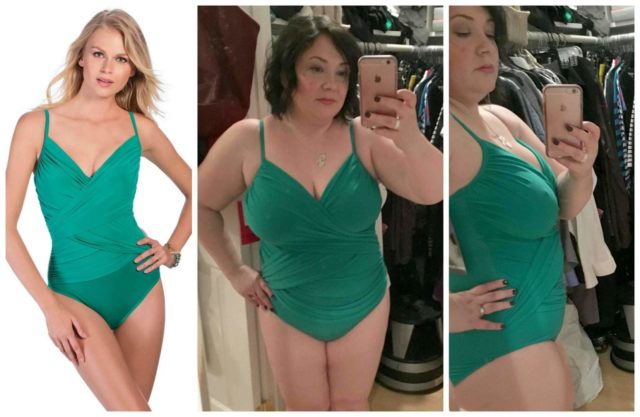 Emerson is turning into a fish and I need a one-piece to keep up with her. I'd also like a suit that can do a few laps while looking sassy. The Harper from Magicsuit has underwire support and tummy-control plus some strategic wrapping to whittle the waist. I liked that the straps looked thinner which made it appear less matronly, and I liked that those straps were adjustable. Available in Emerald and Guava at the time of order, I went with the green. It said to order a size up so I got a 16 against my better judgement.  As an FYI, the links are not for Nordstrom but instead Zappos because the suit currently sold out.
This bathing suit looks like the bathing suit that all overweight moms across America wear to the local pool. The gathered fabric only added bulk, the underwires didn't do much to support and only made my large bust look super droopy and deflated. The top at the bust kept flipping over exposing the nude colored lining. It was also too long in the torso; most hid in the front with the gathers but the back looked especially obvious and the seat didn't fit well. I think a 14 would have been better for fit but this bathing suit wasn't anything to write home about (especially considering it's $160 at Nordstrom and $156 at Zappos) so back in the box it went.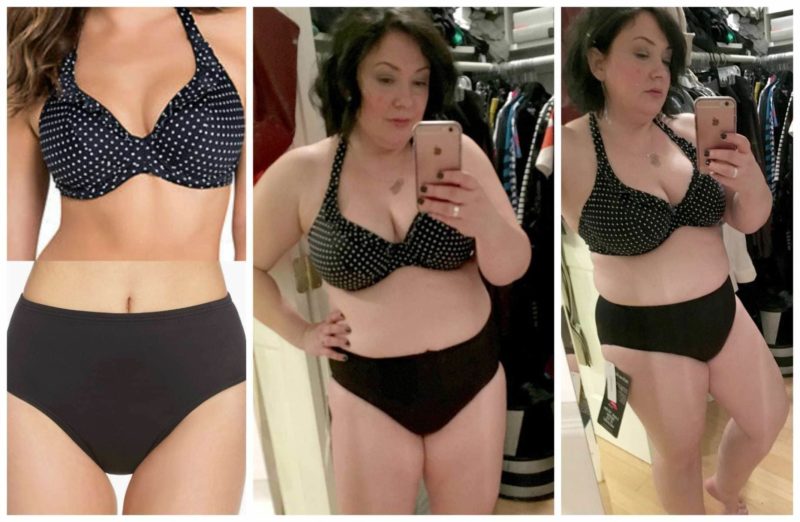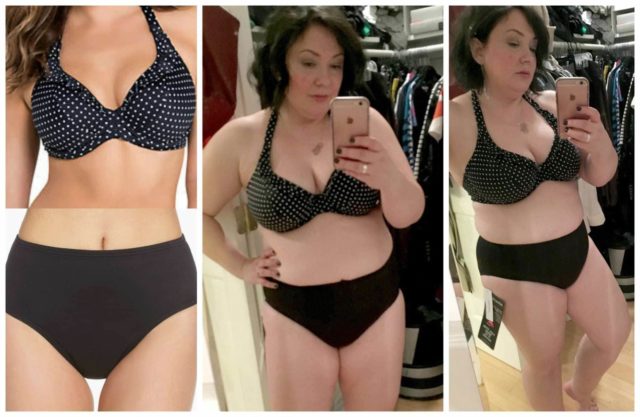 I already own the Freya Pier Halter Swim Top (36F) and I love it. It's cute, but not twee, it fits great, and it makes my bust look amazing. I've worn it with a Lands' End bottom in a deep purple but that bottom never fit well. I figured if all the other bathing suits didn't work at least I could rock this simple black bottom with the top I already own. I ordered the Miraclesuit 'Basic' Swim Briefs in a 14.
This swim bottom is… fine. I think a 12 would have cut into my legs too much. However, because I am petite this is too high waisted to the point that the waistband keeps folding over when I move. But it does smooth the belly without looking weird, it's not too tight, it doesn't have matronly legholes but not so high-cut things are falling out. It's a good basic bottom for those who have found a great top elsewhere (and are also over 5'4″).
Bare Necessities is my favorite place on the Internet for underpinnings and swimwear. With an extensive size range and selection and plenty of promo codes, it's usually the first place I go for bras, shapewear, and swimsuits. The customer reviews are truly helpful and they have swimwear brands that not only come in cup size, but specialize in larger busts.  I actually found more suits than I had money to try; these are the ones I ordered: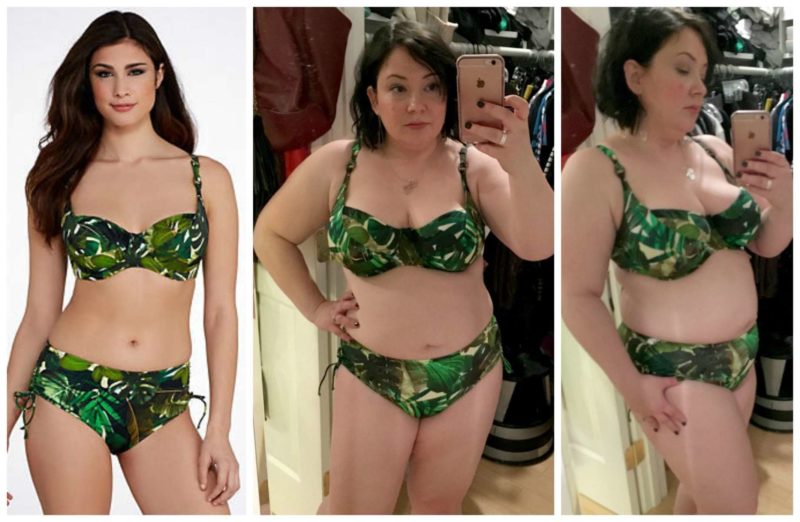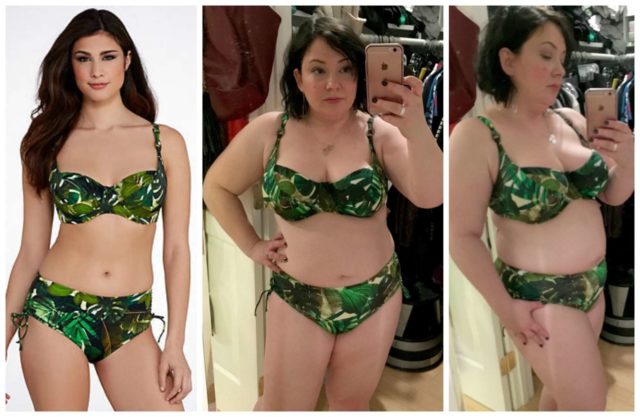 I ordered the bottom in L and the top in 36F and it was a perfect fit. Emerson didn't like this suit, but Karl's eyes popped out when he saw it. It's fun, it's sassy, it's sexy, it's age appropriate without being frumpy. I liked the shape of the swim bottom – high enough to hold in my tummy but not so high it looks weird. The side ties made a lower rise leg opening look stylish. The top fit like a bra: it was supportive, it separated, and it held everything in place as I jumped around and pretended to be bodysurfing on my bed. Thing is… I don't NEED this suit. I have the dotted bikini top, what I really need is a suit (one or two-piece) that is more durable and appropriate for swim lessons and laps at the indoor pool. So it's back in the box but if I suddenly had a tropical vacation on the books or won the lottery I'd reorder this set.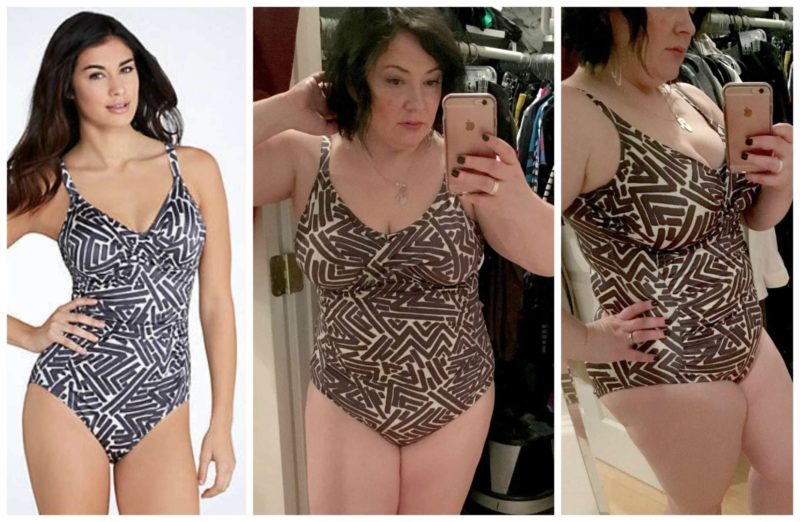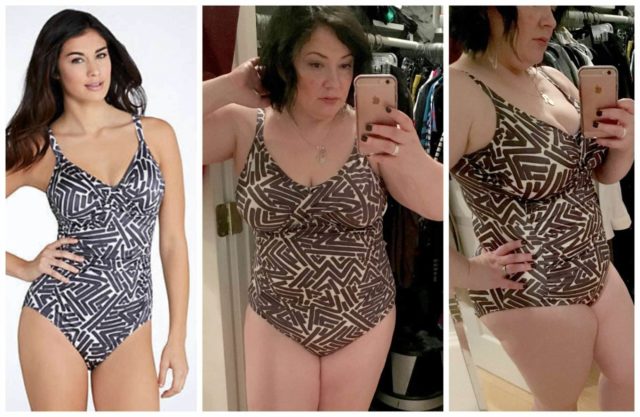 I ordered a 38F. I am not sure why I ordered a 38 instead of a 36. This bathing suit was too big. It was too long, the straps in these photos were shortened as much as possible, and the underwire did absolutely nothing to support or flatter my bust. Also the color did nothing for me. Maybe if it was a different print and maybe if I went with a smaller size but I fear it would still be too long in the torso and make my breasts look older and saggier than they already are.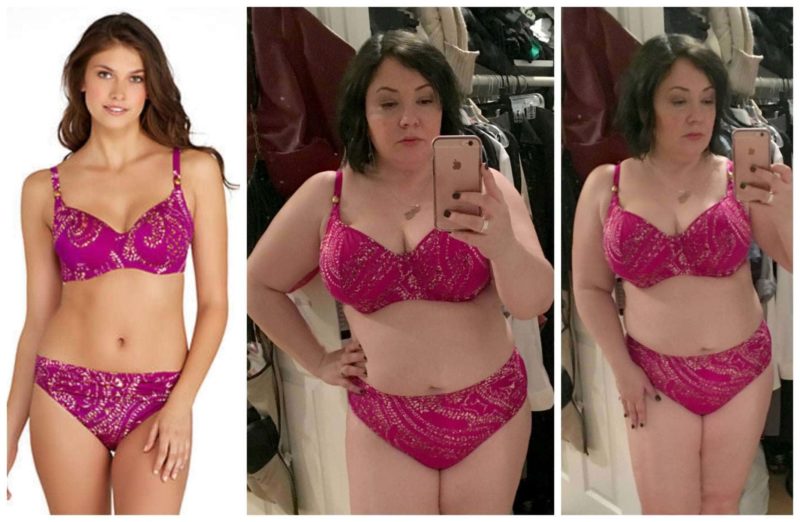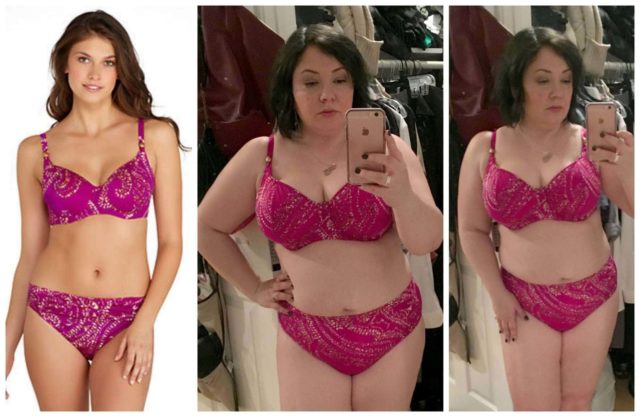 Again I ordered the bottom in L and the top in 36F. While the top has the same name as the jungle-print one, this one has molded cups. The bottom was a simple traditional brief without a lot of frou-frou (I don't know if it's my size but I didn't see a lot of gathering going on). In theory, with these details I should have loved this suit. I wear molded cup bras and I like bathing suits without gadgets and frills.  I also love this color.  But it just didn't excite me.  With a bust of my size and my short stature this molded cup type of top overwhelmed me and made me feel like they were too big, too pronounced, too lifted, and solid like a suit of armor.  However, this bikini top surely did lift and support!
Eh, it was $29, and though it had a couple ruffles on each hip it was pretty basic and it was black and I figured I could wear it with my Freya bikini top.  There are no pictures because this bottom was so ill-fitting I immediately pulled it off and threw it across the room.  These are the kinds of bathing suit pieces that make women hate their bodies.  I ordered a UK 18 (US 12, but the measurements matched me).  The fabric was stiff, the elastic hard and hurt.  It cut into my rear, cut where my legs join my body, dipped so low in the front when I bent over my belly spilled over the top, yet in the back it folded over because it was so high.  I'm glad it was the last piece I tried on; if it was the first I may have given up and not even tried the other pieces, it was so awful.
I may have reviewed some pretty expensive bathing suits in this post, but this is something that is make or break when it comes to confidence at the pool, the beach, or even the sprinkler in your backyard.  When you wear something that fits and flatters, your posture improves and you walk differently.  Also, if you purchase quality and something that is good to your body, you're likely to wear it more often and it's likely to last more than a season, reducing the cost per wear.  Heck, the Lands' End bikini I am replacing cost me over $100, but is three years old and still in perfect condition.  It is me that has changed, not the suit.  If the suit doesn't look halfway decent, don't blame your body, blame the jerk designers who don't care that most women have figures that don't look or feel as firm as mannequins.  Spend on bras and bathing suits, these two wardrobe items are worth it more than any designer bag, drool-worthy boots, or elegant coat.  Your body, and your heart will thank you.  And this summer, get out there!  Have fun in the sun, YOU DESERVE IT! YOUR BODY DESERVES IT!