This article may contain affiliate links; if you click on a shopping link and make a purchase I may receive a commission. As an Amazon Associate, I earn from qualifying purchases. 
Earlier this month, Karl took me away for a weekend to celebrate my birthday. He planned the trip, letting me know where we were going but we didn't have a really planned itinerary. He also invited our friends to join us. Knowing him and the location, I felt there would be activity – hiking, walks, at least a visit to the gym. The place was full of history; we could end up visiting a museum, a battlefield, or at least walk through the town and do some shopping and sightseeing. And knowing us, I knew there would be at least one evening at an interesting restaurant where I'd want to wear something nice. Also it was snowing that weekend which added another layer of wardrobe complexity. I didn't want to focus on fashion this weekend, I wanted a simple capsule wardrobe that could fit in my Dagne Dover weekender bag and would mix and match for whatever we chose to do that weekend.
Capsule Wardrobe for a Winter Weekend Getaway
I know many could do a simpler wardrobe but y'all know me, I'm not a simple dresser. I like to look cute, and I like my clothes to make a statement. Below is what I took: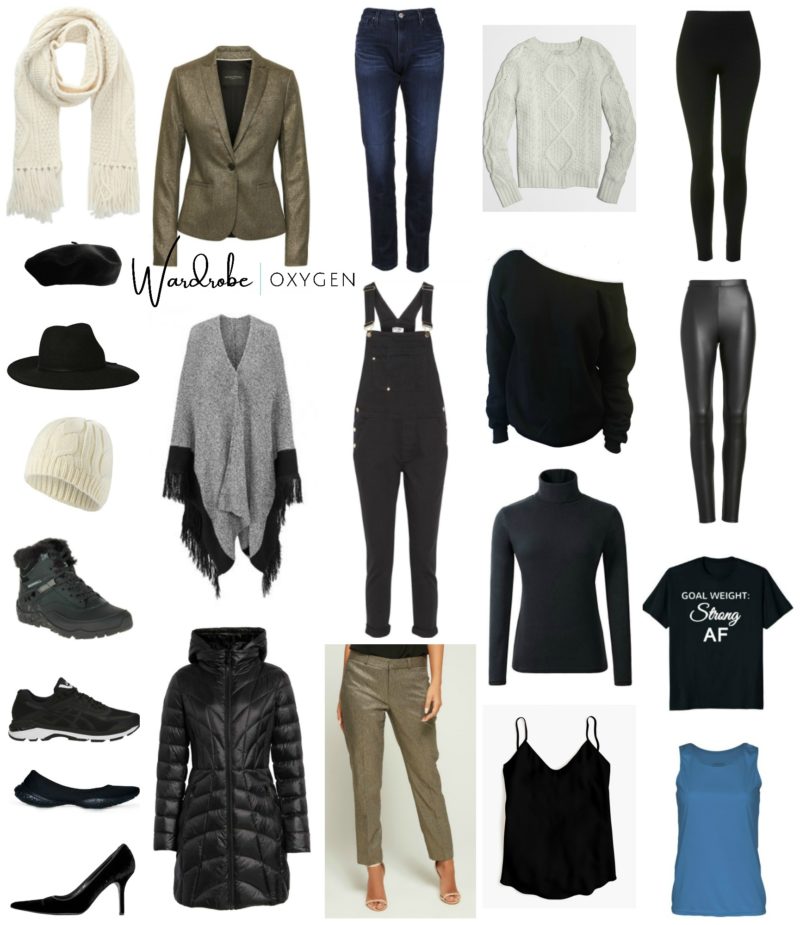 scarf (similar) | beret (similar) | wool fedora | gloves (not shown; pretty much the same ones) | knit cap (similar) | boots | sneakers | flats | pumps | sparkly blazer (same jacket in a different pattern) | ruana (similar) | hooded parka (same brand) | jeans | overalls | sparkly pants (same pants in a different pattern) | cable-knit sweater | off the shoulder sweater (similar) | turtleneck | camisole | winter-weight leggings (similar) | faux leather front leggings (similar) | gym t-shirt | athletic tank
not shown: gold earrings | silver earrings | silver cuff bracelet | black leather purse | fanny pack | weekender bag | Thermaskin leggings
Shop the Capsule:

Many of these pieces are from my core wardrobe; they're pieces I wear often and have gotten to know so well I know how to style them in different ways.  Since they are core pieces, most of the items are no longer in stock.  I tried to share similar pieces and below I'll break down why these kinds of pieces worked and were chosen.
Pieces were mixed and matched, and a few events didn't take place.  Below I share what I did and what I wore: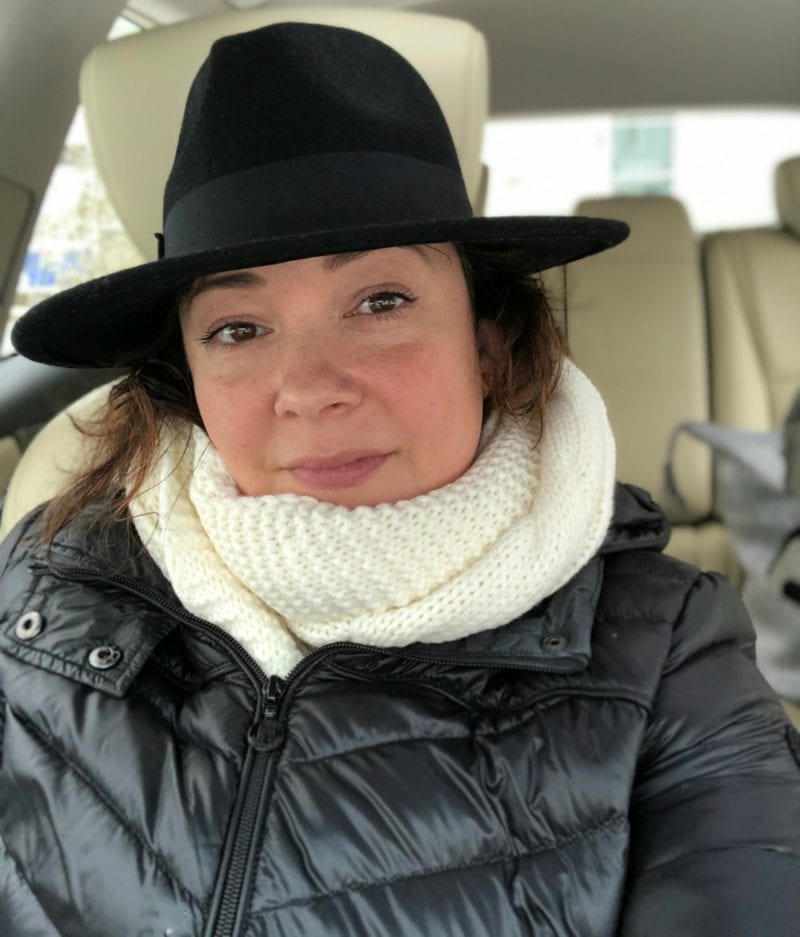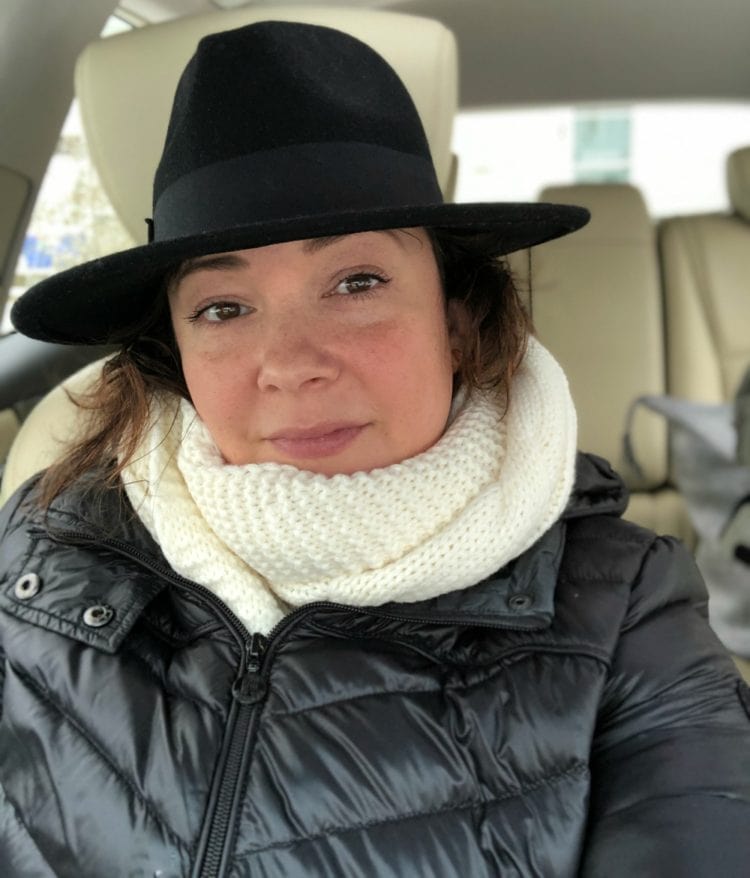 Drive There and Friday Afternoon: I wore the cable-knit sweater with the jeans and snow boots. I didn't plan on taking it but wore the fedora since it was actively snowing, and the cable-knit scarf with my hooded parka. In my pockets were black leather gloves. This look was warm, comfortable for the drive, but also polished enough if we stopped for a meal and to give a good impression when checking into the inn.
Style Tip: While I brought a larger purse for the trip, I used a fanny pack as my purse for the trip there and back. In it I put just the things I would need on the road so I didn't have to dig under or behind the seat and I have more leg room for the journey.
Friday Night: Our dinner the first night was at a brewery, so no need to get glammed up. I wore the black turtleneck, the ruana, and the leather front leggings. While I envisioned this look with the pumps, due to the ground possibly being icy from the snow, I instead wore the flats. If it had been dressier, I was considering the sparkly blazer with the turtleneck and jeans.
Style Tip: A pashmina or ruana is a great addition to any travel wardrobe.  It can be a scarf, a blanket, an extra layer under your coat, even a makeshift robe in your hotel room.  Also a ruana can drape over basic and possibly well-worn pieces from your travel wardrobe and make them look new.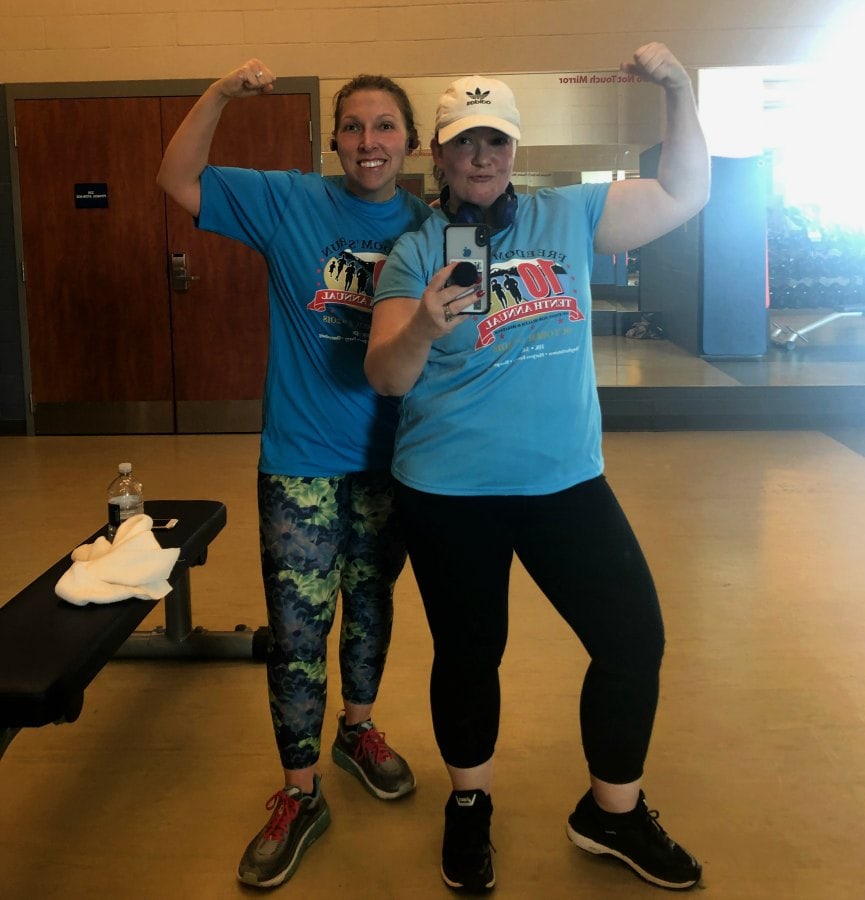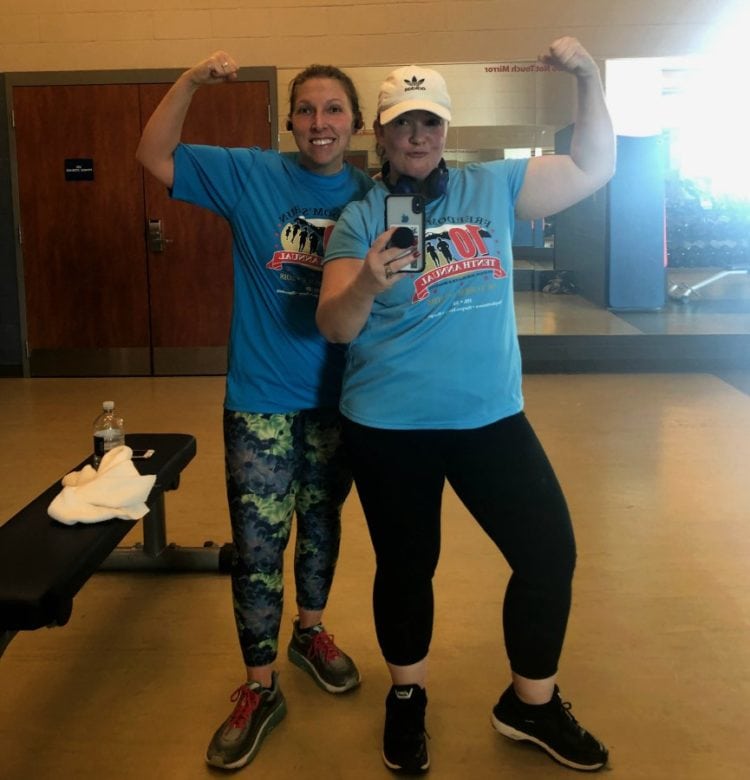 Saturday Morning: We had room service for breakfast, so I enjoyed it in my hotel bathrobe. After, we headed to the gym. I wore the winter-weight leggings and athletic tank with my sneakers.  I used the fanny pack as my purse. The gym loaned us t-shirts to wear because they require sleeves and neither of us had a sleeved shirt on; hence the matching shirts.
Style Tip: If you pack matte solid black leggings, if you don't hit the gym they can also be worn as streetwear with longer sweaters.
Hiking Attire: If we had gone hiking, I was going to wear my winter-weight leggings with the Thermaskin leggings underneath (done this combo before and it's comfortable) with the turtleneck, the parka, and the boots.
Style Tip: Lands' End Thermaskin is amazing.  It's super lightweight and silky and easily slips under jeans and even leggings.  I often wear them under maxi skirts in the winter to stay warm without bulk. Besides their pants, Lands' End carries a variety of tops and camisoles from the fabric.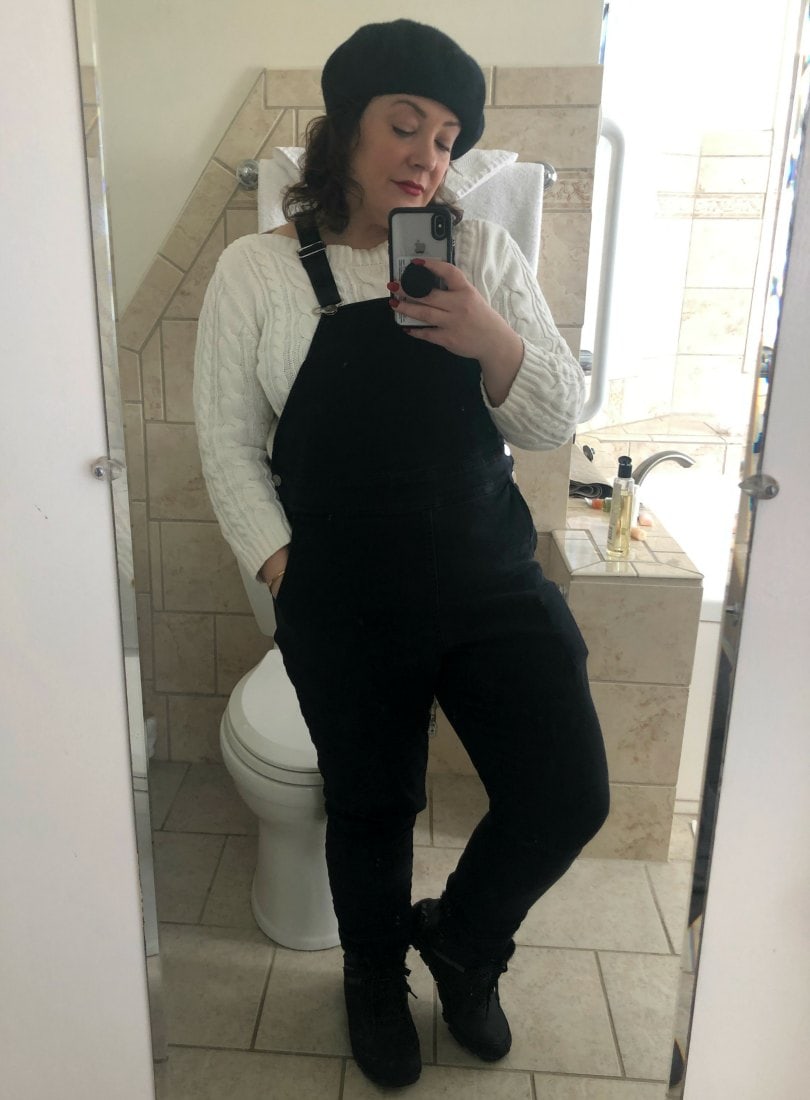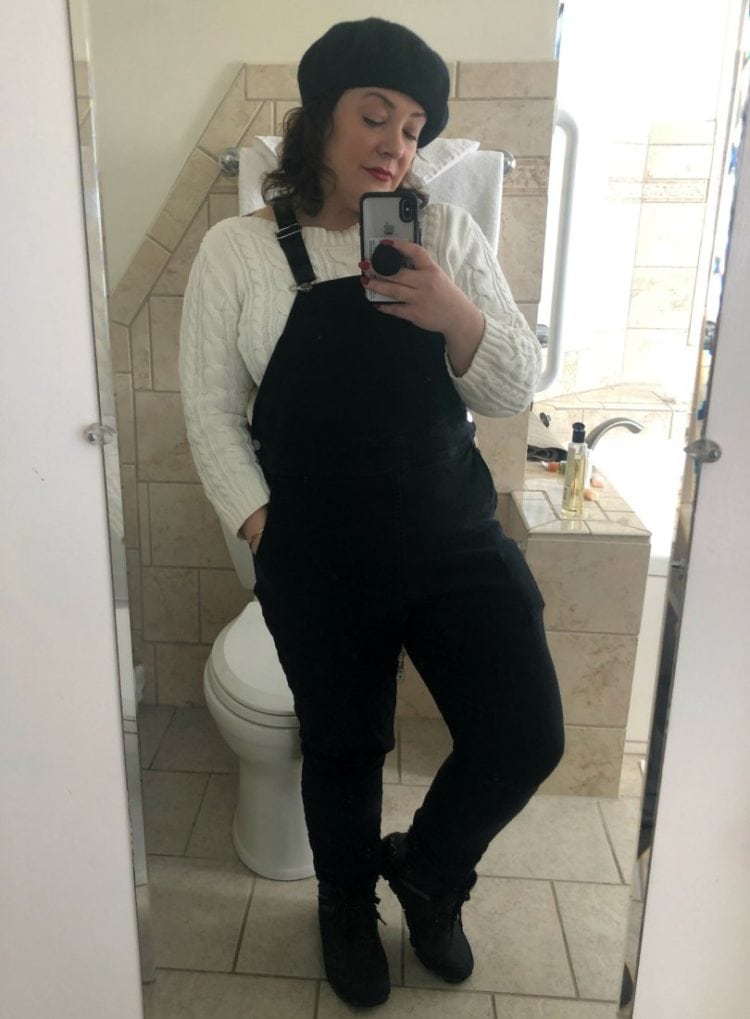 Saturday Afternoon: We enjoyed a late lunch at the hotel bar and lounge and then went outside to enjoy the fire pit. I wore the cream cable-knit sweater with the overalls and boots. To make the look more polished, I added red lips and my beret.
Style Tip: Hats don't take a lot of space and can truly transform a look.  People notice the hat before they notice your outfit.  Even better, hats can hide a bad hair day!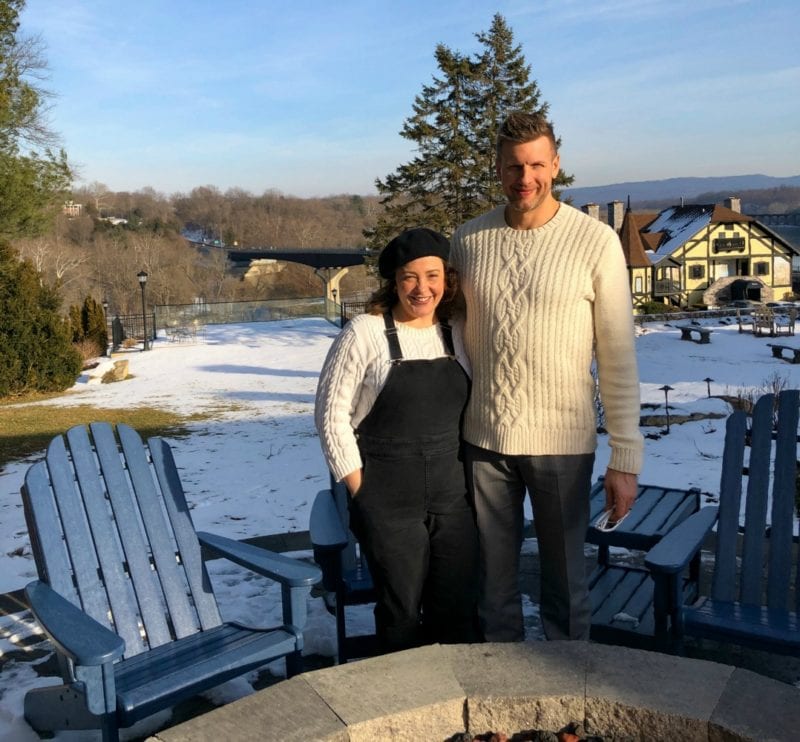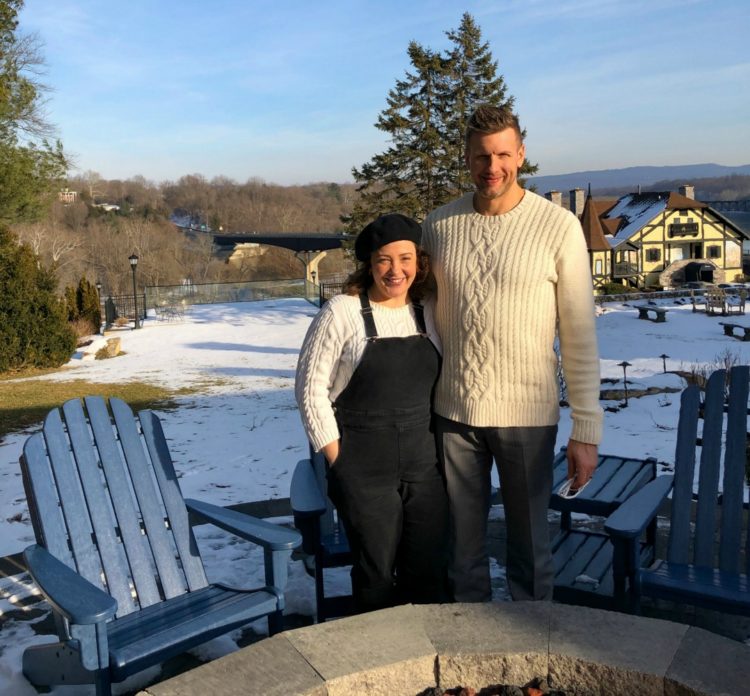 Saturday Early Evening: I wore the black off the shoulder sweater with the black leather front leggings and flats. We just lounged around, but this would have worked if we went downtown shopping or for a cocktail.
Style Tip: No matter the itenerary, be sure to have a pair of comfortable shoes for walking that can go with your dressier looks.  Whether there's an unexpected trek from the parking garage or you ended up with some blisters from the day's hike, you'll be glad to have them.  I also used my flats as slippers in the hotel room!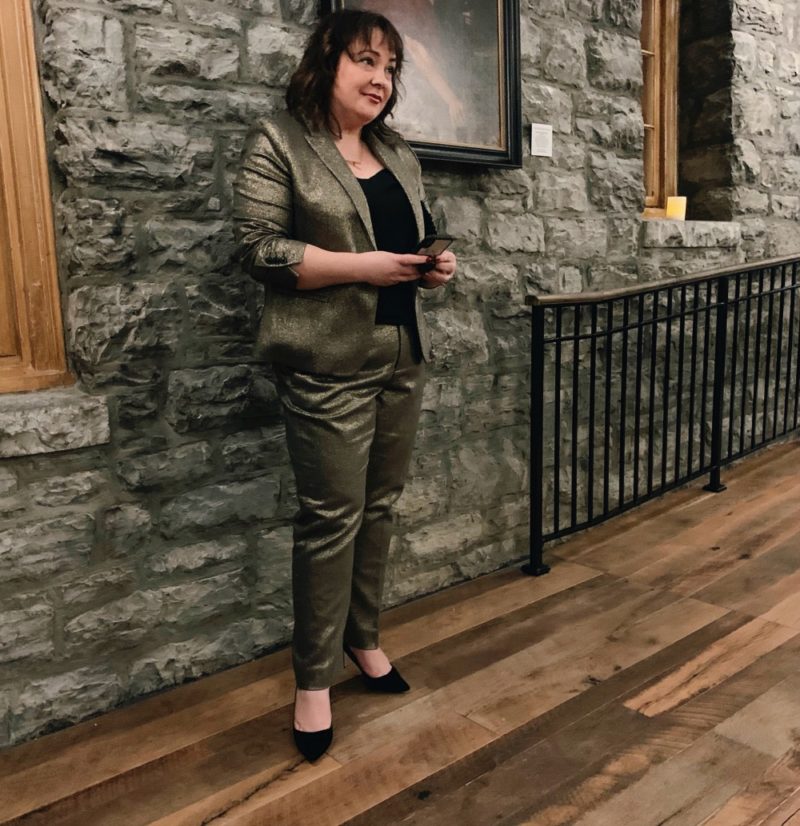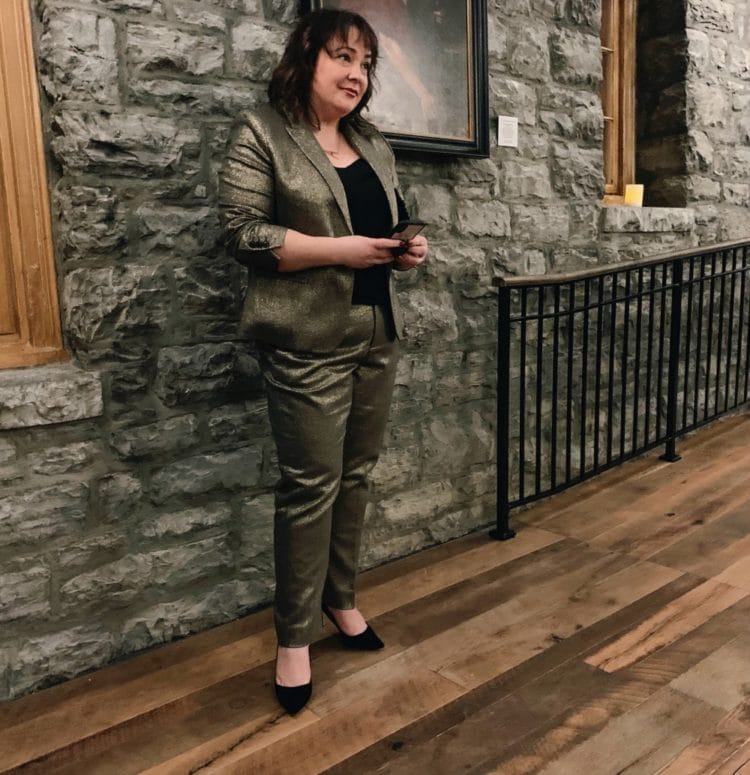 Saturday Night: We went to a nice restaurant for dinner so I wore the black camisole, glitter blazer and matching glitter pants and the pumps. If we were going out after, I'd remove the blazer. Alternatives would be the cami and blazer with jeans, or the cami untucked with the leather leggings and the blazer.
Style Tip: Especially when you pack minimally and with utilitarian pieces, it can be fun to throw in a fancy outfit. It's a refreshing change and can make an occasion feel more special.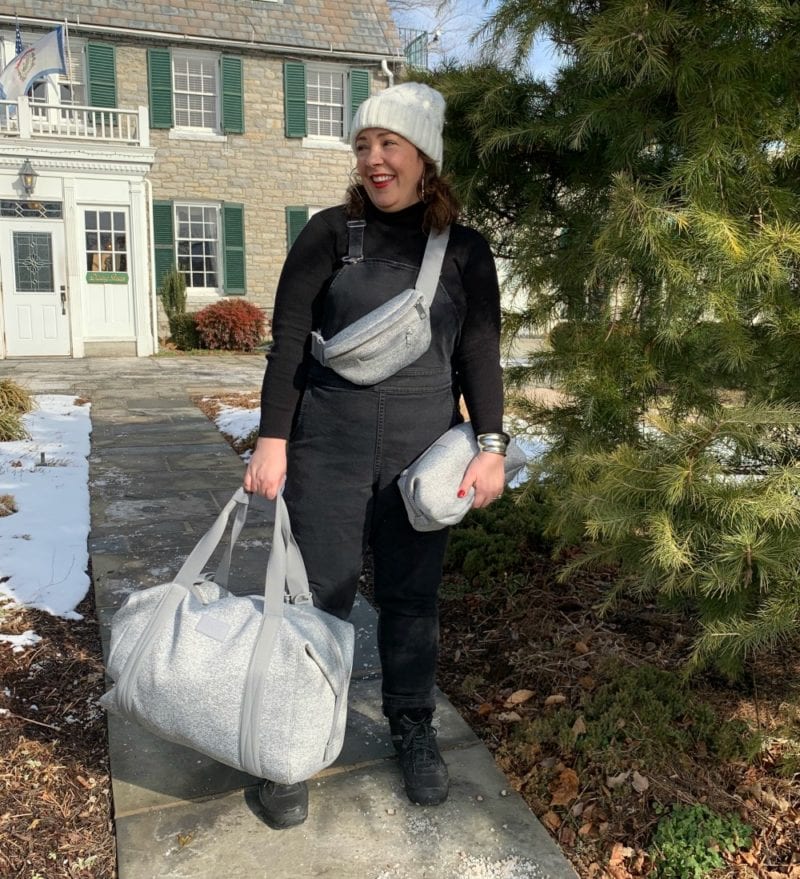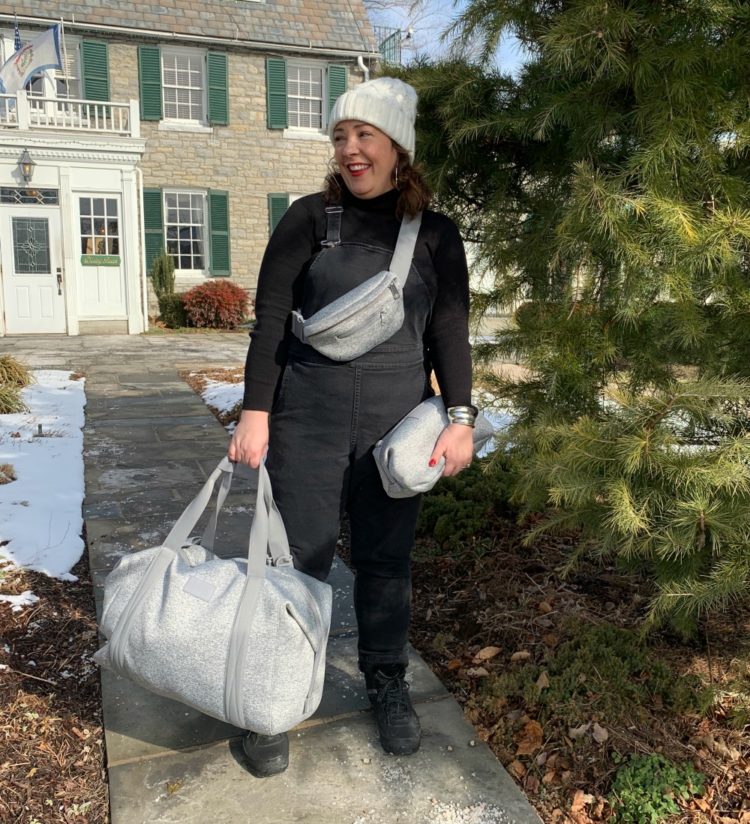 Sunday: We didn't go to the gym, but if we did I would have worn the same leggings with the second gym shirt. Instead, we went to brunch and took a walk. Again, I wore the overalls, this time with the black turtleneck. Since it was a casual day, we'd possibly be outside, and there was still snow on the ground I styled the look with the snow boots, the cream hat, and red lips. I wore this same outfit for the ride home.
The Reasoning Behind the Pieces in this Capsule Wardrobe
Why Overalls? I love overalls, I rave about them here and wear them on a weekly basis. Overalls are casual yet unexpected.  Paired with a black top, they're often overlooked.  With a contrast color, they make a statement.  Pair them with big earrings and a little tank for a night out of live music or beers. They are comfortable on a long ride, and comfortable after a large meal. Also, they don't look weird when paired with my snow boots.
Why a Sparkly Suit? Well, I recently got this suit from Banana Republic.  It was on clearance, then 40% off, then an extra 10% off if I used my Banana Visa card and then I had some Gap Rewards so the whole suit ended up like the price of a knit top. And it arrived the day before we left and it was my birthday weekend so I made sure to make it work with what I was taking!
Why No Color?  I honestly didn't realize the lack of color until I made the capsule graphic at the top of the post! The suit easily could have been a bright color, same with the ruana and the off the shoulder sweater.  However, everything else was a neutral for a very specific reason.  Black and cream are both great at being able to dress up or down. This cream sweater I've worn with cream wool trousers and pearls, cream jeans and black ankle booties, a pair of shorts, all my regular blue jeans, black leggings of ponte and faux leather, and plaid ankle pants. If this sweater was blue or red it wouldn't have as much versatility.  Same with the turtleneck; in black, it can look elegant with a suit or long skirt yet can also be paired with jeans and sneakers. Color is an accent, and unless you have a primarily colorful wardrobe, the pieces in a capsule wardrobe that should be colorful are the more accent of garments.
Why So Many Hats? I had the room.  I love hats, especially on weekends when I don't want to waste precious chill time drying and styling my hair. I always take one hat that in desperation could be worn to dinner (the beret is often the one I choose), and one that wouldn't look crazy if worn all day (different from the beret so I don't look like Beret Lady all weekend).
Why So Many Shoes? I could have easily changed my dressy looks to work with flats. But the thing is, I didn't want to.  I wanted a couple of outfits that made me feel fierce, and that weekend a pair of pumps were my ticket to fiercedom. I knew I'd be going to the gym and we traveled during a snowstorm; it made sense to carry separate shoes for the two situations.  I did buy all-black snow boots for this very reason – black boots with black jeans or pants (or overalls) sort of blend into an outfit and make them so you can wear out to dinner without looking like you just left the slopes.
Did You Plan To Twin with Your Husband? No, but honestly this happens a lot.  We have similar taste so we often end up both in stripes, in chunky turtleneck sweaters, in Adidas track jackets, and very often our cable-knit sweaters. Great minds think alike!
Shop the Capsule: