This article may contain affiliate links; if you click on a shopping link and make a purchase I may receive a commission. As an Amazon Associate, I earn from qualifying purchases.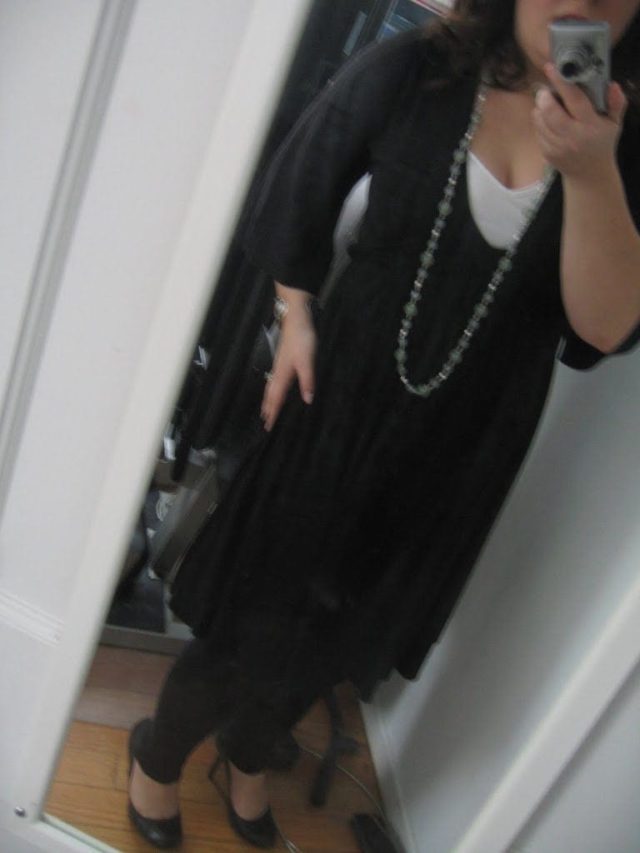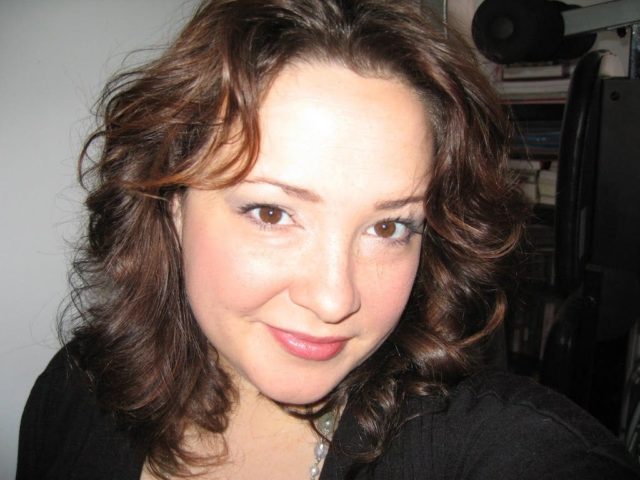 Black jersey dress from Velvet Torch. Underneath is an ivory synthetic camisole from Express. Green and silver necklace from target, silver cuff bracelet. Black heavy tights from target cut off at the ankle, black round toe high heel pumps from Jessica Simpson.
Hair was washed on Saturday night and allowed to air dry. Today random pieces were curled and the whole thing was brushed out and then BioSilk applied to get rid of fuzziness. With this snow and cold, dry weather I am trying to blow dry as little as possible.
Makeup is L'Oreal True Match foundation in C3, concealer in W4-5, a bit of Body Shop bronzer in Light on the face for color and shine reduction, then Smashbox Soft Lights in Tint applied to the apples of the cheeks. Eyes, the Revlon ColorStay quad in Neutral – its ivory shade on brow bone and inner corners of eyes, The Body Shop's Slate on the lid and along the lash lines. On lips is The Body Shop's Sheer Lipcolor in Sheer Strawberry.

Product Reviews:
In the past few weeks I have tried a few new things, and thought I would share with you:
Lush: I was stuck in the Orlando airport for 12 hours and there was a Lush in there. I spent forever in there, let the very nice saleswoman try almost every product int he store on my hands and we got into huge conversations about organic produce, fair trade, and all kinds of hippie things we had in common. She told me about her favorite products and how she uses them versus how the company suggests they be used. We also had a long chat about The Body Shop vs. Lush, and what we love and what we do not about the two. Due to this visit being at the tail end of an expensive trip, I only bought two products…
Sweet Japanese Girl – The salesperson says after a shower while skin is warm and moist, she rubs this cocoa and shea butter-based bar on her face. Little grains help exfoliate. She then wipes with a washcloth or rinses and pats dry. This leaves her skin baby soft and glowing. As that I was suffering from a bit of sun and wind burn, I was eager to try a softening and moisturizing product.
The website says that this product is a cleanser as well, but I don't agree. I have tried it as a cleanser, after a cleaner, in the morning on clean skin and all times I am a little disappointed with the results. I like it best in the morning on clean skin, rubbing on moistened skin, rinsing clean and patting dry. I then use a moisturizer over it that provides extra moisture and sunscreen. The product leaves a bit of a waxy feel on my skin, but does seem to soothe dry places and not clog pores. It's fun to rub on the face and after several uses the face shape is still recognizable, but I don't see this as a Must Buy or a Repeat Buy.

Coconut Deodorant Powder – I am a coconut fanatic. I live the taste, and especially the smell. I own every coconut product that The Body Shop creates because I love how the smell is strong and pretty without being too sugary sweet (hello Philosophy and Bath and Body Works brands). The idea of a powder I can use in the summer on the body with the same yummy scent truly appealed to me.
The product is clumpy, but in a good way so it doesn't fly everywhere. it adheres to the skin without caking. I found the smell to me to be a bit medicinal, but my husband didn't think so. He also didn't notice it outside of my usual coconutty self. Alone, he slightly smelled coconut, but it wasn't too strong. He tried it as well, and I did notice a fresh and fruity fragrance, but couldn't distinguish it and also did not smell the medicinal odor that I smelled on myself.
As for preventing odor, I was not brave enough to hit the gym or a yoga session without my regular protection. I did use it in the places that women sweat and chafe (hello thighs and under the breasts) and found it very comfortable and long lasting. Even with my skin allergic reaction, I tried this product and did not find it to be irritating. I think this is a Repeat buy as a dusting powder in the warm summer months!
The Body Shop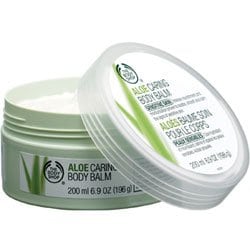 Aloe Caring Body Balm – My husband came home from Mexico and was almost out of the now-discontinued Grapeseed Body Butter. He was looking for a replacement product that was a bit heavier for the winter months, but low on fragrance. I gave him the Aloe Caring Body Balm to try out as that I received a tub of it, but hadn't even cracked it open. He tried it, hated it and gave it back. I had to try it myself to see why he had a strong reaction to it.
The product is fragrance, color and preservative free, so I figured it would be safe on my dry and irritated skin. I was correct, it did not cause any irritation or reaction. However I do not think it moisturized half as well as the Eucerin calming Cream. This product also did not absorb well into the skin. It took hard rubbing to get even a minimal amount to soak in; rubbing that felt more like a Swedish massage than I desired. The scent is a bit strange, like something had gone bad int he fridge and was cleaned up with some anti-bacterial cleansing product. Very fain,t but still unpleasant (this scent was never noticed in the Body Shop Aloe skincare products that I have used). Two hours after application, my skin was itchy, dry and scaly.
The Body Shop's Body Butters are by far the best body moisturizers I have used in any price range. This Aloe Body Balm does not compare in any shape or way, and I would not be surprised if it ends up being discontinued.
And as for a skin allergy update – I am 90% back to normal, a bit on my forearms and a bit on my torso, but otherwise pretty healthy!