This article may contain affiliate links; if you click on a shopping link and make a purchase I may receive a commission. As an Amazon Associate, I earn from qualifying purchases. 
I originally wrote my staples for a woman's wardrobe almost a decade ago, and finally put it on a blog almost five years ago. I have been a size 4 and a size 16 and no matter my job or lifestyle, these staples were always essentials in my wardrobe. Knowing many women over the years – be they clients of mine when I was a stylist, friends or family – these simple items worked on virtually all of them, regardless of their age, their figure or their lifestyle.
Fashion experts will toss around catchphrases like "wardrobe classic," "fashion essential" or "investment piece" all the time, but it rarely holds true. A white shirt may seem classic, but if you are one of the lucky few women who looks good in white and a button-up, you will find that either the cut of the collar will look dated or the cotton will yellow before a decade is through. Pencil skirts have been in style for decades but the actual silhouette of the skirt does change from season to season.
It also is hard to find a garment that not only stays stylish from year to year, but also flatters your ever changing figure. Just as you need to be refit for bras every year because your bustline changes, as does the rest of your body. You may have remained a perfect Size 6 since your senior year of high school, but with age, life events and activity, different parts of you will spread, will sag or will become more firm.
We may feel that we purchase classics, but five years later these simple pieces just may not seem as useful or flattering as they once did. I always suggest that people reassess their wardrobe each season – replace that which has not held up, donate that which is no longer flattering and fill any "holes" in your closet (need another pair of black pants, want to get a cardigan to update a dress, etc.).
Well it is time to reassess my original list of wardrobe essentials. As we head towards a new decade, what is still relevant and what needs to be updated for the times?
Here's a recap of the list from 2005:
Black Tailored Pantsuit in Seasonless Fabric
Black Seasonless Trousers
Jeans
Dressy Jeans
Black Heeled Boots
Black Leather Pumps
Not so Little Black Dress
Silver Hoop Earrings
Black or Grey Merino V-neck Sweater
Trendy Skirt
Trendy Jacket/Blazer
Slim V-neck Sweater in Signature Color
Signature Accessory
Sparkly Evening Shell or Top
The Perfect Tee – or Two
Well-fitting Wool Winter Coat
Great Fitting Bras
Panty Line-free Underwear
Pashmina or Wrap
Clutch Purse
Daily Purse
Sexy Shoes that Can Be Worn for at Least Five Hours
Sunglasses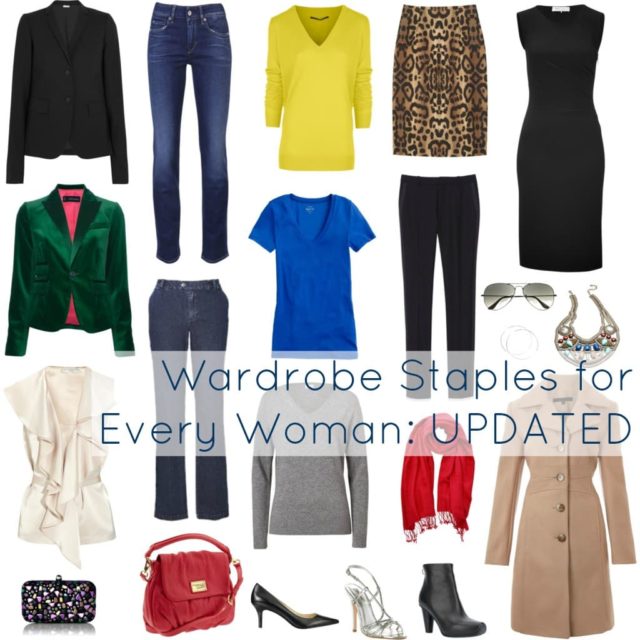 So, what is still a classic? What could be revamped for the new decade? What is totally passé?
1. Black Tailored Pantsuit in Seasonless Fabric. When I wrote this list, I found a black pantsuit essential, and had one in my closet at all times since my junior year of college. I may have worked retail, creative, corporate but always found a use for a black suit. I would pair it with a sparkly top for a cocktail party, was so relieved to know it was ready in my closet for an unexpected interview or client meeting. If I was visiting a house of worship or a daytime event, I knew the black suit would usually work with a silk blouse or fine knit shell. I would use the suit as separates.
I currently do not have a black suit in my wardrobe. I have been at my current job for two years and have only had ONE occasion where a suit could be useful, and I was able to wear a dress and closed-toed shoes and looked completely appropriate. When I speak to many women my age, they say that they do not own a suit. Many find suits to be stuffy, to be uncomfortable, to evoke images of lawyers and politicians.
The thing is… now that I do not own a suit, I find so many times when it would be useful and a perfect choice. That work situation – yes I looked appropriate in a black wrap dress and pumps, but a suit would have made me look more like a manager and less like a subordinate. The room was cold and it was a hot summer day – a suit would have been great – throw the suit over my arm as I walked to the conference, slip on the jacket when I feel the chill of the A/C. As for other situations, a black suit would have been great for my friends' daytime wedding. They married outside in a garden and had the reception at an elegant restaurant. If I wore a sleeveless or short-sleeved blouse, I would have been comfortable at the outdoor portion, but nicely covered for the indoor reception. I had my daughter with me and placed her in a baby carrier. Wearing a baby with a dress isn't the best look – the carrier hikes up the skirt, yanks open the neckline and armholes and a dress is never the best attire when crawling after an active baby. A suit would have given me just as much polish with more coverage and moveability. I will be speaking in front of an audience in November, and it's not work related. I really could wear anything I desire, but a suit gives one the air of authority and competence and provides a bit of personal armor for a time when I will most likely be nervous. And the Le Smoking is not going out of fashion any time soon – a black suit with a silk camisole is always chic and always a great choice for that holiday gala, evening wedding or fancy date.
A black suit does not have to be dowdy, and I really discourage you from purchasing one that has too conservative, masculine or boxy of a shape. Single breasted, notch collar, a seasonless fabric with nice drape, a silhouette that skims your curves, a pant leg that can work with loafers or kitten heels. This will ensure such a suit can move from day to evening yet still look polished, classic, elegant.
2. Black Seasonless Trousers. I don't think this needs to be explained. Many people are anti-black in a wardrobe and I respect that; however when you are new to building a wardrobe, black is a great neutral that can dress up, dress down, work with most any color, match shoes with ease and hide a multitude of sins (figure flaws or that dribble of salad dressing at lunch).
I must admit I haven't shopped in an Express in years, but I do know such pants can be found in most every shop in your local mall. I recently acquired a great pair from New York and Company for a song, and have a pair I bought at Ann Taylor a few seasons ago that are still in heavy rotation in my wardrobe.
As for silhouette – no need to stick with bootcut, though this is still a cut that is flattering to those with curves and those who are petite. Straight cuts are also a great choice – you are looking for a flat front, a waistband that becomes invisible under knits, a leg opening that works with boots or with heels. The skinny trouser is currently all the rage and it is quite cute with the right top and figure, but it is not a wardrobe staple. You need a simple pair of black pants that will work for work, for play, for romance, for business and everything in between. A flat, straight or slightly bootcut trouser will be your best bet.
3 and 4. Jeans, Jeans, Jeans. When this was written, jeans were a top priority in any fashionable woman's wardrobe and they would pay out the nose for them. No one blinked an eye when gossip rags would state that an It Girl paid upwards of $500 for a pair of dungarees. Brands like True Religion, Seven (now found at stores like Lane Bryant and Express), Paper Denim and Cloth and Hogan were brands as familiar as Marc Jacobs and Chloe. It was important to have a certain look to your jeans, no matter your budget.
Luckily the tides have changed and it is no longer expected to own jeans that cost as much as a month's rent. Those It Girls are now often seen in classic Levi's or distressed pairs from a vintage store. This doesn't mean everyone should run out and purchase a pair of stovepipes or boyfriend jeans, but it means that there are more options out there than tacky, over-embellished knockoffs of chi chi brands.
The style is the same – keep them dark, keep them crisp, keep them free of adornment. The jeans-buying process can be more stressful and exhausting than the purchase of anything in your wardrobe. But if you keep at it and find denim nirvana, it is totally worth it. Great jeans can make you look taller, slimmer, firmer and more stylish.
5 and 6. Black Leather Shoes. Oh gosh, the emails I receive about shoes! How dare I encourage women to purchase heels, how dare I mention an animal-based product, why only black and why not brown?
First to all of you – I am not telling people how to dress. This site, and these posts are advice for those who desire it. I believe women should dress in a manner that makes them feel good and in clothes that garner them the respect and admiration that they deserve. If you feel that your current wardrobe achieves that, kudos to you. You may stop reading. For the rest…
Heels change a woman's posture – it pulls back her shoulders, lifts her bottom, tightens her calves. It changes her walk and makes her look taller and leaner. Society sees heels as the female equivalent of a suit and tie – a wardrobe addition that may not necessarily be comfortable but adds a level of formality to attire. And a low heel is actually more comfortable and healthy for the foot than a flat.
Black is chosen because this wardrobe list is based off of black. Black can go from day to night and from season to season more easily than any other color of footwear. Black isn't as hard to match with other blacks as say brown or tan. And leather is chosen because leather can be polished, repaired, dressed up or down. Leather lasts longer because it can breathe and can be maintained. If you are vegan or don't believe in leather, there are great alternatives in faux leather and microfiber. However these alternatives are less likely to last in your wardrobe (they crack, stain, stretch out and stink) and they often aren't as versatile.
The cut is the same – very classic, not overly pointy, tall, round, chunky, etc. Keep it simple and it will stay stylish for far longer.
7. The Black Dress. I have written about this piece many times. I believe it still holds true. I understand some religions frown on wearing black for weddings and other occasions – before you wear black to a religious event, do ask the host or someone familiar with the family's culture what is appropriate. However many events (including most church weddings) will find a black dress to be completely appropriate and not at all somber. Tone is made with how you wear black, not the color itself.
8. Silver Hoop Earrings. Again, many criticize this choice, but it is a simple way for the accessories-shy person to branch out and jazz up an outfit. If you have feelings that another earring choice is more stylish/cool/flattering/appropriate, you probably don't need this list.
9. Black or Gray Merino V-neck Sweater. Okay, it doesn't HAVE to be a v-neck. There are some lovely round necks out there. The thing is, some round necks are too wide, too deep, too high. Square necks are not flattering on many figures, and crewnecks are not doing favors to any woman with a short neck, thick neck, large chest, broad shoulders or soft arms. V-necks are always available, v-necks don't really go out of style, v-necks layer nicely with button-downs, shells or camisoles, and v-necks flatter the female figure.
10. Trendy Skirt
11. Trendy Jacket 
12. Sweater in Signature Color
13. Signature Accessory. Ah, another piece I no longer have in my wardrobe. Well, let me be truthful – there are about six lovely skirts in my closet but none of them fit my postpartum body. I have yet to purchase a new skirt because I can't find a silhouette that will change with this ever-changing body, fit my personal sense of style and flatter. And yet, I have survived the past nine months of existence.
Same holds true for the trendy jacket. I am still nursing, and because of it I still have nursing-sized breasts. Jackets that fit my bust do not usually fit my waist and shoulders. I could tailor, but since my body is constantly changing that which fits like a glove one month will be utterly wrong the next. So I have held off.
Some suggestions I made aren't necessarily stylish any more – I have since donated that denim blazer and even though you may love animal prints, a leopard-spotted pencil skirt may be downright tacky on some people.
So does that mean one does not NEED a trendy skirt or jacket? In this case, I say yes… but only under the condition that you have an alternative. Woman cannot live on wardrobe basics alone. If you swim in a sea of black pants and solid v-neck tops in neutral tones, you are losing your identity. Items like trendy skirts, statement necklaces and funky blazers bring YOU into your wardrobe. If you are using this list to build from scratch, then I say these items are a must-have. For help with finding your personal style check out these posts:
14. Evening Top. Those who say they don't need a top like this are often those who are dressed inappropriately for an event. I see you women – you in the oxford and chinos at a wedding, in a cotton sundress at your company's holiday party at the hotel ballroom, in a dowdy suit at your nephew's Bar Mitzvah. You are the women who frantically run to the mall three hours before your blind date and grab the first printed sequin-embellished polyester knit top you find on the racks.
So, you may only wear this top once a year at most. You don't date, you don't go to nightclubs or bars with your girl friends, you don't have a social calendar full of cocktail parties and gala events. That's okay and totally normal. But occasionally… I bet this top would be a better choice than what you pull from your closet.
That dark red silk top I mention in the original post? Yep, I am still wearing it. Last May I was the officiant at a dear friend's wedding. For the ceremony I wore my black pantsuit and under I wore this cranberry silk top. After the recessional, I removed the jacket and added some darker lipgloss and was ready to hit the dance floor with the other guests. Earlier that year, I was invited to the theater with a group of friends. I wasn't sure how formal everyone else was going to dress – in DC people will wear full-length gowns or jeans to the theater. I decided to wear this red silk blouse with wide legged black drapey trousers, black jet bead necklace and some strappy silk heels. This outfit was perfect for dinner before, was comfortable when seated in the theater, and worked when we decided to grab some cocktails at a bar after the show. I have worn the top to holiday parties at hotels and studio apartments, on dates with my husband at chain restaurants and romantic little bistros. You will be surprised how many times a sparkly top can fit into your current life.
15. The Perfect Tee. I think this is a given for all women, regardless of lifestyle. Donate all those faded, stretched-out, oversized, undersized tees and grab a couple that really look good and make you feel good.
One thing that has changed a bit – styles have become more refined over the past couple of years. In 2005 a stylish woman could easily wear a fitted tee or tank with a summer skirt and sandals and look polished. These days, you need a bit more effort. These tees are not replacements for merino sweaters in that they are as professional or formal. They are still great wardrobe staples to wear on weekends, under jackets, with casual skirts and jeans and trousers, they just have taken a backseat to more refined fabrics in regard to current style.
16. Well-fitting Wool Winter Coat. So you live in Florida, or Thailand, or Guam. You really don't need a wool coat. If so, please disregard. However if you live somewhere that requires a coat, it's a wise choice to invest in a well-fitting wool one. Add Thinsulate lining, a pashmina at your throat, gloves and a hat and you can brave even the coldest climates when dashing from car to destination.
For those in the Northwest and colder parts of the globe – keep your puffers. I don't want anyone to catch hypothermia. This coat is a coat for the days when a puffer isn't required, and when you do need to look more polished (evening affair, job interview, etc.).
17. Great Fitting Bras and 18. Panty Line-free Underwear. I would think this is a given but as I walk the streets of this great country, I see that it is not. Please ladies, do yourself a favor and get a professional to fit you for bras, and check out your back view in a full-length mirror. Who care what you spend on the rest of your wardrobe if you ruin the line and look with your undergarments.
19. Pashmina. If you don't have one, go get one. They always have them at a great price at discount marts like Filene's Basement and TJ Maxx. You will find so many uses for it. Right now I have one at work for chilly days, and I wear my other ones all the time when there's a slight breeze, in place of winter scarves and as a shawl with my dresses.
20. Clutch Purse. Your regular daily handbag is NOT appropriate with a cocktail dress, even if it is of black leather. Just as with the sparkly top, if you purchase quality and a classic style, you won't need more than one and it will be okay if you only use it once a year.
Just this past weekend I went out for my friend's bachelorette party. We went to dinner and then bar hopping. I wore a black top, black pants, black heels and then to add to the look, a printed clutch. The clutch transformed these wardrobe basics. I had worn this same ensemble to work and to a more casual group gathering. What brought this to Festive Evening status were the accessories, and the clutch was the cherry on top.
21. Daily Purse. Your purse and your hair are the two accessories you wear pretty much every day. Spend money wisely – keep these items well cared for, maintained, current and ensure they are flattering to you and your lifestyle. I know a purse is a given – it's not so much having a purse but what purse you have.
22. Sexy Shoes. I don't think this wardrobe staple has become passé or will any time soon.
And yes, I am still rocking those Pucci-printed heels I mentioned in the original post. In fact I loaned them to a friend and she also received tons of compliments on them.
23. Sunglasses. Also a classic. Trends come and go, so if you want to be the height of fashion with your sunglasses, I don't recommend spending an arm and a leg. Classic styles like aviators and large black plastic frames can be found at any pricepoint.
As you see, this list hasn't really dated all that much. The examples may look at bit 2005 come 2012, but the concepts will most likely hold true. Get your inspiration from catalogs and shop windows; subscribe to one fashion magazine so you are still hip to the current trends in accessories, colors and silhouettes. And always, be true to yourself. One who copies is never stylish. This list is a platform, a place to start on your journey to personal style. As you become more confident with yourself and your wardrobe choices, you may see that a few of these staples are pushed to the back of your closet. That's okay, not every woman or her life is the same. But I hope this list can get you on track and help you gain confidence and along the way, you find your personal style.