This article may contain affiliate links; if you click on a shopping link and make a purchase I may receive a commission. As an Amazon Associate, I earn from qualifying purchases. 
I'm going through a divorce and at the same time my only son has left for college [thousands of miles away]. I know I am self-medicating with food and I need to do something about it but in the meantime my clothes don't fit. I don't want to spend a lot of money because A. I don't have it and B. I don't plan to be this size for long but squeezing myself into too small clothes is doing nothing for my confidence. Any ideas on a capsule that can get me through this rough patch? I'm 48, average height, and right now a size 14 though usually I am an 8.
I don't know if it's just me, but a pair of too-tight jeans just make me want to raid the fridge. Having some flattering and well-fitting clothes will not only make you look better but likely feel better. Not only that, having a few garments that fit and are versatile will reduce stress over getting dressed, giving you energy to focus on caring for yourself.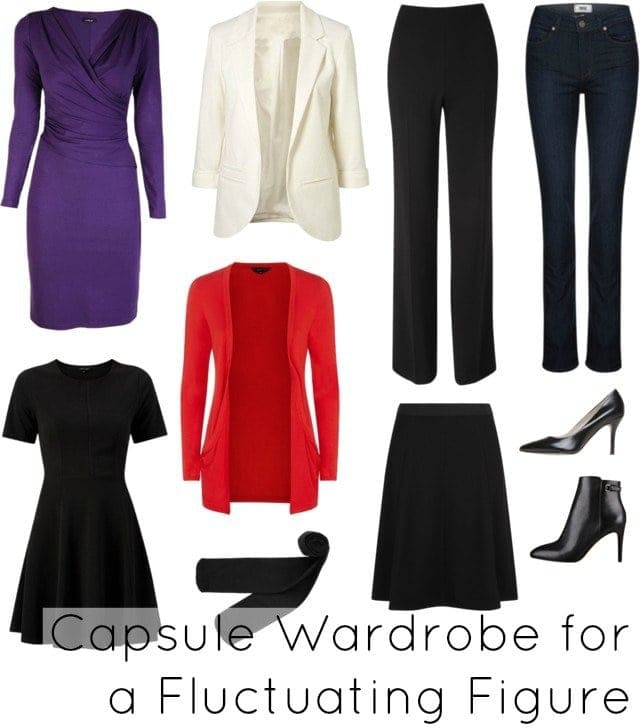 There are some fabrics that are more forgiving and budget friendly than others. During this time, ponte knit and matte jersey are your friends. Found everywhere from Target to the fanciest boutique in town, these fabrics have stretch, don't cling, and can dress up and down with ease. Ponte is so heavy of a fabric it will smooth the figure while giving a nice drape. Matte jersey can dress up beautifully but be washed in the machine and doesn't wrinkle.
Dresses are also your friend during this time, for they are more likely to adjust to your changing size without sacrificing your style. In this capsule I put two dresses that are extremely versatile and flattering to a softer or curvier figure. A wrap dress in matte jersey whittles the waist, flatters curves, and turns you into a bombshell. I purposefully chose a rich color in place of black so people will notice the color before anything else. This dress can be worn to work, but also can dress up for an after-work event, a wedding, or if you choose to do so, a date. The second dress is of ponte knit so it won't cling; a fit and flare style highlights the smallest part of your torso and gives you an hourglass shape. A dress like this is just as versatile as the wrap dress but a bit more conservative. For work wear on its own, or pair with a cardigan or blazer; it can be worn with pumps, booties, or flats.
It's worth it to purchase a simple skirt and classic-cut trousers in your current size, and if necessary tailor for a great fit. I recently purchased these pants from LOFT and found the price very nice for work-ready attire. Not only that, the pants are machine washable, reducing the money and time spent on dry cleaning. These pants from Old Navy are also machine washable and a classic fit.  A skirt in a heavyweight knit like ponte will look appropriate at the office, dress down with flats and a tee for the weekend, and also work with your changing size. This one from Target is a nice price and receives great reviews.  For Casual Friday and the weekends, it's smart to buy one pair of jeans, a simple dark wash, free of trendy details that fit comfortably.  While my beloved NYDJ 'Hayden' jeans are pricey, you can often find them on sale at 6pm, and these jeans by Style&co are a nice alternative.
The best way to save money and feel comfortable is to forego wearing crisp button-front shirts, perfectly tailored wool dresses, and classic suiting and go for items with stretch. A v-neck cardigan with a longer line keeps you warm on crisp autumn days and dresses up a knit to make it office appropriate. As with the wrap dress, choose a cheery color that adds interest to your closet staples. A blazer is often necessary in Corporate America, but is also a great way to dress up denim for drinks with friends or weekend brunch. Choosing a blazer in ponte knit not only coordinates with the other ponte pieces in your wardrobe, but offers stretchy comfort. For this item, choosing a neutral will make the piece look more expensive and be more versatile; pair with fun printed and colored tops and simple dark or denim bottoms.
Finally, take care of the underpinnings. Though it may sound like torture right now, you need to be fitted for a bra. Our busts change with weight loss and gain as well as age; a well-fitting bra can make you look 10 pounds thinner, years younger, and have your entire wardrobe fit better. Speaking of underpinnings, consider purchasing a new pair of very opaque, well-made tights. Black tights with black shoes will elongate your frame and look modern with knit dresses and skirts; invest in a new pair that doesn't sag or segment. I'm a fan of the Spanx Tight End tights which last me multiple seasons and can handle being machine washed on gentle in a lingerie bag. Little details like well-fitting underpinnings can make all the difference in how you look, but more importantly, how you feel.
I can't stress this enough – it's okay to wear the same pants two or three times in a week, to wear the same dress to every wedding, to only own two pairs of shoes. Style comes from quality, not quantity. Buy few items, but choose colors that make you happy and fabrics that are kind to your body. Keep it simple and add personality with accessories already in your wardrobe. Clothing can seem very important, but it's really only important in that it covers you and lets you get through the day. You have far more important things in life to care about, first and foremost you. Buy what makes you comfortable, feel good, and give you the time to focus on what's important. Sending you vibes of strength and love.
Shop the Post: