This article may contain affiliate links; if you click on a shopping link and make a purchase I may receive a commission. As an Amazon Associate, I earn from qualifying purchases.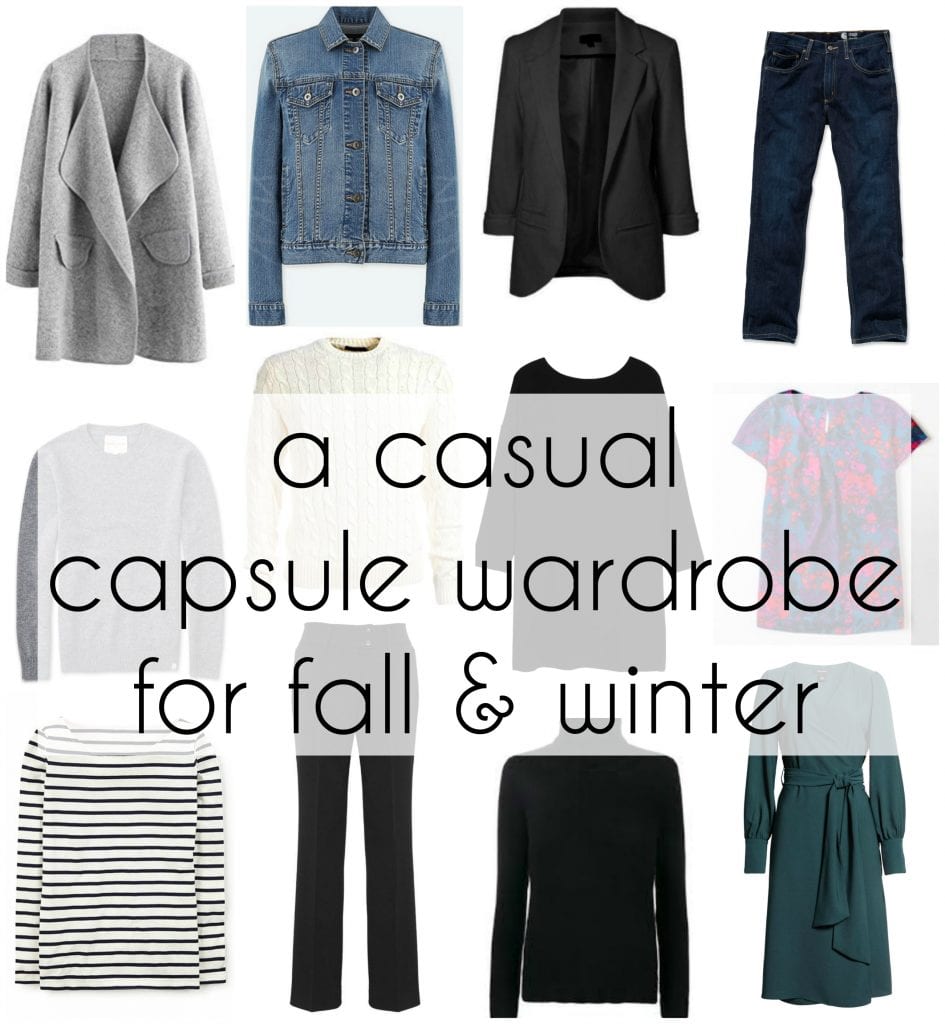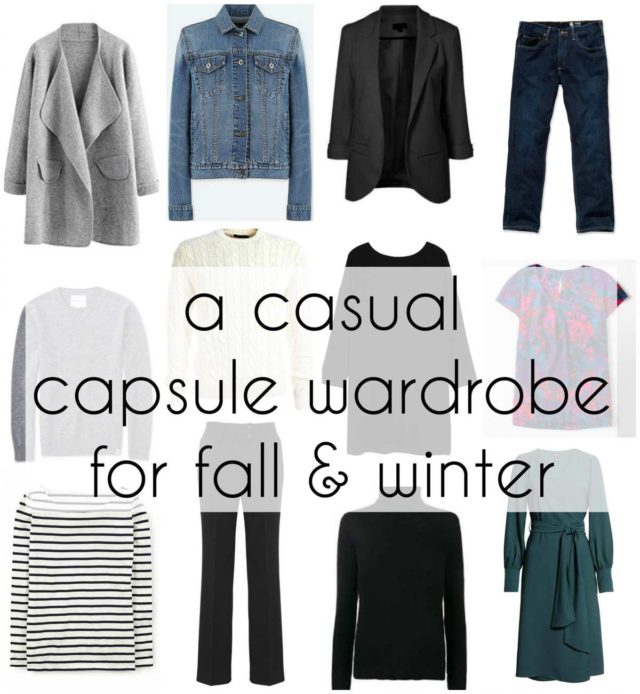 A reader reached out asking a question about a casual capsule wardrobe. What would I have in a capsule wardrobe if I wasn't a fashion blogger?
I am an urban planner working in the architecture/engineering/development space. I make enough money so that I can buy clothes that are well made, but I also cannot break the bank and don't have the space for a ton of stuff that's rarely worn. It's not my job to put outfits together, so I really have to think about what to buy. Your outfits are so great looking, I've sometimes bought things maybe I shouldn't have (Eloquii dress which sticks to my legs, at least two jumpsuits). OTOH I LOVE my white overalls. Also, despite my efforts, I'm not really a capsule wardrobe person. So, I guess I'm asking you, if you weren't a professional style blogger with the professional need to frequently buy new clothes, what would you have in your wardrobe? What would your 20 or so staples be as a more realistic wardrobe for us with less glamorous careers? Thank you!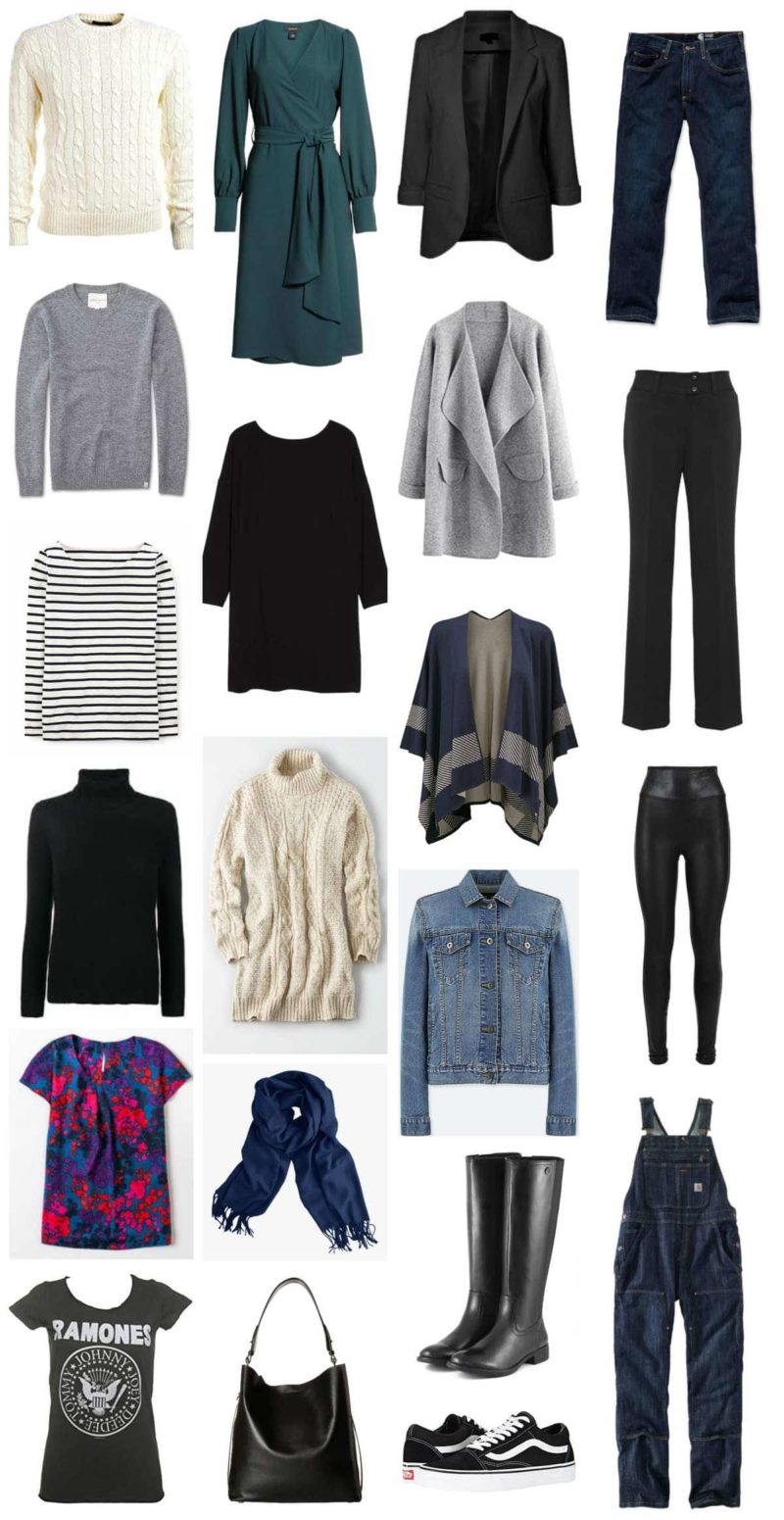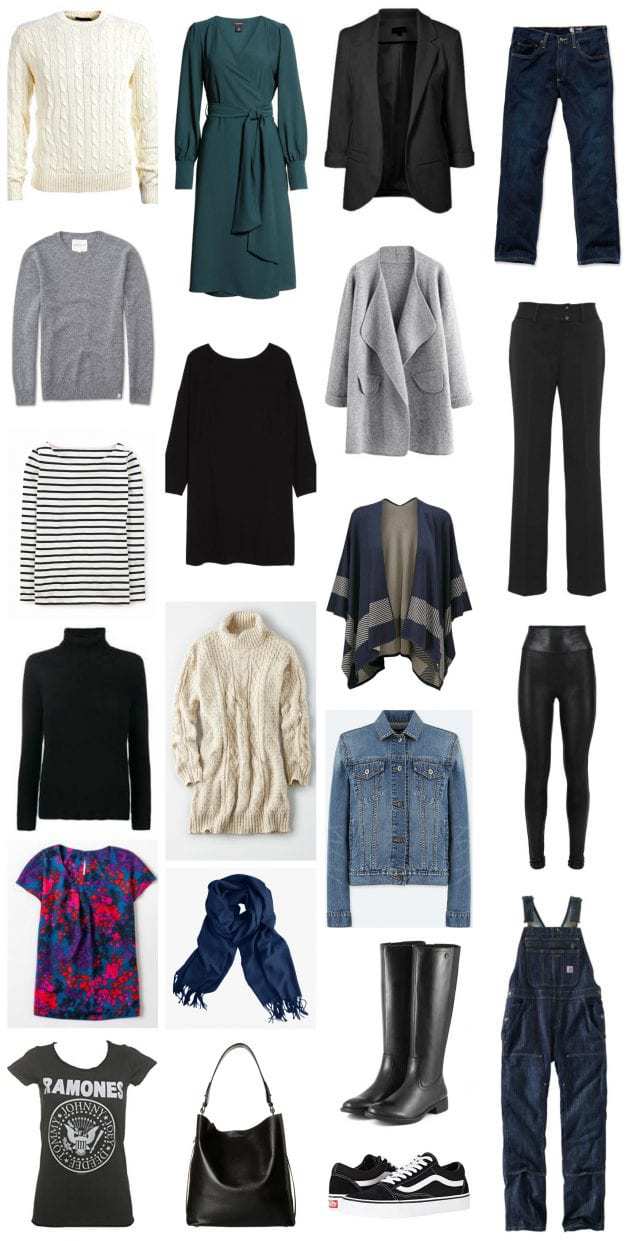 Shop the Capsule Wardrobe:
cream sweater | gray sweater | striped top | turtleneck sweater | printed blouse | t-shirt | wrap dress | shift dress | sweater dress | pashmina | bag | blazer | sweater coat | ruana | denim jacket | tall boots | sneakers | jeans | black pants | faux leather front leggings | overalls
This was a great exercise as it made me look long and hard at what I wear on a regular basis and if I had to pare down my wardrobe, what I would keep. Below is a casual fall to winter capsule wardrobe of basic pieces that would mix and match for most situations. As the temps drop and snow comes, I would add winter boots with style and likely a tissue-weight turtleneck layering piece. This capsule wardrobe does not contain accessories but I have added some to the actual outfits in the gallery below to show how they can complete a look. However, it's a part of a capsule wardrobe where you can infuse your personality and make accessories as subtle or bold as you desire.
Sample Looks from the Casual Capsule Wardrobe
With 17 pieces of clothing and a few accessories, I created 45 looks for casual to slightly dressy situations. Click on any thumbnail graphic in the gallery below to see the full-size images and descriptions. Hover over the images to find arrows to advance and go back within the gallery. If there's an ad in the way, x it out to read captions. Click the X at the top right of an enlarged image to close the gallery and return to this blog post.
Building a Casual Capsule Wardrobe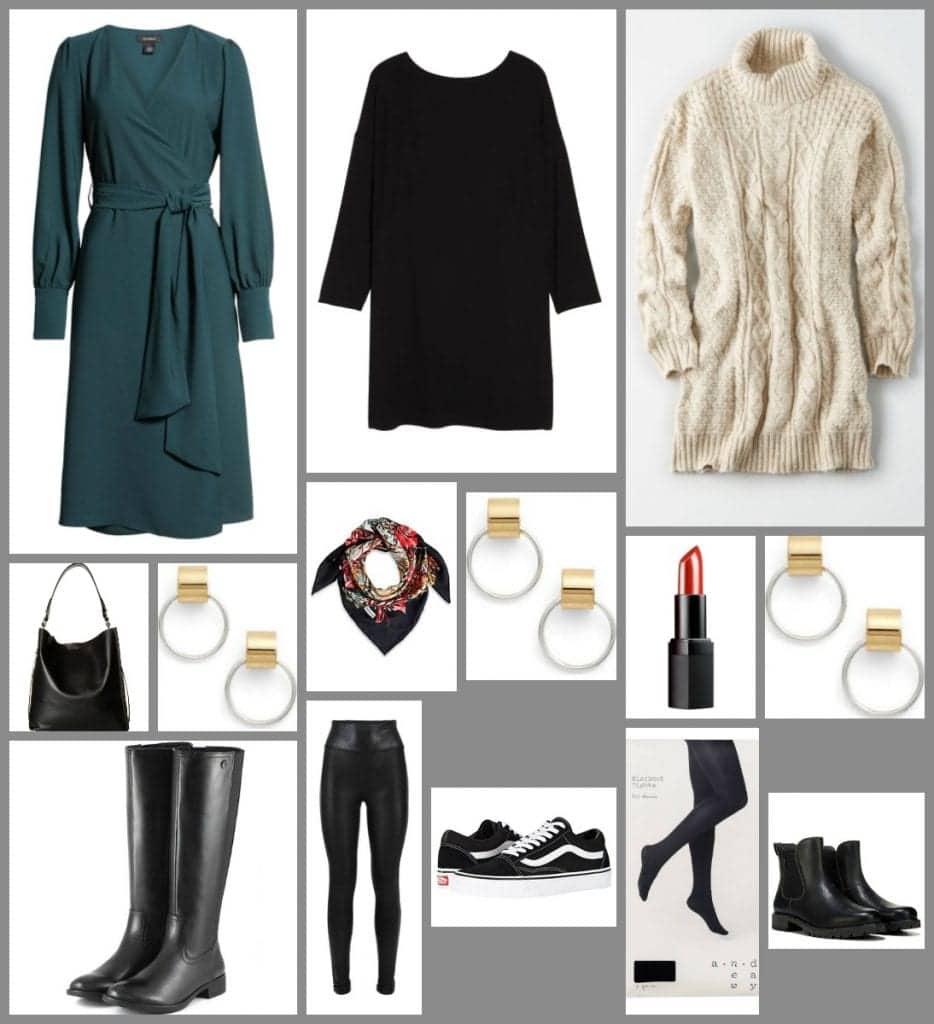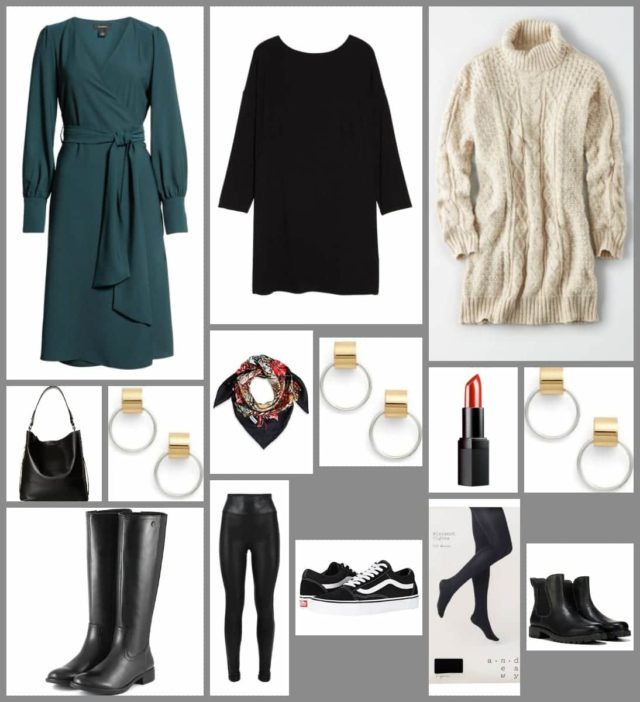 I am a dress lover, so there are three dresses in this capsule wardrobe. One is pretty dressy that can dress up with heels or dress down with fleece tights and ankle boots. Choose a color that makes you happy but isn't too showy so it would work for a business meeting, a funeral, a day wedding, the theater, a date night. The other two dresses are more versatile. The black one can also dress up nicely, but can work with boots and fleece tights or even leggings for everyday. A sweater dress is a great winter addition and work with tights and heeled boots or leggings and sneakers.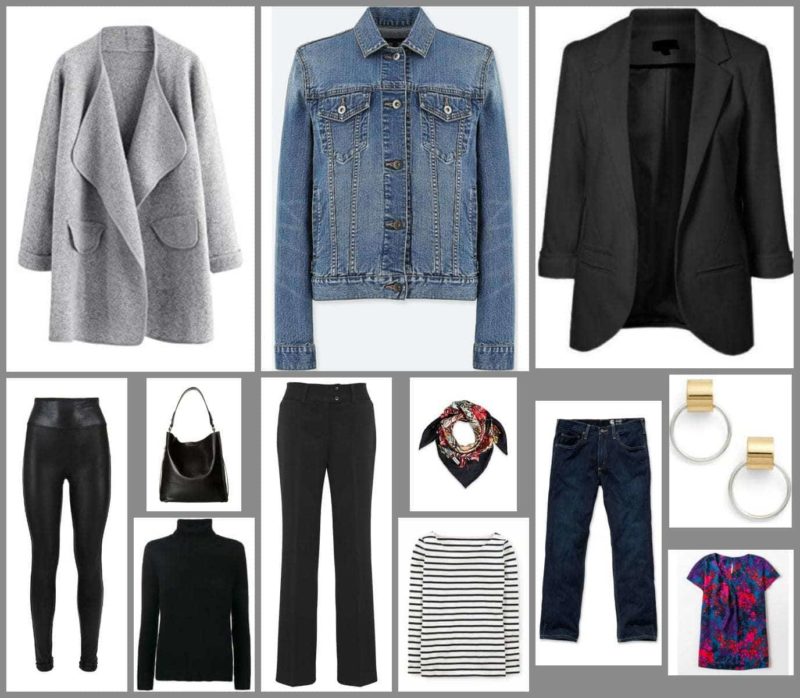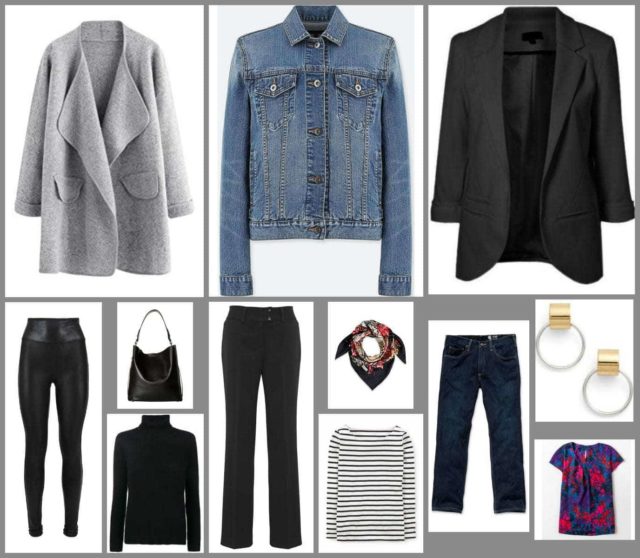 Layers keep you warm but also add style and interest to a capsule wardrobe. My three capsule wardrobe basics are a blazer, a denim jacket, and a sweater coat. A blazer that is of a seasonless fabric and has a bit of stretch can dress up your favorite t-shirt or even make a suit with a coordinating pair of pants. With the right silhouette, it can also work over a dress. I find black to be the most versatile, but if black isn't your thing you could also choose navy (and then switch the pants to also be navy to have a matched set). A denim jacket is a basic that's easy to throw on and leave on as part of your look. While really trim and fitted denim jackets were in style for many years, this season you can go a bit longer and relaxed if you prefer. Look for one that is enough of a difference from your jeans that you don't look like you're trying to create a matched set. Throw a denim jacket over a thinner sweater, your t-shirts, even dresses. A sweater coat is dressier and more structured than a cardigan and easier to dress up. It's a great choice to wear with dresses, looks great with jeans and trousers, and provides nice coverage for leggings and jeggings. When it comes to the sweater coat, feel free to choose one with a bit of interest – a pattern, your favorite color, a cable knit, some texture.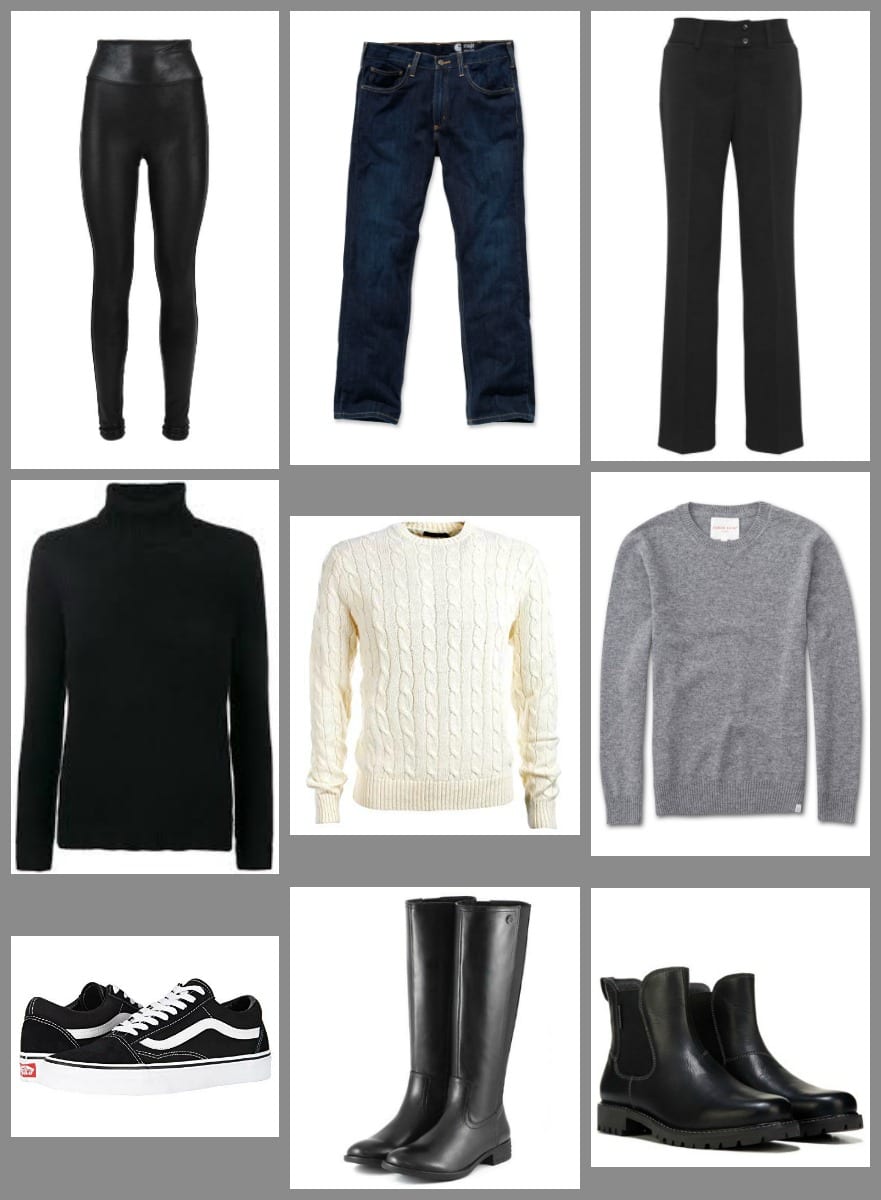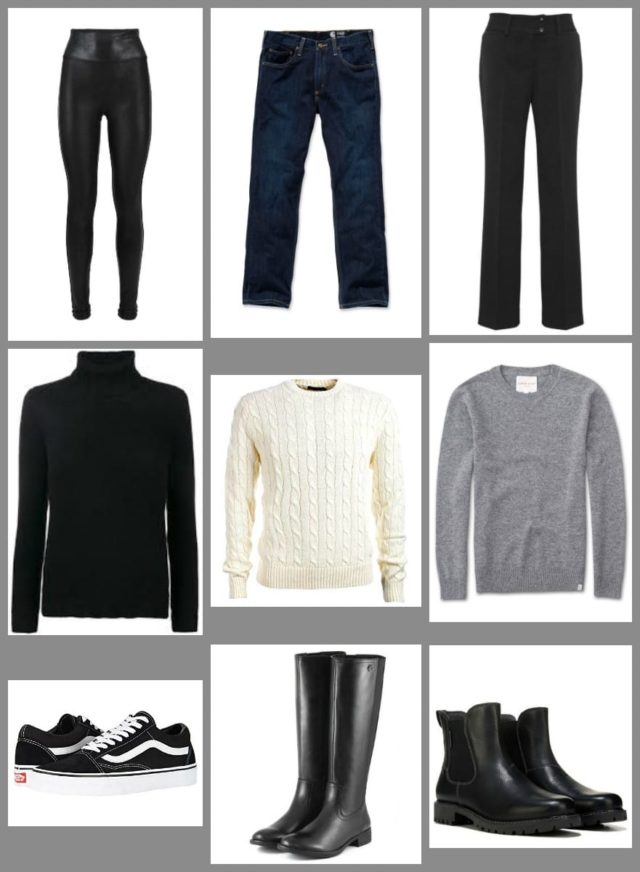 For bottom layers, I chose a pair of dark straight-legged ankle jeans with a hint of stretch, a pair of black seasonless pants to match the blazer, faux leather-front leggings, and overalls. I know overalls aren't everyone's thing, this could be replaced with another pair of casual pants or jeans. Dark jeans are easier to dress up, black pants in a washable and stretchy fabric can dress down, and a pair of leggings in faux leather with a ponte back is more substantial than traditional leggings and add more interest and style to a look.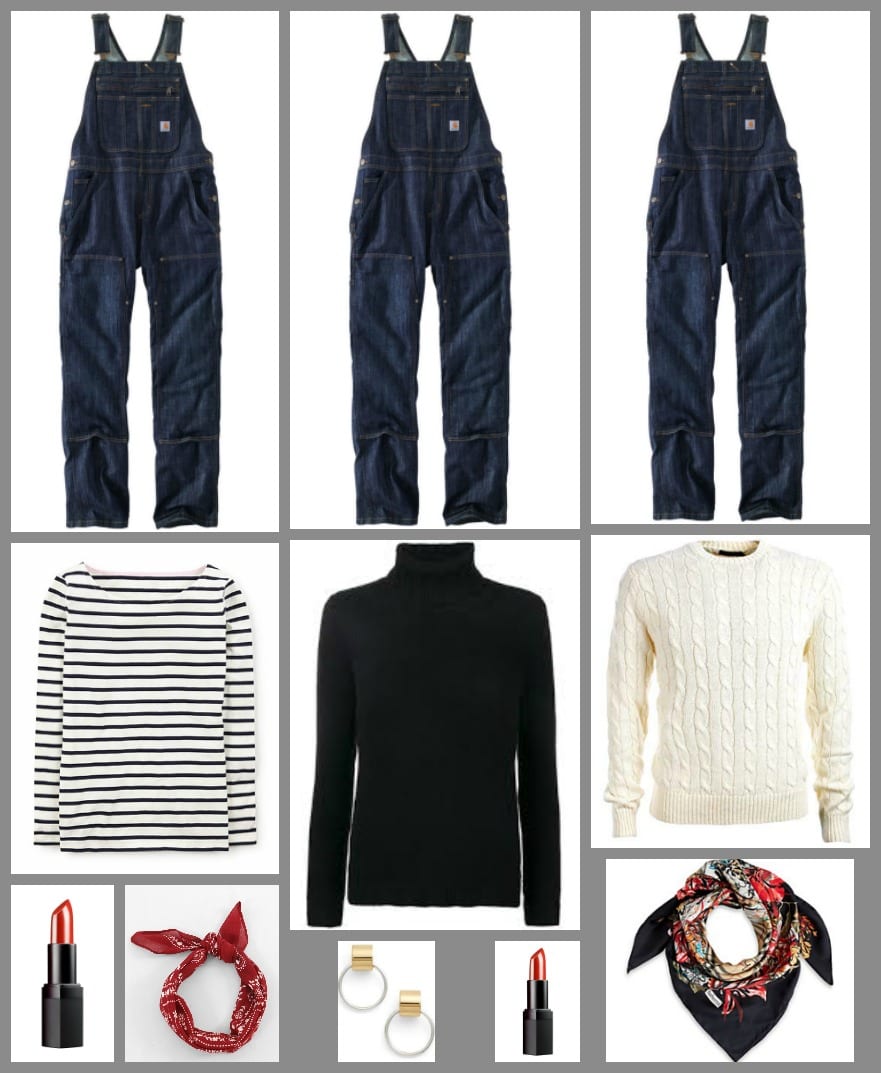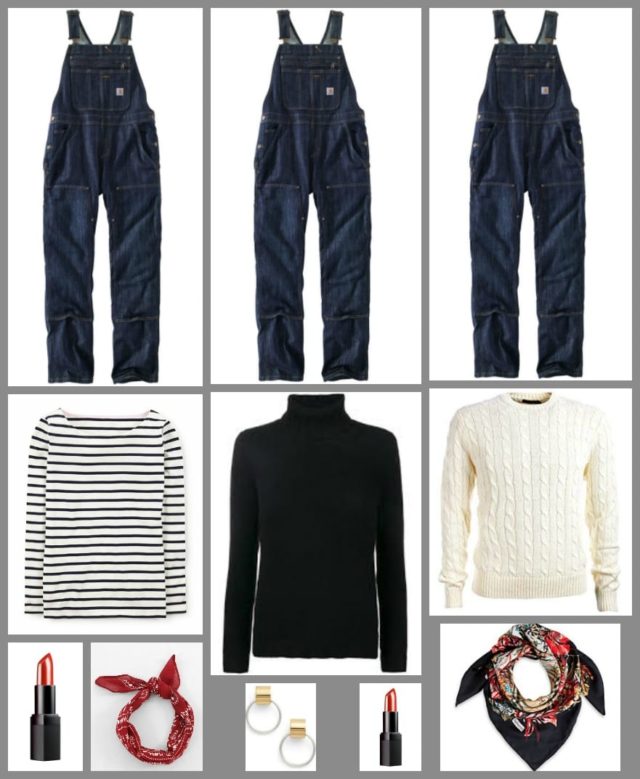 Overalls have become one of my wardrobe faves now that I have a more casual lifestyle. They're super comfy – no waistbands digging, no calves being squeezed. They're warmer than leggings, and they offer more coverage. And when styled with classic pieces like a Breton top or cable knit sweater the look is artsy, not disheveled. Find a pair that actually fits, you're not looking for oversized a la the '90s. Keep them clean – no distressing, no paint splatters. I have these from Carhartt which are a dark denim, and these from Universal Standard which are a rich black. When you wear overalls, it's a good time to add accessories – a pair of earrings or a bold red lip can make the look more purposeful.
I only added two pairs of shoes and one bag to the collection; you likely will want to add a pair of short boots and maybe a dressier pair of shoes to have on hand. A trendy pair of sneakers, however, can go a long way with casual dressing in this era. They can look great with ankle pants and even shift dresses as well as your jeans and leggings. A pair of tall leather boots is also quite versatile. Slip over leggings to look more finished, wear over jeans and under dresses of any length. You want a pair of boots that fit, if they're loose they won't be as easy to dress up. Most cobblers will tailor boot shafts for a custom fit.
A ruana (like a poncho but open in the front) and pashmina will prove useful when working from home and coffee shops, and looking to add warmth without bulk. As with the sweater coat, don't be afraid of color or pattern when picking out a ruana. A lightweight cashmere or silk/cashmere blend pashmina will be very warm without being bulky; it can be a winter scarf as well as a decorative one and can double as a shawl with a dress.
The bag in the capsule is a bag I own and positively adore. It's not cheap, but it's a gorgeous glossy thick leather that can take a beating (mine is over a year old) and still look chic. Every time I carry it, someone who is into fashion asks me who made it because while it's a workhorse that's big enough to carry some groceries and my laptop in a neoprene sleeve, it looks designer.
Tips for Creating a Casual Capsule Wardrobe
Casual doesn't mean sloppy. Choosing well-fitting pieces will still provide comfort and a casual vibe, but will add style and polish. Add stretch to maintain comfort. Take care of your clothing, whether it's cashmere or cotton and it will not only last longer but look better each wear. Rich and darker colors will look nicer longer, but always follow washing instructions to keep your clothes looking their best.
Create a color story. If your favorite color is green and you like dark denim and black, keep that in mind when buying other pieces. Will this look good with black? Could I wear this with my green sweater? If I'm wearing my green sweater and black pants will these shoes go? How about this scarf? Then as you add another color, add it to the mix. Will this jacket go with my green sweater and my purple blouse? Would this blouse go with my purple pashmina and my navy blazer? Accent colors are fine but remember that they are an accent. Choose one for your pashima or your sweater coat or your ruana but not all three or you lose the story.
Solids are more versatile, but prints pull a capsule together. A capsule doesn't mean a closet of black and gray basics. While an accent color does wonders for a capsule wardrobe, so do a couple of prints. A watercolor floral like the blouse in this capsule is fun but not so memorable it can't be worn multiple ways. A Breton stripe is a classic that transcends trends. A leopard print shoe, belt, or sweater is also classic and works with many different colors.
If it doesn't make three, let it be. Before you buy anything, think about your current wardrobe. Can you think of three ways to wear the item? If it's so specific it can't mix and match, it won't be a good addition to your capsule wardrobe.
Be true to yourself. It's easy to create a capsule wardrobe for the person you think you should be or want to be or the life you envision. But the best wardrobes are those for your current life, your current body, your current needs. If you would feel ridiculous in faux leather leggings, don't buy them. If you know your life requires more polish, switch out the denim jacket for another blazer-like piece and the sneakers for structured flats.
Add the finishing touch. If you look through the gallery of outfits, you'll see almost every look has some sort of accessory. Whether it's a pair of earrings, a scarf, a long pendant necklace, even a watch or a hat, an accessory is what completes a look and takes it from a few pieces of clothes to an outfit.