This article may contain affiliate links; if you click on a shopping link and make a purchase I may receive a commission. As an Amazon Associate, I earn from qualifying purchases.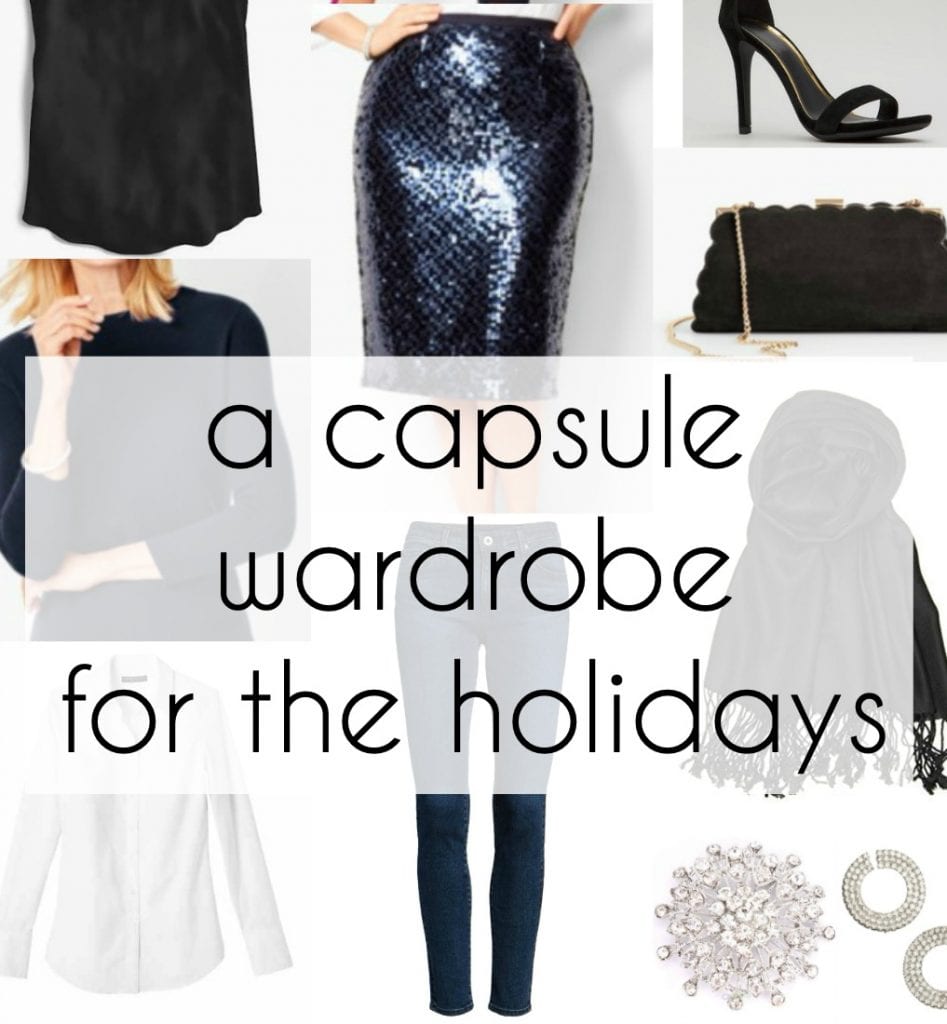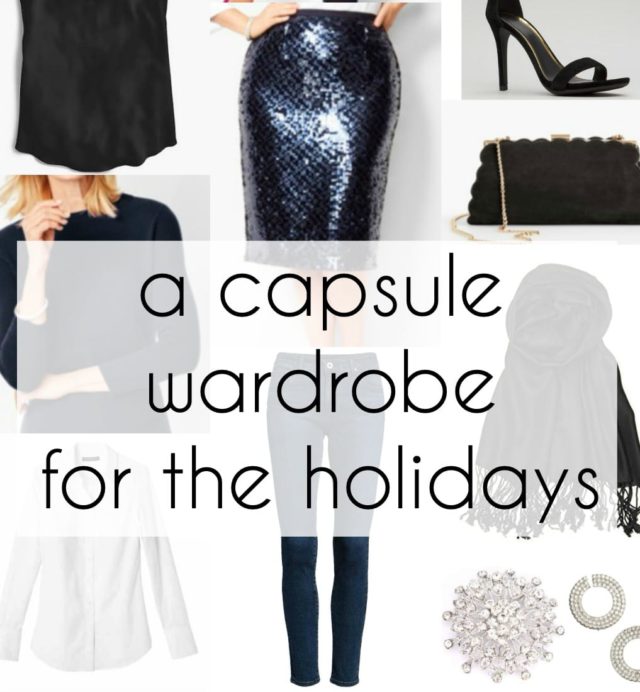 The holidays are right around the corner, is your closet ready? I'm of the mindset that quality trumps quantity and you can achieve great style with a small wardrobe. My calendar is already filling up with events and I'm looking to find a hardworking holiday capsule wardrobe that will mix and match providing great looks for everything from casual occasions to more formal fetes. This holiday capsule wardrobe is created from items currently in my closet and over the month I will share outfit posts with me wearing these outfits so you can see how well the pieces mix and match.
The combination of navy with black is concerning to some, but please know that rule is beyond dated.  In fact, over the past decade, this color combination has become quite chic.  I prefer to have a holiday capsule wardrobe that isn't too kitschy or too holiday-specific so the pieces can work beyond the months of November and December.  Choosing navy and black was a specific choice to feel festive (blue has become a popular holiday color over the years, especially with silver), to feel formal (darker colors are easier to dress up), and to wear beyond New Year's. Below find outfits appropriate for your office holiday party, a post-work happy hour, cookie exchange at your neighbor's house, cocktail parties, family get-togethers, and even for New Year's Eve.  I specifically chose items and brands that have a decent size range – every item at least is available in sizes 6-24, and some have length options as well.
My Real Life Holiday Capsule Wardrobe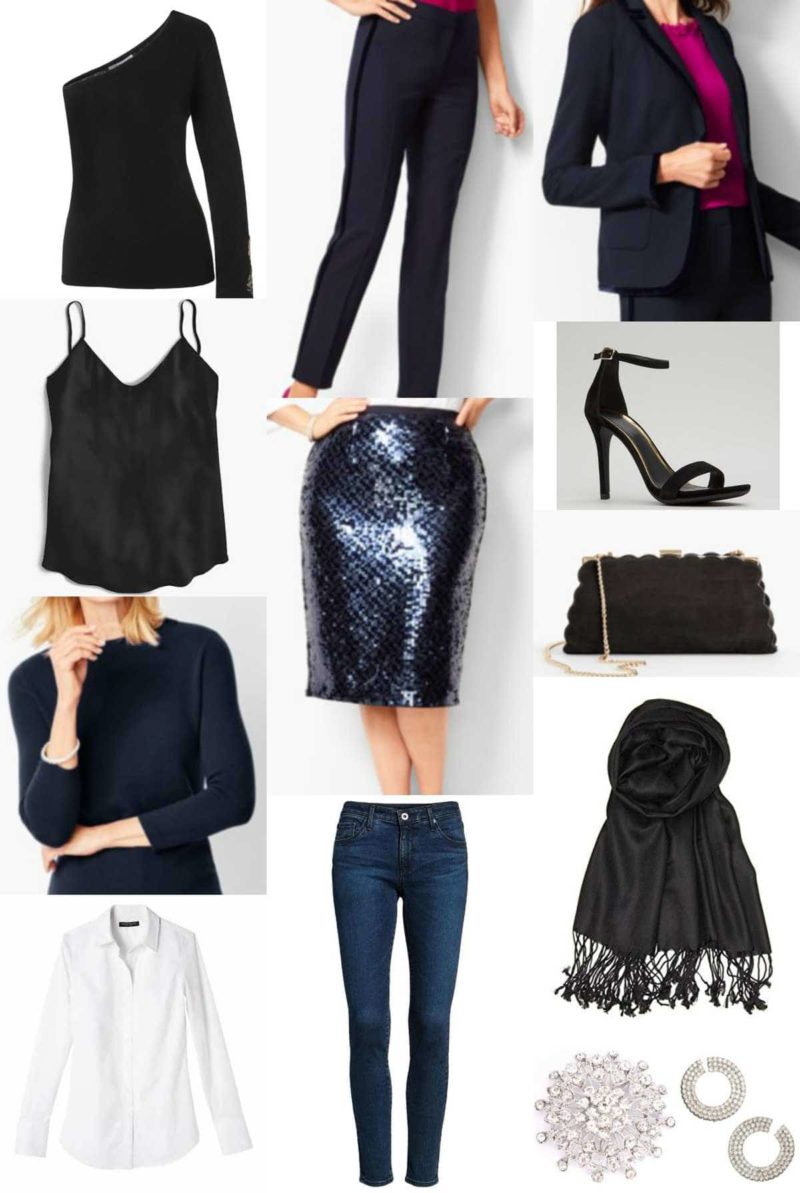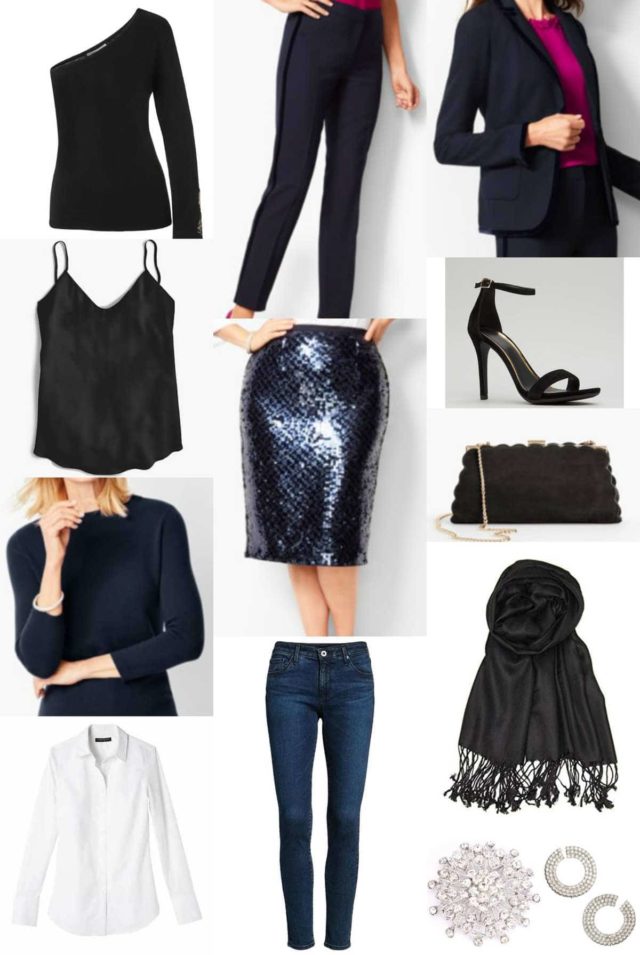 Shop the Capsule:
black one-shouldered sweater | black camisole | navy cashmere sweater | white shirt | navy velvet-trim pants | navy sequined skirt | jeans (plus-size option) | navy velvet-trim blazer | shoes (low-heel option) | booties (not pictured but in collages below) | clutch bag | black pashmina | brooch | earrings
(all items featured are available at least between sizes 6-24, some have petite and tall options)
Sample Looks from the Holiday Capsule Wardrobe
With eight pieces of clothing and a few accessories, I created 14 outfits for work, evening, and weekend holiday occasions. Click on any thumbnail graphic in the gallery below to see the full-size images and descriptions. Hover over the images to find arrows to advance and go back within the gallery. If there's an ad in the way, x it out to read captions. Click the X at the top right of an enlarged image to close the gallery and return to this blog post.
How to Personalize This Capsule Wardrobe
This is a capsule that can be built upon. Have an extremely formal occasion? Check out Etsy where I've found beautiful ball skirts custom made to my height and waistband for reasonable prices.  Pair it with the one-shouldered sweater and maybe add a sparkly belt.  Paired with the white shirt and it's Carolina Herrera chic. Wish to dress down the looks?  The blazer, as well as the sequin skirt, would look great with a navy and white Breton top, or even with a message tee or your favorite band t-shirt. If jeans aren't your thing, switch them out for a pair of black trousers in most any silhouette. If denim is your thing, it's easy to dress down some looks with a dark jean jacket replacing the blazer or a denim shirt in place of the crisp white one. Many of these pieces will easily transition into spring and still remain chic next fall and winter.
Accessories are simple, but this is a place where you can infuse your personality and add color, festive touches, or more drama.  Switch out the brooch at the collar for a black velvet ribbon, the smaller earrings for a larger style with more drama, the subtle black shoes and clutch for metallic or pieces that make more of a statement.  If you don't like rhinestones, pearls are a perfect alternative for this holiday capsule wardrobe.  And don't be afraid to up the holiday kitsch with tree ornament-inspired earrings, a snowflake brooch (I own this one and it's very pretty, has lasted for two years, and a fantastic price), or a specialty bag. When it comes to makeup, anything goes.  A red lip goes a long way for creating a holiday feel without wearing an ugly Christmas sweater.
I hope this holiday capsule wardrobe gets your creative sartorial juices flowing.  You may realize that you already have pieces in your closet that can be worn in a different manner to create similar looks, or how just one or two new pieces will give your existing wardrobe a fresh and festive life.  You don't need to spend a lot or own a lot to have a lot of style!  And stay tuned for outfit posts where I will show me wearing these looks (as I wear them, I will list them below).