This article may contain affiliate links; if you click on a shopping link and make a purchase I may receive a commission. As an Amazon Associate, I earn from qualifying purchases.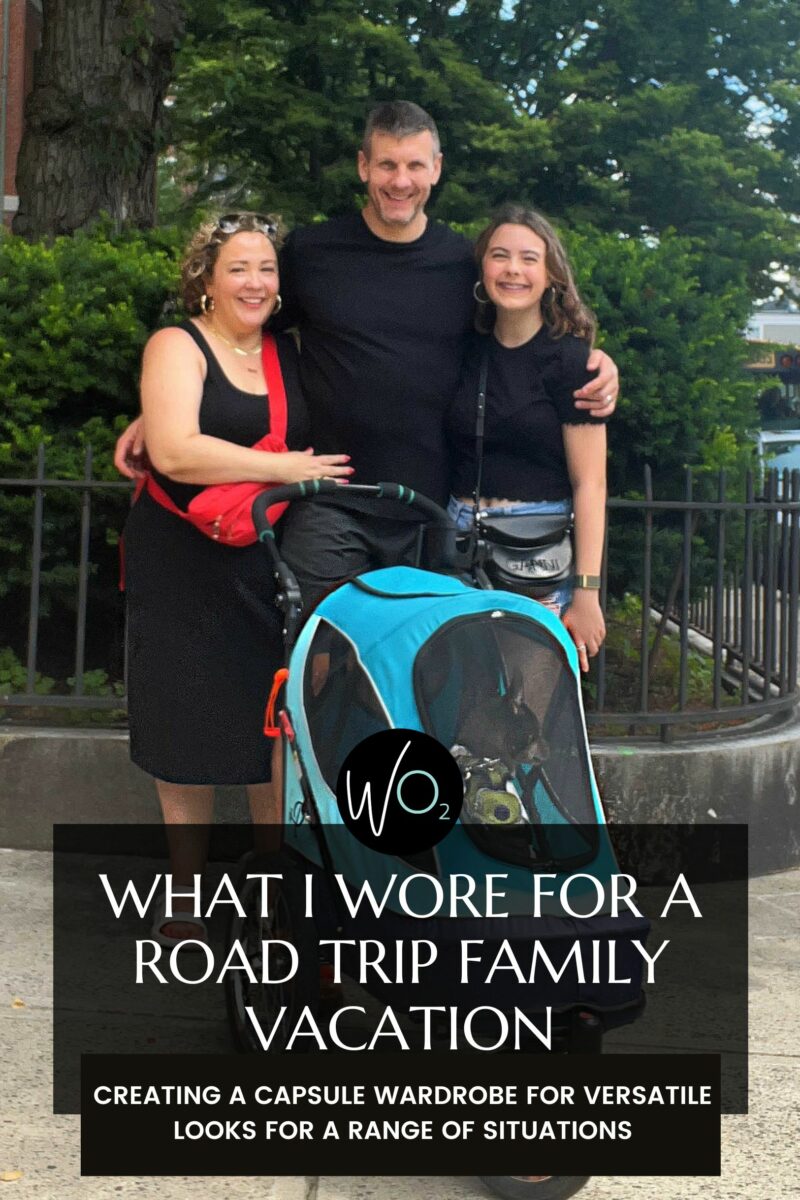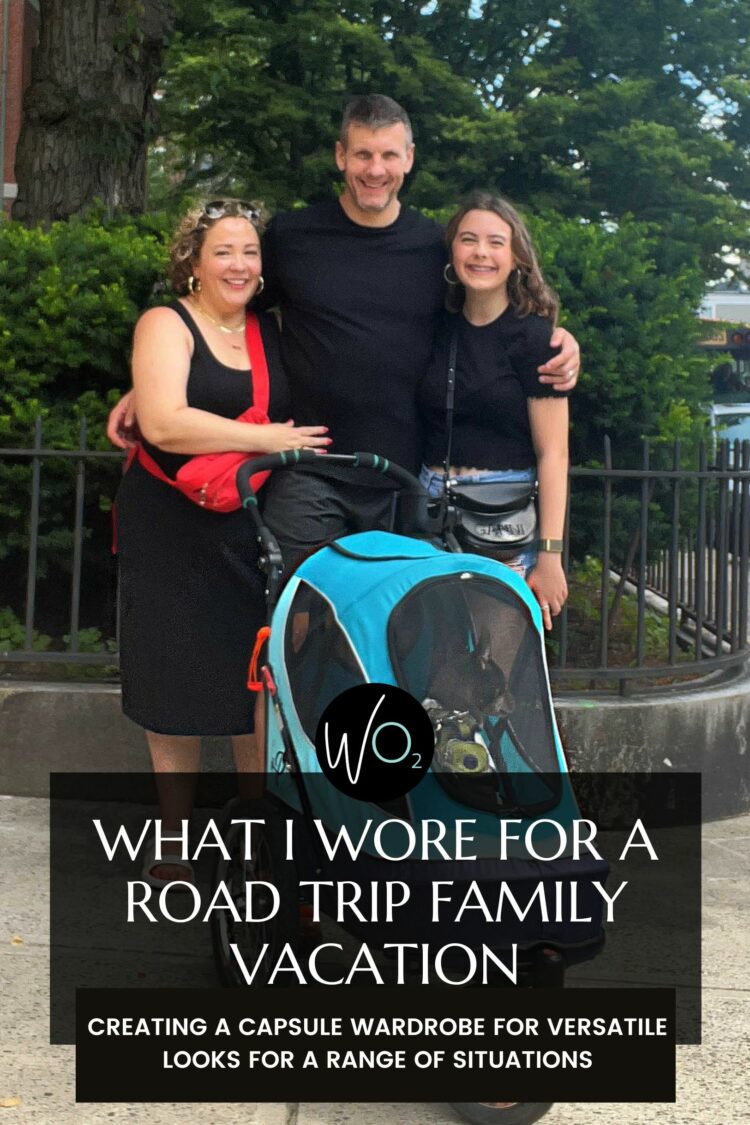 This July, my family, our dog, and I strapped the rooftop carrier to our Subaru and headed north. We drove straight to Salem, Massachusetts for almost a week, spent a night in Providence, Rhode Island, and then a couple of nights on Long Island. This trip was part sightseeing, part visiting relative, and part R&R from an already hectic year. I know you want to know what I wore on my summer road trip vacation, so I'll share below along with details about the trip.
Summer Road Trip Capsule Wardrobe
While we may have had the rooftop carrier on our Subaru Forester, I had no desire to overpack. Whatever I packed would have to be carried up and down stairs at our Airbnb, would have to be repacked three different times, and we wanted space not just for my wardrobe but things the whole family could use and enjoy. My goal was to have everything for this summer road trip to fit in a single bag; the Tom Bihn Aeronaut to be specific.
While I did fit everything in the bag, the capsule wardrobe featured is slightly reduced from what I took. I packed the Shibori top and matching shorts in this Instagram post and while I did wear it, I only wore it once. It wasn't necessary so I removed it from this capsule wardrobe as I could have easily worn something else and saved space.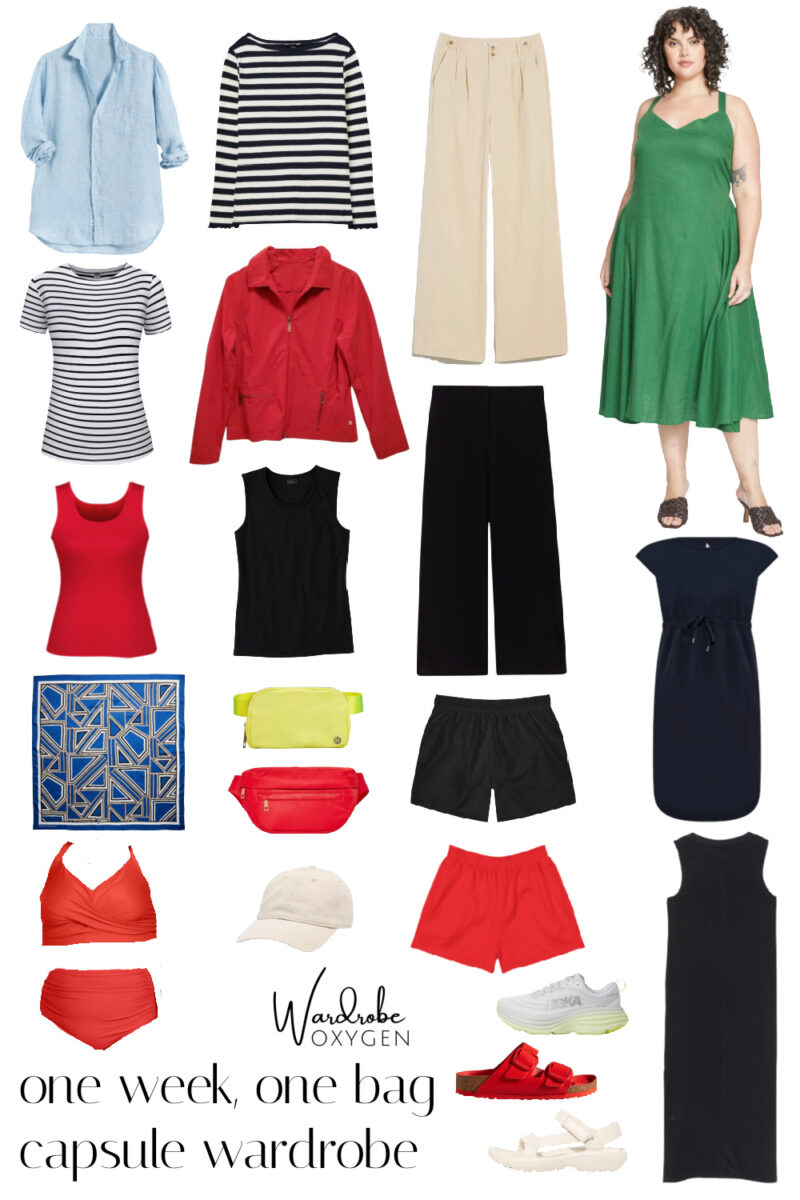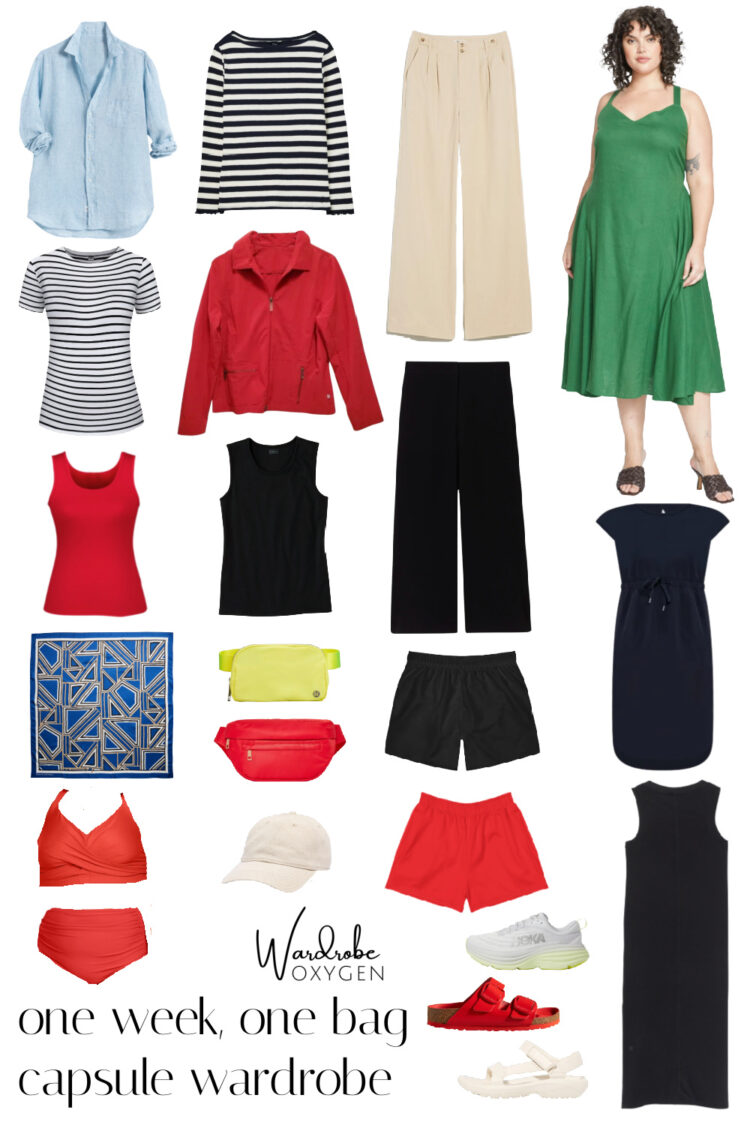 Shop the Capsule Wardrobe:
similar linen shirt | similar ribbed long-sleeved striped top | same short-sleeved stripe top | similar windbreaker jacket | same red tank but in other colors | similar black active top | same chino pants | same cropped black pants | same red and black shorts | same green linen dress | same navy tie waist dress | same black ribbed knit dress | same scarf in a different print | same swimsuit | same yellow bag but in other colors | same red bag | similar baseball cap | same sneakers | same red sandals | same white waterproof active sandals
Since this is a real life capsule wardrobe, not everything is in stock or still available. I linked to exact even if many items are out of stock. If the item is too old to still be available, I linked to similar focusing less on color and more on function/design.
Not featured in this capsule but also packed were underpinnings, socks, and sleepwear. For sleep, I brought an old black jersey cami with Printfresh pajama shorts and matching Printfresh robe. If you're shopping Printfresh (a brand I LOVE as does the whole family), use code wardrobe_oxygen at checkout for 15% off.
Packing for Different Activities on the Road Trip
I knew I would be doing a lot of walking, and since I had been to Salem before, I knew I'd be walking on lumpy cobblestone and brick paths and some hills. I also watched the forecast and knew it would be very hot and sunny most of the trip. I needed to pack to be cool and comfortable for hours on end.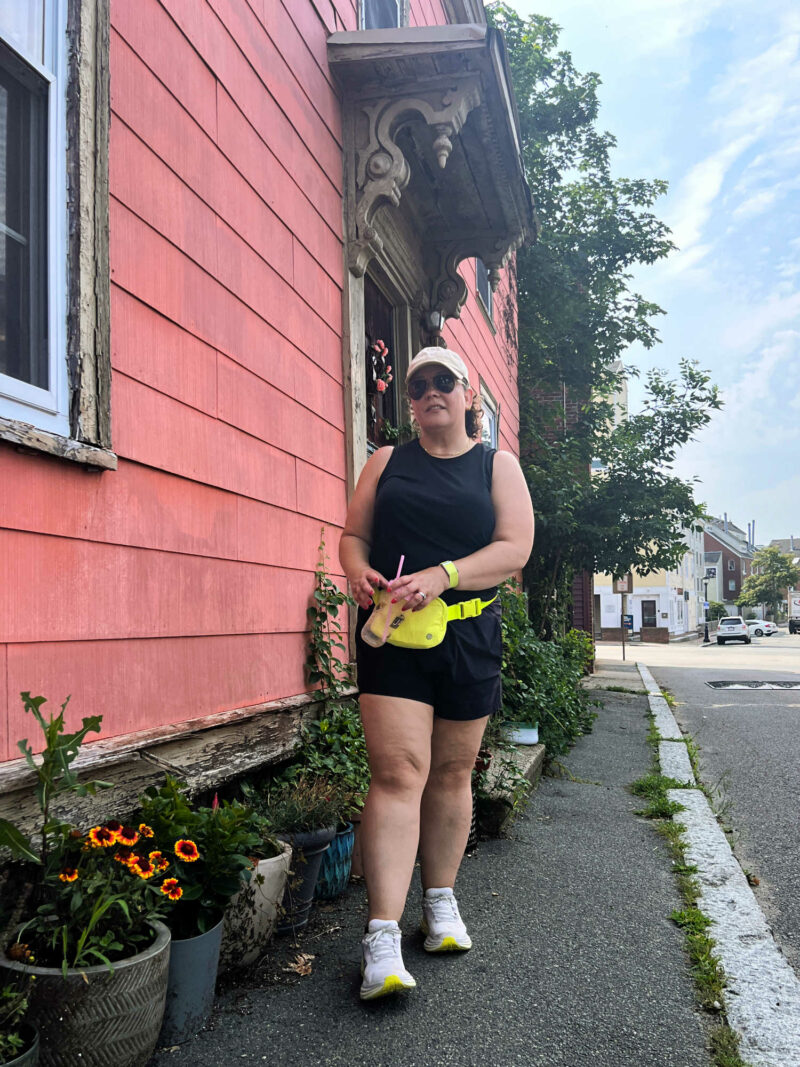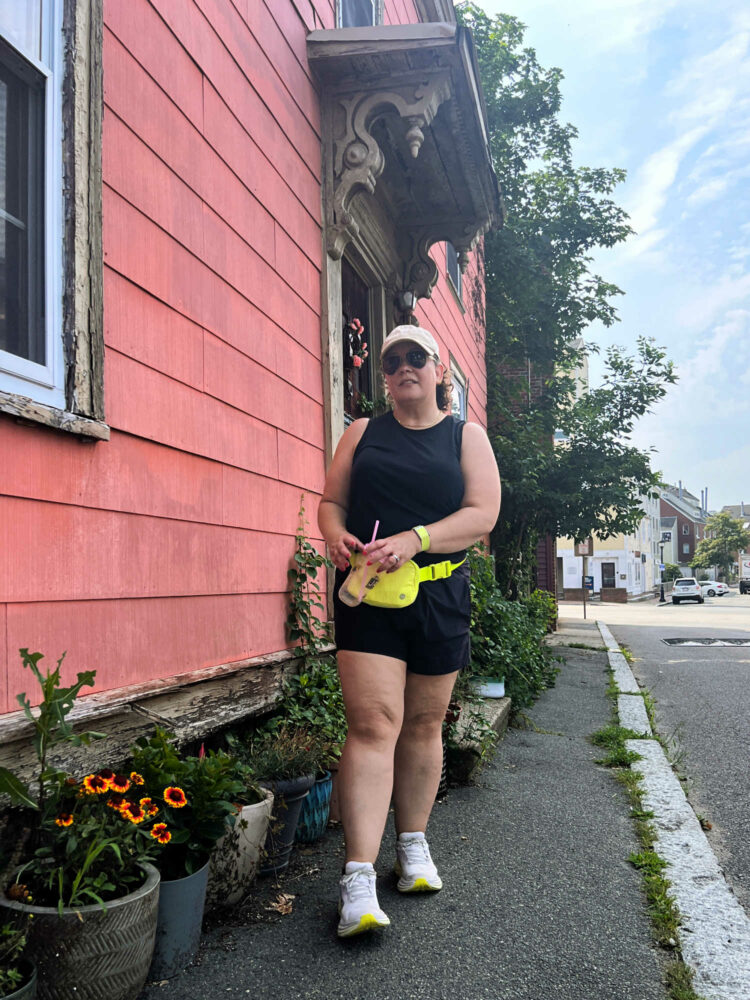 I also knew through this trip I may go to one or two nicer restaurants and since I'd be seeing family, there likely would be pictures taken that would end up being printed out, shared with other family, and posted on social media. I needed to pack to look polished and feel confident.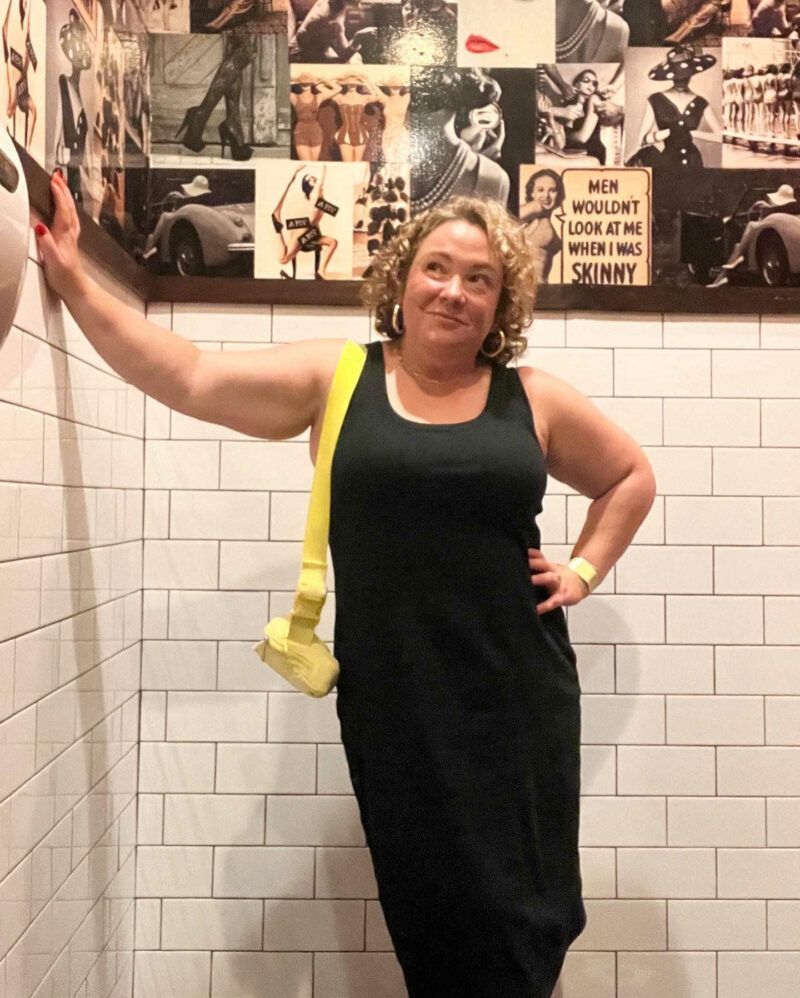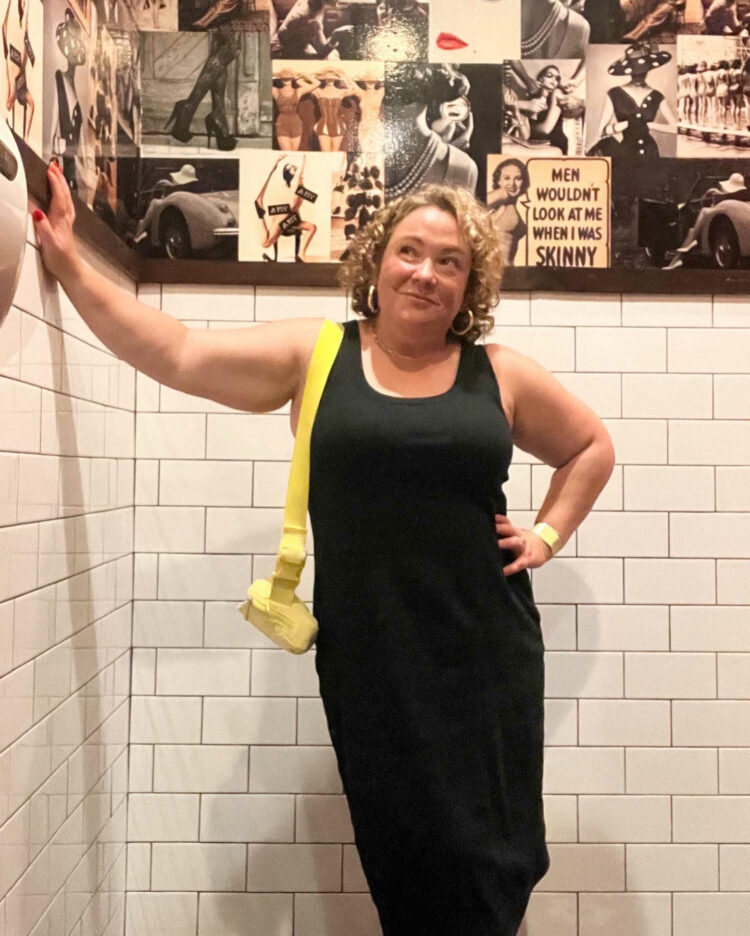 I would have an opportunity to do laundry while on the trip: our Airbnb had a washer and dryer so I could launder and reuse clothes before the next leg of the road trip. This helped me pare down pieces to fit this capsule into one bag.
Building a Capsule Wardrobe for My Vacation
While many capsule wardrobes rely on muted neutral colors for versatility, my core color was bright red. I bought a pair of red Birkenstock Arizona sandals this spring and was thrilled to find they matched a Chico's microfiber tank and Zenergy jacket I got last summer. Then when shopping at Target, I found this belt bag that is the same orangey red color. Even the swimsuit included in this capsule is the same orangey red. Seeing this synergy, I used it to start my capsule wardrobe.
Adding Pants and Shorts to the Capsule
I've learned over the years to start any capsule wardrobe with bottoms: pants, shorts, and skirts. This is the foundation of a capsule and the pieces that can be worn over and over without looking like you're wearing the same thing over and over. They need to be easy care, travel friendly, and work with any of the shoes you're bringing.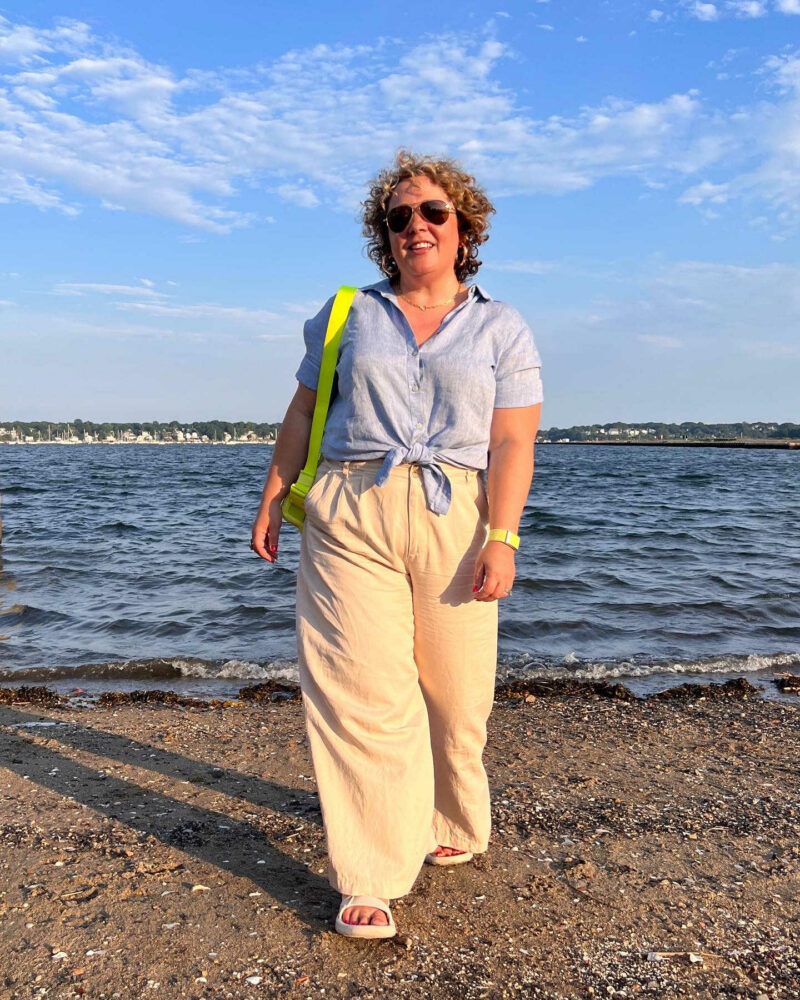 As you know from my Instagram and my outfit posts on Wardrobe Oxygen, I have gotten my money's worth from the Madewell Harlow wide-leg chinos. I knew they were versatile and I thought still looked chic when a bit rumpled, so I added them. While it is summer, a pair of full-length pants can elevate capsule basics like tanks and tees, and these are lightweight making them comfortable on a balmy summer evening.
The Sunny Swim Shorts from Universal Standard are my summer go-to shorts. The fabric is the kind that they can be worn with a swimsuit when paddleboarding, or with a linen sweater and metallic sandals for dinner at a beachside cafe. They could easily be switched out for a pair of shorts in twill or linen but may not prove as versatile.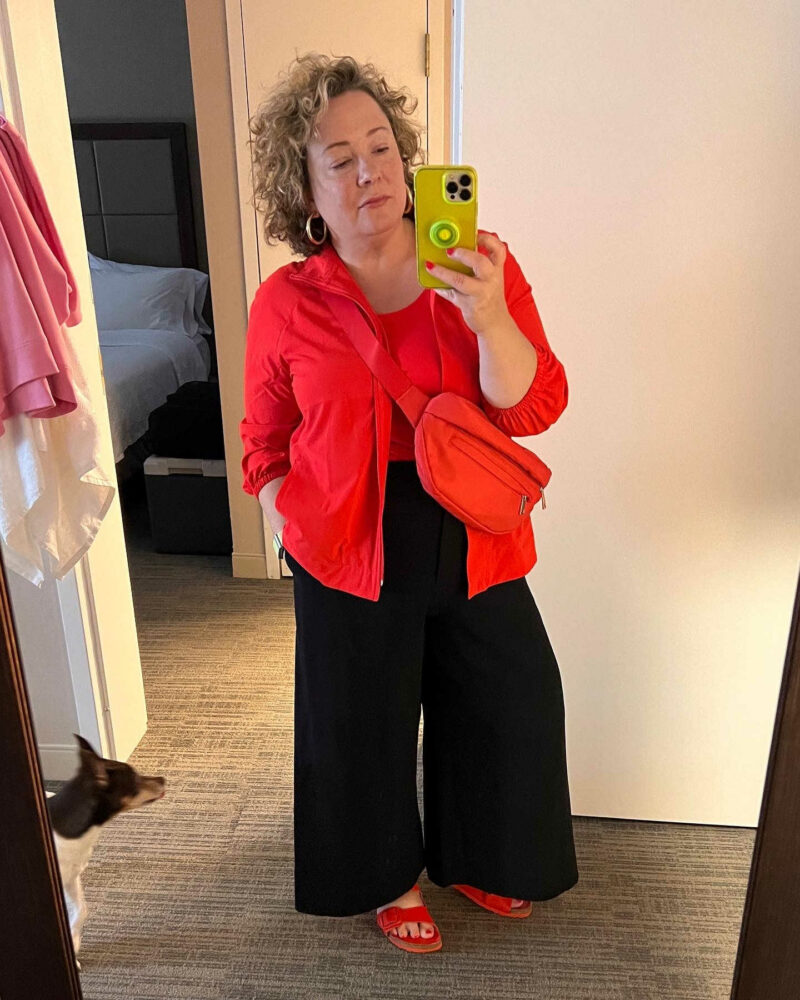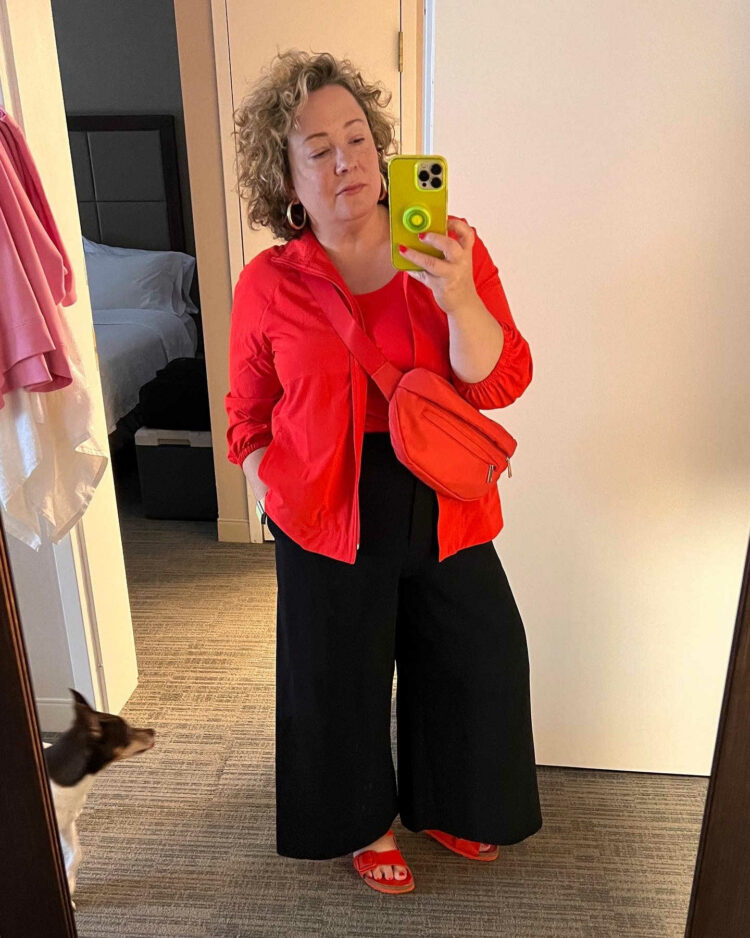 The M.M.LaFleur Zhou culottes are more like ankle pants on me, but the fabric is machine washable, dressy enough for work or a nice dinner, but wrinkle resistant and comfortable enough for sightseeing. More elevated than the Madewell pants, with a refined tank and some gold jewelry I could go to a nice restaurant or even a club and fit in.
Dresses are a Capsule Must in Summer
Dresses are one-step style and in summer, they're literally a breeze. Floaty styles that don't cling or bind can feel like wearing almost nothing on hot days (I love these slipshorts underneath to prevent chafing and still feel like you're wearing almost nothing). They also are an instant way to look dressy even at the tail end of a long road trip.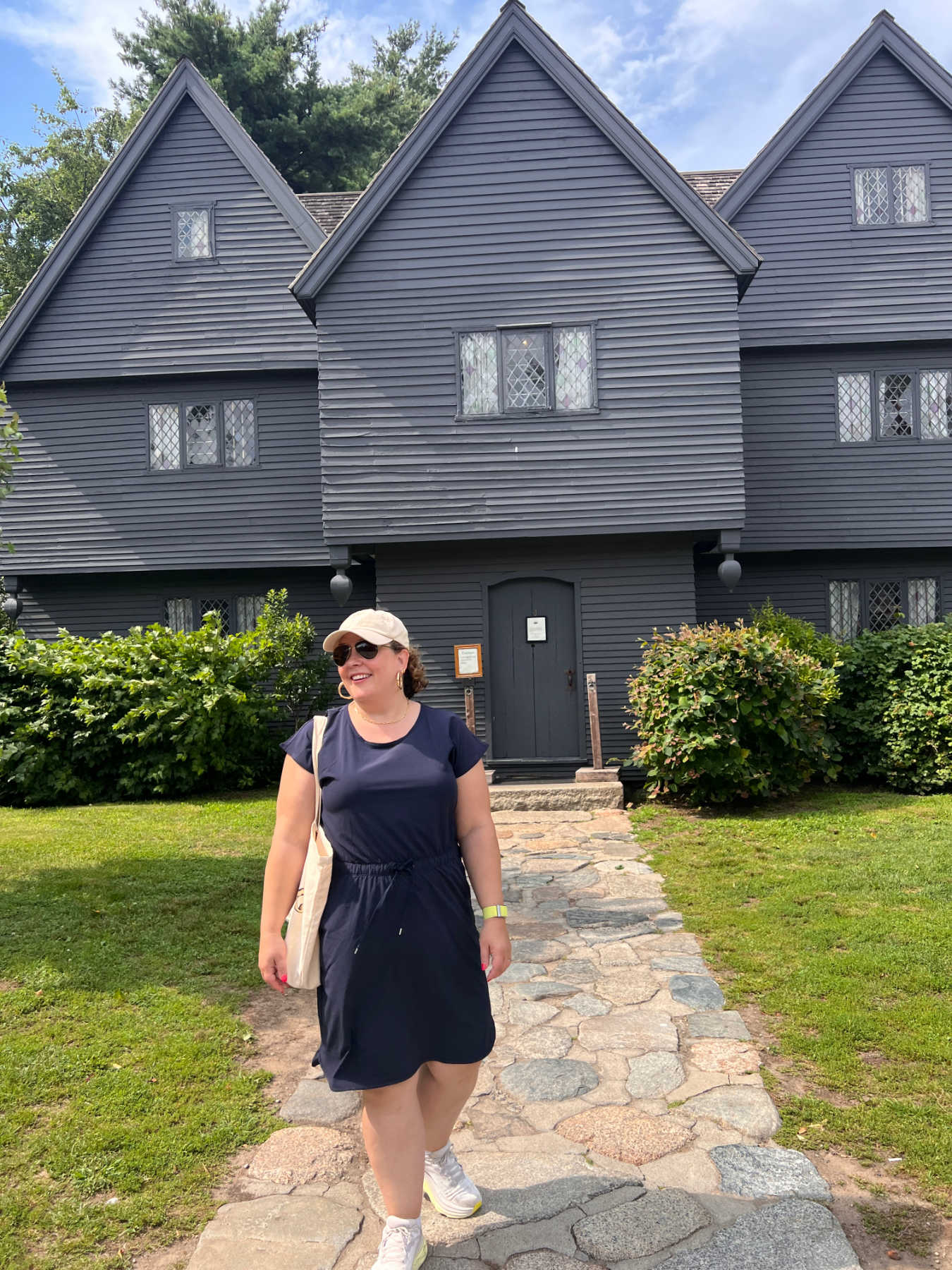 I shared on Instagram how I liked this navy dress from Talbots and was going to take it on vacation. Even though it didn't "go" with my capsule, it didn't have to because it's one-piece dressing and lightweight enough that it rolled into nothing in my bag.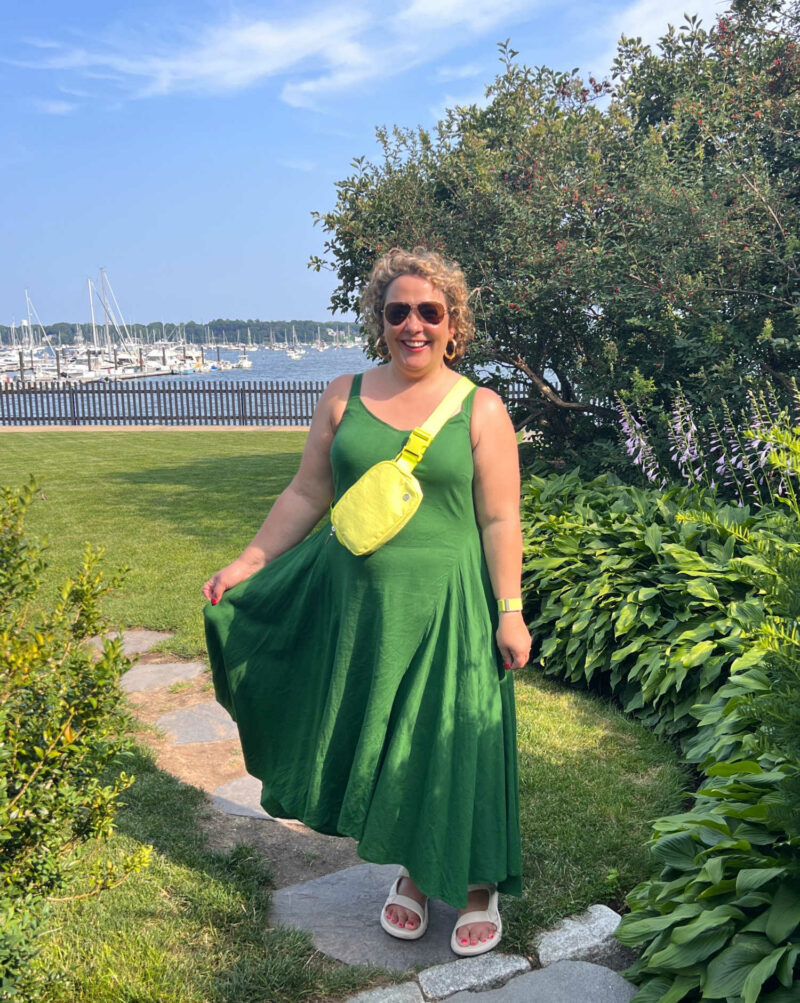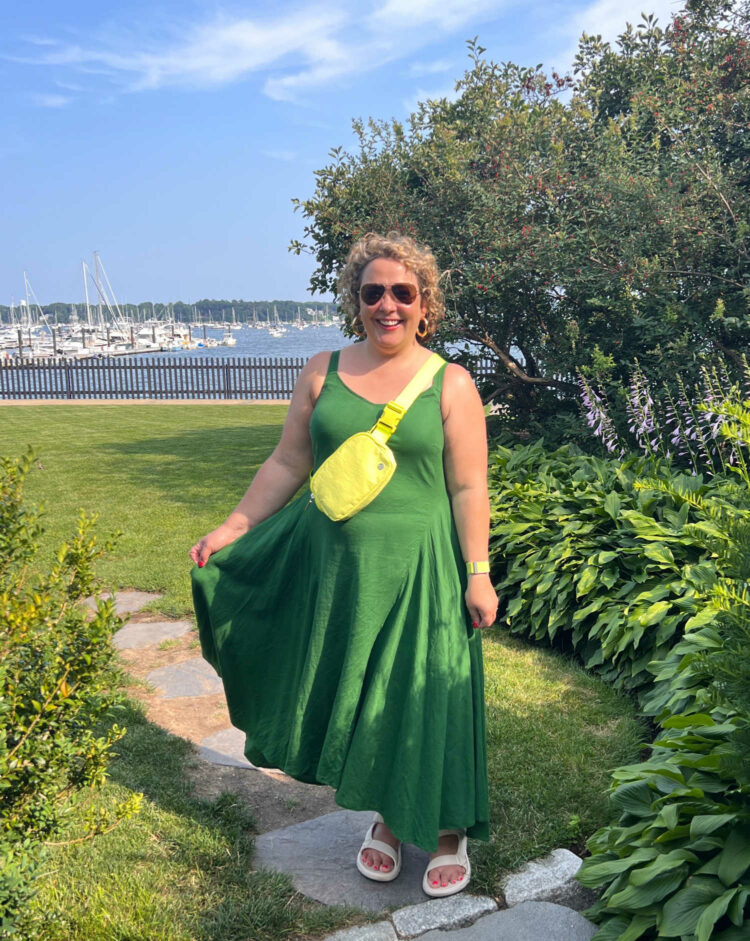 The green linen dress I took wasn't as necessary but it felt lovely on a very hot day and made quite a statement. I also liked how it paired with the other pieces in the capsule and how it didn't look like a road trip piece so I felt myself when dining at a nicer restaurant or visiting relatives.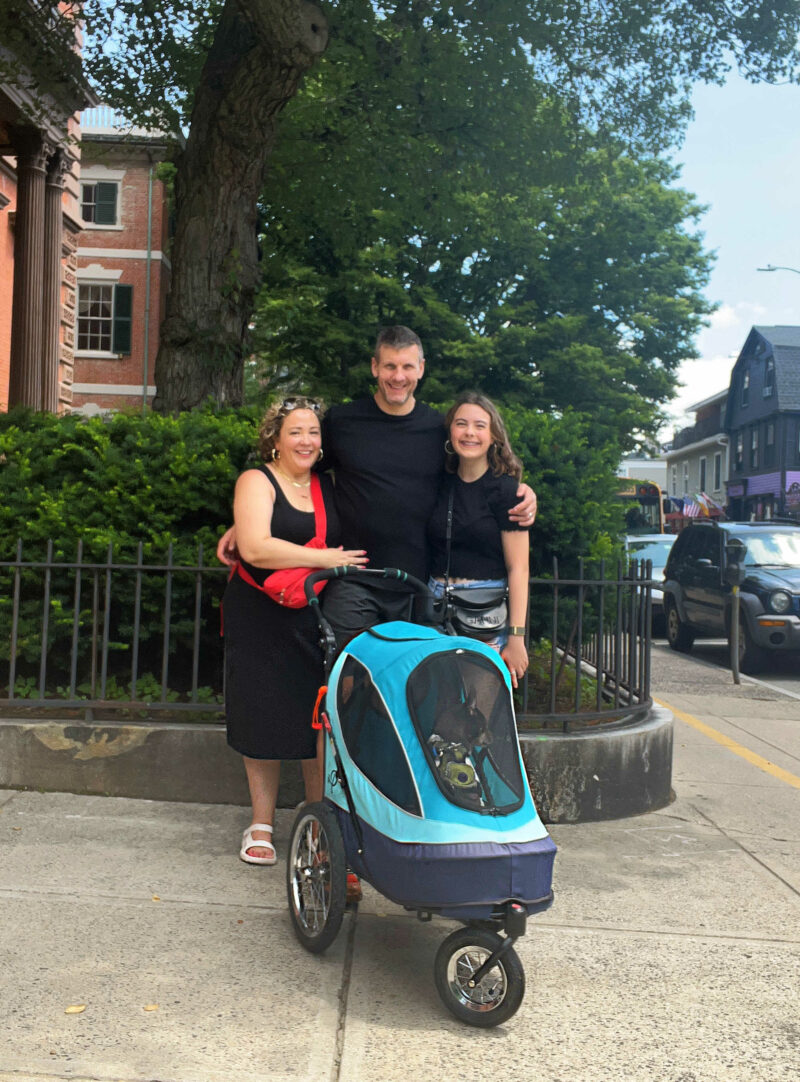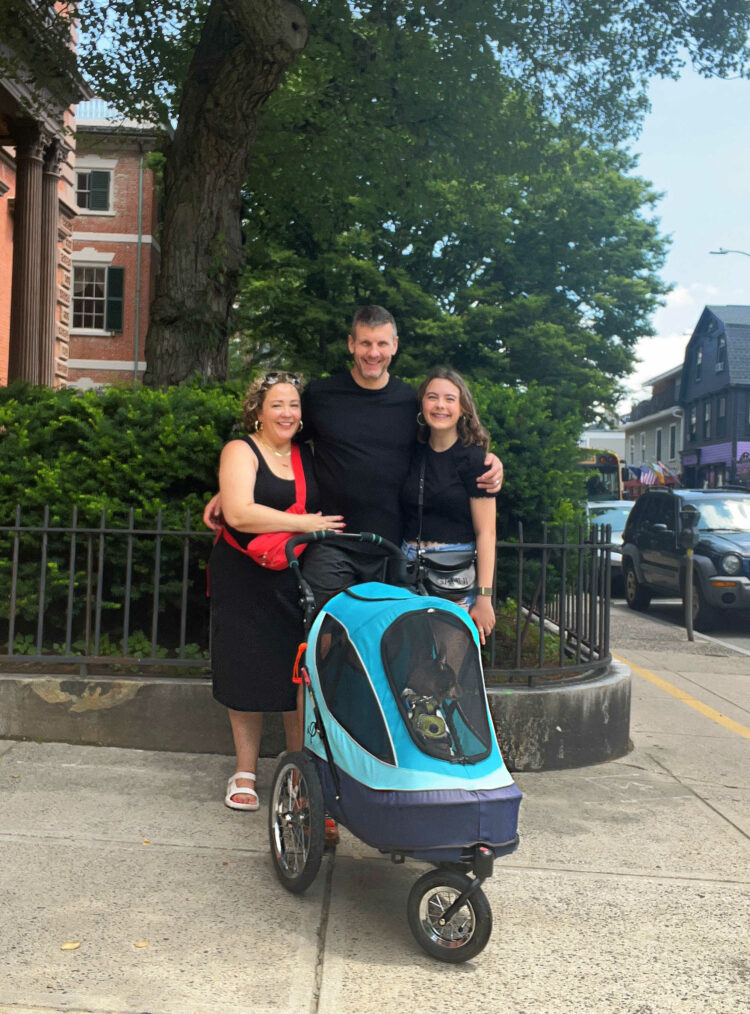 The black tank dress I purchased after my sister raved about it in her Miami weekend capsule wardrobe. It is a great dress. If you're unsure, go with your smaller size. I got an XL and had to put it in the dryer to shrink it to a size that looked good. But it has been washed and dried many times and still looks great.
Choosing Tops to Complement the Pants and Dresses
I've learned to pick tops last, as they usually have the most variety and interest. By picking them first, it can be harder to choose bottoms to coordinate and your capsule may end up larger than expected. Once you've chosen bottoms that make sense for your situation, you can play with tops to create looks.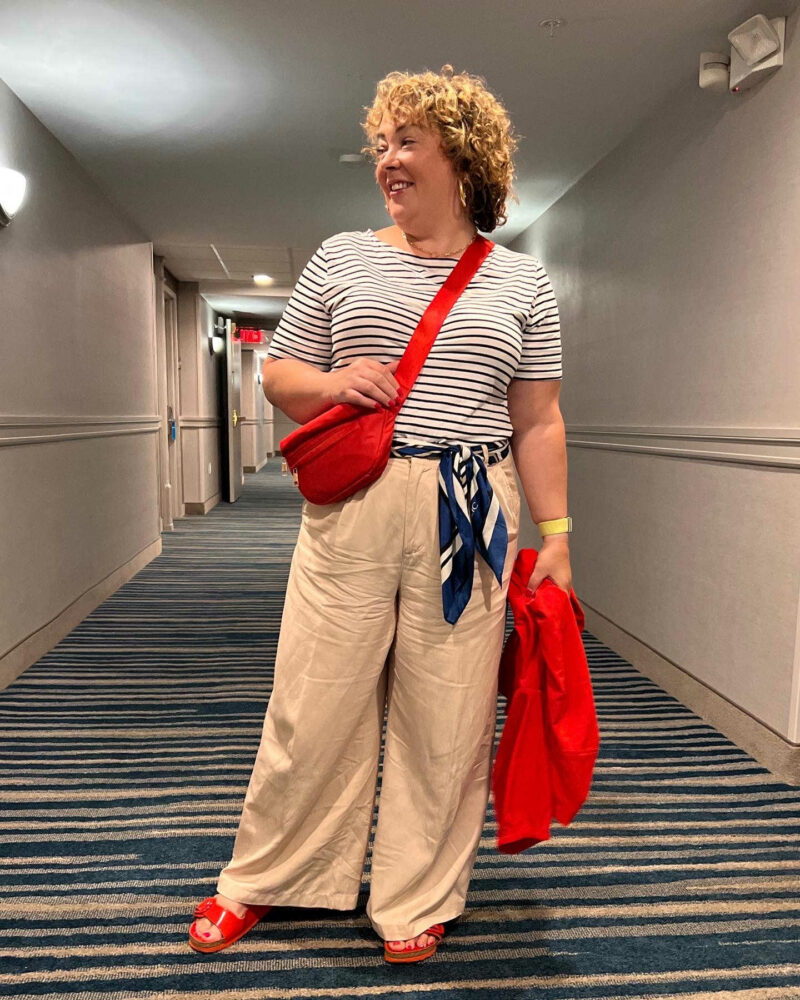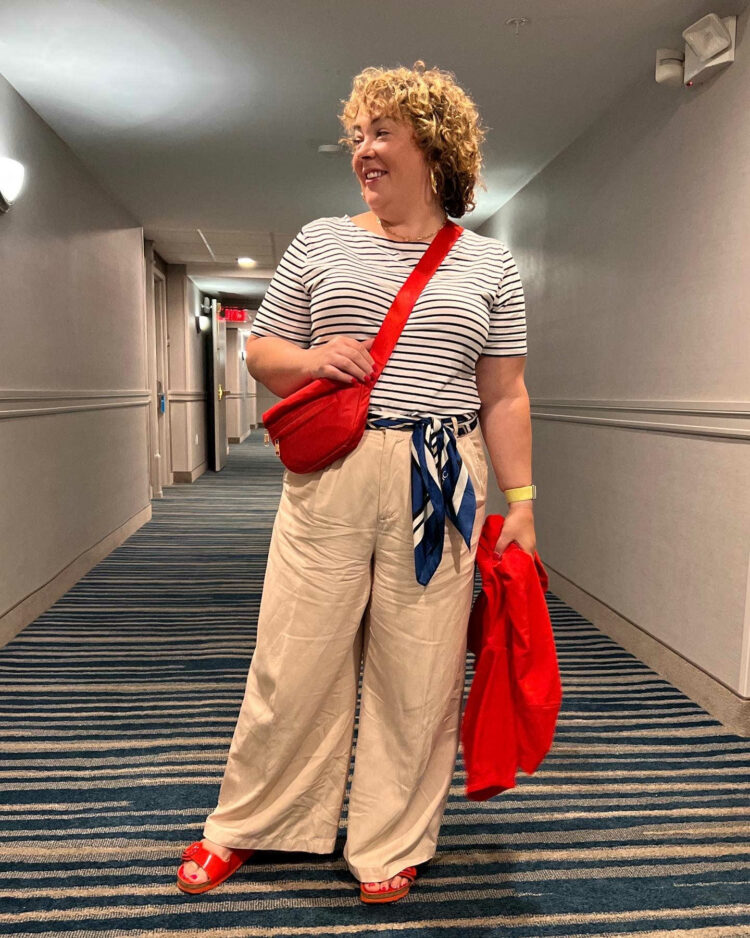 Now, if you have a specific top you need in your capsule, you can start with it, but only it. If you go with tops first, you'll end up with twice as many bottoms and less versatility. But some tops are good basics for a lot of more casual of capsules:
The striped t-shirt:
I am a fan of Breton striped shirts, and a big reason is how they always look more elevated than a solid tee, and more versatile than any other kind of print. Wear under a blazer or cardigan, wear with a pair of casual shorts, wear knotted with a midi skirt, wear tucked into jeans, wear with florals and plaids and leopard print and polka dots, any wash of denim, winter or summer fabrics. I brought this short-sleeved striped top from Lilycoco on Amazon (read my initial review of this Breton top).
The relaxed button-front shirt:
This is not a piece you need to starch or press. This is a shirt you can roll up the sleeves and unbutton one more button and tuck into jeans or tie at the waist and wear with a skirt. You can leave it unbuttoned over leggings and a tank or use as a swim suit coverup. Pinpoint oxford, linen, cotton voile, gauze… these kinds of fabrics can handle multi use and look okay if they're a bit rumpled from travel. I brought a wrinkle-resistant linen shirt from Chico's I've owned for several years (sadly no longer available).
A refined tank:
Something more elevated than the ribbed number from Target but not as dressy as silk. A piece you can wear under the relaxed button-front shirt, under a blazer, or tucked into a pretty skirt or wide-leg trousers. Not too low cut, able to wear with any bra, and can dress up and down with ease. My personal favorite is the Chico's Microfiber Tank, but there are plenty of other retailers carrying similar.
Apparel for Activities
Swimming and possible water-based activities. Hiking and a lot of walking. Breezy nights near the water. Potential rain showers. Lots of sweat and lots of long days. I want to be ready but I don't want to carry multiple pieces of luggage.
I brought the Universal Standard bikini top and bikini bottom because I have worn them under clothes doing activities and it was comfortable while giving me a nice shape. I knew I could put it on first thing in the morning and wear it until we went to the beach in the late afternoon. I also liked that the top had enough coverage that I could wear it with shorts to grab drinks and not feel exposed. Also the color worked.
I brought the Chico's Zenergy jacket (no longer available, got it last year) because Chico's has a way of adding style to practical pieces. Bracelet-length sleeves and a high-low swing style meant this jacket would keep me dry in a drizzle, warm on a cool night, but also look polished enough as a casual jacket with trousers for dinner or an art gallery.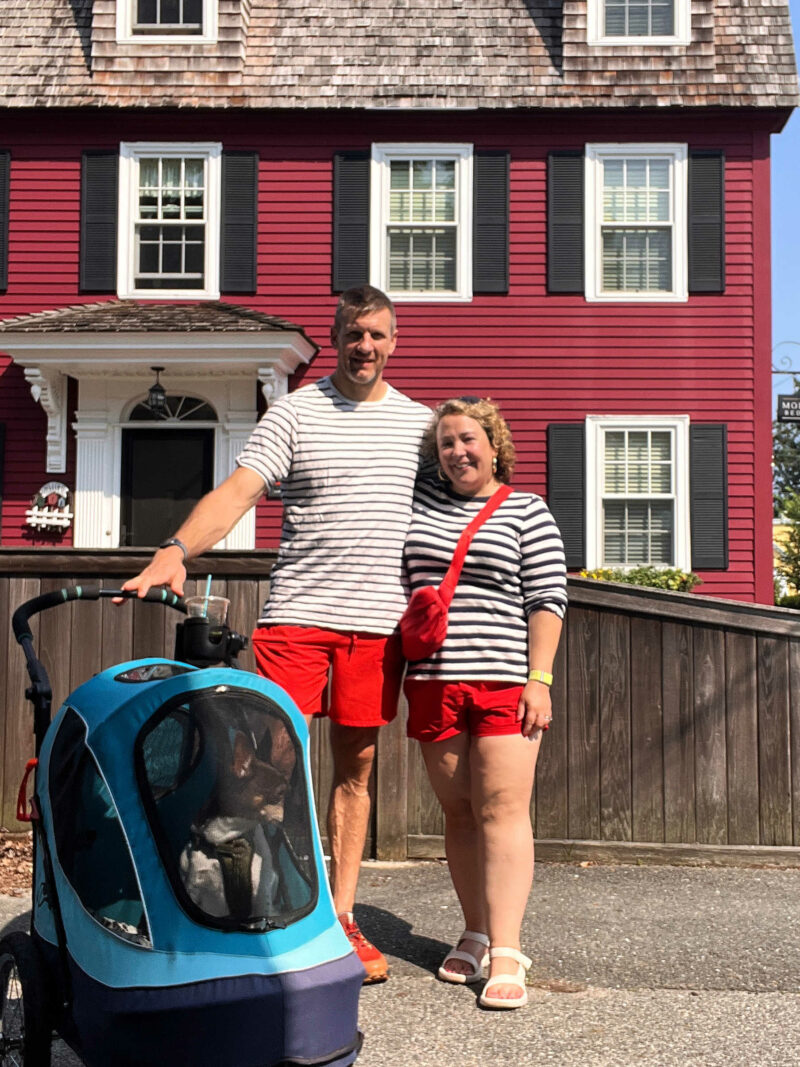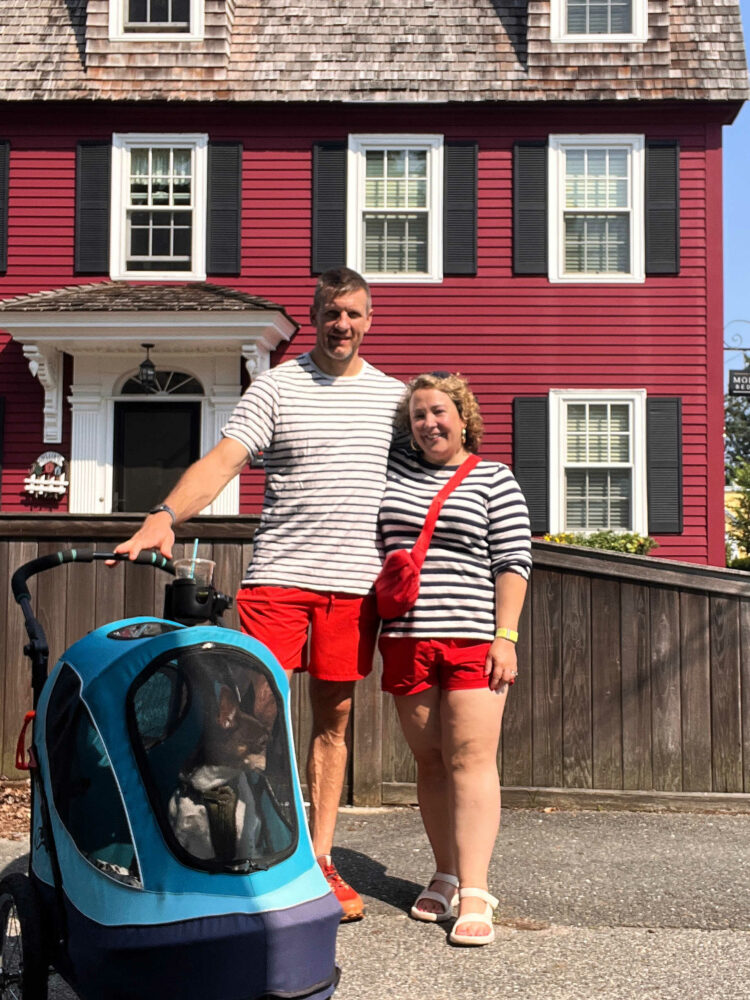 The Sunny shorts were perfect for being worn over the swimsuit, to the gym, for a walk, or just relaxing on the porch after dinner. I packed one sleeveless black fitness top and an orange-red sports bra with good coverage that could be worn on its own to a hotel gym.
Bags, Jewelry, and Accessories
When I am on travel, I keep accessories to a minimum. I am the queen of using accessories to change up a look and do find them an investment to extend a wardrobe, but on travel they're just one more thing I can lose or damage. I choose pieces that refine a look or make a statement, and pieces that can go with all or most of the outfits so I don't have to think, I can just get dressed and enjoy the day.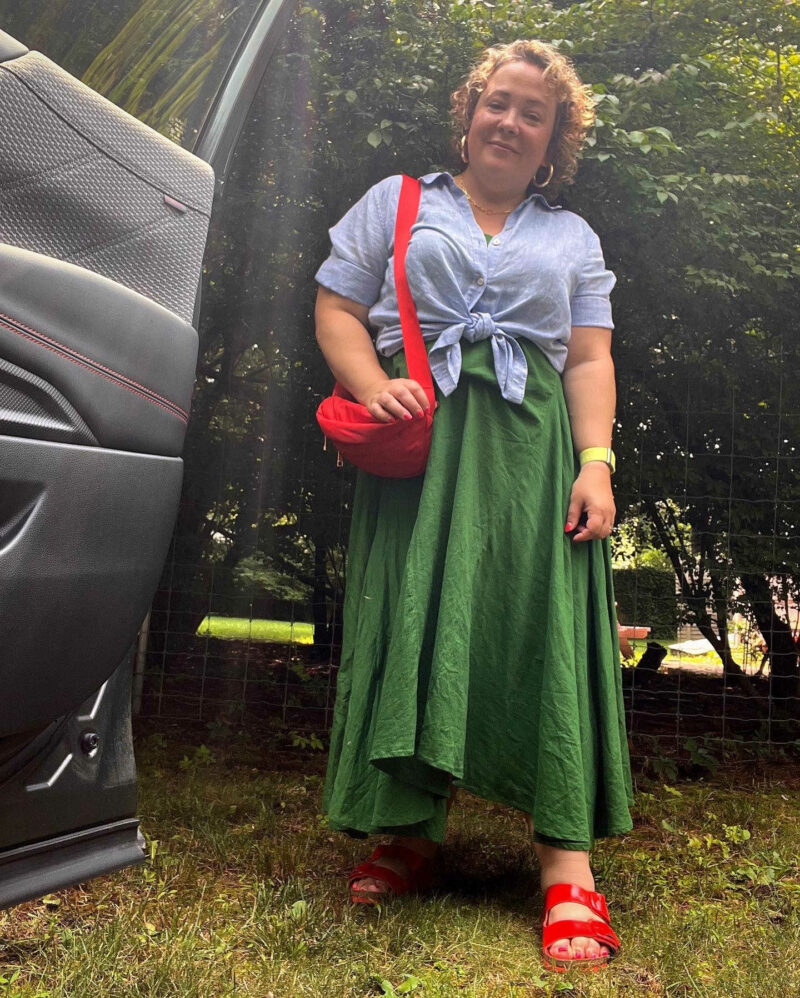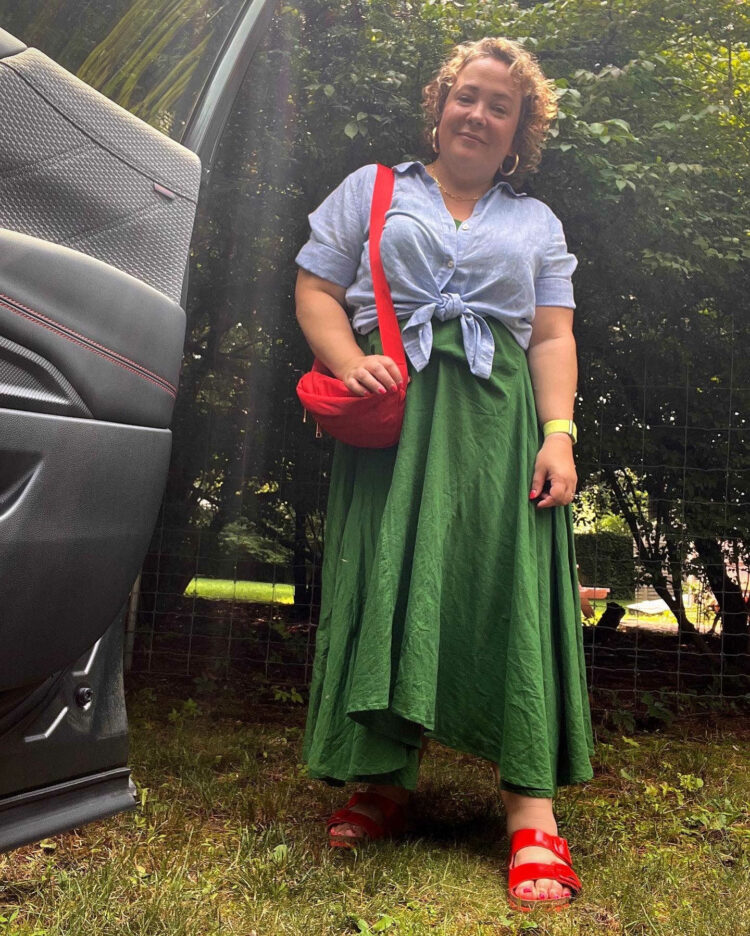 I took my BaubleBar Daliah hoops which make a statement, but are lightweight and not so pricey if I lose one I'll be devastated. This Gorjana necklace was the hero which added a little bit of shine without being too showy and is also priced that if it broke or got lost it wouldn't be the end of the world. I took two other gold necklaces but hardly wore them and wish I kept them home.
I brought a tan canvas baseball cap because it's perfect for hiding bedhead when doing a morning coffee run, gives a bit of shade when out and about, is small enough of a hat you can leave on when you head indoors, and can handle getting wet or sweaty. I also brought a couple bandanas which can also cover hair, hold it back, mop sweat, and be a neck scarf accessory. I brought a large silk scarf which could be tied over the hair if it's a really bad hair day, but also looks great as a belt, dressing up casual pants and dresses.
For bags, since I knew we wouldn't be going anywhere super fancy, I stuck to two belt bags in accent colors. I wore them as crossbody purses for sightseeing, shoulder bags for evening, and at the waist when doing more active of excursions. If I knew I'd be going somewhere nicer I'd pack this bag which I have in ivory. It packs flat, is super simple but not boring, and a price where if it gets damaged I won't be heartbroken.
Choosing Shoes for a Road Trip Capsule Wardrobe
When it comes to capsule wardrobes, you want to have the fewest shoes possible while still being ready for any occasion. For this capsule, I brought sneakers, comfortable sandals for light walking, and a pair of waterproof sandals that also are great for walking. If I knew I'd go somewhere dressier, I'd pack a pair of flat metallic gold sandals. This was not a trip for heels or fanciness.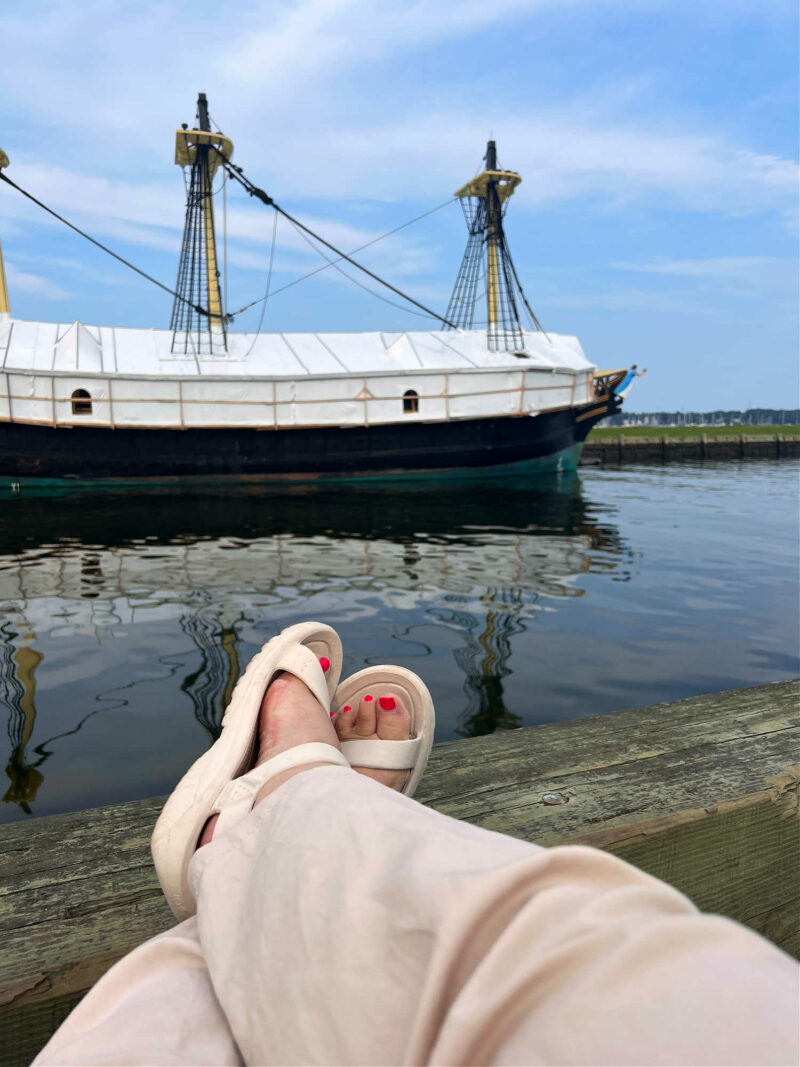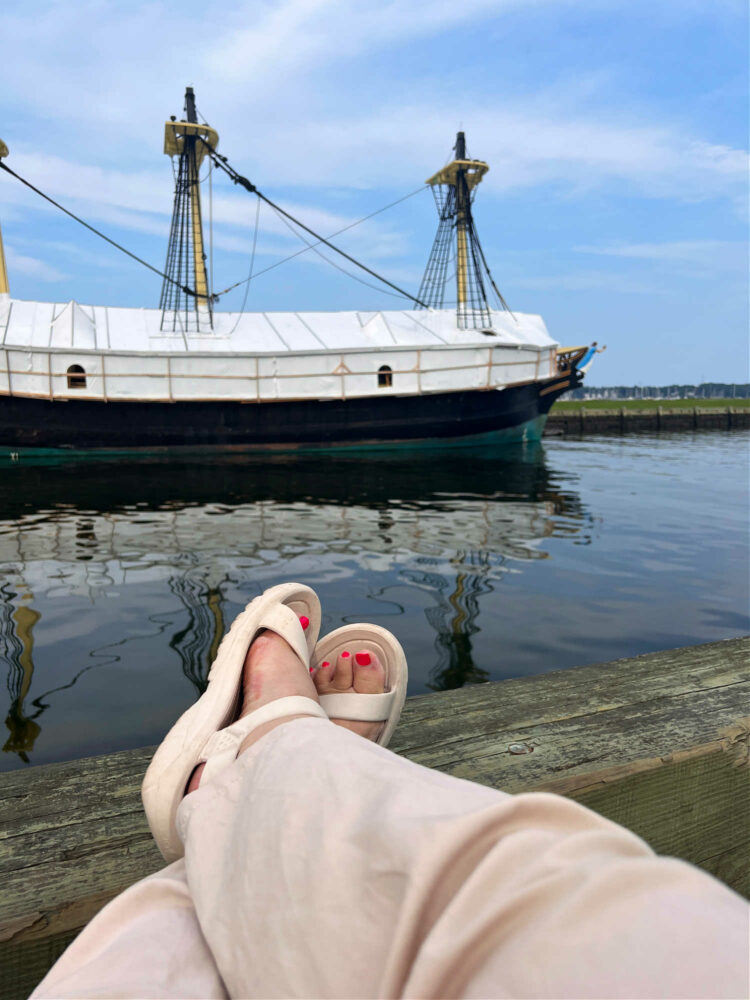 These Teva sandals were the hero shoes of the trip, comfortable enough to walk for miles, able to handle puddles and shorelines, could be hosed down, yet no blisters.
Outfits Worn from this Capsule Wardrobe
I wasn't great about capturing my outfit every day, as I am usually the one behind the camera on vacations. But I caught a few and it does show the versatility of this vacation capsule wardrobe. I have them interspersed throughout this blog post with captions explaining where they were worn to give you ideas for styling as I know a "flatlay" collage only provides so much inspiration.
Shop the Capsule Wardrobe:

However, this is only the tip of the iceberg with looks that could have been created from this road trip capsule wardrobe. If you are going on a similar vacation I hope this helps you pack and also shows you don't need to pack a bunch of ripstop fabrics in muted colors to achieve plenty of versatility and function!