This article may contain affiliate links; if you click on a shopping link and make a purchase I may receive a commission. As an Amazon Associate, I earn from qualifying purchases.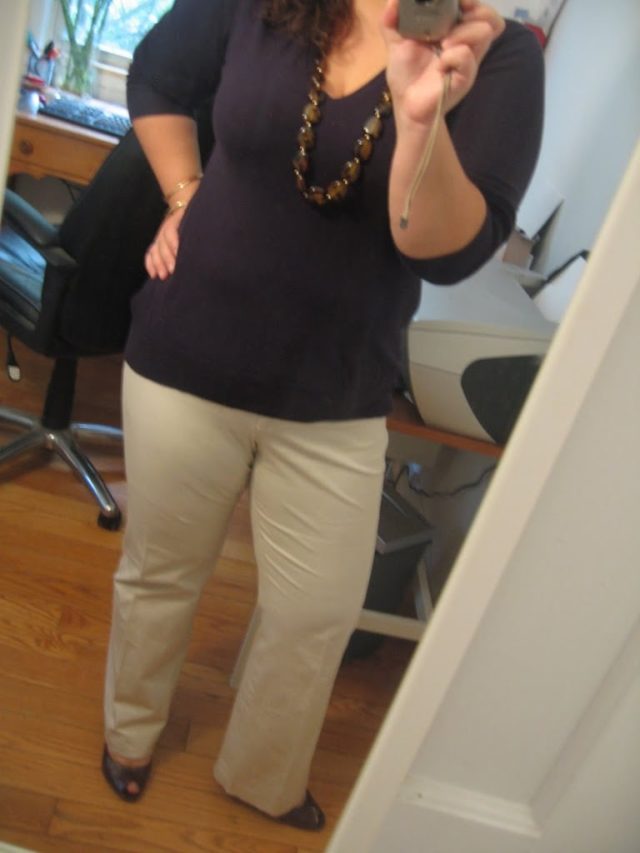 Hey guys, sorry for the late posts. Work has gotten busier and it seems that it flies by and next thing I know I didn't post my outfit. Then to top it off, internet has been acting up at home. Ah well, it happens. Gotta bring home the Tofurky bacon!
Navy stretch cotton v-neck sweater from Banana Republic, tan stretch poplin trousers from Caslon, brown croco peeptoe heels from BCBGirls, faux tortoiseshell necklace and earrings from a beach boutique, three gold bangles from Ralph Lauren.
Hair was washed and conditioned, a bit of Jonathan Silky Dirt applied while damp. Hair was scrunched, front part blown semi-straight, rest allowed to air dry. It ended up more curly than I desired on the rest of the head, but didn't look bad.
Makeup is L'Oreal Bare Naturale mineral foundation in True Beige, Nars blush in Orgasm, Pop Beauty's shadow set for brown eyes – the light khaki on the lids, darker khaki along lash lines and in the crease. Max Factor Lash Perfection in black and Maybelline Shine Seduction Glossy Lipcolor in Blushed Bass.
Product Review: Maybelline Shine Seduction Glossy Lipcolor
I am a sucker for all thinks rock and roll… yes even a lipgloss named after instruments and aspects of rock. The display at Target of these shiny silver tubes of gloss caught my eye and their names grabbed my heart. And I am always interested in trying new lip glosses…
The tube is a twist-up style; instead of a foam applicator it is plastic with little holes for the gloss to come through (a la many deodorants these days). It works better than many click to apply styles – not too much comes out, the slanted plastic applicator gives good coverage on the lips, and the plastic doesn't get gunky after a while like a sponge applicator. Problem is that I find these styles of applicators hard to apply in a rush or without a mirror – too quick a move and you have globs in the corner of your mouth or completely miss half of your upper lip's bow. I am a low-maintenance makeupaholic, and like my product to fit my lifestyle (why I like Revlon Super Lustrous Lip Gloss and other types with a wand applicator).
The color was easy to pick out because the silver space-age tube has a small window in it so you see the actual product. Blushed Bass is a creamy dusty rose shade. The goal was to find something similar to my natural lip color but far shinier. This color achieved that. It's not sparkly or too pink, and it looks glossy, not greasy on the lips. The more you apply, the more gloss you get. Many glosses just get gunky with additional application, so this was a nice change.
Now the problem. Like with many twist/click applicators I think i got less than I would for the same price yet a different container. I have worn this rarely but feel I have halfway finished the gloss. Also, this gloss does not last. I am bare-lipped without a trace after about 30 minutes. Okay, that's not true… I am left with something… dried-out lips. This stuff is NOT hydrating, NOT moisturizing, NOT healing. Most glosses that don't admit these claims usually at least leave your lips int he same condition they were pre-gloss application. This gloss seems to make my lips more dry and sort of sticky (not in a lip-gloss-sticky way, but in a eaten-melted-ice-cream-and-it-dripped way).
So why do I still wear it? Well I hate to let anything go without a fight, I still desire a sparkle-free gloss in this shade, I'm lazy and I just apply it more often (and carry a small mirror). But do know when this tube is empty in a couple of weeks, I will not go back for more of it. I'll probably just grab a fourth color of my now-favorite drug store gloss – Revlon Super Lustrous.