This article may contain affiliate links; if you click on a shopping link and make a purchase I may receive a commission. As an Amazon Associate, I earn from qualifying purchases.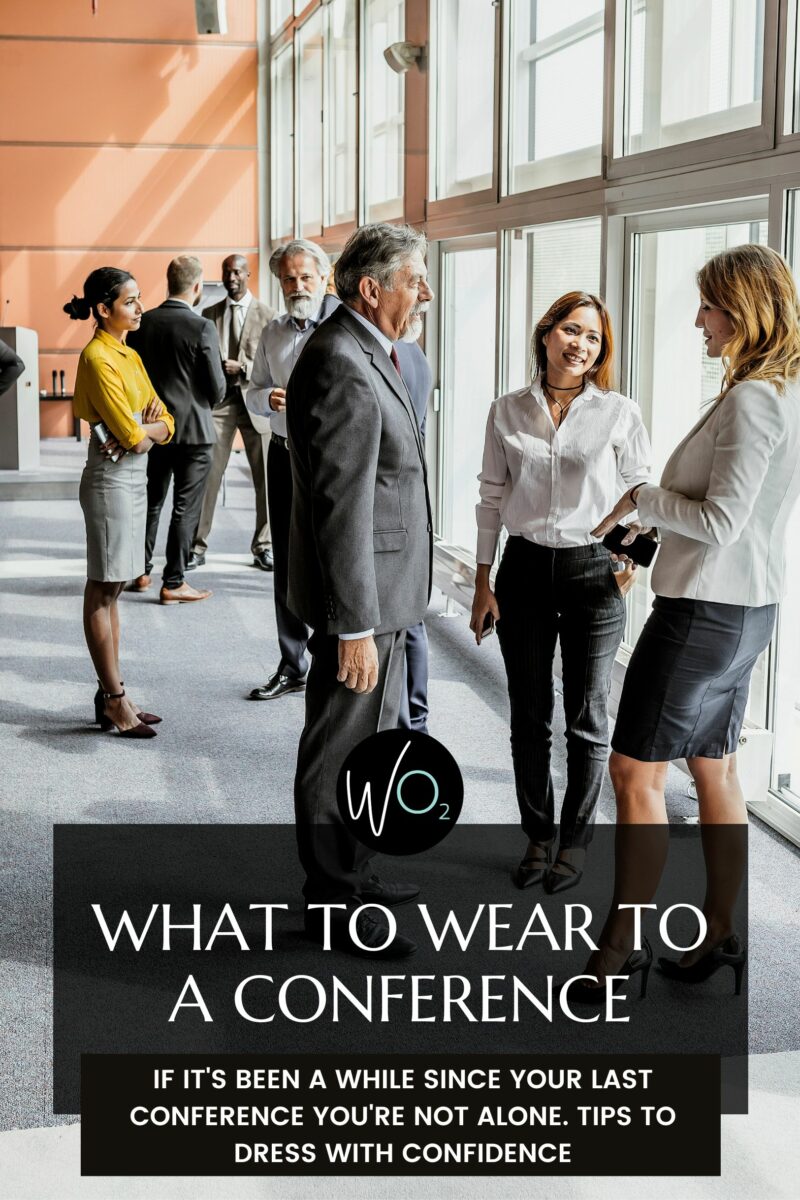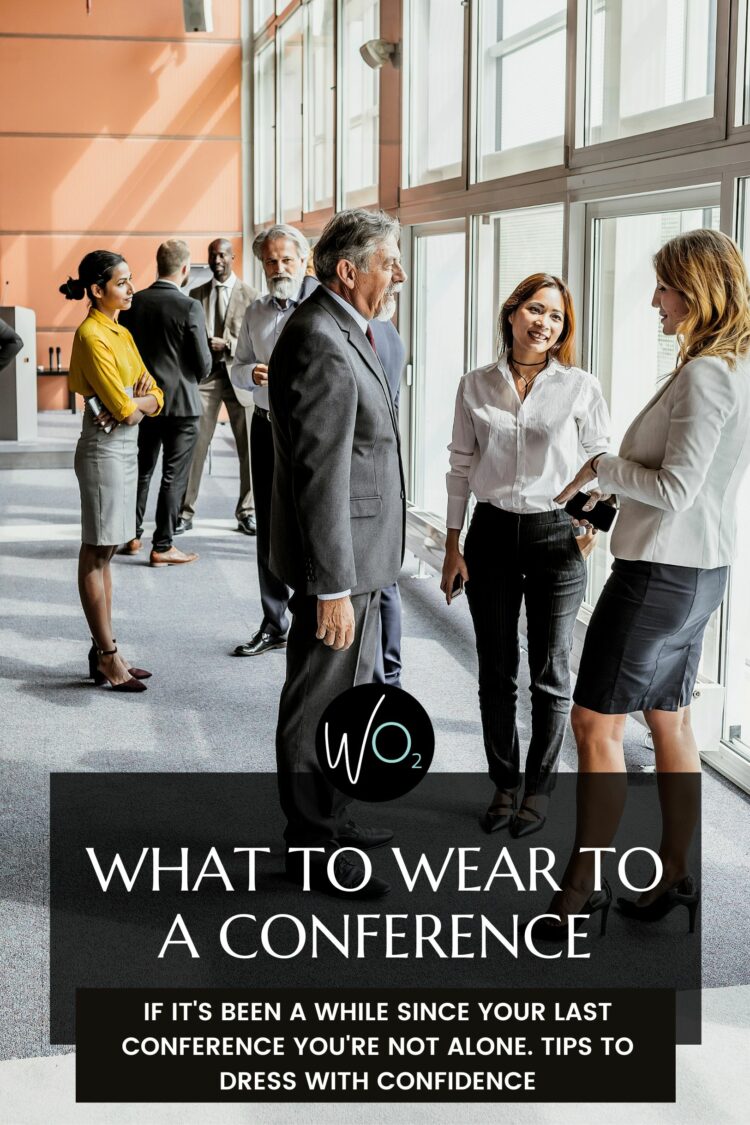 At some time in your life, you will attend a conference. It may be for your job, your house of worship, a nonprofit you support, a passion project, a side hustle, or a hobby.With the world opened back up, conferences seem to be taking place on the daily with some aspects online but most back in person So with all these conferences on your agenda, what the heck are you supposed to wear?
A conference is a place to learn about new trends, and new technology, and brainstorm as a group. However, conferences are most popular because they are a place to network. Think of a conference as a laid-back job interview – you never know, the person sitting next to you during one presentation could be your new boss or business partner if you play your cards right, or could be the person to take your current position from good to great. Considering this, it is important to put your best-dressed foot forward.
This post was originally published in 2010 but clearly, dress codes and conference styles have changed dramatically in the past decade. My tips on what to wear to a conference have been updated for 2023 trends.
What to Wear to a Conference
What you wear to a conference is determined by the type of conference. While it's clear you'll wear one look to Comic-Con and another to Oracle CloudWorld, I am focusing on conferences that are geared towards professional networking, skill-building, and community building. And for these, there are some general tips on what to wear.
Basic Conference Fashion Tips
A conference is a time to learn new things, but it is also a time to meet new people. And since it is an in-person event, how you look is part of your business card and elevator speech. No need to buy the latest fashions, but you will want to look polished and professional, representing yourself to the best of your ability.
Polished and Pressed: Perfect Your Outfit
Whether it's a brand-new blouse or a decades-old dress, it will look its best if it is pressed, crisp, and looking polished. If you are dreadful with an iron, plan time to have the garment professionally laundered or dry cleaned so it looks like new. If it's not cotton or suiting, you may be able to get wrinkles out with a travel steamer (this one I own and love).
Check your outfit and snip off any loose threads, resew any missing buttons (consider painting the threads with clear nail polish to keep them secure), and do a dress rehearsal to ensure your planned look fits and is in great condition.
Looking polished also means your footwear and any bag you will be taking. I recommend wearing shoes you know are comfortable for long periods, but take out your shoe shine kit, your Magic Eraser, your toothbrush, and a bit of Dawn liquid and get them looking as fresh as possible.
Smooth and Sophisticated: Perfect Your Look
You will be meeting new folks, shaking lots of hands, and possibly being photographed and/or videoed. Plan accordingly and if needed, get that root touchup, that hair trim, and if you wear makeup, consider a long-wear option that enhances without overwhelming.
This is not the time to try a new foundation or hairstyle. This is the time for a look that lasts through multiple cups of coffee, a buffet lunch, and a cocktail hour with passed hors d'oeuvres.
I rarely wear hairspray, but for long conference days, I will do a veil of KMS HairStay, which is lighter than hairspray and keeps flyaways and frizz from happening, even if I get overheated.
Knowing I may get overheated or sweaty, may tear up at an emotional keynote, and may not have time for touch-ups, I usually go with less makeup than more. A moisturizing primer (I like this one from Paula's Choice) and/or a longwear finishing spray (this one from ELF is awesome and budget friendly) will help keep what you wear, whether it's a full face or a few swipes of concealer, in place longer.
Bring backup. You will likely have a larger bag to hold all your conference materials and swag; have a touch-up bag with a comb, mini deodorant, flossers, a mini mouthwash or travel toothpaste and brush, your concealer (if applicable) and any lip product/s so you can freshen up through the day.
If you get manicures, schedule one as close to the date of the conference as possible. If you don't, be sure to trim your nails, ensure they are clean, and snip off any hangnails. You will be shaking a lot of hands, ensure yours look professional and maintained.
Keep it Comfortable
You will be on your feet most of the day, walking (and sometimes racing) from one side of the hall to the other, and sometimes to different buildings. Wear comfortable shoes that can keep up. This doesn't mean your well-loved sneakers; you can find comfort without looking like you just rolled in after your morning workout. Some shoes I have had success with:
When it comes to what you wear, consider keeping the crisp cotton and trim trousers at home and choose garments and fabrics that can hold up to a long day while still looking polished and professional.
Ponte di Roma, also known as ponte knit, is a dense heavyweight knit that looks refined and is available in work-friendly styles of suiting separates and dresses. It doesn't wrinkle, moves with you, but doesn't look too casual for a professional conference.
Matte jersey is a polyester knit with a crepe finish that looks professional. Often found in wrap dresses, matte jersey is often found in mixed and matched separates in the same color scheme. They can make a chic conference ensemble that is also incredibly comfortable while resisting wrinkles.
Some retailers like M.M.LaFleur create suiting specifically to handle business travel and long days. Breathable, easy care, and wrinkle resistant but still polished and professional, I often wear this brand for events like conferences.
A loose or wide-leg trouser will hold up better to a long day of sitting then standing then walking then sitting again. These days, many suiting retailers like Ann Taylor (which now offers petites and talls up to size 18) and Argent that offer multiple cuts of pants and jackets in the same fabrication so you can create a custom suit with a looser leg.
Don't discount dresses for conferences. I have found great conference dresses at Macy's, where they often offer sophisticated styles in ponte, matte jersey, and other professional looking wrinkle-resistant stretch fabrics.
Give your clothes a practice run – try wearing them while sitting, writing, or typing. See how the outfit holds up – does your bra peek through the buttons of your shirt when you lean forward? Does the zipper scratch your neck? Find out these things before you arrive onsite.
Prepare for Swag
Most conferences offer some sort of swag, be it logoed pens, tee shirts, or treats from the sponsors. Instead of being the goof walking around with a plastic bag stuffed to the gills, prepare with a bag big enough to hold your essentials plus what you acquire at the event (if you are attending an event where you know there will be lots of swag prepare with a packable tote in your primary bag).
Pack your Bag Properly
A well-prepared bag can make or break a conference. Double-check you have not just your laptop, but the charging cord. Consider a battery bank for your iPhone and other technology, and a super long phone charging cord so you can keep it by your side. I also recommend bringing a notebook and a few pens; some learning and brainstorming is best done on paper. And bring along a stack of business cards as they still remain a must at conferences and networking events.
Along with your work essentials, be sure to pack all those purse essentials. Wallet, keys, reading glasses, eye drops, hand cream, face mask, any medications, etc.
I like to have a bag in any purse or work bag that has some "just in case" tools. A mini sewing kit, some safety pins, Band Aids, hand sanitizer, nail file, cuticle scissors, menstrual products, OTC meds for headaches, allergies, and digestion issues.
If you have room, consider bringing a reusable water bottle. There is never a lack for disposable bottles of water at such events, but there is also usually a filtered water machine at the conference venue. Consider a reusable bottle which means you will have a larger bottle on hand (fewer trips to be rehydrated), and you'll reduce plastic waste.
Show Your Personality
When it comes to personal style, I am all for letting it show at a conference. it's a way to be remembered long after the event, and it's a way to extend the information on your business card or in your elevator pitch. Instead of black or gray, wear your favorite color. Instead of a shoe that blends with your trousers, consider a pop of color or a classic print like leopard or croco-embossing.
Prints are a way to stand out in the crowd without drawing the wrong attention. I still remember a conference I attended where a woman had a brown and cream giraffe-print wrap dress that she paired with tall cream boots. I noticed her in every crowd, but it wasn't so out there that she stole the spotlight.
Also consider your accessories – keep them professional, but don't be afraid to show your personality. I overheard conversations between colleagues speaking of another conference attendee. I heard people being described as, "the woman with the purple glasses," or "the woman with the orange scarf."
If you want to network and make an impression, consider an accessory to have you stand out in the crowd. This doesn't mean carrying your Hello Kitty backpack or wearing a pair of lime green leather pants, but it's a great idea to choose a purple croco-embossed tote, a memorable brooch on your lapel, a bold necklace, or a fabulous scarf at your throat.
How to Dress for a Conference When You Don't Know the Dress Code
One thing that I have seen change with conferences since 2010 is there is usually more intel about the expected dress code. Agendas with events and suggested dress, registration websites with images from past years, videos recaps showing folks interacting at all the different workshops and networking events, and social media platforms sharing content not just from the conference social media team, but attendees who tag the conference or use the conference hashtag.
Use this information to help you figure out your conference dress code. Whether it's a multi-day conference or a networking breakfast, I always Google the name of the event and look at the images, and head to Instagram and check out the event hashtag and any tagged photos from previous conferences to get outfit ideas.
If in doubt, dress up. It's way easier to be the person in the suit in a crowd of jeans and khakis than be the person in jeans in a crowd of suits. Consider wearing a slightly elevated version of what you may wear to the office the day the big boss or a client is visiting.
How to Pack for a Conference in Another Part of the Country (or the World)
You know the dress code in your hometown, and what weight of jacket or style of shoe will be most practical and comfortable in your climate. But how to know what to pack when attending a conference in another part of the country or even in another country? It takes a bit of homework.
Head to Google and search for conferences that previously happened in the same city or state around the same time of year. Conferences regularly happen in the same cities that have the venues, hotels, and resources to host conferences so even if the conference you're attending didn't take place there last year, you will be able to find photos or agendas for other events in similar industries.
If you are visiting a new-to-you city, check the weather before going. Look at the forecast for the time you will be there, but also check out how the weather has been recently, and how it usually is this time of year. Even if the forecast is mild, you may wish to trade your flats for boots, your cardigan for a trench coat or packable parka, and tuck an umbrella in your laptop bag.
If the conference is happening near another office for your company, or in the city where a friend lives, give them a call or send them a text. I regularly have friends reach out to me to ask me how to dress for a conference. This isn't weird or showing vulnerability, it's being a savvy business person. Knowing the local dress code and office culture helps you gain confidence and possibly the upper hand in business situations.
While it is tempting to pack light for any business travel, I recommend, if possible, to size up with your luggage to carry a bit extra. Just in case you spill your coffee, split your seam, or get invited to go horseback riding with the CEO, it's nice to have a few versatile pieces to have you covered. A silky t-shirt or shell, a pair of black ponte leggings, and an athletic shoe in your suitcase will cover most situations.
What to Wear When Speaking at a Conference
If you have been invited to speak at a conference, congratulations! I know this can be exciting, stressful, and intimidating. What you wear will help you feel confident and look to be an authority. It is even more pertinent that your attire is freshly pressed, your shoes polished, your look well-fitting and free of stains.
As a speaker, it is customary to wear a look more professional, formal, or dressy than the attendees. If most will be wearing polos and khakis, be the one in the suit.
A dress is a great option as it looks great whether you are standing or sitting, and is less likely to bunch or wrinkle. For most professional conferences, you will want to be wearing sleeves and have your hem hit from top of the kneecap to mid-calf.
A fit and flare or fluid style of dress that covers your knees is a favorite as it will look great if you are on a panel or a moderator and the venue chose stools or high-top chairs.
For more conservative sectors like law and finance, I recommend a suit in a traditional color, using your shell and one accessory to show your personality.
I recommend a closed-toe shoe when you will be speaking in front of an audience. The exception is a creative or personal conference that encourages fashionable attire. In that case, ensure you have freshly pedicured toes.
Be sure to have something in your look that makes you memorable and stand out in a crowd. A cool piece of jewelry, a boldly printed scarf, a suit in an unexpected color, even a pair of statement-making glasses. Folks will want to find you in the crowd after your speech to offer their congrats, compliments, or to network; such details will help.
---
If it's been a few years since your last conference, know you are not alone. We're all still getting back into the swing of things, and while some extroverts will look completely at home in the conference hall, know even more will feel a little off. But if you're dressed in a way that helps you feel confident, with a well-packed bag, you'll feel comfortable more quickly. I hope these tips help you, and if you have additional advice do share in the comments!
Originally Posted: 10/20/2023
Updated: 07/23/2023