This article may contain affiliate links; if you click on a shopping link and make a purchase I may receive a commission. As an Amazon Associate, I earn from qualifying purchases.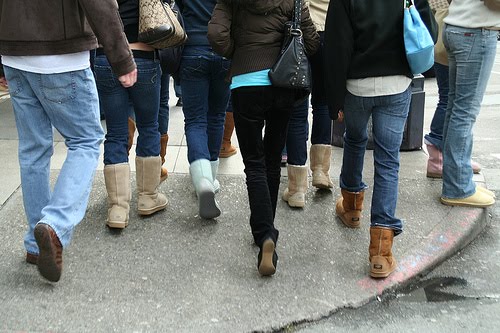 Uggs
seem to be popping into conversation left and right these days. A couple weeks ago, my sister had a movie night at her pad and people were discussing Uggs and how there isn't anything else out there that is nearly as comfortable or warm on a cold winter's day. That yes, they may be ugly but it's okay since they are popular and so comfy.
Today I have been bombarded by invitations to join some group on Facebook where I may possibly get a free pair of
Uggs
mailed to my home.
My current Facebook status is that I, "[think] Uggs
should only be worn as slippers and [do] not want a free pair shipped to [me] so please stop sending the group invites. Sorry folks, Uggs are NOT stylish, they are NOT cool. Yes, they are comfy but they are not proper footwear for out of the home. XOXO."
I cannot believe how many responses I have received on this status.
I hate to tell you ladies this, but Ugg boots
are not proper footwear. Yes, they are all cozy and comfy and keep your tootsies toasty warm. But they are tacky, they are ugly and their original purpose is all they should be worn for – to be slippers.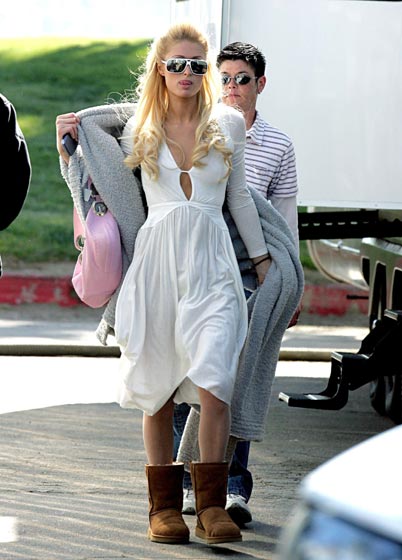 I blame Paris Hilton, who started the look over a decade ago with her tattered denim minis and baby tees. But even so, Paris wouldn't be caught dead these days in a pair of Uggs and neither should you. Uggs are tacky, they are ugly, they are passé. No woman with style would dare step foot out of her house in a pair of Uggs (inside your house is a completely different matter).
So what DO you wear when it's cold out and you want to be comfortable?
If You Love Uggs Because they are Boots:
After that Ugg boot
conversation on Movie Night, my friend asked me to help her find a worthy alternative to Uggs.
I mentioned that I find my Bern boots from DUO to be a great choice for me – they fit my wide calves, they are super comfy even after an entire day on my feet, they have a Sherpa lining which keeps me warm in the winter and sweat-free in the summer. I waterproofed them with some product from REI and now they are great in rain and snow. I can throw them on with any socks, under jeans, with sundresses and be cozy, comfy but not look as though I just rolled out of bed. Something like my Berns are a great alternative.
My friend is blessed with lovely legs that can fit into standard width boots, so she had more options than I. My friend is an attorney by day, but loves to hit a concert, bar or party on the weekends. Her style is very J. Crew – classic, feminine, with preppy and whimsical touches. We started her anti-Uggs search by heading to the mall, where she could try on a variety of boot heights and silhouettes to find one that fit her body and her sense of style (and saw far too many paird of Ugg boots on women, children and everything in between). After trying on many classics like the Frye Harness boot
, we realized that a taller boot was more flattering to her slim petite frame, a more feminine silhouette (less cowboy, more city dweller) fit her figure as well as her wardrobe, and though she is one to usually rock the black ankle boots, she found a dark brown to be a great neutral for her casual clothes.
After figuring out the color and the silhouette, she then went online to find the best price. She ended up choosing the "Veronica" boot by Frye
. They work under jeans, over skinny jeans, with dresses and skirts. The low heel makes the boots wearable for long periods of time. They are a very classic silhouette that will be stylish even a decade from now. They are casual enough to pull on with jeans and a sweater to head to the market, or even wear to work at the law firm. Frye
is a brand known for quality, so she knows that her boots are a good investment and not a passing fad that will end up in the garbage or donation bin come next season.
I belive Uggs
are popular because they ARE boots – they can be worn with jeans or with skirts. They are extra warm because of the height and stand out in a crowd because of their size. A riding boot
, engineer boot
or some other style of tall boot with low heel and solid sole is a worthy alternative that will have much more style. Leather can easily be weatherproofed, and leather softens with age and care, making them more comfortable and molded to your body with every wearing.
If You Love Uggs because they are Like Slippers:
I hate to say it, but tough noogies. Shoes aren't as comfy as slippers, and proper pants aren't as comfortable as pajamas (and nope, those plaid flannel pants are NOT streetwear, no matter what you pair them with).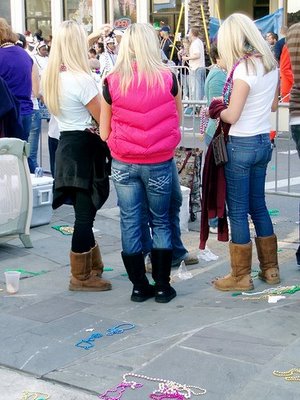 That being said, not all shoes pinch the toes and chafe the heels. There are many brands out there that provide style along with comfort. Some great brands are
Naturalizer
,
Sofft
,
Born
, and
Dansko
.
There are many styles that are easy to slip on as well. I have a pair of ankle boots from David Tate
that have an elasticized gusset on the side so I can pull them on in a jiffy and can slip off using one foot to slip off the other foot's shoe. I used to have a great pair of ballet-inspired flats from Naturalizer
that had a really cushy supportive footbed, a squishy rubber sole, were made of butter-soft leather and felt just like a pair of slippers. However, these flats could be worn to work and for play without looking as though I was a lost Eskimo.
If You Love Uggs because they are Cute:
They aren't cute.
Okay, they can be slightly cute on a little toddler who needs puffy warm shoes to protect her toes in cold weather, but they aren't cute on adults. Seriously, they aren't. Sorry.
If You Love Uggs because All Your Friends Love Uggs:
Be a trendsetter in your clique! Show your friends how utterly stylish yet comfy your new Mary Janes/riding boots/ankle booties/ballet flats can be. Lead by example with your elegance and chic feet. And know that style doesn't come from imitation, but personal realization.