This article may contain affiliate links; if you click on a shopping link and make a purchase I may receive a commission. As an Amazon Associate, I earn from qualifying purchases. 
Do you have any suggestions for a denim shirt for a busty woman? Any tips on wearing them in the workplace? I've been looking for a great denim or chambray shirt but everything seems to be either be really tent-like or has flap pockets right over the bust or is sold out Help!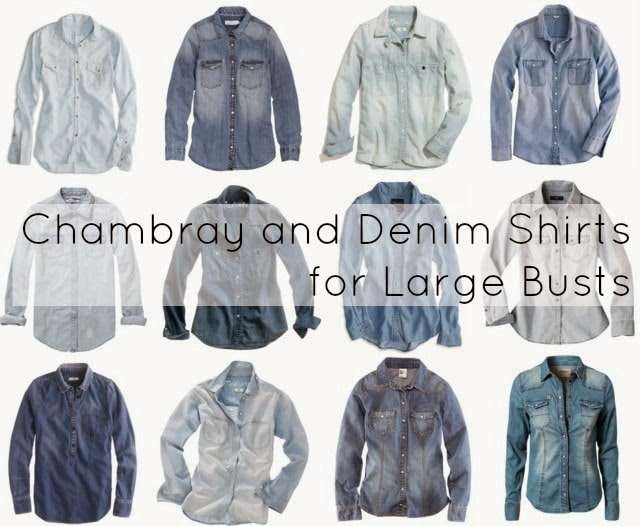 Unfortunately, you are looking at the wrong time of year. When it's the end of the year/beginning of a new year stock in stores is at an all-time low. They will stock up on things that are giftable or else to be worn to a holiday event, and then after the holidays stores have their annual inventory, which is easiest when there's as little stock as possible. Come March, spring stock will be arriving and you'll find a broader selection of denim and chambray shirts as well as most anything else.
As a busty woman, I find chambray to be far more forgiving than denim. It's a lighter-weight fabric so it will drape below the bust instead of sticking out like a tent. Also if you size up for your chest, the lighter fabric looks slouchy-cool if it drapes open at the neck, falls off the shoulders, gathers at the waist. If you find a chambray shirt that fits everywhere but the waist, consider having it altered for a more custom fit. Alterations don't have to be left to bridal gowns and expensive suits; if such changes can make a Target shirt look designer it's worth it.
As a busty woman, it's even more important to have clothes fit well and look tailored in the workplace. A woman with a lean athletic frame can wear an untucked shirt with skinny pants and look tomboy chic, a curvy woman could wear the same look and appear to be dressed to clean out the attic.
How to Style Denim and Chambray for the Office:
Black and Blue. Pairing chambray with crisp black defines the unique fabric and makes it look more work appropriate. Under a black blazer with slim trousers, tucked into a black pencil skirt, tied at the waist and paired with wide-leg black trousers… chambray and black is a smart work combination.
Nautical Touch. When chambray is paired with crisp white, it gives an elegant nautical vibe. Wear with white jeans for Casual Friday, under a white blazer with cropped pants and tan flats for spring, tucked into a full white midi skirt. Feel free to incorporate anchor prints, stripes, and navy to continue the vibe. As with black, the crisp white balances the casual vibe of chambray and makes it work appropriate.
Leopard is a Neutral. One of my favorite combinations is leopard and denim or chambray. A leopard pencil skirt looks fresh with black pumps and a chambray shirt; pair a chambray shirt and black blazer with leopard cropped pants for a fun take on office attire.
Balance with Luxe. If you work in a creative office, this works even better. Chambray shirt under a dark red velvet blazer, tied over a heavy sateen midi skirt, tucked into a sequined pencil skirt or brocade skinny pants. The chambray keeps the evening fabrics from looking too fancy for the office and the fancy fabrics show that chambray isn't just for the auto body shop.
Shopping Tips:
The Fewer Embellishments, the Better. No epaulets, no flap pockets on the bust, no studs or weird ombre coloring or sparkly buttons or… well you catch my drift. Embellishments, especially on the chest and shoulders only emphasize the size of your chest. Not only that, such details age a garment quickly.
Size Up. As previously mentioned, it's better to alter a too-large shirt than squeeze into one that's a hair too small. A softer fabric makes an oversized top less obvious, and makes drape look purposeful in a "boyfriend" style.
Protect the Placket. Be it strategically placed hidden safety pins or fashion tape, don't rely on the buttons on your shirt to get the job done. I always have one or two safety pins on the inside of my shirt to hold the placket closed between buttons; this also prevents buttons from working themselves open during wear.
Look for Lycra. A bit of stretch is a blessing for the busty. Not only does it resist wrinkles, but it will resist creasing and crinkling over the bust, under the arms, and any other curves.
Consider Brands that Consider Plus-sized Women. While you may not need a plus sized shirt, a brand like Talbots or Lands' End that makes clothing in extended sizes will have mroe thought about a woman's curves. I have had much luck with both retailers regarding button-front shirts.
Below are brands I recommend for large-busted women. They don't all have chambray, but as I mentioned above new stock arrives in early spring and some of these brands may start to stock chambray.
Follow Me | Twitter | Facebook | Instagram