This article may contain affiliate links; if you click on a shopping link and make a purchase I may receive a commission. As an Amazon Associate, I earn from qualifying purchases. 
I am working on purging by closet and replacing my overfilled closet with higher quality classics a bit at a time. I just love the ponte suits you post from time to time and wondered if you had a suggestion on where to find a great one? I travel frequently for work and love the idea of a packable suit.
Oh ponte, how I love you so! You're stretchy, you're as comfy as yoga pants, but with your tight refined weave and heavy weight, you look appropriate for the office and even on the dancefloor. You often match with ponte pieces from other retailers, and you're machine washable!
A ponte suit is a great addition to any wardrobe, especially if you travel on a regular basis. You mentioned that you're petite and a different size on top than the bottom. Here's some retailers that offer ponte suiting separates to help you find a custom fit: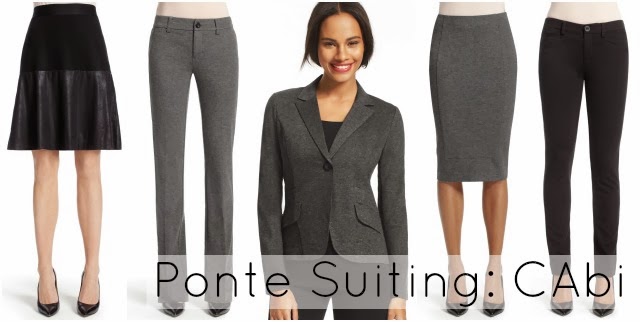 CAbi is an at-home shopping experience by Carol Anderson; think Stella and Dot or Pampered Chef for fashion. They occasionally have petite lengths in their pants, and I have found their jackets to be flattering to a short torso. Each season, they have pieces in ponte, and their pieces coordinate from collection to collection as well as from season to season. I have this season's Jet Set Jacket and My Favorite Trousers both in Gravel (charcoal gray), and together they make an elegant suit. The jacket works on a petite frame, though you may need to have the sleeves shortened professionally (won't cost as much as traditional suiting since it's not lined); the pants come in inseams from 32" – 35" and I found the 32" inseam to work on my frame with my favorite pumps. Each season they have different silhouettes, so you can really build up a suiting collection quite nicely; if you live in the DC/MD/VA area I can't recommend my CAbi consultant Lisa enough!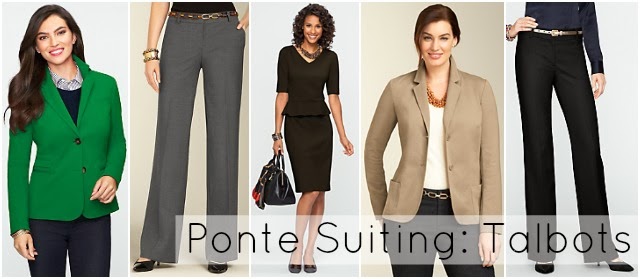 Talbots regularly has ponte separates, and I love that they are well made, elegant, and occasionally lined. Talbots never fails me when it comes to quality and classic styling, I recommend you actually try their pieces for they sometimes style their clothes (especially in their stores) to look a bit dowdy, but I find they can look quite on-trend when actually worn and styled to your liking. I find their Signature Slimming Ponte Pants to be flattering on a variety of sizes and shapes of women, and they come in petites, misses, womens and womens petite which is a refreshing change from most retailers who believe short women can't possibly be a double-digit size.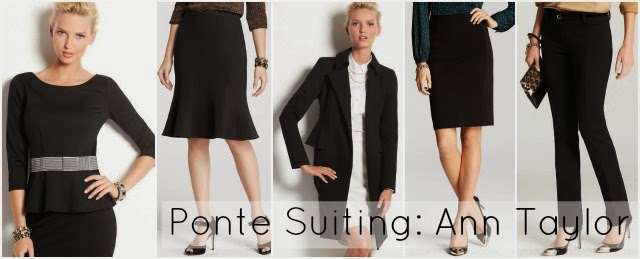 Ann Taylor has jumped on the ponte trend train and I couldn't be happier. While they don't have blazers every season, they always have dresses, skirts, and pants in ponte and I have found an Ann Taylor ponte piece from last year matches a ponte piece from this year. While I have questioned some of the style and quality of Ann Taylor in the past year, I have still found their ponte suiting to be well-crafted and classic enough to last more than one season. With Ann Taylor's recent trend to have some sort of discount every day of the year (and be sure to first go through Ebates!), you can likely find some great ponte separates at a nice price.

Yes Target! The Merona and Mossimo brands regularly feature ponte suiting, and while it's not always as thick as higher-end retailers, it still has a nice finish and is just as travel-friendly. Not only that, I have bought Merona ponte one year and have had it match Merona ponte from a different year. While I haven't had the best luck with the trousers keeping their shape, their jackets are quite nice and make a great suit with their dresses, and I have found the jackets pair nicely with ponte trousers I own from other brands.
I have also found great ponte pieces in petite and regular sizes at Lands' End, Banana Republic, and the Halogen brand at Nordstrom, but they aren't as likely to have continuing collections and I have found their pieces don't always match perfectly from season to season.
Follow Me | Twitter | Facebook | Instagram