This article may contain affiliate links; if you click on a shopping link and make a purchase I may receive a commission. As an Amazon Associate, I earn from qualifying purchases. 
I was really glad I brought Benadryl
and Claritin
to Bonnaroo as that the grasses were really aggravating me. I woke up middle of the night unable to breathe, and with earplugs in it's a pretty freaky experience. However two Benadryls got me breathing and back to bed in less than 30 minutes.
I headed to the bathrooms and really got to understand the beauty which is VIP. The bathroom trailers weren't very close to our camp, but there was never a line, the trailers were freezing cold, always super clean and stocked with toilet paper. They also had sinks which is such a pleasure when you're covered with sunscreen, dust, and grime. I also could take a shower which wasn't hot, but I could take my time and really scrub, shave, and even condition my hair.
Friday morning outfit: Green print spaghetti strap maxi dress (from Ross), cowboy hat, black Reef flops, silver hoops, same wrist of bracelets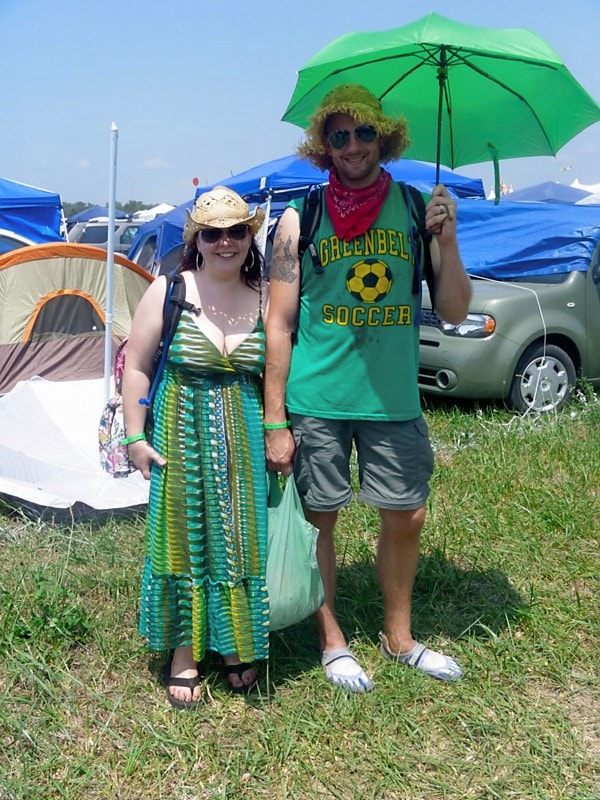 Living scarecrows – me and my husband on the way to the Inforoo brunch.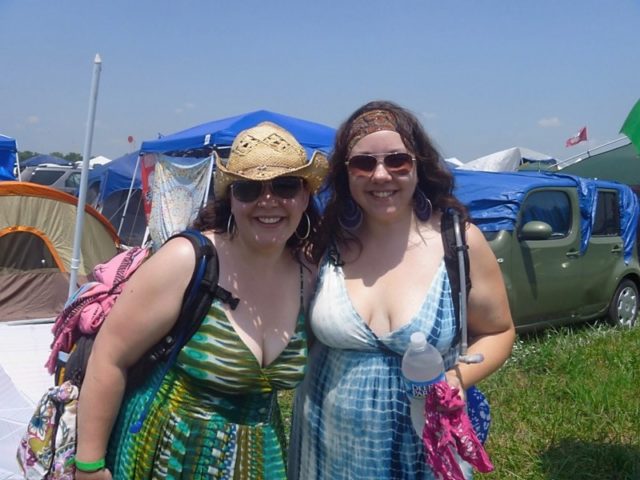 Me and my sister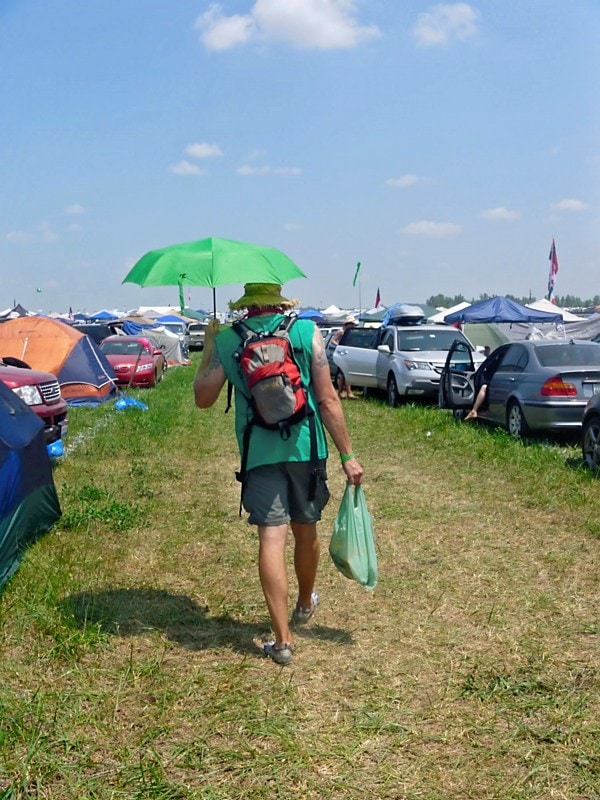 My husband carrying his portable cooler – a grocery bag full of ice to keep the champagne and OJ cold.
We started the day by heading to the Inforoo message board's annual brunch. We got a bit of a late start (my husband and I forgot it was Friday and went to get breakfast from a vendor, checked out the VIP lounge, etc.) and showed up after what seemed like half of the people left. However we saw some folks we knew and I got to meet reader Megan! We brought mimosas for the brunch – a carton of OJ picked up at Walmart on Wednesday and our contraband champagne.
On our way back, my husband and I found two glass bead necklaces hidden in the grass. Ground score! We each put one on, planning to wear for the rest of Bonnaroo.
We then decided to explore and find out all the perks of VIP (which I will get into in another post). En route, we got a bit lost and ended up walking almost the entire perimeter of VIP camping. Instead of getting to Centeroo like planned, we just got worn out and stopped by camp again to recharge. We then went the entrance we knew into Centeroo.
The plan was for us to all go see Bela Fleck but by time we got to that stage we just weren't feeling his music. So we headed to the What Stage (the biggest stage at Bonnaroo where all the headliners perform) to check out the VIP offerings over there. VIP has a fenced in area right to the left of the What Stage – there's a hill where you can pull up a chair and see the show, a tent where beer and beverages are sold (and you can get some shade), and a set of air-conditioned bathroom trailers. There is also a gate there that goes right to VIP (we were confused and lost earlier because that gate had yet to open). This became a favorite spot for all of us and we usually had a front row seat on The Hill for all the shows at this stage.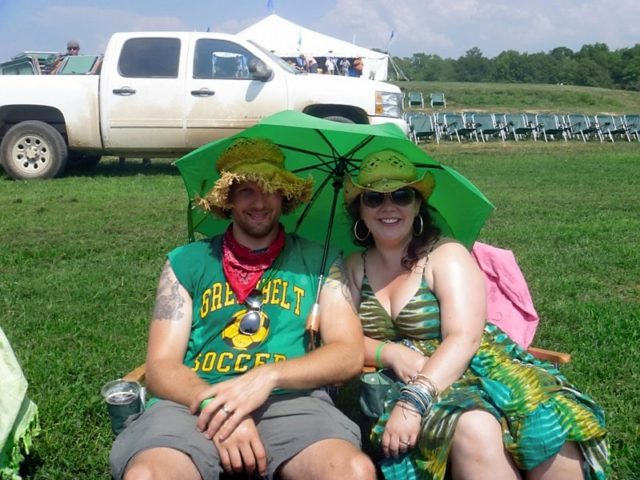 Me & my husband trying to keep cool while waiting for Grace Potter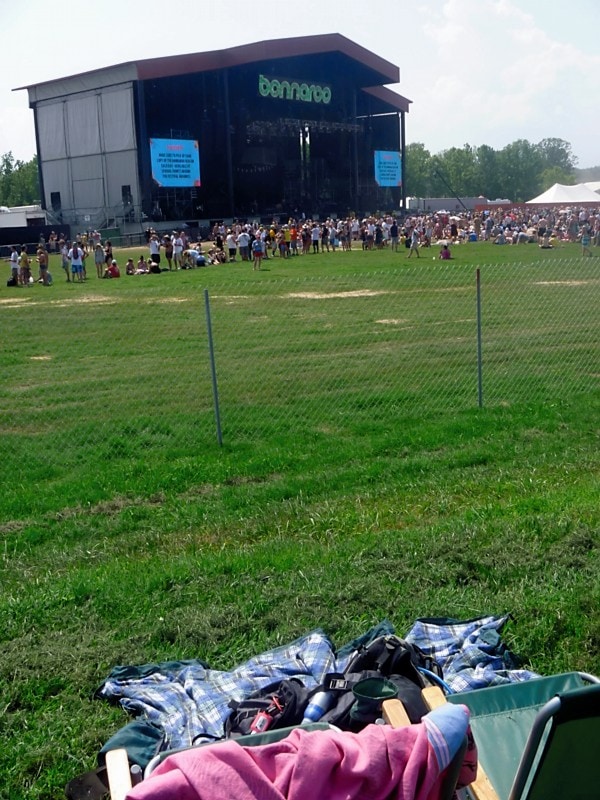 Our view from the VIP Hill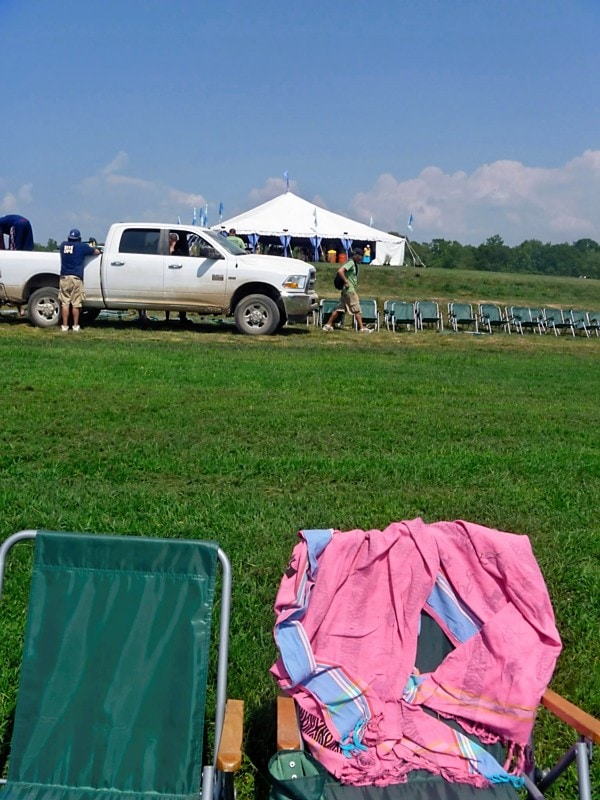 The view from behind our chairs – that tent is where there is shade & beer sales for VIP; past that is a slope with bathroom trailers at the bottom.  There is also the exit back to VIP camping.
Grace Potter and the Nocturnals
The first show we saw on Friday in its entirety was Grace Potter and the Nocturnals, and we saw it from the VIP Hill. I have seen Grace perform several times before, the last time just a few months ago at the 9:30 Club. I have been a fan of hers before she became popular and a VH1 Diva, but the last time I saw her I left underwhelmed. She wasn't even on my "must see" list for Bonnaroo. However, she totally redeemed herself as that Grace and her band totally kicked ass and gave us all a great show.
I would love to tell you what I did after Grace Potter, but for the life of me I cannot recall. I remember hearing some of The Decemberists and contemplating going to see Matt and Kim, but the next show I recall is My Morning Jacket which was 3.5 hours after Grace. I know at some point I changed my clothes… it may have been at this time. Ah Bonnaroo… I always end up with lost pockets of time while on the Farm!
EDIT: After publishing I remembered that during that time I went to see Florence + The Machine!  HOW COULD I FORGET?!?!   She is phenomenal but unfortunately because we were arriving late, we didn't get great seats and couldn't see the stage.
Friday evening outfit: Brown floral Old Navy sundress (sleeveless, empire waist, cotton, worn it to all 4 Roos), DUO "Bern" boots, same jewelry, green glass bead necklace
Me & my husband at MMJ in our matching necklaces. We're starting to look a bit more dirty and sunwashed from the weekend…
For My Morning Jacket, we again chose to view from the hill at VIP. We got there early and scored seats right on the lip of the last tier of the hill for a view over all the crowds in the field, but as close as possible. I know many people prefer to be in the throng for shows and I do enjoy that, but with my height and my sister's bad foot we found that for many shows, we preferred the Hill.
My Morning Jacket is probably my favorite band and they didn't disappoint. At the beginning of their set, the audio was off a bit but they plugged through and gave a great experience to all in attendance.
We stayed where we were so we had a primo location for Arcade Fire. I know many obsessively adore Arcade Fire, I have never been one. I "get" them more after listening to The Suburbs
in its entirety, and many people have told me that I MUST see them live to really understand them. So I made a decision to have them on my "must see" list, which wasn't hard since they were playing unopposed at Bonnaroo.
I am glad we stayed put because we got to experience one of the coolest ad campaigns ever. Suddenly in the sky it looks as though there are a million twinkling blue lights, shot out in a stream. And then another stream. The twinkling blue stars start falling towards the earth, to us. Everyone is getting excited, reaching out to catch these falling stars. They were blinking blue LED lights attached to a piece of paper with a QR code. This video really shows what it was like:
Back to Arcade Fire. I liked them. I wasn't overwhelmed and I didn't fall in love, but they do sound amazing live and put on a great show. My husband on the other hand was not impressed and finds them "creepy." So we left a bit before the end to head to camp to charge up for late night.
For those who have not been to Bonnaroo or another music festival, late night is where all the action is. Rules are broken and artists will perform past their schedule, other artists will join and jam with them, light shows are intense and the crowd is psyched. Glowstick wars in crowds, folks dressed up in crazy costumes and if you think the people watching is great by sunlight, it's even more amazing when the sun goes down. Many people go to Bonnaroo and never head to Centeroo until 5pm to ensure they have enough energy to dance until dawn. In the past I have only been able to survive one and a half late nights; call me old but this body shuts down pretty early, no matter how many naps and 5-hour Energies I have.
My goal was to see part of the Black Angels, a bit of Lil Wayne so I can say I saw him, or Bassnectar, and then maybe head to Pretty Lights. Instead I got to camp and my allergies were killing me, my feet hurt, I was sweaty and grody. I took a shower hoping it would revive me but the hot water instead got me feeling all cozy. Came back to camp, had a beer, and almost fell asleep in my camp chair. Yeah, I'm a real wild child.
For more info on Bonnaroo 2011, check out:
Next Bonnaroo Post – Saturday!
Follow Me | Twitter | Facebook