This article may contain affiliate links; if you click on a shopping link and make a purchase I may receive a commission. As an Amazon Associate, I earn from qualifying purchases.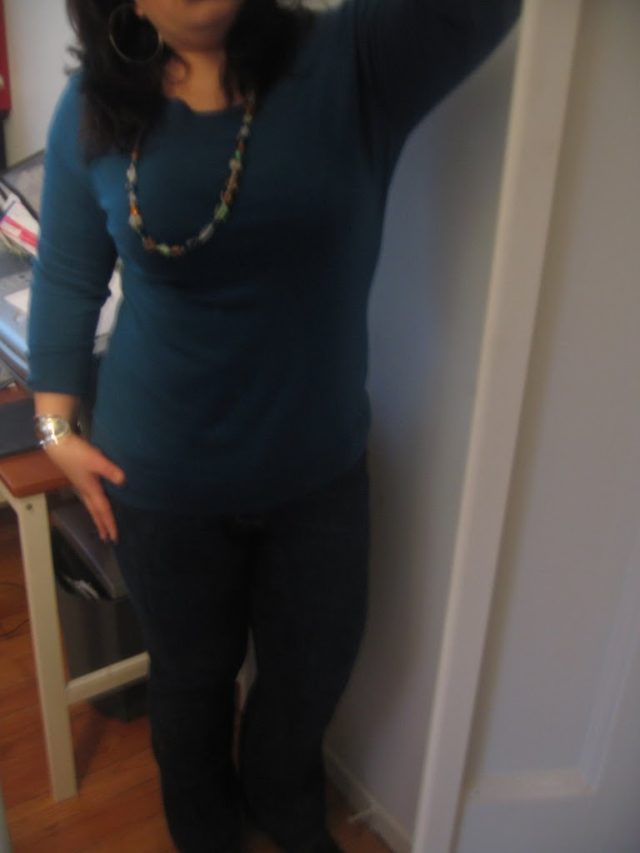 Today is cold. Super cold. I live in an old house from the 40s and in the kitchen and bathroom ceilings is a Cromalox heater. They are run by temperature, so they kick on to achieve the temp you set it at. There is no "off," you just turn it to 40 degrees. Come now, who has their house at 40 degrees?
Both heaters kicked in around midnight last night and ran all night long. Yeah, it was that cold in my house. I was bundled under my comforter and blanket and pulled the bedroom's velvet curtains shut, Ruckus next to me had taken his bed and blankets and made a bit of a nest so the blankets made walls around him and we both slept like logs. He didn't even wake me three minutes before his alarm like he usually does!
So today I wasn't about being sassy, I was about being warm. Teal scoop tee from Gap under teal merino bateau-neck sweater from Banana Republic. Old Navy "The Flirt" dark bootcut jeans, black city boots from Impo, sea-glass necklace from Ross, silver cuff and hoops.
Hair is day 3, again blown straight with round brush and dryer.
Makeup is L'Oreal True Match concealer in W1-3, philosophy THe Supernaturl in Beige, Benefit's That Gal on cheekbones, Nars blush in Orgasm, Victoria's Secret Beauty Rush lipgloss in Strawberry Fizz, Urban Decay shadow primer, Body Shop eye color in Slate on lid, Soft Black in crease and along lash lines. Two coats of Cover Girl Lash Blast on curled lashes.
Wore the new quilted jacket from Lands End, thick socks and my turquoise pashmina and was toasty warm on the commute. I finished the book I was reading (received it as a gift many years ago yet never before opened – utterly fascinating topic and history, but not well constructed of a story – I do forgive her as that she is a first-time author and obviously did her homework in regard to the facts) so I will have to hit up Barnes and Noble with my parting gift from my last job to get something good to read for the rest of the year. Any suggestions?