This article may contain affiliate links; if you click on a shopping link and make a purchase I may receive a commission. As an Amazon Associate, I earn from qualifying purchases. 
I got back my camera! And with it some very overdue pictures from Christmas!
Christmas Eve: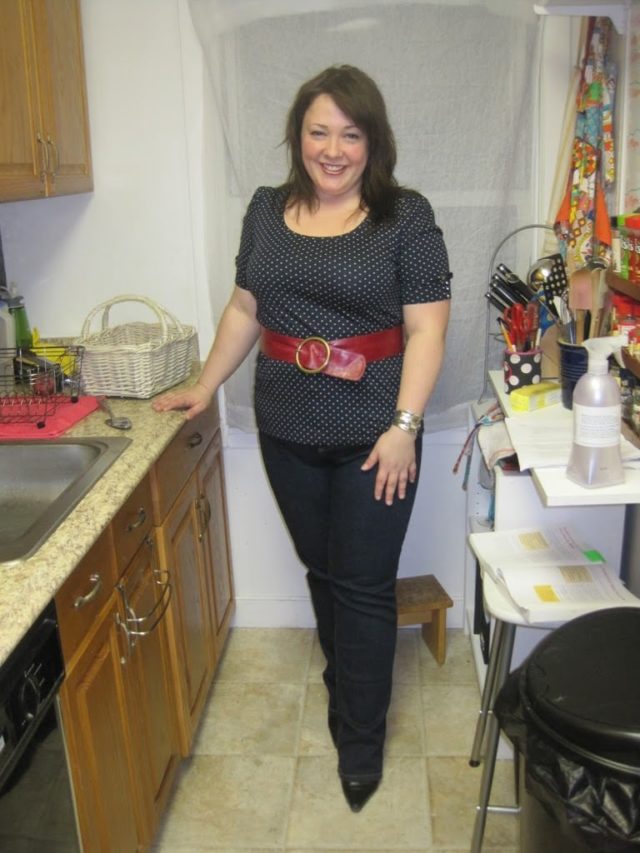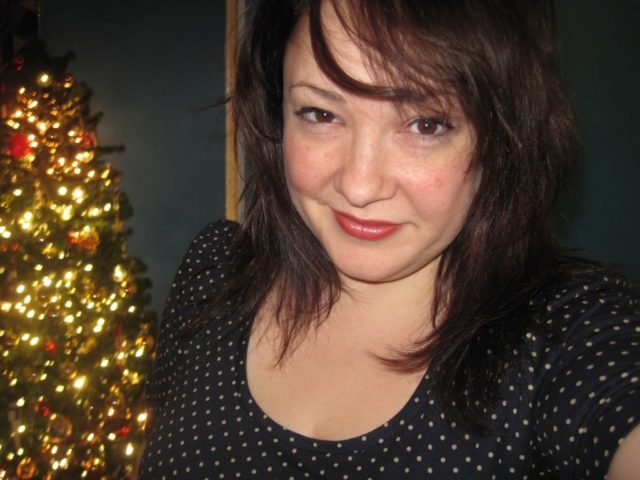 Navy knit top with tan dots – Ann Taylor
Straight leg jeans – Not Your Daughter's Jeans

Belt – Hobo International (bought at a sample sale)
Boots – Fitzwell "Andrea"
So Christmas Eve was a bit of a mess. Looking back, I can't recall what happened but I can remember getting dressed in a rush, realizing what I wanted to wear was not clean, not having time to do my hair. Usually, we dress up for Christmas Eve (my sister wore a hostess dress, my mom wore a top with velvet pants, even Emerson wore a dark green velvet dress). Yeppers, I wore jeans. They WERE clean!
My sister hosted, made a delicious meal. We had classic Christmas crackers, plenty of wine, and my mom read The Night Before Christmas to Emerson and she opened presents from her stocking.
Christmas Day: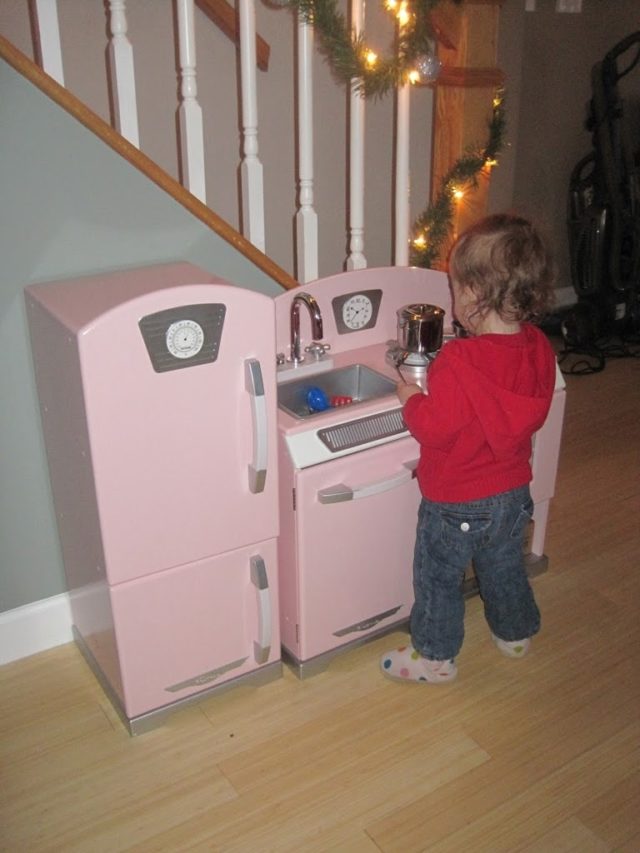 No pictures of me. I was wearing my chunky taupe cardi from Ann Taylor, my gray and tan striped surplice tee also from Ann Taylor, and jeans. We do Christmas Day pretty casual – breakfast while opening presents. Above, you see Emerson enjoying her Christmas present – a new kitchen
!
Day After Christmas: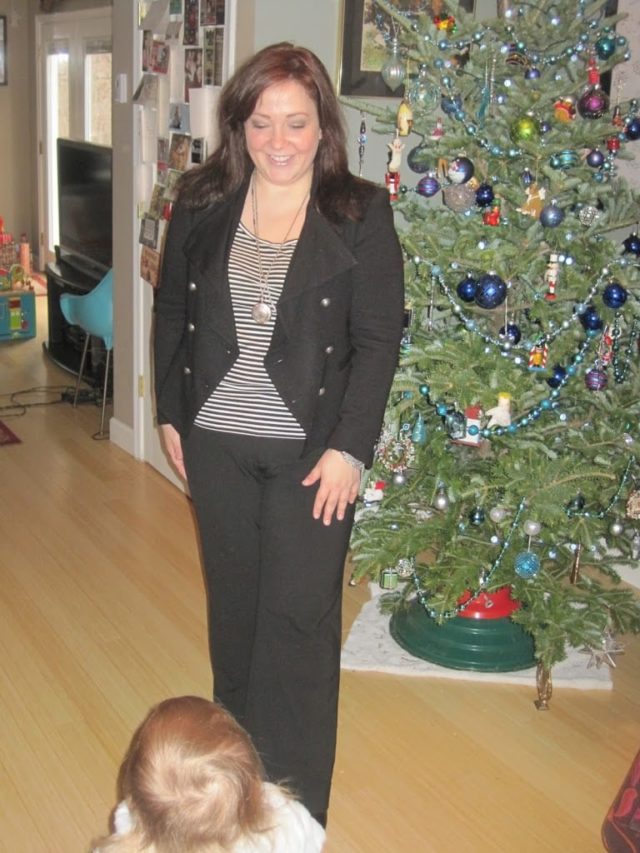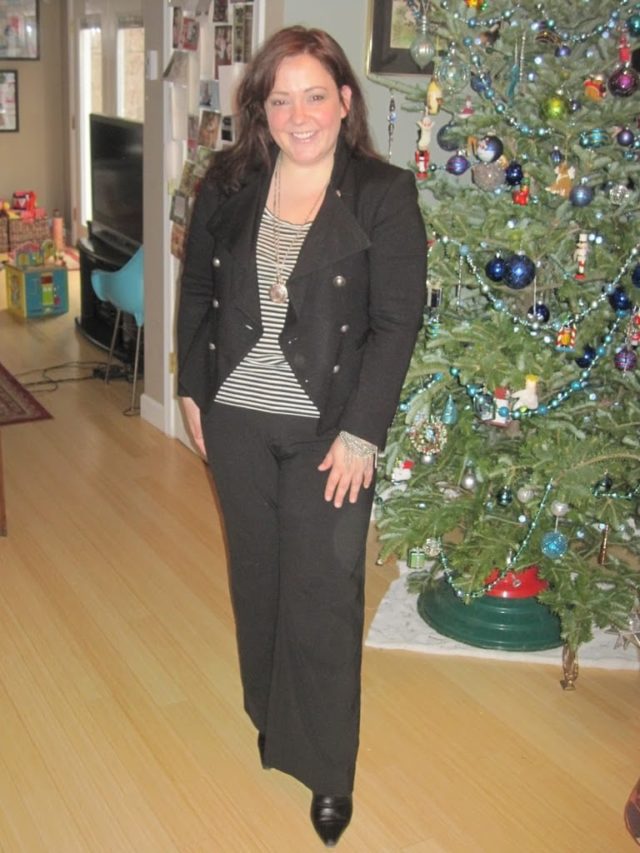 Black and white striped scoop tee – Ann Taylor (no longer available)
Black felted wool military-inspired jacket – Ann Taylor (no longer available online but may be in stores on sale rack)
Black trousers – Gap Perfect Trouser Pants
Boots – Fitzwell "Andrea"

Necklaces – One from the Renaissance Festival, the other from Ann Taylor LOFT. Both many years old.
Bracelet – Tarnish via Nordstrom
Nope, I didn't hit the spray tan before these pictures. I honestly have no clue why I am a weird orange color. The day after Christmas we went to visit my husband's family up near Baltimore. We had a wonderful meal and spent time with his awesome relatives.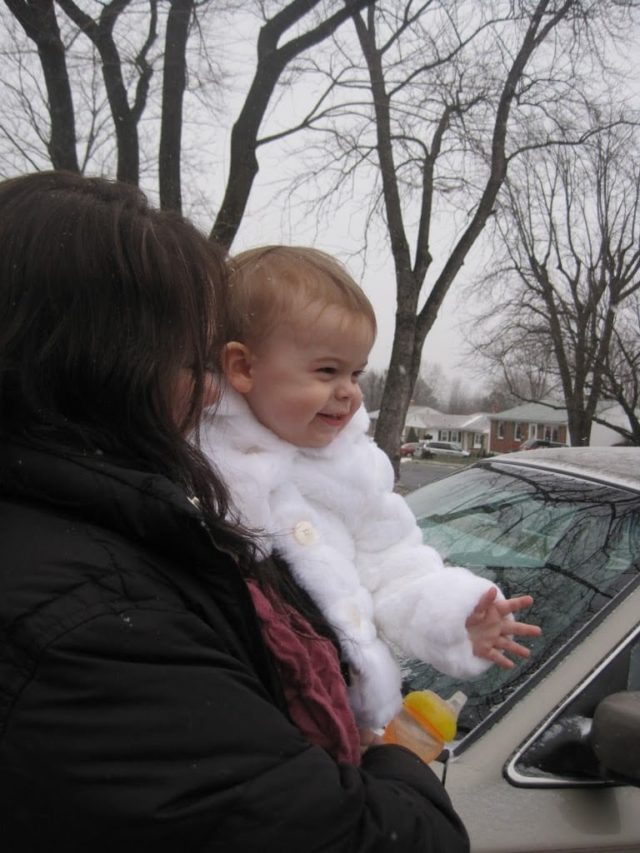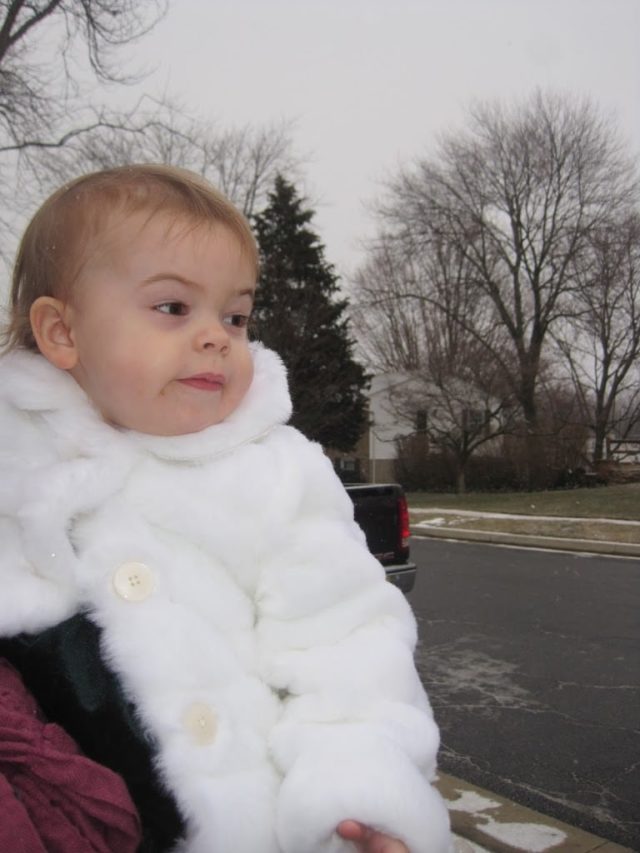 Emerson rocked another one of her Christmas presents – a faux fur coat from her Aunt Debbie! She loved seeing the snow fall…