This article may contain affiliate links; if you click on a shopping link and make a purchase I may receive a commission. As an Amazon Associate, I earn from qualifying purchases. 
I swear I wore more clothing than what I photographed, but last week, our second full week of sheltering in place, was a bit harder mentally for me.  I know many of you can relate to trying to be a productive employee while also being a teacher and an endless laundry cleaner in a house that is noisy and full and everyone is crawling the walls.  Some days I forgot to take a picture, and some days I didn't take one because I didn't want documentation of what I was wearing!
Monday: Cabin Chic?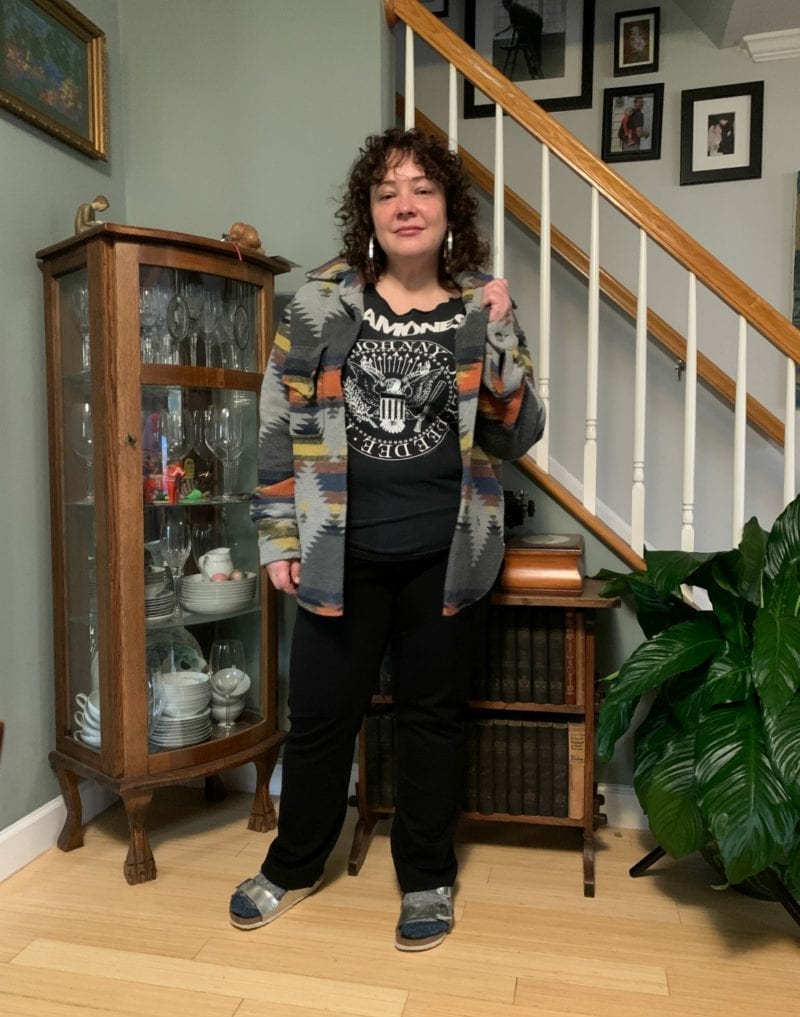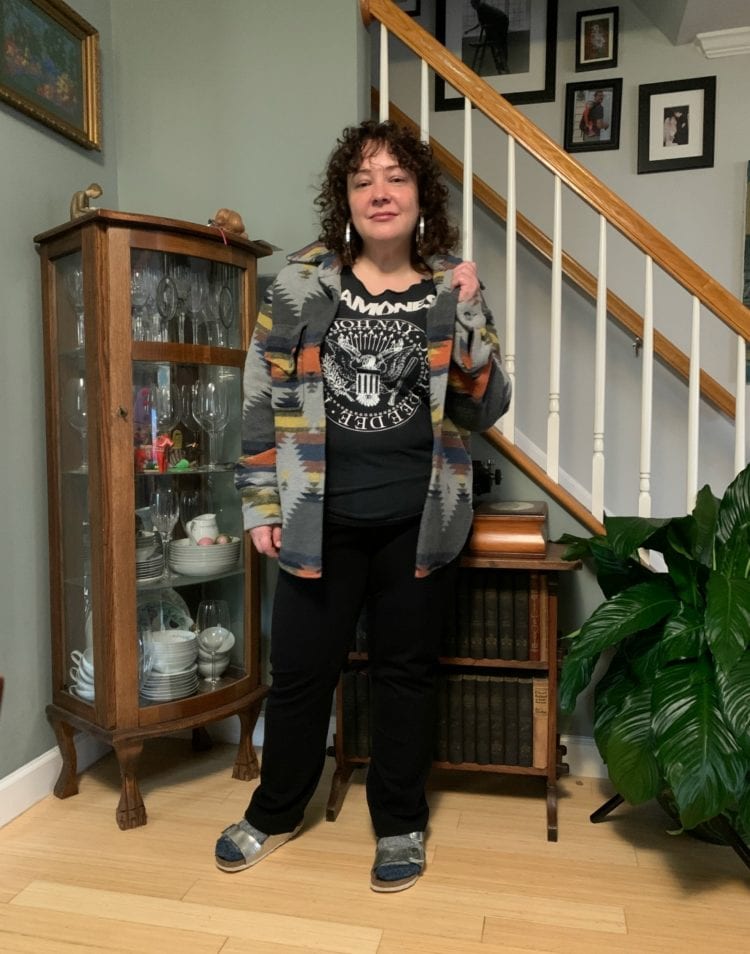 Rent the Runway Unlimited sent an email out to members offering two more spaces in their membership for free.  I raced to see what was still available in 14/16 that would make sense when sheltering at home and found this shirt from Fifteen Twenty (size Large) that reminds me a lot of Pendleton. It's an acrylic/poly/wool blend that is sort of felted and was warm and cozy for a colder day.  I also liked the pockets were big enough for my phone and lip balm as my pants had no pockets.  The pants are the Dress Pant Yoga Pants from Betabrand; the brand sent them to me for a review.  The ponte is what ponte is supposed to be: tightly woven, a bit thicker, a subtle sheen that doesn't look cheap but looks more refined than yoga pants.  I got the XL Short Petite in Straight Leg and they are a snug fit like yoga pants usually are, but not tight.  If I wore these outside the home it would definitely be with a longer top.  They have a false fly and pockets if you do feel confident enough to wear something shorter or tucked in, if I sized up maybe I'd feel less exposed in them.  They are super comfy, like I wore them all day and into the evening cozy and they didn't stretch out.  Thanks to this experience I would definitely try Betabrand again.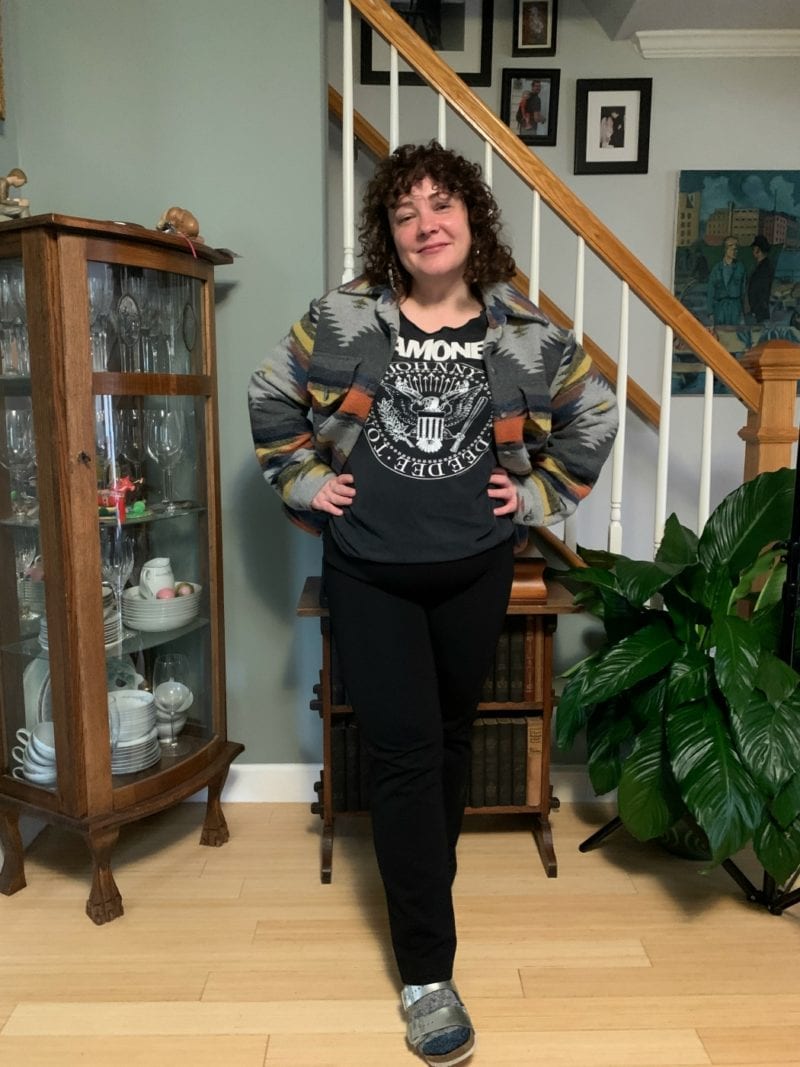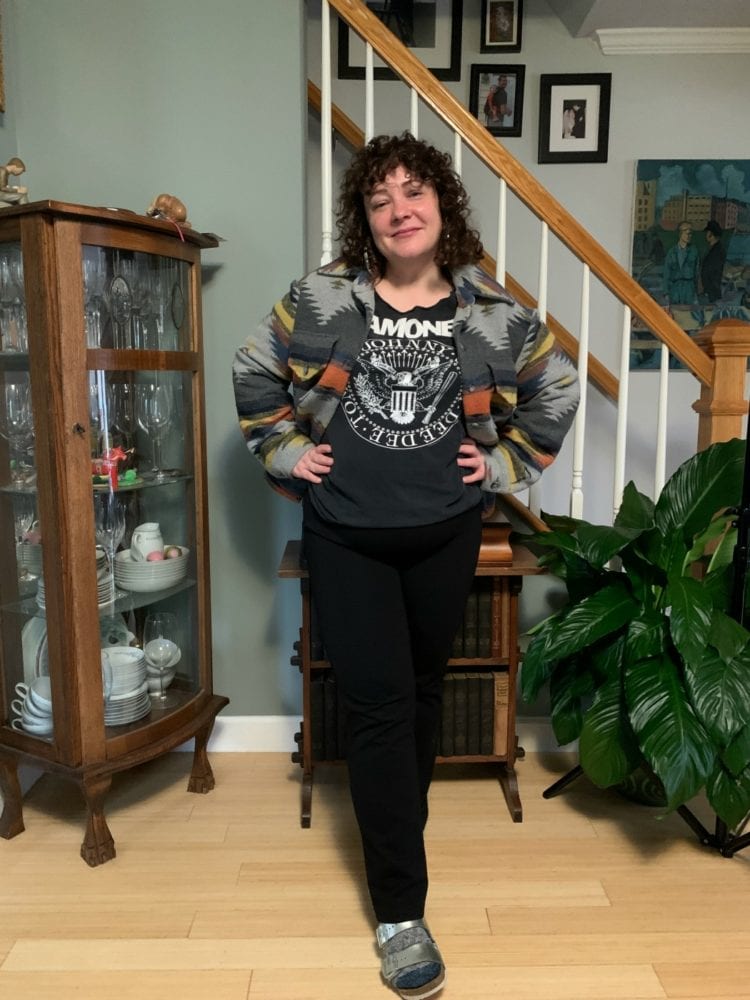 So two nice pieces, and I had to Allie it up with my well-loved and well-worn Ramones t-shirt and my silver Birkenstocks with wool socks.  Hey, do I get points for wearing earrings?
Wednesday: Travel Chic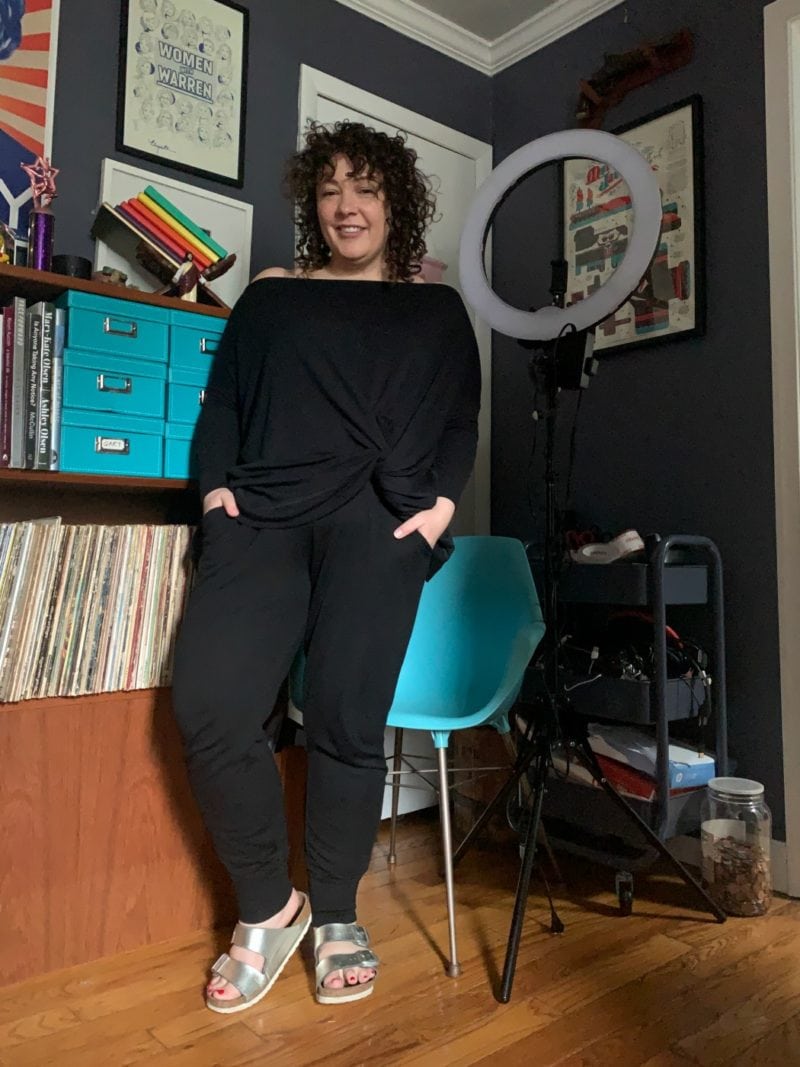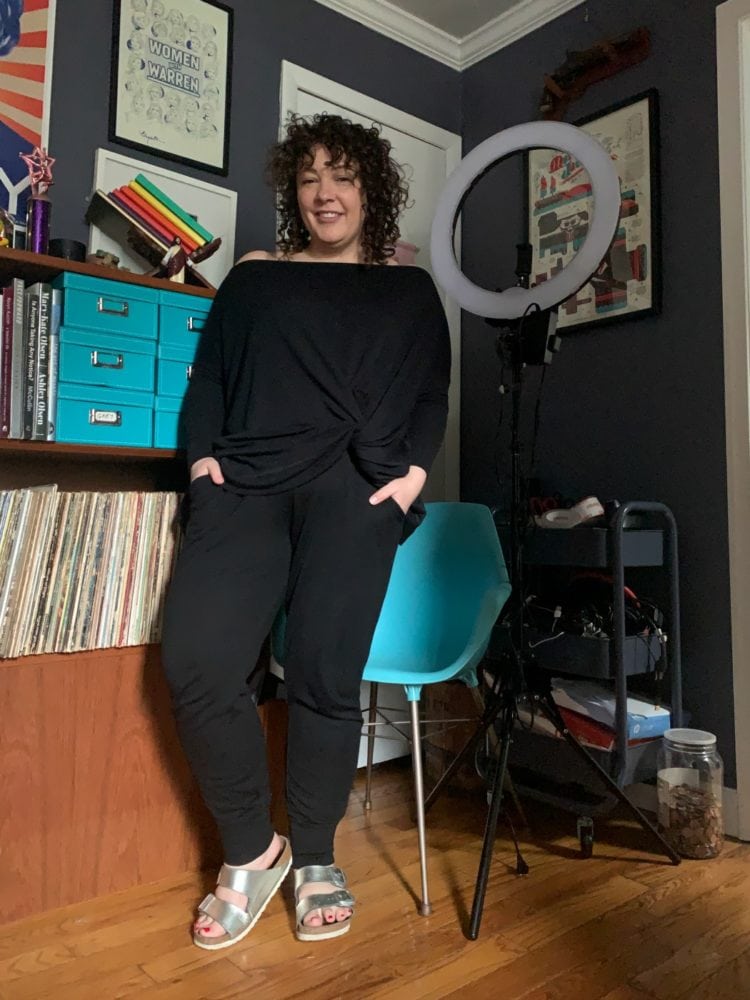 I call this one travel chic because it's some of my favorite things to wear when I take flights. The sweatshirt I've written about many times before, it's from Beyond Yoga and I've had it for a couple of years.  It's off the shoulder, tunic length and sort of tents out.  I often knot the side as I did here to reduce the volume so I don't look like a lampshade. I have not found anything similar out there so not linking because it's such an unusual piece. The pants are the cabi Pivot Joggers from last year.  Soma asked if I'd like some loungewear and I asked for these joggers; a member of the Wardrobe Oxygen Community on Facebook recently got the same Soma joggers and loves them so I'm excited for them to arrive.  Right now keeping it real with my bra straps showing; later I added a tank underneath mainly for comfort/warmth. And again the Birkenstocks which keep my feet happy at home.
Friday: Sweaty Friday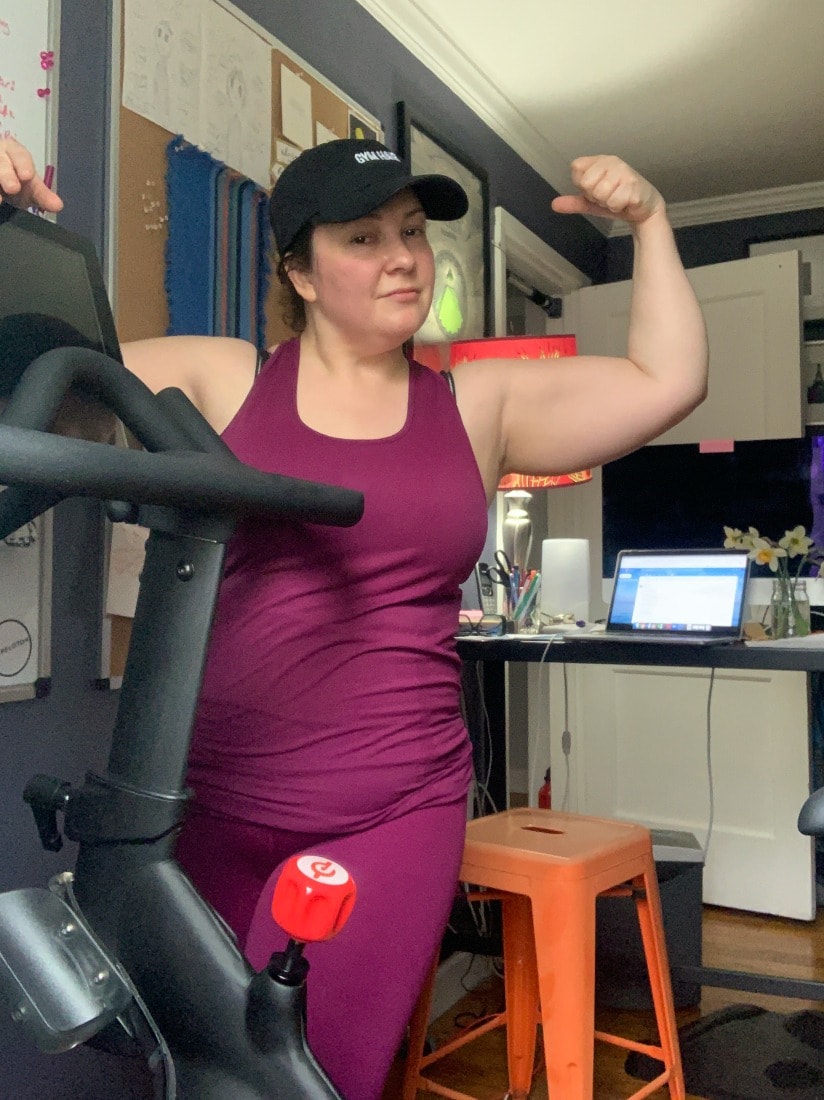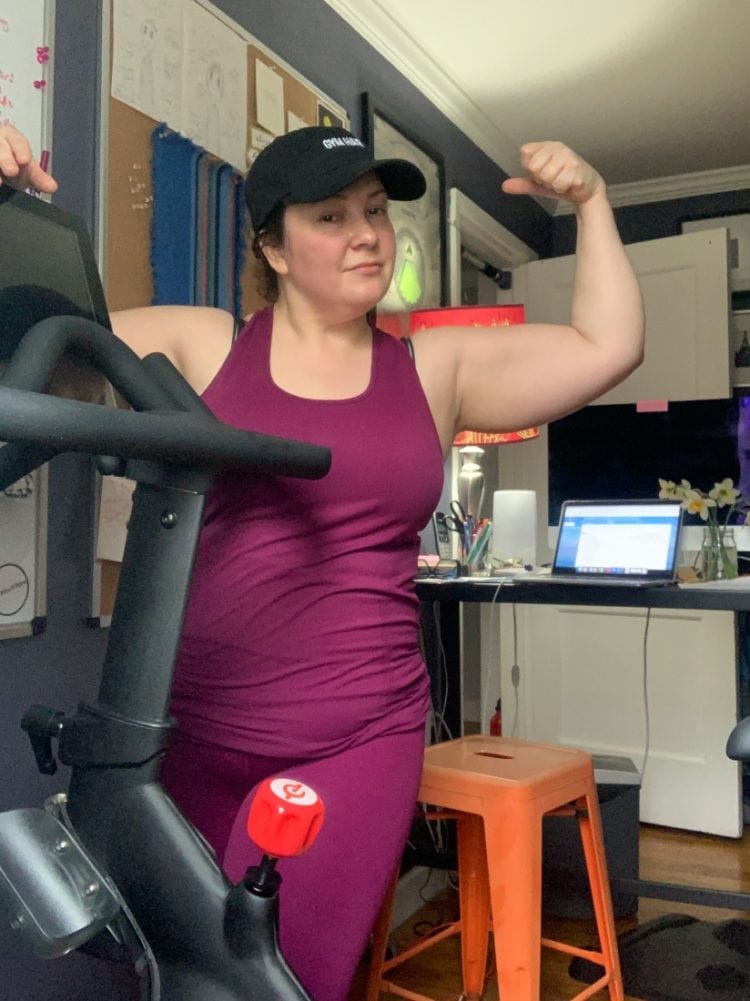 Friday I started with my morning workout that I share on Instagram Stories.  And later in the day I did a ride on my Peloton.  Next thing I knew it was a few minutes before 1pm when I had a webinar, and then another webinar at 3pm and next thing I knew it was 4pm and I was still in this outfit.  So I did shower and change, but it wasn't until just before dinner.  The top is from Athleta, so are the leggings.  The hat is from a retailer called Pink Sundays; I saw another blogger with a similar hat and sought it out.
Saturday: Kicking it Old School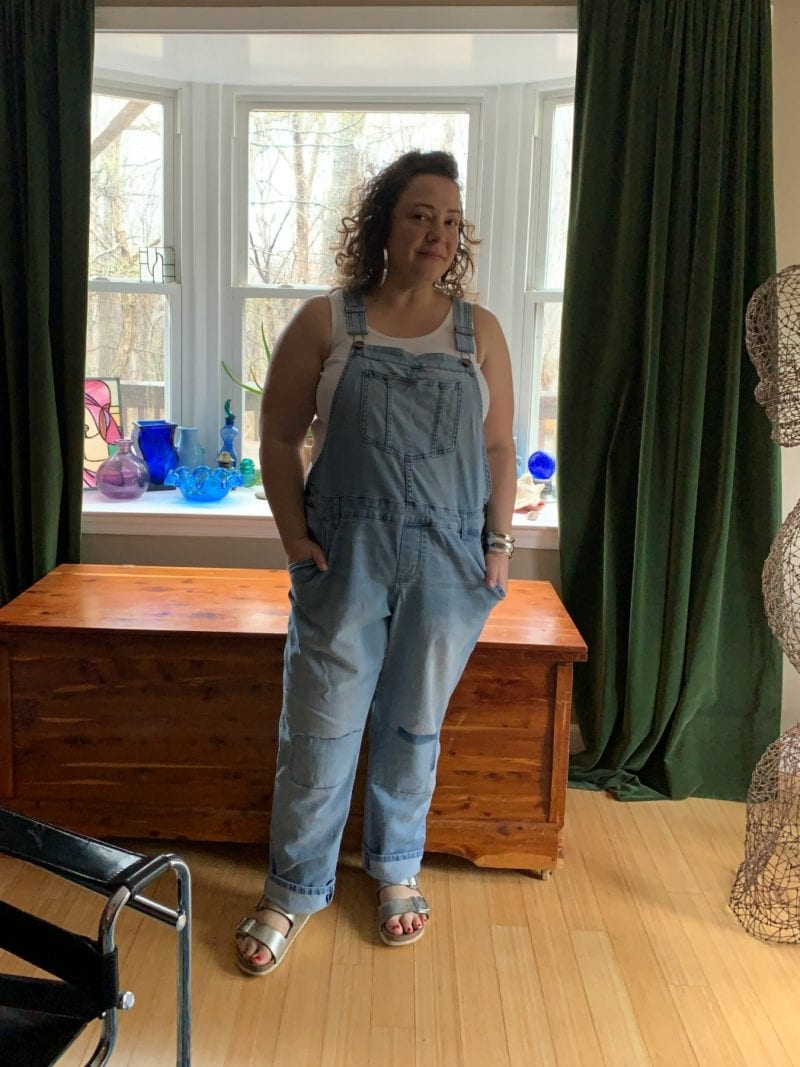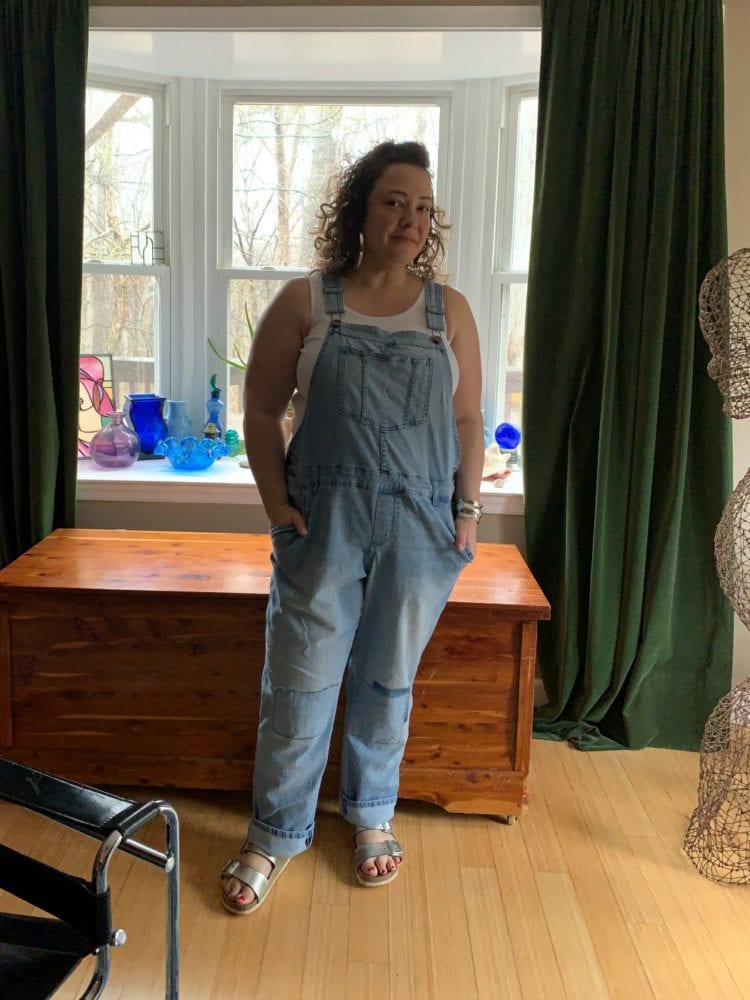 I've had these overalls for a very long time.  I originally rented them from Gwynnie Bee and loved them so much I decided to buy them. Looking in my archives I found this post from last year on how to style overalls wearing the same exact outfit I am wearing here!  I love wearing overalls at home because there is no waistband digging in when you sit and plenty of pockets (I even had my Kindle in a pocket for this photo!). With the overalls, I have a white ribbed tank from Universal Standard that it seems they have discontinued (here's the page but they are on waitlist for all sizes).  It's a shame because I LOVE this tank.  Sure, first glance it's a simple ribbed tank, but the neckline isn't too low, the weight is nice and heavy and opaque, and I have two in white and one in black and have washed and dried them oh so many times and they still look fantastic.  And yet again, my new normal house shoes – my silver Birks.
Sunday: Rawr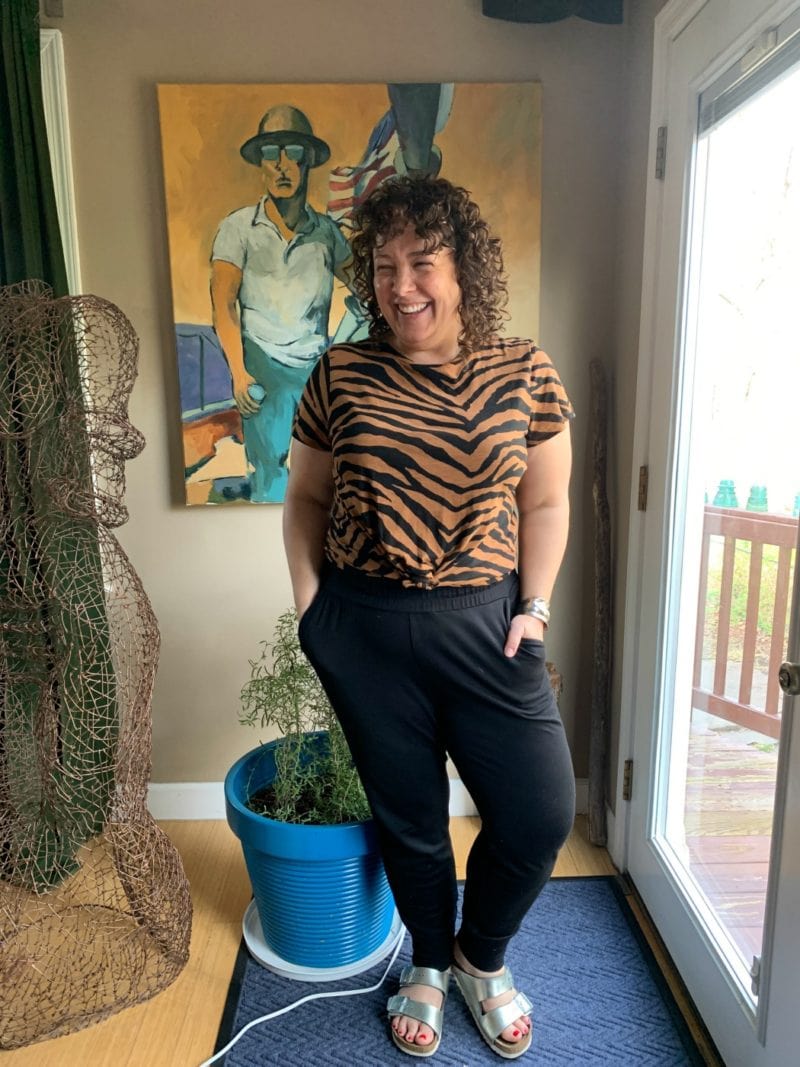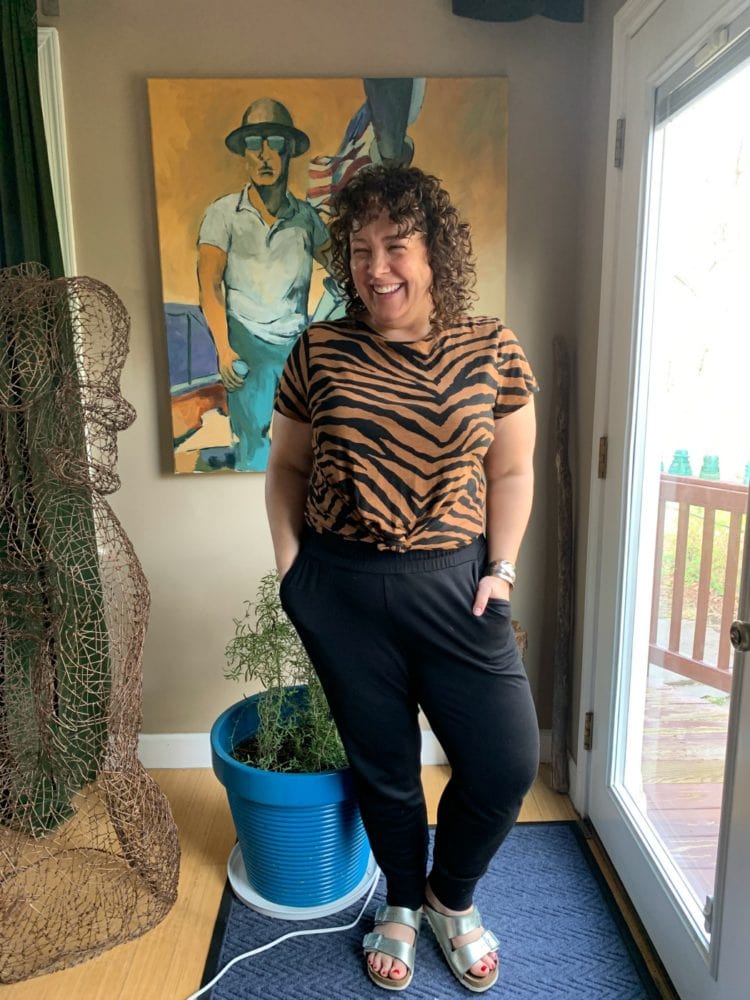 You've seen this shirt before, it's from Banana Republic and was seen in this Trunk Club review and I know likely other posts.  A few mentioned on Instagram Stories that the shirt is perfect to watch Tiger King on Netflix.  To be honest, I haven't watched Tiger King and I don't think I will.  Not really my sort of thing, though people seem to be obsessed with it! With it… the cabi Pivot Joggers!  I KNOW, I wear them a LOT but they're so perfect.  Not too tight, proper front and back pockets, doesn't collect dog hair… I hope they bring them back this fall in other solid colors (right now they have them in a leopard print).  And surprise surprise, the silver Birkenstocks!
Shop the Post: