This article may contain affiliate links; if you click on a shopping link and make a purchase I may receive a commission. As an Amazon Associate, I earn from qualifying purchases.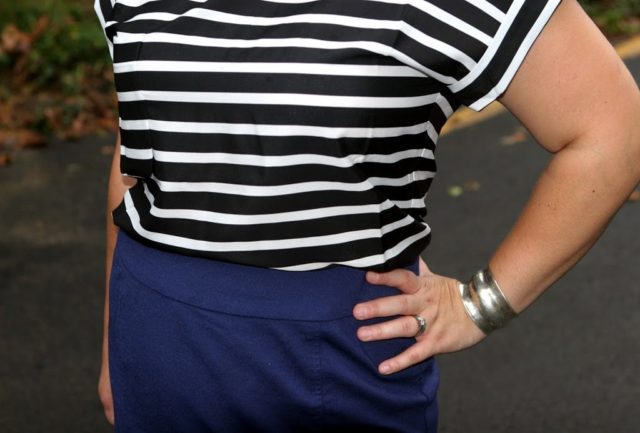 Silky striped tee – c/o Ann Taylor
Ponte knit skirt – Halogen (last seen here)
Booties – Miss Sixty "Jaiden"
Silver cuff
I haven't been able to find this cuff for over a week, and it has been so frustrating! I have had it since 1997, and wear it at least once a week. This morning while Emerson was playing in the living room, I asked my husband if he had seen the bracelet. Nope. So on a whim, I ask Emerson. "Mommy's bracelet?" Yes Emerson, have you seen Mommy's big shiny bracelet? "I keep it safe!" and she walks over to her toy fridge, opens it up, and pulls out my bracelet. "Here you go Mommy!"
Lesson learned from the day – when it comes to fashion and accessories, ask the child before you ask the husband. She loves baubles and bling as much as her mother.
I thought this skirt was a goner after the hurricane. It was hanging by one clip on a hanger with three other skirts, a piece of the skylight frame snagged it and yanked it to the ground where it was covered with the gross muddy drywall-filled rain and teeny shards of glass. I threw it in with the rest of the laundry, figuring if it can't be saved, it at least would make for some great dusting rags. I washed it on gentle, and then had to go back and spot treat the drywall mud (rain and drywall dust together make a stain that looks like chalk but is harder to get out than grease). Washed again. Let air dry. Realized the two holes I saw were actually busted seams and not tears to the fabric. Rejoiced, fixed, and ironed the whole thing. Hooray, another piece saved from the drama of Irene!
Follow Me | Twitter | Facebook