This article may contain affiliate links; if you click on a shopping link and make a purchase I may receive a commission. As an Amazon Associate, I earn from qualifying purchases.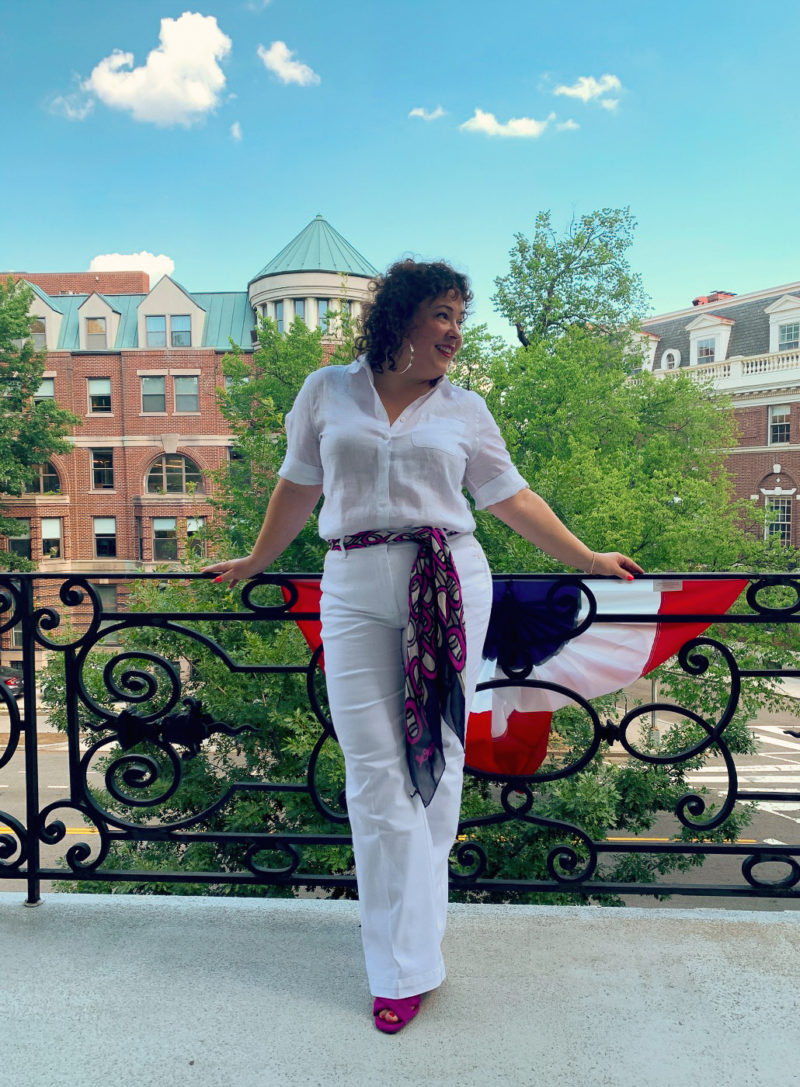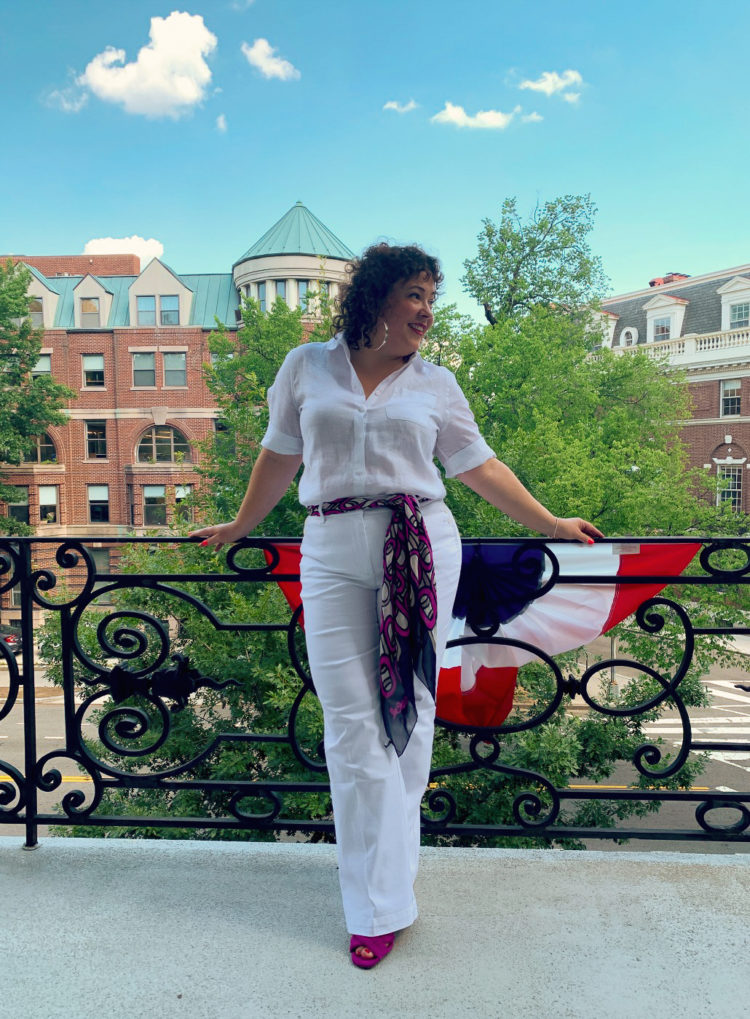 Okay, that title is totally misleading because I have no way to wear white and not be a complete mess. Yet somehow I did it. My friend Sylvia and I scheduled a lunch together to catch up and talk blogging; she was invited to an influencer event afterward and invited me to be her date. Lunch, an influencer event with my fashionable friend, it's 100 degrees out with humidity up the wazoo, and there's a good chance I'll be walking several blocks. What the HECK do I wear?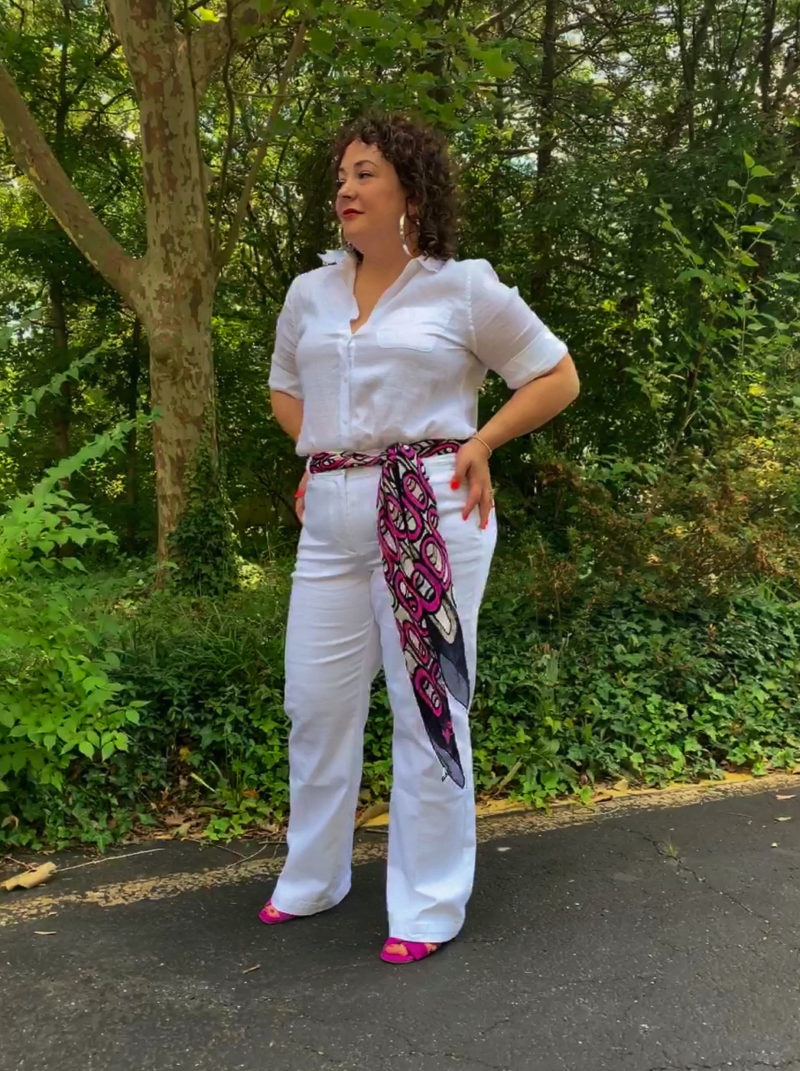 shirt | jeans | scarf | earrings | shoes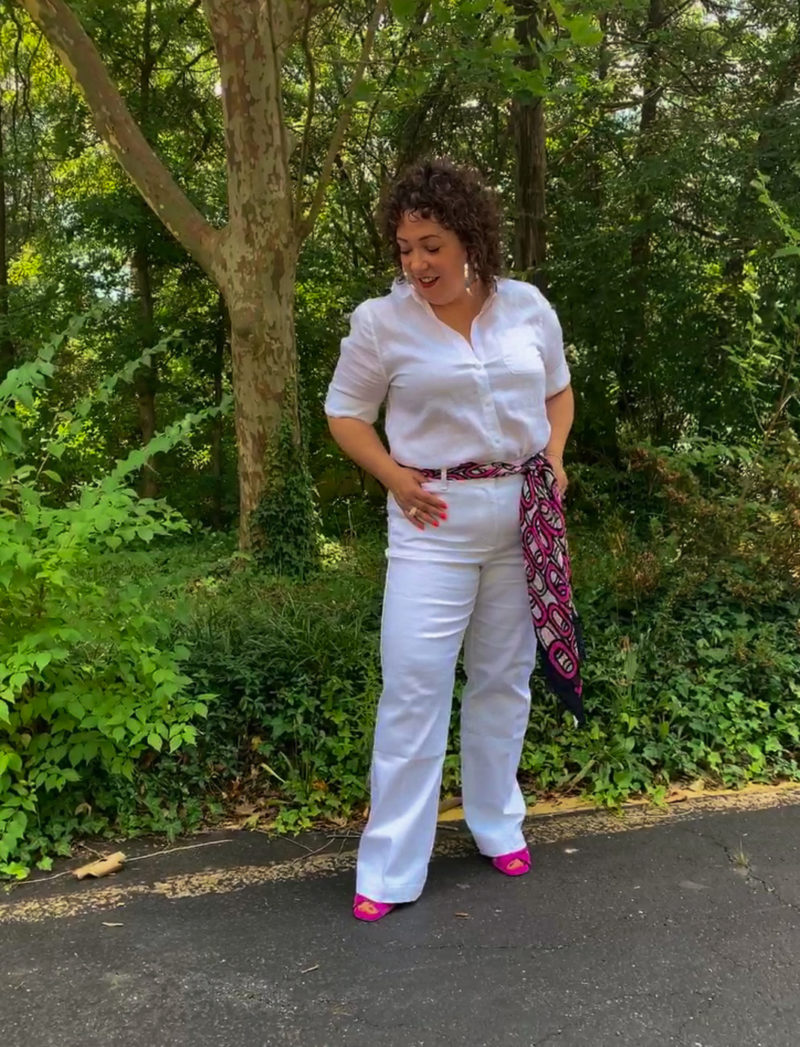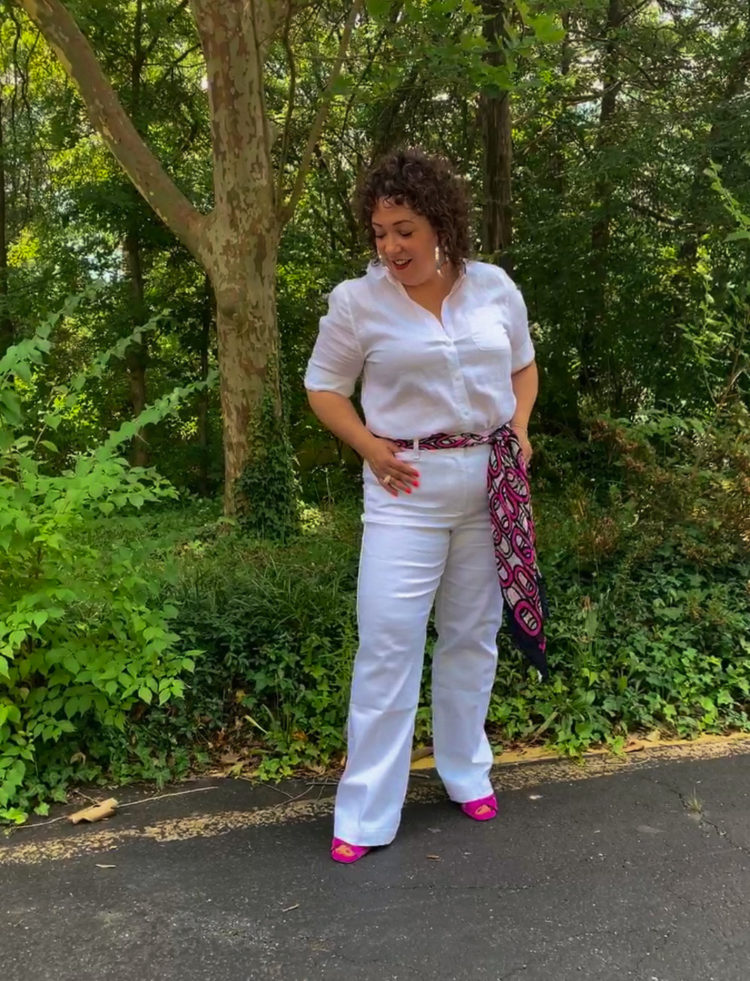 Shirt: Chico's No-Iron Linen Shirt c/o Chico's (size 2) | Jeans: Denim High Waist Trousers c/o Talbots (12R) | Scarf: Diane von Furstenberg (bought on Poshmark a couple of years ago; similar, more DvF chiffon scarves on eBay) | Shoes: Vince Camuto (old; similar) | Earrings: Cober Hoops c/o Jenny Bird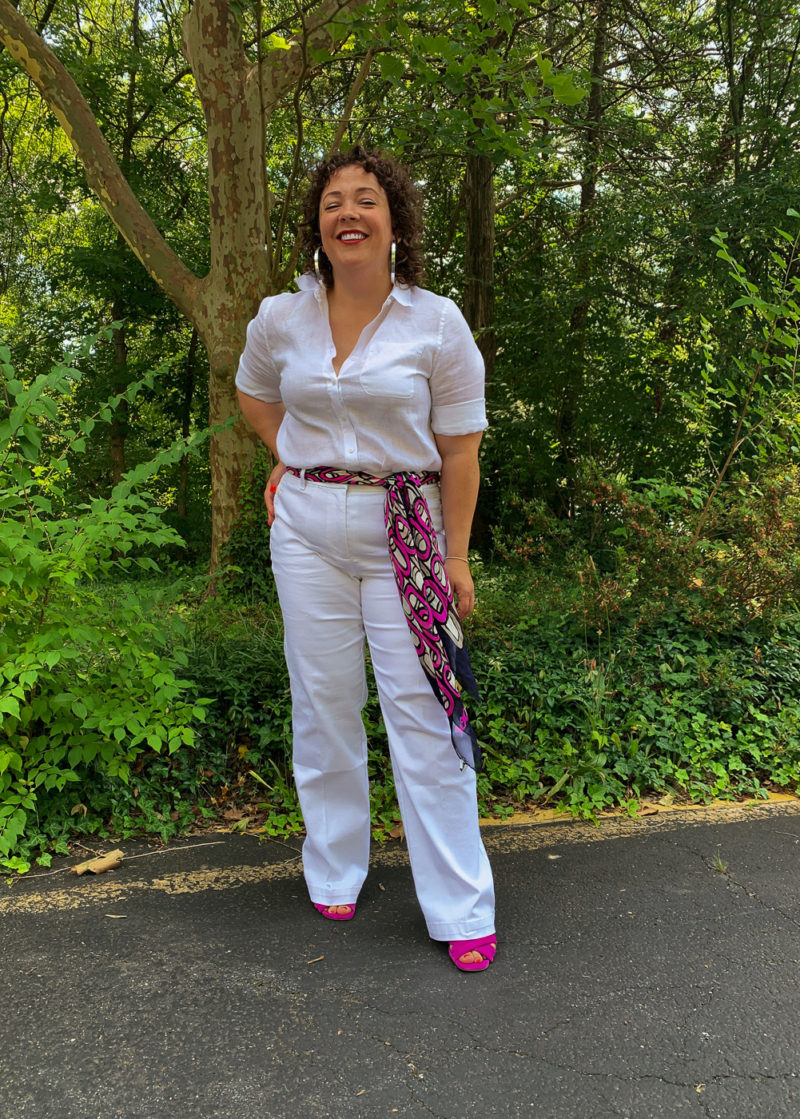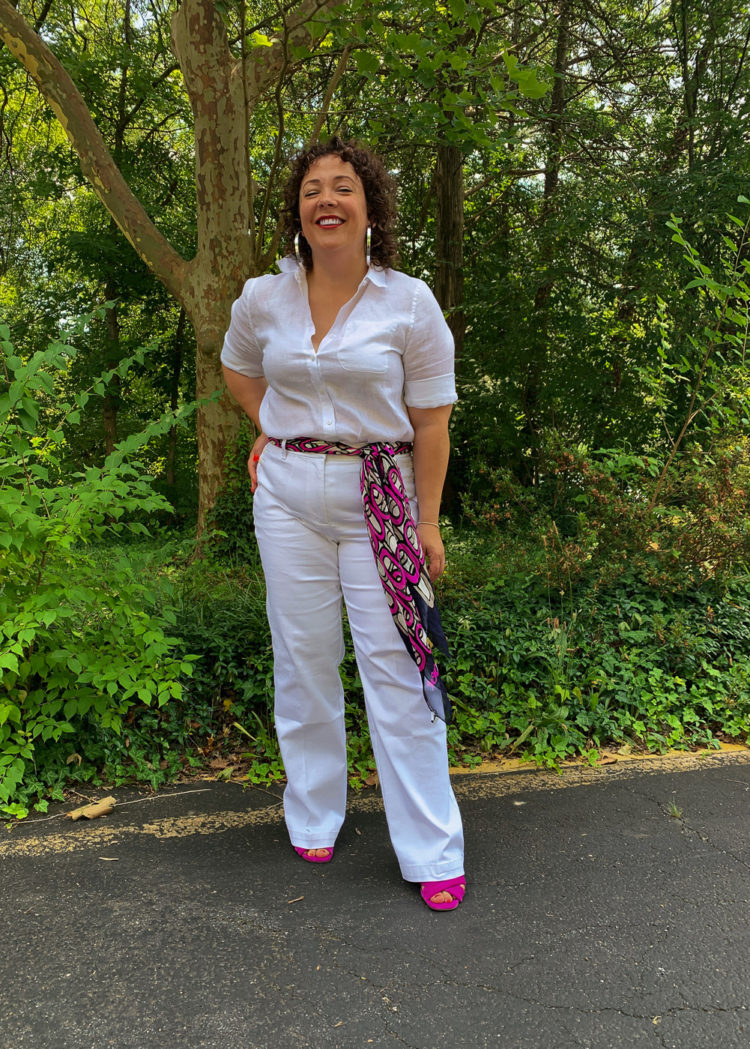 I decided to keep it cool with all white. Talbots had sent me these denim trousers the day prior and I really was itching to wear them. I wasn't sure how dressy the event would be and decided to wear the equivalent of what a man would wear to such an event – a white shirt and some sort of cheery or summery accessory. The shirt is linen, always a good choice when hot and humid, especially when it's wrinkle-resistant. Shoes with a heel (the trousers are a bit long) that would be comfortable for long spans of time; these pink suede babies I've worn so many times before were a good choice. And this long chiffon oblong scarf from DvF has almost exactly the same shade of pink in it; it made for a fun detail to break up the all-white.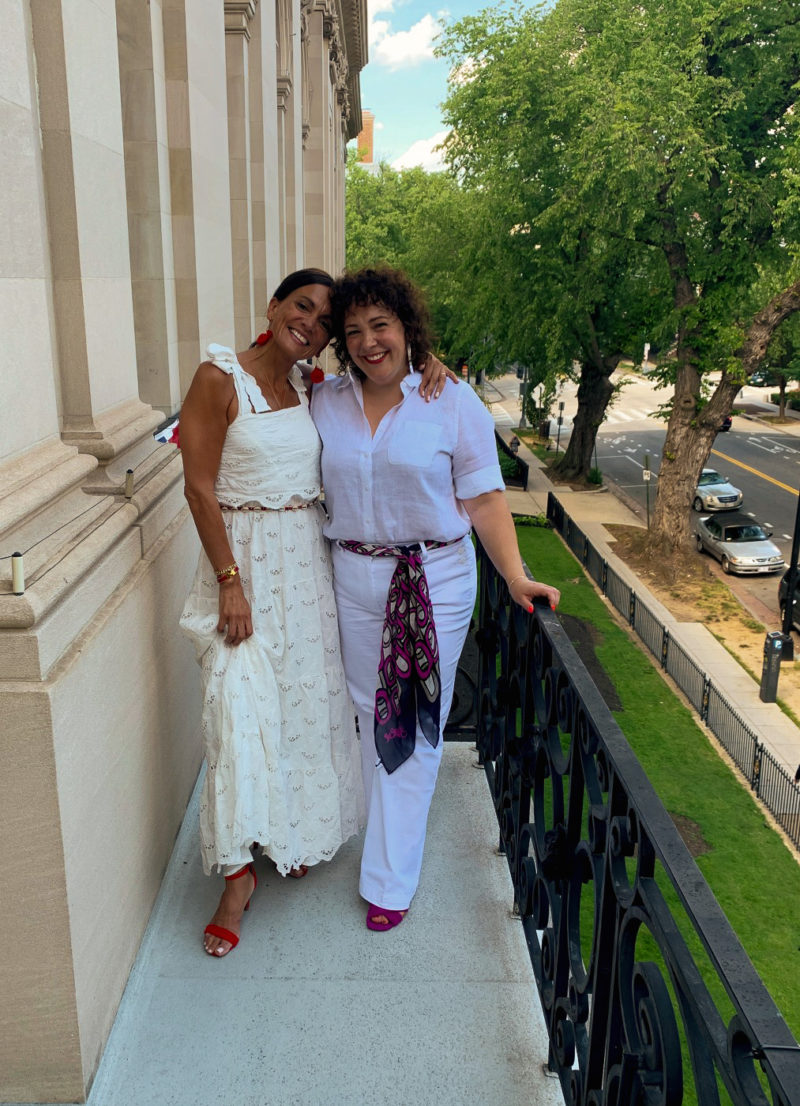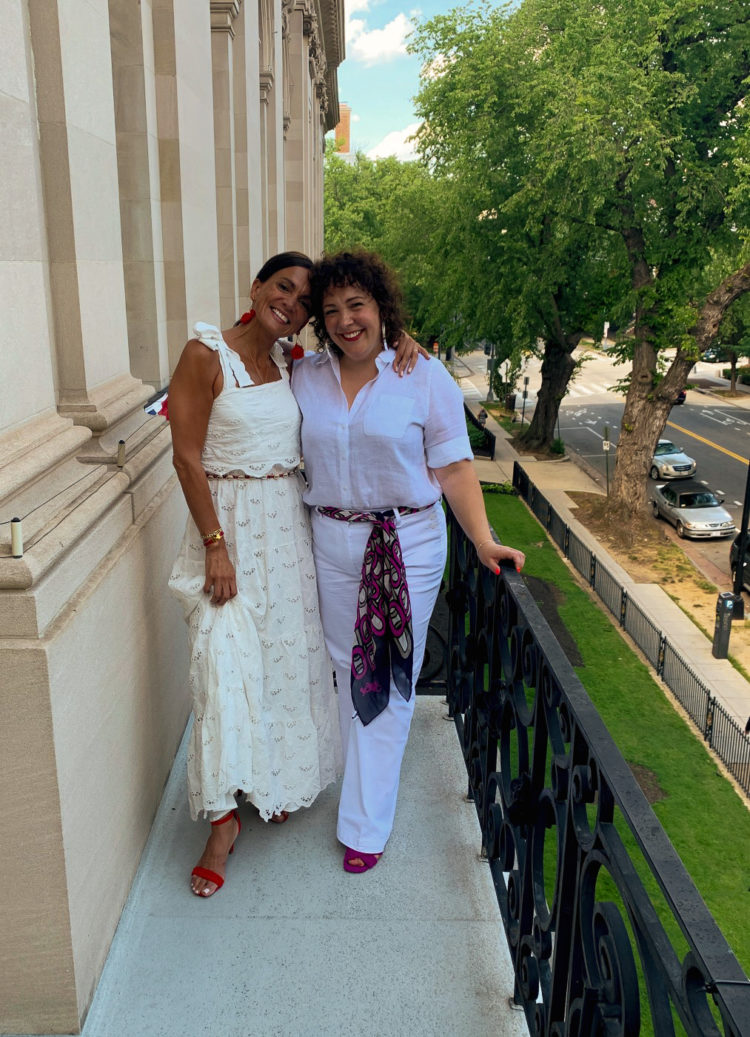 My friend Sylvia arrived, also in white. The event was at the Perry Belmont House. It was French themed and our outfits fit the decor quite nicely. I couldn't resist getting my photo with this pink poodle made with balloons! I drank champagne, ate salad with dressing, sipped coffee, and didn't think too much about my outfit during the festivities.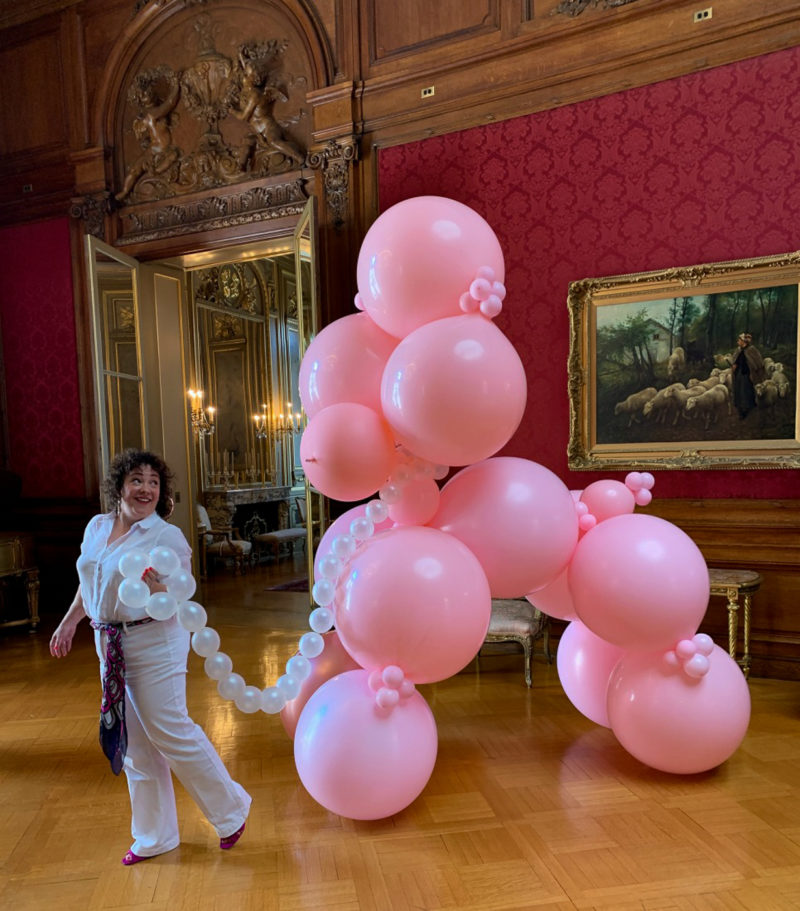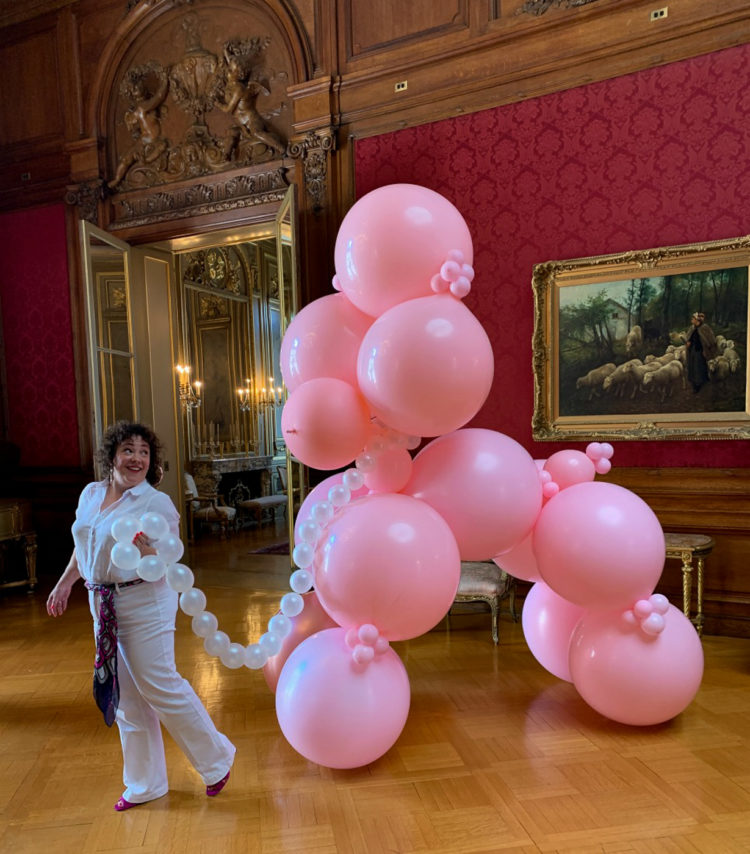 On my Uber ride home I looked down and was SHOCKED to find not a single drip, dribble, or smear was on my outfit! I mean, that was a good reason I wore the scarf, to be able to use it to hide any mess. But no mess was to be found! An FYI about these jeans, I washed them on hot and put them in the dryer and they didn't shrink a bit. I went with regular thinking I'd want them with heels but it's a bit too long in the leg and in the rise. I wish I went with petite. Also, I find if between sizes I can go down in Talbots and get a better fit. I may be a 14 in their pants but in their jeans, I am a 12. These aren't the only Talbots jeans I love; visit this post for an unsponsored white jeans review with Talbots as the top pick!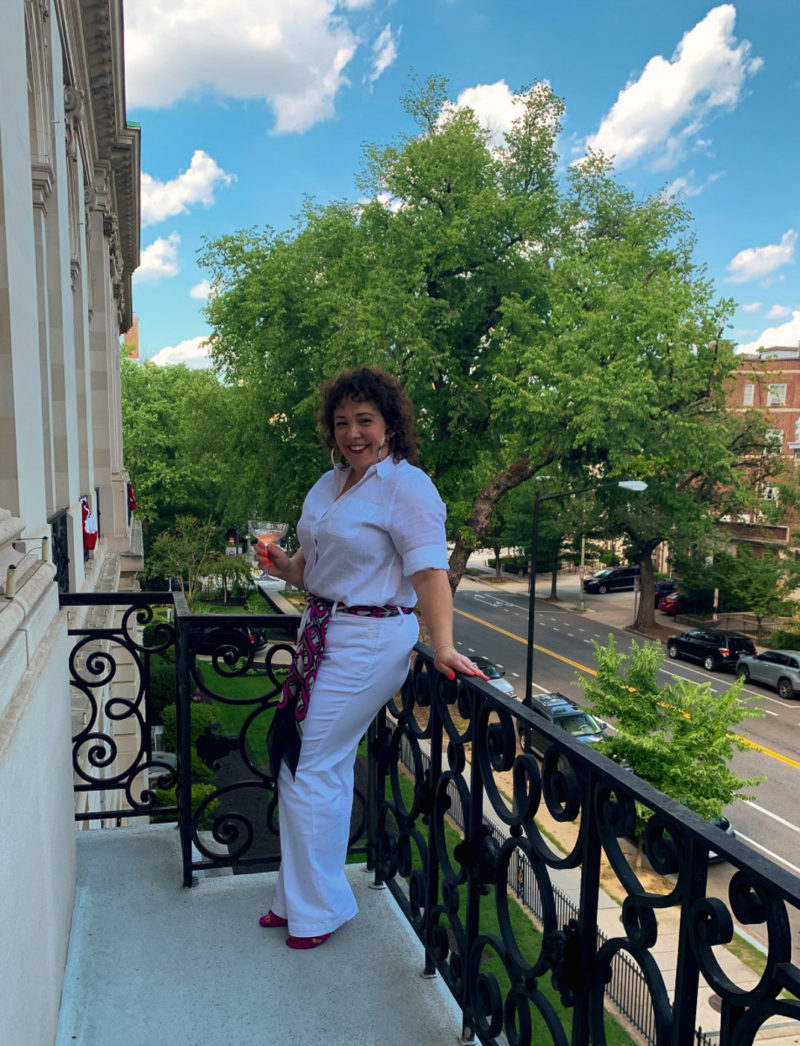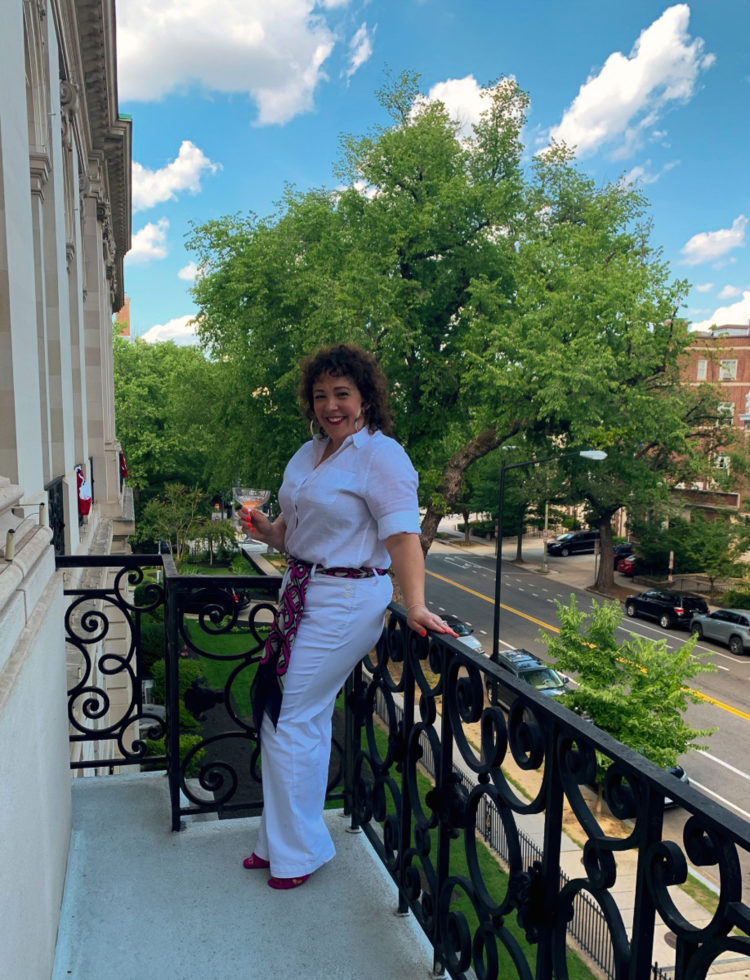 And this shirt… I first tried out Chico's no-iron linen last spring because members of the WO2 Community desired a review. The brand was cool enough to send two shirts to review – striped and pink. A few weeks later, I was invited to be part of a paid Instagram campaign with Chico's featuring a style of pants they were featuring. I was invited to pick what I wanted to style the look; this was the result including this white linen shirt. The pants ended up being donated (great pants but not the kind I'd wear on a regular basis), the hat was always a hair too small for my giant noggin so it was passed down to Emerson, the necklace is in the jewelry armoire waiting for the right outfit, but the shirt has been worn a LOT. It's been thrown in the machine with bed linens and through the dryer many times and now just looks like cool, "oh this thing?" linen, which I love. I sometimes knot it and wear it with jeans, wear it untucked with shorts, and know it will be packed for my summer road trip because it's so effortless and cool in the "oh this thing?" way but also in the "it's darn patootin' hot out!" way!
Shop the Look: