This article may contain affiliate links; if you click on a shopping link and make a purchase I may receive a commission. As an Amazon Associate, I earn from qualifying purchases.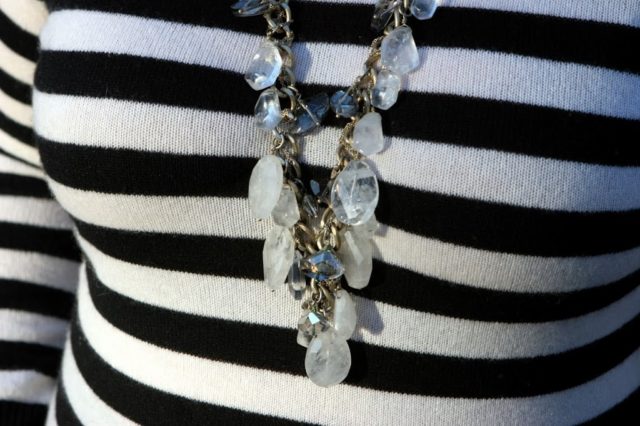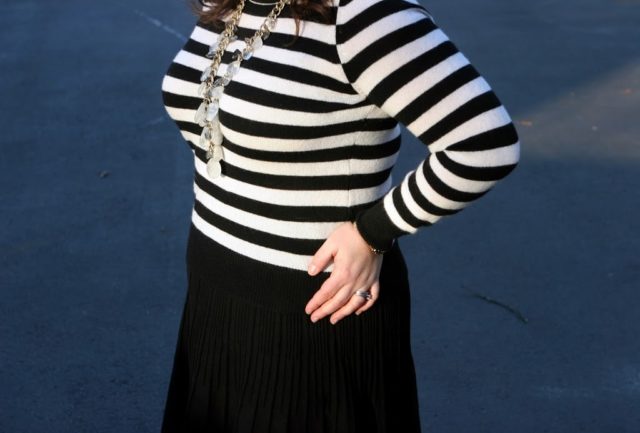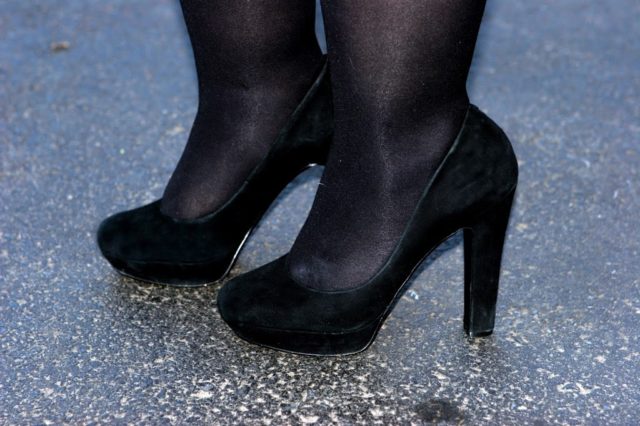 Sweater – Only Mine
Skirt – c/o CAbi
Necklace – LOFT (similar)
Bracelet – JewelMint
Tights – Nordstrom
Pumps – Jessica Simpson (similar)
Lipstick – NARS "Heatwave"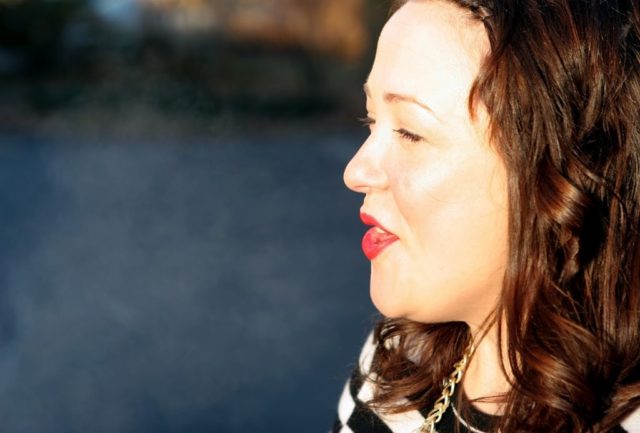 I was trying to capture a picture of breath on this frigid morning!
There's not even a dozen people in the office today – anyone with school-aged children decided to take off and a few who use non-WMATA public transportation are working from home since buses aren't running.
This weekend was pretty good. Saturday I was able to get in a midday nap which was exactly what I needed to kick this cold. Saturday night we went to the Sweet 16, where I think Emerson had more fun than the birthday girl! She danced all night, chased after little boys, and had fun with glo-sticks. I wore a white sequined tank from Ann Taylor with my black Limited boyfriend blazer, dark jeans and the same shoes I am wearing today. Sunday, we went with my sister to get mattresses – we both bought LivingSocial deals a few months ago for a discount on a mattress but ended up getting a deal there that was even better. They are having buy one, get one free on Sertas; since my sister and I only live half a mile from one another we could do the deal, have both shipped to her house and then cart our new set home. We hope to Craigslist our current mattress set since it's only three years old and in like-new condition. After mattress shopping, we used another LivingSocial deal to go to dinner at The Sly Horse Tavern in Crofton, MD. It's a charming restaurant, and a nice place to have a family meal to do an early celebration of my sister's birthday and us finally getting around to acquiring comfortable beds. Last night of course I caught the Golden Globes – my faves were Laura Dern, Tilda Swinton, and Nicole Kidman (though I think her dress would have been more dramatic on a brunette).
And on an important note, while it's lovely to have a day off work or school (or a quiet day in the office), it's important to remember WHY you have such a day. Continue Dr. Martin Luther King's fight for justice, and use this day to volunteer in your community or do some act to make this world a better place.
Follow Me | Twitter | Facebook
Save