This article may contain affiliate links; if you click on a shopping link and make a purchase I may receive a commission. As an Amazon Associate, I earn from qualifying purchases. 
The other weekend my friend celebrated a milestone birthday. To honor it, his wife threw him a party at their home. Food, drink, even a live band! I wanted to dress festively but also be comfortable dancing and standing on my feet all night; I also knew we'd be outside occasionally and wanted to be warm when hanging out around the fire pit.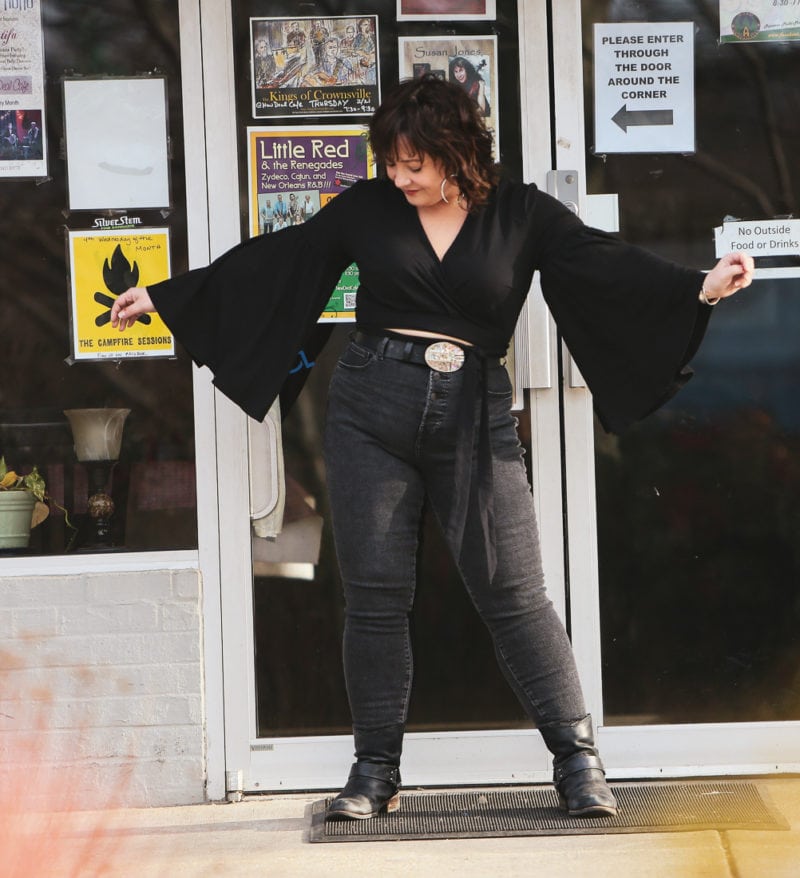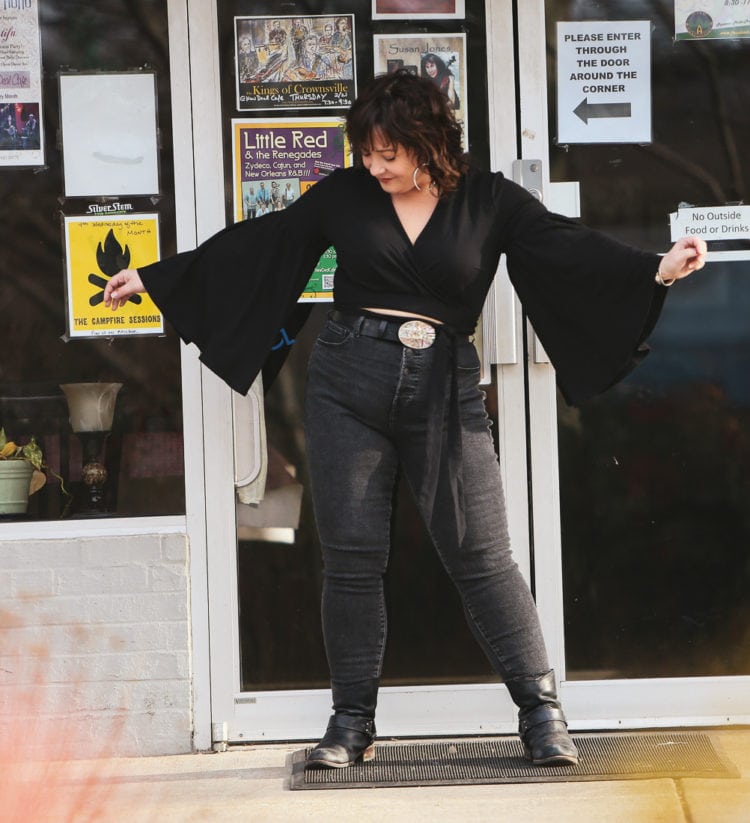 jeans | top | boots | belt | buckle | bracelet | earrings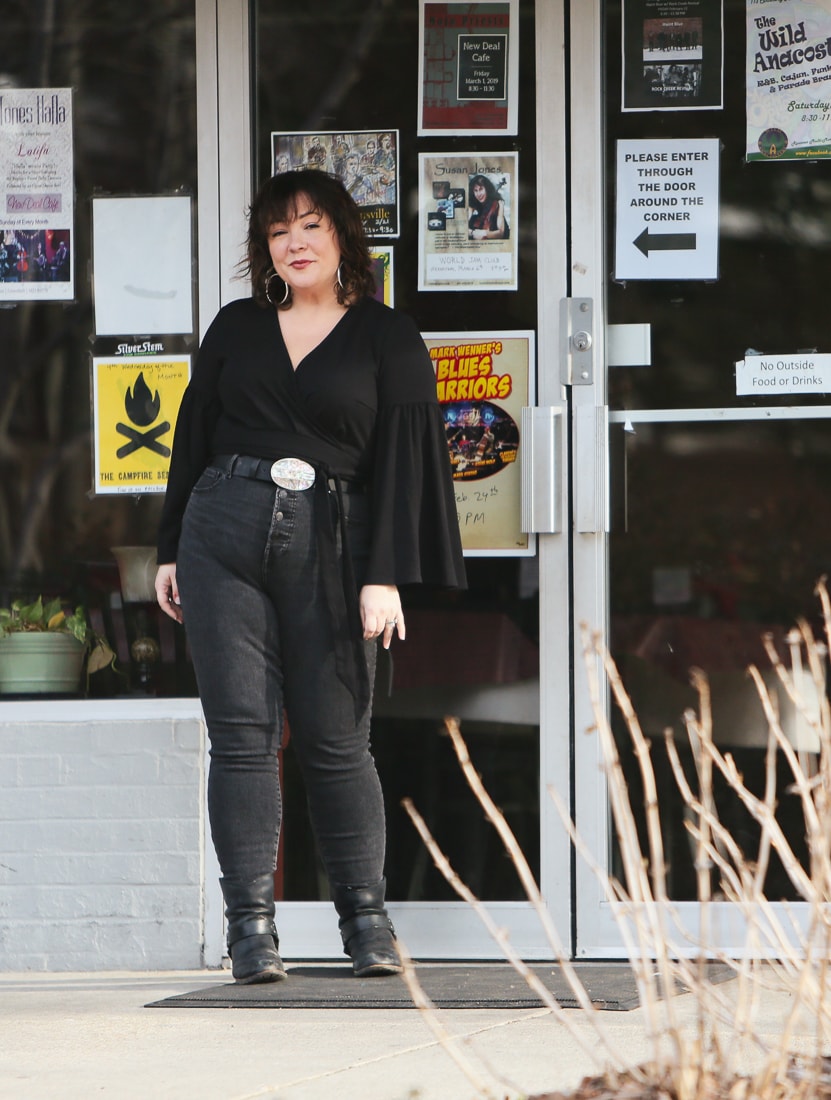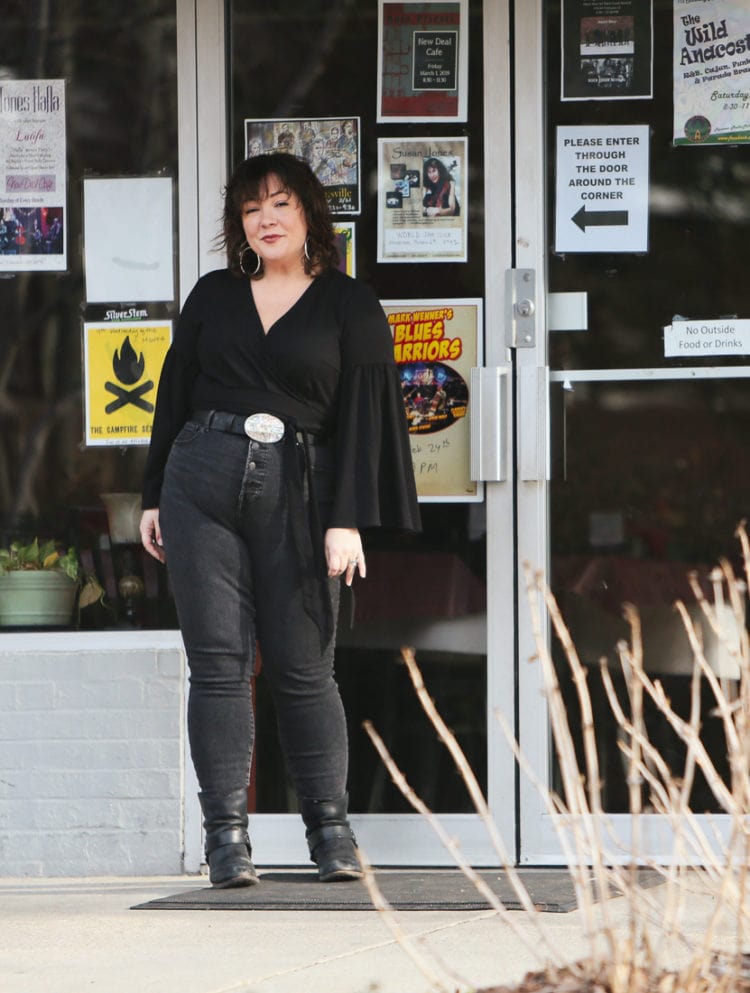 Jeans: Authentic Stretch Skinny Button-Fly c/o Everlane (33) | Top: c/o ELOQUII (old; similar, plus size option) | Boots: L.L. Bean (old; similar) | Belt: Etsy | Belt Buckle: Etsy (similar) | Earrings: Jenny Bird | Bracelet: Had forever (budget-friendly option) | Lipstick: NARS Pigalle topped with Avon True Color in Flame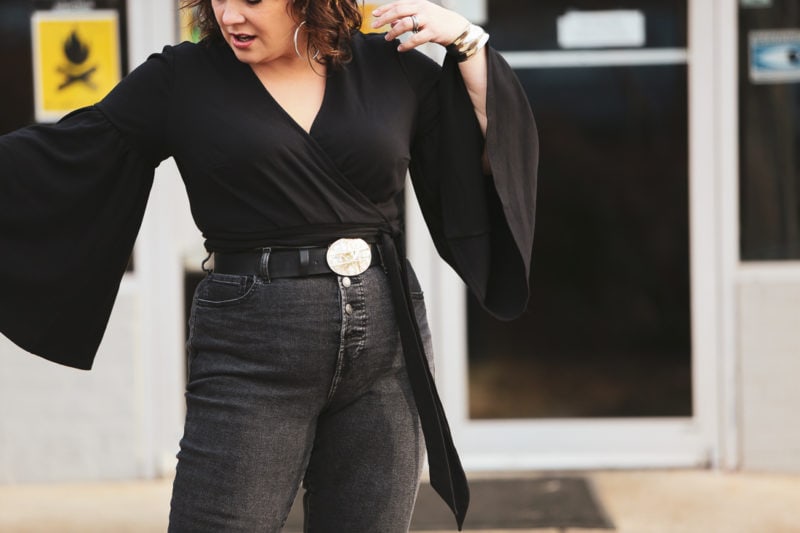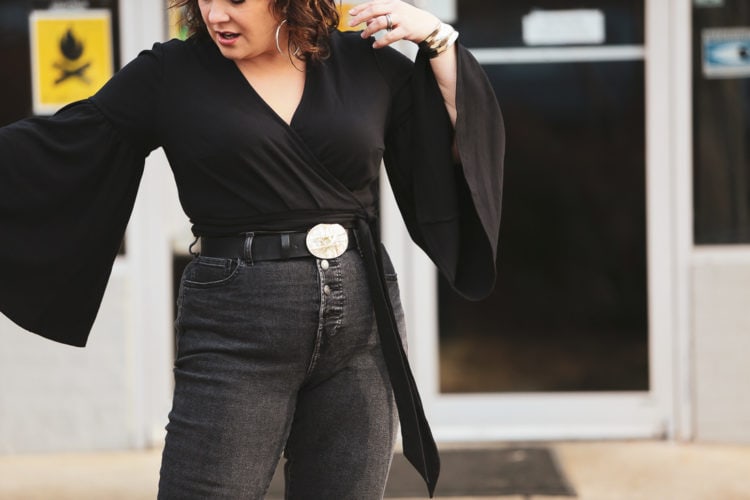 This top has been a closet mainstay for a while and even got a mention in my core wardrobe post. It's a cropped top so I only wear it with high-waisted items. I usually wear it with a skirt so I can tuck it under the top and keep them connected like a dress. I was feeling bold this evening and allowed a hint of skin to occasionally show when I moved. I rocked out with the band and the top did shift; I wrote about it in this Instagram post.
Shop Black Wrap Tops:

The jeans are the same ones from this Everlane jeans review and no I haven't yet replaced them for a smaller size. I just love the quality of the denim, the style, the color so much. I've washed them twice on hot and dried them on hot and I think it got them to shrink a smidge, but I'd still be better off with one size down as they do give a bit with wear. However, not so much that it's a full size; I continued to wear the jeans the rest of the day after this shoot without the jeans being saggy or sad looking. I never thought I'd be such an Everlane jeans fan!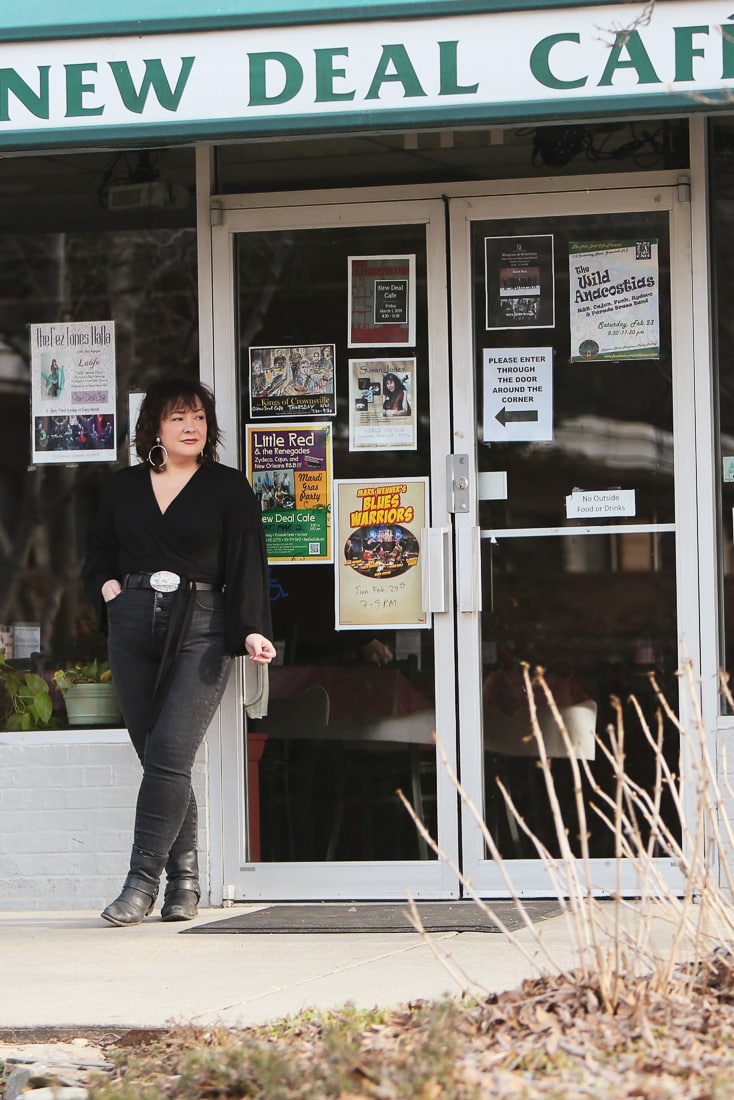 Because the outfit needed some oomph (and I didn't want my jeans to slide down throughout the night), I pulled out this belt with a giant belt buckle. This belt buckle isn't a normal wardrobe addition for me. My husband wears such belt buckles regularly; I even found an awesome vintage one with our last name in inlaid turquoise and gave it to him for Christmas last year. I tried one on a few months ago trying to find a way to complete a look and I liked it! I decided to find one for myself and went to my favorite place for unique finds like this – Etsy. I decided I wanted silver to match my cuff, and I liked the idea of abalone because it works with so many colors. The exact buckle I got isn't available because it's vintage but I've found several other ones I've linked to below that are just as awesome. As for the belt itself, again Etsy is where I got for both me and my husband. This is the second time I've ordered from Christian Oliver, who makes everything in California and the prices are great. You can get a belt up to 40″ in length and he's good with communication and customization. While the belt hasn't been on the blog before, it has been worn IRL and made a showing on Instagram a couple months ago.
Shop Silver and Abalone Belt Buckles: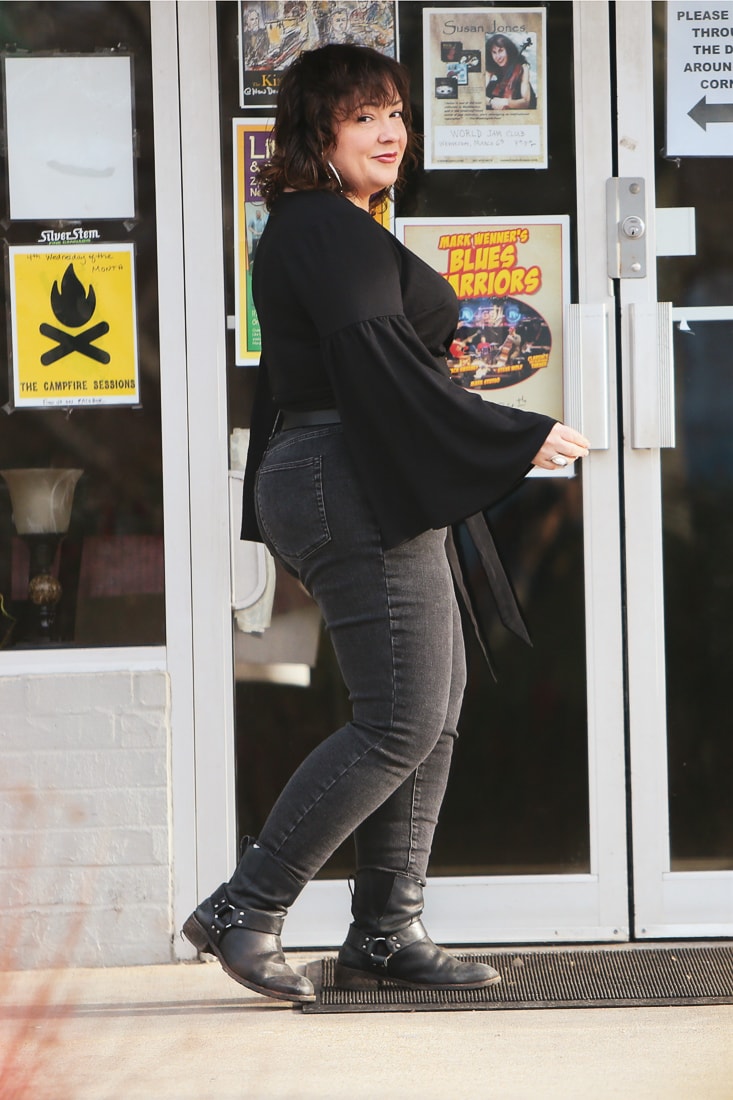 The boots are an old favorite… and look it! I should give them a polish, take them to the cobbler to get re-soled. And I will after this season of salt and snow. But I sort of love how they get all beat up as they've been through many adventures. I almost didn't keep these boots thinking my legs were too big for the opening. But over the years they have stretched to accommodate and they now sit at the front door ready to slide on to take my daughter to school, get the paper, take scraps to the composter. And when I'm going to a concert or somewhere I will be on my feet, I grab them because they're pretty comfortable and supportive. I've added shearling insoles for both comfort and warmth; those I will also be replacing at the end of the season as they're a couple years old and worn down. These are the kind of boots that with care will provide me with many many more years of wear!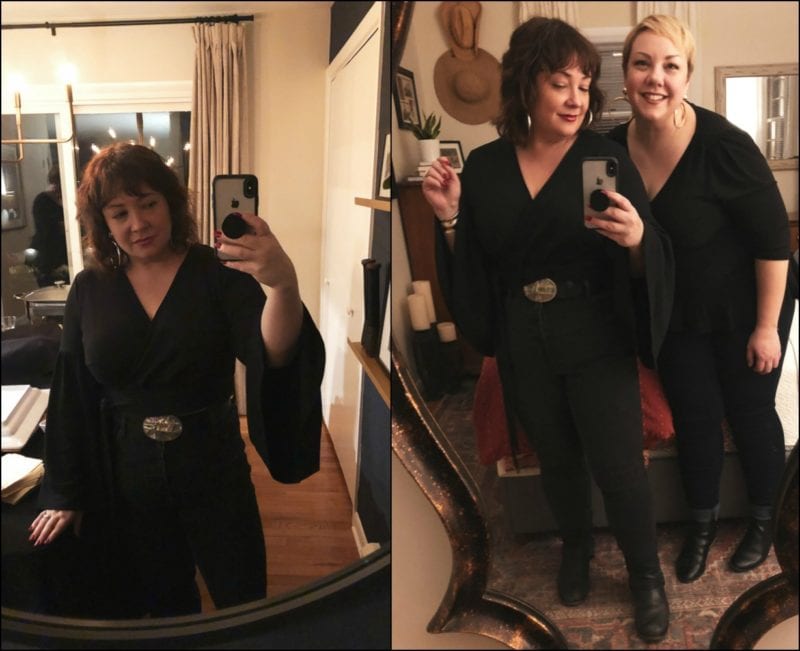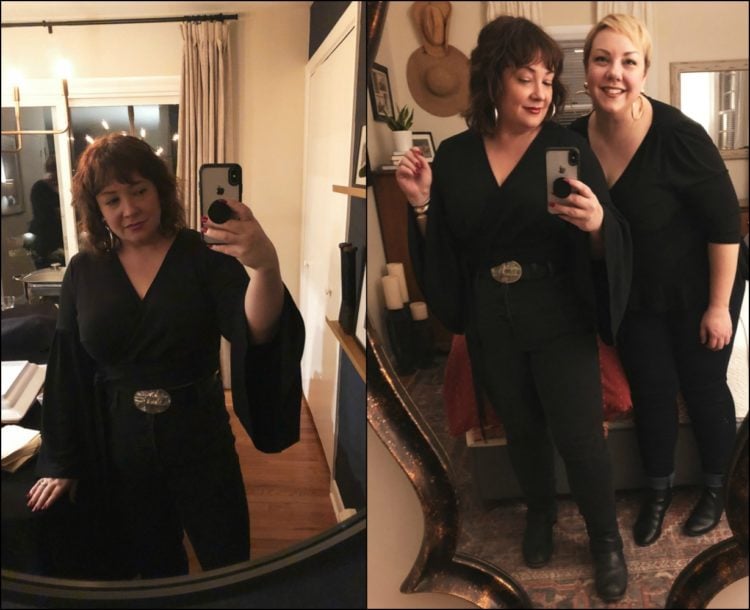 It's funny, my sister and I didn't discuss what we were wearing to the party. When I got to her house (she lives near me and we went together) we saw we both were in black tops with wrap necklines and the SAME EARRINGS! She saw my mention of these earrings on sale at Nordstrom Rack and got them in gold! Great minds think alike!
Shop the Look: