This article may contain affiliate links; if you click on a shopping link and make a purchase I may receive a commission. As an Amazon Associate, I earn from qualifying purchases. 
Fall has officially arrived in the DC area. Last week I came home from work and went upstairs to change out of my work clothes. I slipped on some boyfriend jeans and fuzzy socks (I know, the fashion quotient going on is THROUGH THE ROOF), but it was so chilly I needed another layer. To add to the high fashion of the look, I went to the closet to grab an oversized cardigan or shawl. I first reached for my ivory crocheted fringed shawl, a $12 special from Ross. A mix between something boho cool and something that smells like cat pee and sits on the back of your Great Aunt's floral sofa, I wore the heck out of it last winter with distressed jeans, boots, and band tees.
The shawl, worn last winter, and then a selfie after leaving the emergency room in February.
But then I remembered how I wore this shawl so much of the time my arm was broken because it didn't have sleeves and I could throw it on even when in a sling. Almost every day I wore that shawl as a cardigan, a coat, a napping blanket. I grabbed the hanger and could smell that very specific smell of hospital, even though I've laundered the shawl several times since that day in the emergency room, the day of my first surgery, and so many appointments after. But it's so cozy, and the fringe is so fun, and it's so easy to throw on…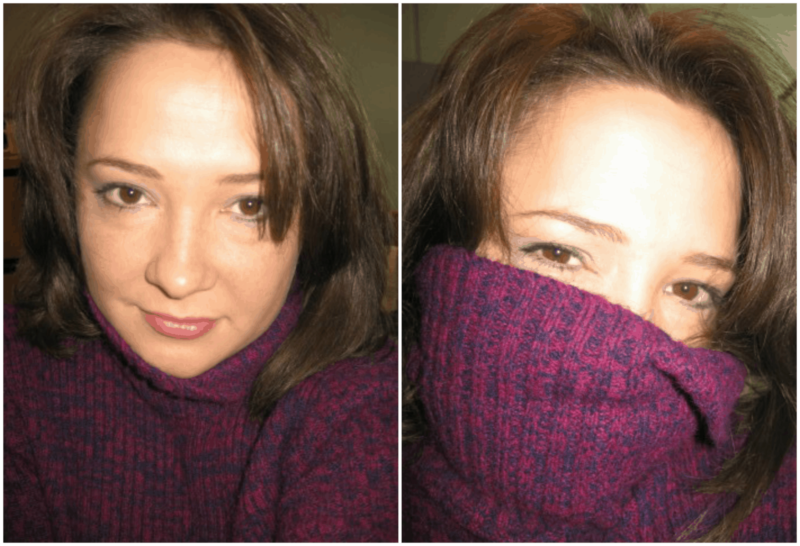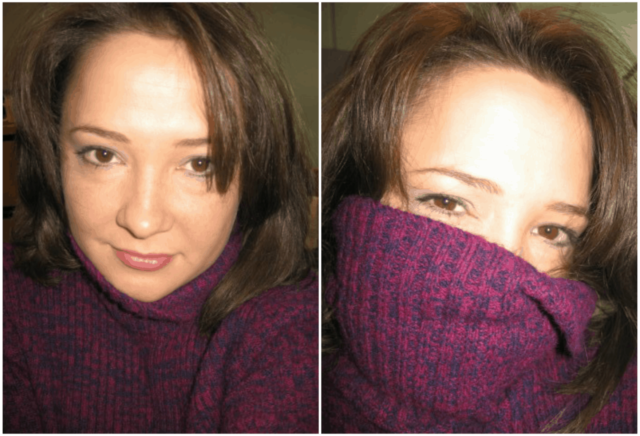 2005, wearing my dad's sweater
I have a sweater that I haven't worn for years, but will never get rid of. It's a blue and magenta marled ribbed turtleneck without any labels; I don't even know what is the front and what is the back. The sweater belonged to my father, and I have many Instamatic photos of him wearing this sweater in New York, Russia, London, and my childhood home. Come high school, my dad let me wear the sweater and I eventually took it over as my own. I remember one of the last few days my dad was alive, he was in an out of consciousness and clarity in the ICU and I came to visit him. I took his hand, he opened his eyes, looked at me, said, "Nice sweater, kid," winked, and then closed his eyes. I was wearing his turtleneck and that was the last time the two of us connected.
When I used to do closet clean-outs, the biggest disagreement would come with the "Security Blanket" garments. Clients would tell me that they wouldn't, they COULDN'T get rid of ugly, unflattering, damaged, wrong-size and dust-covered unworn clothing because of the memories associated with them. Threadbare flannel shirts, stained sweatpants with holes in the crotch, dated too-small suits from their first job interview, ugly ill-fitting dresses from a first date or courtroom appearance, grandma's quilted floral bathrobe. I thought it was ridiculous, clothing is just clothing. Memories come from experiences, not from their ex-husband's Grateful Dead tee shirt or their mother's Christmas sweater.
But what a hypocrite I was, asking people to toss sartorial memories when I had my dad's sweater in my wardrobe. So maybe at the time the sweater fit well and looked cool and relatively classic, would I toss it if it wasn't? Now several sizes larger and trends very different I haven't tossed the sweater and I never would. But my "Broken Arm Shawl," that's another story.
If you're reading this blog, it's likely because you care about clothing in an emotional way. It may be a certain designer, or how it your clothes help express your passion or personality, or because it can transform your figure or your career, or because it represents your faith, your culture, your community. Maybe you find style a mystery and are trying to figure it out. Clothing has energy, clothing can change your mood, clothing can change your life. And if you feel this way, you likely have a sartorial security blanket or two in your wardrobe.
I'm not going to suggest you toss these security blankets, but ask you to think about what memories, and what energy is associated with the garments. If the memories associated with a garment are good, well maybe it's worth to keep it. Honestly, it's not so bad to have a dust collector in the back of the closet if they make you feel good and remind you of good times and good people. But be honest with yourself regarding those memories, and why you're holding on to the item. Don't let the negative energy of a garment hold you in the past and hold you back. I'm getting rid of the "Broken Arm Shawl," coziness isn't worth the illness, pain, and sadness associated with it. Life's too short to wear things that make you miserable or remind you of misery.
I encourage you to join me and get rid of any clothes associated with heartbreak, injury, illness, death, pain, or sadness. Donate it or ceremonially burn it, just get it gone from your life. Quality, not quantity, even when it comes to the emotional hold-ons collecting dust in the very back of your closet. You deserve a wardrobe that makes you feel, as well as look beautiful.