This article may contain affiliate links; if you click on a shopping link and make a purchase I may receive a commission. As an Amazon Associate, I earn from qualifying purchases. 
Yes, there are the staples. But everyone needs to add to their wardrobe to fit their lifestyle, personality and climate. Below are a few tried and true additions that seem to work with many women I have met and interacted with across the country, no matter their age or figure: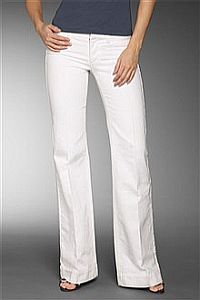 1. White jeans. White jeans are a whole other beast from traditional jeans. Though they are as easy to slip on and feel the same, adding white dresses up and polishes the simplest tops and tees in the summer. White jeans are dressier than denim, and are perfect for those in-between social situations like evening outdoor parties, concert in the park, going to a restaurant or bar for happy hour. White jeans look smashing with black, but also add pop to red, turquoise, cobalt, emerald, yellow and many other brights and sorbet shades.
Try switching out your jeans or khakis for white jeans and you'll see it adds newness to your traditional pieces. Make sure they are of heavy denim that holds up nicely, doesn't show through and has simple pockets so they can double for pants.
Winter white and off-white jeans can look smashing come winter as well – try pairing them with a black turtleneck or a chunky tan sweater and boots.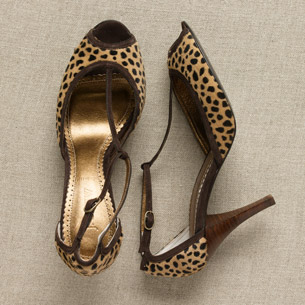 2. Animal-print shoes. Animal print is the unexpected neutral. Black turtleneck and jeans is suddenly chic with leopard-print ballet flats. You have a dress in an odd color and don't know what color shoe to pair it with? How about a cheetah-print pump? A simple black suit goes from conservative to creative with zebra-print pony hair mules.
Styles come and go, but animal prints seem to stay in style if they are subtle. Currently I have a pair of cheetah peep toe heels that get more wear than any of the black, brown or tan shoes in my closet. Since they are in a classic shape, they can fit in my wardrobe for years to come.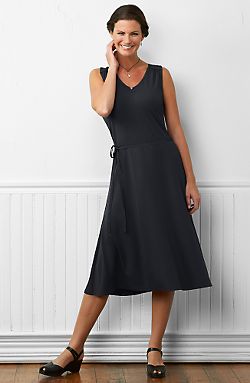 3. A Casual Dress. Especially in the warmer months, nothing is easier than slipping on a dress to be about town. This is the season to get them, because cute casual dresses are showing up at every department store, boutique and big box retailer in the states at every price range and size. Feel like bumming it today? You can still be as comfy as you were in your nightgown, but look polished in a great cotton or knit dress. In summer, pair with ballet flats or sandals; come winter slip on some tall boots with your dress for ease and style.
This summer I am loving the tee shirt dress, but wrap styles are always a sure-fire way to show off your feminine shape and be comfortable as well. A dress with cap or short sleeves can easily transition in to the cooler months, a shift style in a sturdy fabric can often be paired with a button-down shirt or turtleneck to make it winter-worthy.
Solids will be more versatile from season to season as well as from day to evening, they are usually more flattering. Find a fabric that has a nice drape, doesn't cling and doesn't show everything underneath. A dress right to the knees is a good length on most every frame.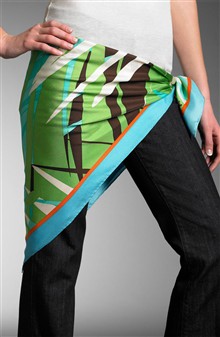 4. A large Square Silk Scarf. I have tried over the years to be the chic woman with a scarf. I am not the type who can knot it so casually at the throat or toss over a sweater. However, I have a scarf or two that get tons of action in my wardrobe.
A few years ago, my sister traveled to London and brought me back a scarf from Liberty – it's a pomegranate color with oval dots in ivory, gray and candy pink. I was immediately in love with the pattern and the colors, but wondered if I could really get use out of it as that I am more an artsy/funky style of dresser and not the chic elegant scarf-type. Boy was I wrong! I take that scarf on every vacation, and wear it at least once a month. I tie my hair back with it like a headband, I have worn it tied in a knot over a low ponytail, and even like a bandanna in the summertime. I have tied it around my neck with a collared shirt, worn it as a belt, and have knotted it off a belt loop or purse strap for a bit of flair. The bigger the square the more versatile (if it's big enough it can double as a halter top on warm days or made into a triangle and tied at the waist to accent a simple dress or over trousers or jeans). This weekend at the beach, I wore a simple black tank and jeans, but made the pieces an outfit by knotting my Liberty scarf at a belt loop, having that bit of color and my personality jazz up the ensemble. You will be amazed how often you grab this item to add color and pizzazz to a simple outfit. Make sure it fits your personality and has colors that compliment your current wardrobe.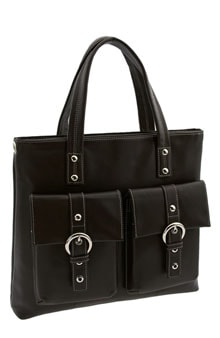 5. A Great Tote Bag. Be it a traditional L.L. Bean Boat and Tote, a simple black leather item, or a hand-made number you picked up on a world travel, a tote will be a welcome addition to your bag arsenal.
When I say tote, I am not meaning the free faux Boat and Tote you received at a conference, the one you got for making a donation to public television, the one you bought for 50 cents at the grocery, or one of those canvas one from Michael's that can be decorated with a puffy paint pen or a bedazzler. This tote has structure, substance, style. It fits comfortably over your shoulder, and doesn't hang to your knees. It has a zipper or flap on top to keep your items safe. It's clean and is in a style and color that compliments your current personal style. It has a sturdy bottom so water bottles and the such can sit up, and everything doesn't drop to the center, ruining the shape of the bag. It's not so big that you can put a weekend's worth of clothing in it, but it's big enough for a small water bottle, a book, a cardigan or shawl, a camera and your usually purse necessities. This tote is in place of your purse (not in conjunction) for sightseeing, field trips, long days away from home. In conjunction with your purse, it's your plane carryon. It works as your bag for the pool or beach (if you don't stuff your towel in it) and holds small purchases and kids snacks and toys on day trips.
Nothing is more unsightly than a stained and overstuffed bag, a tote will ensure you don't end up using your purse like… well like a tote. I replace my purse (taking my wallet and purse contents with me, the smaller items in a cosmetic bag to keep them organized) for days at the outlets, on sightseeing, to the pool, the park. Anyplace where I will need more than my traditional purse contents, I make the switch. When not in use, the tote is empty and at the ready. For a flight, I put in it reading material, a pashmina, even my slim laptop.
Too often we collect bags yet never have the right one for the right occasion. Consider donating those random free totes and investing in one good one that will withstand a beating and time and look as chic as the rest of your wardrobe. Consider a style that is a darker color to not show stains, and one of a sturdy fabric that can deal with being stuffed under airplane seats and tossed in the back of SUVs.
Scarf and toe from Nordstrom, jeans by Joe's Jeans, shoes by J. Crew, dress by J. Jill