This article may contain affiliate links; if you click on a shopping link and make a purchase I may receive a commission. As an Amazon Associate, I earn from qualifying purchases. 
This weekend was spent in Rehoboth Beach, Delaware with four of my dear friends. One friend has a beach house a couple miles from the water and we stayed there. I'll admit it, we never went to the actual beach. We have all had such hectic lives lately, the getaway was more about R&R than sand and sun.
Friday evening we arrived quite late since we all worked that day and had dinner together before getting on the road. We pretty much unpacked and went to sleep.
Saturday it was so nice to wake when my body told me to – but since I am still nursing I woke early to pump. But I was able to snuggle back into bed! 🙂 We made breakfast and then headed to the community pool which was literally across the street from the house. We spent the day there reading magazines, napping, swimming slow laps and catching up with one another.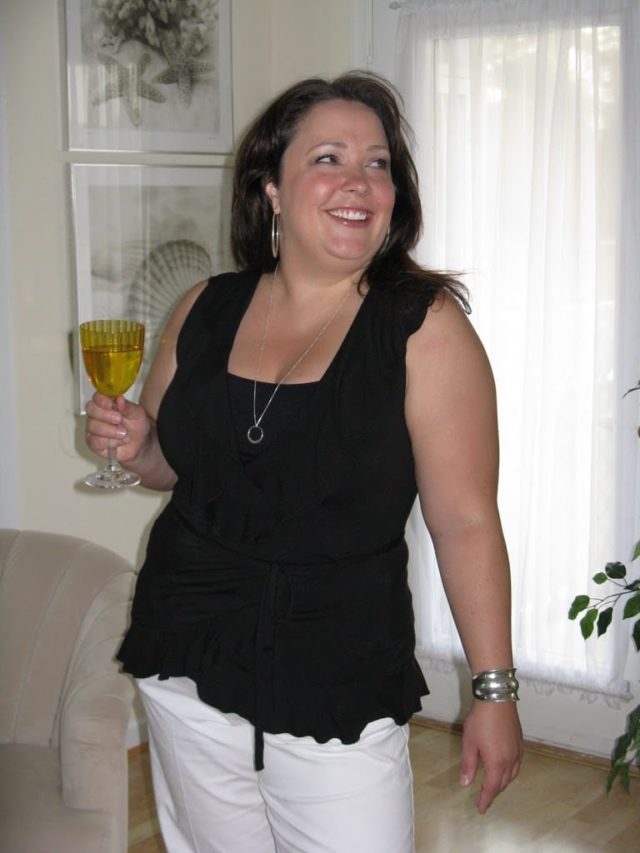 Saturday night we decided to hit the town, and that town was Dewey Beach.
Attire:
Ann Taylor – Black jersey ruffle-trim sleeveless wrap top
H&M – Black synthetic cami
Gap – White low-slung flare trousers
Callisto – Tan leather sandals
Silver jewelery
Hair:
Bumble & Bumble – Styling Lotion
Dried with round brush and dryer
Beauty:
Estee Lauder – Nutritious Vita-Mineral Makeup in Intensity 3.0
Cargo – Matte BeachBlush in Tenerife
Revlon – ColorStay shadow quad in Neutral Khakis
Stila – Shiny Lipstic in Amber
Cover Girl – LashBlast mascara in Rich Black
Oh yes, I get my friends involved with the blog photos – hence the cheesy picture with the wine glass! 🙂
We went out to dinner and then headed to Downtown Dewey to see a popular local band, drink some beer on the water and have some amazing People Watching. My beer-driven photography is unfortunately on my sister's camera so I can't share at this time. But there is always some pretty hysterical beach fashion!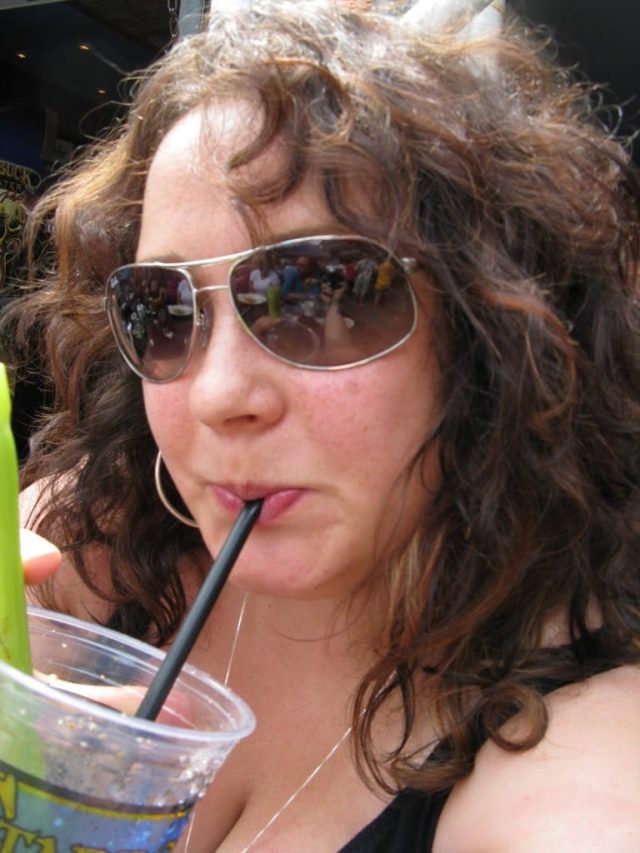 Sunday, we did another Dewey tradition – The Starboard's Suicide Sunday. We believe in handling this tradition in the proper manner – no fancy outfits, no fresh hair, no morning after shower.
So here I am after ocean mist and humidity on Sunday morning (which gave me some awesome waves and body), sipping my custom-made Bloody Mary. I wore my black nursing tank from Gap (which doesn't look super nursing) and my low-slung flare chinos from Gap in the light blue/gray color. Black flip flops, my Ray Bans aviators, a bit of waterproof mascara and lip balm!
We had a great breakfast/brunch/social time and headed back to the house. We toyed with hitting the pool or beach but decided we all wanted to get home so we could unpack and decompress before the work week. Good thing, because it started raining cats and dogs (and mice and raccoons) just 45 minutes after getting on the road!
Al really nice weekend with some really nice friends. Truly what I needed after such hectic weeks as of recent!