This article may contain affiliate links; if you click on a shopping link and make a purchase I may receive a commission. As an Amazon Associate, I earn from qualifying purchases.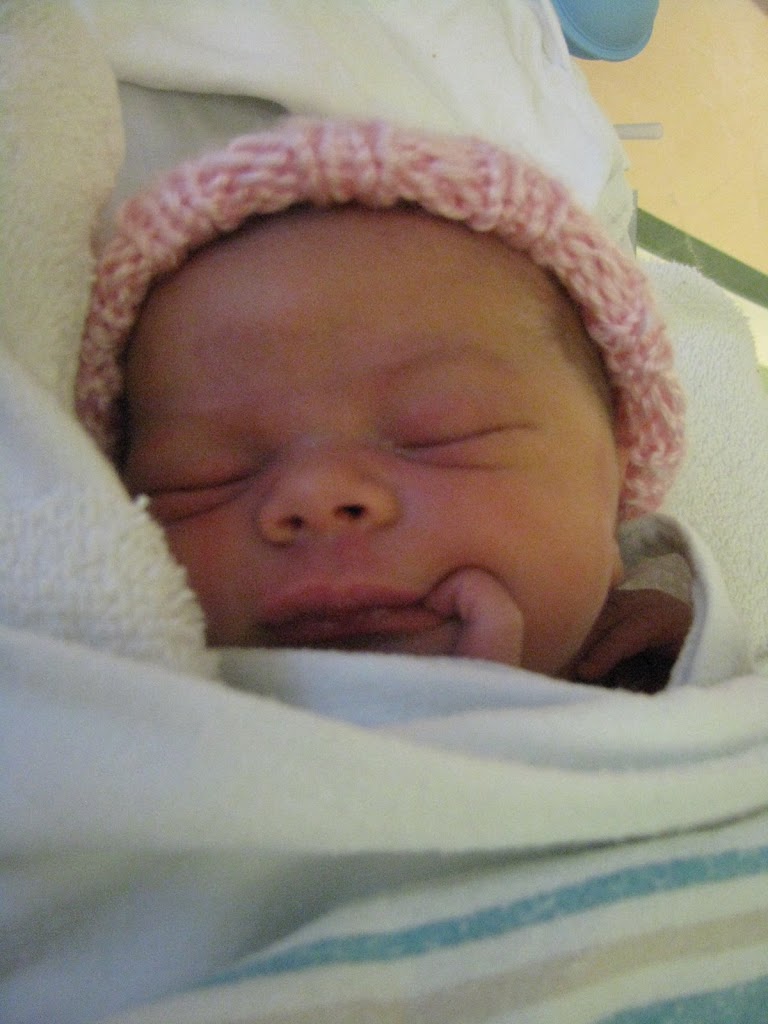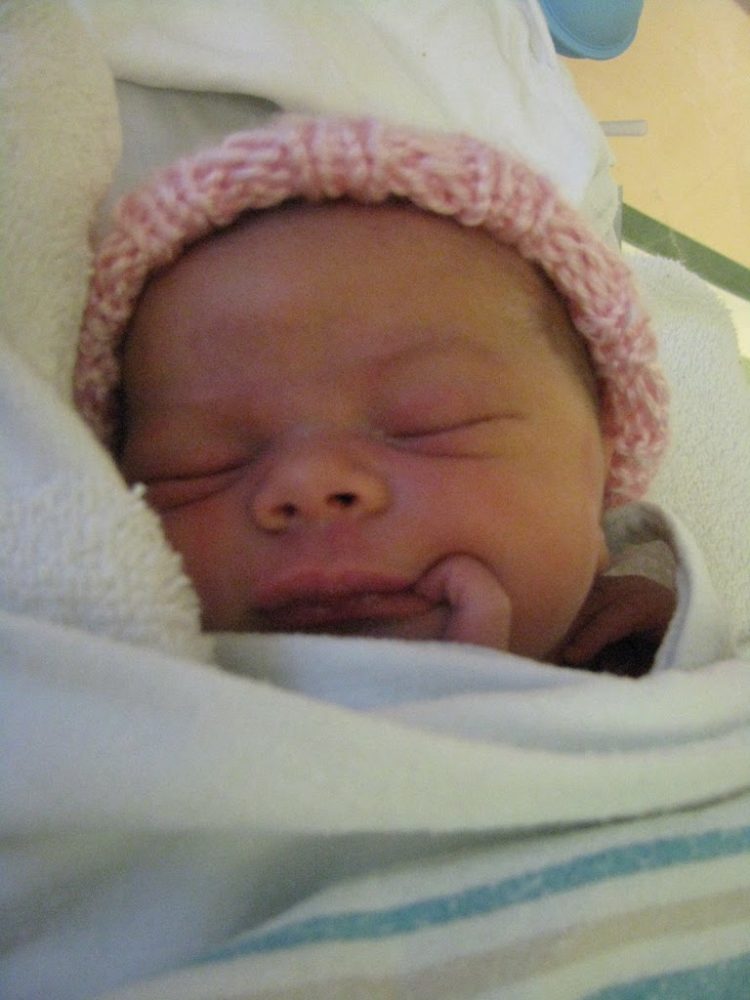 As most of you know, my plan was to have a completely natural birth. I switched early in my pregnancy from a highly-respected OB/GYN group to a birthing center with midwives after much research. Call me a hippie or a masochist, but I really wanted to experience the birth of my child sans medication, surgery and in as natural yet safe of a setting as possible.
My sister's boss once told her that every woman he knew who wanted a natural birth ended up getting the opposite; those who scheduled c-sections and desired epidurals upon admittance often came early… too early for meds. Murphy's Law. Well, Murphy's Law surely hit me with this birth!
My Birth Story
Emerson's due date was switched to January 2nd from December 28th after her 20-week sonogram. I was happy because I really wanted her to "cook" as long as she desired and not be forced to induce. January 2nd came and went, and the Monday after, due to high blood pressure the last couple of weeks, I was asked to take a NST and get a biophysical/sonogram to see how the baby was doing. The NST was great, but the sonogram showed less than 5 centimeters of amniotic fluid – a number that concerned the doctor enough to call the midwives and tell them he strongly suggested induction… that very day.
I went home to get my bag (was in my husband's car but he didn't take me to the appointment) and to do last-minute things around the house. Due to needing an induction, I was admitted not to the birthing center, but to the hospital that was associated with it. I have never been in the hospital before – never a broken bone, stitches or surgery. By 1pm I had a saline lock on my arm, a wristband with my stats and a very uncomfortable hospital bed.
They started me off with a dose of gel that was supposed to open and ripen my cervix. When the midwife (the midwives from the birthing center attended to me even though I was in the hospital) checked me upon admittance, she said I was "only a nub" and they obviously needed more dilation before they tried to progress the birth.
By 8pm I was maybe 2 centimeters dilated at most. They said they could do another dose of gel, but it probably wouldn't do enough. They recommended a low dose of pitocin overnight to begin mild contractions, hoping it would open up things. I really didn't want pitocin, but there wasn't much else of an option. The low dose wasn't bad – they monitored it very carefully so I always felt in control and relatively comfortable.
Tuesday, they checked my cervix and it was not even 3 centimeters. Argh! They took me off the pit so I could eat and shower, but stuck me on it again and at higher doses. Due to being on the pitocin, I had to be on a constant fetal and contraction monitor, which tied me to the bed (another thing I was very against). One nice nurse found a telemetry unit which would let me walk laps around L&D; we tried it out and the baby's stats rose and couldn't always be checked (she moved a LOT when I walked) so I had to get back in bed. They got me a birthing ball and rocking chair for some variety and relief. My contractions were one on top of another, sometimes not even with five seconds between them. I was handling them well and using Hypnobirthing and yoga methods to breathe through them and focus, but they were worried that the speed of them and lack of dilation would cause too much stress to me and the baby.
Tuesday night, they decided to try a different route – a pill that is actually for ulcers but has been shown to cause contractions. I agreed to try it out – 24 hours of contractions and no dilation was utter torture. I got off the IV (hooray!) and swallowed the pill.
I knew the pill didn't work when I realized I slept for six hours straight. They checked me Wednesday morning and I was still three centimeters, though supposedly "paper thin." They decided to go with pitocin again, but really carefully monitor and adjust the dosage. I started at 8am; by 8:30 I was feeling pretty strong contractions. They were like the day prior, but with more build-up and time between… the nurses, the midwife and I all felt confident these were more "productive" contractions that would get the job done. Two midwives said "your baby will be born today!" I was so excited…
Until around 1pm… when the contractions got stronger. Stronger as in horrific, painful, unable to think, to breathe, to control. They were in my lower abdomen and my lower back. I couldn't stand because the darn monitors would fall off my belly; bending over helped the back but hurt the stomach, I was in too much pain to be able to handle the birthing ball any longer, and the rocking chair decided to get some horrible loud squeaking noise every time I glided it back and forth. I tried to breathe, to moan, to flow but it wasn't helping. I never clenched or strained, but it went to the point where I couldn't breathe, I couldn't control my body and I just knew something wasn't going well. I started crying, I felt like such a failure. I became that woman who screams for Jesus and makes everyone in the lobby roll their eyes. My birth plan said to not offer me an epidural – if I needed one my husband or I would state it. Speaking of which, my husband was the most phenomenal birthing partner – I didn't have to say a word and he seemed to KNOW when to press on my back, when to play with my hair, when to offer light massage, when to back off. He got the iPod going with my labor playlist, and even seemed to know when I needed it turned up to drown out machines and myself.
So anyway, he looked at me, without me saying it, and said, "I am so impressed and proud of you, and think you would still be very brave if you had an epidural." It was what I was thinking, in my head I was begging and pleading for one but I didn't say it out loud because I felt like a wimp and failure. But with his support… I asked for one. By now it was around 4pm.
An epidural is so terrifying, even when it's taking place. It hurts, your body is shaking, the room is overflowing with medical professionals and it's a horrible experience. My husband held my hands and supported my body as I leaned over the side of the bed to get it inserted in my spine. I was grateful, yet also hated how things had turned out. Pitocin, bed ridden, hospital, and now an epidural. Way things were going, next thing I knew I was going to end up with a caesarean.
The epidural kicked in and it was a very weird experience – my right hip to toe was so numb it was as though it disappeared; my left leg felt more the way one does when a limb falls asleep. I still felt contractions, but more a slight wave in my crotch and hardening of the top of my belly. They decided to check to see how far my cervix had progressed…. Now I was almost four centimeters… almost. After all those hours of extreme pain I didn't even get a full centimeter of dilation. They tried breaking my water but couldn't do it – either not enough water or weird positioning of the baby's head. I was so exhausted and frustrated with my body. Luckily, through all this the baby was completely strong, happy and healthy.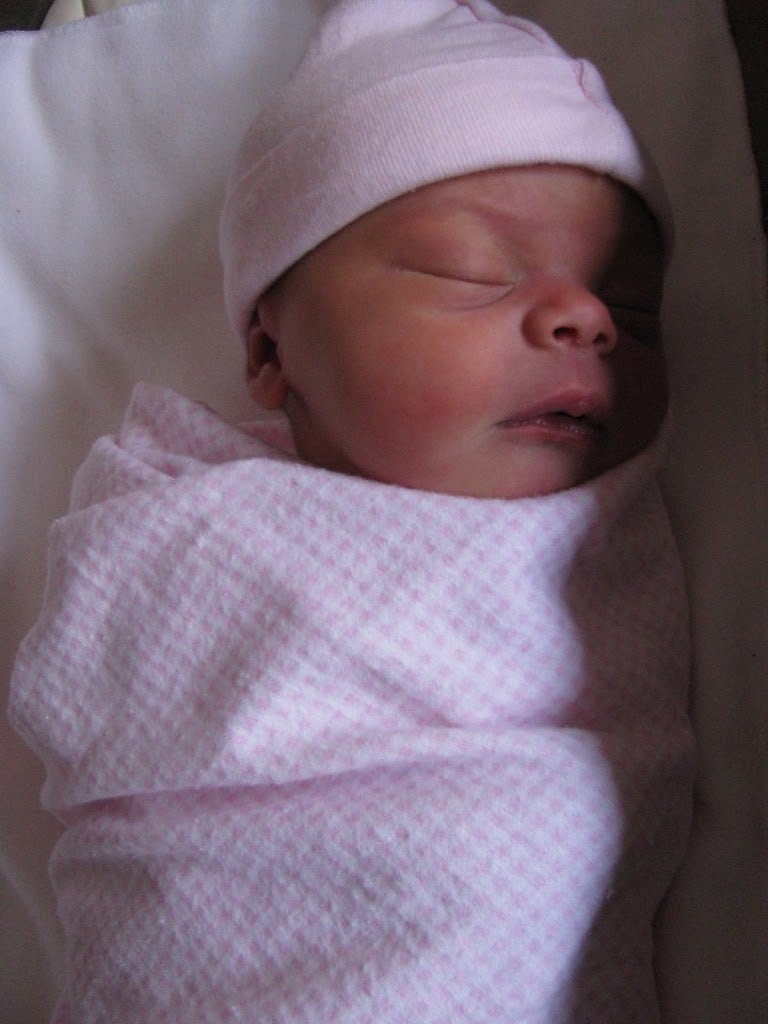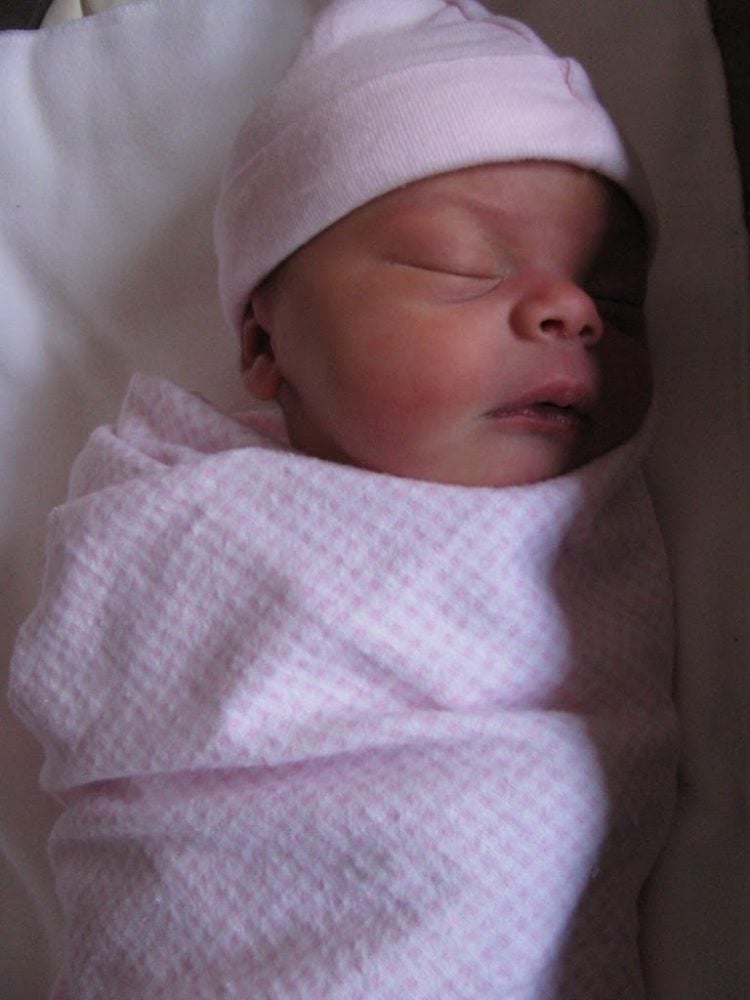 They gave me some time to rest while I had almost unknown contractions. My husband started looking a bit worse for wear – sweaty, red eyes, pale. He had been with me since admittance, only leaving once to shower and change clothes. He said he was feeling a bit weird and went to the bathroom, and didn't emerge for over an hour. He asked if it was okay to use the shower, thinking it would make him feel better. It didn't. By 8pm he had chills, aches and couldn't keep anything in his system. He internal reflexes were in overdrive, and he was dry heaving and puking bile after his stomach had emptied.
The midwives come in around 10pm and say they think the baby won't come until the next day. My husband goes home to medicate himself, rest up so he can see the birth. My sister and mom come to sit with me. They check me and decide after my husband has left that a few pushes may help the cervix get going.
We push for about three hours and things are going far better. They can see the baby's head and say she has hair. My water broke. I started dilating and next thing was around eight centimeters. They try different pushing positions, but keep me on my back because the baby's head was behind my pelvic bone and they needed her to move toward my back. So I was in the typical position I never wanted to be in – legs in stirrups, back on the bed, pushing for all life's worth. Between pushes I visualized her head descending but they said after each push which would descend the head, a relaxation would cause her to slip back up behind the bone.
They brought in an obstetrician, who said they could try forceps or vacuum, but she didn't think it would work and most likely would need a cesarean. My husband wasn't there, my sister called him and he was in such bad shape he was on the bathroom floor unable to move. This is a man who does 100K hikes for fun, gets sick maybe once a year, dealt with cancer and chemo without a tear. For him to be crying in the fetal position at home while I was in labor… we ALL knew it was really really bad.
So I keep pushing and I start getting the feeling back in my right leg. They say this is normal due to gravity and body positioning. I push and can feel when contractions come and how my pushing affects things. They say this is good and I feel productive, yet so sad and frustrated my husband isn't there. I start to cry, they tell me the baby could possibly come with any push if it is a good enough one. My sister is holding one leg. My mom is helping me curl up into pushes, the nurse and midwife are both so supportive but my husband isn't there.
Now I am feeling contractions, and ask my mom to press the while button on the epidural drip. She does, the nurse says it will take 15 minutes for it to kick in. The contractions are so strong now, and with each contraction I can feel the catheter ballooning inside me which is utter torture. I cling to the side of the hospital bed and watch the clock tick down. The time is up and I have no relief… in fact it feels even stronger. My mom looks at the machine, and sees a cord on the ground. Somehow the epidural drip disconnected from my back. No wonder! They call in the anesthesiologist to reattach it. Takes ten minutes for him to arrive, and then another fifteen minutes after reattachment for it to kick in. Two minutes after he finishes reattaching, the obstetrician arrives saying we're going to try forceps, and try right then and there.
The catheter feels like some archaic torture device, the contractions feel like the last scene of Braveheart, and now they are putting what looks like metal car fenders in me and asking me to push like I never pushed before. My husband is not there.
In the middle of the first push, I feel the warmth of the epidural kick in and I feel as though it is a sign that it's now, it's this way, and I need to block out all the pain and frustration and do it. Three rounds of pushes, and I feel enough to feel her head, and then her shoulders come out. Omigod, that seemed so… quick! 5:35 AM, Thursday January 8th. She isn't crying, she is coated in meconium so they whisk her to the other side of the room to clean and suction her. I am up in stirrups, slid down to the bottom of the bed, unable to move in any way. They tell me I have a fourth degree tear and have to sew it up. The obstetrician and my midwife get to work, I am at such an angle that I can't really see the warming table where Emerson is located. There seems to be a dozen medical professionals in the room scurrying about, my mom is holding my hand, my sister is checking on Emerson. Finally we hear a cry… and it seems as though it's from another room, another person's baby. I ask my sister to cut the umbilical cord. I feel sad… my husband missed it, and really I missed it too. I feel so detached and deflated and wrong.
Finally I am stitched up and Emerson is clean and healthy. They bundle her up and place her on my chest; I still am numb almost in my entire body and have my legs propped up, but I am able to hold her up to my face and look in her eyes. And I think she looked in mine and she looked like me, and like my sister and like my husband in the brows and my mom's side of the family and so… beautiful. Not alien, not like a wrinkled old man, but even with all the red stripes of forcep marks, just so delicate and feminine and beautiful and I started to feel connected.
She got a 3 on her first APGAR, but a 9 on the second one. She got healthy very quickly and we were finally left to hang out with one another. I asked to have her exclusively breastfed, so we got the chance to bond over her first meal. I needed a nurse's assistance but it was nice that it was the nurse who was with me through the whole evening.
Around 11am on Thursday they move me to a different room on a different floor. This room has a far more comfortable bed (not one that morphs into a birthing chair) and a whole different staff and a good energy. It doesn't even smell like a hospital as the L&D room did.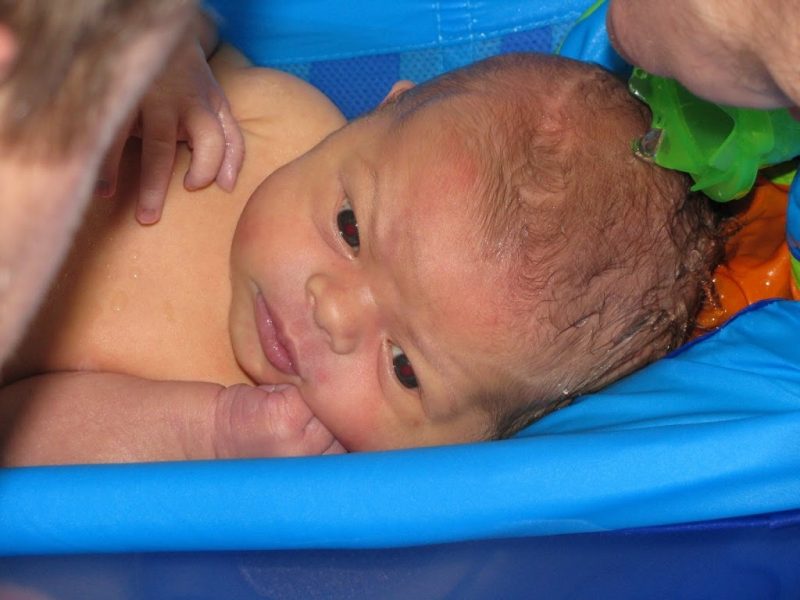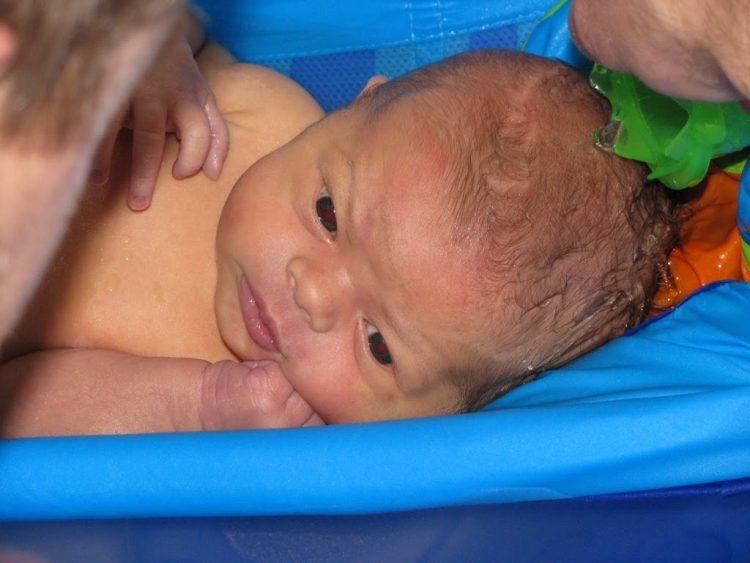 This is where Emerson and I resided until Saturday afternoon. The hospital was amazing – the techs were so helpful and sweet, the nurses were total saints. I was visited by five different lactation consultants who showed me all sorts of techniques and holds. One day I was so exhausted, a nurse came and swaddled Emerson tight, and took her to hang with the nurses for a bit and at that time, I could sleep for two hours and even a massage therapist came by for a complimentary back rub. The OB and my midwives came by to say hi, meet Emerson, congratulate me on being such a trooper. The only thing that sucked was that my husband still hadn't healed. He had a high fever so he couldn't come see Emerson. He didn't want to see pictures because he wanted his first view to be her in person. But he called several times a day so I could let him hear her and tell him what she did and how we were doing.
I have never been a baby person – as a teen I preferred sitting toddlers and when friends have had children I may coo and play with a little foot but I never like to hold or cuddle with infants. I don't know what to do with them, and I always find them a bit weird and slightly scary. I feared parenthood – gosh I didn't even know how to hold a baby and had never changed and diaper. No need to worry, it seemed like instinct. The nurses taught me basics, but really it was as though I delivered the baby, the placenta, and then Service Pack B for my brain to know what to do with a baby. Also, once her skin touched mine, it was instant passionate love between us two – totally surreal and awesome experience.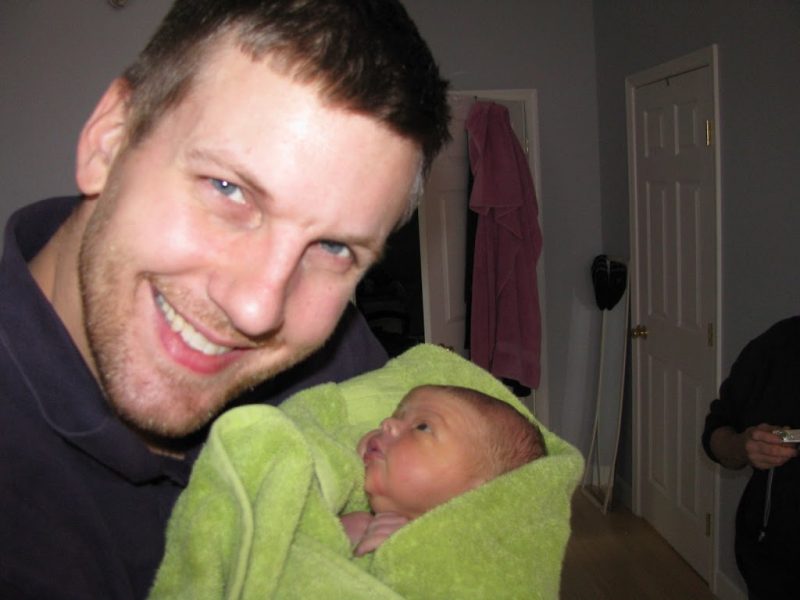 Saturday, my husband arrived around 9am and instantly fell in love with Emerson. Nothing more wonderful than to see our baby with him, them getting to know one another.
Since then, I have been very tired… my body has gone through quite a lot with the healing from the tear as well as other things (TMI, but I think trying to poop after pregnancy and stitches is scarier than having to push a baby out). But it has been awesome – my husband doesn't have to work right now so we're working together to take care of Emerson. My mom and sister have been AMAZING – last night was my mom's birthday so they made dinner and brought it over and we had cake and watched the Golden Globes together. While at the hospital they came to the house to prepare the place for Emerson – setting up the Pack & Play in our bedroom, washing laundry and dishes, etc. Right now I am in bed with my husband and a very gassy Emerson, chilling after a marathon feeding. Ruckus is on the floor and we're a tired, overwhelmed but happy family. It wasn't the birth I had envisioned, but it doesn't really matter because of the final product.
As for fashion… well due to the stitches I am far more comfortable in dresses. The summer dresses from New York & Company, the gray jersey Old Navy dress and even my black matte jersey Old Navy dress that I wore to my friend's wedding are awesome. All have surplice necklines that work with breastfeeding, are soft fabrics and are a length where I am covered but not twisted up. I have a navy jersey robe from Lands End that I can throw over it for comfort. Due to not being a perfect size anything before the baby and still not one, I have yet to find a nursing tank that is comfortable, fits and flatters. I do own one from Bravissimo, it gets the job done but due to the weight and size of my breasts it cannot be worn outside the house without getting arrested for indecent exposure. As for nursing bras, I got an underwire one from Nordstrom that is awesome… but I haven't tried it now that my milk is coming in. I have tried several others and they weren't working pre-milk so I fear they won't now. So anyone who had large breasts and some curves pre-pregnancy and then found a bra or tank that actually worked and didn't leave everything hanging out, hanging down, or smooshed do let me know. Preferably online… don't think I'll be getting to a mall any time soon!
For those who want to know additional pregnancy and motherhood related details – where I went, what birthing center I used, reviews of products, natural remedies I am trying for PPD, healing, and what I tried to naturally ready myself for labor (and they said actually did help in the long run) feel free to email me. I do not want this blog to become a baby blog, and my views are naturally not going to be the same as all those who read here.
I respect everyone's decisions on how they want their pregnancy, labor, birth, and motherhood to go. No one knows what is best for you and your baby more than you. Don't think my views here are saying I am anti any other birth plan – in fact this experience helped me respect more plans and methods alternate to my views before giving birth. To all those who have sent well wishes, we thank you so much! The blogging community is amazing and I am glad to know all of you through it! For those who are expecting, I wish you much health, luck and happiness with this journey!!!
Updates to my Birth Story
My sister (and best friend and fabulous birthing partner!) read this and saw I missed a few details or got them wrong. Love her! Here's her view (more accurate since she wasn't drugged or crying out for mercy ;P )
* your water broke at some point before 8pm, possibly while [husband] and I were out for dinner or a little before that
* [Husband] left around 10:30pm – or at least that's when you called me
* you pushed for 4 hours before Mommy realized the epidural was unattached. I first called [husband] at 11:10 to tell him you were about to push and it was only 5 minutes later that you did. The nurse and midwife told the OB at one point and said you had only been pushing for 30 minutes when really it was about an hour, hour and a half. I don't know if they were confused or if they did it on purpose to prevent the OB from talking c-section too soon.
* you fell asleep once the epidural was working again and were asleep for about an hour. Then around 5am, they came back in and it was only at that point that they decided to use forceps. Before it was only vacuum and threat of c-section.
* it was Mommy who got them to use forceps by telling her birth story with you to the OB.

Thanks sister! 😀